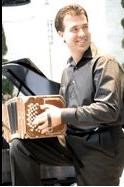 The Lake St. Clair Symphony Orchestra Spring Concert "Shall We Dance," will take place at 3 PM on April 3rd, at the Lake Shore Presbyterian Church, 27801 Jefferson, north of 11 Mile Road, St. Clair Shores. The performance features Julien Labro and his bandoneon.

Recipient of a Masters Degree in Jazz Studies (2007) and in Music Composition (2010), Labro's current musical activities include performances at numerous jazz venues and festivals with innovative groups like the "Frank Vignola Ensemble", "Jazz Wagon", "The Oblivion Project", and the "Hot Club of Detroit".

Classically, Labro has also been a guest artist of several symphonies and chamber ensembles. Labro has toured extensively throughout the United States and Europe, and has performed in France, Italy, Slovenia, Andorra, Portugal, Germany, Croatia, Finland, Sweden, and Switzerland.

Recently, Julien has shared the stage with artists such as Joao Gilberto, Bucky Pizzarelli, Tommy Emmanuel, James Carter, Frank Vignola, Anat Cohen, Howard Alden, Joel Frahm, and Jason Vieaux.

Promoted on numerous radios and televisions in the United States and Europe, Labro has played and been interviewed on Radio France, Marian McPartland's Piano Jazz on NPR, WEMU, WILL, WRCJ, WDET-Detroit's Ed Love and Martin BanDycke Shows, WFJ-AM's Mitch Albom Show and Fox-Detroit News.On a creative level, Labro has been enlisted as an arranger for several professional ensembles, most recently for Ensemble Vivant of Toronto, led by international pianist Catherine Wilson.

Upcoming performances include:
April 10, Cape Cod Symph. Orchestra,Yarmouth Port MA
April 12, McKinley Presbyterian Church, Champaign, IL.
April 21, Orchestra Hall, Detroit, MI
April 22, Detroit Institute of the Arts, Detroit, Michigan
April 25, Baker's Keyboard Lound, Detroit, Michigan
May 5, Night Town, Cleveland, Ohio

For tickets, visit Gifts Afloat at 10 Mile Road and Jefferson,
Phone (586) 933-0088, or lscso.org.