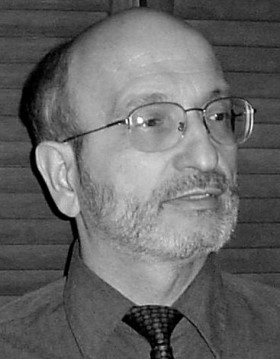 John Franceschina studied accordion with Anselm (Sam) Falcetti from age five, began composing and arranging a few months later. He has composed many wonderful works for the accordion in combination with other instruments.

His former teacher, Sam Falcetti said, "It seems like yesterday when John was studying the accordion with me. At the age of 7 he wrote his 1st four part arrangement of his own composition, "Camel Walk", and conducted the arrangement himself. At 11 he was given a full scholarship at Hartt College of Music at the University of Hartford in Connecticut.

At that time he studied theory, harmony and composition. John won many trophies at the AAA, Eastern Cup and the ATAM competitions
including some top virtuoso and jazz categories. At 12 John played a whole program accompanied by a drummer and bass player.

At 19 one of his shows opened off Broadway. Thru his career John orchestrated over 100 arrangements for the internationally famous Springfield Accordion Orchestra. Two of the arrangements being performed by the Roland Digital Accordion Orchestra are "Tuxedo Junction" and the "Godfather Medley" that were arranged and orchestrated for this group by John.

His compositions include:
Eight Symphonies;
Concerto for accordion and full orchestra;
Three Concertos for accordion and accordion orchestra;
Concerto for Clarinet and chamber orchestra;
Concerto for Guitar and wind ensemble;
Chamber music, including 3 string quartets, 5 woodwind quintets, percussion ensembles;
Numerous concert works for accordion orchestra, among which, Vathek, Kynaston, Oroonoko, Cad d'Zan,The Time Machine, Polk Street Fantasy, Iconosphere, Journey to the Center of the Earth, Houtebeen;

Operas, including Letters to Tolstoy, Finnegan's Wake, The Changeling, Lord Jim, Ars Amandi;
Musical Theatre Works, including The Coldest War of All, My Love to Your Wife, The Magistrate, Louise, Quadrille, Olio, Kingfish!, The Day the Senate Fell in Love, This Is What It's Like, A Servant of Two Masters, Let the Children Play, Loves Labor's Lost, The Emperor of the Moon; Religious works, including, Mass for chorus and accordion orchestra, The Lord's A Wonder, To The Ends of the Earth, and The Word; Song cycles for voice and chamber ensemble;
Three piano sonatas;
Solo works for accordion, among which, Scaramouche, County Fair, Queen Mab, Conestoga;
Incidental music for over a hundred plays, including Hamlet, A Midsummer Night's Dream, Othello, Macbeth, A Long Day's Journey into Night, The Cherry Orchard, A Death of a Salesman, To Kill a Mockingbird, Waiting for Godot, The Playboy of the Western World, Planet Fires, Volpone, The Three Musketeers, Tartuffe, Starry Night, Candida;

Film scores;
Hundreds of arrangements for accordion orchestra.
John Franceschina, composer, arranger, musical director, has composed scores for the National Shakespeare Company, the Mark Taper Forum in Los Angeles, the Coconut Grove Playhouse in Miami, Baltimore's Center Stage, Washington's Ford's Theatre, the Arena Stage, the Pittsburgh Public Theatre, GeVa Theatre, Syracuse Stage, Papermill Playhouse, Music Theatre Works, and the Moscow Art Theatre, in addition to the Asolo State Theatre in Sarasota, Florida, where he acted as composer-in-residence from 1976 to 1993.

His fifth symphony, Oroonoko, was premiered in the Netherlands in October 2008, and other symphonic works have been heard at Carnegie Hall and performed by major symphony orchestras around the world. As a pianist/arranger, he has accompanied Angela Lansbury, Elke Sommer, Nell Carter, Jan Peerce, Robert Merrill, Lotte Lenya, Paige O'Hara, Chita Rivera, and Gwen Verdon, and he has served as conductor and arranger for a number of off-Broadway shows, including Chase a Rainbow, The Boy Who Made Magic, The Rise of David Levinski, and Be Kind to People Week. In New York City, he most recently directed the 50th anniversary production of Michael Mcclure's ground-breaking play, The Beard.

He is the author of Sisters of Gore, Gore on Stage, The Plays of the Marquis de Sade, Homosexualities in the English Drama from Lyly to Wilde, Duke Ellington's Music for the Theatre, David Braham: the American Offenbach, Harry B. Smith: Dean of American Librettists, They Started Talking, Socialists, Socialites, and Sociopaths: the Plays of Frank Tuttle, and Against the Grain: Theatre from Ritual to Realism.

He was Musical director for professional theatres, including
The Moscow Art Theatre,
The Mark Taper Forum (Los Angeles),
Arena Stage (Washington D.C.),
Ford's Theatre (Washington, D.C.),
The Pittsburgh Public Theatre,
Syracuse Stage,
The National Shakespeare Company (New York),
Olney Theatre (Maryland),
The Coconut Grove Playhouse (Miami),
Asolo Theatre (Florida), as well as for productions in New York City and on national and international tours.

As piano accompanist, he performed with a number of celebrities, including
Angela Lansbury,
Gwen Verdon,
Chita Rivera,
Paige O'Hara,
Jan Peerce,
Robert Merrill,
Jerry Vale,
Liberace,
Lotte Lenya, and
Leslie Uggams.
Stage director of operas, including
Cenerentola (Rossini),
Cosi fan tutte (Mozart),
La Bohème (Puccini),
Ars Amandi
A Trip in the Country,
The Game of Love and Chance
Stage director of musicals, for example,
A Chorus Line,
Two Gentlemen of Verona,
110 in the Shade,
The Mystery of Edwin Drood,
A Little Night Music,
The Baker's Wife,
Stage director of plays, such as
The Romans in Britain,
Automobile Graveyard,
Edward II,
Bent,
Erotic Bestiality,
Prison Rites (world premiere)
As an educator with thirty years of college teaching experience, he has lectured at
Hartt College of Music,
Florida State University,
Syracuse University,
The Pennsylvania State University,
Louisiana State University.
He has published nineteen books, including
Duke Ellington's Music for the Theatre,
Sisters of Gore: British Women Melodramatists,
Gore on Stage: the Plays of Catherine Gore
David Braham, the American Offenbach
Harry B. Smith, the Dean of American Librettists,and
Hermes Pan: The Man Who Danced with Fred Astaire.

He is consultant to the British Library, the Smithsonian Institution, and Oxford University Press.