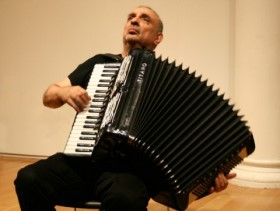 Composers Concordance's 2018 - 2019 season site is now live! Twenty exciting concerts are planned, including their 8th Annual CompCord Festival: 'Animals.' Here below is a partial list of amazing composers and performers included this season.

Dr. William Schimmel will participate in some of these events. More information to follow in later publications.

2018 - 2019 Season Concerts:
September: Chorus 72 -  @ William Paterson University 
November: - Around the World - @ The DiMenna Center
Estonian Connections -Venue TBA
December: - All About Russia - @ Goddard Riverside - Bernie Wohl Center
January: - Tick Tock - @ National Opera Center
Brass Motion - @ The DiMenna Center 
March: - CompCord Big Band - Venue TBA  
Silent Film Night - @ Goddard Riverside - Bernie Wohl Center 
CompCord Ensemble @ NWEAMO - @ San Diego State University School of Music and Dance
April: - Eclectic Bands - Venue TBA 
Jarvis @ 60! Birthday Concert - Venue TBA 
May: - 8th Annual CompCord Festival: 'Animals' -
i. Mostly Mutts' Art @ St. Mark's Church in-the-Bowery
ii. 10th Annual Comp-Play-Comp Marathon - 'Animal Theme' @ DROM NYC
iii. Remix of the Animals @ Bar Thalia - Symphony Space
iv. Entertaining Science - Venue TBA
v. Animal Gallery @ Estonian House
June : - The Progression Ensemble with Sean Satin & Jay Kauffman Duo - @ Kostabi World Uptown

Composers and performers:(those already confirmed, not the final list):
Aaron Alter, Adam Holzman, Alon Nechushtan, Amir Khosrowpour, Angela Babin, Ann Warren, Anton Rovner, Anton Vishio, Arkady Leytush, Arthur Kampela, Bjørn Bolstad Skjelbred, Bruce Arnold, Carlos José Castro Mora, Carlton Holmes, Carlton Wilkinson, Carolyn Steinberg, Charles Coleman, Christopher Vassiliades, CompCord Big Band, CompCord Chorus, CompCord Ensemble, CompCord String Orchestra Cristian Amigo, Dan Cooper, Daniel Palkowski, Daniel Schnyder, Dave Soldier, David Morneau, David Rozenblatt, David Saperstein, David See, David Taylor, Debra Kaye, Delila Gutman, Denise Stillwell, Dennis Bathory-Kitsz, Dina Pruzhansky, Dorian Wallace, Duke Bojadzijev, Eleanor Cory, Eugene McBride, Faye-Ellen Silverman, Franz Hackl, Gene Pritsker, Geoffrey Burleson, Gerson Galante, Ginka Mizuki, Gloria Coates, Greg Baker, Hajnal Pivnick, Hans Rotman, Heather Green, HI5, Jane Getter, Jasna Popovic, Jay Rodriguez, Jennifer DeVore, Jessica Wells, Jinhee Han, Joe Deninzon, John Clark, John Link, Jonathan Shanes, Jordi Barceló, Joseph Martin Waters, Joseph Pehrson, Joseph Waters, Juri Reinvere, Kathleen Supové, Kathy Halvorson, Katie Scheele, Kinga Augustyn, Kristjan Järvi, Lara St. John, Laurence Goldman, Luciano Berio, Luigi Porto, Luis Andrei Cobo, Lukas Ligeti, Lynn Bechtold, Maarika Järvi, Machiko Ozawa, Mark Kostabi, Mark Snyder, Martin Kuuskman, Masatora Goya, Matt Herskowitz, Max Pollak, Melanie Mitrano, Michael Villmow, Milica Paranosic, Mioi Takeda, Monika Mattiesen, Olga Terlitsky, Oriol Cruixent, Otto Luening, P. Kellach Waddle, Patrick Grant, Payton MacDonald, Peter Fabrizio, Peter Jarvis, Peter Melnick, Rainer Gross, Ralph Schutti, Randall Woolf, Richard Sussman, Rocco Jerry, Roger Tréfousse, Scott Hoefling, Sean Satin & Jay Kaufmann Duo, Sebastian Pritsker, Seth Boustead, Shanan Estreicher, Sophie Dunér, Sound Liberation, Stefan Zeniuk, Svjetlana Bukvich, The Freud Brothers, The Progression Ensemble, The Yorkvillians, Threeds, Tuulikki Bartosik, Vasilije Mokranjac, Velizar Iordanov, William Schimmel, Zach Seely, & Zentripetal Duo.