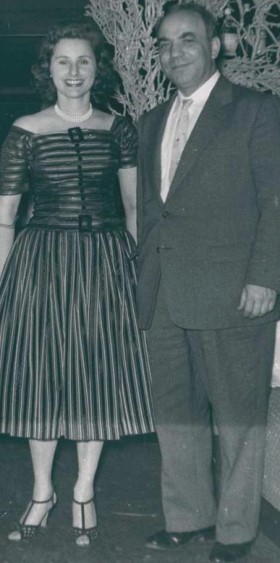 Picture right: The late AAA Board member Elsie Bennett with Paul Creston.

Accordionist Joan C. Sommers recently took part in a recording project to showcase some seldom heard works of the late Paul Creston (1906-1985). The recording project also involved Rebecca Sherburn (soprano), Patricia Higdon (piano), Karen Kushner (piano) and the UMKC Conservatory Chamber Orchestra conducted by Robert Olson. The CD Paul Creston 'Songs' is available at amazon.com and other online resources.

Paul Creston was one of America's most important and influential composers of the mid-20th century. He earned ample attention for his orchestral compositions, but his songs many of which are unpublished, remain little known. This new recording 'Songs' offers a wide introduction to Creston's vocal music, bringing to light pieces for solo voice that have languished in obscurity.

Soprano Rebecca Sherburn is an active chamber musician, having been featured by the Los Angeles Philharmonic New Music Group and the New York New Music Group. Her scholarly work has been published by the NATS Journal of Singing and the ACDA Choral Journal. A graduate of the University of Southern California, Ms. Sherburn is on the faculty at Chapman University. Prior to this appointment she was at the University of Missouri Kansas City where she received an excellence in teaching award.

Tracks for the CD include:

1. Three Songs, Op. 46
2. Nocturne, Op. 83
3. La Lettre, Op. 59
4. Song of Joys, Op. 63
5. Cantilena from Sadhana, Op. 11
6. Bird of the Wilderness, Op. 2
7. Thanatopses - Four Songs to Death, Op. 7
8. Ave Maria, Op. 52
9. Psalm 23, Op. 37
10. The Lamb to the lambs, Op. 47
11. Dance Variations for Voice & Orchestra, Op. 30
12. French Canadian Folk Songs (with Joan Cochran Sommers)
13. Lullaby
14. It's So Fantastic
15. My Love For You

Thanks to the efforts of Monica Slomski, a UMKC Graduate and US Champion accordionist who did her Doctoral Dissertation on Paul Creston, the extensive Paul Creston Collection was donated to the University of Missouri-Kansas City (UMKC) by Louise Creston, Paul's wife, in 1987.

The strength of the collection lies in the over 300 manuscript scores. The collection contains 102 of Creston's 121 works with opus numbers, and many of his works without opus numbers, including radio, film and television scores and also contains 154 published scores, some of which are permanently out of print.

Another strength of the collection is the professional correspondence. In handling correspondence, Creston always typed a letter, copied it, signed it, mailed the signed copy to the recipient, and kept the original unsigned letter for his records. Thus the correspondence contains all of the letters, telegrams, and postcards sent to and from Creston.

Paul Creston was born Giuseppe Guttovergi on October 10, 1906, in New York City to Italian immigrant parents, Gaspare Guttovergi and Carmela Collura. At age eight, he began taking piano lessons and teaching himself how to play his brother's violin. Creston also pursued an interest in literature, writing his first poem at age twelve, and starting a novel a year later. Because of poor family finances, Creston's formal education ended after two and one-half years of high school. During high school, he was nicknamed "Cress" after a character he portrayed in a play. Later in life, he lengthened this name to Creston, chose Paul for a first name, and legally changed his name to Paul Creston in 1944. Creston worked at various businesses, banks, and insurance companies to pay for organ and piano lessons, while studying English, foreign languages, mysticism, music composition, and orchestration on his own.

Although Creston had been composing as a diversion or part-time since age eight, his development as composer increased during the 1920s until 1932, when he finally decided to choose composition as his career. Creston learned how to improvise by working as a theater organist from 1926-1929, and eventually became the organist at St. Malachy's Church in New York City from 1934 to 1967. In July of 1927, Creston married a dancer, Louise Gotto (1903-1989), who influenced Creston in his ideas on rhythm and dance. His first premiere was in 1933 with the incidental music to a play Iron Flowers. The Crestons' first child, Paul Julian, survived only six weeks and was buried on the Crestons' tenth wedding anniversary, July 1, 1937. But on Thanksgiving Day, 1938, the Crestons were blessed with a healthy boy, Joel Anthony, and four years later, they had their third child, Timothy.

The success of Creston's early compositions created many new opportunities for him. From 1944 to 1950, Creston conducted a quartet on the radio program, The Hour of Faith, which aired each Sunday morning. Creston also worked as a composition instructor at over fourteen colleges and universities between the years of 1940 and 1962. In 1960, Creston received a U.S. State Department grant as an American specialist, which enabled him to lecture about American music for over a month in Turkey and Israel. He served as Professor of Composition and Orchestration at New York College of Music between 1963 and 1967, and in 1968, he became artist-in-residence at Central Washington State College in Ellensburg, Washington. During this time, he appeared as guest conductor and lecturer at many colleges and universities across the country. In 1975, he retired from Central Washington State College and moved to Rancho Bernardo, California, which lies on the outskirts of San Diego.

Creston wrote 120 compositions with opus numbers including piano pieces, songs, chamber music for various instruments, choral works, symphonic band works, and over 35 orchestral works including six symphonies. He is especially recognized for his contributions to the literature of neglected instruments such as the marimba, trombone, harp, accordion, and saxophone. His works have been widely performed by major orchestras and performing artists. In an orchestral survey prepared by Robert Sabin in the late 1950s, Creston and Aaron Copland shared first place in regard to the number of orchestra compositions and their performances by major American symphony orchestras.

Thanks to the efforts of the late Elsie Bennett, Paul Creston was commissioned by the American Accordionists' Association to compose several pieces including:

-Concerto for Accordion and Orchestra
-Embryo Suite
-Fantasy for Accordion and Orchestra
-Prelude and Dance

Among Creston's awards and honors are two Guggenheim Fellowships (1938, 1939), New York Music Critics' Circle Award (1943), Citation of Merit from the National Association for American Composers and Conductors (1941), the Music Award of the American Academy of Arts and Letters (1943), and the Citation of Honor from the National Catholic Music Educators Association (1956).

Paul Creston was diagnosed with cancer in 1984, and passed away on August 24, 1985.