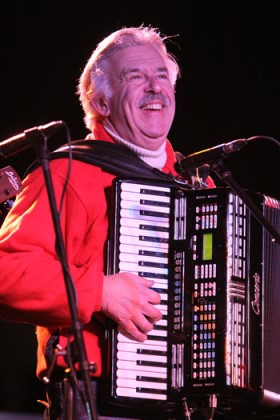 Mission – The Holiday Express mission is to deliver music, food, gifts, financial support and friendship to those with the greatest need for the gift of human kindness during the holiday season and throughout the year.

Founded in 1993 by Tim McLoone, Holiday Express is a grass roots, non-sectarian, registered 501(c)(3) non-profit organization.

It is comprised of more than 1,300 volunteers – including 80+ professional musicians – Holiday Express delivers music, food, gifts, financial support and friendship to adults and children who are physically and mentally disabled, living with AIDS or homeless, as well as the isolated elderly and others in need.

We travel throughout the Tri-State area in November and December bringing approximately fifty "interactive private parties" to clients who might otherwise be overlooked during the holiday season. Our events include a rock 'n' roll band, costumed characters, choreographed parodies, crafts, games, food, good cheer, gifts and lots of hugs!
 
Once again, a feeling of sadness came over me as I finished the last Holiday Express event at the Trinity Church Soup Kitchen on Christmas Eve.  When an organization does 50 shows in 30 days, you get real close to the other musicians, vocalists and volunteers.

More important are the smiles, the joy and the faces of the clients that always leave a lasting impression; the "Older Adult Orphans" at psychiatric facilities, the Young Adults and Teenagers at halfway houses one step from jail and the Children; especially the Children at the specialty schools.

As I began to write my memories of my 3rd season (Holiday Express' 18th Season), I re-read my first year's recollections I was asked to write for the 2008 yearbook – I had just begun to play again after a 15 year break and although I had performed at thousands of weddings, parties, nightclubs, etc. in my career, I had never experienced anything like this before. So here is a reprint of the article. The only thing that's really changed is that I'm no longer the "new kid on the block", but the emotions never change – Hope you enjoy my story:

I am positive that what I'm about to say has been said many times before; but I will say it anyway: "without hesitation, this was my most rewarding holiday season since my kids were little and still believed in Santa Clause and the Hanukkah Fairy. 

There, I've said it! Having known Tim McLoone for more decades than he and I would be willing to admit, and after a short break (fifteen years) in my musical career, it was time for me to find a way to give rather than receive. What better way than Holiday Express!
 
But wait; I'm an accordion player and why would I think that Holiday Express would want an accordion player. So what that I won a national music scholarship through the Boys Clubs of America at the age of 13 and, on weekends, studied with Maestro Joseph Biviano from Columbia University all through high school.  So what that I was the youngest member ever admitted to the national renowned orchestra, the Accordion Symphony Society of New York at the age of 15. So what that I toured the mid-west with The Escorts, Doc & the MD's and The Broadway Clique for 4 years while in college.

So what if I was part of the early Jersey Shore rock scene jamming at the Student Prince, Pandemonium and the Upstage and was the original keyboard player (Hammond B-3 & Fender Rhodes piano) for the very popular cover band, Waterfront (the first rock band ever to play the Tradewinds). 

So what that I played more than 100 gigs a year with the Bruce Gassman Orchestra from 1975-1992. This is all ancient history and the only thing musical I'm doing now is performing with the Accordion Pops Orchestra. Not that this is a bad thing, but it is what it is.
 
Holiday Express is chock-full of talented, professional musicians who haven't had a recent 15 year musical sabbatical AND in the history of Holiday Express, never had an accordion player (never had a tuba player either, but I heard they came close once). Not know for my shyness, I reached out to Tim and was invited to a kick-off meeting in October.

There I was in a room full of volunteers and as Tim looked over at me, announced "and there's Bruce Gassman, accordion player". As I prepared for the proverbial Lady-of-Spain jokes, the room did not burst out in laughter – WHEW!
 
Then came the audition. What do I play? I surely know lots of Christmas (oops, Holiday) music, but what else; Beatles; Motown; Ethnic; Jazz; No, I'll play something a little more difficult (light classical) to display my technical ability. As I let the dais know, Tim, in a way that only Tim can, says "oh sure, make us all feel bad that none of us studied classical music". I thought to myself, nice move, Bruce. Then there were the looks in Amy's and Rick's eyes as I tried to let my fingers to the talking. I could only guess what they were thinking.

As I was leaving, Joe Petillo reminded me that we had performed together many times in the Boys Club Reviews (back in the day). I was thankful he remembered and secretly, hoped he would put a good word in for me.

I did not hear back from anyone for a week, so I e-mailed to "just check in", thinking the whole time that playing "Dance of the Comedians" by Frederick Smetana from the opera "The Bartered Bride" was definitely not a good move. A few more days went by and I resigned myself to the fact that this wasn't looking good. But as fate would have it, Tim did reach out and invited me to a rehearsal and the rest, as they say, is history (or was it)?

Now I had to fit an accordion in with Rick's horn section, Jim's guitar players, Amy's group of vocalists, and a killer rhythm section while making sure not to step on Tim's piano parts. At the same time, try to keep the Beer Barrel Polka comments in check.
 
First, the guys in the horn section seemed to be ok with me, as many of them may have worked with an accordion player in the past and many of them new Art Bressler, who plays a few shows each year and had been my high school sax player. I felt more at ease when I met baritone Tom, who let me know he had a Titano accordion like mine and he was a player. Then the "Legend" made me feel welcome as we reminisced about the late-great trumpeter, Rafael Mendez.

The jury was still out with Rick (more on that later). The percussion section is great; Bob, Jim, all of them. I even had some fun playing Brubeck with Jim only to find out he had studied with the great Joe Morello. I also love bass players, but one of the most difficult things an accordion player must remember is; do not play bass when there is a bass player.

Jerry reminded me of that very early on in his own subtle way. Vocalists are a special breed and I wasn't sure how it would go with them. But I'm happy to say that as more time went by, the warmth that only an accordion can provide in some songs seemed to win most of them over.
 
You noticed I saved the guitar players for last. I felt this would be my biggest challenge since rock & roll accordion died out with Gary Lewis and the Playboys. It does not matter that accordion players are revered in Europe and Asia.

In the USA it is still, you guessed it: Lady of Spain and The Beer Barrel Polka, although there is Zydeco, Tex-Mex and Cajun making a big splash in some parts. I was reminded of my age again when I showed Roger a picture of the Metrotones, my high school band with Art Bressler. He looked at it, pointed to the guitar player in the photo and said "hey, that's Mike Trocy; I took lessons from Mike Trocy"! Oh well, any connection can't hurt, right? I would be remiss if did not thank Jim for making me feel at home. Jim does have a pleasant way about him and that was greatly appreciated.
 
As I said in my opening comment, "this has been my most rewarding holiday season in many, many years". I'm astounded by the coordination of volunteers behind the scenes, the commitment each and everyone has to the mission and the overwhelming community support – if only government could take a lesson from Holiday Express. My first year memories are many.

Some of the faces in the audience have left a lasting impression – some good and some heartbreaking. Watching physically and mentally challenged people explode with joy while they dance and sing with the group and knowing that tomorrow will be a very different day for them takes you through a litany of emotions that's hard to explain to someone unless they experience it for themselves.

And of course there are the children, oh my. You wish you could just take them home, click your heels together and all would be right with their world. The current economic situation is nothing in comparison to their current situation. You see, the economy will eventually get better.