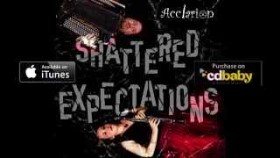 Video 1: ‪acclarion twilight of shadows preview of shattered expectations cd‬
Video 2: 3 minute documentary on "Acclarion"

We begin the new year by presenting to our readers information about an amazing collaboration between an accordionist and clarinetist. "Shattered Expectations", the new CD recently released by Acclarion, is their third CD and available now.

Who is Acclarion? Accordionist David Carovillano holds a Masters degree in performance from the University of Toronto, Faculty of Music. He is a concert free-bass accordionist in North America, and was a student of Canada's accordion pioneer Joseph Macerollo. Having competed in various music festivals throughout North America, he has received over 140 awards for his playing and he has received several scholarships from the University of Toronto. David participated in master classes held in Venice Italy, studying under noted German accordionist, Hugo Noth.  He has performed on numerous television, radio shows and theatre productions, including City TV's Breakfast Television, Insight Productions' Ready or Not, HGTV's Design for Living, Global TV/MTV, a solo concert in 2001 with CBC's Music Around Us, the Stratford Festival's production of Fiddler on the Roof and the "new Mozart musical",  The Magic of Love for which he appears on the original cast recording, conducted by Charles Cozens. 

David has performed in various chamber capacities with members of the Toronto Symphony Orchestra, The Toronto Winds, and I Furiosi, as well as being featured in new music concert series presented by Collaborations and Array Music.  In addition to performing, he is active as a music educator, festival adjudicator, and clinician.  As a composer and arranger, his music has been featured on radio, recordings, and live concert performances in North America and Europe. 

Clarinetist Rebecca Sajo-Carovillano holds a Master of Music degree from the University of Toronto, Faculty of Music.  She is the first person in the university's history to major in multiple woodwind performance. Rebecca is proficient on all clarinets, bassoon, saxophone, and flute. She has studied with clarinetist Peter Stoll, saxophonist Alex Dean, and bassoonist Kathleen MacLean as well as playing in master classes for James Campbell and Sabine Meyer.  She was a finalist for two years in the Canadian Music Competitions, is Royal Conservatory silver medalist on clarinet and saxophone and earned her ARCT in clarinet performance when she was just 16. 

Rebecca has played with the National Youth Band, the Toronto Symphony Youth Orchestra, and the Toronto Philharmonia.  Rebecca participated in the Henry Mancini Institute in Los Angeles where she played with musicians such as Paul McCandless, Randy Newman and Arturo Sandorval. Her musical versatility was displayed through performances of classical, jazz, pop and film music with some of LA's finest musicians.  As a teaching-artist, Rebecca maintains a private music studio, is frequently sought after by schools to coach wind and chamber music ensembles, and has developed music programs for schools in three Canadian provinces. 
 
From their website, album liner notes: "12 years ago, we set out to conquer the music industry. As classically trained musicians playing accordion and clarinet, we knew we were "niche", but naively, we thought that "good music and good musicians" will trump any pre-conceived notions people may have about our unique instrumental ensemble.

There have been hurdles to jump; lots of them. We aren't a string quartet. We aren't a piano trio. We aren't a brass quintet. We're different. Different's good, isn't it? For the musically curious, outside-the-box thinkers, we are their muse. We love making music for them. But we have held steadfast in our belief that if more people would have the chance to hear this music, they would fall in love with it too.

And so, we have set out on a journey of musical discovery. To nurture our creativity. To embrace our unique opportunity to create something special. To push forward when all earthly circumstances suggest we should stop. Music has given us everything...and we've given everything to it. This album represents the sum of 12 years of commitment. It represents our eclectic musical tastes, and our desire to give a new voice to classic works, as well as create a living body of repertoire that has so desperately been lacking for our instruments.

With this album, we hope you discover a new sound that captivates, intrigues, and ultimately, satisfies your musical cravings. Whatever "expectations" you may have when you think about accordion and clarinet, we hope that our music will "shatter" them."

About the music...
1) Scherzo (D. Carovillano) 3:19 - Playful and technical wizardry that is delightfully quirky.
2) Anello di Fuoco (D. Carovillano) 6:00 - Inspired by the reverence, awe, and fear ancient people had for the power of nature.
3) English Folk Song #2 (R. Vaughan-Williams) 1:16 - Sun dawns on the English countryside; shimmering on the morning dew as flora and fauna awaken.
4) Adagio and Tarantella (E. Cavallini) 5:51 - This virtuosic show piece originally for the clarinet combines operatic drama and a dazzling whirlwind of notes.
5) Twilight of Shadows* (D. Carovillano) 7:18 - Reality and fantasy blur in the twilight as this dramatic work evokes haunting
lyricism, a passionate tango, a wobbly circus waltz, and a romantic Parisian cafe.
6) English Folk Song #6 (R. Vaughan-Williams) 0:47 - A ship is ready to set sail from the harbour with this jaunty sea shanty.
7) Clarinet Quintet for Two (W. A. Mozart) 9:14 - Yes, we have the chutzpah to replace an entire string quartet with an accordion
for Movement 1 of Mozart's K. 581.
8) Frenzy (D. Carovillano) 4:08 - Chaos vs. order; intensity vs. relaxation. Fingers fly and Becky's bass clarinet "Bertha" gets a workout.
9) English Folk Song #5 (R. Vaughan-Williams) 1:36 - A lilting lullaby conjuring the rolling fields and hills of England.
10) Rondo from Sonata Op. 67 (T. Gouvy) 5:17 - With roller coaster runs and sparkling interplay, it is rare to find Romantic era music, composed by a contemporary of Brahms, that fits the accordion and clarinet like a glove.
11) Mountainicus (D. Carovillano) 4:32 - Music portrays the majesty and might of the Rocky Mountains: the powerful jagged peaks, vast crystal clear lakes, and playful wildlife of Canada's "Wild West."
12) Introduction and Czardas (S.B. Cohen) 5:03 - A lone gypsy musician calls us to the party that lasts until dawn.
Share This!
- See more at: http://www.acclarion.ca/music/a/shattered_expectations#sthash.oPsiERTp.dpuf

Future performances include:
Saturday, January 16th, 2016
WHITEHORSE CONCERTS
Acclarion in Concert - 8pm
Yukon Arts Centre, Yukon Place, #80 Range Road
Whitehorse, Yukon Territory
Canada [map]
Acclarion will also be performing education outreach concerts in Whitehorse on January 15, 2016
Sunday, May 15th, 2016
PAINESVILLE UNITED METHODIST CHURCH CONCERT SERIES
PUMC Concert Series presents Acclarion - 4pm
71 N Park Place
Painesville, Ohio 44077
United States
440-354-3642 [map]

Monday, May 30th, 2016
ALABAMA ACCORDION ASSOCIATION
Two Acclarion concerts coming to Alabama
tbd
Alabama
United States [map]
Date will change - date and time to be finalized - stay in touch for more details.

Sunday, June 12th, 2016
FREE@3 CONCERT SERIES - FIRST REFORM CHURCH
Acclarion in Concert - 3pm
First Reform Church 630 State Street
Holland, Michigan
United States
(616) 392-8085 [map]
Price: free

Saturday, June 18th, 2016
NEAPOLITAN CONNECTION CONCERT SERIES: MUSICAL MATINEES
Acclarion Family Concert - 3pm
4709 Dundas St. W.
(Etobicoke) Toronto, Ontario [map]
Price: $15

I highly recommend their new CD, "Shattered Expectations". The arrangements and compositions are unique, virtuosic, and performed with the highest level of technical proficiency and sensitive, expressive musicianship by both David Carovillano and Rebecca Sajo-Carovillano.

I encourage you to listen to their CD's, watch their performances on Youtube and purchase their new CD.