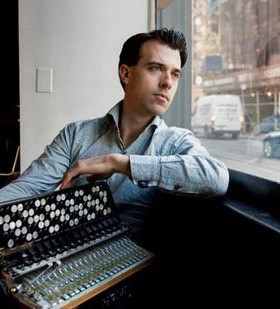 On Sunday, January 15, 2017, JazzNights is pleased to present the Julien Labro quartet which includes Julien Labro (accordionist), Vadim Neselovskyi(p), Richie Barsha (percussion), Jorge Roeder (bass). The event will be held at 4:PM at the Curtis/Brodsky home at 53 Clarke Court in Princeton. Directions are posted on our website. We are asking for a contribution of $55 per person. Please email your reservation to mary@wisnovsky.net or simply reply to this email at your earliest convenience.

In an effort to save paper and mailing expense, as well to give us an idea of attendance numbers sooner rather than later, we ask those of you who email responses to write out a check payable to Mary Wisnovsky for the appropriate amount ($55 per person) and mail it to her at her address, 33 Otter Creek Road, Skillman, NJ 08558. Payment would also be appreciated as soon as possible.

Note: If you reserve now but later find that you can't make it, please let us know right away. We often have a waiting list and can use the space, sometimes even at the last moment. We try to keep the costs as low as possible and "no-shows" inevitably raise the price to others in the future.

This concert is a "first" for JazzNights—over the past 15 years a wide variety of musicians and instruments have performed for us, but we have never before presented a jazz accordionist! I heard Julien Labro and his quartet perfom for the Princeton University concert series last spring and I and many others in the audience were bowled over. It promises to be an exciting afternoon of music and we hope many of you will come.

Heralded as "the next accordion star," Julien Labro has established himself as one of the foremost accordion, accordina and bandoneón players in the classical and jazz genres. Deemed "a triple threat: brilliant technician, poetic melodist and cunning arranger," his virtuosity has earned him international acclaim.

French-born Julien Labro moved to the United States in 1998 where he earned two Graduate Degrees in Composition and Jazz Studies and was exposed to and embraced music ranging from jazz, pop and hip-hop to electronic/techno, avant-garde and rap, as well as Latin, Indian, Asian, Middle Eastern, and other types of world music.

He has shared the stage and/or recorded with a myriad of eclectic artists including João Donato, Cassandra Wilson, Marcel Khalife, Miguel Zenón, Jon Irabagon, James Carter, Chris Cheek, Tommy Emmanuel, Bucky Pizzarelli, Frank Vignola, and Fernando Otero to name a few.

Boundary breaking and eclectic, the Julien Labro Quartet escapes easy classification with its unique musical language and blend of improvisation and artistry that draws from each individual musician's diverse background and musical roots. Inspired by music from around the world and across a myriad of genres, spanning jazz, classical, world and even folk music, the JLQ have crafted a refreshingly genre-bending, multilayered contemporary voice, rich with harmony, rhythm, and spontaneity that sets them indescribably apart.

Ukranian born pianist Vadim Neselovski debut solo CD Music for September has been described as an elegant and lyrical collection that is equl parts classical recital and jazz session. He has been praised by the Los Angeles Times for his "extraordinary playing" and by the New York Times for his "feathery touch".

Originally from Lima, Peru, Jorge Roeder is one of the most versatile bass players in the New York jazz scene. Touring, recording and performing actively in New York, Jorge is currently part of several projects including The Julian Lage Group whose debut album was nominated for a Grammy for "best contemporary jazz album catagory" in 2009. He has performed with luminaries such as Gary Burton, Steve Lacy, Kenny Werner and Matt Wilson.

Percussionist Richie Barshay noted for his work with the Herbie Hancock Quartet , has established himself as a prominent musical voie of his generation. On tour and recordings, his diverse resume includes Chick Corea, Esperanza Spalding, Fred Hersch, Kenny Werner and Bobby McFerrin, among others.

JazzNights is a series of house concerts begun in 2002 by Mary Wisnovsky and Maitland Jones. Over the years, we have hosted some of the best jazz musicians in the world. We would be pleased to have you join us.

Contact us if you are interested. Reservations by email to: mary@wisnovsky.net or mjjr@princeton.edu.