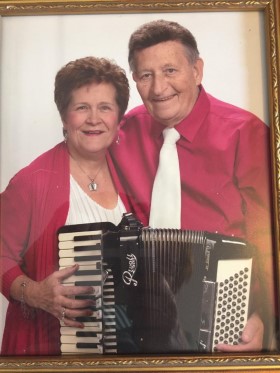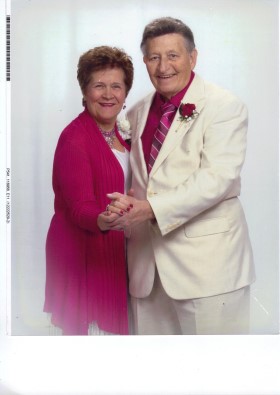 "Accordion" defined Bob Siarkowski. It was his hobby, vocation, profession, livelihood, life! Bob had the gift of music plus perfect pitch! From humble beginnings, a coal miner's son, Bob was born in Wanamie and raised in Nanticoke in the coal mining region of eastern Pennsylvania. Bob's parents only had a 4th grade education. His Dad, Peter, the oldest of 7 kids, went to work in the mines at age 14. Bob's Mom, Rose, 1 of 10 kids, took in laundry from Galli's Restaurant to help feed the family. Barely earning a living wage, they sacrificed to support their only child's ambition.

Inspired to play accordion by Uncle Louis who entertained at family gatherings, Bob began taking accordion lessons from Joe Gurka at age 7. However, Bob's dream went up in smoke at age 9 when his father was laid off from the mines. Unable to pay the rent, the Siarkowskis were evicted from their apartment, their furniture confiscated, and their door deadbolted by the landlord. Fortunately, Bob's paternal grandparents took them in, sharing their cold water flat with no indoor plumbing or central heat.

Bob's music lessons were on the back burner, but this did not extinguish Bob's burning desire to play the accordion. The family's only source of energy year round for heating, cooking, and washing was coal. To keep the home fires burning and literally add fuel to the fire….Bob walked 2 miles round trip to/from the railroad tracks 5 days a week when the mines were running. Armed with a hammer and 2 big burlap bags, Bob salvaged coal falling from freight trains. He'd whack big chunks into smaller pieces for a 9 year old lad to lift and lug. This "coal cash" not only generated heat, but significant fuel savings, enabling Bob's parents to finance his accordion lessons through age 16 with Joe Gurka of Nanticoke, to whom Bob attributed his fantastic accordion background, terrific talent, and exceptional expertise.

When the Siarkowskis moved to Connecticut, Bob began his teaching career at age 16, while performing with several combos including his own, "Bobby Lou Orchestra". Quite the entrepreneur, Bob opened his own studio, "Bob's Accordion School" in Plantsville at 18, right out of high school. In the meantime, he progressed personally, studying with Domenic Mecca of Waterbury, Tony Mecca of New Rochelle, NY, Joe Biviano of Manhattan, NY, and John Molinari of Oakland, California. By age 21, Bob was managing Esnar Music Company in Sacramento, California, supervising their 9 teachers, while instructing the most advanced of their 750 accordion students.

Bob and I met at rehearsal for an accordion recital… This handsome dude barged in, positioning himself front row center in the orchestra – music stand, accordion and all. My curiosity aroused; I approached the stranger, "You're new here, aren't you?!?" Little did I know that I had just hurled a "perfect pitch"! Bob's turn to come up to bat, he asked me out that night. My Mom ran interference…."Your homework's not done!" I was only 17. Bob was 21. He had a car, a band, his own business. Ma figured, "He's too old for you. He has older ideas!" With the recital only a few weeks away, I had to strategize. Hmmm…Ma might change her mind if she met Bob. I had nothing to lose! It worked! The rest is history! Bob's band played for our wedding reception. 'So, did we, as an accordion duet to the delight of our guests. Married nearly 57 years, we have 2 sons, 4 grandchildren and 3 great grandchildren.

Over the years, Bob and I have performed as an accordion duet in 12 states plus 2 Canadian provinces, participating in the International Accordion Festival in Montmagny, Quebec for several years. Countless venues in between include our 50th anniversary featuring an accordion theme…. Custom made accordion favors, accordion cake choreographed "to scale", and a live band, "Squeezebox" with two accordionists, husband and wife Ted Lange and Molly B of RFD TV fame. Our claim to fame as a duo was our theme oriented repertoire and coordinated garb, earning us 1st place trophy for the best dressed couple at the 2012 Las Vegas, Nevada International Convention!

Bob once asked if I knew that "The accordion is a unique instrument." I asked "Why? Because you play it?!?" I got "Accordion 101"…. "Think about it. The accordion is the only portable, self-contained musical instrument that you can play the melody, harmony, rhythm and accompaniment all at the same time!" With horns and string instruments, you only play one line of music at a time and are limited to one tone. With the accordion, you're playing two lines of the music at the same time – treble clef for the right hand, bass clef for the left, with several tone variations! Because of Bob, I have a much better appreciation of accordionists! 'And the accordion!

Bob's professional career spanned 67 years between age "15 to "82", encompassing 4 generations of students aged 4 to 84. Asked when he planned to retire from teaching, Bob replied "I have no intention. I plan to teach and play until I stop breathing!" Indeed, he maintained his music schedule through age 82 until his dying day, May 12, 2019. Bob's probably playing "In Heaven There Ain't No Beer" right now in the angel band! ! Let the music play! From day one, in every way, the accordion was always very "instrumental" in our relationship….Accordion, the tie that binds.