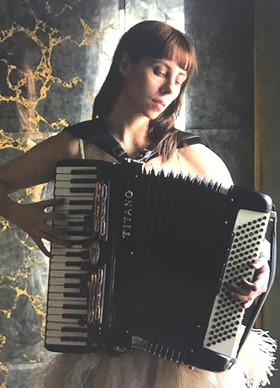 Watch accordionist Erica Mancini in her online program on Thu, Jun 4, 2020 6:00 PM - 7:00 PM EDT. Missing live music and a good happy hour cocktail? See Atlas Obscura musician Erica Mancini perform. Erica is a full-time accordion player in New York City and is excited to welcome you to her home in the heart of Little Italy. Erica will teach you how to make her favorite cocktail, a Negroni, and show you around her classic 1970's vintage Rococo apartment.

After the tour Erica will serenade everyone with a selection of old French, Italian and vaudeville songs. Requests can be submitted early in advance to adriana.molello@atlasobscura.com up to a day before the experience. Once registered, you can access the Zoom room for this experience through your confirmation email or Eventbrite account.

Erica Mancini, a Chicago-land native born to Argentine parents, moved to New York City in 2009 to pursue a degree at NYU's Gallatin School of Individualized Study. Before her move, she was deeply involved in marching band, orchestra, and jazz band (doubling on drum set/percussion and electric bass), as well as other musical projects of her own, being mostly punk bands. Shortly before arriving to NYC, she decided to pick up a new instrument—the accordion. She worked closely with teacher and mentor Bill Schimmel, with whom she studied with privately for the duration of her time at NYU.

After graduating in 2013, she has performed as an accordionist, vocalist, and percussionist internationally and throughout the US with many different groups and also as a solo artist. Mancini has worked for private agencies and high-end clients (Hermes of Paris, Delta Airlines, Gwenyth Paltrow, Jessica Alba, Vueve Cliquot, Carven) and has performed at events at iconic New York locations such as The Whitney Museum of Art, World Trade Center One, and The Rainbow Room. She has also been featured in curated urban public performances at City Center in Washington DC, as well as Penn Plaza 33, Battery City Park, and Bryant Park in NYC.

She has been featured on national and international television (NBC5, Argentine radio and TV, HBO), and has performed in a variety of musical situations. In addition, Mancini has developed a passion in aerial / circus arts, (particularly with the aerial silks), and is one of the few people in the world to play accordion and sing while doing aerial acrobatics on the silks. Her original project, called Ghost Pony, is a psychedelic spaghetti western band in which she also plays accordion while performing on the aerial silks. This project has performed at Lincoln Center, Chicago's Graceland Cemetery, LA's Globe Theater, performing alongside Xiu Xiu, Black Marble, Elliot Sharpe/William Schimmel, and more.

In her creative downtime, she likes to spend her time combining the accordion and different electronic elements (such as Ableton, pedals, and effects) and developing new sounds and ways to use the accordion in compositions and within the context of improvising. She frequently performs with several different jazz bands, singing, playing and leading her own ensemble The Bee's Knees, and also with many other groups including The Gotham Easy (New Orleans weirdo hot jazz), Bon Musique, Carte Blanche, Via Paris Jazz Band, The Hot Toddies, The Bailsmen, and more.

Her theatrical and film involvement has kept her busy throughout the past few years, and she has had the pleasure of performing in the following projects: "A People's History of Silicon Valley", multi-instrumentalist/acting, ANT Fest at Ars Nova, (2019), "Brecht's Galileo", multi-instrumentalist/accordion, Irondale Theater, (2019), "EVITA", onstage accordion/singing/acting, Riverside Theater, Vero Beach, FLA (2019), "Minky Woodcock, The Girl Who Handcuffed Houdini" produced by Speakeasy Dollhouse, accordion/acting, Theater 80, (2018), "The John Oliver Show", on-camera accordion, on-camera accordion, Troma Films, (2018), "Happy End" accordion in the ensemble for Kurt Weill Operetta, New School, "Il Postino", on-stage accordion at Kaye's Playhouse for Daniel Catan's opera, New School , "Truffles: A Murder Mystery" accordionist in off-broadway musical show for over 5 years, "Svejk", accordion in an NYU Gallatin theater production, Mancini has also performed in McKittrick Hotel at "Sleep No More", Atlas Obscura events "Into The Veil", "Dances of Vice" events, 'Speakeasy Dollhouse': "The Illuminati Ball" and "Ziegfeld Follies", as well as various burlesque and variety shows/productions in NYC.