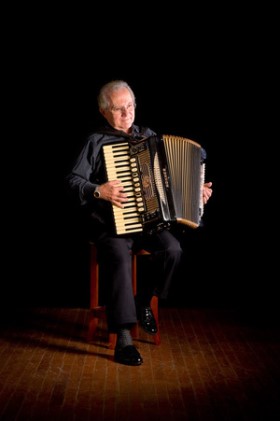 Joe Soprani and his ensemble perform "Soft Summer Breeze" and "Anema e core" produced by Naut Pictures for its forthcoming documentary on Joe; "Dizzy Fingers." Musicians: Joe Soprani, accordion; Len Oranzi, guitar; Ed Hagopian, piano; Bill Zinno, bass; Patrick McHenry, drums

It was filmed at Forge Recording in Oreland, PA; Produced, engineered, and mixed by Brendan McGeehan; Directed and edited by Dom Hilton; 2nd camera: Matt Martin; production assistant: Jay Yachetta

Accordionist Joe Soprani will perform on Sunday, March 9, 2014 at the World Cafe Live Philadelphia-Upstairs, 3025 Walnut Street, Philadelphia, Pennsylvania. At this time the world premiere of "Dizzy Fingers: The Life of Joe Soprano" will take place. Make sure you are there for this major film premiere event and concert.

Recognized as a world class accordionist, educator and arranger-composer, Joseph Soprani has dominated the accordion scene in Philadelphia for man than 45 years. Having appeared with the Philly Phanati at Citizens Bank Park in Celebration of Italian Heritage Night in 2012 and 2013, he holds the distinction of being the only accordionist in the history of the Philadelphia Orchestra to appear as featured soloist under Eugene Ormandy.

He is the the former accordion soloist with the US Air Force Band in Washington, DC and was the first accordion soloist with the Pennsylvania Army National Guard Band for eight years. While with the Air Force Band, he was awarded "The Air Force Roger", the most prestigious entertainment award bestowed by the US Air Force.

The accordion has brought Joe Soprani some of the most unique performance experiences imaginable. With his squeezebox in tow, Joe has collaborated with Bon Jovi, performed at the White House, with Pavarotti, with tenor soloist Russell Watson, with Peter Nero and the Philly Pops, on national television, and more. During his career, Soprani performed for President Eisenhower, Vice President Nixon, and many world dignitaries. In 2006, he was voted by the Philadelphia City Paper as "the most versatile accordion player" and he continues to promote the accordion as a serious instrument. He is currently the in-house accordionist on the Don Giovanni Italian Oldies Radio Show which can be heard via the internet.

Joe Soprani has even survived a plane crash (though his first instrument did not). In his 80 years, Joe continues to work on and perfect his craft with seemingly endless energy and enthusiasm, while also passing on his knowledge to his many students.

"Dizzy Fingers: the Life of Joe Soprani" explores a remarkable life filled with music. With the help of interviews with people in Joe's life, including Obie O'Brien (Bon Jovi), Susan Ashbaker (Opera Company of Philadelphia), and Joe Parente (president, Local 77), the film examines the true talents of a masterful musician. Not only that, but "Dizzy Fingers" provides a historical context to the instrument itself, with insight by ethnomusicologist, Marion Jacobson, who describes the rise and subsequent fall of the accordion due to the arrival of the Beatles. With the accordion seeing a great resurgence in contemporary pop and indie music, the time is now to recognize the man who never left it behind.

Leading up to the premiere screening, Joe will perform live with a full band, playing well known pop, folk, and classical works.

Joe Soprani and film producer, Brendan McGeehan, were interviewed on WHYY's Radio Times on February 27 with Marty Moss-Coane. You can hear the interview in this article.

Film producer Brendan McGeehan is a true utility player in the music industry. A trained recording engineer and studied musician, he is adept and comfortable behind the board, in the producer's chair, as well as performing bass, piano, guitar, or ukulele on the other side of the glass.

Equally at home at a rock venue, classical concert hall, or jazz club, Brendan's enthusiasm and love and understanding of many genres of music keeps him in demand. Formerly touring as bassist with punk/funk band Counter Riot, whose 2011 album was produced by Scott Stallone, he currently plays bass and keyboards for Philadelphia act Wonder & Fury and AlyCat.
As a composer, he has scored music for several films over the last few years, appearing on FunnyOrDie and working with directors from Philadelphia to LA. His film, "Trouble's A'Brewin'," which he also produced, premiered at the 2012 Off-Centered Film Festival in Austin, TX.

As an engineer, Brendan is constantly involved in the production of sounds, whether it's working as the in-house producer/engineer for a 80 year-old Philadelphia accordion legend or mixing audio for 20,000 people at PPL park for the Philadelphia Union at a MLS game, and all things in between.

Tickets are $12-$15 General Admission. All Upstairs tickets are General Admission. Dining is available at World Cafe Live. Reservations are accepted for Upstairs Live, a full service restaurant; scheduling a reservation time 1½ to 2 hours before show time is recommended. WHEELCHAIR ACCESSIBLE SEATS are located on all seated levels of this theatre. For more information, please contact: ticketingstaff@worldcafelive.com or call 215-222-1400.