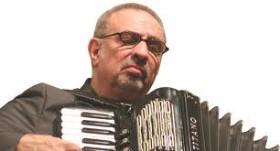 Presented by The New York Public Library for the Performing Arts at Lincoln Center: Reeds, keys, bellows or air… A vast universe of music, drawn from an accordion! Dr. William Schimmel kicks off a week-long accordion festival with an evening of eclectic, enchanting, amusing, and enraging accordion creations. From polka to punk; from Schubert to circus, Schimmel and friends will squeeze out every echo of accordion magic.

Join them for the opening night a week-long celebration of the Library's newly acquired William Schimmel archive. The date is April 1, 2019 6-7:30 PM. The late morning afternoon events each day will take place at the Vincent Astor Gallery and the April 1st evening event will take place at The Bruno Walter Auditorium - both at the library. All of the events are free. Reservations are necessary for Monday evening April 1 and the closing day April 6. The theme of each day and the participants are listed below. Join us in this exciting event.

Day 1: April 1 - The Vincent Astor Gallery- Dr. William Schimmel, Curator, THE BUILT IN IRONIC DUALITY: Hip and Square, Elegant/Vulgar, Beautiful/Ugly, Old/New, Classy/Ain't got no class. Participants include: 11 Am to 5:PM Nelson and The Wolf - Godfrey Nelson and Lorraine Nelson Wolf, David First, Will Holshouser, Melissa Elledge, Erica Marie Mancini, Dr. Denise Koncelik, Paul Stein and Dr. William Schimmel.

6 to 7:30 PM at the Bruno Walter Auditorium: Classical, Contemporary, Indie and Tango with Dr Hugo Goldenzweig, Corn Mo, Dr. Denise Koncelik, Dr. Robert Young Mc Mahan, Emanuel Borowsky, Cecylia Barczyk and Dr. William Schimmel

Day 2: April 2 - The Vincent Astor Gallery from 2 TO 5:30 PM - Dr. William Schimmel, Curator " ACCORDION MIXOLOGY"
1. An installation by Dr. William Schimmel containing a collage of Accordion Books past and present,useful and useless, fun and questionable, educational, intellectual,smart and dumb. A Non Historical display of Accordions in the realm of today's design issues in everyday usage.
2. A presentation of Videos directed by Micki Goodman - featuring Ms Goodman and Dr. Schimmel in every aspect of music and movement.

Day 3: April 3 Vincent Astor Gallery from11 TO 5 PM Dr. William Schimmel, Curator "CAROUSELS. ZOMBIES, TENTACLES AND OTHER GASEOUS MATTERS" An Interactive day for Children and Adults alike.The Main Squeeze Orchestra: Katrina Yaukey, Charita Patamikakorn, Mina Gemini, Rachel Swaner, Elaine Yau, Melissa Elledge, Sarah Starpoli, Dr. Denise Koncelik, Rebekah Allen, Micki Goodman, Erica Marie Mancini, Kathryn Andrews, Bachtopus, Robert Duncan, Mayumi Mayoaka, Peter Flint and Dr. William Schimmel

Day 4: April 4 Vincent Astor Gallery from 11 TO 5 PM Dr. William Schimmel, Curator, "THE ACCORDION OF LIBERTY" The Accordion as part of (but not limited to) The Jewish Experience: Dr. Denise Koncelik, Will Holshouser, Bob Goldberg, Lisa Kirchner, Dr. Robert Young Mc Mahan, Corn Mo, Paul Stein and Dr. William Schimmel

Day 5: April 5 Vincent Astor Gallery from Noon to 5 PM Dr. William Schimmel, Curator, "PUNKORDION", The Accordion with an edge:Benjamin Ickies, Milica Paranosic, Ted Nash, Carl Riehl, David Stoler, Mary Spencer Knapp, Erica Marie Mancini, The Yorkville Duo, Dan Cooper, Elliott Sharp and Dr. William Schimmel

Day 6: April 6 The Vincent Astor Gallery from 11-1:PM Dr. William Schimmel, Curator, "AN ARTSY SING A LONG" Bring an Accordion - or not: Brian Dewan, John Foti, Denise Koncelik and Dr. William Schimmel

Dr. Schimmel has performed with most of the major symphony orchestras in America, and many chamber music groups in New York. Pop star colleagues range from Sting to Tom Waits, who has commented, "Bill Schimmel doesn't play the accordion, he is the accordion". His many accomplishments include founding the 'Tango Project', teaching, leading master classes, composing, recording, and performing on movie soundtracks.

The Confédération Internationale des Accordéonistes (CIA) has awarded Dr. Schimmel the distinguished merit award for the AAA Master Class and Concert Series as well as his contribution to the international accordion scene. He received the American Accordionists' Association (AAA) Distinguished Service Award for Fifty Years of Accordion activity and his work as Lecturer in Residence. He is listed in Who's Who in America and Great Minds of the 21st Century.

Dr. Wlliam Schimmel is a virtuoso accordionist, author, philosopher and composer. Excerpts from his website: He is one of the principle architects in the tango revival in America, the resurgence of the accordion and the philosophy of Musical Reality (composition with pre-existing music). He received his diploma from the Neupauer Conservatory of Music and his BM, MS and DMA degrees from the Juilliard School. He has taught at the Juilliard School , Brooklyn College CUNY, Upsala College, New School University, Neupauer Conservatory (dean) and has lectured on accordion related subjects at Princeton , Columbia , Brandeis, University of Missouri , Duke University, Manhattan School of Music, the Graduate Center CUNY, Santa Clara University, The Janacek Conservatory in Ostrava, Czech Republic and at Microsoft.

He is founder of the Tango Project, which, in addition to his hit recordings with them, has appeared with Al Pacino in the film: "Scent of a Woman", for which Pacino won an Oscar. The Tango Project also won the Stereo Review Album of the Year Award, received a Grammy nomination and rose to number I on the Billboard Classical Charts. He can be heard in other films including True Lies, Kun Dun and many others including films that he both scored and performed and a series of films for the Nature Conservancy which have won numerous prizes in documentary categories.

He is an authority of the music of Kurt Weill, having recorded all of Weill's music that employs the accordion.He is a prolific composer with many commissions from concert music to Broadway and off-Broadway. He has written countless accordion pieces for himself and others including a test piece for the Coupe Mondiale, the accordions' most prestigious world competition. His "Portrait No I" for orchestra was conducted by the late Leopold Stockowski.

Dr. Schimmel, and his wife, choreographer, director, filmmaker Micki Goodman co-founded and co-direct the Institute for Private Studies, a pluralistic think-tank. They have one son, Michael, an accordionist and visual artist - and a Special Olympics gold medal winner.

If you need assistance with online reservations, please visit the welcome desk at the Library for the Performing Arts' Lincoln Center Plaza entrance, where volunteers will make a reservation for you, even if you do not use email. For free events, The Library generally overbooks to ensure a full house. All registered seats are released 15 minutes before start time, so we recommend that you arrive early. ASL interpretation and real-time (CART) captioning available upon request. Please submit your request at least two weeks in advance by emailing accessibility@nypl.org

Location:
The New York Public Library for the Performing Arts, The Bruno Walter Auditorium
111 Amsterdam Avenue, New York, NY 10023

General Admission for-Accordion Mixology: Drink in the Essence of the Accordion is Free. Optional donation for the Library for the Performing Arts is appreciated.

About the New York Public Library for the Performing Arts:
The New York Public Library for the Performing Arts houses one of the worlds most extensive combination of circulating, reference, and rare archival collections in its field. These materials are available free of charge, along with a wide range of special programs, including exhibitions, seminars, and performances. An essential resource for everyone with an interest in the arts — whether professional or amateur — the Library is known particularly for its prodigious collections of non-book materials such as historic recordings, videotapes, autograph manuscripts, correspondence, sheet music, stage designs, press clippings, programs, posters and photographs.