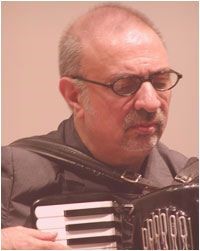 Dr William Schimmel's autumn diary dates include:

October 30th/31st - Kid's Eurofest, Finnish Embassy, Washington DC - with singer/flutist Ulla Soukko
November 4th/5th – recording of Jorge Martin's 'Ropa Vieja' for accordion, cello and percussion, American Academy of Arts and Letters, New York
November 11th/12th/13th – performance and recording of 'In Vain', by George Friedrich Haas, with The Argento Ensemble – EMPAC – Troy, New York

Dr. Schimmel can be heard of the following new and recent CDs and DVDs:
'Portrain in Seven Shades', by Ted Nash, with The Jazz at Lincoln Center Orchestra, directed by Wynton Marsalis – JLCO Records – Bill Schimmel appears as guest soloist
'Gay Marshall Sings Piaf' - GM Records
'Weatherwatch/Free Jazz' – with pianist Dr Mark Birnbaum – IPS/STUDIO MUSE Records
'Accordion/Piano/Piano/Accordion' – IPS/STUDIO MUSE Records
'Ever/Never' – DVD, with Micki Goodman, director and choreographer – can be seen on www.billschimmel.com - and You Tube - an IPS/STUDIO MUSE Production

Soon to be released:
'Accordion/Piano/Piano Accordion II' - IPS/STUDIO MUSE Records
'In Orbit' – with Dr Mark Birnbaum – IPS/STUDIO MUSE Records

William Schimmel is a virtuoso accordionist, author, philosopher and composer. He is one of the principle architects in the tango revival in America, the resurgence of the accordion and the philosophy of Musical Reality (composition with pre-existing music). He received his diploma from the Neupauer Conservatory of Music and his BM, MS and DMA degrees from the Juilliard School.

He has taught at the Juilliard School, Brooklyn College CUNY, Upsala College, New School University, Neupauer Conservatory (dean) and has lectured on accordion related subjects at Princeton, Columbia, Brandeis, University of Missouri, Duke University, Manhattan School of Music, the Graduate Center CUNY, Santa Clara University, The Janacek Conservatory in Ostrava, Czech Republic, and at Microsoft.

He now heads the Neupauer Conservatory Order of the Shield program, a private studies program for gifted students on a graduate and post graduate level. He conducts a successful annual three day master class and concert series in New York, sponsored by the American Accordionists' Association.

The Confédération Internationale des Accordéonistes (CIA) has awarded Dr Schimmel the distinguished merit award for the AAA Master Class and Concert Series as well as his contribution to the international accordion scene. He received the AAA 'Distinguished Service Award' for Fifty Years of Accordion activity and his work as Lecturer in Residence. He is listed in Who's Who in America and Great Minds of the 21st Century.