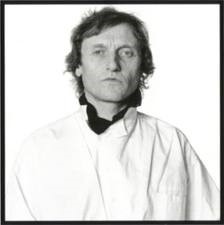 The late Gerard Grisey, whose early career in the 1960s included being a CIA Coupe Mondiale winner, was the forerunner of the Spectral School of Music composition, which is to create music based on the overtone series producing an end result which makes acoustic instruments almost sound electronic.

Gerard Grisey studied the accordion in France. He included the accordion in several of his compositions.

It is important that people learn how the accordion played an integral part and continues to do so, in the musical development of composers. Please read the fascinating and personal insights in the next article by Dr. William Schimmel who knew Gerard Grisey.

Gérard Grisey was born in Belfort, France on June 17, 1946. He studied at the Trossingen Conservatory in Germany from 1963 to 1965 before entering the Conservatoire de Paris. Here he won prizes for piano accompaniment, harmony, counterpoint, fugue and composition (studying under Olivier Messiaen from 1968 to 1972).

During this period, he also studied with Henri Dutilleux at the Ecole Normale de Musique (1968), as well as summer schools at the Accademia Chigiana in Siena (1969), and in Darmstadt with György Ligeti, Karlheinz Stockhausen and Iannis Xenakis in 1972.

Grisey won the highly coveted Prix de Rome and stayed at the Villa Medici in Rome from 1972 to 1974, and in 1973 founded a group called L'itinéraire with Tristan Murail, Roger Tessier and Michael Levinas, later to be joined by Hugues Dufourt. Dérives, Périodes, and Partiels were among the first pieces of spectral music.

In 1974-75, he studied acoustics with Emile Leipp at the Paris VI University, and in 1980 became a trainee at the IRCAM (Institut de Recherche et Coordination Acoustique/Musique). In the same year he went to Berlin as a guest of the D.A.A.D., and afterwards left for the University of California, Berkeley, where he was appointed Professor of Theory and Composition (1982-1986).

After returning to Europe, he taught composition at the Conservatoire de Paris, and held numerous composition seminars in France (Centre Acanthes, Lyon, Paris) and abroad (Darmstadt, Freiburg, Milan, Reggio Emilia, Oslo, Helsinki, Malmö, Göteborg, Los Angeles, Stanford, London, Moscow, Madrid, etc.)

Among his notable pupils were Jörn Arnecke, Mark Andre, Régis Campo, Pascale Criton, Stéphane de Gérando, Henrik Hellstenius, Javier Jacinto, Ramon Lazkano, Fabien Lévy, Magnus Lindberg, Fausto Romitelli, Éric Morin, Arturo Rodas, Steingrimur Rohloff, and Erling Wold.

Among his works, most of which were commissioned by famous institutions and international instrumental groups, are Dérives 1974, Jour, contre-jour 1979, Tempus ex machina 1979, Les chants de l'amour 1984, Talea 1986, Le temps et l'écume 1989, Le noir de I'etoile 1990, L'icône paradoxale 1994, Les espaces acoustiques (a cycle consisting of six pieces), Vortex temporum 1995 and Quatre chants pour franchir le seuil 1998.

His music is often considered to belong to the genre of spectral music, which he is credited with founding along with fellow composer Tristan Murail, although he later disowned the label in interviews and writings. Grisey spent much of his career exploring the spectrum of tone colour between harmonic overtones and noise.

In addition, he was fascinated by musical processes which unfold slowly, and he made musical time a major element of many of his pieces.

Gerard Grisey composed several pieces for accordion including "Passacaille" (1967). It was performed by Mikko Luoma, recorded on the CD "virtuoso accordion" by Mikko Luoma available on CD Universe. "Partiels' is scored for chamber ensemble with accordion and features the accordion in a highly textural manner.

Gérard Grisey died at the age of 52 in Paris on 11 November 1998 due to a ruptured aneurysm.