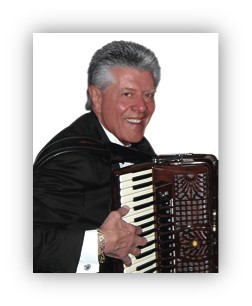 The American Accordionists' Association celebrated "Valtaro" on September 28, 2014 at Riccardo's in Astoria, Queens, New York and honored a major contributor to this unique style of music, piano accordionist Frank Toscano.

At age 8, Frank Toscano began taking accordion lessons from Emilio Chiesa, originally from Borgo Taro, Italy, where "Valtaro", the regional folk music, originated. Emilio, who was the most influential person in Frank's entire musical career, taught him the entire Valtaro repertoire - and so much more - by the time the young Toscano was 12 years of age.

At the time, Emilio was performing at Webster Hall in New York City with another remarkable accordionist, Gelso Pellegrini. Frank's parents, Fiorenzo and Ida Toscano, were attending an affair there. So Emilio suggested that Frank, his student of 4 years, bring his instrument along to accompany him on a few songs. So, Frank's father packed up his son's squeeze box, and off they went. The young Toscano, though terrified, plunked out "Allegro Waltz" and "Parisienne Polka" with his teacher - the start of Frank's lifelong musical career.

Frank continued his studies with Emilio, who suggested that at age 16, Frank Toscano perform in New York City at the Val-Taro – a dance hall featuring folk music from the Val di Taro region of northern Italy. The establishment was owned and operated by accordionists Peter Delgrosso - a.k.a Filomena, and John Brugnoli - a.k.a Scudlin, the founder of the Valtaro Musette Orchestra. These business partners, along with managing their restaurant,entertained as an accordion duet.

As time went on, John needed another accordionist to accompany him when Peter got sick,. That's when Frank first met Gelso Pellegrini, who was also performing at Val-Taro. Although10 years Frank's senior, Gelso and Frank bonded and becoming lifelong friends.

Gelso wanted Sundays off, so he invited Frank to audition, and ultimately fill in for him at Val-Taro. So, Frank's father brought 16 year old Frank and his accordion to perform for Gelso. Scared to death, Frank played, and was pleasantly surprised by Gelso's response... "Wow! What technique! You're great! So impressed with Frank's performance, Gelso hired him on the spot to play at Val-Taro on Sundays!

A month later, Gelso moved on from Val-Taro to perform at "In Boboli", his teacher, Aldo Bruschi's night club. Frank was offered the opportunity to replace Gelso at Val-Taro. Being only 16, Frank was a bit reluctant, wondering if he was good enough. However, Frank bit the bullet and immediately began performing at Val-Taro on Fridays, Saturdays, and Sundays. He considered himself very privileged, being among the ranks of many notable accordionists who performed at this prestigious venue during its existence from 1936 to 1961.

Young Frank was in for quite an experience working with John Brugnoli... John didn't talk on the bandstand, but would just sit there and smoke between songs. Frank never knew what John was going to play next. Aware of John's pattern, Gelso advised Frank... "Just follow John. You'll be fine." Frank and the drummer, Tony Marco, somehow managed to endure, given their common concern......"Help me make it through the night!"

Speaking of biting the bullet, Frank, though very young, was not that innocent...He was breaking the law! The legal drinking age in New York was 18, and Frank was working at a bar at 16. So, whenever the police came by to check things out at Val-Taro, the owners would hide Frank in the cellar with the booze, food, and supplies. Frank stayed out of sight until the cops left the building! They could've closed down the place!

For 2 years, from age 16 to 18, Frank entertained at Val-Taro until one Friday night when he showed up for work to find no one around. Val-Taro was not only closed, but under demolition! Who knew? Not Frank! Val-Taro had been sold, but no one bothered to tell the 'cordine player!

That was the end of Val-Taro. Being "the last of the Mohicans", Frank's feathers might've been ruffled at the time, but before long, he got on the warpath and drummed up business.

Being perfectly "Frank", his musical career continued to be successful. The best was yet to come. At18, Frank started teaching accordion, going house to house. By 23, he was performing in the Playboy Club in Manhattan (in the Play Room, no less) 6 nights a week for 2 months. While still 23, Frank opened his very own music school in Astoria, Queens, New York - "Frank Toscano Music School" with over 100 accordion students.

Now 50 years later, Frank is "golden"! He and his studio are still going strong. He must be doing something right....Just being "Frank", I guess! Over the years, Frank produced outstanding students, including Manny Corallo and Fred Finn - who both won the virtuoso soloist competitions in Long Island, New York.

Memories..... Frank's S.U.V. was stolen during a club date in the Bronz. He reported it to the police, who found Frank's vehicle in Harlem! The police escorted Frank there with pulled guns! Some nights he performed during a full moon, bringing out all the crazies! Those were the days!

Aside from recording with Angelo DiPippo on "Country Polkas", and Mario Tacca's "Nostalgia", Frank has two CDs with the Accordion Kings....Frank, Manny Corallo, and Angelo DiPippo - "Accordion To Frank" and "Amazing Accordion Kings"Volumes 1 and 2. Angelo, who calls Frank "Tuscan", first heard Frank play at Magnanini Winery. Accordin' to Angelo, Frank is a great guy, very laid back, a wonderful accordion player, great jazz person, exceptionally good person, very unassuming, wrapped up in his music, but never toots his own horn.

With appreciation for all he has done for the accordion world....Congratulations, Frank Toscano!!! Keep it up (just being Frank)!!!