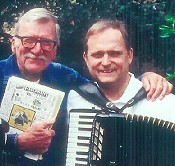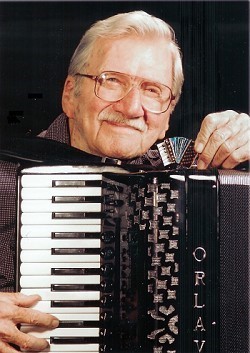 Accordionist Jack Swenningsen celebrated his 99th birthday on September 18th 2015!

Picture right of Jack Swenningsen when 96 years.

I have heard that the St. Petersburg (Florida) Fire Department will be standing by when they light the candles on his cake!!

In addition to being a fine accordionist, Jack is an award winning (retired) photographer.  Several years ago he developed a series of emails called Pic of The Day, which he periodically sent out to friends and family.

Congratulations to accordionist Jack Swenningsen on his 99th birthday.

A currently 99 year old accordion player got a new lease on life back in 2007 after a 5-day hospital stay with all the tests for a possible heart attack and with a new "stent" in one of his heart arteries. Two weeks later he just finished a gig where he played to over 200 senior citizens who gave him a standing ovation after he played "Dr Zhivago's – Somewhere My Love" theme song.

Jack Swenningsen (St. Petersburg, Florida, U.S.A.) says it's possible because of his special electronic accordion where he employs various voices or sounds to gain effect. (Jack plays the Petosa Millennium Ciao Digital Reedless Accordion – only weighs 14 lbs).

Jack is a fanatic accordion buff who became mesmerized with the accordion when he was only ten years old. Jack and his family were going to Grandpa's house on Staten Island from Brooklyn. That is where he heard the vibrating 'singing' reeds of Charles Magnante's accordion playing on the Ferry Boat (Staten Island Ferry) that plied the waters of New York harbor. The great 'Magnante', soon to become world famous, became Jack's idol and mentor.

An accordion was always lying around in Jack's houses and he was always picking one up to play even though he couldn't play very well, but he became self taught using Magnante's music instrumental instruction book.

In the hey day of accordion popularity, Jack went to all the Accordion National Festivals and NAMM Shows around the country through the years… even going once with the AAA and ATG to Stockholm, Sweden (1974) to see and hear the world's Coupe Mondiale of world competition.

Jack's "no claim to fame" is that he has, in his travels, shaken the hand of such 'giants' of yester years accordion virtuosos like… Myron Floren, Anthony Galla-Rini, Dick Contino, Carmen Carrozza, Matt Mathews, Joe Biviano, Charles Magnante, Bill Palmer, Danny Desiderio, Art Metzler, Veikko Ahvenainen, Pietro Frosini, Tony Mecca… just to name a few of the old timers (pardon him if he left you out). He idolized all of them because of their musicianship.

Jack doesn't let his numerous other hobbies (radio controlled model airplanes and photography) interfere with his music because he claims music is "therapy for the soul" and is what keeps him going. Jack, at 95 years of age, still does a couple gigs each week and at present belongs to the Florida Accordion Association and attends their yearly festival (SMASH) held in Orlando, Florida.

And now a few stories you might find interesting… It took a long time to hit 95 years of age, with about six escapes where Jack cheated death. For example… motorcycles, snakes, serious illness, WW II overseas in Infantry, civilian shooting accident, etc… so he'll mention a few here…

The German U-Boat Incident

Emigrating from Denmark with Danish parents during World War One in 1917 to escape the German invasion; his passenger ship was stopped in the North Sea between Denmark and England heading for America by a German U-boat.

The North Sea is a graveyard of sunken ships, and German U-boats were sinking them galore. The German U-boat commander ordered them to 'heave to' and boarded them to search for contraband (munitions) and found nothing. He told the ship's Captain, "If I had found any, I would have torpedoed you – proceed!". So Jack, who celebrated his one-year old birthday while on board the ship, lived to tell this tale as told to him by his Father… and ever since Jack has lived a charmed life to write this little saga for you!

The Wurlitzer Incident (Jack's first accordion)

It was 1939. Jack, now 23 years old, was working and earning $25.00 per week. One drizzly night, working overtime, he passed the Wurlitzer Music Store in New York City... and there in the large window, flanked by pianos, sat this big black shinny Wurlitzer Accordion.

What demon possessed him to want to own it he'll never know, but he went into the store, and before he knew what was happening, a devilish salesman was wrapping up that Wurlitzer Accordion and saying "it's only $800.00 and you must have your Mother and Father co-sign for it!".

Now $800 in those days (1939) was like $8000 today! Jack's Mother threw a fit and told him to "wear it around his neck" and his Father, being a gentle man asked him, "What is it about you and accordions, Jack?" and almost ordered him out of the house.

It took Jack over 3 years to pay it off, and in the meantime he got married... and his dear wife, Amelia, had to run over to New York City from Brooklyn and plead for Wurlitzer to extend the payments!.

The Overseas Army Incident

Jack was drafted into the Army Infantry and was sent to Northeast Italy in 1945 on the Yugoslav border where the enemy was Marshall Tito who was trying to take over Trieste, a deep water port of great importance, and the war had just ended with Japan.

Jack terribly missed his dear wife, his two babies, and his accordion. Even though he was going to Army school in Lido, Venice in 1946, he had time on his hands. He discovered that everybody was indulging in 'black market' activities.

He had stopped smoking while in the service. However, every G.I. received a carton of cigarettes every week. Jack saw a chance to help his poor starving wife (literally) and babies due to the awful shortages back in the States. Jack sold his carton of cigarettes on the 'black market', converted the Italian Lira into $20 American dollars which he was able to send back home. He continued to do this for the rest of his stay in Italy.

It was another dizzily, miserable night in Venice. He was billeted on the Island of Lido and came across the bay to Venice via gondola. His cocky Boston buddy suggested they do a ploy or ruse to cheat the black marketers and make more money by carefully emptying the khaki colored wax-coated carton of cigarettes and stuff cardboard back in the now empty box to fill it. Then they could sell the cigarette packs again for more money.

To simulate an unopened carton they lit a candle to put back the waxed end so it looked normal again. How stupid!! Like a Hollywood setting in some dark, damp, drizzly side street under a dimly lit lamp post, with the fog rolling in, they eagerly waited for their prey to arrive.

Quietly a swarthy dark coated person slithered up from nowhere and proceeded to ask: "Quanto?" (How much?) They said 20,000 Lira and gave him the carton whereby he immediately whipped out a large Stiletto Knife and, with a flip of the wrist, opened the carton before their eyes while handing over the money to them.

Out falls all the cardboard… and with their eye balls buldging with fear and astonishment with what was going to happen next…. Well, you never saw two G.I.'s turn and run the quarter-mile back to safety any faster… at the same time tossing the 20,000 Lira bills up in the air like paper rain coming down.

Lesson learned… greed is one's downfall in any country! But there is a moral to this story... and you might have guessed… with all the surplus funds Jack amassed, he bought a fine, brand new Scandelli Accordion and took it home on top of his Infantry Pack. He and 32 other G.I.'s trucked over to Leghorn (the Port of Departure – the men in the service called it the "Repple-Depple") and waited for an old banana freighter, a 10,000 ton vessel, which took 16 days crossing the Atlantic Ocean in mean seas, to return them to the U.S.

Jack was in seventh heaven with his new accordion…. At times sitting on a hatch cover entertaining the guys playing "Stars and Stripes Forever". He was coming home to his family after being drafted at age 29… some of the fellows even called him "Pop".

Jack has other stories he could tell in other fields of endeavor; but, music and being in the world of accordions he feels, has extended his life span. He has owned at least 15 or more really fine brand name accordions and has always enjoyed the thrill of "trading up" for a newer or better model. It was always exhilarating!

Plus the challenge of learning to read music and then committing a piece to memory is endless. Some of the bands Jack has played with:"Happy Notes"
"Recycles", "Musical Rascals"and at present "Senior Citizens Harmonica Band" of 36 members, median age of 80, in which Jack leads them on his accordion (see special video presentation at the end of this article). To date this one-hour of entertainment musical group has done 650 performances in 15 years… that's a lot of setting up of equipment and miles to travel… they must be doing something right!

A Coincidence? Maybe…

Jack and Amelia had a son, Peter, born to them in December, 1941. Unfortunately Peter passed away from a grave illness in 1971. However, life goes on, and one never knows what the future may bring.

In the early Fall of 1987, Jack met with several other local musicians who were forming a new organization called the Tampa Bay Harmonica Club (TBHC). At that time, Jack was experimenting with playing the big bass harmonica and had even traveled up to Michigan and attended the recent SPAH (Society for the Preservation and Advancement of the Harmonica) Convention.

The meeting took place at a member's home in St. Petersburg. The eight musicians in attendance were to become the founding members of the TBHC. Among other's at this meeting was a gentleman whom Jack had met at the recent SPAH Convention who played chromatic harmonica and had a son who played the Chord harmonica (the big harmonica about a foot-and-a-half long), also at this founder's meeting.

The 'gentleman' was Alfred Feldmann (soon to become one of Jack's partners in the band called the "Recycles") and his son was Lenny Feldmann... who, as Jack was to find out, was born in December, 1941 almost on the very same day as Jack's departed son, Peter. Coincidence? Maybe…

And to make things even more exciting, Jack discovered that Lenny also played the accordion! As you can probably guess, a strong friendship developed amongst the three men. After the passing of Al Feldmann in 1995, it became even stronger between Jack and Lenny. Now, Jack always refers to Lenny as his "adopted son" and Lenny calls Jack his "adopted Father". They have attended many AAA, ATG, and SMASH accordion events together over the past years and Lenny always makes it a point to visit Jack and Amelia in St. Petersburg each year.
     
Jack feels blessed to have Lenny (the exact same age as Peter) as his "adopted son". Jack says that Lenny is truly an inspiration to him down through the years and is privileged to call him his adopted son. Jack states: "Just how lucky can a 96 year old coot be? I hope to be around for a while longer. God Bless all accordionists!"