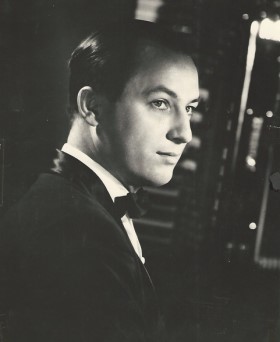 Memories from his student, Laura Jean DeWitt-Niland, September 2017

A walk through the back entrance of the Rozance School of Music Studio on North St. Mary's Street in San Antonio, Texas, greeted you with sounds of students playing their accordions within the many practice rooms, while Trudie and Tony Rozance were channeling their energies into teaching students at their appointed lesson times. Mrs. Copple, the studio secretary, sat in the huge director's chair at the front desk, keeping parents occupied in conversations, recording in the daily ledger various credits and debits, and encouraging all the young kids to keep up their lessons and practice. There were new and old accordions on display, and occasionally a guitar, though Tony would quickly steer you away from thinking about guitar lessons.

Mrs. Copple knew every student and parent on a first name basis. Her daughter, Ann Copple Thompson, was also a student of Tony Rozance and Bill Palmer, who had a well-known studio in Houston (Palmer-Hughes). Ann also taught at the Rozance studio and so did Barbara Scott. Mrs. Copple kept track of all the new and old music, and would encourage you to browse through the material, saying: " Ask Tony if this is a good level for you", then later asking your parents if they could afford the extra music selections. She was keen about the struggles many of us faced during those times. Some days, Tony would sneak in an extra piece of music, for free, just to keep up your spirits when times were tough. Tony also wrote his own arrangements in an instant as you were practicing your scales, and set it on your music stand, just as you finished your lesson opening. I still have several of those penciled arrangements today.

It was the early 1960's, and by then the world was embarking on many difficult changes. Having accordion lessons seemed to take away the anxious thoughts about politics, strife, war, and daily economic struggles. It wasn't easy for my parents to afford weekly lessons, but somehow, they made a sacrifice for me and for that I am extremely grateful. Little did I know at the time, how much my life would be changed, and how much I would appreciate the talent of my music teacher, Tony Rozance.

Somehow, maybe because of Dad's work schedule, I managed to get the best time for my accordion lesson. It was the last student on a Friday afternoon, just before Tony would have to leave for a regular gig, either on the road, or at the St Anthony Hotel. That time slot was so unique because Tony seemed to have a world of information to tell me at every lesson. He would talk about his days in Vaudeville, his travels across the US, his studio days in Pennsylvania, his enlistment in WWII and "tour" of the Pacific, which he termed as "Hell on the Water". Some of his stories were almost too emotional especially for me, at an early age of 10. My father was also a WWII and Korean War veteran, yet he would only rarely recall a story, sparing me from too many harsh details. That was definitely the unusual side of a lesson with Tony Rozance. That late afternoon lesson often became longer, as he recognized my interests and talent.

My old accordion lesson ledger from 1964-1973 with every written lesson from Tony Rozance is still carefully preserved in my music cabinet. I also took lessons from 1962-1964 with Barbara

Rowland, one of Tony's former student, just before I came to the Rozance Studio. I had heard much about Tony Rozance from Barbara, who was a high school student at the time. Barbara was playing professionally at a German restaurant and was an accomplished accordionist. When she left for college, I began taking lessons with Trudie Rozance, who soon pushed me to Tony's studio.

Tony's personal studio had a large glass insert, where you could see him teaching his students. Everyone in the main central lobby area could see you through the glass, including your parents. You could hear students playing through the closed door, and barely hear his voice talking to his student. He would speak softly to his students, and raise his voice only enough so that you knew he was trying to emphasize his instruction. If you played a particular piece extraordinarily well, he would gently push the door open during your performance so others could hear, including your parents. Sometimes it was hard to concentrate during your performance, especially when you could see him reach out for the door. At the same time it was his way of saying he was proud of you, without making it too emphatic. When he did that, you knew your practice had been perfected, and it gave you a sense of pride. That was enough to lift your spirits and make you try even harder for your next lesson.

There were boxes of music and files in his studio, as well as a record player with LPs of many great music artists, including master accordionists. He always had his accordion in the studio, to demonstrate technique, as well as a metronome and conducting baton to keep tempo. He would use the baton to tap out the time and keep his students working through a piece in proper tempo. If you played too fast, you would have to start over in the correct tempo and play all notes correctly. The rule was: play it correctly in a slow tempo, then practice at the corrected speed until it is mastered. A pencil and red pen was used to mark your music with areas of concern for practice. He always wrote the date you started your new music selection on the sheet music or book. The reason became more apparent to me years later, after rummaging through my files to find music. Those dates made me think about how much that music influenced my life over the years and made me reflect on all the effort needed to keep my skills at the same level in order to play a piece perfectly years later.

My first lessons with Tony started with scales: major and minor, 7th and diminished, with both hands, in unison and then contrary motion. There were practice writing lessons in the note- speller, arpeggios, work in the Chord Book, Czerny book, jazz improv with Tony Dannon, Traficante Series, Excercises in Bassland, Hannons for Accordion, classical and modern music pieces, readings in the Palmer-Hughes Lesson Books, and orders to memorize a song for the next lesson. Music theory and music performance were taught at every lesson. New material was added weekly only if you succeeded in the previous lesson. A new piece was usually taught in sections, perhaps only 8-16 bars of the piece per week. All lessons wrapped old material with new material, sometimes going back 2-4 years to keep up with skills and styles. Tony would often demonstrate how the song should be played, particularly if I was having difficulty, or if it was a new piece, and he wanted to foster my interest in working on it at home. He also would play along with you, as second accordion, especially when he knew you were really making an effort

to improve or improvise. Occasionally, he would let you select an older piece to play again for your next lesson. Memorization of certain pieces occurred regularly.

Lessons would contain between 4 and 12 different "orders" on what to practice each week. As your lesson progressed, he would check off the points that you mastered and leave others un- checked if you failed to perfect that "order". Expect scales to be played 15 times a day or more, while other "orders" required 6-35 times a day, depending on the topic. Practice every day was a requirement for no less than one hour, preferably longer. Tony reminded me that he taught over 2000 students and in his lifetime he only knew one student who could play anything without practice, because he was an extraordinary gifted individual. Tony told me that he was one of those students who needed to practice every day, and reminded me that I needed to practice too! Each student was required to learn to read and write music. Sight-reading was an extremely important skill. That skill was an absolute, with no exceptions. He required these skills for a student to be musically literate. It is important to note that Tony knew several musicians who played by ear and never had formal musical training. These musicians were unique and extraordinary in their musical talent, but Tony also knew that reading and writing music gave you an edge to doing other tasks as well, such as teaching, composing and more. Tony never stopped emphasizing the importance of musical training.

Also, worthy of noting, Tony always knew when you practiced or when you didn't. He could make you feel terribly guilty for wasting his time and your parent's money, sometimes making you cry. When I did break down, he felt badly about the treating me so harshly, though he never said so in words. Fortunately, I was rather resilient, having an uncanny knack for "talking back" and standing up to the pressure, a virtue which I still possess. I don't feel like I suffered from being disciplined in that manner, but others may not have felt the same. At any rate, I kept up with my practice, as was evident by reading my old lesson ledger which showed the many "ups and downs" through the years. Somehow it didn't slow down my progress, but seemed to speed it up.

Tony had a strategy to every lesson. New music was always on his music stand, ready for you, if your lesson results were achieved. It didn't matter if I liked the song he selected, so reluctantly, I had to learn it and play it well. As Tony pointed out, there is always something in each piece of music which is important to learn and appreciate such as: tempo, fingering, key signature changes, register changes, or even music history regarding the composer. Tony would stop and give a brief history of the composer and tell about the special accordion players he met during his lifetime, including their contributions to the music of the world. By the time the lesson finished, I had acquired an appreciation of every composer and arranger. Tony would point out those whom he liked and didn't like, but I will keep that a secret.

Tony used to keep copies of photos of the "accordion greats" and give you a copy for your files. He felt it was important that you could attach a picture of the composer or arranger to the music you were learning. He would often say: " I wish you could meet these great talents ". After all, this was before the time of the internet when LP records were the only way to hear these master performers. On occasion, Tony would start the record player, put on an LP from one of the

"greats" and just have you listen for a while. It was a moment of quiet reflection, just hearing how a master would play a particular piece that you were learning. He would note how each artist expressed his work, with proper intonation and bellows control. Tony would talk about the influence of master accordionists, such as, Anthony Galla-Rini, Charles Magnante, Guido Deiro, Peitro Deiro, Frosini, Charles Nunzio, Mindie Cere, Eugene Ettore, and so many other great accordionists of the Golden Age of the Accordion. He also was taught his students an appreciation of classical music: Mozart, Bach, and others. Thankfully, Tony made sure that my lessons included music from each of these great composers and many more.

My recollection of Tony brings me to his Trio group with Spud Goodall and Curly Williams. The Trio used to play regularly at the St. Anthony Hotel and had a dedicated crowd who enjoyed their music. As my Friday evening lesson finished, Tony would put on his suit jacket and tie and begin talking about his work with the Trio. During the years that I knew Tony Rozance, he was also the head of the musician's union and worked extensively to assist musicians acquire an appropriate fee for their work. He was also the leader of the HemisFair 1968 Band, which marched through the San Antonio downtown HemisFair grounds playing great music. He used to tell me how much work that was marching around in the heat in downtown San Antonio, but it gave quite a few musicians a regular paying job and they met people from all around the world. Years later, he organized a reunion of the HemisFair Band members. Tony also served as the President of the Accordionists and Teachers Guild, a prestigious association of master accordionists and teachers from across the USA. There he kept in contact with musicians who were influential in teaching accordion and performing, which he thoroughly enjoyed.

During one of my Google searches of "Tony Rozance", I found several audio interviews with Tony Rozance in the archives of the University of Texas in Austin. One lengthy interview talks about his experiences as a musician in Texas and gives a personal history of some of the great musical artists of the time which he worked with and knew personally. He talks about a wide range of topics including stories about how musicians should be respected, a topic which ranked high on his list. If you have a chance to listen to his interviews, you will get a glimpse into the life of Tony Rozance and also great insight into his high standards of personal character.

Recently, I found a recital program from Rozance Accordion School by Tony and Trudie Rozance dated Sunday, April 13, 1969. The recital was help at the International Theatre on the HemisFair Grounds in San Antonio, Texas. To my surprise, there was a list of all the students who performed, as well as the name of each piece they played. I found my name and names of my friends, some who are still around, yet many of whom I have lost contact. There was even an accordion band performance with music selections from the Coffman Conservatory of Music in Houston Texas, where Jean Coffman was the director. The real surprise to me is the front cover, with a special note from Tony Rozance: MUSIC STAYS WITH YOU FOR LIFE !

I don't think I could say it better than you, Tony. Thank you for the many great lifetime memories you gave to all of your students. Your teaching has meant a great deal to us all.