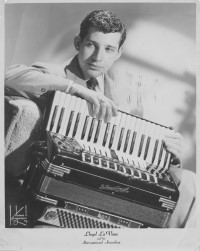 Accordionist Lloyd La Vaux is an important teacher and performer who deserves recognition for his contributions to the accordion world.

Seeking information/records on the late Lloyd Lavaux: David and Zach Cohen, a father-son duo, are compiling research on Lloyd LaVaux (1924-2011), a relative of theirs who was a decorated veteran of World War II and an acclaimed accordionist in the mid-20th century.

They would appreciate hearing from anyone who ever met LaVaux, attended one of his many performances, or otherwise know where they might find more information. You can contact them directly:  

decohen2@outlook.com and 
zachccohendc@gmail.com.

Lloyd was a WWII decorated veteran and accomplished accordion soloist. Born on August 29, 1924 in New York City, Lloyd began his musical career at age five, studying under his father Joe La Vaux. His professional debut came at age six. As "The Two La Vaux", he and his father won the love of audiences throughout North America and the West Indies while on tour together.

His career started in 1929, as a six-year-old touring vaudeville stages as a duo act with his father. Years later, when the United States entered the Second World War, Lloyd joined and was assigned to the Intelligence Division, thanks to the fact he could speak German, French and Italian.

Lloyd returned to New York and continued his studies and within ten years, at age 17, would perform at Carnegie Hall. One of the first graduates with honors from Mayor La Guardia's High School of Music and Art, Lloyd enrolled in Brooklyn College, where he studied foreign languages and literature.

Concurrent with these studies was his intensive work in harmony and composition with the late Pietro Frosini. Through his vast repertoire of Bach, Handel, Mozart, Schubert, Beethoven, Tchaikovsky, Rimsky-Korsakov, Bartok, Gershwin and other masters, he was recognized universally for his outstanding work in the elevation of the accordion and was referred to as "The Poet of the Accordion".

Lloyd wangled an under-aged enlistment in the Allied Intelligence Service during WWII, and as an Army Intelligence Agent, accompanied the first wave of shock troops in the Normandy invasion. He was decorated with the Silver Star for gallantry in action in Northern France. He volunteered for an intelligence mission alone in advance of Allied fighting lines, and was captured by German forces on September 7, 1944.

He landed in Stalag IIIC in Prussia, from which he ultimately escaped in January 1945. Mr. La Vaux toured the United States, Canada and the World, performing for President Dwight D. Eisenhower as well as for dignitaries around the world, including Norodom Sihanouk, King of Cambodia. Lloyd eventually settled in Toronto and ran the "La Vaux School of Music" until moving to Amherst, NY in 2008.

Before and after the war, Lloyd was a headline act, performing in 23 coast-to-coast tours of the U.S. and Canada, and concerts in at least 21 other countries. Performing classics by great composers like Bach, Schubert, Tchaikovsky, and Gershwin, a critic dubbed him "The Poet of the Accordion." His career continued into the 1960s, despite the general flagging interest in the instrument at that time.

Known as "The Poet of the Accordion", excerpts from the article "Once Upon An Anecdote: The 'Poet of the Accordion'" by Scott B. Thompson, Sr.: It was on a mild, cloudy,  late autumn  night when they came to see him play.  They came to see  man who was known around the county and the world as the "Poet of the Accordion."   Lloyd could play his accordion as well as and as uniquely like few others had ever done.

At the age of five in the late 1920s, he began to study under the tutelage of his Russian father, Joe. Lloyd, then six years of age, joined his father to form the act, "The Two La Vaux," and traveled throughout North America where they appealed to a wide variety of audiences.

Lloyd moved from Amherst, New York to the Bronx in New York City to study his craft.  By the age of seventeen, Lloyd was performing in Carnegie Hall.  As one of the first graduates from Mayor  La Guardia's High School of Music and Art, Lloyd began his study music in Brooklyn College, where he also concentrated in the classical foreign languages and literature. Reaching new heights as an accordion player, Lloyd played many compositions of the great classical composers to become one of the more famous accordion players in the country as he performed in dozens of national tours in the United States and Canada.

After the end of World War II, Lloyd returned to the United States and returned to stages in big cities and small towns around North America and the world.  After performing for President Dwight D. Eisenhower and the King of Cambodia, Lloyd eventually made his home in Toronto, Canada.

He opened a music school, "The La Vaux School of Music," which he operated until his move home to Amherst in 2008.  He died two days after his 87th birthday in 2011 and is buried in Woodlawn Cemetery in Erie County.

The members of the Laurens County Concert Association had been working for more than three years after forming their group in the lobby of the Fred Roberts Hotel in November 1949. It was the goal of the association to seek out and obtain many of the best musical performers in the country within the means of their budget from among more than 400 performers available.This group and others like it have consistently brought the finest musical talent in America to Dublin under the banners of the Dublin Community Concerts Association, the Dublin Fine Arts Association and the Dublin-Laurens Art Council.The Dublin performance took place in the auditorium of Central Elementary School, currently the home of Dublin City Hall. The auditorium was the city's primary performance center from its early days as the high school auditorium in 1902 until its remodeling in the 1980s.

The twenty-eight-year-old master of the bellows presented his unique style on an accordion especially designed to simulate the individual and combined sounds of  an entire orchestra. Lloyd was touring the nation raising funds to benefit Italian War Orphans Relief and other charities in Italy.  After his American tour, La Vaux was scheduled to perform in a dozen of Italy's largest cities. What the audience that night did not know back in the days when we only had adequate encyclopedias and no Google searches, hardly anyone knew the whole story of La Vaux's life as a teenager.

For you see, the highly talented accordionist  known around the world as "The Poet of the Accordion," was actually a boy hero of World War II. Lloyd entered the United States Army at the age of seventeen in the Allied Intelligence Service during WWII.  As an Army intelligence agent, Lloyd  accompanied the first wave of troops in the D-day invasion of Utah Beach on the coast of Normandy. "On 15 June 1944, Private La Vaux, as a member of the 90th Infantry regiment,  volunteered to accompany his lieutenant in an attempt to gain information from a Civilian who was taking refuge in a house some distance beyond the American lines.

During the interrogation of this civilian, a fire fight developed in the vicinity of the house and Private La Vaux found that they were 200 yards behind German positions. Realizing the importance of the information obtained if received in time, Private La Vaux left his place of comparative safety and worked his way back through the enemy positions and through 400 yards of intense small arms fire to his own lines. The meritorious achievement and devotion to duty of Private La Vaux aided materially in the subsequent successes at Valognes and Cherbourg," read his citation issued by the President Franklin D. Roosevelt.

"Toward September of 1944, I must have been a little less intelligent than my London mailing address indicated. Volunteering for an intelligence mission alone in advance of Allied fighting lines, Lloyd ran into some difficulties and was, on September 7, 1944, arrested by German police forces. After some of the most fabulous experiences on record, he landed in Stalag IIIC in Prussia from which he promptly escaped in January of 1945. The return trip was made the hard way -through Eastern Germany, Poland, the Soviet Union to Odessa, then Istanbul, Greece and Naples and finally back to Paris," La Vaux recalled of his most trying times during his military service.

Described as "A young man with an engaging personality, a fine musical background and imagination," Lloyd La Vaux thrilled the Dubliners present that night nearly  63 years ago on December 8, 1952. They saw his brilliance flowing out of his special  accordion. And, now you know what an American hero this brilliant young man truly was. 

Photo: Lloyd La Vaux playing the accordion for a school of blind children in Saigon, now Ho Chi Minh City. This photo, which appeared in the Guardian, is likely of Nguyen Dinh Chieu School for the Blind, established in 1926. - Region of Peel Archives/Brampton

Photo: Concert accordionist Lloyd La Vaux Teaches 10 year old Ian Baird
Photo: 1955 Lloyd La Vaux Lavaux Photo Scandalli Accordion Vintage Print Ad

Please contact David and Zach Cohen if you have any information on Lloyd La Vaux: decohen2@outlook.com and zachccohendc@gmail.com.