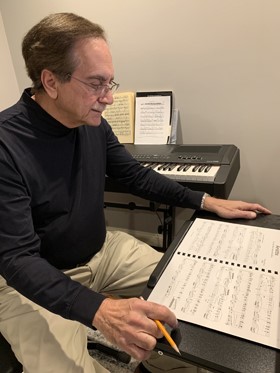 Video 1: Arietta (Richard Romiti, 2022), World Premiere performed by Joe Natoli

Video 2: Here is one of Richard's very beautiful choral compositions, "Adoramus Te, Christe" (

Video 3: Richard Romiti's transcription of Chopin's "Piano Concert in E Min."

Listen to the emotional, sensitive composition, "Arietta" by Richard Romiti for free bass accordion. This world premiere performance is by Joseph Natoli who shares, "It is my pleasure and honor to release this world premiere performance of a beautiful composition written by my dear friend, Richard Romiti from Massachusetts. Richard and I did a great accordion duo vinyl album in 1972 called Accordion Masterworks. He is a fabulous musician, accordionist, composer, duet partner, and friend for 54 years. Bravo Maestro!"

Richard Romiti, 1973 United States American Accordionists Association (AAA) Champion is possibly one of the accordion world's greatest but lesser-known composers because for the last 40 years, he has mainly exploited his talents in choral compositions.

Richard Romiti however is a superb accordion composer as well and when he was just a young man of about 22, he wrote his monumental solo free bass accordion work called "Permutations" which he used as his original selection to win that previously mentioned 1973 AAA competition and compete at the Coupe Mondiale that year. He has also written a lovely solo work called "Introspection," and as a young man composed an extremely mature and accomplished work for free bass accordion and cello called "Sonic Eclipse." Additionally, Richard has written many transcriptions of famous symphony works, solo piano works, and piano concertos including Stravinsky's "Firebird Suite", Schubert's "Wanderer Fantasy", Ravel's "Piano Concerto in G", "Khachaturian's Piano Concerto", and Chopin's "Piano Concerto in E min to name a few, all of which he performed in AAA competitions over the years in his youth.

Richard also performed in 1972 on a duet album with Joseph Natoli called "Accordion Masterworks" (published by Julio Giulietti's Neofonic record label and engineered by Charles Magnante). On that album can be heard many duet masterpieces, but also Richard Romiti's ground-breaking "Permutations" mentioned above.

Fast forward to the present day to hear this 2022 tonal free bass accordion composition by Mr. Romiti called "Arietta", a moving composition for which Joseph Natoli reflects: "Ever since Richard was kind enough to send this new score to me last year, I was resolved to learn and record it. It deserves to be heard and appreciated by the accordion world for its beauty and depth. So, I became resolved Tuesday 9/26/23 to learn and record this piece and get Richard's approval on the result, as well as permission to release it to the public at large." Joseph was thrilled to create this recording because Richard and Joseph have been close friends since 1969 when they first met at the AAA competitions.

Richard subsequently attended Boston University majoring in Music Theory & Composition and studying with the world-renowned Gardner Read, where he received both his Bachelor and Master of Music degrees. Mr. Romiti then attended the University of Toronto Faculty of Music in Toronto, studying with two of Canada's top composers (John Weinzweig and Lothar Klein) where he achieved his Music Doctorate degree in Music Theory & Composition. Richard has also won various composition awards nationally, especially notable is the Eastman Hanson Composition Prize for his wonderful "Palingenesis" for flute and small orchestra. If you would like to purchase a copy of this new composition, you can contact Richard Romiti at his personal email address: richardromiti1@gmail.com.

Richard Romiti studied accordion with Tulio Gasparini in his youth and competed in the American Accordionists Association festivals and competitions, winning that prestigious championship and the right to represent the USA in the Coupe Mondiale in Vichy, France in 1973. Mr. Romiti had just achieved his Master of Music degree in Music Composition at Boston University in 1975 and later that year started his Music Doctorate degree at the University of Toronto Faculty of Music where he later completed his doctorate in 1982.

Aside from the AAA championship award, Mr. Romiti has been a most deserved recipient of the following awards related to music composition:
Award of Special Distinction, Nissim Composition Competition (ASCAP), 2001.
Composer Assistance Grant, American Music Center/National Endowment for the Arts, 1985.
Eastman-Hanson Composition Prize for Palingenesis for flute & small orchestra, Eastman School of Music/American Institute of Music, 1984. ($5,000 Award)
Composer Fellowship Award, Rhode Island State Council on the Arts, 1984. ($3,000 Award)
Individual Grant-in-Aid (Composition), Rhode Island State Council on the Arts, 1979 and 1983. ($3,000 Awards)
University of Toronto Open Doctoral Fellowship, 1975 – 1976.
First Prize for Suite for Flute and Harp, International Composition Competition sponsored by the Pittsburgh Flute Club, 1975. (Southern Music Publishing Co., 1976).
Honorable Mention for String Quartet No.1, 1985 International Composition Competition for String Quartet (Friday Morning Music Club, Washington, D.C.).
Student Composition Prize, Boston University, School for the Arts, 1971.
Mr. Romiti's professional experience includes:
Director of Music, St. John the Evangelist Parish, Hopkinton, MA (1991-2015)
Piano Instructor/Choral Director, Enter Stage Left Theater/Hopkinton Center for the Arts, Hopkinton, MA (2007-2020).
Lecturer in Music, Rhode Island College, Providence RI (graduate and undergraduate theory), 1986-1987.
Lecturer in Music, Providence College, Providence, RI (theory, history & literature, music appreciation, twentieth century music, class piano), Providence College (1978-1987)
Artist-in-Residence, Rhode Island State Council on the Arts (Artists in Education program), 1984 – 1987.
Instructor in music theory, University of Rhode Island, 1984.
Instructor in music theory, University of Toronto, 1976 - 1977.
Instructor in music theory, Performing Arts School of Worcester (Worcester, MA), 1977 - 1979.
Music Panelist, Rhode Island State Council on the Arts (Project Support, Artists in Education and Fellowship Programs; member of Long Range Planning Committee, 1986 – 1987).

Recent Choral Publications include:
"Hail Mary, Full of Grace for SATB" voices and keyboard (World Library Publications)
"Adoramus Te, Christe" for SATB voices, unaccompanied (Oregon Catholic Press)
"Ding Dong! Merrily on High" for SATB voices and keyboard (Oregon Catholic Press)

Joseph Natoli, makes his home in Northeast Ohio with his wife JoAnn and has been a performer and advocate of the accordion since the age of seven. Joe started his studies with prominent Ohio accordion teacher, the late Mickey Bisilia of Youngstown, Ohio. Joe later attended and achieved Bachelor and Master of Music degrees from the University of Toronto Faculty of Music where he also studied free bass accordion as his applied major instrument with Canadian virtuoso, Joseph Macerollo.

Joe is the co-founder and director of GR8 Ideas, an organization dedicated to the dissemination of knowledge of digital accordions and digital peripherals via its web page and Facebook page. Joe has released 6 CDs, including Omaggio, Waltz For Ron, Merry Christmas, and Chameleon Vols 1 & 2, and 3. The Chameleon series CDs are 70-75 minutes each of completely original compositions in every imaginable genre including Classical, light Classical, Latin jazz, jazz ballads, contemporary, orchestral, cinematic, tango, and more (including his latest compositions including accordion orchestra pieces like Accordion Fanfare, Smooth, A New Beginning and Nine Children's Pieces, plus solo pieces like Nostalgic Suite, Homage & Offspring to the Bumblebee, Fantasy On a Well-Known Melody, Fragments - dedicated to Richard Romiti, & We'll Dance Again – dedicated to Donna Dee and Dennis Ray, along with many others). Joe writes for both acoustic and digital accordions, but he uses his orchestrational knowledge to exploit the coloristic possibilities of the digital accordion.

For further information, email josephnatoli@ymail.com or janpressmusic@yahoo.com.