66th Coupe Mondiale in Victoria, Canada
Successful Celebration of the AAA 75th Anniversary in New York City
Octoberfest Las Vegas International Accordion Festival Ready to Start - USA
Coupe Mondiale Results, Video Archive and Education Project - Canada
ACCORDIONS NOW! 2013: A Big Hit in New Hampshire
Alexander Poeluev Releases his First CD
2013 Roland Corp. U.S. V-Accordion Festival Finalists are Chosen
Daughter's Tribute to Carmen Carrozza at AAA 75th Anniversary Festival
Alicia Baker and Michael Bridge: 2013 Coupe Mondiale Digital Category Success
Sixth Annual Accordion Noir Festival September 12-15, 2013
Accordion Pops Orchestra Presents Beverly Roberts Curnow and Cody McSherry
Las Vegas International Accordion Convention: Oct. 28-31st 2013
Victor Prieto Trio in September Concerts
"From Broadway to the Met....Plus" with Dominic Karcic
Iñaki Diéguez to Perform at the SFAC on September 15

Reports for Concerts, Masterclasses, Competitions, Festivals, etc.
Videos: Coupe Mondiale Senior Virtuoso Entertainment Winners - Canada
Composer/Accordionist Karen Fremar Releases New CD
Videos: Coupe Mondiale International Digital Accordion Winners - Canada
John Custie to Perform at LIAA Event on September 3rd
Videos: Coupe Mondiale International Ensemble Music Winners - Canada
Roland FR8X New Product Showcase and Workshop
Videos: Coupe Mondiale Masters Category Winners - Canada
An Accordion Summer 2013
A Great Success for the 2013 Accordion Seminars
Encore!
Deadline for Accordion Babes 2014 Album and Calendar

Mario Tacca and Mary Mancini in Concerts
Accordion Pops Orchestra Presents Havard Svendsrud in October
The Big Squeeze is on September 29
Gary Morin in Concert on September 27

Martynas CD by Martynas Levickis
---



Daily Reports of the event including pictures, videos and results at: 2013Coupe

The Confédération Internationale des Accordéonistes (CIA) (IMC-UNESCO) held its highly acclaimed 66th Coupe Mondiale in Victoria, British Columbia from 17th to 25th August, 2013, hosted by the Canadian CIA member, the BC Accordion Society under the direction of 2013 CIA Honorary Vice President Aleksandar Milojevic.

CIA President Raymond Bodell (United Kingdom), on behalf of the CIA Executive Committee and members, welcomed participants from more than 25 countries to the "magnificent event" which attracted contestants, international jury, CIA delegates, former CIA champions and artists, manufacturers, and visitors from around the globe.

The 66th Coupe Mondiale (top concert category) was won in an intensely close race to the finish line by Russian accordionist Alexander Kolomiytsev (picture lower left). From the top three contestants, over three exciting rounds of competition where each won one of the three rounds, the overall winner, Alexander Kolomiytsev achieved a winning mark of 23.92 narrowly edging out second place winner Nikola Pekovic of Serbia with a mark of 23.89.

As if that wasn't close enough, just fractions of a point behind them was third place winner, Serbian Marko Sevarlic with 23.72. Incredibly, over three rounds of competition and more than an hour of some of the most magnificent music ever played on and composed for the accordion, spread over several days with marks averaged between nine members of the International Jury, the final results came down to a few hundredths of a mark, making for a most closely contested Coupe Mondiale.

The festival was truly an accordion lovers dream. The pinnacle of accordion events, the 66th Coupe Mondiale festival showcased the accordion in a diverse array of settings from the elite of the classical competition to entertainment and Jazz, from solo to duo to ensemble, from the exhilarating and dynamic Concertino ensemble from Moldova, to the winners of the 2012 CIA International Competition for Ensemble Music the Esse Quintet (Russia), from the ancient Flutina of the early 1800's to the latest in Digital technology, from parades to concerts, from workshops to trade shows, from transcriptions to brand new original works being presented for the first time, from accordions performing with strings through to choirs and other instruments, the 2013 Coupe Mondiale in Victoria had it all!

Canada hosted the staging of the remarkable 97 piece CIA World Accordion Orchestra VII. Well known Canadian conductor Maureen Jarosh conducted Danse Villageoise by Canadian composer Claude Champagne and founder of the World Accordion Orchestra Joan Cochran Sommers (CIA Vice President) conducted her magnificent arrangement of selections from Les Miserables featuring New Zealand Tenor, Lionel Reekie.

The orchestra comprised many CIA officials including Raymond Bodell (CIA President and Concert Master), Kimmo Mattila (General Secretary), Herbert Scheibenreif (Vice President), Kevin Friedrich (Ambassador) and other guests such as the members of Concertino, Jazz artist Renzo Ruggieri, former CIA World Champion Alexander Sevastian, Scandalli President and well known Italian artist Mirco Patarini, President of the Chinese Association of Accordionists (CAA) Li Cong, President of the Austrian Accordion Association (HVO) Werner Weibert, President of the USA's Accordionists and Teachers Guild, Intl. (ATG) Betty Jo Simon and many others including contestants, delegates and guests. The video of the performance can be found on the World Accordion Orchestra page of the Canadian review at: http://www.coupemondiale.org/2013/ca_report_wao.html

Held in the impressive two tiered Alix Goolden Concert Hall, with its magnificent pipe organ as a backdrop, attendees at the 66th Coupe Mondiale World Accordion Championships were treated to a week long celebration of the accordion featuring some of the world's finest young accordionists in competition through to the seasoned artists of today.

Featured guests included the popular ensemble from Moldova 'Concertino', renowned Jazz artist Renzo Ruggieri, Roland expert Ludovic Beier, well known US accordionist Cory Pesaturo (CPEZ) who performed solo and with violinist Yasmine Azaiez, Esse Quintet, the Voronezh Trio, Jelena Milojevic who performed solo and with clarinettist Francois Houle and the Vox Humana Choir, 2007 World Champion Alexander Sevastian who performed as soloist and with the Emily Carr String Quartet and members of the Ballet Victoria who performed to original accordion works.



Workshops included a look into 'The World of Jazz' by Renzo Ruggieri (Italy), a presentation on the all new Roland FR-8X by the leading exponent of the Roland accordion Ludovic Beier (France) and an Accordion History Lecture/Demo by Dr. Helmi Harrington (USA).

Nestled in amongst the various CIA events, was the Roland Canada Finals, where top Roland artists from Canada competed for the right to represent their country at the International V-Accordion competition in Rome in October. Canadian accordionist who is quite well known in the USA, Michael Bridge, dazzled the audience with his spectacular rendition of the 1812 Overture by Tchaikovsky, which even began, much to everyone's amusement with the "tuning of the orchestra". Previous winners of the competition Ivan Preanicov (2008), Jelena Milojevic (2010) and Alexander Sevastian (2009) joined together for an 'All Star' Roland Trio.

In their endeavors to promote new compositions for the accordion, the CIA held a showcase of new solo works for the accordion in 2012/2013 which were being presented at the Coupe Mondiale for the first time. The new pieces were evaluated by the International Jury members as well as delegates, contestants and audience members. After hearing all the compositions in concert, the works selected to be promoted by the CIA as part of their 2013 Composers Portfolio were as follows:

- Beijing 2011 by Franck Angelis
- Valse-Caprice by Viatcheslav Semionov
- Fantastic Suite "Images" No. 1 by Sergei Lobkov
- Paco by Gorka Hermosa

During the Coupe Mondiale festival, the CIA held its 130th General Assembly of Delegates, where President Raymond Bodell (United Kingdom) was re-elected unopposed for a second term of office. The elections for all other positions will be held at the 132nd General Assembly of Delegates in Salzburg, Austria next year.


The CIA presented their prestigious CIA Merit Award, recognizing outstanding contributions to the International Accordion movement to Miljan Bjeletic (Serbia) and Joseph Petric (Canada) and began making plans to host World Accordion Day next May in Ikaalinen, Finland at the CIA Headquarters, hosted by Frederic Deschamps, Grayson Masefield and fellow members of the CIA Executive team.

Event organizer Aleksandar Milojevic and the BC Accordion Society was credited with the tremendous outcome of the festival and its focus on the young competitors. From organizing more than $30,000 in cash prize money which he was able to award to the top five ranking place getters in each category, to arranging home stays for the overseas competitors, to showcasing the elite of the classical Coupe Mondiale competition at the evening concert, to highlighting each of the competitors on the Gala Awards Ceremony, his legacy as organizing an International festival of the highest artistic quality, featuring some of the world's leading artists in a variety of genres, will always be remembered as a highlight for the accordion in 2013.

For the first time, the Coupe Mondiale competitions and select concerts were Live Streamed. A popular addition to this years festival, coordinator Frederic Deschamps was able to allow viewers from around the world to view the competitions as they happened, with all performances being archived for later viewing. In addition to the Live Streaming, daily reports including details and pictures from each day's activities as well as video footage is available at the Coupe Mondiale website where readers can enjoy easy access to the videos of the top three place getters in each category, as well as full results from the competitions. Many thanks to Harley Jones, Carol Yan, Graham Laurie and Alison Worthington for their dedicated commitment and assistance to ensure that all the events were documented through pictures and video footage.

The top three winners from each of the categories of International competition were as follows:

66th Coupe Mondiale
1st. Alexander Kolomiytsev - Russia
2nd. Nikola Pekovic - Serbia
3rd. Marko Sevarlic - Serbia

Masters Coupe Mondiale
1st. Nikola Kerkez - Serbia
2nd. Sergey Lobkov - Russia
3rd. Pavel Mikhalev - Russia

Junior Coupe Mondiale
1st. Bozidar Rajic - Serbia
2nd. Mao Junhao - China
3rd. Aleksandr Komelkov - Russia

Intl. Competition for Virtuoso Entertainment Music
1st. Radu Laxgang - Moldova
2nd. Tian Jianan - China
3rd. Matteo Marinelli - Italy

Junior Intl. Competition for Virtuoso Entertainment Music
1st. Lorenzo Bosica - Italy
2nd. Jiacheng Xue - China
3rd. Jean-Baptiste Baudin - France

Intl. Competition for Ensemble Music
1st. Balin-Vioyan, Tian Jianan (acc) & Yuan Gong (vln) - China
2nd. Duo Jeux D'anches, Nikola Kerkez & Marko Sevarlic (Accordions) - Serbia
3rd. Boreas, Alexander Matveichuk & Konstantin Izotov (Accordions) - Russia

Intl. Competition for Digital Accordion
1st. Klavdiya Tarabrina - Russia
2nd. Michael Bridge - Canada
3rd. Alicia Baker - USA-ATG

The USA, represented by its joint CIA members, the American Accordionists' Association (AAA) and the Accordionists and Teachers Guild, Intl. (ATG) was well represented at the festival with contestants in several categories, each presenting themselves as wonderful ambassadors of both the USA and the accordion.

Each of the US contestants performed to the best of their ability, and delivered programs that were not only technically sound and professional, but full of musicality and artistic presentation. Each can be proud of their accomplishments and should feel very satisfied with their efforts. The nature of a competition, is that it results in a ranking, and only one person will ultimately take 1st place, however each of our US contestants should consider themselves winners, and the efforts put forward by themselves and their teachers and families to achieve their world rankings, is truly commendable.

I was very proud of each and every one of the US contestants, and was happy to see them enjoying listening to and meeting their fellow competitors from around the world. I'm sure each of them enjoyed the experience of this gala international competition. The US achievements were as follows:

International Competition for Virtuoso Entertainment
11th. Sam Thomas (USA-AAA)
13th. Alicia Baker (USA-ATG)
15th. Jamie Maschler (USA-AAA)

International Competition for Ensemble Music:
6th. En Canto (USA-AAA)

Junior International Competition for Virtuoso Entertainment Music:
11th. Rachel Marie Quirbach (USA-AAA)
12th. Torleif Rafeek Stumo (USA-AAA)
13th. Naomi Harris (USA-AAA)

International Competition for Digital Accordion
3rd. Alicia Baker (USA-ATG)

In addition to the contestants and attendees from the United States, Mary Tokarski (AAA Board of Director), Kevin Friedrich (AAA and ATG Board of Director) and Joan Sommers (ATG Board of Director and AAA Member) served as members of the International Jury for several of the competitions, while Joan Cochran Sommers, founder of the World Accordion Orchestra, conducted her magnificent arrangement of Les Miserables for World Accordion Orchestra VII, featuring Lionel Reekie (New Zealand Tenor). ATG President, First Vice President and Treasurer Betty Jo Simon, Liz Finch and John Neu respectively and Board member Donna Dee Ray, and Joan Grauman (AAA Board Member and Historian) performed in the World Accordion Orchestra, while AAA affiliate 'A World of Accordions Museum' under the direction of Dr. Helmi Harrington presented a standing room only workshop on the history of the accordion, and offered a popular weeklong exhibition with a traveling display from the Museum.

For a full review of the event including pictures, videos and results, please visit: 2013Coupe

Picture below is the World Accordion Orchestra VII presentation to Conductors Joan C. Sommers and Maureen Jarosh and vocalist Lionel Reekie.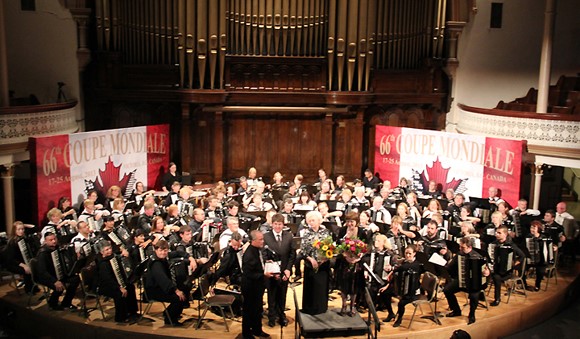 Successful Celebration of the AAA 75th Anniversary in New York City
by Rita Barnea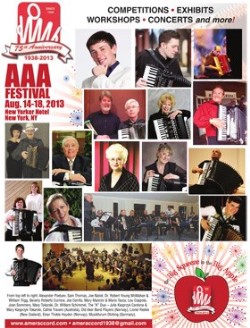 The American Accordionists" Association (AAA) celebrated their 75th Annual Competition and Festival in New York City from August 14th to 18th. The event was enjoyed by all who attended and participated in days filled with wonderful accordion music, workshops, concerts and musical camaraderie.

Please click to see AAA Photos and list of winners: 2013_AAAPhotos

AAA President Linda Reed said, "Thank you to all the performers, workshop presenters, contestants, exhibitors and members who contributed to making the AAA's 75th Anniversary a memorable event."

Each day contained an amazing accordion concert which showed the great versatility of the accordion. Former CIA President, Kevin Friedrich was the elegant MC at several concerts. On Thursday, August 15th, the featured performers were Australian Cathie Travers, New Zealand entertainer Lionel Reekie, Italian virtuoso Mirco Patarini, the German accordion orchestra, Musikforum Olching conducted by Karin Renner-Kiese, and Maricarmen Vazquez accordionist with violinist Gerardo Aguillon, finishing with the Gamle Aker Spelemannslag from Norway featuring Norwegian Champion Einar Thokle Hovden. All were superb and presented an exciting and varied program.

The Friday Carmen Carrozza Luncheon and Concert with MC Sid Kowalczyk, included Beverly Roberts Curnow, Mary Tokarski, Sam Thomas, Mario Tacca and Mary Mancini. A heartfelt and moving tribute was presented by Carmen's daughter, Marianne Carrozza. ( See September USA news for the text).

The Friday evening program included World Champion 2002 Alexander Poeluev and his wife, guitarist Liza Poelueva, Joe Natoli, Joe Cerrito, The "K" Duo (Mary Tokarski and Julie Cardona), Dr. Robert Young McMahan, William Trigg, Sam Thomas and Dr. William Schimmel.

In addition to the terrific concerts, unique workshops were presented including:
Joan Grauman's "Carnegie Hall and the Accordion", Don Gerundo's "Finale, Music Writing Program"; Joe Cerrito and Elliot Seif discussing the life of Joe Biviano; Ray Oreggio's presentation about AAA founder, Charles Magnante; Joe Natoli's "Effective Orchestration Techniques for Digital Instruments ( Roland)"; Dr. Robert Young McMahan presenting "The Life and Times of the AAA Founders" and "The Two Pietros- Frosini and Deiro"; Joan Sommers, "Remembering Anthony Galla-Rini"; Eddie Monteiro paying tribute to Charles Nunzio; Mary Kathryn Archuleta talking about "Local festivals, Competitions and Fun for all accordionists"; Author of "Squeeze This", Marion Jacobson presenting "Accordions Around the World"; Paul Ramnni of the New England Accordion Museum, "Boxes of Memories and Stories" and Dallas Vietty's, "The Art of Gypsy Jazz".

Competitions were held throughout the festival. Categories included solo, duet, and ensembles. The Youth Involvement Program coordinated by AAA Board Member Marilyn O'Neil marked its third year with an excellent performance conducted by Joe Cerrito whose years of running a music studio and mingling with youngsters made him perfect for the job. The accordionists included Sam Thomas, Albert Manginelli, Racuel Quirbach, Liam McCool, Tor Stumo. Nathan Chaepton and Liubov Pak. Other instrumentalists included Sam Stein, Gianni Manginelli, Matt Buckley, Deanna Forella, Katarina Hoeger, Karen You, Rebecca Poole, Mitch Guido, Catherine Chung, Ryan Cohen, Kaitlin Damico and Chris Forella with percussionist Mike Rasimas.

Contest Chairperson and Festival Coordinator Mary Tokarski was the conductor of the AAA Junior Festival Orchestra which included Nathan Chapeton, Peter Chudolij, Gia Ciccone, Albert Manginelli, Cody McSherry, Liubov Pak, Joseph and Rachel Quirbach, Alexandra Reekie, Tor Stumo, Bob Vitale, and Mike Rasimas. Andre Frey, winner of the Elise M. Bennett Composition Category performed his composition, " Scenes d'un reeve tranquille".

The city of New York was delightfully entertained by many of the AAA Festival participants in an outdoor concert "Accordions Around the World" attended by hundreds held in Bryant Park. An accordion orchestra performed "New York, New York" led by AAA Vice President and Public Relations/Festival Coordinator Frank Busso, Sr.

The closing concert at the Gala Banquet featured the AAA 2013 Festival Orchestra directed by AAA President Linda Soley Reed and guest conductor Joan Cochran Sommers.  President Reed conducted the popular "Pietro's Return March" while Joan Sommers conducted the "Creston Concerto" with soloist Mary Tokarski, followed by her magnificent arrangement of "Les Miserable" featuring New Zealand Tenor Lionel Reekie.  While attendees celebrated the finale to the 75th Anniversary Celebration of the AAA in the stunning grand Ballroom of the Hotel New Yorker, strolling accordionist Lou Coppola and his Stereo Strings ensemble including Stephanie Myers, James Queen, David Swanson and John Coppola, provided elegant entertainment as they serenaded guests throughout the evening.

Plans are being made for the 76th AAA Competition and Festival to be held at the Double Tree in scenic Tarrytown, New York from July 9th to 13th, 2014.

For further details: ameraccord1938@gmail.com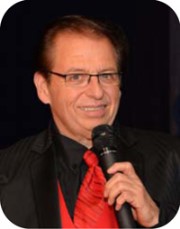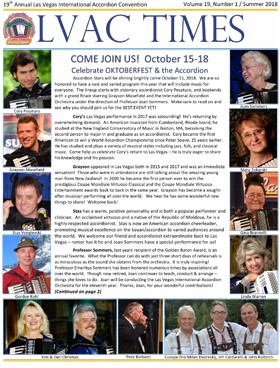 I am writing this on the plane flying internationally to Las Vegas for the Octoberfest Las Vegas International from 15th to 18th October at the Gold Coast Hotel and Casino, Las Vegas.

Paul Betken & Jerry Cigler are newly added to a great line up of stars (list below) with lots of great seats still available! Want to hop a plane to come and enjoy this exciting festival?

Newsletter (picture right) with full information: 2018LVACnews.pdf
Picture left: Event organizer Paul Pasquali

The lineup starts with visionary accordionist Cory Pesaturo and bookends with a grand finale starring Grayson Masefield and the International Accordion Orchestra under the direction of the legendary Prof. Joan Sommers.

You can register online at www.AccordionStars.com or contact Paul Pasquali, event organizer, by phone at 1-800-472-1695 or (801) 485-5840, email: paul@accordioninfo.com.


Coupe Mondiale Results, Video Archive and Education Project - Canada
by Harley Jones

The Coupe Mondiale Video Archive and Education Project makes available by online video the performances by the 1st, 2nd and 3rd prize winners of each Coupe Mondiale category.

http://www.coupemondiale.org/2013/ca_report_videoeducation.html

Sponsor is the Pigini Accordions srl. The project also includes:
(i) A video of all the Coupe Mondiale categories and their contestants to be kept in the CIA Archives Center housed in Ikaalinen, Finland at the CIA Headquarters. These are all available for the educational benefit of accordion teachers and students to enable the free spread of knowledge and information and thereby raise the levels of accordion performance and musicianship internationally.

Below in this news is the videos for 1st, 2nd and 3rd prize winners of:
- Coupe Mondiale Senior Virtuoso Entertainment category
- Coupe Mondiale International Competition for Digital Accordion
- Coupe Mondiale Masters
- Coupe Mondiale International Competition for Ensemble Music

The remainder of the Coupe Mondiale category videos will be listed in a few days. Enjoy the videos listed below in our news.

ACCORDIONS NOW! 2013: A Big Hit in New Hampshire
by Donna Regis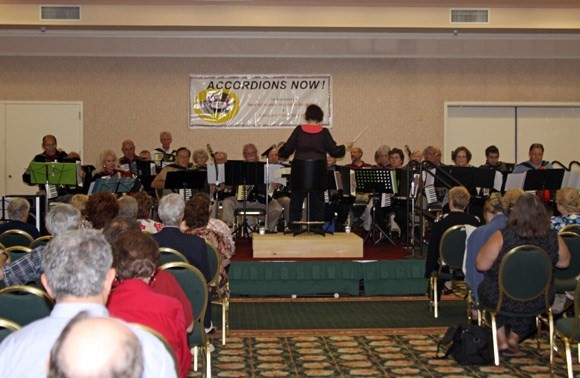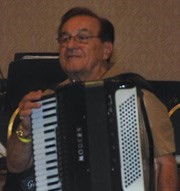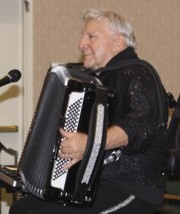 For the 6th year, Accordions Now! has more than lived up to its motto: "Lots of accordions, lots of music, lots of fun!!".

A attendance gathered for the 6th annual Accordions Now! Festival, co-sponsored by New Hampshire Accordion Association and Accordion Connection LLC. The entire festival was dedicated to the memory of Carmen Carrozza, the great concert accordionist and educator who passed away on June 17th.

Held in at the beautiful Courtyard Nashua, August 9th/11th, Accordions Now! 2013's lineup included Tony 'Living Legend' Lovello (pictured right), Joe Cerrito (pictured left), Gerry Grimo & the East Bay Jazz Ensemble, Brent Buswell, and – all the way from Norway – 15 year old national champion Einar Thokle Hovden plus Gamle Aker Spelemannslag (GAS = Old Aker Band Players).

Also appearing were Donna Maria Regis, Carmen Vitanza, Nancy Leonard, Jerry Tramontozzi, Warren Johnson, the ever-popular Accordions Now! Festival Orchestra, Paul Ramunni of the New England Accordion Museum with his fascinating 'Boxes of Stories', and Dan Mackowiak, who co-ordinated the Just-for-Fun Play-Along Ensemble.

Most of the festival's 'regulars' again returned, bringing with them even more of their friends and relatives to share the outstanding music, camaraderie, and joy they have come to experience – concerts, workshops, open mike, jam sessions, Just-for-Fun Play-Along, AN! Festival Orchestra, museum exhibit and presentation, happy reunions with accordion "cousins" old and new, festive meals, cocktail reception with

live entertainment, vendor displays of instruments to try/buy – in short, a great time! If you missed 2013, don't miss 2014!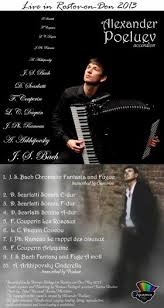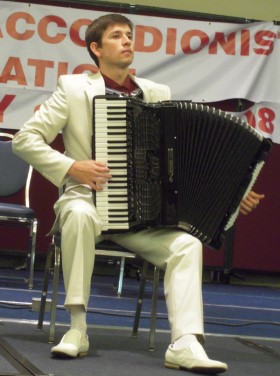 Alexander Poeluev, virtuoso winner of many international competitions, twice Coupe Mondiale world champion, art-director of IMC "Harmony" has now released his first CD called "Alexander Poeluev". It was recorded in Rostov-on-Don, Russia.

Alexander Poeluev is a Russian virtuoso musician, who has travelled with great acclaim to many parts of the world. He recently performed as the guest artist at the AAA 75th Anniversary Festival and Competition in New York City.

The selections on his CD are:
1. "Chromatic Fantasia and Fugue", J. S. Bach
2. "Sonata E Major", D. Scarlatti
3. "Sonata F Major", D. Scarlatti
4. "Sonata A Major", D. Scarlatti
5. "Les Roseaux", F. Couperin
6. "Le Coucou", L. C. Daquin
7. "Le rappel des oiseaux", J. Ph. Rameau
8. "Arlequine", F. Couperin
9. "Fantasy and Fuge A minor", J. S. Bach
10. "Cinderella", A. Arkhipovsky

To add class to your accordion CD collection, be sure to purchase this amazing artist's CD. It is available now at: Alexander Poeluev

2013 Roland Corp. U.S. V-Accordion Festival Finalists are Chosen
by Rita Barnea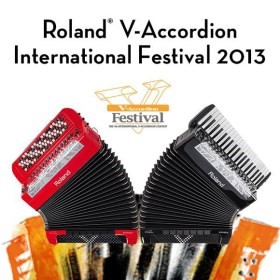 The finalists for the 2013 Roland Corp. U.S. V-Accordion Festival, selected from video submissions, are:
- Joseph Natoli, Wooster, Ohio
- Cory Pesaturo, North Providence, Rhode Island
- Sergei Teleshev, Eugene, Oregon
- Sam Thomas, Spokane, Washington

The winner of the Roland Corp. U.S. V-Accordion Festival – to be announced in September - will receive a brand new Roland FR-8X accordion and a fully sponsored trip to Rome, where on October 19th they will represent the U.S. in the Roland International V-Accordion Festival 2013.

Further information online at: Roland Corp. U.S.

Daughter's Tribute to Carmen Carrozza at AAA 75th Anniversary Festival
by Rita Barnea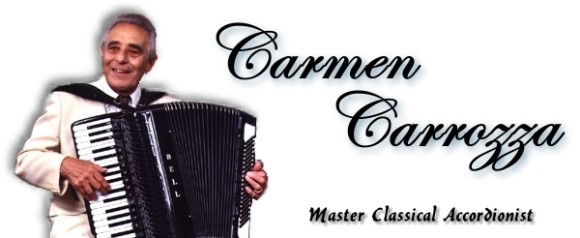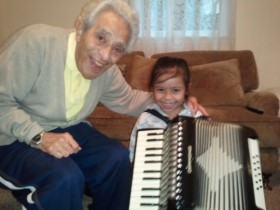 The AAA 75th Anniversary Festival in New York City, August 16, 2013 was the venue where Marianne Carrozza, daughter of Carmen Carrozza, presented an emotional heartfelt tribute to her father, the great accordion artist, Carmen Carrozza, who passed away on June 17, 2013. Please click here to read Marianne's speech - 2013Speech.

Carmen Carrozza was one of America's premiere concert accordionists, before he retired from performing after suffering a stroke. He was born in the village of Solano Reggio di Calabria, Calabria, Italy in 1921 and emigrated to America with his family at age 9, settling in the "Golden House" in Chappaqua, New York. He played piano and violin, but soon became enamored with the accordion's flexibility, how it could fit perfectly into an orchestra or sound like an orchestra itself.

Carrozza studied under Pietro Deiro who was one of the pioneers of the accordion in the United States. He appeared as soloist with the Boston Pops Orchestra, under the direction of Arthur Fiedler, the Cincinnati Symphony Orchestra, Buffalo Philharmonic Orchestra, and the National Symphony Orchestra (United States) at Kennedy Center (Washington D.C.). He also appeared with the New York Philharmonic under the direction of Andre Kostelanetz, premiering the "Rubaiyat", written by Alan Hovhaness and narrated by Douglas Fairbanks, Jr. in Washington D.C. and for former NYC Mayor John Lindsay in New York.

He concertized throughout Europe and was presented with a gold medal in Italy after an outstanding performance at the Teatro di Pavia. One of the high points in Mr. Carrozza's distinguished career was a concert in The Town Hall in New York City where he performed all original accordion works by many outstanding American composers including Robert Russell Bennett, Paul Creston, Virgil Thompson and many others.

Carrozza retired from touring in the 1980s, but in the summer of 1994 he was called back to the road, playing three weeks of festivals with Jörgen Sundeqvist in Sweden. He was surprised they knew so much about him. "They had music I wrote when I was knee-high and recordings I had forgotten about myself."

Carrozza was president of the American Accordionists Association (AAA), a national organization dedicated to the development of the accordion. He continued to promote the accordion through educational workshops at schools, college and private music studios until his death. In addition, he was the director of the Northern Westchester School of Yorktown. He lived in Thornwood, New York with his wife Jean. He had two grown children, Carmen and Marianne.

Marianne (Photo on left) said, "This tribute was written from the bottom of my heart for Carmen Carrozza the artist, my father and my best friend."

The above video is of Carmen Carrozza in concert, April 21, 1985 performing the Carnival of Venice as soloist.

Photo of Carmen Carrozza and his great niece, Gia Ciccone, daughter of AAA Board Member, Dr. Joseph Ciccone. See article in the October 2012 USA news: "The Accordion. A Bridge from One Generation to Another - Carmen Carrozza". Link:
http://www.accordionusa.com/?d=01-Oct-2012#art1182

Photo of Carmen Carrozza and his nephew, Dr. Joseph Ciccone, taken at Carmen's 90th birthday party at Magnanini Winery.

For further information: mariannecarrozza@yahoo.com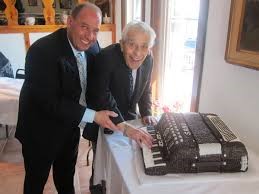 Alicia Baker and Michael Bridge: 2013 Coupe Mondiale Digital Category Success
by Rita Barnea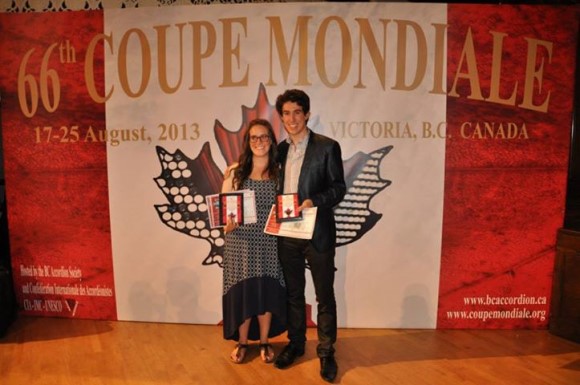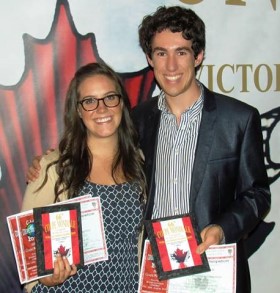 Virtuoso soloists as well as being duet partners, Alicia Baker and Michael Bridge were 2013 Coupe Mondiale International Competition for Digital Accordion category prize winners in Victoria, Canada this August.

Alicia Baker won 3rd place in the Roland Digital Category in the 2013 Coupe Mondiale. Alicia said, "What a joy to meet so many amazing accordionists and musicians!

Video below of the performance by Alicia Baker - see article below.
Videos: Coupe Mondiale International Digital Accordion Winners - Canada

"What a wonderful week I had in Victoria BC, Canada for the Coupe Mondiale Accordion championships! I'm happy to report that not only did I have a wonderful time listening to great music and meeting neat people, I also received 3rd place for the USA in the Digital category!"

Alicia Baker, 22 years old, from Milwaukie, Oregon. has been playing the accordion since the age of 6, as well as studying piano and voice.  Recently graduated from Oregon State University, she holds a triple degree in Music Education, Piano Performance, and Vocal Performance.

Alicia has demonstrated a high level of accomplishment on the accordion. She has won several International competitions, including the prestigious Happy Hans award at the Kimberley International Old-Time Accordion Championships in 2007, 2010, 2011, and 2012. 

In addition, she won the privilege of representing the USA at the 2009 Roland International V-Accordion Competition in Rome. This turned out to be the beginning of her current relationship with Roland; one that continues to provide opportunities to share her love for the instrument as a Roland product specialist. 

Aside from the competitive events, Alicia has performed solo accordion concerts at many notable festivals. These include the American Accordion Association Convention, Cotati Accordion Festival, the Accordionists and Teachers Guild International Festival, KIOTAC, Leavenworth Old-Time Accordion Festival, and the NAMM show.   In 2011, she was privileged to join the Corvallis symphony as the soloist for Nikolai Chaikin's Accordion Concerto in B-flat Major.

Alicia strives to play all genres of music well, showing the versatility of her abilities and of the instrument. Some of her favorite styles include french musettes, jazz, polkas, opera, pop, and techno.

As a recent college graduate, Alicia can now begin fulfilling her dreams, which include promoting and sharing her love of accordion to younger generations. She also plans to continue to perform both vocally and on the accordion whenever given that opportunity.  She looks forward to a career in teaching later in life, but currently is excited at the thought of traveling the world and sharing her music, and she plans to do just that.

Michael Bridge, Canadian virtuoso, won the Canadian Roland Championship and 2nd Place in the Roland Digital Category of the 2013 Coupe Mondiale. He will go to Rome in October for the 2013 International Roland V-Accordion Festival.

He said, "I was tremendously honoured to perform in Victoria's Centennial Square with a fantastic musician for whom I have the utmost respect: Ludovic Beier! I am looking at some big changes in the next six months... I'll be rotating out all three of my main instruments for the past few years and making significant upgrades. Also looking forward to showcasing at Ontario Contact with The Extravaganza Quartet, and finalizing my tour schedule for southern China in late August 2014. I feel very lucky to be working on many exciting projects right now! It's a new era for young accordionists in North America!"

The esteemed Coupe Mondiale jury included: Jury: Graham Laurie (United Kingdom), Herbert Scheibenreif (Austria), Li Cong (China), Viatcheslav Semionov (Russia), Joan Cochran Sommers - President of the Jury (USA-ATG), Georg Hettman (Germany) Bratislav Manasijevic (Bosnia and Herzegovina) and Kazys Storkus (Lithuana)

Michael is the winner of the 2013 Roland V-Accordion Canada festival and will receive a brand new Roland accordion and an all expenses paid trip to Rome to compete in the 2013 International V-Accordion festival. Michael finished 4th in the World at both the 2011 Junior Coupe Mondiale and in the 2011 Roland Digital World Accordion Championships.

He has performed live with the Boston Pops for the hit NPR radio show, "From the Top". One of the most versatile accordionist of today, he is equally at home performing Great Composer like Bach and Haydn, Contemporary Works, Polkas and Waltzes, Jazz standards, Zydeco and Ethnic music, or Pop hits. Though only 18, his musical travels have led him to China, France, Croatia, Italy, Las Vegas, and all around the USA and Canada.

He has produced two CDs of his compositions in various folk and latin styles and is due to release a CD of classical music. He currently studies at the University of Toronto with world-renowned professor Joseph Macerollo. He is a captivating young musician, determined to raise the profile of the accordion for the next generation.

Members of the Roland Canada Finals Jury were Raymond Bodell, Ludovic Beier, Alexander Sevastian, Ivan Preanicov, Renzo Ruggieri.

Together, Alicia and Michael have grown up in front of Kimberley audiences, have honed their individual accordion skills and shared them with Kimberley audiences for many years.As long time competitors at KIOTAC they have formed a wonderful friendship and have had multiple wins in KIOTAC's duet and solo competitions. Now, having decided to expand the traditions and present their dual talents they have presented concerts of special favorite selections.This young dynamic duo will dazzle you with their skills, magical chemistry and enthusiasm.

In this September issue, you can view Alicia's and Michael's solo performances in addition to the other contestants placing 1st, 2nd or 3rd in the Coupe Mondiale categories.

Video below. Videos: Coupe Mondiale International Digital Accordion Winners - Canada

Sixth Annual Accordion Noir Festival September 12-15, 2013
by Rita Barnea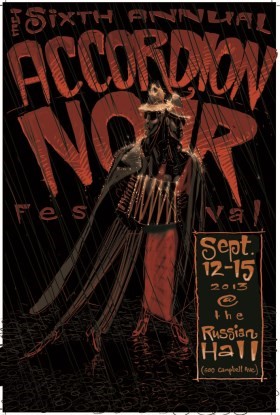 The Sixth Annual Accordion Noir Festival will be held at the Russian Hall, Strathcona from September 12-15, 2013.

Some of the featured artists who will perform at the Festival this year are: Steve Normandin, Montreal; Renee de la Prade, San Francisco; Willow Rutherford, Toronto; David P. Smith, Victoria. Additional performers will be listed in future articles.

The Accordion Noir Society (est. 2011) exists to promote the use of free-reed aerophone instruments and the enjoyment of listening to the music they make on all different kinds of squeezeboxes, both in a pre-recorded, broadcast (and podcast) context and in a setting of live music performance, both in and around our home of Vancouver, BC, Canada, and to wider audiences.

There are four missions to the group:
▪ Accordion Noir Radio (weekly)
▪ Vancouver Squeezebox Circle (monthly)
▪ Accordion Noir Festival (annually)
▪ Other events (sporadically)

The Directors of the Accordion Noir Society include:
Alan Zisman,Bruce Triggs, 
M. David Eaman, 
Chris Gilpin
, Ans Steenman
, Lisan Kwindt 
and Mathew Levenson.

Beginning in 2008, the Accordion Noir mission expanded to include an annual festival in order to build interest in accordion music. In addition to this year's exciting line up of performers and workshops, this year's festival will feature an "Accordion Harvest" Community Dinner on Saturday night. It will be an opportunity to gather together and acknowledge all of the ingredients that go into creating a healthy and vibrant community. The Vancity Fairview Branch has generously agreed to help make the dinner an accessible and sustainable practice community event.

For further information: accordion.noir@gmail.com

Accordion Pops Orchestra Presents Beverly Roberts Curnow and Cody McSherry
by Rita Barnea
The Acordion Pops Orchestra conducted by Al Terzo will present a concert featuring Beverly Roberts Curnow, Pennsylvania's Accordion Queen and World Champion. Ten year old accordionist, Cody McSherry, from Conestoga, Pennsylvania, will join her on the program.

You can read more about the Accordion Pops Orchestra in this month's article about Havard Svendsrud in the Futures Section.

The concert takes place on Sunday, September 29th, 2013 at the Shannondell Auditorium, 10000 Shannondell Way, Audubon, Pennsylvania.

For further information: alterzo@hotmail.com

Las Vegas International Accordion Convention: Oct. 28-31st 2013
by Rita Barnea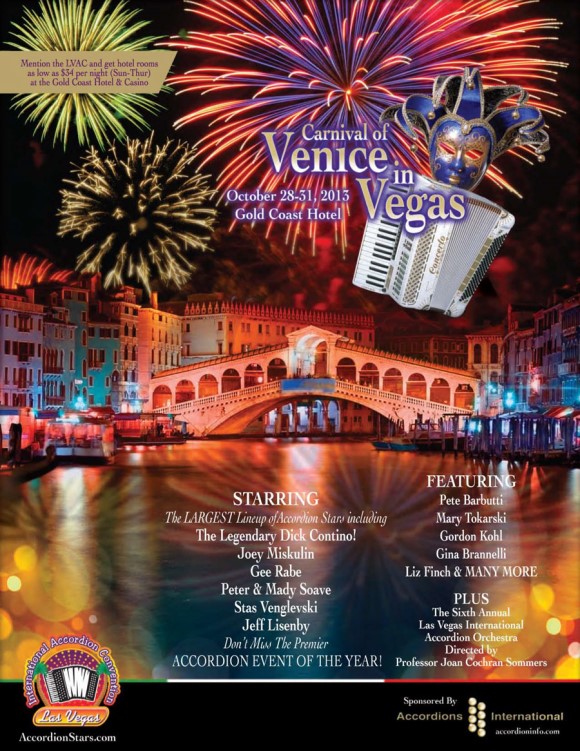 Save the date for the Sixth Annual Las Vegas International Accordion Convention at the Gold Coast Hotel on October 28-31st.

The event stars Joey Miskulin, Gee Rabe, Dick Contino, Stas Venglevski, and Jeff Lisenby. Gust artists also include Peter & Mady Soave, Mary Tokarki, Gordon Kohl, Gina Brannelli, Liz Finch, Pete Barbutti and many more.

Be a part of this amazing annual event. You can participate in the Sixth Annual Las Vegas International Accordion Orchestra conducted by Professor Joan Cochran Sommers.

For more information: 800-472-1695.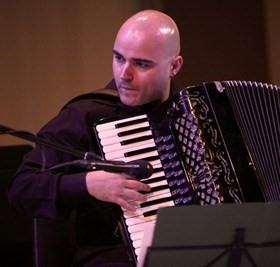 New York-based Spanish jazz accordionist Victor Prieto performs gigs with bandleaders Cristina Pato and Christian Howes in five US states during September.

With Christian Howes and Southern Exposure
September 9th - Austin, Texas
September 14th – Madison, Connecticut
September 15th – Lake George, New York
With Cristina Pato and Migrations Band
September 21st – Madison, Wisconsin
September 22nd – Dakota, Minneapolis, Minnesota

For further information email: victorprieto2001@yahoo.com

"From Broadway to the Met....Plus" with Dominic Karcic
by Rita Barnea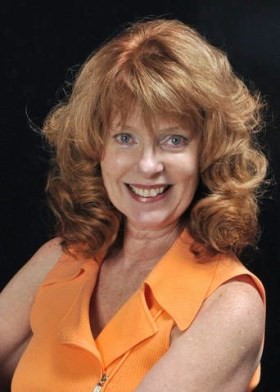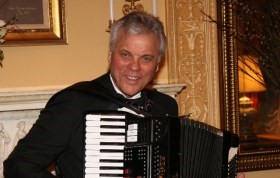 La Villini Restaurant (East Northport, NY) is initiating a new monthly event "From Broadway to the Met ........ plus" starting on Thursday, Aug. 22nd featuring accordionists Dominic Karcic and guest artist vocalist Connie Shakalis. This event marks the third anniversary of the Long Island Accordion Alliance. (LIAA)

Originally from Astoria, NY Dominic Karcic has lived in Commack, Long Island for the last forty-two years and has played accordion and piano professionally in the New York metropolitan area and continues to do so today. Some of the venues / patrons for whom he and his musicians, "The Continental Sound," have performed include the Columbus Citizens Foundation (NYC), the Valtarese Foundation (Parma, Italy), Fubinese Society (Piemonte, Italy), Italian Charities of Queens, NY, Society for Italian Culture of Long Island, Italian Heritage Association of Long Island and also Magnanini Winery in Wallkill, NY.

His love for the Valtaro Musette music was instilled in him through his years of study with noted accordionist Peter Spagnoli. In recent years he has been involved in the preservation and documentation of this musical style.

He collaborated in writing a biographical article on the life and career of accordionist John "Scudlein" Brugnoli (founder of the Valtaro Musette Orchestra) which was published in the Gazzetta di Parma (Parma, Italy) on September 10, 2002. This article was the basis in 2008 for an extended work (Tutti Mi Chiamano Bionda) on accordionists from the Emilia-Romagna by columnist Caludio Bacilleri (Bologna, Italy) who writes for ER Magazine (Emilia-Romagna Magazine). Several of Dominic's articles about Valtaro Musette music were also published on the Borgo Val di Taro web-site in August and September of 2005.

In June of 2003 Dominic joined the Board of Directors of the American Accordionists' Association (AAA) and contributes articles for the AAA Newsletter. He and fellow accordionist Ray Oreggia have given workshop presentations on the Valtaro Musette style for the American Accordionists' Association (AAA), Connecticut Accordion Association (CAA), Maryland Accordion Club, the Washington Metropolitan Accordion Society (WMAS) and the Istria Women's Club (Astoria, NY).

In June of 2005 he was one of four participants in Mario Tacca's CD titled "Nostalgia / Mario Tacca and Friends." In February '08 he released his first CD titled "Let's Dance." The CD features musette music – tangos, waltzes, mazurkas and merengues. The CD has been featured on the Joe Farda's radio show (93.5 FM), Floyd Vivino's radio show (93.5 FM) and Louise Potenza's Ciao Italy radio show (WALK 1370 AM).

His love for the accordion has only grown over the years. His greatest interest lies in Valtaro Musette music and he hopes that he can contribute to the enrichment and preservation of this very festive and unique musical style.

In August of 2010 he founded the Long Island Accordion Alliance (LIAA) which will be celebrating its third anniversary this coming August. The wide spread success of LIAA events has endeared it to accordionists and accordion music lovers from all over the New York Metro area and has made it (LIAA) and its events the "voice of the accordion on Long Island."

Connie Shakalis studied voice and theater at Indiana University, and in the 1980s moved to New York City to pursue a career in musical theater. During the following years, she toured the U.S., performing roles such as Maria (and the Baroness) in The Sound of Music, Dolly (and Mrs. Molloy) in Hello Dolly, Nellie in South Pacific, Magnolia in Show Boat, Fiona in Brigadoon, Woman #1 in Side by Side by Sondheim, and Vera in The Ten Little Indians.

Connie has performed with Van Johnson, Edie Adams, Robert Morse, and Victor Borge. She writes one-woman acts, which she has performed in nightclubs throughout Manhattan and in Indianapolis. She also performs "Songs from the Gilded Age" on Long Island. At La Comedia Theater in Ohio, she won the Outstanding Performer Award.

She graduated Summa cum laude from New York State University's Farmingdale College with a B.S. in Professional Communications and a minor in English. Currently, she sings regularly with the Long Island Accordion Alliance and teaches voice and acting in Huntington Station. Her videos are available on YouTube.

To contact Connie: ConnieShakalis@gmail.com
For more info on Dominic : accordionman@verizon.net or 631-864-4428

To make reservations at La Villini Restaurant, 288 Larkfield Road, East Northport, NY please call: 631 – 261 – 6344

The next meeting of the LIAA on September 4th features accordionist John Custie.

Iñaki Diéguez to Perform at the SFAC on September 15
by Rita Barnea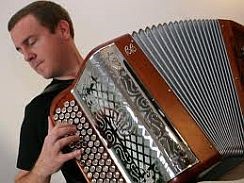 Iñaki Diéguez will be the guest artist on September 15,2013 at 2:PM for the San Francisco Accordion Club.(SFAC) He is a native of Irun, Spain and began studying the accordion at the age of 9 and graduating from the Conservatory of San Sebastian with honors.

The numerous awards he has won include the Grand Prix de France (Obernai, France), the Arrasate-Hiria International Accordion Competition (Arrasate, Spain) and Coupe du Monde (Munster, France). Iñaki has given concerts throughout Europe and the USA and has been taught by such notable teachers as Max Bonnay, Viatseslav Semenov and Mogens Ellegard among others.

After a career as a classical musician, Iñaki began an intense focus on modern music, performing regularly with Basque music scene artists, such as Pantxoa Peio and Gontzal Mendibil. He has participated in more than twenty albums and various artist's soundtracks. In 2008 he joined the world famous Cirque du Soleil with the show Alegria. Shortly after, Iñaki actively participated in the creation of their new show Ovo, participating in over a 1000 performances in the USA, Canada and Korea.

His new CD Birak (October 2012) is a work that embodies the experiences in the almost three years of touring the world with the Cirque du Soleil. The CD is a collaboration of musicians from Brazil, Quebec, the United States and the Basque country and was recorded in different studios around the world, including cities in the U.S. as well as Sao Paulo, Salvador de Bahia, Montreal, Brussels and in the Basque country. The album was produced by Grammy winner Mikel F. Krutzaga.

The concert takes place at the Oyster Point Yacht Club, 911 Marina Blvd. South San Francisco, CA. For further information: info@sfaccordionclub.com or inakidieguez@gmail.com

Reports for Concerts, Masterclasses, Competitions, Festivals, etc.

Videos: Coupe Mondiale Senior Virtuoso Entertainment Winners - Canada
by Harley Jones

Coupe Mondiale Virtuoso Entertainment 1st Place: Radu Laxgang (Moldova) - Round I
With A Song In My Heart by Frank Marocco
Leaf Dance by Tian Liang
New York Tango by Richard Galliano
Coupe Mondiale Virtuoso Entertainment 1st Place: Radu Laxgang (Moldova) - Round II
Four by Miles Davis
Fou Rire by Richard Galliano
Got A Match by Chick Corea
Coupe Mondiale Virtuoso Entertainment 2nd Place: Tian Jianan (China) - Round I
Steps by Viktor Vlasov
Accordion Steeple by André Astier
Carnevale by Renzo Ruggieri
Coupe Mondiale Virtuoso Entertainment 2nd Place: Tian Jianan (China) - Round II
Tea For Toots by Richard Galliano
Mr. Ferrero by Maurice Larcange
Brahms's Smile by Viktor Vlasov
Coupe Mondiale Virtuoso Entertainment 3rd Place: Matteo Marinelli (Italy) - Round I
There Will Never Be Another You by Harry Warren
Oblivion by Astor Piazzolla
La Valse A Margaux by Richard Galliano
Coupe Mondiale Virtuoso Entertainment 3rd Place: Matteo Marinelli (Italy) - Round II
Cheek To Cheek by Irving Berlin
Tango Pour Claude by Richard Galliano
Scherzo by John Gart

Composer/Accordionist Karen Fremar Releases New CD
by Rita Barnea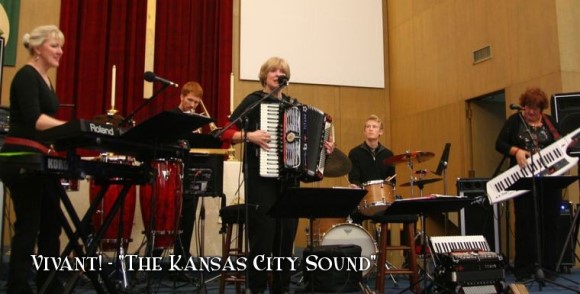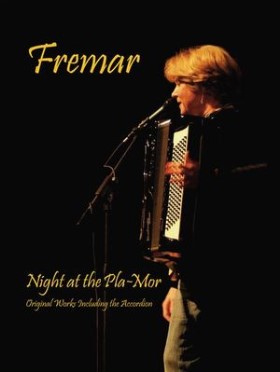 Composer/Accordionist Karen Fremar released a new CD, "Fremar Night at the Pla-Mor" on June 15, 2013.  The works are all original works written by Fremar that feature the accordion in a group setting or with electronic backing. The works are mostly Latin influenced.  The CD is available for purchase or download at CDBaby.com & iTunes as well as most international digital music sites. Search under "Fremar" and get the tracks you want for your ipod or computer.  



Tracks include:

Night at the Pla-Mor

Introduction & Allegro

The Java House - Fill it to the Rim

The Java House - Dark & Vibrant (Tango)

The Java House - The Last Drop

The Java House - Caramel Latte Blues

The Java House - Frappe Freeze

Whatever You Do

Grasping for the Wind (To Honor Iraq and Afghanistan Veterans
)
Free (Tango)

Sterling Illusions

Herricks Road

Fanphasia
Jammin'

Bubbling Brook

Vexation



The CD features many professional musicians and alums of the UMKC Conservatory of Music as well as Vivant!  Featured musicians include: Karen Fremar, Accordion/Keyboards; Julie Silfverberg, Accordion/Keyboards; Judy Johnson, Flute; Ronda Adams, Electric Violin; Beth McCollum, Cello; Jason Scheufler, Guitar; Dee Sligar, Bass; Melody Stroth, Piano; Gail Overly, Backing Accordion; Janne Silfverberg, Trombone/Hand Drums; David Sager, Percussion; Sarrah Cantrell, Vibes/Drums; and Brian Steever, Drums. 


Karen Fremar holds a Ph.D. in Music Theory from the University of Kansas. She is an active ASCAP composer and heads Fremar Foundation for Accordion Arts, a non-profit charitable organization in Kansas City. Fremar is a professional studio and chamber musician. She won the AAA United States Accordion Championship, 1st place in the CIA Accordion World Popular Music Competition and 3rd place in the classical Coupe Mondiale in Stockholm, Sweden. She writes for and performs with the popular mixed ensemble Vivant! The CD is a collection of Fremar's new music that features the accordion in updated and unique settings.

For more information: vivant@vivantsound.com

Videos: Coupe Mondiale International Digital Accordion Winners - Canada
by Harley Jones

Coupe Mondiale Int. Digital Accordion Competition1st Place: Klavdiya Tarabrina (Russia)
The Rhythmic Box by Franck Angelis & Viatcheslav Semionov
Travelling by Viatcheslav Semionov
Coupe Mondiale Int. Digital Accordion Competition 2nd Place: Michael Bridge (Canada)
Czardas by Vittorio Monti, arr. M. Bridge
Stampede Tango by Michael Bridge
1812 Overture by P. Tschaikovsky, arr. M. Bridge
Coupe Mondiale Int. Digital Accordion Competition 3rd Place: Alicia Baker (USA)
Concerto In A Minor And Techno Medley by E. Grieg, arr. Alicia Baker
Malagueña by Ernesto Lecuona
Into Somewhere by Frank Marocco
Quando M'en Vo by A. Gallarini, arr. Alicia Baker
Scherzo by Dom Frontierre

John Custie to Perform at LIAA Event on September 3rd
by Rita Barnea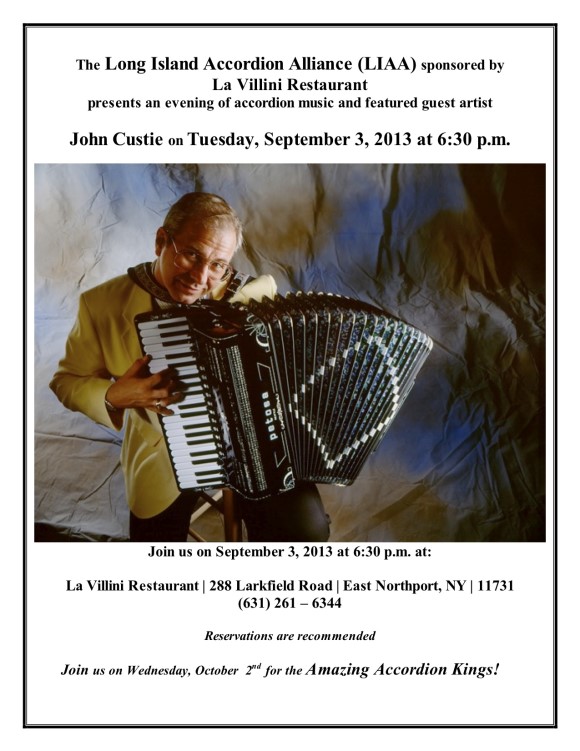 The Long Island Accordion Alliance (LIAA) sponsored by La Villini Restaurant presents an evening of accordion music by featured guest artist, John Custie on September 3, 2013 at 6:30 PM at La Villini Restaurant, 288 Larkfield Road, East Northport, NY | 11731 Phone: (631) 261 – 6344

John Custie has been an active professional in the music industry for more than thirty years. His musical education, all private, includes formal vocal and instrument training, music preparation, and arranging, counterpoint, composition, and orchestration. His instrument studies were with John Canestraro (Fundamentalist), Celso Ferrari (NBC Staff), and Angelo DiPippo (Performing Artist).

Custie studied the art of music preparation with Burt Kosow whose office did much of the music preparation for Broadway and Hollywood, vocal studies with Adele Daria and Leo Lozito (vocal coach's connected with Lincoln Center and The Metropolitan Opera House), and arranging, composition, orchestration, counterpoint with Angelo Musolino (whose works include television, concert stage, big bands, commercials, classical & jazz works, recordings, etc.).

John's performances include private and corporate functions, broadway productions, concerts, recording sessions, radio and TV appearances. His performance abilities include a wide variety of styles, from Bach to Rock, Contemporary Pop to Jazz, Rhythm n' Blues, and a wide array of Latin and World music.
John Custie has recorded or performed with local and international celebrities such as Joe Dixon, Felix Sangenito and Dick Benedis (Jazz artists), Italian singing sensation Dino Rossi, and Charlie Small to name a few.

He was offered to be the accordionist on the Bobby Vinton television show in the 1970's which he had to decline, was part of the pit orchestra on broadway productions for "Fiddler On The Roof" and "Cabaret", and much more. He is also a music educator, and has given lectures and open discussions at junior and high schools, on the subject of "The Music Business" and what it takes to survive. He offers students insight and encouragement and has also received local awards from his community.

John Custie besides performing, is an active arranger and composer, teaches accordion and piano privately, and is a member of the American Society of Composers, Authors, and Publishers (ASCAP) and the National Association of Recording Arts and Sciences (NARAS), and is a member of The Northbrookhaven Chamber of Commerce.

Reservations are recommended. Join the LIAA on Wednesday, October 2nd for the Amazing Accordion Kings!

Videos: Coupe Mondiale International Ensemble Music Winners - Canada
by Harley Jones

Coupe Mondiale International Ensemble Music Winners 1st Place: Balin-Vioyan (China), Tian Jianan, (accordion), Yuan Gong, (violin)
Suite In Old Style by A. Schnittke
Spanish Pictures (2 and 3 Movs.) by Anatoli Kusjakov
Beijing 2011 (1 Mov.) by F. Angelis
Suite Italienne (1 Mov.) by Igor Stravinsky
La muerte del Angel by A. Piazzolla, arr. Tian Jianan
Coupe Mondiale Int. Digital Accordion Competition 2nd Place: Duo Jeux D'anches (Serbia), Nikola Kerkez (accordion), Marko Sevarlic (accordion)
Aion by Jukka Tiensuu
Petruschka Suite by Igor Stravinsky
Coupe Mondiale Int. Digital Accordion Competition 3rd Place: Boreas (Russia), Alexander Matveichuk (accordion) and Konstantin Izotov (accordion)
Eine kleine Nachtmusik, Menuetto-Rondo by W.A. Mozart
Adios Nonino by A. Piazzolla, arr. K. Olzcak
Toccata by B. Precz

Roland FR8X New Product Showcase and Workshop
by Rita Barnea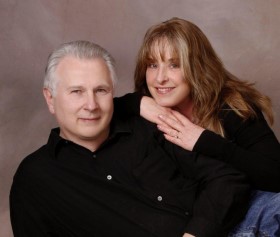 On Sunday afternoon, September 22nd at 1:30 PM. you are invited to the 14th Semi-Annual Roland V- Accordion event at Falcetti Music, 1755 Boston Rd., Springfield, Mass.

Falcetti Music is happy to announce the return of former Roland Artist and Clinician, Don McMahon, to showcase this incredible instrument. Behind every good man is an incredible woman, his lovely and talented wife Leslie vocalizing with Don to further showcase the fantastic FR8X. The workshop portion will be on "How to Accompany a Singer or Instrumentalist", which
also includes " How to use your Roland to Perform in Different Styles".

Don McMahon was "discovered" in 1973 by jazz saxophone great, Charlie Venture, who settled in Hartford to form a trio featuring sax, drums, and Don on Cordovox. During this 3 year stint with Charlie,the trio also performed in Boston, New Yor,, and Chicago where they opened a series of 13 concerts for the legendary violinist, Stephane Grappelli. don also performed with Zoot Sims, Buddy Tate, Kenny Davern, Vic Dckenson and Jimmy McPartland.

Since 1979, Don has maintained a dual career as a test systems engineer and part time musician. He switched to piano in 1980 and revived the accordion only twice to perform with Luciano Pavarotti in 1988 and 1972. in 1999, he became the arranger and keyboardist for his vocalist wife's jazz band, "The Leslie Alexandra Sextet". For years, they judged and performed at the ATAM New England Music Festival in New ton,MA.

In early 2005, at the urging of former teacher Sam Falcetti, Don tried the new Roalnd FR 7 V-Accordion and rekindled his love for the accordion.From May 2008 until April 2011, he was a product specialist for Roand V-Accordions, presenting workshops, demos, and concerts around the country. Now when demonstrating the Roland V-Accordions locally, he often highlights its versatility by accompanying his wife, Leslie.

Please RSVP by Saturday, September 14th, by emailing your reply to: peggyf1944@gmail.com or leaving a voicemail: 413-596-6940. Refreshments will be served.

Videos: Coupe Mondiale Masters Category Winners - Canada
by Harley Jones

Coupe Mondiale Masters Category Winners 1st Place: Nikola Kerkez (Serbia)
Erz (Choice Of Movements) by Jukka Tiensuu
Oriental by Enrique Granados
Canzone by Girolamo Frescobaldi
Autumn Sceneries (1, 2, 3, 5 Movs) by Anatoli Kusjakov
Sonata in A Major, K 101, L 494 by Domenico Scarlatti
Paco by Gorka Hermosa
Finale (from Suite For Accordion) by Sergei Lobkov
Coupe Mondiale Masters Category Winners 3rd Place: Pavel Mikhalev (Russia)
Sonata in F Major by Domenico Scarlatti
Scherzo-Tarantella, Op.16 by Henryk Wieniawski
Elegy, Op.10, No.5 by Jules Massenet
Divertimento, (2 and 3 Movs.) by Viatcheslav Semionov

Once upon a time, the Maryland, Washington, DC and Virginia areas had accordion events maybe once every few years.

Now, we have to choose which events to go to, as often there is more than one on the same day! Not only did we have many accordion activities locally this summer, some of us even ventured to other states and Canada for more accordion: the ATG Festival in Illinois, the AAA Festival in New York and Coupe Mondiale in British Columbia.

Here is our area's "accordion summer" of photos and descriptions at: 2013summer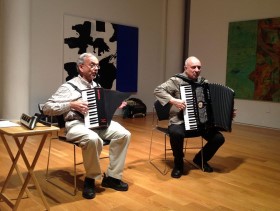 "The American Accordionists' Association Master Class and Concert Series celebrated its 19th season on July 26, 27 and 28 at Tenri Cultural Institute in New York. The Title was: The Accordion is 3D – No Glasses required".

The moderator/curator, Dr. William Schimmel states that it was one of the best ones yet: intriguing workshops, stellar performances and, most of all, a collegial attitude in its presentation.

What makes the Seminars different than any other event concerning the accordion?
1.The weekend is totally about the accordion and its culture. No stars – only the accordion.
2.The weekend is entirely non-competitive.
3.We present ideas and we are always learning.
4.We provide and intimate atmosphere which empowers anyone who chooses to attend.
5.We listen to every idea that is presented to us and we take it seriously. No one is ridiculed or put down over an idea that doesn't seem to "fly" at the moment.
6. Everything is presented in a clear cut fashion. Everyone who attends will understand what we are saying or doing. There is no esoteric shop talk.
7.There is something for everyone. If you attend, we urge you to "stick it out" and suspend your judgment. There will be inevitably something for you in it.
8.We present innovative information and yet we always present too much of it. Our concerts are a bit too long and our workshops make one's head spin. One participant said that her head spun for over a year due to all of the information that was presented in a short span of time.
9. Many of the spectators become actual participants in time. We are interested in everyone who attends. We are interested in helping you realize your goals. Anyone may attend – at any level. All we ask of you is to come with an open mind and most of all, a warm heart.
10. There is a certain "humility" to those who attend an participate at the Seminars. Ironically, many of the participants and presenters come from the greatest universities and conservatories in the world. We span the horizon: Juilliard, Peabody, Mannes, Oberlin, New England Conservatory, Columbia, NYU, Harvard, Yale – yet there is a certain "humility" in those who are there to serve the accordion in the best light that they can. They consider it to be a privilege and, yes, it can be humbling at times. Although we believe that there is something for everyone in the Seminars, we also realize that they may not be for everyone. This may sound like a contradiction
11. We raise the bar extremely high yet we also present ideas that show the accordion in new and unusual manners as well as new takes on old ideas. This may be at times startling, due to the fact that our ideas about technique and process in general may differ greatly from conservatories and academic institutions – yet still maintain a "schooled" philosophy due to the "rub" and friction between the two. This is part of what we call "The built in ironic duality". We revel in the "rub". We don't look for the easy way out.
12. We believe that the accordion is in a better place since the Seminars. And we say that proudly and we also say it with humility. Time out New York has called the Seminars " The Apotheosis of the Accordion" - the laboratory where ideas are bred. Accordions Worldwide has stated: "Once again, Dr. Schimmel, aided and abetted by his dancer wife Micki Goodman, has unstintingly and imaginatively produced and event that appears to be unlike any other in its scope and imaginativeness."
13. If you feel that the Seminars are for you – join us next year for our 20th Aniversary!

Participants come from the local New York area, across the United States as well as China, Japan, Argentina, Croatia and Norway.

Featured participants and performers: Micki Goodman, Paul Stein, Dr.Robert Young Mc Mahan, Dr. Mark Birnbaum, Will Holshouser, Art Bailey, Doug Makofka, Ingrid Kvale, Brian Dewan, Martini Li, Yoichi Fukui, Martina Li, Marina Jerry, Melissa Elledge, Mark Nathanson, Benjamin Ickies, Godfrey Nelson, Lorraine Nelson Wolf, Dragica Banic-Curcic, Peter Flint, Erica Mancini, Dr. Ronald Sarno, Dave Soldier, Mayumi Miyaoka, Tomoko Sugawara, Hu Jianbing, Rachel Swaner, Genevieve Leloup, Joy Betchler, Charlie Tokarz, Robert Haulfrecht, Dan Simon, Di J Noizepunk, Jed Distler, Dan Simon, Patrick Grant, Joseph Pehrson, Dejan Bosovic, Dr. Rocco Jerry, David Stoler, David First, Dr. Hugo Goldenzweig, Lee Mc Clure, Ken Laufer, John Foti, Kathleen Tipton, Marni Rice, Bob Goldberg, Corn Mo, Di J Noizepunk (Gene Pritsker), Jed Distler, Dan Cooper, Patrick Grant, Joe Pehrson, Milica Paranosic, Dr. William Schimmel and many more.

(Photo on left) Paul Stein played the Claviola with his teacher William Schimmel on the accordion in concert Saturday evening at the 19th annual Master Class & Concert Series in Manhattan sponsored by the American Accordionists' Association and curated by Dr. Schimmel.

Paul said, ""It is hard to believe that I have been on the program all 19 years. Saturday afternoon, I conducted a workshop about the Claviola and the melodica (along with Bill). Thanks to accordionist Mayumi Miyaoka for capturing the moment. It is a very humbling experience for me to be surrounded by so many incredibly talented musicians.

Deiro delights – Ettore elaborates – Frosini Fascillitates – Ellegaard is elegant – Magnante magnifies – Palmer is pedagogy – John Gart grabs you WHAT IS IT THAT YOU DO? FIND OUT – AT THE SEMINARS!

For further information: Billshimmel@billschimmel.com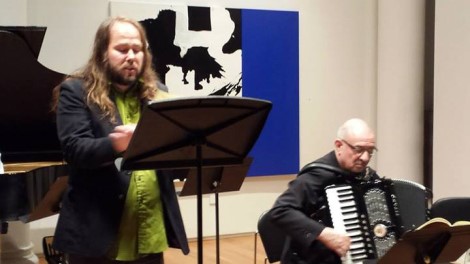 Encore!
by Anita Siarkowsi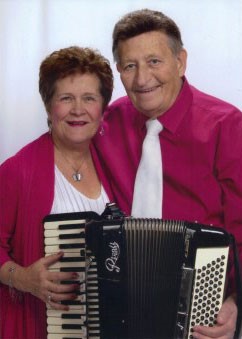 Montmagny, Quebec, Canada is the setting for the 25th annual Carrefour Mondial de l'Accordeon. It begins on August 29, 2013, and will play out through the grand finale on September 2, 2013. At this international festival, artists the world over share their passion for the accordion in all of its many forms, attracting 40, 000 to 50, 000 accordion enthusiasts. The newer part of the city is typical Canadian, while Vieux (old) Montmagny is very French, like stepping into another world.

All things accordion are featured at Carrefour Mondial de l'Accordeon.….exhibits, conferences, workshops, indoor and outdoor entertainment, Quebecois and popular dances, international concerts, live accordion music in 10 area restaurants, plus afterhours jam sessions in various locations throughout the city. A festival highlight is the accordion museum, Musee de l'Accordeon, housed in a French colonial style structure from the 1800's - displaying a vast collection of chromatic, diatonic, and piano accordions - along with books, artifacts, and instrumental recordings.

Along with guest artists from Canada, Italy, France, Denmark, Scotland, England, Russia, Spain, Argentina, Brazil, and Tunisia, the 2013 event will feature accordionists Anita and Bob Siarkowski of Plantsville, Connecticut and Cory Pesturo of Cumberland, Rhode Island.

For the Siarkowskis, 2013 will be an encore, being the husband and wife team's 4th year representing the U.S.A. in Carrefour Mondial de l'Accordeon in Montmagny. Anita and Bob perform on stage in area parks and restaurants for festival goers from near and far. Appreciation is regularly expressed for the duo's performance and color co-ordinated, theme related (music/international) attire - which their audience claims is unprecedented.

Subsequent to the dailhy scheduled events, Anita and Bob always participate in the afterhours jam sessions at L'Oisieliere Hotel, with the night shift clerk graciously hosting the accordion weekend guests 'night and day" through the mid morning hours. Anita's French heritage and high school French surely come in hany in Quebec! N'est ce pas?!? La musique! Bon nuit! Bon jour! Au revoir!

Anita and Bob Siarkowski are Charter/Advisory Board members of the Connecticut Accordion Association, and active members of the American Accordionists' Association. Bob gives private lessons on all keyboard instruments - accordion, piano, organ, electronic keyboard at his Plantsville, Connecticut studio, Bob's Music Center. Anita, a Registered Nurse, Certified Case Manager, and Independent Consultant – entertains as an accordion soloist in various theme oriented programs (ethnic, holiday, etc.) , plus with Bob as an accordion duet. For birthdays, anniversaries, etc. Their next duet performance is at Carrefour Mondiale de l'Accordeon in Montmagny, Quebec, Canada over Labor Day weekend, 2013.

The Siarkowskis met through the accordion, played at their own wedding and at their 50th wedding anniversary on September 15, 2012….They danced to the tune of the "Squeeze Box" band, had a piano-accordion cake (made to scale, of course), plus chocolate piano-accordion favors, and celebrated "accordionly"!
Deadline for Accordion Babes 2014 Album and Calendar
by Rita Barnea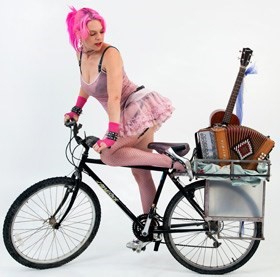 Preparations are underway for the Accordion Babes 2014 Album & Pin-Up Calendar. Fortunately, the deadline for submission of photo, song on CD, art, pre-sales and advertising, etc, has been extended until September 24th. You still have time to be a part of this unique and popular accordion calendar.

Many tips and diagrams are available from the organizer Renee de la Prade for producing a calendar-quality photo, including nuts-and-bolts stuff like image dimensions, and some do's and don'ts for your photo shoot. Please note that a photo needs to be accompanied by a photo release form signed by the applicant and her photographer.

Applicants also need to submit a professional quality CD featuring them playing accordion. Songs can be traditional or own compositions, but not covers. It is your opportunity to bring your music to the accordion loving public.

For further information email: accordionpinupcalendar@gmail.com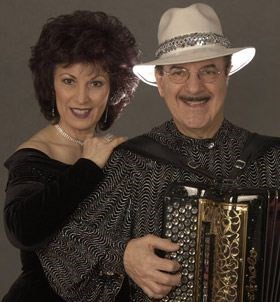 Singer Mary Mancini and accordionist Mario Tacca are very busy entertainers. They performed at the 75th Anniversary of the AAA in New York City in August. They report:

"Hope you have had a wonderful summer filled with lots of fun and sun! We've had a busy performance schedule at Magnanini Winery, Villa Vosilla, and highlighted by the International Accordion Convention at the New Yorker Hotel in New York City.

We want to let you know about some very special performances coming up. On September 10th, 11th, and 12th we will be performing at an Italian Festival themed show at Ehrhardt's Waterfront Resort on Lake Wallenpaupack in Hawley, PA.

On September 15th we will be performing once again at Magnanini Winery in Wallkill, NY. For more information and reservations, call 845-895-2767.

And, at the end of the month, on Saturday September 29th we will be the guests at the 'Make A Joyful Noise' monthly concert series at Lake of the Woods Church, 1 Church Lane, in Locust Grove, VA. "

See and hear their unique style and presentation.
For further information email: mariobtacca@hotmail.com

Accordion Pops Orchestra Presents Havard Svendsrud in October
by Rita Barnea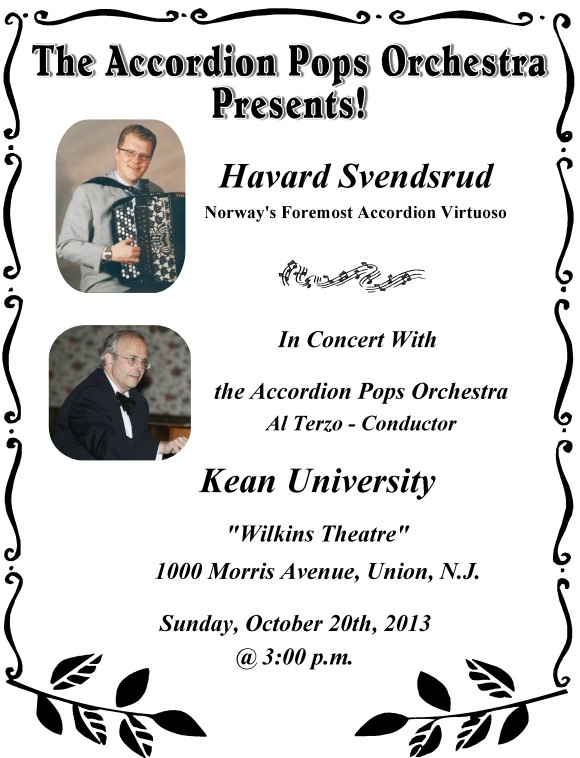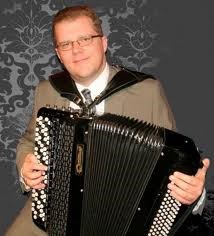 Norwegian accordion virtuoso, Havard Svendsrud, will perform in a concert with the Accordion Pops Orchestra conducted by Al Terzo. The event will take place at Kean University, "Wilkins Theatre" 1000 Morris Avenue, Union, New Jersey on Sunday, October 20, 2013 at 3:PM.

Håvard Svendsrud studied music at the Barratt Dues Institute of Music in Oslo with the accordion as main instrument. He lives in Oslo and is a professional freelance musician with both a classical and traditional repertoire.He won in several categories in the Norwegian Accordion Championship in 1992, 1993 and 1994. He also won the Nordic final of Frosini Grand Prix in 1993.

He is a sought after artist performing frequently in radio and television as a soloist. He has contributed to, and released several recordings which are available.

He was one of the engaged artists at Oslo city's 1000-year jubilee, giving a separate concert August 12th, 2000. He has been soloist with different orchestras including the Stavanger Symphony Orchestra and The Norwegian Army Band.

Håvard Svendsrud was appointed "Cultural Ambassador" for the Norwegian Foreign Ministry, involving a long-term commitment in Venezuela in 1995. He has also performed in the USA, Iceland, Finland, The Czech Republic, Italy, England and Scandinavia. Many of his concerts have been supported by Fund for performing artists, Arts Council Norway and Music Information Centre Norway / Ministry of Foreign Affairs.

Håvard Svendsrud has won several prizes for his playing, among them Belgprisen (1992), Ticon-prisen (2000) and Henschiens ærespris ( 2002 ). Buskerud County Culture Price (2006). In 2004 he won the first "Vivian Vivo Stolaruk Memorial International Entertainment Competition for Accordionists" in Boston, USA. In 2006 he received third place in the same competition in Buffalo / Niagara Falls, USA.

APO conductor Al Terzo is a teacher, arranger, and conductor who has been with the orchestra since its inception in 1970.  He is a member of the Music Teachers National Association, New Jersey Music Teachers Association, and National Association of Music Educators.  Mr. Terzo serves on the governing board of the American Accordionists Association and is a founding member of the Mid Atlantic Music Teachers Guild.  He is an accomplished accordionist who has performed at the Garden State Arts Center and Newark's Symphony Hall.  Currently Mr. Terzo teaches accordion and piano in New Jersey.

The orchestra's roots can be traced to 1970, when it was organized by the Accordion Teachers' Association of New Jersey.  Over the next ten years it performed at various community functions throughout the state under the direction of its first conductor, Dr. Jacob Neupauer of Philadelphia.

In 1980 the orchestra members took a leave of absence, but four years later the membership was reorganized under the direction of the late Eugene Ettore of Livingston, New Jersey. In 1985, Daniel Desiderio was invited to act as a guest conductor of the orchestra and a few years later the A.T.A. of NJ appointed him as conductor in residence.  The name of the orchestra was formally changed to the Accordion Pops Orchestra and its membership was expanded beyond the original members from New Jersey to include performers from Connecticut, Massachusetts, Pennsylvania, New York, Delaware, Maryland, and Rhode Island.  Maestro Desiderio retired as conductor in May 2011 and turned over the baton to Al Terzo.

Most of the twenty-five plus members of the orchestra are professional musicians or teachers.  Many are soloists in their own right.  The orchestra performs a repertoire of light classical, Broadway, big band and popular music.  It has entertained audiences at concert halls, county fairs, festivals, schools, and playhouses at many locations primarily in New Jersey, Pennsylvania, and New York.

For more information about the concert and the APO: alterzo@hotmail.com
For more information about Havard and ordering his CD's:
karen@hsvendsrud.com

-The 5th annual Accordion Festival aka The Big Squeeze returns to show Orange County that accordions aren't just for polka music and playing the Chicken Dance.

Slated for Sunday, September 29 during the Orange County Market Place, the weekend swap meet at the OC Fair & Event Center in Costa Mesa, CA, the Festival will adhere to its quest to show the accordion's diversity with a slate of accordion based bands and soloists playing everything from jazz and blues, rhythm and funk, to Cajun and Tex- Mex, to Latin and tango. It runs from 10 a.m. to 4 p.m. and is included in the $2 Market Place admission. Children 12 and under Free.

Featured bands include Grammy nominated Lisa Haley & the Zydekats, led by violinist-vocalist Haley along with the squeezebox prowess of Gee Rabe.

An accordionist since 1975, Rabe, who is affectionately referred to as "L.A.'s Accordion Diva" sports a glittering resume, from winning national honors and playing in international folk festivals to contributing music for the "Young and the Restless" and the Disney ride "Toy Story." She holds an M.A. in Ethnomusicology from UCLA, where she is a teaching associate, and has researched, lectured on and written papers on subjects ranging from Americana and subcultural music to Balkan and Caribbean music. Rabe is as comfortable playing jazz and Argentinean tango as she is Bulgarian accordion music, blues or zydeco.

Rabe will also "sit in" as accordionist for Porterhouse Bob and Down to the Bone, an eight piece New Orleans influenced funk and rhythm and blues group, featuring Porterhouse Bob on keyboards, vocals, and sometimes on the accordion; a three piece rhythm section and a four member horn section.

In addition to playing, Rabe will also offer a free lesson workshop for amateur diatonic and piano accordion players, which means those with some playing experience. Rabe will be joined by Otono Lujan, also a teacher and accordionist for the band Conjunto Los Pochos. Lujan specializes in diatonic also known as the button accordion, which is used in a variety of genres including Conjunto Tejano, Norteño, merengue, rock, blues, country and more.

You can get a full dose of what the button accordion can do when Los Fabulocos takes the stage. Formed in 2004 by button accordionist, vocalist and songwriter Jesus Cuevas and drummer Mike Molina (both former members of "The Blazers") the band plays music true to their Mexican American heritage, which in addition to what is listed for Lujan, also includes Americana, Gulf Coast Swamp Pop, Zydeco, Southwest Texas Conjunto, and the undeniable, infectious Cumbia rhythms.

It goes without saying that three time world champion accordionist for digital, acoustic and jazz, 25 year old Cory Pesaturo, the youngest of Festival performers, can play anything. And he will.

Pesaturo, who played at the first O.C. Accordion Festival, has performed in five different continents and several times at the White House including multiple gigs for President Bill Clinton and has an impressive, lengthy list of accomplishments and accolades for his young age. Though he got his big break at age 11 filling in for an ill Myron Floren he was anything but destined to follow in his footsteps. Rather Pesaturo has become somewhat of a self-appointed ambassador to change the accordion's Welk-ish image. He can and does play everything! He will be doing a tribute to the American Songbook with Frank Sinatra guitarist Ron Anthony and Friends and then do a solo set covering an international menu of music.

Other pro soloists include Peter Robuffo covering jazz, Latin and classical music; Lou Fanucchi will take it from Tango and beyond; Gordon Kohl, also a music instructor, will play a variety of music to show the accordion's diversity and Jim Gilman, aka the Squeezinator, will present "Music from the Greatest Generation" which focuses on popular songs from the 30's and 40's.

In addition to all the squeezing, there will be free zydeco dance lessons by Ted Sherrod; an Accordion Road Show with Jeffrey Iacono, Borsini Accordions from noon to 3 p.m. for free live accordion appraisals, Accordion Apocalypse accordion and accessory sales as well as free accordion repair and rebuild tips all day by Skyler Fell; mobile rock 'n' roll accordionist Bryan J, gourmet food trucks and free face painting.

Free accordion storage will also be provided.

The Festival is held in conjunction with the Orange County Market Place, which runs from 7 a.m. to 4 p.m. and includes hundreds of vendors providing a variety of products and services, produce area, food concessions, artisans and much more.

Admission is $2. Children 12 and under are always free.

For a more information and a complete schedule: call 949-723-6660.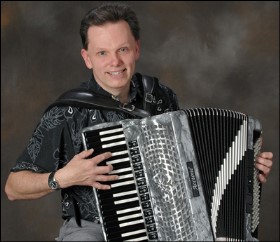 Acordionist Gary Morin will perform on September 27 from 7:PM to 8:30 PM on The Friday Night Concert Series at the Drawbridge Puppet Theatre, 1335 Massachusetts Ave.,Lunenburg, Mass.

Gary began playing professionally in 1976 doing weddings, anniversaries, dances and stage performances. Gary has worked with many bands, duos, small acts and more and is known for strolling at restaurants and gatherings. His CD credits include: "Accordion Absolutely Straight Up", "Andante Strolling Musicians", "Andante Strolls Again" and "Lady's Night Out." In addition to the CD's, Gary has also released some new "Accordion Etudes" .

Tickets are $8.00 For further information: 1-978-582-6565