Guoping Zhang in Concert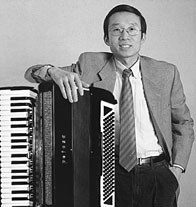 Chinese accordionist Guoping Zhang was born in 1960 and began learning to play the accordion when he was ten years old. It was perhaps inevitable that he chose to play accordion, as his entire family - parents, brothers and sisters are all professional accordionists.

At the age of fifteen, Guoping Zhang took the first step in his musical career by joining the Chinese Broadcasting Art Company. On November 26, 1983 he gave his first accordion recital in the Central Conservatory of Music in Beijing. It was a great success and the China Record Service published a record and cassette tape of his performance.

At the 1987 Klingenthal International Accordion Competition in East Germany, Guoping Zhang was placed sixth and received high praise for his performance. He was the first Chinese accordionist to play in this important event in the international accordion calendar. Guoping Zhang has performed in Germany, USA, Canada, Poland, Switzerland and France as well as appearances in China's Beijing Music Hall and other major city auditoriums. He has appeared regularly on radio and television.

Mr. Zhang has recorded a series of exciting CDs which include the following:
(1) Scarlatti Keyboard Sonatas
(2) Peking Opera - Accordion Solo recorded in 1980 & 1994
(3) Accordion Magical
(4) Zhang Guoping Golden Accord Music

For information on ordering the CDs, please visit his website at www.petosa.com

Guoping Zhang will be performing a series of recitals in the United States as follows:


Date: January 16, 2001
Time: 6:00 PM
Admission: TBA
Venue: Los Angeles, CA
Contact: Carol Kruger (818) 886-1256
Patricia Striplin (661) 270-1973
Date: January 14, 2001
Time: 2:00 PM
Admission: TBA
Venue: San Diego, CA
Contact: Kjell Holmes (858) 453-5486
Date: January 10, 2001
Time: 6:00 PM
Admission: TBA
Venue: San Francisco, CA
Contact: Lou Soper (510) 792-8765
Date: January 8, 2001
Time: 7:00 PM
Admission: $10.00 (includes coffee and dessert)
Venue: Seattle Monday Night Socials
Address: Senior Center of West Seattle
4217 SW Oregon Street
Seattle WA 98116
Contact: (206) 932-4044
Date: January 7, 2001
Time: 2:30 PM
Admission: $10.00 at the door
Venue: Community Music Center
Address: 3350 SE Francis
Portland, OR 97217
Contact: Doris Osgood (503) 284-6586

The Accordion as an Icon of Italian American Culture
The Center for the Study of Free-Reed Instruments of The Graduate Center, The City University of New York, and the Joseph D. Calandra of the Italian American Institute of Queens College, will co-sponsor a one-day symposium and concert entitled 'The Accordion as an Icon of Italian American Culture.'


Symposium at 3:00 PM will include:

Peter Muir, The Italian and Other Ethnic Issues of Guido Deiro's Recordings, 1911-24"
William Schimmel, Excelsior! The Best and Nothing but the Best
James J. Periconi, "Vergogna e Risorgimento: The Secret Life of an Italian American Accordionist"

Concert at 7:30 - 9:00 PM will include:

Music by Pietro Deiro, Pietro Frosini, Charles Magnante, and Paul Creston performed by
Henry Doktorski, Robert Y. McMahan and William Schimmel, accordionists.
Special guest of honor: Count Guido Roberto Deiron.
Registration fee: $15 ($7.50 with CUNY or Senior Citizen ID)

The presentation will take place on Friday, March 23, 2001, with the Symposium at 3:00 P.M. and the Concert at 7:30 P.M. at The Graduate Center, The City University of New York, 365 Fifth Avenue (corner of 5th Ave. and 34th St.) New York, NY

For advance ticket sales, make out check or money order (please do not send cash) to:
The Graduate Center/CUNY and send to:
Office of Continuing Education and Public Programs
CUNY Graduate Center (Room 8111)
365 Fifth Avenue
New York, NY 10016

For further information and to check on the availability of tickets, please call (212) 817-8215, or e-mail: continuinged@gc.cuny.edu
Contact person: Melanie Hegge
http://: web.gsuc.cuny.edu/freereed


Cruising with Jon Hammond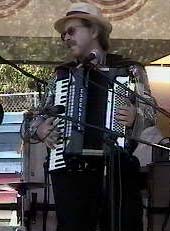 Accordionist Jon Hammond appeared as special Media Guest on the world's fastest cruise ship "Olympic Voyager" for the "USA Inaugural" event in Port Everglades, Florida recently.

The ship had just arrived from a whirlwind 7 day tour of Greece, Turkey, and Egypt. Hammond performed two evening concerts with cruise ship veteran Peter Nowak and the Boston Herald Newspaper's Travel/Entertainment Editor, Mark Chapman.

Their program included pieces appropriately entitled, "My Ship", and "All or Nothing at All".

Jon has played professionally since age 12. Beginning as a solo accordionist, he later played Hammond B3 organ with a number of important San Francisco bands. His all-original rock group "Hades" opened shows for Tower of Power, Quicksilver Messenger Service and Michael Bloomfield. Eddie Money and Barry Finnerty became musical associates.

Moving east, he attended Berklee and played venues as diverse as Boston's "Combat Zone" and the exclusive Wychmere Harbor Club in Cape Cod, where he was house organist and developed a lasting friendship with House Speaker Tip O'Niel.

He also toured the Northeast and Canada with the successful show revue "Easy Living", and continued his appearances at nightclubs in Boston and New York. Subsequently Hammond lived and traveled in Europe, where he has an enthusiastic following.

For more information and upcoming performances, please visit his website at: www.accordions.com/hammond.

Guy Klucevsek on tour with Charms of the Night Sky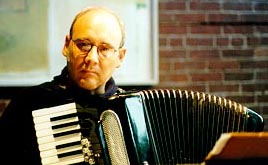 Accordionist Guy Klucevsek will tour with the "Charms of the Night Sky" band in January, in celebration of the release of their new CD "A Thousand Evening" on BMG.

The band consists of Dave Douglas (trumpet), Mark Feldman (violin), Guy Klucevsek (accordion) and Greg Cohen, bass.

The group will perform in California, Washington, Oregon, Massachusetts, Tennessee, Illinois, Michigan, Pennsylvania, Georgia, Florida and Vancouver (Canada).

For further details e-mail: Guysqueeze@aol.com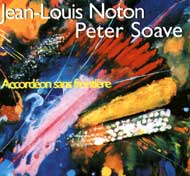 USA accordionist Peter Soave and French accordionist Jean Louis Noton have released their first CD together "Accordéon Sans Frontière".

The CD includes a track dedicated to Francesca Pigini (owner of Pigini Accordions) entitled "Francesca".

Peter Soave is an internationally recognized teacher and performer who currently specializes in the music of Astor Piazzolla. He has performed many of his works with leading orchestras around the world.

This new CD is available on Jean Louis Noton's website.

CD TRACKS INCLUDE....
01
Aquillon
02
Bébé d'Amour
03
Labeu Pierre
04
Mokosso Blues
05
Danse des Chamelles
06
Oblivion
07
Sex Accordeon
08
Francesca
09
Patsad
10
Décarissimo
11
Adios Nonino
12
Suite de Castelfidardo
- Milonga
- A song for Elisabeth
- Angela
- Paola
- Francesca

Why not advertise your web site on accordionusa.com?
Reasonable monthly rates available!
remember... a banner here... can take you there!
Manny Bobenrieth CD Reviewed in Washington Post and Times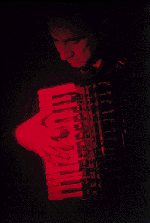 The "Manny Bobenrieth Ensemble" has received positive reviews in the Washington Post Newspaper and the Washington Times this month. The reviews featured the ensemble's new CD "Tangata" and Manny's life as an accordionist.

The Washington Post included the following: "The arrangements of Piazzolla's compositions are challenging and intricate, the performance level is exceptionally high, and the dramatic, occasionally dissonant thrust of the music, if not exactly scary, is certainly a bit unnerving at times.

All but three of the album's compositions were written by Piazzolla, and Bobenrieth has careful preserved their lyricism, passion and mysterious charm".

Born in Concepcion, Chile, Manuel Bobenrieth began studying the accordion at age five. He studied at Montgomery College in Rockville, Maryland and received a Bachelor of Music Degree in Performance from The Catholic University of America in Washington, D.C., becoming the first accordionist to graduate with such a degree from that institution.

Mr. Bobenrieth has performed in many different musical contexts including Broadway musicals, Contemporary Music Forum and the Kennedy Center Opera House Orchestra. He has appeared with legendary jazz guitarist Charlie Byrd in a tribute to the music of jazz accordionist Art Van Damme. He can also be heard on the soundtrack to the Discovery channel television series, "The Great Chefs" as a guest artist with the Charlie Byrd Trio.

Recently , The Manny Bobenrieth Sextet was featured at the world famous Blues Alley Jazz Club and performed to a sold out audience.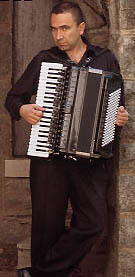 As accordionist for Norwegian Caribbean Lines from 1984-1986, Mr. Bobenrieth toured Europe and the Caribbean aboard the SS Norway. In 1986, Mr. Bobenrieth became a member of the United Stated States Army Band.

As the accordionist with the Army Strolling Strings, he has performed for three Presidents, including Ronald Reagan, George Bush, and Bill Clinton at numerous White House State Dinners in honor of foreign dignitaries such as Margaret Thatcher, Mikhail Gorbachev, Prince Charles and Princess Diana, Boris Yeltsin, King Hussein, the Emperor of Japan and Nelson Mandela. In addition to his performing duties, Mr. Bobenrieth has written many arrangements for the Army Strings, which have been featured at the State Department, the Vice President's residence and The White House.

Upcoming performances include a concert on February 28th, 2001 at The Corcoran Art Gallery Washington D.C and on April 27th, 2001 Roanoke College Virginia.

For information on ordering the CD, please visit www.mannybobenrieth.com

Net4Music offers Accordion Sheet Music "On-line"

Net4Music which is found at http://www.net4music.com is an interesting source for downloading accordion sheet music.

Offering many titles, the site offers a full description of the music, including the number of pages and both audio and visual samples of the score.

The site which is very easy to use, allows the selection of instrument from the home page, with the accordion being listed first. From there, the user can follow the simple directions to view, listen to and purchase the available titles.

Don Grzanna announces new CD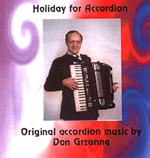 Don Grzanna from Caledonia, WI has just released a new CD featuring his original compositions entitled "Holiday for Accordion."

Don, an accomplished entertainer both on piano and accordion, has several recordings available, as well as numerous sheet music publications of his original compositions. For a complete list of pieces and recordings available, please visit: www.accordions.com/dongrzanna

"Holiday for Accordion" CD includes tracks:
CD TRACKS INCLUDE....
01
Escapade
02
Enchanted Villa
03
Holiday for Accordion
04
Accordion Twist
05
Elm Street Boogie
06
Fog
07
Sea Voyage
08
April Dreams
09
Cinderella Waltz
10
By the Fireside
11
Latin Nights
12
I Love to be with You
13
D G's Boogie
14
Winter Winds
15
Salt & Peper
16
Christmas Delight
17
My Dream of Love
18
Edna

Just for fun...
Accordion Birthday Card

We invite you to submit your
News, Concert, Club Listing, CD or Article!
---
www.accordionusa.com
is a free service to the accordion community.
We appreciate the generous support of
'Accordions Worldwide'
found at: www.accordions.com