---
Peter Soave and the Phoenix Ensemble

In January, the Crooked Tree Arts Center of Petoskey, MI has scheduled a heat wave by inviting the Phoenix Ensemble to perform Friday and Saturday, January 13 and 14, at the Ross Stoakes Theatre. Concerts start at 8.00 PM.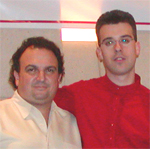 Their Oblivion Project focuses on the "Nuevo Tango" of Astor Piazzolla, the famous and controversial Argentine composer, and spotlights Peter Soave and Julien Labro on bandoneons. Soave's mastery of the music of Piazzolla, along with his virtuosic skill, and Labro's creative talent promise a powerful combination.

In recent years, Piazzolla's popularity continues to grow as his tangos are performed in concert halls and clubs, by all different sizes and styles of ensembles -- from orchestras and string quartets to jazz combos and rock bands.

The Phoenix Ensemble's performances are electric and spontaneous. It features two bandoneons, violin, cello, piano, bass and percussion. The concert program includes Adios Nonino, Michelangelo 70, Tanguedia, Romance del diablo, Vayamos al diablo, Citetango and many others.

For more information, please contact: Crooked Tree Arts Center, 461 East Mitchell, Petoskey, MI 49770, Phone: (231) 347-4337 or visit: www.crookedtree.org


---
Margie Fremar Passes Away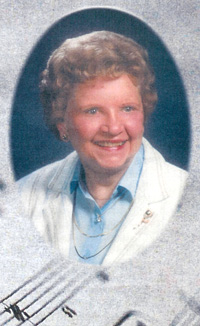 Well-known accordion teacher Margie June Fremar (b. June 13, 1918) of Fort Scott, KS, passed away on December 5th, 2005. Born in Canon City, Colorado, Margie's family moved to Fort Scott in 1920. Margie studied accordion with Alfred Vacca in Kansas City and with Joan Cochran Sommers at the Conservatory of Music at the University of Missouri - Kansas City.
Margie and her late husband Fred Fremar operated the Fremar Music Studio in Fort Scott for many years, providing musical guidance for hundreds of accordion and piano students. As the studio grew, they established the popular 'Teen Tones', an entertaining accordion sextet, which went on to perform on the Ted Mack TV Show in New York City.
Margie received numerous honors for her outstanding teaching, among which was an honor given to her at the dedication of the University of Missouri, Kansas City's Center for the Performing Arts in 1980 by the UMKC Accordion Orchestra, honoring her as one of the "Midwest's most outstanding teachers."
Margie continued teaching throughout her life, presenting 74 teaching recitals between 1958 and 1999, and entering her students in competitions throughout the United States up until recently.
Margie's daughter, Karen Fremar, was a United States National Accordion Champion and winner of the CIA Coupe Mondiale Entertainment Competition in Stockholm as well as a recognized composer and performer. Karen performed three works at her mother's funeral including 'Now the Day Is Over' by Sir Joseph Barnby (arr. Margie Fremar), 'Interlude', from Fantasy for Accordion by Karen Fremar, and 'If Ever I would Leave You', by Lerner & Loewe (arr. Karen Fremar.)
In addition to her daughter, Margie is survived by her two sisters.


---
Anthony Ettore Passes Away in New Jersey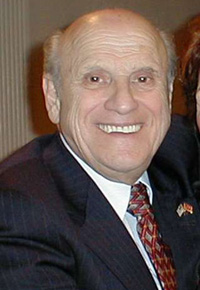 Anthony P. Ettore, of Montville, New Jersey passed away on December 20th. Born in New Bedford, Mass., he lived in Newark and Parsippany for 13 years before moving to Montville in 1977.

He was secretary/treasurer of the Thomas J. O'Beirne Co., Roseland, NJ, since 1994.A Marine Corps veteran, Tony served during World War II.

He studied accordion since he was five and in 1952 established the Ettore School of Music in Staten Island, NY. Many of his students won awards in solo, duet, combo and accordion orchestra divisions in state and national competitions. Mr. Ettore performed at Carnegie Hall, New York City, with his Virtuoso Accordion Orchestra.

He was a member of the American Accordionists' Association Board of Governors for more than 50 years and served two terms as president.

In March of 2005, he was honored as Man of the Year by the Accordion Musicological Society and in November of 2005, he was presented with the key to Roseland by Roseland Mayor, Michael Paolo. Additionally, Mr. Ettore was a charter member of the Lions Club of Staten Island.
He is survived by his wife, Marie and a brother, Raymond.


---
2006 AAA Seminars in New York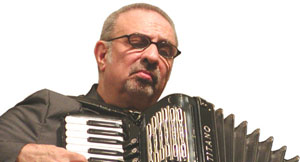 This years American Accordionists Association Master Class and Concert Series moderated by Dr. William Schimmel is entitled HA HA! WA WA!, THE ACCORDION CAN KILL YOU! and will be held from JULY 28-30, 2006.
WE KILLED THEM IN KALAMAZOO!
HE TRIPPED OVER HIS ACCORDION AND LANDED ON A POISONOUS LIZARD - HA HA! LIFE WAS GOOD - NOW IT'S CRAP - WA WA!
OUR TWELVETH SMASH YEAR! A BIT OF WARNING!
BETTER NOT ATTEND! YOUR HEART WILL BE BROKEN! YOUR SPIRIT CRUSHED!
YOUR MIND……! IN ANY CASE, WELCOME TO THE SEMINARS!
WILDWOOD (circa 1953) , before Rock and Roll and Do Op architecture: a tribute to Danny DeCon - the icon of Jersey Shore point accordion-show bands. His motto: LET ME DECONSTRUCT YOU!
A fresh new look at the BELLOWS SHAKE as the ultimate TUMMY TICKLER.

An unauthorized re-enactment of THE ACCORDION TEACHER, a performance that outraged everyone in the accordion community as the ULTIMATE SETBACK and was actually banned by this sponsoring organization back when it was introduced in the early 60's.
A seminar on the HA HA, the landscape architecture framing he 18th century English garden, inspiring the classical Sonata Allegro form.
Learn to turn a happy event into a living nightmare! - NO DEMON BARBERS NECESSARY! Just play that one sad, depressing song at the right moment - evoke a bad memory - perfectly timed - bring down the house….voila! …. Everyone goes home…..the party's over!
A new series of works composed specifically for the unaccompanied bass accordion: JOHN BROWN (the hanged man), WALTZING MATILDA (a tribute to the beheaded) and HAVA NAGILA - A LAMENT!
AND MORE…Dr. Robert Young Mahan will emerge as BOB MAND AND HIS 12 TONE RUBBER BLUES BAND. He will lecture on Leonard Feather's statement: "Rules are not made to be broken , but rubber bands to be extended to the point of infinity ". This is Bob's 12th year! He hasn't snapped yet.
.
Kamala Sankaram, accordionist/singer/composer/filmaker/sitar player - and clinical psycholgist will probe into the transitional psyche starting from HA HA! and ending with WA WA! - analyzing FREAK SHOWS - back to HA HA!, performing a variety of genres and her ontological video work INDO/NOIR.
Eminent choreographer, director/filmaker and fitness expert, Micki Goodman will teach us how to HOWL OUR WAY BACK TO HEALTH - as well as a new work that's …..well….TOTALLY OF THE SCALE! She will also present her new interactive video work, THE FOUR SEASONS.
Micki is Dr. Schimmel's dramatic director ---- and for the seminars in general. It's 12 years for Micki!

Godfrey Nelson / Lorraine Nelson-Wolf in the ontological "7", will close Friday night for the "12th" year. I/WANNA/BE/A/BABY/ALL/MY/LIFE (spoken quickly) - examines the accordion and it's intrinsic ability to facilitate age regression. Composer Stephen Dankner coined the initial phrase. BRING YOUR HUGGIES AND ENFAMIL - AND A REALLY GOOD NIPPLE!

The young jazz great, Will Holshouser, will offer some SOOTHING JAZZ FOR BABIES - in the spirit of the late, great Raymond Scott and also take part in a discussion on "WHAT'S REALLY BEHIND THE MUSETTE"- exploring the devastating historical backdrops that made it happen. It's 11 years for Will!

R.D.RANTER AND CO., a duo comprised of writer/singer/accordionist Rembert Block and a young lady from the South Bronx, who she mentors. Blues, screams and rants will prevail. WAAAA! MAGAZINEwill be unveiled as well as a seminar on THE ACCORDION AS MEDIATOR.

Paul Stein will present his new song cycle: LOSS! This fascinating presentation deals with Personal loss, New Orleans, Getting Mugged and Surviving all of it. It's HA HA! and WA WA! - and he's still here to tell us about it - for the 12th year! -- also, don't miss his seminar on PLUG IN seminar (Amplification).

Benjamin Ickies, no stranger to ambition -hence the title of his Ambitious Orchestra, will give us the punk equivilant to HA HA! WA WA! in a short set: HAWA! Also, new works by David Stoler (STARTUNER), Liam Robinson (CHINA SHOP) and ONE LAST LOOK AT ACCORDION JOKES! Digital flutist, Lee McClure, will transform The Mother Goose suite into the FRACTURED tale that it was meant to be. AND.. NOTEKILLERS' David First will do what he does best…..kill all preconceptions…and ..notes!

King of Ragtime, Mark Birnbaum will give us the WA WA (WILD GOOSE) WAG. Always confrontational, Dr. Birnbaum will explore the highly structured HA HA, giving way to the Dionysion WA WA - ending with a no-headed WA WA in the spirit of Santeria.

Fearless Design CEO, Cristina Spelligene; ethnomusicologist, Maria Sonevytsky and stand up comic Lenny Feldman will give us THE THREE D'S: DESIGN, DIASPORA AND DERRIDA. Eric Salzman's Classic ACCORD will show the world that BIG BOYS DO CRY! Allyssa Lamb's instrumental vocals, melodica, glockenspiel and kazoo will CHARM, SEDUCE and STING at the same time. Composer, Richard Peaslee will have us consider the axiom: THE ACCORDION IS MOBY- DICK!

As a shark is a killing machine, The K Trio is a winning machine. Watch, listen and enjoy as they kill you with their MOJO and win you over at the same time.

Actress Kathleen Tipton, who has performed, hosted, stared and lectured for over a decade, cyber artist Rachid Eladlouni and performance artist Ray Rue (Elvis/Groucho) will show NO MERCY. Marni Rice will give us WAUX! -in French -NO REGRETS! Rita Davidson will give us MORE ETTORE! There will be AAA commissioned works by Schimmel, John Franchesina and Alexander Tcherepnin performed by Dr. McMahan and Dragica Banic-Curcic of Croatia. Walter Kuhr of MAIN SQUEEZE will give us BAVARIAN BLUES. Brian Dewan will have us drowning in the aisle over his TED KENNEDY RAG.

Dr. Schimmel, lecturer- in- residence of the AAA will resurrect a vintage concerto by ANDY ARCARI - one of America's great pioneers, as well as a new work, A BRIEF HISTORY OF PLAID- combining the HA! WA! qualities of Auld Lang Syne, Palliachi, Indian Madras and Fado (Portuegese)/ Fado (Gallic)-with an interactive video by Micki Goodman. Schimmel also composed the bloody bass accordion works. This is Dr. Schimmel's 12TH year as originator/moderator and curator of the Seminars. This Year he will also present THE ELECTRIC CHAIR to those who would like to perform in the afternoon workshops and receive his "CURRENT" comments -along with his executing executives. Limited to a few players only, those interested should contact Dr. Schimmel directly. HA!AND WA! encouraged -actually Mandatory!

BROKEN HEART? The late alcoholic meditation master Chogyam Trungpa says: "It's the only way to become a decent human being." We say: NO CURES, NO SOCIO/ SPIRITUAL TRANSFORMATION, NO BOOZE - Just bring your frazzled, pained psyches and make it look like you're having a good time.

SEE YOU AT THE SEMINARS!
The event will be held at:

THE TENRI CULTURAL INSTITUTE OF NEW YORK
43 A West 13 St (between 5th and 6th Ave)
Master Classes at 3.00 PM Concerts at 7.00 PM
For further information e-mail: billschimmel@billschimmel.com


---
New Accordion Microphone Developed
AccordioVox is a new company name formed for producing Microphone systems specifically built for the accordion by accordionist, Andy Bakke in conjunction with engineer Rick Chinn who previously served as a designer with Mackie Mixers.

Expected to reach the market by March 2006, the microphone features 'do it yourself' 'installation, full RF shielding and encapsulated condenser elements to elminate distortion with high power output and virtually elminated squall.

JLI Electronics will be producing the microphone so it will be a USA made product coming out of Kulpsville Pennsylvania, with distribution and optional installation from the designer Anders Bakke residing in St. Augustine Florida.

Mr. Bakke believes that what makes it unique is that it will surpass Sennheiser standards. The "secret" of Sennheiser is nothing more then a standard element with a special reversed funnel on the front of it. Because of the close proximity of the element to the sound source under the Treble Grill that funnel is desensitizing the element so it does not get saturated with sound and go into distortion. Mr. Bakke's has found a material suitable for a diaphram that is transparent to sound with a reduction of only -.05db. The byproduct of the diaphram over the Sennheiser cone is that his system does NOT squall. He can take a microphone element to a 10 watt monitor fully cranked up and put the element within 2 inches of the monitor speaker before it will squall.

Additonally, existing Master Tech systems for example are not shielded. The AccordioVox system is completely and totally shielded with not only shielded wire but ground plane on the circuit boards with Magnetic Ferrite Beads on the wires as well. No more rebroadcasting of local radio stations, Cell phone conversations or CB radio during a performance!!

The mic is solderless and features plug and play installation. Even though you get a fully assembled microphone kit from the competition you still have to take it apart and unsolder wires, install and resolder those wires... not anymore!!

Mr. Bakke is available for installations 'on the road' and offers his services to any accordion clubs and associations.

For further information, please contact:

Anders Bakke [:|\\|//|:} AccordionMan
1400 S. Scenic Way
St. Augustine, Florida, 32084
http://www.accordionman.net/AccordioVox

E-mail: Andy@AccordionMan.net
(904) 806-2587 Mobile


---
Bay Area Accordion Club Activities in Texas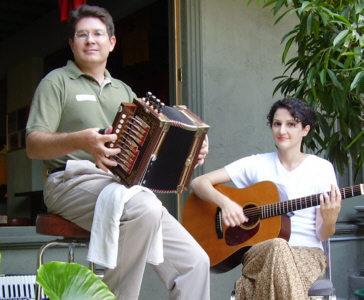 The newly formed BAY AREA ACCORDION CLUB meets every 2nd Wednesday of the month at FRANCA'S ITALIAN RESTAURANT on Nasa Road from 6 - 9 PM.

The evening includes Dinner and an Open mic. Special accordion club dinner menu starts from $6.99 per person.

Meetings last about two hours with an open mic so that everybody has a chance to demonstrate their accordion playing techniques. Usually, one has to sign-up on arrival to be placed on the play roster. A 10 minute slot is the norm, except for our featured artist which is usually allowed 30 minutes.

Our members and visitors enjoy good music and get-togethers. Some play the accordion, others visit because they love the music and the company.

Many of us re-discovered the accordion at a later stage in life and are trying to catch-up with what we missed! So many beautiful songs to learn... so little time to practice!

If you are an accordion player, regardless of skill level, join us at one of our meetings and bring your accordion! This is a no-dues club but we ask that you support our sponsoring establishment by dining with us.
For more information contact:
Galveston: Joe Brikha - 409-938-3734
Pasadena: Becky Simmons - 281-476-1943
Clear Lake: Tom Zerecheck - 281-334-6120
For more information visit: www.bayareaaccordionclub.com


---
Changing of the Guard at The Elders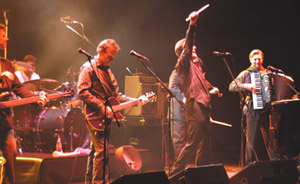 The Elders, an extremely successful Celtic rock band located in Kansas City, are looking for an accordion player.

Current accordionist Brett Gibson, after spending over 18 months, one album and a tour of Ireland with the band, is moving forward to other opportunities while leaving behind some great friends and memories.

The Elders unique style of Celtic rock got it's start in Kansas City when lead singer Ian Byrne joined the band in 2002. Byrne is a native of Ireland but moved to Kansas City with his family in 1987. It took this Irishman living in the Midwest, his daughter's best friend and a conversation between two soccer moms, to see the potential for the band. Already an established group, adding Byrne to the lineup was the icing on the cake. Along with the other band members, Brent Hoad, Norm Dahlor, Brett Gibson, Tommy Sutherland and Steve Phillips, The Elders have played in almost every big city including Chicago, New York, Boston and Estes Park. This fall the band went to Ireland for their third international tour.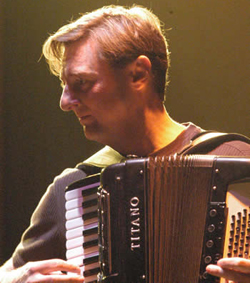 Outgoing a ccordionist in the group Brett Gibson made his debut with The Elders in August, 2004 and has been active performing with the group in all their shows ever since. A native of Auckland, New Zealand, Brett began playing the accordion at age 7 and at the age of 12 won his first New Zealand championship for that age category and continued to seriously play and compete into his late teens as a soloist and with duet, trio, quartet, ensemble and orchestra.

Performing regularly throughout the Kansas City area Brett can be seen playing with DescargaKC, a Latin Jazz band, his own band 'Residence Rules' as well as with Eddie Delahunt at O'Douds in Kansas City.

Anyone interested in taking over for Brett in this exciting opportunity is requested to contact Ian Byrne: ian@EldersMusic.com or you are invited to visit the Elders website at www.eldersmusic.com


---
Promoting Your Accordion Service Free at AWW

The Internet is changing the way your customers are searching for services. The days of lugging out a 12 lb. telephone book to find very limited and outdated business information are coming to an end. People are still letting their fingers do the walking, but they're doing it over a computer keyboard. Below are some revealing facts from the Kelsey Group.
74% of US households use the Internet as an information source when shopping.
Approximately 45% of searches had a buying intent.
The percentage of respondents who used yellow page directories decreased from 75% to 62%.
(If you have a printed yellow page ad, it is time to consider buying a smaller ad and shifting your marketing dollars to the Internet.) The off-line Yellow Pages see the writing on the wall and are scrambling to transfer their business model to the Internet.
Businesses can no longer ignore these facts. If you want to be successful, you must have a presence where your customers are searching. Being found on the Internet is vital to the future of your business.



The Accordion Yellow Pages offers free of charge listing for all accordion businesses, teachers and for every type of service for accordionists. On the Accordion Yellow Pages site, you do not need to have a website for accordionists find you and contact you.



The search-accordion.com site is also free of charge, being a listing service for every type of accordion service but you must have a website. Viewers of search-accordion.com can click to your website.



Very popular is the AccordionLinks.com site where those accordion service providers with a website, can attract accordionists free of charge to their website.

All it takes is a little effort, to make sure your information on these three popular and very effective accordion sites is up to date. Your future success may well be determined by your ability to effectively adapt to the Internet. Should it be your New Year's resolution for 2005?


---
All Things Accordion in San Francisco
The San Francisco Chronicle recently included a series on small businesses in the Bay Area, including the company, 'All Things Accordion', owned and run by Tom Torriglia. 'All Things Accordion' was one of only 12 out of nearly 200,000 small businesses selected for a feature article, presented in a special supplement.

Also, on November 26th and 28th, accordionist Tom Torriglia appeared on the Food Network's episode of Easy Entertaining, a US television program, with Michael Chiarello's show featuring Venetian tapas. Tom played appropriate background music to accompany the Italian food.


---
Kevin Solecki's 'Solecktions' gets Grammy Nomination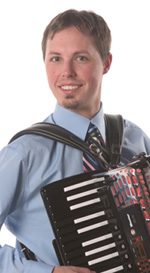 Nominations for the 48th Annual GRAMMY Awards were announced on December 8, 2005 by The Recording Academy, reflecting a year in which multiple genres were represented in top categories; collaborations were numerous and diverse; and newer up-and-comers were nominated alongside more established, legendary artists. The nominations were announced at Gotham Hall in New York City and the event was attended by national and international media, as well as key music industry executives. Artists reading nominations that morning included Natasha Bedingfield, Big & Rich, Mariah Carey, Chad Kroeger (Nickelback), Patti LaBelle, John Legend, Carly Simon, Sway, and CeCe Winans. The 48th Annual GRAMMY Awards will be held on Wednesday, Feb. 8, at Staples Center in Los Angeles and once again will be broadcast live in high-definition TV and 5.1 surround sound on CBS from 8 – 11:30 p.m. (ET/PT).

"As we celebrate the GRAMMYs coast-to-coast, this year's nominations truly reflect a dynamic and vibrant community of music makers that includes artists, producers, engineers, songwriters and everyone involved in the creative process," said Neil Portnow, President of The Recording Academy. "As this is the only music award that is voted on by music makers, the GRAMMY continues to be the preeminent symbol of excellence and achievement as well as the most coveted demonstration of peer-recognition and honor. Once again, our highly respected process has delivered a wealth of music and talent to spotlight on Feb. 8, 2006, during Music's Biggest Night."

Congratulations go out to this year's Grammy Nominees! The Nominee list for "Best Polka Album" (Vocal or Instrumental) includes...
"Under The Influence" - Eddie Blazonczyk's Versatones [Bel Aire Records]
"Time Out For Polkas And Waltzes" - Walter Ostanek And Ron Sluga [Sunshine Diversified Ent.]
"Polka Pizzazz" - Del Sinchak Band [Peppermint Records]
"Solecktions" - Kevin Solecki [Peppermint Records]
"Shake, Rattle And Polka!" - Jimmy Sturr And His Orchestra [Rounder Records]
Nominee Kevin Solecki was born and raised in Warren, Michigan, in October 1978. Kevin started taking accordion lessons at the age of 6, studying at Eligio's Music Studio of Warren, under the instruction of store owner Eligio DiBerardo. He then went on to study classical music for 10 years, before getting involved in polka music.

At the early age of 10, Kevin started playing solo accordion performances. He could be found playing at nursing and senior homes, weddings, anniversaries, church functions, restaurants, and private parties. Some of Solecki's earlier highlights include a performance on Detroit's WCAR Radio in July 1989, an interview with his hometown newspaper, The Warren Weekly, in February 1992, and a television appearance on Detroit's WXYZ TV in March 1991.

Kevin stopped taking accordion lessons at the age of 16. Shortly afterwards, while still maintaining a demanding solo schedule, he joined a nationally known polka band from Pennsylvania, the "Polka Family". After several extensive months of traveling the country with the Polka Family, Kevin decided to relocate to Pittsburgh, Pennsylvania in February 1997, where he currently resides.

Over the past 9 years, Kevin has performed all over the United States, including trips to Alaska, California, Florida, Hawaii, and Las Vegas. He has toured internationally in Canada, Mexico, Bermuda, the Caribbean, and Europe. He has also done numerous radio and television shows, and had the opportunity to perform at some of the country's top polka festivals, state fairs, county fairs, hotels, and cruise ships.


---
USA Delegation at Moscow Festival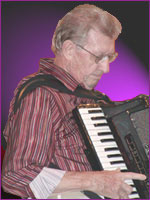 Jazz legend Art Van Damme, President of the Accordionists and Teachers Guild, International Joan C. Sommers, ATG immediate Past President Stas Venglevski and Jazz accordionist John Simkus were among the many guests at the 4th International Competition of Bayanists and Accordionists that took place from December 11th to 18th in Russia's Gnessin Academy of Music.

A great success, the International jury included Chairman - Friedrich Lips (Russia), Sergey Kolobkov (Russia), Viacheslav Semionov (Russia), Joan Sommers (USA), Owen Murray (Great Britain), Vojin Vasovic (Serbia & Montenegro), Max Bonnay (France), Mie Miki (Japan), Joseph Macerollo (Canada), Matti Rantanen (Finland), Pavel Fenyuk (Ukraine), Cao Xiao-Qing (China) and Claudio Jacomucci (Italy). Competitors from Russia, Belarus, Ukraine, Kazakhstan, China, Serbia and France took part in this event, which included three rounds of close competition with six finalists battling for first place. Candidates could select from two concertos including:
V. Semyonov: "Freski", Concerto for bayan, chamber orchestra and percussion
E. Podgaits: Concerto for bayan and chamber orchestra
A variety of concerts was held during the festival (including opening and closing concerts) with performances by the Orchestra of Bayanists of the Gnessin Academy of Music (Vladimir Shkurovsky, conductor), Aidar Gainullin and Yuri Medianik (both winners of the 3rd Competition for Bayanists and Accordionists in 2000), Mie Miki (Professor at the University of Music in Essen, Germany), Claudio Jacomucci (Italy), Pavel Fenjuk (Ukraine), Joseph Macerollo (Canada), Stas Venglevski and John Simkus (USA). America's living jazz legend Art Van Damme made his debut in Moscow and received a special award for his lifetime achievements offered by the organizers of the event.

The 'Silver Disk' (for special accomplishments in the accordion and bayan culture fields) was presented to maestro Sergey Barinov, accordionists Joseph Macerollo, Joan Sommers and Mie Miki, producer Massimo Pigini and composer Alexander Shurbin.

Results:
1st equal: Maria Vlassova (Russia) and Kirill Shtybin (Russia)
2nd: Alexander Selivanov (Russia)
3rd: Evgeny Kotchetov (Russia)
Finalists Sergey Kotkov and Andrey Sheliganov received dipolmas.

---
CUNY Announces March Concert

The Center for the Study of Free-Reed Instruments will present a concert entitled Viva Regondi: Music for Concertina and Guitar on Friday, 17 March 2006 at the Elebash Recital Hall at The Graduate Center, (34th Street and Fifth Avenue) at 7:30 PM.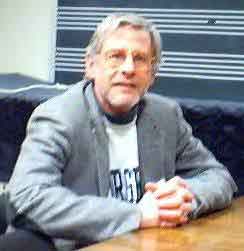 THE CENTER FOR THE STUDY OF FREE-REED INSTRUMENTS (CSFRI) is unique in American academia. Headed by Allan W. Atlas (left) and operating under the auspices of the Barry S. Brook Center for Musical Research and Documentation, CSFRI serves to foster research and discussion about all aspects of all free-reed instruments. To that end, CSFRI sponsors a concert/colloquium each spring semester, maintains a library/archive of primary and secondary material related to free-reed instruments—the two jewels of which are the largest collection of Victorian music for the English concertina in the country and The Deiro Archive, which preserves the documentary and recorded legacy of the legendary accordionists Guido and Pietro Deiro, who introduced the piano accordion to the United States in the early twentieth century—and has published four volumes (1999-2002) of The Free-Reed Journal and now co-publishes Papers of the International Concertina Association. Please visit our website: http://web.gc.cuny.edu/freereed

THE GRADUATE CENTER is the doctorate-granting institution of The City University of New York. The only consortium of its kind in the nation, The Graduate Center draws its faculty of more than 1700 members mainly from the CUNY senior colleges and cultural and scientific institutions throughout New York City. Established in 1961, The Graduate Center has grown to an enrollment of 4000 students in 32 doctoral programs and six master's degree programs in the humanities, social sciences, and sciences. The Graduate Center also houses 28 research centers and institutes and offers a wide range of continuing education and cultural programs of interest to the general public. Also affiliated with the institution are the following University Center programs: the CUNY Baccalaureate Program, the School of Professional Studies, and the CUNY Graduate School of Journalism. According to the most recent National Research Council report, more than a third of The Graduate Center's rated Ph.D. programs rank among the nation's top 20 at public and private institutions, nearly a quarter are among the top ten when compared to publicly supported institutions alone, and more than half are among the top five programs at publicly supported institutions in the northeast.

Past and Future CSFRI Events:
1999 Mouth Organs East and West: From Chinese Sheng to Jazz Harmonica
2000 Tango—Bandoneon—Piazzolla
2001 The Accordion as an Icon of Italian-American Culture
2002 The Incredible Concertina: A Concert in Honor of Sir Charles Wheatstone - A Bicentennial Celebration
2003 Free Reeds of Asia and other Rare Chinese Instruments The "Other" Accordion: The Contemporary Scene (co-sponsored with the American Accordionists' Association)
2004 The Incredible Concertina 2: Music from Village Greens to the Concert Hall
2005 From Frosini to Foss: A Half-Century of Music for the Accordion
2006 Viva Regondi: Music for Concertina and Guitar
2007 The Irish Squeezebox in New York
Tickets for the Viva Regondi Concertare $20 ($12 with CUNY ID or Senior Citizen ID) and are available by calling the Office of Continuing Education (212) 817-8215.

For complete program, please see the Feature Article this month.

---
Maestro Galla-Rini to Celebrate 102nd Birthday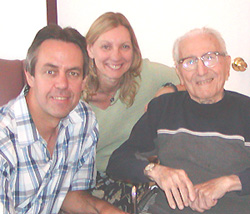 Maestro Anthony Galla-Rini will celebrate his 102nd Birthday on January 18, 2005 at his residence in Corona, CA.

In October ATG Board of Directors Kevin Friedrich and Liz Finch visited Maestro Galla-Rini in CA and reported that he was in good spirits and Mr. Galla-Rini joked that he supposed now he would have to live another 100 years!

This is not only a chance to wish the Maestro a wonderful birthday but also a perfect opportunity acknowledge his lifelong contributions to the accordion world.
Throughout his career, his performances, his compositions, his recordings, his arrangements, his musical direction, his teaching, his leadership role in the accordion community, his inspiration and in general 'his love for the accordion' has touched us all.

Over 60 years ago, he was one of the 29 founding members of the Accordionists and Teachers Guild, International (ATG) where he now serves as President Emeritus. In 1951 he traveled to the Confédération Internationale des Accordéonistes (CIA) General Assembly in Paris, France where he successfully petitioned the ATG's membership into the CIA.

To this day, the ATG and fellow USA member the American Accordionists' Association of whom he was also a founding member, take an active and valuable role in CIA activities as they endeavor to promote the accordion in the international arena, including hosting the 2007 Coupe Mondiale World Accordion Championships in the United States.

Mr. Galla-Rini's efforts on behalf of the ATG laid the groundwork for them to work on a global level with fellow national accordion organizations from around the world as well as establish affiliation to the International Music Council, the largest non-governmental sector of UNESCO.
In 1984 the CIA proudly acknowledged Galla-Rini's outstanding contributions to the International accordion movement by awarding him the 'CIA Merit Award' at the General Assembly in Folkstone, United Kingdom. Galla-Rini's profound impact on the accordion movement continues to this day, and will last forever.

Mr. Galla-Rini will spend his 102nd birthday surrounded by your family and friends at his residence in California.

---
Note: In order to provide as much information as possible for the United States National Accordion News stories, many different sources are often researched to gather additional information and pictures to complement what has been submitted. This information is then correlated to provide the news on www.accordionusa.com in the spirit of which it is intended, which is to provide a free news service to the Accordion Community, specifically in the United Sates. If you feel any copyright has been violated please advise www.accordionusa.com and the article will be removed immediately.