---
Remembering Frank Vidergar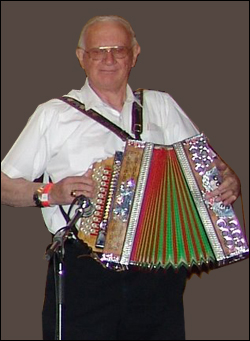 The accordion community was saddened to learn of the passing of button accordionist Frank Vidergar on Thursday, December 27, 2007.

Born in New York, he moved to California at the age 14, where he later met his wife Mary Lou, at the Fontana Slovene Hall. Frank enjoyed sharing his love of Slovene music and served as the President of the Fontana Slovene Button Accordion Club. Frank's energy and devotion to the diatonic accordion was indefatigable. In addition to directing the Fontana Button Box Club, Frank spent much time teaching others how to play, arranging music and performing at places such as The Colorado Polka Festival, SNPJ Campsite at Enon Valley, PA, The NBAF at Yukon, OK, and Slovenia.

With support from his fellow Club Members and his wife Mary Lou, Frank launched the Far West Button Box Jamboree attracting thousands from all across the nation, Canada beyond for almost 30 years. Frank and his wife Mary Lou spent countless hours on the phone promoting the Jamboree and Frank would even greet people and play at the Ontario Airport when they arrived! In 2007 Frank and Mary Lou helped launch the International Button Accordion Festival.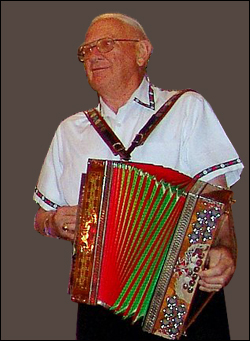 Frank taught his two children to play and perform the diatonic accordions when they were youngsters. Lisa and Frank Jr., now both married and with families, were performing favorites at the Jamboree. The family produced a recording some years back called 'Flying High.'

A highly respected individual, Frank spent a great deal of time praising and promoting others and was a cherished individual who did things for the "common good", often at personal sacrifice. He was very proud of his Slovenian heritage and loved to play the old folk songs of his ancestors.

Funeral arrangements are as follows:

Wednesday, January 2, 2008
9:30 AM Visitation
11:00 AM Funeral Mass
St. Joseph's Catholic Church,
17080 Arrow Blvd., Fontana, CA 92335
Graveside Service to follow at Green Acres Cemetery in nearby, Bloomington, CA
Reception to follow at Sons of Italy Hall
8353 Sierra Avenue
Fontana, CA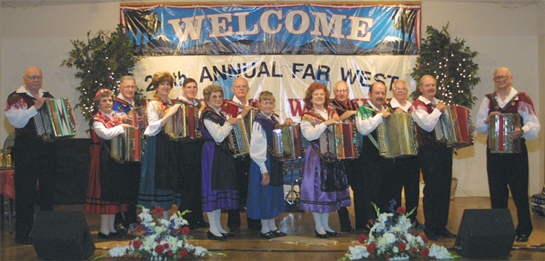 Frank is pictured here on the far right, surrounded by fellow musicians and friends at the Annual Far West Button Box Jamboree.

The Vidergar family would like the reception to be a celebration of Frank's life and attendees are encouraged to bring their accordions to play at the reception. This is a fitting location and a wonderful way of paying tribute to Frank and honoring his wishes.

Messages of condolences may be sent to:

Mary Lou Vidergar
1474 Mojave Drive
Colton, CA 92324-4850


---
'It's All Good' according to Hogfish Gumbo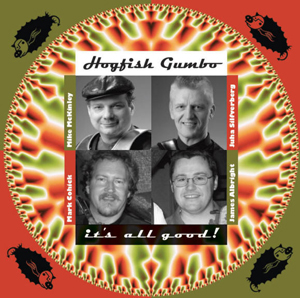 A new CD 'It's All Good!' by Kansas City based Zydeco band Hogfish Gumbo is fresh of the press and already receiving rave reviews!

Infused with upbeat, saucy Creole rhythms from the South, Hogfish Gumbo bring the flavor of jambalaya and the feel of the lazy blue bayou back to the Greater Kansas City area.

Serendipity brought the talents of Juha Silfverberg, Mike McKinley, James Albright and Mark Cohick together into a fusion of sound, soul and charisma. Since its beginning in 1996 the Hogfish Gumbo have performed at local festivals, function, parties, weddings and conventions.

The Hogfish Gumbo play a combination of Cajun and Zydeco styles, yet remain loyal to Zydeco. Their party music livens up any celebration and with this album, they are sure to bring Mardi Gras right into your own home!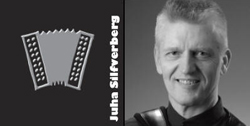 Accordionist Juha Silfverberg leads the Hogfish Gumbo. He rocks out regularly as a soloist and freelances in a wide variety of ensembles. He has toured Finland, Estonia, New Zealand, the US and Japan in different musical groups.

A native of Finland, Juha came to the USA in the late 1970's to study music at the University of Missouri-Kansas City Conservatory of Music and holds the titles of both Finnish and Scandinavian champion. When he isn't shimmying and shaking to the beats of his squeezebox, Juha is repairing accordions, tuning pianos or enjoying time spent with his musical family.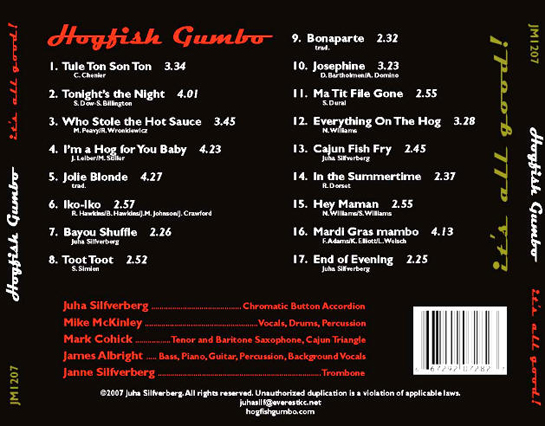 CDs are available directly from Hogfish Gumbo for $15.00 plus $2.25 shipping and handling. To purchase CDs by mail send Check or Money Order for $17.25 to:

Juha Silfverberg
Hogfish Gumbo
9613 Kessler
Overland Park, KS 66212
(Please allow 2 weeks for shipment)

For more information and track samples, please visit www.hogfishgumbo.com

---
Santa appears with Indiana Symphony Orchestra and Chorus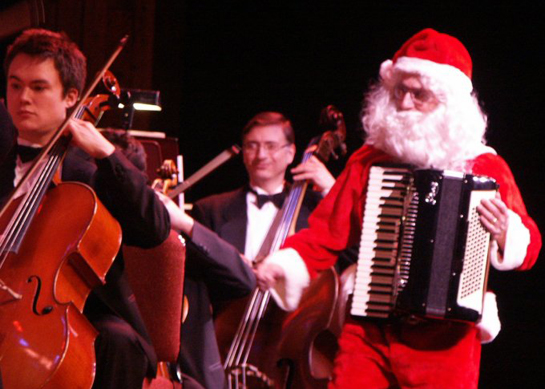 On December 19-20, 2007, Santa Claus appeared as guest soloist with the Northwest Indiana Symphony and Chorus under the baton of maestro Kirk Muspratt in concerts at the Star Plaza Theater in Merrillville, Indiana, and at the Raue Center Theater in Crystal Lake, Illinois. Santa surprised and delighted conductor, orchestra and choir members, and audiences alike, by playing classical accordion.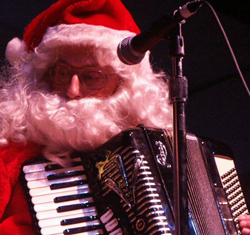 Santa showcased his accordion artistry in two pieces from Henry Doktorski's A Classical Christmas CD: (1) Ave Maria in an arrangement by Doktorski for accordion, violin and harp (assisted by NWIS concertmaster Pasquale Laurino and principal harpist Kara Bershad) and (2) Dance on Jingle Bells for accordion and orchestra, also arranged by Doktorski.

Doktorski, who very curiously happened to be at both concerts and was seen selling his accordion CDs at a table in the lobby - met Santa backstage and had a few friendly words with the jolly old elf: I wanted to speak with Santa before his first concert, so I looked for him backstage, but couldn't find him, until I happened to open a service door which led outside to a loading dock. Imagine my surprise when I spied Santa sitting quietly on a chair outside in the frigid subfreezing weather!

I exclaimed, "Santa! What's going on? Why are you sitting out here in the freezing cold?" Santa welcomed me with a "Ho! Ho! Ho!" and explained that his thermal insulated suit was not intended for indoor use, especially under hot stage lights. He was waiting for his call outside in the cold to prevent excessive perspiration. "I would get a nasty chill returning to the North Pole if my suit was soaked with sweat!"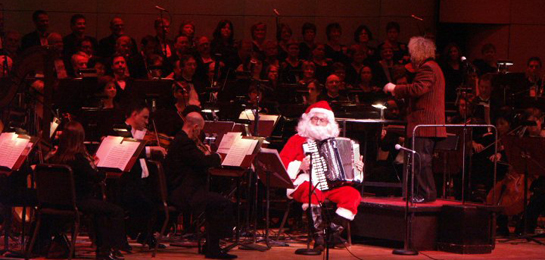 During the concerts Santa had a really great time performing with the symphony, but he had a couple of unexpected challenges. He discovered during the first concert that his beard was so fluffy that he couldn't see his right-hand keyboard! He said: "There were a few dangerous right-hand leaps in the Ave Maria, but I just had to close my eyes and hope for the best!"

Then, during the second concert at Crystal Lake, Santa's long flowing beard accidentally got caught somehow on the left-hand manual, and as he opened the bellows wide, his flowing beard followed the left hand and it almost appeared to pull off of his face for a brief moment! Santa, quick as a wink, reached over with his right hand and pulled his beard off of the left-hand manual. I'm sure it must have been uncomfortable to have his beard pulled like that!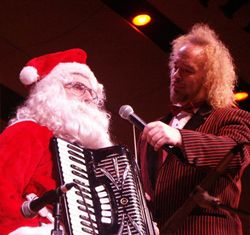 Despite these unexpected complications, Santa's performances were terrific! Ave Maria was extremely poignant and beautiful, and Dance on Jingle Bells was rollicking and frolicking! It was a great pleasure for me to meet Santa face to face and personally hear him play in concert. He is actually quite good on accordion; a fine player indeed!

Santa is pictured here chatting with maestro Kirk Muspratt: "Sorry for the delay, Kirk; my sleigh's in the shop for its annual billion-mile checkup. I had to rent a car and got stuck in traffic on I-65."

Maestro Kirk Muspratt agreed with Doktorski's critique, and personally thanked Santa by e-mail: "It was a pleasure having you here! We love your accordion playing!"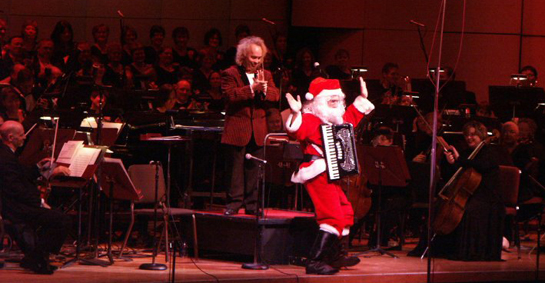 ---
National Accordion Association Convention in March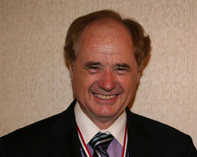 The 2008 National Accordion Association Convention takes place at the Richardson Hotel, Dallas, from March 13th to 15th. The Convention covers a very wide spectrum of national and international accordion styles.

Last year, at the 2007 convention, accordionists of all ages and levels were enriched by dozens of workshops including basic playing techniques, teaching techniques, Scottish style performing, diatonic basics, registration selection, bass patterns, bass enhancement, motivation, emergency repairs, MIDI, Slovenian style playing, Polka dancing, and even rock and roll music performing!

For 2008, National Accordion Association President Norman Seaton cautions "This will be an "action-packed" convention. Do your resting BEFORE and AFTER the convention."

Final details of workshops and guest artists will be announced very soon, however convention highlights include:
Wednesday evening (March 12, 2008)
A room will be reserved for those wanting to play in one of the accordion dance bands. A formal reception is not planned; however, various individuals will be partying somewhere!
Thursday evening (March 13, 2008)
The Thursday evening event will concentrate on an accordion-driven audience involvement program. Examples include using the accordion for dances (couple and singles), sing-a-longs, and folk dance music. It will be a lighthearted, fun evening.
Friday evening (March 14, 2008)
"Polka Plus!" A four-hour dance program is being scheduled that will range from romantic waltzes through up-tempo polka bands. This program will be a smorgasbord of danceable musical styles. Hint: we are in the contract signing phase with an internationally famous, Grammy-winning, polka combo!
Saturday evening (March 15, 2008)
Concert artists who have a unique presentation.
Sunday Morning (March 16, 2008)
During the checkout time, conventioneers often meet in the hotel restaurant, lobby, and local restaurants to discuss the convention and other accordion activities. When y'all come to Texas, ya just gotta be friendly!
For further information, and regular updates on workshop and performers, please visit www.accordions.com/naa or please e-mail: NatlAccordion@SBCGlobal.net


---
Art of the Accordion Concert featuring Peter and Maddie Soave
The Art of the Concert Accordion Concert with world renowned accordion virtuoso Peter Soave and his wife Madeleine (from France) will take place on Saturday March 1, 2008. 7:00 PM at the Queenswood Center, Victoria, BC, Canada. The concert will be preceded by accordion technique and Astor Piazzolla music workshops, private consultations, and therapeutic yoga for musicians, on February 28 and 29, 2008.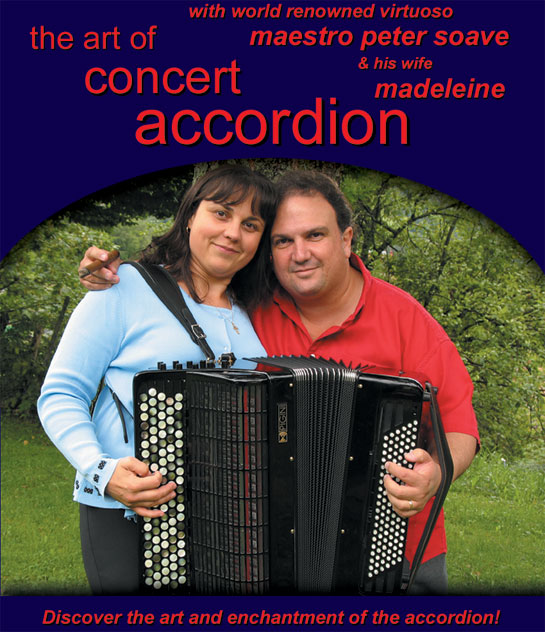 On February 28, two one-hour workshops will be offered. Madeleine will discuss and demonstrate finger techniques that develop keyboard mastery. Participants will learn how to incorporate these techniques into their daily practice, regardless of what curriculum they currently study. Intermediate and advanced accordionists can apply these techniques immediately. Novice students can begin to think about the importance of this additional dimension as they progress in their studies. For anyone who does not yet play an accordion, and is considering whether to begin studying this beautiful instrument, this workshop will provide insight into an important dimension of accordion studies.
Peter will discuss and demonstrate how to accompany other musicians. He will draw on his rich experience in working with symphonies and a wide range of musicians in various ensemble settings, and offer pointers of significance to accordionists on how to effectively work with other musicians, so that the accordion supports and enhances other instruments and voice to render a unique beauty to the music (being mindful of the acoustic design of an accordion that allows it to naturally overpower other musicians). Intermediate and advanced players can apply his tips immediately in their current practice sessions with other musicians. This workshop will also be of interest to other musicians who work, or would like to work, with accordionists. Non-accordionist musicians will find his tips valuable for working with ensembles generally.
On February 29, two one-hour workshops are offered. Madeleine will discuss and demonstrate bellow techniques that develop bellows mastery, an important and often-overlooked dimension of accordion musicianship. Participants will learn how to refine bellows execution in their daily practice, regardless of what curriculum they are studying. Intermediate and advanced accordionists can apply these techniques immediately. Novice students can begin to consider the importance of this additional dimension as they continue their studies. For anyone who does not yet play an accordion, and is considering beginning studies, this workshop will provide insight into an important dimension of accordion studies.
Peter will discuss and present the music of Astor Piazzolla, a man who broke creative barriers to alter the style of Argentinian tango music. As a world-renowned bandoneon artist who has deeply studied and worked with Piazzolla's repertoire extensively, Peter shares rich knowledge and insights about this remarkable composer whose music has helped to resurrect public interest in accordion music generally. Workshop participants, whether or not they play an accordion or other musical instrument, will come away from this workshop with rich insights about a remarkable man who left the world a treasured musical legacy.
Concert tickets are $25.00 and for more information, please contact
IQBrite@shaw.ca
or (250) 721-1101. http://members.shaw.ca/IQBrite/index.html


---
Frank Marocco Accordion Event Orchestra
The Frank Marocco Accordion Event Orchestra, conducted by the great Frank Marocco, and consisting of 54 accordionists from 15 states and 2 Canadian provinces, plus drummer and bass guitar player, will present a concert on Sunday, January 27 at 7:30 PM at the Best Western Dobson Ranch Inn in Mesa, Arizona.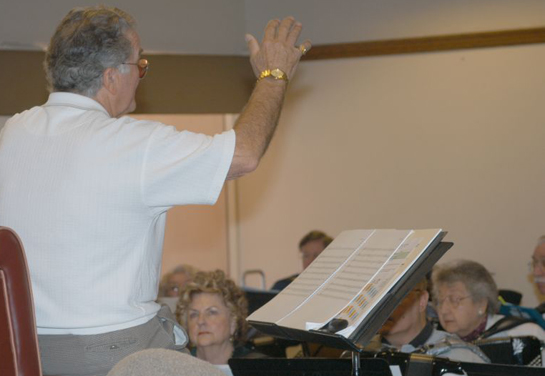 The concert, which is FREE to the public, will include the music of George Gershwin, Duke Ellington, John Philip Sousa, and others. In addition to the orchestral music, some of which was arranged by Frank Marocco, there will be solo and duet performances by some of the orchestra members.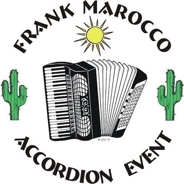 Best Western Dobson Ranch Inn
1666 S. Dobson Road
Mesa, AZ 85202
(480) 831-7000

Please click here for directions.

You can also send an e-mail to frank-marocco-accordion-event@comcast.net for additional information.

---
AAA to Celebrate 70th Anniversary

On the heels of co-hosting the largest international accordion event in the USA, the CIA 60th Anniversary Coupe Mondiale, world accordion championships, organized by former AAA President and current Board of Director Faithe Deffner, 2008 will mark the milestone 70th Anniversary of the American Accordionists' Association.

The first meeting of a group of New York accordionists was called on March 9th 1938 to determine whether or not an association for accordionists should be formed. After much discussion and agreement that such a group should be formed, a motion was made by Sydney Dawson that the name of the association will be 'The American Accordionists' Association', which was seconded by Charles Magnante and carried unanimously.

A motion was made by Anthony Galla-Rini, and seconded by Pietro Frosini, that the officers of the association were to include President, Vice President, Secretary-Treasurer and Sergeant-at-Arms. Frosini suggested that because of Pietro Deiro's stellar reputation, that he be nominated and elected by acclamation as the first President of the association. Although nominations do not require a second, Galla-Rini and others seconded it and Deiro was elected unanimously. Charles Nunzio, the only surviving founding member of the organization, was elected Vice President.

The AAA will conduct a yearlong celebration including events such as a concert in New York City in the Spring, and their 70th Anniversary Competition and Festival, which will take place from August 13-17, 2008 at the Holiday Inn/Rosslyn in Arlington, Virginia, in the Washington DC area. In addition to the usual competition categories for all ages and styles of music, the 70th Anniversary Festival will include several Jazz categories as well as the Carrozza Scholarship Category offering a $3,500.00 first prize.

For more information, please visit www.ameraccord.com


---
Victor Prieto Concerts in New York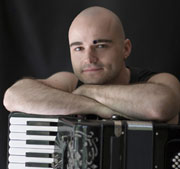 Jazz accordionist Victor Prieto has a schedule of concert dates, as follows:
January 10th, 8 PM - solo concert at Olea, Brooklyn, NY

January 17th, 8 PM - Trio Iberico with Alexis Cuadrado and Brad Shepik, BND La Lanterna, NY

January 23rd, 9:30 PM - Victor Prieto Trio at Smalls, NY

February 29th, 9 PM - Victor Prieto Trio at La Lanterna, NY


---
Quartetto Gelato Concerts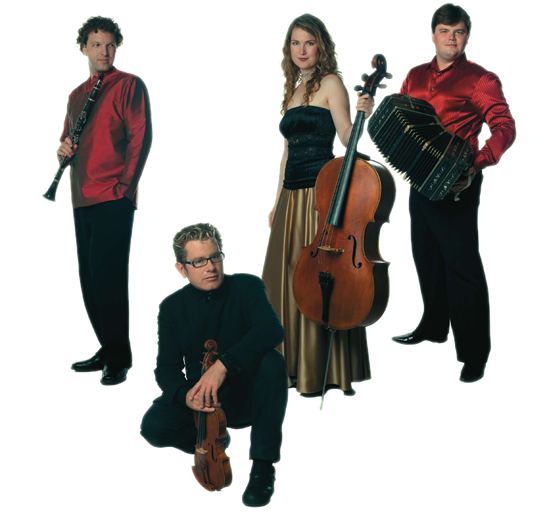 Founded in 1994, Quartetto Gelato's musical artistry has been seen and heard in venues from New York to Los Angeles and from London to Tokyo. National Public Radio recognized the group with its 1996 'Debut Artiste of the Year' award and its latest CD 'Neapolitan Café' remains a fixture on the US Billboard Classical Crossover chart since its release in April 2001.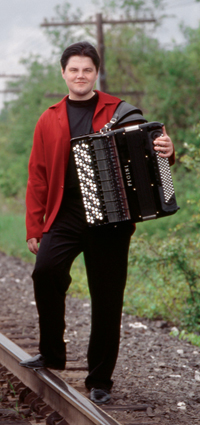 Classical in intent, eclectic by design, Quartetto Gelato programs are filled with an intriguing mix of traditional masterworks, operatic arias, tangos and folk songs from around the world. The quartet's lineup includes: Shalom Bard, clarinet; Peter DeSotto, tenor, violin and mandolin; Alexander Sevastian, accordion, bandoneon and piano and Carina Reeves, cello. (Alexander was the winner of the CIA 60th Anniversary Coupe Mondiale World Accordion Championships held in Alexandria, VA.)
Quartetto Gelato's forthcoming concerts include:
January 10-12, Charleston WV Charleston Symphony
January 20, Victorville, CA Silverado High School
January 22, San Diego, CA Bernardo Concerts Association
January 26, 27 Lancaster CA Lancaster Performing Arts Center
February 2, Bremerton, WA Admiral Theatre
February 5, Ridgecrest, CA Indian Wells Valley Concert Association
February 7, Coconut Creek, FL
February 17, Port Hope, ON Friends of Music
February 18, Naples, FL Classic Chamber Concerts
For further information e-mail: info@quartettogelato.com

---
Alexander Shirunov to appear at NAMM Convention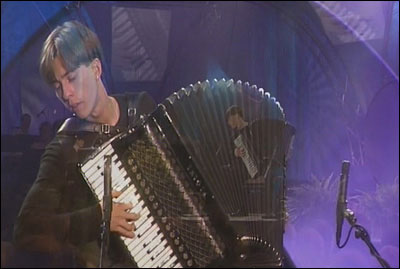 Renowned Russian accordionist Alexander Shirunov will appear at the NAMM Convention in Anaheim, CA in January from January 17-20, 2008.

Renowned for his captivating and charismatic performances displaying dazzling technical skills and musical renderings of both classical and entertainment music, Hohner Inc. invited Alexander to the NAMM Convention, as their artist in residence.

As part of his prize package for his competition success at the CIA Coupe Mondiale, Alexander has been invited to perform several concert tours, including appearances in New Zealand, Australia, Hungary, Slovakia, Norway, Denmark, Finland and the Czech Republic.

Alexander has recently recorded his first CD - 'Absolute Shirunov.' This project was sponsored by the German based company 'Intermusik' who arranged the prize after Alexander's stunning performance at the 2005 CIA Coupe Mondiale International Competition for Accordionists in Portugal.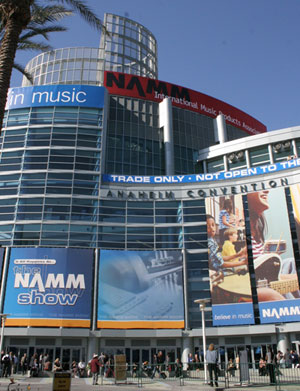 This years NAMM convention will feature the NAMM University Breakfast Sessions which are short focused Idea Center sessions. These free educational sessions are packed with great information and ideas that you can put to use in your business right away. Taught by industry experts who know the challenges and opportunities of today's marketplace, NAMM University sessions cover a wide variety of topics, including:
Sales training
Customer service
Market development
Internet strategies
Inventory management
Store design
Financial management
Lesson programs
Marketing, promotions and more!
The NAMM Show is the largest music products trade show in United States. Held every January in Anaheim, California, USA the show brings together all facets of the music products industry to reveal new musical instruments/products and ideas to help music products retailers and manufacturers become more successful. More than 80,000 NAMM Members and guests attended the January 2007 show.

The acronym NAMM originally stood for the National Association of Music Merchants, but has evolved from a national entity representing the interests of music products retailers to an international association including both commercial, retail members and affiliates. Therefore, the long form of the name is no longer used, and it is simply known as NAMM, the International Music Products Association.

---
Promoting Your Accordion Services Free at AWW

The Internet is changing the way your customers are searching for services. The days of lugging out a 12 lb. telephone book to find very limited and outdated business information are coming to an end. People are still letting their fingers do the walking, but they're doing it over a computer keyboard. Below are some revealing facts from the Kelsey Group.
74% of US households use the Internet as an information source when shopping.
Approximately 45% of searches had a buying intent.
The percentage of respondents who used yellow page directories decreased from 75% to 62%.
(If you have a printed yellow page ad, it is time to consider buying a smaller ad and shifting your marketing dollars to the Internet.) The off-line Yellow Pages see the writing on the wall and are scrambling to transfer their business model to the Internet.

Businesses can no longer ignore these facts. If you want to be successful, you must have a presence where your customers are searching. Being found on the Internet is vital to the future of your business.



The Accordion Yellow Pages offers free of charge listing for all accordion businesses, teachers and for every type of service for accordionists. On the Accordion Yellow Pages site, you do not need to have a website for accordionists find you and contact you.



The search-accordion.com site is also free of charge, being a listing service for every type of accordion service but you must have a website. Viewers of search-accordion.com can click to your website.



Very popular is the AccordionLinks.com site where those accordion service providers with a website, can attract accordionists free of charge to their website.

All it takes is a little effort, to make sure your information on these three popular and very effective accordion sites is up to date. Your future success may well be determined by your ability to effectively adapt to the Internet. Should it be your New Year's resolution for 2008?


---
Dr. Schimmel Announces Busy Winter/Spring Schedule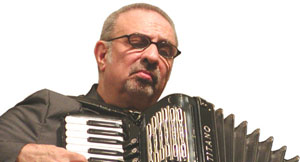 Dr. William Schimmel will be appearing with the Eugene Symphony in Eugene Oregon on January 24 and 25 performing in Domenic Argento's Valentino Dances. Dr. Schimmel has also recorded this work with the Minnesota Orchestra on Reference Records. For more info please visit www.eugenesymphony.org

January 28, He will perform his own work, Elgar Has Hands like Scissors, for accordion and woodwind quintet with Windscape at the Manhattan School of Music.
February 2, He will perform Luciano Berio's Sequenza 13 (Chanson) as part of The New York Philharmonic's Day of Berio. The 14 solo Sequenzas of Berio will be performed at The Rose Theatre/Jazz at Lincoln Center. See and hear Dr. Schimmel speak and perform on the Focus: Berio mini site on the New York Philharmonic website: www.newyorkphil.org
February 16, He will open a new off-Broadway show, Paradise Park by Charles Mee, at the Signature Theatre in New York. Dr. Schimmel has composed the score and will perform in the show as well.
March 27, 28 , 29 and 30, he will perform in Juno, a revived musical by Marc Blitztein at City Center in New York.
In March and April, his work, Gregorsphere, a virtual reality on Ligeti's Atmospheres, will be part of a two floor art installation by Paul Lincoln in Chelsea, New York and Trieste, Italy.
April 19th, he will premiere his new work, Who wants to call it?! , for accordion, guitar and saxophones with the new group, Riot. The work will take place at the Ukranian Institute in New York.
May 1, he will appear with Modernworks, at a new music concert at the East Connecticut State University.
May 31, he will play a private concert in Easton Pennsylvania.
July 25, 26 and 27, he will present his fourteenth annual master class and concert series sponsored by the American Accordionists' Association - The Seminars - This year's title is: Last Frontier/Final Niche. At the Tenri Cultural Institute of New York. For more information: www.ameraccord.com www.billschimmel.com

His new CD, Duality Wrecks, which features Dr. Schimmel and Dr. Mark Birnbaum has been released on IPS/STUDIO MUSE RECORDS. His new CyberSymphony, Broadway De-Camped, is available for downloading on www.billschimmel.com and his new book, Accordion Culture: Time, Space and High School is available at www.billschimmel.com. It contains Essays, Drawings and a CD: ne'er beginning/ne'er ending.

He can be heard on Pinks and Blue, by Alla Borzova for accordion and piano on Albany Records as well as on the AAA's new CD, Extraordinary performances by Extraordinay performers, performing Lukas Foss's Curriculum Vitae as well as his own work, Remembering a Legend: Charles Magnante, performed by Mary Tokarski. In addition, he also can be seen and heard on three new videos by Micki Goodman : A brief History of Plaid; Zen and the Art of the Foxtrot and Scarlatti was here. Dr. Schimmel composed the music for all three videos.

Other new CDs include: soon to be released - Riders to the Sea - and opera by Marga Richter on Leonarda Records and Andy Arcari: a Concerto - in a new realization by Dr. Schimmel on IPS/STUDIO MUSE RECORDS. For further information please visit: www.billschimmel.com


---
Motion Trio in Carnegie Hall
Famed accordionists the 'Motion Trio' from Poland will perform in Carnegie Hall (Zankel Hall) on Sunday, January 13th, 2008 at 7:30 PM. Presented by Jan Sporek, the Motion Trio concert will be held in memory of Andrzej Krzanowski, with tickets available from from $25 - $35



Motion Trio - an accordion trio founded in 1996 by Janusz Wojtarowicz – leader and composer of most of the group's repertoire. Motion Trio is a unique phenomenon on the European and worldwide music scene. Performing their own music, the group is changing the way the accordion is perceived as an instrument.
Motion Trio has worked with artists like Krzysztof Penderecki, Bobby McFerrin, Wojciech Kilar, Krzesimir Debski, Marta Ptaszynska, Trilok Gurtu, Michal Urbaniak ("From the first moment, they appealed to me in everything that they do"), Tomasz Stanko ("After just one, brief rehearsal I'm fascinated by them"), WDR Rundfunkorchester Köln, Deutsches Filmorchester Babelsberg,Sinfoniett Riga , Sinfonietta Cracovia, Rio de Janeiro Orquestra do Teatro Municipal. In the year 2000, they were Grand Prix laureates at the IV Krzysztof Penderecki Modern Chamber Music Competition. They have also given master classes at the University of Chicago and the National Conservatory in Paris. On the music of Motion Trio: Joe Zawinul – "Their music is amazing"; Krzysztof Penderecki – "This is an exceptional accordion trio"; the Frankfurter Allgemeine Zeitung writes "... the Trio plays masterfully, utilizing suggestive timbral textures(...)"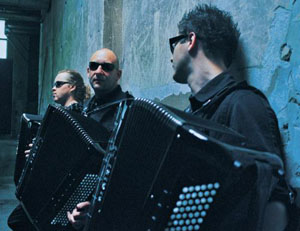 They are the grand prix laureates of the 4th Edition of the Krzysztof Penderecki International Contemporary Chamber Music Competition. Motion Trio has recorded five albums - "Cry", "Pictures", "Play-station", "Live in Vienna - Sacrum & Profanum" and "METROPOLIS". "Pictures" became a hit and received the following distinctions: Deutsche Shallplatten Kritik, the Polish Music Industry Grand Prix, Best Polish Recording 2000, Top2000 and Jazzi Magazine's critics' Album of the Year Award. Polish music critics recognized Motion Trio as the finest debut of the year 2000 in Poland. The group was honored in France with the "Gus Viseur" award, in the "Musical Discovery of the Year 2005", and has performed in 28 of the world's countries: Austria, Belgium, the Czech Republic, Estonia, France, Greece, Spain, the Netherlands, Ireland, Iceland, Japan, Canada, Lithuania, Luxemburg, Latvia, Germany, Poland, Portugal, Russia, Slovakia, Switzerland, Sweden, Taiwan, Turkey, Ukraine, the USA, Hungary and Italy.

Motion Trio has participated in a great number of prestigious festivals and musical events: the Montreal Jazz Fest, the Alternativa Festival in Moscow, the Migration Music Festival in Taipei, Fest Der Kontinente in Berlin, the Gaudeamus Festival in Amsterdam, the Reykjavik Arts Festival, the Festival d'Ile de France in Paris and many others.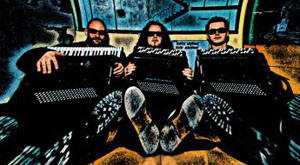 In 2004, by invitation from Joe Zawinul, the group appeared at the Vienna club "Birdland" where, over the course of five evenings, they presented 5 different stylistic programs (from contemporary, through jazz to world music). October 2006 saw the premiere of the Motion Symphony, in Pottsdam, performed with the Deutsche Filmorchester. The nearest performances of the Motion Symphony will take place in Rio de Janeiro, Moscow, Cologne, Riga and Kiev.

The Trio consists of: Janusz Wojtarowicz (1971) Composer, accordionist, founder and leader of the Motion Trio. Began piano and accordion studies at the age of seven, under his father Eugeniusz. Completed the Public Secondary School of Music in Krakow and studied the accordion at the Krakow Academy of Music. Winner of many chamber music competitions in Poland and abroad. Composer of theatrical music. Received a scholarship from the president of the city of Krakow in 2001. Pawel Baranek (1978) Began learning to play the accordion and organ when nine years old, under professor Wieslaw Kusion. Completed the Public Secondary School of Music in Tarnów. Winner of Polish and international competitions, in Germany and Italy among others. Currently one of Europe's finest accordionists of the younger generation. Currently studies the accordion at the Academy of Music in Krakow. Marcin Galazyn (1975) Began accordion studies seven, under professor Eugeniusz Ajdmach. Completed the Public Secondary School of Music in Bialystok, after which he studied accordion at the Academy of Music in Krakow. Winner of many national accordion competitions in Poland.

---
---
Note: In order to provide as much information as possible for the United States National Accordion News stories, many different sources are often researched to gather additional information and pictures to complement what has been submitted. This information is then correlated to provide the news on www.accordionusa.com in the spirit of which it is intended, which is to provide a free news service to the Accordion Community, specifically in the United Sates. If you feel any copyright has been violated please advise www.accordionusa.com and the article will be removed immediately.