Welcome to the United States National News
We are very happy to welcome you to the United States National Accordion News, called "Accordion USA."

With the increasing interest and usage of the Internet, we have added this National News service to the wide array of free services that Accordions Worldwide offers to the Accordion Community. These now include:

(1) Accordions Worldwide (the largest accordion resource on the Internet today)
(2) Accordion Yellow Pages (approximately 20,000 listings)
(3) Accordion Links (the biggest collection of accordion links you could ever imagine)
(4) Search Accordion (the only search engine, dedicated to the accordion)
(5) Accordion National News (current publications are found in Italy, Germany, the USA and France.)

We encourage you to use the submit form on this site to let us know of news items from your area, or to add an accordion gathering/concert to the monthly calendars.

We wish you a very Happy and Safe 2000!


Hanni Strahl passes away on 84th Birthday
Long time accordion teacher Hanni Strahl recently passed away on her 84th birthday. She had the only accordion studio in Austin. Hanni died while visiting with her daughter Helmi Harrington in Burnsville, Minnesota. (Helmi runs the successful Accordion Concertina Music School as well as the World of Accordions Museum.)

Mrs. Strahl taught accordion from her home and studio at the corner of Bull Creek and Koenig Lane in Austin for many years.

The memorial for Hanni will be held Saturday the 15th of January at Cook Walden Capital Parks, 14501 N. Interstate 35, Phlugerville, TX 78660 . The Funeral Director is Michael Sargent and the telephone number is (512) 251-4118. Flowers can be sent there.

It is asked that anyone wishing to make contributions in her memory, may make monetary or instrument donations, which can be sent to the World of Accordions Museum in Hanni's name: A World of Accordions Museum 2801 West First St. Duluth, MN 55806.

Our thoughts and prayers are with her friends and family.



The North Texas Irish Festival will be held the first weekend in March (This year March 4-5) at Fair Park in Dallas. This is its eighteenth year. The Texas Accordion Association has always had a booth in the cultural area and will offer one this year also.

I think accordion enthusiasts will be pleased to know that we are bringing in some of the best piano and button accordionists in Irish and Celtic Music. We're bringing accordionist talent such as Alan Kelly, a splendid piano accordionist from Roscommon, Ireland, Donald Murphy (button accordionist with the Irish group Sliabh Notes), Dermot Byrne (with the Irish group Altan), and many others. Another splendid piano accordionist who will be appearing from Missouri is Brett Gibson who will be performing with Gabriel's Gate. Would you mind passing this along to other accordion enthusiasts?

If you know of anyone who might have any questions or would like information about the North Texas Irish Festival, they may contact me at betsy.ener@compaq.com or they may access festival information through the website found at www.ntif.org

Gabriels Gate to be featured in Concert in Kansas City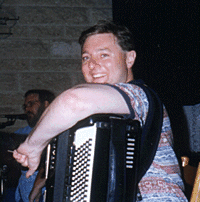 Noted accordionist Brett Gibson, accordionist for Gabriels Gate, has announced a featured performance in Kansas City at the Community Christian Church on the Country Club Plaza, on February 5th, at 8 PM

Brett Gibson, a champion accordionist from New Zealand who currently resides in Kansas City has performed with Gabriels Gate for many years, and is featured on their latest recording which will be available at the concert.

The concert is being organized by the Missouri Valley Folk Life Society and will feature four Celtic Bands. Tickets are available at the door. For further information on the concert and the band Gabriels Gate, please visit: www.bakerstreet.org/gabrielsgate

Vitali Dmitriev, the 1995 CIA World Accordion Champion (held in Avesta, Sweden) and son of renowned accordionist/teacher Alexander Dmitriev from St. Petersburg, Russia will be a special guest at the 2000 ATG Festival at the Lisle/Naperville Hilton, in the Chicago area.

Vitali Dmitriev is being brought to the ATG Festival with a grant from the late ATG First Vice-President Bob Sattler. Bob specialized in the Russian culture, including his bayan playing, the Russian bayan repertoire and the Russian language.

It is fitting that for the 60th Anniversary Festival, that Mr. Sattlers dedication to both the accordion field and the ATG will be honored by having this fine young accordionist perform.

ATG to celebrate Diamond (60th) Anniversary
This year the Accordionists and Teachers Guild, International (ATG) will celebrate its 60th Anniversary at its annual competition and festival to be held at the Lisle/Naperville Hilton (Chicago) from July 20-23rd, 2000.

Many exciting activities are planned for the festival, including an array of special guests.

Among the guests will be Jazz Legend - Tony Dannon, CIA World Accordion Champion Vitali Dmitriev from St. Petersburg, Russia, CIA Virtuoso Entertainment Champion - Frederic Baldo, France as well as others.

A special banquet and party will be held in honor of the 60th Anniversary, and for the latest information please contact ATG President Joan Sommers, (816) 235-2743 or by E-mail: SommersJ@umkc.edu or visit online at:www.accordions.com/atg


AAA in the Nations Capital
The American Accordionists Association will hold its annual competition and festival in Washington DC from July 12-16th, 2000.

The festival will be held at the Wyndham City Center Hotel (Washington DC) and will feature Competitions, Concerts, Workshops, and a Festival Orchestra. For further information please contact: Faithe Deffner: (516) 746-3100 or by E-mail: fdeffner@aol.com

Texas, Where Accordion Dreams Come True!
Texas Accordion Association (TAA) will host its annual National Accordion Convention from March 16-20, 2000. The convention will be held at the Holiday Inn - Plano, Texas.

Billed as the "Year of the Accordion Orchestra", the TAA Y2K Festival Accordion Orchestra and will be conducted by renowned symphony conductor - Gary Daverne from Auckland, New Zealand. Gary is the conductor of the Auckland Symphony Orchestra, and has appeared as guest conductor with major orchestras all over the world. In addition to his conducting skills, Gary is also a prolific composer, and has written many pieces for accordion solo, duo, ensemble and orchestra, as well as making numerous arrangements for accordion orchestra. We invite you to visit www.garydaverne.gen.nz


Other festival activities will include Concerts, Workshops, Displays of Instruments and Music and a 24 hour Jam Session.

For further information please visit the TAA on-line or contact: Norman Seaton (972) 270-3791 - E-mail: nseaton1@ibm.net


ATAM Festival in Massachusetts
The Accordion Teachers Association of Massachusetts will hold its annual festival from April 7-9, 2000 Marriott Hotel - Newton, MA
Activities include: Battle of the Bands, Competitions, Solos, Duos, Ensembles, Bands, Some Non Competitive Categories, Cash Awards, Over $3,000.00 in prizes and an Awards Banquet.

For further information please contact contest chairman Roger Latulippe at:
136 Lowell Road, Hudson, NH 03051 USA
Phone/Fax: 603/882-8940 or by E-mail at: Roger Latulippe

New Accordion CD's
For those interested in supporting your fellow American accordionists who have produced recordings, you might like to try the following new CD recently released by Kim and Dan Christian of Colorado. Tracks include: (1) 3 Favorite Things in 3 (2) Rhumba Cumbani (3) Chameleon (4) Evergreen (5) Ode to Five/Four (6) Irish Suite (7) Tea For Two (8) Vibrations (9) Summer of '42 (10) Rhapsody in Blue.

Squeeze Play - Kim and Dan Christian


If you have a new accordion CD that you would like to let everyone know about, simply submit the information on the "Submit News" page.

2000 - The Year Ahead
Our much awaited year 2000 will offer a feast of accordion activities, festivals and conventions including such events as The Texas Accordion Association Annual Convention in March, the American Accordionists' Association and The Accordionists and Teachers Guild, International conventions in July, the new Accordion Convention in Las Vegas, and the annual Cotati Accordion Festival, both held in August.

The Coupe Mondiale World Accordion Championships will be held in Kragujovac, Yugoslavia from October 25-30th, 2000. American citizens wishing to compete in any of the four categories (Senior/Junior Coupe Mondiale and Senior/Junior Virtuoso Entertainment Divisions) should contact the American Accordionists' Association and the The Accordionists and Teachers Guild, International for entry details.

(For further information, or to list your event, please consult the monthly calendars for exact dates and contact details.)

Peter Soave in Concert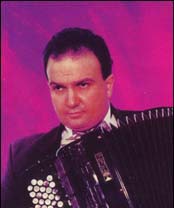 Peter Soave will be featured in several concerts in February performing works by Astor Piazolla. Peter, decorated world champion accordionist, will perform the works on bandoneon. For full concert details, please see the 'concert calendar' and select February.

For those wishing to learn more about the artist, instrument and recordings, please visit www.petersoave.com