Soave Sextet in Ann Arbor, MI
A very special concert is going to take place in Ann Arbor on Sunday February 18th at 4pm. Special because of the variety of the program offered that day and the unique opportunity to hear some of the performers. The first half will feature the Borsarello String Trio and the second half the Peter Soave Sextet.

The Borsarello Trio consists of three brothers and is based in Paris. They have been playing together all their lives but it was not until 1993 that they became an official ensemble. The Borsarello Trio continues the strong French tradition of chamber music and has performed regularly in Europe as well as in Asia and New Caledonia. They will perform pieces by JS Bach, Albert Roussel and Jean Francaix.

After the intermission, for a drastic change of pace, Peter Soave and his string quintet will take you to South America for some "new tango" music by Astor Piazzolla and other composers. For this concert, Peter will play the bandoneon, a kind of cousin of the accordion with a very sweet and warm sound. Peter is a regular to Kerrytown and always attracts a big audience.

Even though he resides in our area, he is abroad, touring on one or the other continent most of the time. A real treat for jazz lovers will be our bass player: Marion Hayden, well known in Detroit for her numerous appeareances in jazz festivals and concerts playing with the greatest musicians. The other players will be Victoria Haltom and Liz Rowin, violins, Barbara Zmich viola and Nadine Deleury cello.

If you have come to some of Peter's concerts before, you know that he always has some last minute surprises that make a concert really memorable!.... Both groups will have CDs available for purchase that day.

Tickets are $10.00 $15.00 and $25.00. It is highly recommended that you reserve your tickets in advance by calling Kerrytown Concert House (KCH) at 734 769 2999
415 N. Fourth Avenue in Ann Arbor. You can e-mail KCH at kch@ic.net or visit their website: www.kerrytown.com/concerthouse

If you are coming from the Detroit area, take M-14 West, exit at Main street, turn left on Kingsley and right on Fourth, KCH is on your right.

Joe Soprani in Philadelphia Musical
Joe Soprani will perform in a new musical called "Charlotte - Life or Theatre" at the Prince Theatre (home of new music) in Philadelphia starting February 24, to March 18, 2001.

Rehearsals begin February 18 with preview performances at the end of that week. "Charlotte", which is being developed in New York City and will be premired in Philadelphia, is based on a true story about the life of a woman whose artitic vision and will to live are an inspiration. The show will take you to the South of France during World War II where a twenty year old Jewish painter Charlotte Solomon has been in hiding only to find the meaning of life flled with persecution and distress.

She creates over 800 original paintings to chronicle her journey. The song filled score devotes the music of the 30's. Soprani has been editing the treble lead sheets since January and is assisting composer Gary Fagin in developing viable accordions parts that compliment the essence and flavor of the show.

This show, written by Gary Fagan and Elise Thoron, is not to be missed. For ticket information call 215 509 9700

Brett Gibson and Gabriel's Gate
Gabriel's Gate which features accordionist Brett Gibson, is performing as part of a MVFS local talent showcase at Community Christian on the Country Club Plaza in Kansas City, MO again this year.

In addition to Gabriel's Gate, there will be three other bands including the Shenanigans, a Blues group called Rain Dogs and Linda Thomas and Dan Delancey.

The concert will take place on February 17th (a Saturday evening) at 8.00 PM. Doors will open at 7.00 PM and it is open seating.

Peter Soave In Concert World Wide!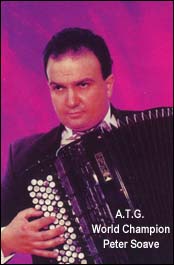 On January 7, 2001 Peter performed Paul Hindemith's "Chambermusic No. 1" on accordion at the Grosse Pointe War Memorial with the Emerald Sinfonietta conducted by Felix Resnick.

On January 13, Peter performed at First Presbyterian Church in Bay City, MI where he played Piazzolla's "Aconcagua" with the Saginaw Bay Symphony Orchestra conducted by Leo Najar.

From there, Peter's travels took him to Bucharest, Roumania where he will performed nationally televised concerts with the Roumanian Philharmonic conducted by Roberto Salvalaio on January 17 and 21, 2001. His programs will included Piazzolla's: Aconcagua, Tres Minutos Con La Realidad, Remembrance, Cavalcata, and Adios Nonino.

This month, Peter will perform in Rome, Italy on February 1st with the Orchestra from The Academy of St. Cecilia Roma conducted by Ernesto Gordini playing Piazzolla's "Suite Punta del Este" and Aldemaro Romero's "Piazzollana, homage a Astor Piazzolla and Concerto for Bandoneon and Orchestra". On February 2, 2001 Peter will play in Antrodoco, Italy where his program will include Romero's "Suite de Castelfdardo" and Piazzolla's "Five Sensations".

Joan Sommers to Conduct 500 Pianists

On February 10th, Professor Joan Sommers will conduct the first rehearsal with the 500 pianists who will perform on the two Greater Kansas City Annual Multi-Piano Concerts in Yardley Hall of Johnson County Community College on March 11th, 2001.

There will be anywhere from 2 to 4 people at a piano during this concert extravaganza, with performances being offered at 2.00 PM and 4:30 PM.

For further information, please contact Joan C. Sommers

Lidia Kaminska Wins Concerto/Aria Competition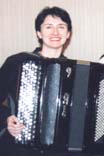 UMKC Doctoral Accordion Performance candidate Lidia Kaminska has just won one of the top three honors at the annual Concerto/Aria Competition held at the University of Missouri - Kansas City. Playing the 1st movement of the Albin Repnikow 'Third Concerto for Bayan and Orchestra', Lidia was one of three winners selected from 12 finalists playing flutes, euphonium, horns, piano, voice, viola and accordion.

A student of Joan C. Sommers, Lidia will perform the Repnikow Concerto with the UMKC Symphony Orchestra on Wednesday, March 14, in White Recital Hall on the UMKC Campus. The other two winners included a pianist (playing the Andante-Allegro from the Prokofieff Concerto No. 3) and a vocalist (singing Birdie's Aria from the opera Regina by Marc Blitzstein).

Over the years, several UMKC accordionists have won this keenly contested Concerto/Aria Competition, winning the honor of performing with the UMKC Symphony including:
Betty Jo Simon
performing Fantasy by Paul Creston
Karen Fremar
performing Concerto in G minor, 1st Mov. by Anthony Galla-Rini
Karen Fremar, Jeff Lisenby, Robert Sattler and Joyce Davis and Jody Gillis
performing Harpsichord Concerto by Vivaldi
Kevin Friedrich
performing Concerto in G minor, 1st Mov. By Anthony Galla-Rini
Prior to Lidia's performance at UMKC, Lidia will perform Alan Hovhanness's Fantasy for Accordion, Speaker and Orchestra entitled "Rubaiyat of Omar Khayyam" with the Northern Arkansas Symphony Orchestra on Saturday February 10, 2001, in Fayetteville, Arkansas. The performance will be televised as well as broadcast on public radio. For information please contact Joan Sommers.

TAA Announces Impressive Line-up
This years annual convention held by the Texas Accordion Association is pleased to announce a wide range of activities when they meet from March 8-19th, 2001. The official word from the TAA is:

This year's theme is "Breaking the Mold," inspiring each of us to look beyond our traditional ways of making accordion music and challenging us to experiment with different types of music and playing styles!


---
All activities will be held at the Holiday Inn Convention Center - Plano, Texas
($58.00 per night - NE Dallas suburb Call 972-881-1881)
700 East Central Parkway (Hwy 75 between Park and Parker)
E-mail TAA President Norman Seaton: nns5522@dcccd.edu

Convention fee: $75.00 per person, including 4 meals!!!
Not only that, but accordion-playing young people (under 20 years old) are free!

A highlight of the TAA events will the the World Accordion Orchestra, which will feature a 50 member accordion orchestra under the direction of Gary Daverne. The orchestra will be touring the state of Texas prior to the festival. For full details, please visit the TAA website.

Workshop Guests and activities include:
Santiago Jimenez, Jr. Conjunto (TexMex) Music - Another TAA first!
Professor John Dujka Czech Music, Texas Style
Dr. George Ramphrey, Cajun Music with the "Crawdaddies"
Debra Peters Country and Western meets Cajun Zydeco Swamp Pop!
Nick Ballarini, The "Italian Legend"
Jim Rommel, How to Play German-Style Music
John Hodgins, Celtic Music
Gordon Kohl, Putting Your Act Together
"K" Trio, Teamwork in Music Practice and Performance
Rita Davidson, Developing an Advanced Music Repertoire
John Simkus, Transitions for Accordionists
On-Going Jam Session
Accordion Dealers' Showcase
Accordion Swap Shop

UMKC Accordion Orchestra to perform at KU Composers Forum

The new work "Out of Crooked Timber . . ." by Paul Rudy will be performed on a concert at Kansas University in Lawrence, Kansas on Friday, March 30, 2001 during the annual meeting of the Society of Composers, Inc.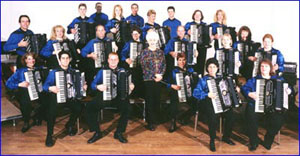 The UMKC Accordion Orchestra, under the direction of Joan C. Sommers were selected to perform at this prestigious affair after representatives heard them perform at a performance on the Musica Nova Concert in White Hall on the UMKC Campus last September.


Gary Dahl from Washington State has attracted much interest with his correspondence course, and now has students in the USA, Canada, Portugal, United Kingdom and New Zealand.

A prominent arranger, Gary has had books published featuring Jazz Accordion Solos, Clifton Chenier The King of Zydeco, French Tangos for Accordion, Tex-Mex Conjunto Classics for Accordion, German Favorites, Polka Favorites, Ragtime Favorites, Divine Hymns and Italian Favorites for Accordion.

Please visit his website to hear samples of his arrangements and for further information on correspondence courses available.

Why not advertise your web site on accordionusa.com?
TELL THE USA WHAT YOU HAVE TO OFFER!
Former AAA Champion Researches New Accordion Design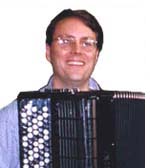 Former American Accordionists Association United States National Champion Don Severs has been working on a new design for the accordion called "The Ergon" concept.

According to Don, it is not intended to be a replacement for the current bayan/accordion. The Ergon Concept is simply an alternative construction that may appeal to some players. His interest lies in pursuing the idea and making it available to those who can benefit from it.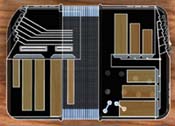 On the Ergon concept accordion, the right-hand keyboard is further moved out from the player and more steeply angled to allow the arm to remain straight. This way, the player doesn't have to hold the elbow up continually while playing. The left hand buttons are also angled more steeply so that the left hand doesn't have to reach around the instrument to play, and so the hand can remain straighter. Both of these modifications are achieved while basically retaining the existing, perfected mechanism design and reed block layout.



The instrument is held and played just like an ordinary accordion, with the left arm pulling the bellows. The right hand technique is unchanged and the thumb is used as before. The left hand technique is the same except that we now have the ability to use the thumb in the first three rows of buttons. Anyone who currently plays a bayan should be able to play it more or less immediately.

The traditional piston rod mechanism has been turned 90° so that the keys now advance into the bellows rather than toward the player. The reed plate on which the valves rest has also been turned 90° to stay parallel to the piston rods. This has the twin benefits of straightening out the player's left wrist and allowing the reeds to speak directly out toward the front of the instrument.



Those interested in corresponding with Don to discuss his ideas are invited to do so by e-mail at: donsevers@qwest.net.

Also, please visit Don's website at www.donsevers.com for complete information and background concerning this interesting design concept.

JPMC Music Offers Variety of Accordion Music
The JPMC Publishing company carries a wide range of Songbooks, Method Books, and Sheet Music including Educational Music Books for most instruments including accordion.

JPMC BOOKS INC. is the exclusive North American distributor for Swiss publisher, Edition Melodie Zuerich. At this easy to use site, you can browse by instrument to see a complete line of educational music books including a wide selection of books for accordion, recorder, saxophone, trumpet, piano, clarinet, and more. Most books come with a play-a-long CD!

They also offer a diverse selection of CD's - Swiss Alphorn Music, Irish Music, French Musette, and Funk!

In addition to carrying accordion music which is available for purchase on-line, they also offer music for productions. They publish or administer musical works from Funk, R&B, Gospel, and Jazz, to Classical, Easy Listening, and Traditional Folk Music.

JPMC (Jane Peterer Music Corporation) is located at:
80 Pine St. 33rd Floor New York, NY 10005-1702 Tel: 1-212-344-5588 Fax: 1-212-344-5566
or www.jpmc.com.


ATG Announces Folk Competition Night at Annual Festival
This year the ATG thanks the Texas Accordion Association (TAA) for bringing an added dimension to its annual Competition and Festival in that our two organizations are sponsoring the Texas Folk Music Competition, an event to be held on Thursday evening, July 19, 2001 at the Gunter Hotel.

This will be a really exciting evening of music with prizes being awarded to the top three musical acts. The accordion is such a fantastic and versatile instrument; this competition will showcase it in a manner that many of the accordionists of today simply have never had the opportunity to witness. The members of both the ATG and the TAA will be providing another real musical service and education by offering this special competition.

Please tell everyone about it and, if you are a player of any of this type of music on the accordion, get your act together and enter. The combined organizations want to hear your music on the accordion!

Details on the competition and prize money will be posted very soon on the ATG website.

As announced earlier, in addition to this folk competition, the ATG will once again have the Virtuoso Entertainment Competition, which was a resounding success last year. It will also offer the Anthony Galla-Rini Classical Accordion Competition, new this year. Both events will award prizes in the amounts of $1,750 (First Prize - $1000.00, Second Prize - $500.00, Third Prize - $250.00).

The three competitions, (Folk, Classical and Entertainment) will give all attendees the chance to witness exciting music performed by the best accordionists in our midst today.

In addition to these contests, there will be lots of accordion music in the form of workshops and concerts. You are invited to be a member in the Massed Festival Accordion Orchestra, a group that keeps growing in popularity each year.

In attendance this year will be the Vienna (Austria) Accordion Chamber Orchestra, among others, from both the USA and overseas. You are invited to put July 19 - 22, 2001 dates on your calendar right now as something of importance for you to attend.

For details please contact Joan Sommers at sommersj@umkc.edu or visit the ATG site.

Mario Tacca and Mary Mancini to Tour China

World Champion accordionist Mario Tacca and his wife, international vocal artist Mary Mancini wrapped up December with two wonderful Christmas concerts featuring Carl Sakofsky a virtuoso trumpet and synthesizer player. They also presented a series of Christmas Shows in Hazelton PA.

2001 will keep them busy with concerts from February 2-12, 2001 on the East Coast of Florida. From February 14-16, shows will be presented in Connecticut and then its back to Florida again for a February 21st show in West Palm Beach.

March begins with an appearance March 4 at the AAMS festival in King of Prussia followed with a special show March 17 in Jackson, NJ along with comic Ralph Pope. Later in March (20-22nd) shows are scheduled in Highland, NY (upstate NY ) after which Mary and Mario will once again return to Florida frin March 23-29th for another tour.

On April 2 this sought after duo leaves for their second tour to China as guests of the Chinese Cultural Department where they will tour until April 23. They will be performing with Tenor - Song Yang, who is one of the leading Tenors of China as well as performing with the well known gospel Saxophonist Angella Christie.

On May 3, at an Accordion Concert in Providence, RI they will appear with the K Trio and comic Floyd Vivino.

For further information or concert bookings, please contact Mario Tacca and Mary Mancini at: mario.tacca@gioiaprod.com

"K" Trio to head "Down-Under"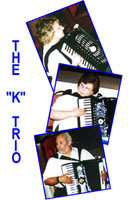 The "K" Trio comprising Mary Joan Kasprzyk, Julie Ann Kasprzyk, and Walter Kasprzyk . . . have announced a busy start to the New Year with concerts across the USA and around the world!

Mary, Julie and Walter will begin on Sunday, January 21 - 3:00 p.m. at The Schubert Club of Fairfield County as they present "Music of the Americas - From Pole to Pole". The "K" Trio performs Pietro Deiro's Concerto in E, Rondo Movement; Dr. William Schimmel's "Kosovo: Land of Broken Dreams" -- written especially for The "K" Trio; Leroy Anderson's "The Typewriter"; and Frank Mucedola's "The Fox and The Hound".

At the Greenfield Hill Congregational Church, 1045 Old Academy Road, Fairfield, CT Sunday, February 18th -- The "K" Trio presents "How We Do It" -- a program that investigates how the trio accomplishes their unique sound. Presented to the New Haven Chapter of the Connecticut State Music Teachers Association. Please call 203-239-2232 if you'd like to attend as guests of the trio!

Sunday, February 25th -- 2:30 p.m. -- special guest performance for the Schubert Club at Ogden House, River Road, Wilton, CT and from March 3-11th -- The "K" Trio performs in the Texas "International Accordion Orchestra" as they tour the state of Texas! They will perform as special guests in concerts at the North Texas Irish Festival in Dallas, and then in San Antonio, Corpus Christi, New Braunfels, and finishing up as special guest artists for the Texas Accordion Association's Festival in Plano (Dallas)! Join us for the tour!

Thursday, May 3 -- 1:30 p.m. -- Providence, RI -- An exciting afternoon of music featuring the trio, along with accordion virtuoso Mario Tacca, international recording vocalist Mary Mancini, and Comedian Floyd Vivino. An event not to be missed. Ticket information will be available soon!

At the end of May, The "K" Trio travels to Sydney, Australia for the Australian Accordion Teachers Association Festival which will be held from May 25-27th and then from June 1-3, The K Trio continues on to Auckland, New Zealand for the New Zealand Accordion Association Festival.

Saturday, July 28th -- 7:00 p.m. -- The "K" Trio will perform in Soho, New York along will Dr. William Schimmel and company for an exciting concert event! Join us! Ticket information will follow!

Meanwhile the "K" Trio is busy putting the finishing touches on their new CD entitled "Take 2". It should be released soon, and details will be available on their website.

AAMS Festival Offers $1,000 in Prizes

The American Accordion Musicological Society will present its 14th annual Accordion Festival and symposium March 2 -4, 2001. All events will be held at the Holiday Inn - 260 Mall Blvd, King of Prussia, PA.

Cash awards up to $1000.00 are to be presented during the festival, with the entry deadline being February 10, 2001. The general public are invited to attend all events.

Activities will include three major concerts, competitions, including the selection of a millennium festival champion, workshops, musicales, demonstrations, accordion repairs, displays, accordion related paraphernalia, accordion flea market (New and used instruments) etc.

This years events and Banquet will be a tribute to the memory of Sherrie Darrow, a founder member of the AAMS. Registration is open to the public and includes all events except as listed.

3-Day Registration Fri., Sat., Sun $45.00 (excludes banquet)
2-Day Registration Sat., Sun. $35.00 (excludes banquet)
1-Day Registration Fri. 10.00 Sat. $25.00 (excludes banquet) Sun. 15.00

Any single concert without registration. $10.00 Banquet Ticket Adult $30.00 Children 10 and under $20.00

A partial list of performers and workshop presenters includes guest artists Vitaliy Pirog - Ukraine, Carmen Carrozza - NY, Tony Dannon-MI, Joe Cerrito - MS, Dee Langley - MN. Also performing are: Rita Davidson - NJ, Msg. Kloskowski - NJ, Bobby Rae - PA, Sam Fire - PA, Ron Onda - MD, Lenny Feldmann - NY, Stanley Darrow - NJ, Frank Hodnicki - NJ, Joanna Arnold - NJ, Westmont Philharmonia Accordion Orchestra - NJ, Rick Kaplan - Washington DC, John Opiela - PA, Joe Grum - PA, Fred Kitchen - PA and more.

For full schedule, please contact festival chairpersons Stanley Darrow and Joanna Arnold - 856-854-6628 or visit http://www.mediabuying.com/aams

Composition Competition


Composers might be interested in the 7th annual "INTERNATIONAL COMPOSING COMPETITION "2 AGOSTO" 2001

The Organizing Committee of Stefano Cuppi - General Director, Fabrizio Festa - Artistic Director, Chiara Monetti - Coordinator and Bruno Borsari - Management Advisor

The Jury will consist of Tania León - Chairwoman, Ada Gentile, Ivano Battiston, Robert Beaser, Fabrizio De Rossi, Fabrizio Festa and Richard Galliano.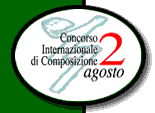 The rules are as follows:
1) The Sixth Edition of the International Composing Competition "2 Agosto" is announced. It is promoted by the "Associazione Familiari Vittime della Strage alla Stazione di Bologna del 2 Agosto 1980", and the "Comitato DI Solidarietà alle Vittime delle Stragi", in collaboration with the Fondazione Arturo Toscanini. The Competition will award three prizes: First Prize: Euro 5.000,00 Second Prize: Euro 2.500,00 Third Prize: Euro 1.500,00

2) The Competition is open to musicians of all nationalities, who are not older than 41 on May 31, 2001.

3) The Competition is intended for accordion or bandoneon and orchestra scores which last not more than ten minutes. The scores selected for the final award will be performed in Concert in Piazza Maggiore in Bologna on 2nd August 2001, during the celebration in memory of the victims of carnage. The competitors are requested to consider with due regard that one of the main aims of the Competition is the performance of the three winning scores in Piazza Maggiore. This means that the Jury will not consider those scores unsuitable to be played in the open air (even if performed through appropriate amplification).

4) The maximum number of instruments allowed is the following: three flutes (one can be a piccolo), two oboes (one can be an English horn), two clarinets, two bassoons, four French horns, three trumpets, three trombones (one must be a bass trombone), tuba, timpani, percussion instruments (not more than two performers), and strings. Scores for a smaller number of instruments (but not superior, nor different to what has been indicated) are allowed too, in any case the competitors must remember that the final concert will be held in the open-air. The competitors may also add an electric bass, indicating whether fret or fretless (fretless is preferable), in any case, for any requirements, applicants may contact the Secretary's Office.

5) The soloist part will have to be composed for accordion or bandoneon (not for both instruments, nor will scores be accepted scores in which the soloist has to change instrument). Exclusively within the soloist part applicants may insert improvisation sessions, either according to typical jazz or rock traditions, or according to the personal indications of the competitors themselves. For further information or requirements, applicants can get in touch beforehand with the Secretary's Office of the Competition.

6) The scores must be anonymous and must not contain any identification mark. In a separate envelope, the participants must enclose their data (name, surname, place of birth, permanent address, telephone number and so on). The additional and optional inclusion of a curriculum will be welcome. The scores can have been edited but not previously performed. In this case, the participants are requested to cancel the editorial marks and enclose a declaration confirming that the work has never been performed before.

7) The scores must be sent in threefold copy by registered post, together with the participant's data, addressed to the Secretary's Office of the

International Composing Competition "2 Agosto"
c/o Teatro Testoni
Via Matteotti 16 - 40129
Bologna (Italy)

tel. ++39/51/4153718
on or before May 19, 2001. The date of the postmark will indicate the date of application.

The composers whose are selected for the final award will be required to send the scores for each individual instrument. The scores will not be returned.

8) The commission's judgement cannot be appealed against. Info: Secretary's Office of the International Composing Competition "2 Agosto", c/o Teatro Testoni, Via Matteotti 16 - 40129 Bologna, Italia; Phone n.:++39/51/4153718 (from 2.00pm to 5.00pm).
E-Mail: intcomp2@yahoo.com or visit www.concorso2agosto.it

Accordion in Italian American Culture

The presentation will take place on Friday, March 23, 2001, with the Symposium at 3:00 P.M. and the Concert at 7:30 P.M. at The Graduate Center, The City University of New York, 365 Fifth Avenue (corner of 5th Ave. and 34th St.) New York, NY

Sponsored by the Center for the Study of Free-Reed Instruments of The Graduate Center, The City University of New York, and the Joseph D. Calendar of the Italian American Institute of Queens College, the one-day symposium and concert is entitled 'The Accordion as an Icon of Italian American Culture.'

The symposium will include Peter Muir, The Italian and Other Ethnic Issues of Guido Deiro's Recordings, 1911-24", William Schimmel, Excelsior! The Best and Nothing but the Best and James J. Periconi, "Vergogna e Risorgimento: The Secret Life of an Italian American Accordionist"

The concert at 7:30 - 9:00 PM will include will feature music by Pietro Deiro, Pietro Frosini, Charles Magnante, and Paul Creston performed by Henry Doktorski, Robert Y. McMahan and William Schimmel, accordionists. The special guest of honor is Count Guido Roberto Deiron.
Registration fee: $15 ($7.50 with CUNY or Senior Citizen ID)

For further information and to check on the availability of tickets, please call (212) 817-8215, or e-mail: continuinged@gc.cuny.edu Contact person: Melanie Hegge.
http://: web.gsuc.cuny.edu/freereed

Just for fun...
Have you visited the Humor section of Accordions Worldwide? Simply click on the heading on the home page and enjoy some of the jokes and cartoons. If you have some to add, please send them in! This is just one example of the many pages of accordion related humor available.

We invite you to submit your
News, Concert, Club Listing, CD or Article!
---
www.accordionusa.com
is a free service to the accordion community.
We appreciate the generous support of
'Accordions Worldwide'
found at: www.accordions.com