Peter Soave Sextet in Concert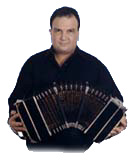 The "Accordion Artists Series" presents the Peter Soave Sextet in concert on February 21, 2002.

Comprising Peter Soave - accordion/bandonen, Victoria Halton - Violin, Velda Kelley - Violin, Barbara Zmich - Viola, Nadine Deleusy - Cello and Marion Hayden - Bass the Peter Soave Sextet will be performing Musette, Tango Nuevo and Swing during this concert which will be paying a special tribute to Ray Tini, Snr.

The concert will take place on Thursday, February 21st at 7:30 PM at the Henry Ford Centennial Library Auditorium located at 16301 Michigan Ave. in Deaborn, MI. Phone: (313) 943-2330 (The Library is located east of Southfield Freeway at Mercury Drive.)

General Admission tickets are $20.00. To purchase tickets, please call (248) 888-7983 or send orders to 15 Robinson Street, Farmington Hills, MI 48326 adding $1.00 for postage and handling.

The next concert in the "Accordion Artists Series" will be April 18, 2002 featuring Art Van Damme and Kenny Kotwitz.

Reyes Accordions - Emphasis on Tex-Mex/Norteño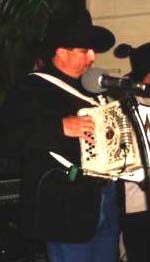 Reyes Accordions (www.reyesaccordions.com) caters to the Latino market bridging both Tex-Mex Conjunto and Norteño. With an emphasis on the three-row button accordion Reyes Accordions will soon be expanding to include the piano accordion. In addition to accordions, Reyes Accordions also features Videos, Books, CD's, Parts, Accessories, Bajo Sextos, Vintage LP recordings and other accordion related items.

A family tradition, Gilbert Reyes' grandfather picked up his first accordion when he was fifteen years old. His great grandfather bartered livestock in exchange for a one row diatonic accordion from a German merchant in Monterrey Nuevo Leon, Mexico in 1927.

"Cada tres meses ibamos para Monterrey en carreta desde Teran para comprar necesidades y vender ganando o puercos."

"Every three months we would go from Teran to Monterrey in wagons to buy necessities and sell livestock."

Reyes writes: "It was at one of these trips to Monterrey that my grandfather eyed the one row diatonic accordion. With the one row diatonic accordion, there was only so much you can do musically according to my grandfather "It was not until we came to America that I really got into other styles of music besides corridos."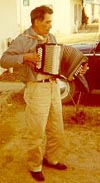 In 1942, when my grandfather and father crossed the Rio Grande River and settled in La Feria, Texas, the polka style of music had an impact on my grandfather. In 1943 he bought a two row diatonic accordion and started experimenting with polkas. And in 1948, he purchased a three-row accordion. Clearly, having been exposed to many great accordion players and those who were not well known in the late 1940s and early 1950s, influenced my grandfather's technique tremendously. However, he never did abandon the bass keys of the accordion as did most of the musicians of his era.

A man of very few words, my grandfather found a form to express himself. To transcend if you will, his spirit as he toiled and labored like a beast of burden in the labor camps. After working all day in the scorching sun, he would quench his overworked body by soothing it with music. His strong hands filled with bruises and calluses would float with ease as he worked his magic fingers to create music out of the red box with buttons. My grandfather was not well known for his music, or even cared to be. As a matter of fact, Conjunto was basically a poor working mans music that really did not hold any value in the mainstream. Like most folk music, it was a way to express the pain and sufferings of the poor working man. Conjunto is not a widely popular genre even though some who romanticize this style of music think it is.

My grandfather indeed left a great impression on me. His music flows through my fingers. He has given me an umbilical chord, if you will, that connects me with my culture, heritage, and people. Mainstream has not been able to cut this chord. The music, my grandfather's music, has truly saved me.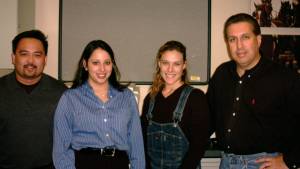 Owner Gilbert Reyes' vision is not only to sell accordions, but to give the customer information concerning the Tex-Mex and Norteño genre. As a musician and businessman, Gilbert understands the needs of both the English and non-English speaking customer. Reyes Accordions staff are picuted left to right - Mark D., Sara Fernandez, Tina Valenzuela, and Gilbert Reyes.

More importantly, he knows and understands both styles of music since he has been playing the three-row button accordion since the age of fourteen. According to Gilbert, success comes from knowing your product and customer.


Gilbert Reyes Jr.
E-mail: gilbert@reyesaccordions.com

Phone number: Toll Free 1(888) 819-6265
http://www.reyesaccordions.com

PO Box 38871
Sacramento, CA 95838
Toll Free 1 (888) 819-6265
Direct (916) 641-0344
Fax 1 (775) 206-6480



Office Hours:
Monday - Friday 10:00 AM - 9:00 PM
Saturday 10:00 AM - 5:00 PM (Pacific Standard Time)

Duquesne University Auditions

Here is a great opportunity for young dancers, instrumentalists and singers (including accordionists) to earn a college degree by using their talents.

Dance - play - sing and tour the USA while you earn your undergraduate degree!

Based on the exciting rhythms of Eastern Europe and neighboring cultures, the DUQUESNE UNIVERSITY TAMBURITZANS is an ensemble of 36 multi-talented performers who are all full-time students at Duquesne University in Pittsburgh, PA. Performing an average of 80 shows annually across the US, each Tamburitzans student receives over $10,000 in scholarship aid per year to attend prestigious Duquesne University and work towards a degree in any of the hundreds of specialized areas of study available.

GENERAL AUDITIONS will be held in Pittsburgh on February 7 & 8, 2002 for the ensemble's 66th season, which will run from mid July 2002 through May 2003. If travel to Pittsburgh is not possible, a 15-minute video showcasing your talent may be submitted before the audition deadline. High school seniors and college undergraduates (including transfer students) may apply. Prior experience in folk arts is helpful, but not required.

Visit the Duquesne University Tamburitzans web site at www.tamburitzans.duq.edu, e-mail tamburitzans@duq.edu or call (412) 396-5185 for audition application and guidelines. Deadline for all submissions is February 6, 2002.

Gelso Pellegrini Passes away
The American Accordionists Association reports that accordionist Gelso Pellegrini passed away on January 10, 2002.

A Board Member of the AAA, Gelso wa born in NYC and began studying the accordion at the age of ten.

During his life long accordion career, he recorded about 50 of his compositions in addition to Val Taro Musette Music.

Expressions of sympathy may be sent to:

Mrs. Gelso Pellegrini
PO Box 193
Staatsburg, NY 12580
The accordion world has lost a truly gifted musician and wonderful person.

Mikula Orchestra in Vegas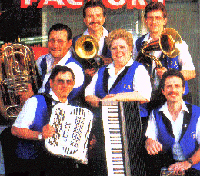 For anyone that may be in the Las Vegas area on Feb. 10, 11, and 12, the Jodie Mikula Orchestra will be at the Orleans Hotel and Casino playing in the Mardi Gras Ball Room. An annual festival, it will also feature other bands from across the country with people from many States making the trip.

This will be the Mikula's 6th year to participate at the Southwest Polka Party. The Mikula band is a Six-piece accordion/tuba powered polka band with a wide variety of selections that includes Country and Western and Big Band arrangements.

Jodie Mikula organized the Jodie Mikula Orchestra in 1967. The original band included his sons Ken, Nick and Andy who are still performing in the orchestra today.

Jodie Mikula passed away in 1989. The greatest tribute his family can offer to him is to continue his love of music. The present bank members include Ken Mikula, lead cornet, tenor sax, baritone, trombone, vocals and band leader; Nick Mikula, cornet, alto sax, lead guitar, alto horn, vocals and booking manager; Andy Mikula, percussion and band manager; Mike Marek, electric base, tuba, vocals and accordion; Charlie Patak, accordion, cornet, tenor sax and rhythm guitar; and Pat Zapletal, piano.

Since most of the band members can play different instruments, this gives the Jodie Mikula Orchestra versatility in the type of music they play. The band is of Czech decent and play mainly polkas and waltzes. But they also perform country and western, rock and roll, and big band music. If you would like more info, please contact at cpbox@aol.com

Squeeze Play to Entertain at ATAM Festival

Accordion duo Squeeze Play featuring Kim and Dan Christian will be featured guest artists at the ATAM 40th Anniversary Festival at the Newton, MA Marriott Hotel from April 5-7th, 2002.

Kim has won many prestigious awards in her career, including the US National Championship and Honorary Bronze Medal winner of the World Accordion Championships. She is also the two time winner of the Rocky Mountain Accordion Society Virtuoso Solo and the Accordion Federation of North America Virtuoso Solo.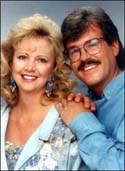 Kim has won many prestigious awards in her career, including the US National Championship and Honorary Bronze Medal winner of the World Accordion Championships. She is also the two time winner of the Rocky Mountain Accordion Society Virtuoso Solo and the Accordion Federation of North America Virtuoso Solo.

She has been teaching for Young Musicians of America (Y.M.A.) for 25 years and is responsible for educating hundreds of people in the art of music. She has four students on full music scholarship at the University of Denver's Lamont School of Music.

Dan is a four time winner of the prestigious Galla-Rini Traveling Trophy Award which requires a three time win of the Rocky Mountain Accordion Society Virtuoso Solo Competition. Dan has been teaching private music lessons for 20 years.

He has developed a reputation throughout the United States for directing outstanding Virtuoso Orchestras. His groups have won national Competitions in New York, Los Angeles, Chicago and Denver.

Dan is an experienced writer and arranger of music.

During the weekend, over 1200 contestants up to age 22, will take part in the 40th Anniversary New England Music Competition and Festival run by the ATAM. Past accordion champions are invited to attend this gala event which will be held at the Marriott Hotel in Newton, MA.

Please contact Roger LaTulippe: e-mail: roger@rositalee.com
phone number: 603/882-8940

AAMS offers 15th Annual Symposium and Festival
The American Accordion Musicological Society will hold it's 15th Annual Symposium and Festival the weekend of March 1, 2 & 3, 2002 at the Holiday Inn located in King of Prussia, PA in the Valley Forge Area.

Registration is open to the public. The Festival will feature competitions (including cash awards), open workshops, open symposiums, musicales, demonstrations, accordion repairs, accordion paraphernalia, accordion flea market, and 3 (count them… three!!) magnificent concerts featuring the best of the best in accordion talent.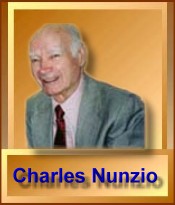 The AAMS will hold a banquet honoring accordion pioneer Charles Nunzio. Tickets are limited so you will want to register early.

Special room rates are available at the Holiday Inn for attendees of the Festival. To assure the special rate, reservations must be made by February 1, 2002.

This is the 15th consecutive year that the AAMS has sponsored the Festival. Each year gets bigger and better than the year before… so you can be assured that this year will be spectacular! You won't want to miss out! So register early to assure your seat at all the events.

Complete details at: http://www.aamsaccordionfest.com or contact Joanna Arnold at: squeezernj@aol.com

Joan Sommers to direct 500 Pianists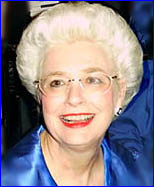 The Kansas City Music Teachers Association, The Muriel McBrien Kauffman Foundation and Johnson County Community College Community Arts Partner present MUSIC...A Rainbow of Color and Sound, featuring accordionist Joan Sommers, Conductor

The concerts were held January 13, 2002 at Yardley Hall at the Johnson County Community College.

These concerts which featured over 500 pianists of all ages presented in two different concerts featuring music for multi-pianos, 36 hands playing 18 grand pianos at the same time, received much local newspaper and TV publicity, acclaiming the magical direction of their director Joan Sommers, conductor of the UMKC Accordion Orchestra.

This is the second year that UMKC Professor Emerita Joan Sommers has been the conductor for these highly popular concerts of music, both original and arranged, for multi-piano combinations by 33 different composers.

AAA to Honor Carmen Carrozza

Accordionist Carmen Carrozza will be honored with a 'Lifetime Achievement Award" on March 17th, at a function sponsored by the American Accordionists Association.

The function will be held at the Colonial Terrace in Cortlandt Manor, New York and will include a cocktail hour at 12:30pm, Presentations at 1:30pm and Dinner at 2:00pm.

Entertainment will be provided by Tony Dannon and Joe Cerrito, Eddie Monteiro, Carmelo Pino, Beverly Roberts, Peter Soave, Mario Tacca and Mary Mancini.

Carmen Carrozza is recognized as one of the greatest exponents of the accordion in the classical field. Carmen is a former student of the great Pietro Deiro who was one of the pioneers of the accordion in the United States.

During his lifelong career as a concert accordionists, Carmen has appeared as a soloist with the Boston Pops Orchestra under the direction of Arthur Fiedler, the Cincinnati Orchestra, Buffalo Symphony Orchestra, and the National Symphony at the Kennedy Center in Washington DC

He has also appeared with the New York Philharmonic under the direction of Andre Kostelanetz, premiering the Alan Hovhaness work, the Fantasy for Accordion, Speaker and Orchestra entitled "Rubaiuat of Omar Khayyam".

Carmen has concertized throughout the world and was presented with a gold medal in Italy after an outstanding performance at the Teatro di Pavia.

One of the high points in Mr. Carrozza's distinguished career was a concert in Town Hall in New York City where he performed all original accordion works by many outstanding American composers including Robert Russell Bennett, Paul Creston, Virgil Thompson and many others.

Tickets are $75.00 per person, and reservations must be in by February 24th, 2002. Anyone interested in attending should contact the AAA Secretary Maddalena Belfiore at: MaddalenaB@aol.com

Studio Audience Needed at ATG Festival in Orlando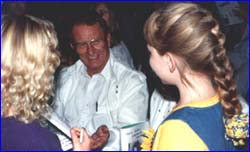 The Accordionists and Teachers Guild, International will be filming a live interview with accordion legend Myron Floren (pictured left signing autographs at an ATG Festival) as part of its 2002 Annual Competition and Festival to be held at the Sheraton Safari Hotel in Orlando from June 27-30, 2002.

Registered festival attendees will be invited to be part of the studio audience while the interview is being conducted. Myron will also be directing the 2002 ATG Festival Orchestra at both the ATG Concert and the Disney Epcot concert as well as presenting a concert segment.

The ATG has also named one of their International competitions in honor of his life long dedication to the accordion. This Competition will be the Myron Floren International Competition for Virtuoso Entertainment Music.

Chris Isaak Show Accordion Serenade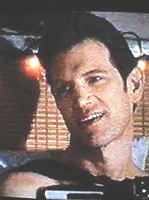 Viewers of the popular Showtime special "The Chris Isaak Show" were treated to Chris playing his accordion during the new series 4th Episode entitled "Wrong Number" which aired Sunday January 27th, 2002.

Rock star Chris Isaak stars as rock star Chris Isaak, a San Francisco musician with a regular gig at a club called Bimbo's. The members of Isaak's real life band Silvertone also appear as themselves (along with one stand in musician, actor Jed as keyboard player Anson. The cast is rounded out by Kristin Datillo as Isaak's neurotic manager Yola and Greg Winter as her shark-like associate Cody.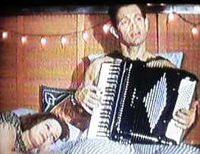 Supercool Isaak, uses his accordion to serenade his girlfriend Stephanie (played by Bridget Fonda) who guest-stars as a rock journalist and the latest object of Isaak's dizzy affection.

A natural wit with a talent for twangy guitar and Roy Orbison-influenced vocals, Isaak returns for a second season of shaggy-dog storytelling on "The Chris Isaak Show" which airs at 10:45 p.m. each Sunday on Showtime.

An avid surfer and one-time semi pro-boxer, Chris Isaak began his recording career in the mid 19'80's with such albums as Silvertone and Chris Isaak. In 1989 he recorded the breakthrough Heart Shaped World, featuring the hit single "Wicked Game," and followed it quickly with a pair of albums "San Francisco Days" and "Forever Blue."

An accomplished actor, Chris has also appeared in a number of big screen roles, working with such directors as Jonathan Demme, David Lynch and Bernardo Bertolucci, as well as appearing in Tom Hanks' Rock'n' Roll "That Thing You Do", and the recent HBO Special "From The Earth To The Moon."

In his live shows, Isaak is know to finish by whipping out his accordion and romping through the Louis Jordan oldie, "Caldonia.''
---

---
Note: In order to provide as much information as possible for the United States National Accordion News stories, many different sources are often researched to gather additional information and pictures to complement what has been submitted. This information is then correlated to provide the news on www.accordionusa.com in the spirit of which it is intended, which is to provide a free news service to the Accordion Community, specifically in the United Sates. If you feel any copyright has been violated please advise www.accordionusa.com and the article will be removed immediately.