---
Texas Accordion Association Annual Homecoming

This years Texas Accordion Association 2005 Annual Accordion Homecoming called 'No Accordionist Left Behind' will take place from March 10-12, 2005 in Richardson, Texas.

In the tradition started by the Texas Accordion Association, the "ongoing jam session" will again be a favorite convention feature with the Open Mic will be held during breakfast, lunch, and late evening in the hotel's dining/club facilities. The late evening sessions will be managed by George Chrenenko and Joe Vento.

In addition to these jam sessions, the Texas Accordion Association announces a grand lineup of workshops, masterclasses, concerts and hands on including the festival orchestras conducted by Alice Aman (Friday and Saturday morning free concerts) and Joan C. Sommers who will conduct the Saturday evening Festival Orchestra performance.

The convention offers a variety of concerts including two Free Concerts offered as a community service to the area's Senior Citizens. A terrific success last year, the TAA will host these popular free morning concerts on Friday and Saturday featuring the Festival Orchestra conducted by Alice Aman as well as other performances.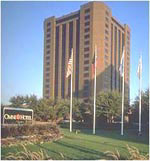 All convention activities will be held at the Richardson Hotel in Richardson, Texas, located at 701 E. Campbell Road @ Highway 75, the convention rate is $69.00 a night (plus taxes). For those who would like to do some sightseeing before or after the festival, the DART (Dallas Area Rapid Transit) has a bus line directly behind the hotel with convenient connections to downtown Dallas. For reservations, please call 972-231-9600 or 1-866-593-6300. Be sure to use the term "Accordion Homecoming" as the identifier for convention rate.

For a full list of convention activities, workshop presenters and workshop descriptions, festival orchestra programs, on-line registration and more, please visit www.accordions.com/taa


---
Galla-Rini Concerto No. 2 performance in Skokie, Illinois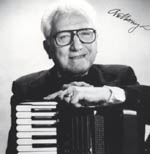 Accordionist Stas Venglevski will be the featured soloist when the Skokie Symphony Orchestra performs the Galla-Rini Concerto No. 2 on March 13, 2005. This concert will afford an opportunity for those who missed the world premier of the Concerto No. 2, to hear this great composition.

The concerto was composed by the now 101 year old Maestro Anthony Galla-Rini in 1976 and took six months to complete. Galla-Rini composed his first concerto in 1941. During this time he performed on a Galanti Dominator Accordion with multiple left hand registers. With this instrument, which did not have free bass, he exploited all these left hand registers as if it were a free bass giving him many octaves of left hand range.

He then wished to write a concerto for accordion with Free bass which resulted in his Concerto No. two composed in 1976, which took six months to complete.

The Concerto was first performed with piano accompaniment, by Rocky Frost, a student of Donald Balestrieri and later Nick Ariando performed the first movement with the Los Angeles Orchestra of the Performing Arts under the direction of Louis Palange during the annual festival of the Accordion Federation of North America.

Both the first and second concertos were composed in their original form for accordion and orchestra, as Mr. Galla-Rini said he was always thinking in an orchestral manner. Later, piano reductions were made for the orchestral accompaniment. When asked why both concertos were composed in a minor key, Maestro Galla-Rini said it was just the inspiration as the decision, perhaps taking into consideration that the minor key might have been more dramatic than the major key.

Stas's performance of the Concerto No. 2 with the University of Wisconsin Symphony Orchestra, conducted by David Becker on April 6, 2003 marked the world premiere of the work, being the first time that the piece has been played in its entirety with Symphony Orchestra.

For concert tickets to this second performance of the Concerto No. 2, please call (847) 673-6300 or contact North Shore Center for the Performing Arts, 9501 Skokie Blvd., Skokie, IL 60077. Phone (847) 679-9501 x3014. Ticket prices range from $8.00 to $34.00.


---
Leo Aquino offers 3 CD set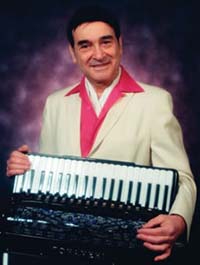 Leo has been hailed by music critics and accordion enthusiasts as one of the finest concert accordion artists in the world. His talent is so enduring that recordings made on his Scandinavian tour in 1959 are still aired in radio broadcasts in Norway, Denmark, and Sweden!

In 1978, Leo received rave reviews for his performances in a solo concert tour in the Soviet Union. He has appeared on radio and TV in the US, Canada, England, and Scandinavia.
His concert tours include transcriptions of piano, violin, and orchestra works of Bach, Handel, Wagner, Debussy, Mendelssohn, Liszt, Rachmaninoff, and others. His concerts are always greeted with standing ovations from the audiences.
In 1991, Leo toured the United States, giving performances for accordion clubs and festivals in several major cities. In 1995, Leo sat in the Opera Orchestra for Pavarotti's Concert at GM Place, in Vancouver, and played the Introduction to the last piece in the program, 18,000 people attended the concert. Leo currently lives in Vancouver, British Columbia, Canada.

Now 74, Leo still plays occasional gigs and continues to impress listeners with his outstanding musical skills. For more information, please visit: www.leoaquino.ca


---
Viatcheslav Semionov to give Kansas City Recital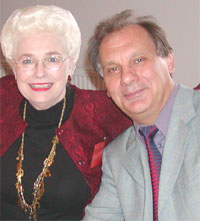 Russian accordionist and composer Viatcheslav Semionov will present a solo concert in Grant Recital Hall on the campus of the University of Missouri - Kansas City on Wednesday March 16, 2005.

As guests Joan C. Sommers and the University of Missouri - Kansas City Community Accordion Orchestra, Semionov will also present a masterclass on Thursday March 17 which is planned to include working with soloists, duos and orchestra.

Semionov is renowned for his pedagogy skills, and has a record number of six world champions from the Confederation Internationale des Accordeonistes (CIA) Coupe Mondiale with his students winning both the Coupe Mondiale and the International Competition for Piano Accordion for the last three years.

Semionov's own international career began at 21 years of age when he started to take part in accordion competitions in Klingenthal, Germany (1967), Sofia, Bulgaria (1968) and Berlin, Germany (1973), in all of which he was placed in the top three. As concert artist Viatcheslav Semionov has given concerts in more than 30 countries. He currently teaches at the Gnessin Academy of Music in Moscow and is active as a composer of many new works for accordion as well as presenting concerts around the world. He also serves on the Music Committee for the Confederation Internationale Des Accordeonistes (CIA).


---
Victor Prieto jazzing up the Big Apple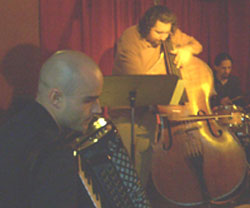 USA based Spanish accordionist, Professor of Jazz Accordion at Brooklyn Conservatory, presently leads a very active life through both teaching and performing. He performs at least 15 concerts per month - both solo and with his trio, and is also currently embarking on recording work. Every Saturday Victor Prieto performs accordion solo gigs at Café Moto, Brooklyn, New York.

He was recently the featured in an interview with "La Voz de Galicia" the most important news paper in Gallicia Region in Spain. The interview profiled his accordion career in the United States and in particular since his move to New York City.

On February 6th and 20th he will be performing with the Leonardo Cioglia Barzilian Trio at Esperanto (Manhattan). The Trio features Victor Prieto on accordion, Leonardo Cioglia, Bass and Adriano Santos, Percussion. The repertoire is based in different styles of Brazilian Music.

On February 12th, some of Victor's advanced students from the Conservatory's School of Accordion will perform a recital at Café Moto. Victor will also talk about the accordion during the evening.

The Victor Prieto Trio is in concert at Mercyhurst College, Erie, PA, on February 17th and 18th. These dates also include lectures and master classes. For further information e-mail victorprietocruz@yahoo.com


---
Henry Doktorski to appear in Alaska
American concert accordionist Henry Doktorski has been invited to join the music faculty as instructor of accordion at the Fairbanks Summer Arts Festival at the University of Alaska campus for two weeks during July 2005. He will teach accordion classes, and expose his students to a broad range of repertoire, including classical, ethnic, and popular styles, which they may perform during recitals and concerts as soloists and also as an accordion orchestra.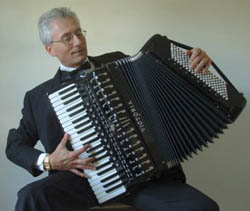 Doktorski will also be a featured performer at faculty concerts, and plans to present an eclectic mix of music including works from the Baroque and Classical ages, the Age of Vaudeville, classics by Piazzolla, and various styles of ethic and folk music.

The Fairbanks Summer Arts Festival, founded in 1980, is a study-performance festival held annually on the beautiful University of Alaska campus. The curriculum includes classes in music (strings, guitar, woodwinds, brass, Celtic and classical harp, classical and world percussion, voice, choral, fundamentals of music, and now accordion), dance, theater, opera theater, story telling, creative writing, healing arts, visual arts, and ice skating.

Jo Ryman Scott, the founder and producing director of the Fairbanks Summer Arts Festival, explained how Doktorski was selected to join the faculty, "This past March, I had a call from Elaine Andaloro, a local accordionist who wondered if we would ever consider adding accordion to our Festival classes. I told her if she could line up at least ten to twelve local people who would be interested in registering, we would be happy to add accordion. She succeeded! Then we discussed how to find the person who would be just right as our guest artist. Enter the Internet! Elaine went to the Internet and found the person she thought would be perfect -- and I agree!"

Ms. Scott concluded, "So next summer we'll be offering classical and folk accordion taught by Henry Doktorski from Oakdale, Pennsylvania. Henry is also an accomplished organist and classical pianist. He will be teaching beginning as well as intermediate-advanced piano accordion, and he will also teach beginning button box accordion. I have fond memories of folk accordion music as a child in the Midwest -- it was great dancing to it! I think Henry's talents will be a wonderful addition to our Festival next summer."

Doktorski said, "I look forward to teaching for two weeks this summer in the exotic Land of the Midnight Sun. I invite accordionists from the mainland States and Canada to take their vacations during July, travel north, join us and enjoy the fun. We'll have a great time studying accordion, learning new repertoire, and performing in an accordion orchestra at various venues throughout the city of Fairbanks."

The Fairbanks Summer Arts Festival begins on Sunday July 17th and ends on Sunday July 31st, 2005. Comfortable and inexpensive housing is available at the University of Alaska campus.

For more information, visit the Festival's web site at http://www.fsaf.org/ or contact JO Ryman Scott at:

Fairbanks Summer Arts Festival
PO Box 80845
Fairbanks, Alaska 99708
Phone: (907) 474-8869
E-mail: festival@alaska.net


---
Joe Martino performs in Illinois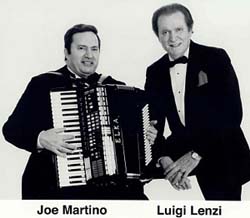 Accordionist Joe Martino, considered 'the great one man orchestra' along with Luigi, an Italian singer and recording artist and Stella Raimondi who has been dubbed Chicago's most popular Italian and American Singer will be performing in an Italian Dinner Show in April.

Joe Martino started his musical career at the age of seven , having studied under the direction of Vince Geraci and Joe Deluca. He also studied Accordion in Italy. Son of Italian immigrants, Joe reflected upon a culture of which music was part of the fabric and spirit.
As part of his performance, Joe combines a classic accordion sound with MIDI technology to create a "one man orchestral effect". He has appeared in numerous Italian festivals, concerts, commercials and other venues and before politicians and other celebrities. He has film credits and worked with entertainers Al Martino and Henry Mancini. Joe sings "Sinatra" with emotion and conviction, and audience participation is expected during his renditions of the Tarantellas and other accordion classics.

"Accordion to Sinatra" was released on CD by Joe in 2003 as a tribute to Frank Sinatra. It contains versions of 19 of Sinatra's most famous songs with accordion and vocals performed by Joe. The CD has special meaning to Joe, a performer who has spent most of his life playing Sinatra's music. If you require Italian at it's best Joe Martino can feature Italian singer Luigi Lenzi from Tuscany. The perfect duo for an Italian American Event. We are NOW booking dates presently for 2005!AND 2006!

The dinner and dance will be held on April 30, 2005 at Mazzini Verdi Club, located at 9230 W. Belmont Ave., Franklin Park, IL and reservations are a must. Interested parties should call (630) 595-8047 before April 28, 2005. Tickets are $35.00 per person. The evening will begin with Cocktails (cash bar) from 6:30 - 7:30 PM and Dinner begins at 7:30 PM.


---
Castiglione Accordions announce Roland's Reedless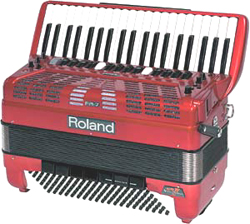 Castiglione Accordions located in Warren Michigan announce the new and popular Roland Reedless Accordions which are making their debut in the United States for the first time.

Castiglione Accordions is one of the few companies in the USA appointed to distribute the new Roland reedless wireless accordions which allows a player to expand his creative possibilities and explore new performance options like never before.
Although reedless, it has a built in amplification system and therefore plays and responds like a traditional accordion as well as a sophisticated electronic instrument as well.

The Roland FR-5 and FR-7 V-Accordions build on the Roland V-technology. These lightweight, professionally-modeled instruments incorporate new Physical Behavior Modeling (PBM) technology in a traditional accordion design that delivers powerful performance features and superior sound quality.

Newly developed PBM algorithms faithfully reproduce the characteristics and nuances of an authentic accordion by controlling the waves, dynamics, tone character or pitch of each single reed sound individually based on the movement of bellows detected by high-resolution pressure sensor.

PBM recreates the true acoustic nuances such as the stopping growling noise in the low bass footages or closing valve mechanical noises. The musette tuning note-by-note micro-tuning feature allows a single V-Accordion to authentically reproduce many different accordion types.

Onboard PBM algorithms include Pressure Variant Amplifier, Pressure Variant Filter, Pressure Variant Pitch, Wave Switching, Mechanical Noise Simulation, Cassotto Modeling and Musette Tuning.

The instruments are lightweight and portable, with an onboard digital amplifier and rechargeable Ni-Mh battery pack (optional on the FR-5). For live performance, the FR-7 incorporates a pair of powerful lightweight neodymium woofers and tweeters for a consistent, full range low-end to high-end output.
The FR-7/5 can simulate up to 30 different accordion sound sets, each including 14 Treble Registers, 7 Bass & Chord Registers and 7 Free Bass Registers. The interface enables switching instantly from an Italian Jazz sound to a German Folk, French Musette, or historic Bandoneon sound.
In additional to the onboard accordion sounds, the FR-5/7 incorporate 22 of Roland's orchestral sounds. Traditional and orchestral sound combinations can be easily created and played back, complete with full bellows articulation and unique keyboard modes such as Solo, Dual and High/Low.
Onboard Orchestral sounds include: Trumpet, Trombone, Sax, Clarinet, Oboe, Harmonica, Violin, Flute, Highland, Zampogna, Jazz Organ, Perc. Organ, Scat Voice, Mandolin, Acoustic Guitar, Acoustic Piano, to name a few. Seven high quality Bass Orchestral sounds can be played separately by the left hand, including: Acoustic Bass, Bowed Bass, Fingered Bass, Picked Bass, Fretless Bass, Baritone Tuba, Baritone Tuba + E. Bass.
The V-Accordions don't depend on moving parts to generate sound. This results in an always "in tune" instrument, with both keyboards on each instrument capable of playing within a wide range of octaves.
Either model can be plugged directly into a sound system or a recording device via a 1/4-inch cable. A headphone jack is offered for silent practice.
The High/Low Mode feature enables control of up to four parts simultaneously in real time from just one V-Accordion. Onboard MIDI functionality allows integration of sound modules, arranger keyboards or an external sequencer via the FBC-7 Footswitch Battery Charger.

Castiglione Accordions is located at 13300 E 11 Mile, Warren, Michigan. For more information on this new instrument please phone 586-755-6050, fax 586-755-6339 or e-mail: johncast@bignet.net.


---
New Southeast Accordion Association Forming
The new Southeast Accordion Association encompassing the states of Alabama, Florida, Georgia, Kentucky, Louisiana, Mississippi, North and South Carolina, Tennessee, Virginia and West Virginia is already attracting considerable interest.

A total resource for the Southeast accordionist, in addition to a quarterly informative newsletter which will feature accordion happenings throughout the southeastern states and beyond, accordion history, manufacturer & repair information, articles from members, interviews with accordion legends, cartoons, the association will also maintain a list of accordion teachers and professional performers, and pass these leads out to all those who inquire.

Membership to the Southeast Accordion Association is $25.00 per year, and interested parities should contact: Karen Adam, President - Southeast Accordion Association, 2244 Musket Drive, Navarre, FL 32566. Phone: (850) 935-8722 or e-mail: seaccassoc@bellsouth.net


---
Jim Wadowick announces New CD's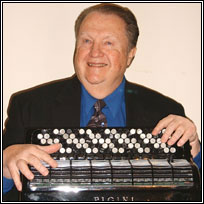 Alabama based accordionist Jim Wadowick has recently released two CD recordings including 'Souvenirs de Frosini' and 'Endangered Species Plays Ragtime.'

'Souvenirs de Frosini' includes 18 Frosini solos including: Jolly Caballero, Rag in D Minor, Tailspin, Il Sorriso D'Amore, Valse Chromatic, Bel Viso, Olive Blossoms, Shake A Leg, La Mariposita, Carnival of Venice, Dark Eyes, Frosini's Symphonic March, Fiesta Cubana, Hot Points, Angelina Mazurka, Accordion Jitters, Coquette, and Omaggio A Pietro, while the 'Endangered Species Plays Ragtime' CD includes ten famous rags (including one original composition) performed on midi accordion emulating a piano.

Both CD's are $15.00 plus $2.00 shipping and handling and are available by contacting: Jim Wadowick, 215 Glenwood Ave., Troy. AL 36081. Phone: (334) 566-1664 or e-mail:
wadowick@troycable.net.

Jim will be presenting a workshop/lecture/recital of Frosini's compositions at the upcoming Texas Accordion Association Annual Homecoming Festival in Richardson, Texas. On this workshop, Jim will use a C-system chromatic (which is the type Frosini played) and the talk will demonstrate why the chromatic accordion was influential in the style and composition technique Frosini used, including: Bellow shake techniques, use of chromatic technique in scale and chord passages and the use of the diminished seventh chord that is indigenous to the chromatic accordion.


---
WMAS Polka Night
The Washington Metropolitan Accordion Society (WMAS) invites you to attend its "Polka Night" February 8th. We will have a line up of several polkas played by the various members. In addition we will have a polka dance teacher demonstrating the polka. It will be a fun night of dancing and enjoying the fun polka music.
Admission: is $2.00 donation and will take place at the Sleepy Hollow United Methodist Church, 3435 Sleepy Hollow Road, Falls Church, VA 22044-1006.

For information, please contact Karen: e-mail: wmas2002@cox.net or call: 703-671-5395.


---
Tuning Workshop at Accordion Repair School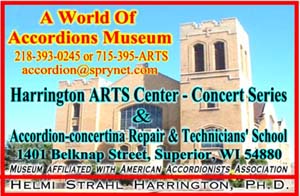 A three-day Accordion Tuning Workshop will take place at The Accordion Repair & Technician School (ARTS), in Superior, Wisconsin. No experience or skill is required. Students are encouraged to bring a project instrument to work on while developing their tuning ability, or one can be supplied by the school.

The fee is $200 per person for the full hand-on study session which is scheduled from February 18-20, 2005. Further details are available at http://repairschool.accordionworld.org The school, affiliated with A World of Accordions Museum, is under the direction of Dr. Helmi Harrington.


---
William Popp does Workshops for Music Teachers
Recently retired as the accordionist with the United States Air Force Band, William Popp is still concertizing and has developed a workshop to familiarize music educators with the accordion's significant concert repertoire. He performed his "History of Concert Accordion" program for the Loveland area Music Teachers Association in Colorado a few weeks ago and it was extremely well received. In two weeks he will repeat the performance for music educators in Fort Collins.

Popp says, It's most important to target non-accordion associations to familiarize them with
the concert accordion and its unique qualities." He studied with the late Robert Davine at the University of Denver's Lamont School of Music where he majored on accordion.


---
Milwaukee Accordion Club features MAC Ensemble
The Milwaukee Accordion Club will hold its February meeting on February 28, 2005. The evening will feature pre-meeting music by John Simkus and the Johnny Matt Trio and feature its MAC Ensemble under the direction of Bev White-Persa for its headline entertainment. The Milwaukee Accordion Ensemble began in 1995 and rehearses monthly. It performs at a variety of events including parades, parties, senior citizen functions, school activities, etc.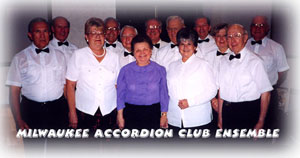 Getting back to music is rewarding to the members, as is introducing the instrument to the younger generation. Pictured left to right in a recent picture of the Ensemble are: John Kaczmarek, Joe Patterson, Pat Darling, Ed Vidmar, Glenn Schmidt, Director Beverly White-Persa, Bob Kriefal, Ed Komorowski, Dorothy Fennig, Kip Kippert, Shirl Barry, Frank Bevsek and John Goelz.

The Milwaukee Accordion Club was established in March 1991 and has membership of approximately 350. Our mission is to promote a positive attitude toward the accordion. The accordion club encourages young artist to perform before an audience in the hope that they would be encouraged to continue with the accordion. We continue our accordion appreciation with various musical programs at club meetings. In addition, the Milwaukee Accordion Club has become a meeting place where fellow musicians can share their memories.

Meetings are generally held every fourth Monday of the month except December, when they get together for our annual Christmas party. The monthly meetings are held at Root River Center in Franklin, WI. For more information, please visit: www.accordions.com/mac


---
CIA Winter Congress Prepares Future Events
Confédération Internationale Des Accordéonistes (CIA) Executive Committee, Music Committee and members met during two days of meetings at the 113th General Assembly of Delegates in Den Helder, Netherlands, last weekend.

Guests of the CIA Member in the Netherlands - NOVAM (Nederlandse Organisatie voor Accordeon & Moundharmonica) - the annual Winter Congress was organized by former CIA Vice President Frans De Bie, who also serves as the NOVAM Public and International Relations Officer.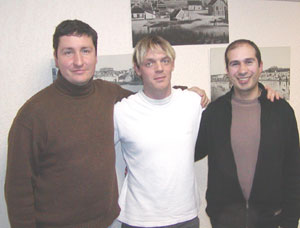 Meetings included work on the upcoming CIA Coupe Mondiale, which will take place from October 25th -30th 2005 in Castelo Branco, Portugal hosted by CIA Member from Portugal, the Conservatorio Regional de Castelo Branco. Details and schedules were presented by organizer Carlos Semedo, who is coordinating all activities for the Coupe Mondiale in Castelo Branco. Portuguese Delegate Paulo Ferreira was appointed a 2005 Honorary CIA Vice President for his work in organizing the Coupe Mondiale. (pictured left to right Carlos Semedo, 2004 Organiser Frederic Deschamps and Paulo Ferreira)

The Test Piece for the 2005 Coupe Mondiale 'O Medo Do Ritmo', is a work by Portuguese composer Carlos Marecos, and will be available complimentary to all interested accordionists on the CIA Website.

Plans for future CIA activities were also presented including details on the upcoming Winter Congress in Ikaalinen, Finland, from March 3rd-6th 2006, where the CIA will officially open its Archives as well as participate in the Finnish Accordion Association annual cruise between Finland and Sweden. The Winter Congress in Finland will conclude the yearlong celebrations marking the 70th Anniversary of the CIA, which was originally founded in Paris in 1935 as the Association Internationale Des Accordeonistes.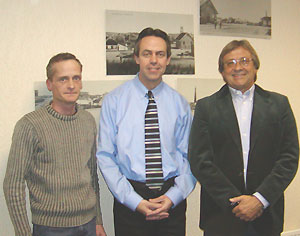 Mr. Kjell Olsen, President of the CIA Member Norske Trekkspilleres Landsforbund (NTL) reported on the 3,000 strong Norwegian Accordion Association activities and 2006 Coupe Mondiale Organiser and immediate Past President of the NTL. Mr Lars Arnevig gave a powerpoint presentation of the plans for the Coupe Mondiale in Asker, Norway (near Oslo), which will take place from October 18th - 22nd 2006. (Pictured Lars Arnevig, USA based CIA President Kevin Friedrich and Kjell Olsen).

The 60th Annual Coupe Mondiale and festival will be held in the United States in 2007, and will be jointly hosted by the AAA and ATG.

Contestants in the United States wishing to participate in the upcoming Coupe Mondiales in either Portugal or Norway should contact either the American Accordionists Association or the Accordionists and Teachers Guild, International.


---
Garmon (Azerbaijani accordion) artist in Concert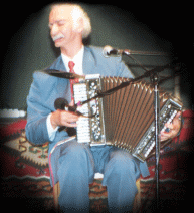 The Kronos Quartet, featuring Rahman Asadollahi, award-winning composer, conductor, and master of the garmon (Azerbaijani accordion), will perform at Dinkespiel Auditorium, Stanford University in California. This concert is set for February 18th, at 8.00 PM, and will be followed by a free post-performance discussion.

Kronos, which records exclusively for Nonesuch Records, has released more than 35 albums, won Grammy Awards for Alban Berg's Lyric Suite with Dawn Upshaw (2003) and Different Trains (1989), and been nominated for eight other Grammy Awards. Nuevo (2002), was nominated for a Grammy Award as Best Classical Crossover Album, and a Latin Grammy for Best Classical Album. The quartet's music is heard throughout the world in concert, on radio and television, in films, and in more than 100 concerts around the globe each year.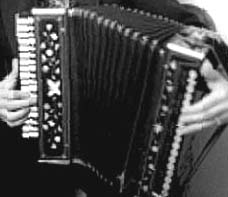 The garmon is a smaller, sweeter-toned version of the European model accordion. The garmon that Asadollahi plays is more than 90 years old and was made in the Caucasus.

Accordionist Rahman Asadollahi is known for his phenomenal playing and original compositions, renowned for their musical sensuality. First prizewinner at the All European Accordion and Harmonica Championship in Switzerland (1995), Asadollahi was a featured master artist at the first annual San Francisco World Music Festival in 2000 and again in 2004.

Exiled in 1985 from Iran, which banned Azerbaijani music from public venues, he has toured and performed in Turkmenistan, England, France, Denmark, Switzerland, Austria, and Germany, settling in the United States in 1999. Prior to that, he composed, performed, and conducted Azerbaijani concerts in Iran where he became known as the master of all accordion players. Technically brilliant, Asadollahi conveys an amazing understanding of human suffering and joy through his music, which has been described as a blend of Middle Eastern rhythms with a European melodic structure.

For further information e-mail bick@stanford.edu


---
'3 Drops of Blood' in San Francisco
The Dance Mission Theater in San Francisco is the venue for a show with the intriguing title of '3 Drops of Blood', to be presented on February 4th and 5th, at 8.00 PM. The '3 Drops of Blood' is an ongoing series of unique and varied performances in music, dance, and physical performance. Several accordionists are involved in the productions, including Guy Klucevsek, 'Accordion Works', and The Toids.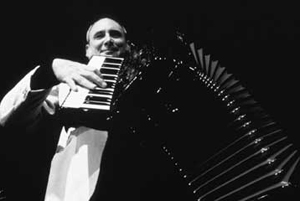 New York based composer/accordionist Guy Klucevsek will also contribute his highly individualistic talent to the shows. '3 Drops of Blood' presents the first public performance of an excerpt from Klucevsek's new collaboration with Sandy Silva, developed during a month-long residency at the Montalvo Center, in Saratoga, California
'Accordion Works' is an all-accordion ensemble led by music director Henri Ducharme. Featuring an all-star line up of Bay Area accordionists, the ensemble represents the new generation of musicians exploring the instrument's possibilities in modern and classical music. Ducharme has worked with Mr. Bungle, SF Symphony, Mark Morris Dance Company, and the Stephen Pelton Dance Company. Accordion Works will perform the works of Guy Klucevsek as arranged by the composer.
The Toids, featuring Dan Cantrell on accordion and vocals, will be performing this weekend in San Francisco on Friday and Saturday. They will be performing a set of Rembetica, the traditional music of the Greek underworld, as part of a very interesting performance event at the Dance Mission Theater.


---
Note: In order to provide as much information as possible for the United States National Accordion News stories, many different sources are often researched to gather additional information and pictures to complement what has been submitted. This information is then correlated to provide the news on www.accordionusa.com in the spirit of which it is intended, which is to provide a free news service to the Accordion Community, specifically in the United Sates. If you feel any copyright has been violated please advise www.accordionusa.com and the article will be removed immediately.