---
Accordion World Saddened by the Passing of Lana Gore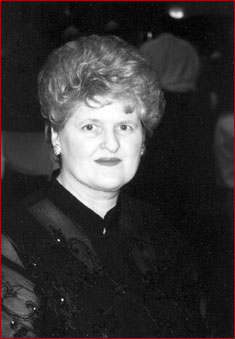 The accordion world was saddened to learn of the loss of well known accordionist, teacher and conductor Lana Gore. Lana passed away on January 29, 2006 after losing her battle with cancer.

Lana studied accordion under the tutelage of jazz artist Tony Dannon at the Modern Accordion Schools in Dearborn, Michigan. She attended Wayne State University's School of Music and the Detroit Institute of Musical Arts, later earning a Bachelor of Arts degree from the University of Michigan with a major in music history and theory. In 1981 she opened her own private music school in Dearborn Heights, The Music Centre Conservatory, where she currently has a teaching staff of ten instructors and over 300 students.

Lana's students have won major titles in all of the most prestigious music competitions throughout the USA and Europe. Her most decorated student is Peter Soave won the CIA Coupe Mondiale, as well as several other international titles. Her other students have won awards in many national and international competitions and her prize winning accordion orchestra has performed throughout the metropolitan Detroit area and made two European concert tours performing in Austria, France, Germany, Italy, the Republic of San Marino and Switzerland.

Lana was appointed as an adjunct faculty member teaching Accordion and Bayan studies at the College of Fine and Performing Arts at Wayne State University in Detroit in 1985 and was also affiliated with the Applied Music Faculty at the University of Michigan-Dearborn Campus.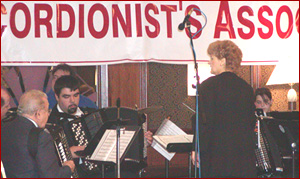 In addition to teaching, giving seminars and adjudicating in international festivals around the world, Lana supported the local accordion scene by serving as President of the Michigan Accordion Society as well as supporting both the Accordionists and Teachers Guild, International (ATG) and the American Accordionists Association (AAA). Lana is pictured here conducting the 2005 AAA Festival Orchestra in Detroit, with Tony Dannon as Concert Master.

Her funeral was held on Thursday, February 2nd, and in lieu of flowers, Lana's friends are suggesting donations be made to the Vivian Vivio Stolaruk & Steve Stolaruk Foundation, 1928 Star Batt Drive, Rochester Hills, Michigan 48309.

Steve Stolaruk has generously offered to assist in paying the portion of Lana's enormous medical expenses that were not covered by insurance. Additionally, the Stolaruk Foundation is also hosting an Italian Diner-Dance to benefit Lana on Sunday, February 12th at 3:00 PM. Music will be provided by the Al Battistelli Orchestra with Tony Dannon. All proceeds will benefit Lana's medical expenses. The event will be held at the Best Western ConCorde Inn located at 44315 Gratiot (just south of M-59) in Clinton Township, Michigan. Tickets are $25.00 per person and may be ordered by calling the hotel at 586-493-7300 or at Star-Batt, 248-853-1500.

Recently Lana was nominated as one of the ten 2005 Michiganian's of the Year sponsored by The Detroit News.


---
Mozart's 250th Birthday Celebrated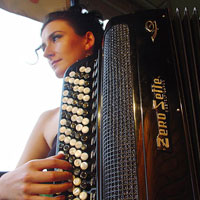 Accordionist Lidia Kaminska performed at a concert entitled MOZART: RELOADED, at the Perelman Theater at the Kimmel Center in Philadelphia.

The concert paid homage to Mozart and what would have been his 250th Birthday by taking a fresh look at his artistic genius through the vibrant voices of area artists working in music, video and dance.

The concert included:
Uri Caine, pianist/composer, improvising on Mozart Piano Sonata in C Major
Tony Miceli Quartet with Joanna Pascale, vocals, Tony Miceli, vibes, Madison Rast, bass, Butch Reed drums performing jazz arrangements of Mozart arias
Gloria Justen, composer/violinist performing her original work Foxy Lady and the Magic Box
Lidia Kaminska, accordionist performing an arrangement of Mozart organ works
Group Motion Dance Company in collaboration with Peter Price, music/video and Manfred Fischbeck, choreography, present a new work based on the symbolisms of The Magic Flute
Four World Premiere Variations on The Bird Catcher Aria by composers Sebastian Chang, Jan Kryzwicki, Evan Solot and Robert Maggio commissioned by Philadelphia residents and performed by Charles Abramovic, piano
Delaware Steel (15 piece steel drum band) directed by Harvey Price performing their arrangement of Mozart Overture to The Magic Flute.
For information on accordionist Lidia Kaminska please visit: www.lidiakaminska.com


---
Accordionist to Record Deiro's Complete Works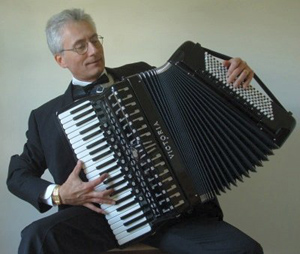 American concert accordionist Henry Doktorski has begun recording the complete works of Pietro Deiro. The first two volumes of the proposed eight-volume set will be released as a double-album and will feature Pietro's polkas and waltzes. Pietro Deiro (1888-1954) is universally accepted as one of the greatest and most influential accordionists of the first half of the twentieth century.

Born in Italy, he immigrated to the United States in 1907, and in 1908 began to play the diatonic button-accordion professionally in Seattle, Washington. That same year Pietro learned to play piano-accordion from his older brother, Guido, who became a vaudeville star in 1910. Pietro, recognizing a good thing, followed in his brother's footsteps and also became a celebrity on the vaudeville circuit, making up to $500 per week. One contemporary 1921 newspaper reviewer praised Pietro's musicianship: "What Paderewski is to the piano, Spalding to the violin, and Hans Kronol to the cello, Pietro is to the piano-accordeon. This man takes this instrument, which recently has attained a dignified standing among musicians, and gives it a human voice, a voice that is alive with joy, and dragged down to the depths of sorrow." Pietro also recorded 78 RPM records for Victor and Decca: a total of 147 sides during his career, beginning in 1912.

Amazingly, Pietro enjoyed a flourishing recording career even during the Great Depression--a remarkable achievement, considering the doldrums the record industry was in at the time. Pietro dominated the solo accordion category in Victor's 1930 Italian catalog with a full eighteen sides (Pietro Frosini could only muster ten). In 1928, Pietro established a music studio in Greenwich Village, New York, which attracted so many students that he had to hire a staff of professional teachers. Eventually he established a chain of accordion studios on the East coast. Recognizing early on that his students needed sheet music, Pietro established the music publishing firm Accordion Music Publishing Company (AMPCO), later known simply as Pietro Deiro Publications, which became probably the largest publisher of accordion music in the United States and a big money-maker.

Pietro composed over 200 works for the accordion and arranged countless other pieces. Pietro was popular and influential. He appeared as a regular columnist for general music publications such as The Etude and Metronome magazines, and he participated prominently in the main accordion journals of the 1930s and 1940s such as Accordion World and Accordion News. He published his own newsletter called The Pietro Musicordion, he produced his own radio show, and he established a record company devoted to the accordion: AMPCO Records. In 1936 Italian accordion manufacturers presented him with a parchment scroll and gold plaque for his contributions toward the advancement of the instrument.

Pietro was one of the founding members of the American Accordionists' Association (created on March 9, 1938), and was elected the association's first president by the board. One modern scholar, Peter Muir, explained: "He [Pietro] effectively became the premiere accordionist in America, a sort of legendary father-figure whose status was embodied by his nickname 'The Daddy of the Accordion,' which he carefully cultivated from early in the decade [beginning in 1930]."

The first two volumes of The Complete Works of Pietro Deiro will feature his polkas and waltzes. Subsequent volumes will feature Pietro's marches, foxtrots, mazurkas, paso dobles, rumbas, spanish dances, boleros, characteristic dances, 28 preludes, six grand etudes de concert, six overtures and three concerti.

Three polkas recorded by Doktorski are available for free downloading as MP3 files at http://henrydoktorski.com/recordings/pietropolkas.html


---
Valentine's Romance Comes to Lower East Side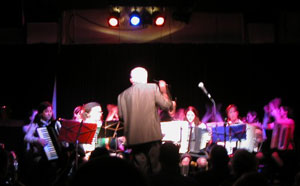 The Main Squeeze Accordion Orchestra brings Valentine's romance to the lower East side in New York city with shows on Saturday, February 11th, 2006 at Pianos, and Tuesday, February 14 at Mo Pitkin's.

Is there anything more romantic than the accordion? You hold it close. It breathes. And if you squeeze it just right, it'll make any sound you want. This all-accordion Main Squeeze Orchestra will make romance bloom with songs of love by Kurt Weill, Joy Division and Louis Armstrong among others.

VALENTINE SHOWS DETAILS:

WHEN: 8 p.m., Saturday, Feb. 11
WHERE: Pianos, 158 Ludlow at Stanton
ADMISSION: $10 at the door
www.pianosnyc.com

WHEN: 8:30 p.m. Tuesday, Feb. 14
WHERE: MO Pitkin's House of Satisfaction, 34 Avenue A at 3rd Street
ADMISSION: $10 at the door
www.mopitkins.com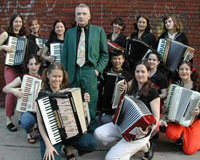 Walter Keuhr was attending a festival in 2001 when his dream was born. It was a dream of 18 accordions played with a precision that would demonstrate the versatility of the instrument. Slight changes in reed selection would determine whether the accordions sounded like oboes, French horns or guitars, and the arrangements would be rich and complex, exploring the work of Schuberts, Strauss, Prince, and The Beatles.

For months, Walter was plagued with visions of the 18 glossy accordions, the wall of sound, the pigtails. He began recruiting through his students and word-of-mouth until The Main Squeeze Orchestra, the only all-female accordion ensemble in the western world, was born in the fall of 2002.

Since their first performance in November 2002, The Main Squeeze Orchestra has achieved wild popularity as well as critical acclaim within the accordion community. Transcending all dorky stereotypes, The Orchestra has developed a rowdy yet sophisticated following, proving the power of the instrument and the power of one man's dream to conduct 18 women in pigtails. In 2004, they opened for Gogol Bordello at Irving Plaza and have performed regularly at The Knitting Factory, Galapagos and MO Pitkin's.

For more information, please contact: Rachel Zoll, 917-446-6465 or Walter Kuehr, 212-614-3109 or visit: http://www.mainsqueezeorchestra.com

---
Frank Marocco's Music on The Bachelor

Frank Marocco's music can be heard during eight episodes of the ABC reality show "The Bachelor-Paris". Because the show's location is in Paris, Frank was contracted to write several original Musette style French songs for the underscore. The first show aired on January 9, 2006.

One of the most sought after studio musicians, Frank Marocco was born in Illinois and grew up in the town of Waukegan, a suburb of Chicago. When he was seven years old, his parents enrolled him in a six-week trial program on the accordion.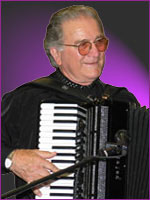 His first instructor, George Stefani, was a source of inspiration to him. Marocco studied with him for nine years. His training was in the classics but his teacher encouraged him to explore other areas: he played the piano and the clarinet, he studied music theory, harmony, conducting, and he was a member of his high school band.

The next year, he studied with the legendary Andy Rizzo, a master teacher who has influenced many of this country's accordion artists.

At age 17, Marocco took first place in a national music contest, performing his winning solo with the Chicago Pops Orchestra for a huge crowd at Chicago's Soldier's Field. This might have encouraged him to see a full-time career in music. He formed a trio which went on tour in several Midwestern states. During his travels, he met his wife Anne, in South Bend, Indiana. Together they decided to head west to make their home in the Los Angeles where they reside today.


---
New website launched for Arizona Accordion Club

The Arizona Accordion Club is pleased to announce that it has launched a dynamic new web site found at http://www.azaccordionclub.com

The site is easy to read and gives you updated news on club events including our most up to date Main Attractions and concert calendar. Readers are invited to check the schedule to see upcoming performers and browse local artists.
Celebrating their 10th Anniversary, the Arizona Accordion Club featured Mike and Marge Aman as their first guests where their musicianship and talents inspired all.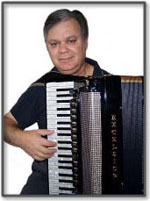 Future guests include:
February 20th Mario Pedone (right)
Accordion music professor and virtuoso from Texas plays all the classics
March 20th Lenny Leto
Be entertained by a simply superb accordionist from Chicago
April 17th Joe Vento
Grammy Award-winning musician, previously with the Three Suns
May 15th The Arizona Button Accordion Band
Leader Bill Regina and this super band will keep your toes tappin'


For more information, please visit: http://www.azaccordionclub.com


---
Will Holshouser Trio at BAMcafe in Brooklyn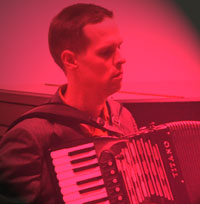 Time Out New York says "Accordionist Will Holshouser is the secret weapon in several of the scene's most inventive and engaging bands." He is appearing on Saturday February 4th at 9:00 PM with his trio comprising Will Holshouser - accordion, Ron Horton - trumpet, and David Phillips - bass.

BAMcafe is located at 30 Lafayette Avenue, Brooklyn, NY 11217. Phone: 718.636.4100
www.bam.org. There is a $10.00 food/drink minimum.

Anthony Tommasini, New York Times says: "[Holshouser] successfully showcased the range and beauty of the accordion. His compositions are intriguing, with wayward harmonies and soft-spoken melodies that make the accordion's thin, reedy treble range sound sweet. This could be music for some fantastical Fellini film."

Will Holshouser has developed his own approach to the accordion as a composer, improviser and working musician. His unique form of jazz is influenced by folk and experimental music. He is active in New York City and internationally with his trio and as a sideman, playing with David Krakauer & Klezmer Madness, Matt Munisteri & Brock Mumford, Septeto Roberto Rodriguez, and the Raymond Scott Orchestrette. He has also worked with Phillip Johnston, Lenny Pickett, Andy Statman, Dave Douglas, Brian Dewan, Michael Hashim, Jenny Scheinman, David Garland, the Brooklyn Philharmonic Orchestra, Orpheus Chamber Orchestra, and others.
Will's debut CD of his original music, Reed Song, was released in 2002 on Clean Feed (Portugal) featuring his trio. Their second CD will come out in fall 2005, also on Clean Feed. Will has also composed music for solo accordion and for short films, and has arranged music for assorted ensembles. He studied with Anthony Braxton and Bill Barron at Wesleyan University, where he received a grant to research Cajun and Creole music in Louisiana. After moving to New York in 1991, he began studying accordion with Dr. William Schimmel.

For more information and to hear sound clips please visit: at www.willholshouser.com


---
Promoting Your Accordion Services Free at AWW

The Internet is changing the way your customers are searching for services. The days of lugging out a 12 lb. telephone book to find very limited and outdated business information are coming to an end. People are still letting their fingers do the walking, but they're doing it over a computer keyboard. Below are some revealing facts from the Kelsey Group.
74% of US households use the Internet as an information source when shopping.
Approximately 45% of searches had a buying intent.
The percentage of respondents who used yellow page directories decreased from 75% to 62%.
(If you have a printed yellow page ad, it is time to consider buying a smaller ad and shifting your marketing dollars to the Internet.) The off-line Yellow Pages see the writing on the wall and are scrambling to transfer their business model to the Internet.
Businesses can no longer ignore these facts. If you want to be successful, you must have a presence where your customers are searching. Being found on the Internet is vital to the future of your business.



The Accordion Yellow Pages offers free of charge listing for all accordion businesses, teachers and for every type of service for accordionists. On the Accordion Yellow Pages site, you do not need to have a website for accordionists find you and contact you.



The search-accordion.com site is also free of charge, being a listing service for every type of accordion service but you must have a website. Viewers of search-accordion.com can click to your website.



Very popular is the AccordionLinks.com site where those accordion service providers with a website, can attract accordionists free of charge to their website.

All it takes is a little effort, to make sure your information on these three popular and very effective accordion sites is up to date. Your future success may well be determined by your ability to effectively adapt to the Internet. Should it be your New Year's resolution for 2006?

---
Annual AAMS Festival and Symposium
The AAMS Accordion Festival and Symposium will be held from 3-5 March, 2006 at the Wyndham Valley Forge in Wayne, PA.

This years honored guest is Lou Persic and featured guest artist is concert accordionist Henry Doktorski.

For details, please visit: www.aamsaccordionfestival.com


---
Alex Accordions Expanding in New York City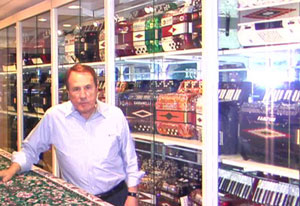 Alex Accordions will soon be opening two full floors of full-service accordion facility for sales, repairs, testing and showcases on New York City's famous "Music Row" 165 W. 48th Street.

Alex has been a shop owner on 48th Street in New York City working with accordions for over 35 years and has 2 veteran repairmen/accordion builders from Castelfidardo Italy on premises, who specialize in custom modifications and especially repairing numerous sad cases of smashed bass-mechanisms from rough airline handling.

Alex carries a number of brands of new and used accordions, from Italy, France and several other countries. He recently took over the 2nd floor which was previously occupied by Roberto's Woodwinds and is now constructing an in-house "Accordion Museum" of Alex Accordions' extensive collection.

A specially equipped "Back Room" for professionals to try out and compare instruments as well. The new room will be open very soon, look for the new awning going up and join Alex Accordion to celebrate the new expansion of the 35-year- old Alex Accordions on NY's Music Row!

To contact Alex, please phone: 212.704.2042 or e-mail: musicalalex@hotmail.com


---
Joe Soprani to Perform Valentine's Day Concert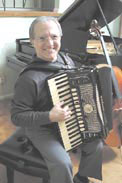 The Lansdowne Symphony Orchestra under the direction of Maestro Irving Ludwig, former violinist with the Philadelphia under Ormandy and Muti for over 38 years will feature concert accordionist Joseph Soprani in a special Valentine's Day concert to celebrate the 60th season of the LSO, Sunday. February 12, 2006, 3:00 PM at the Upper Darby Performing Arts Center (Upper Darby HS) in Upper Darby, PA.

The program for the concert is:
G. FAURÉ: Pelléas et Mélisande Suite
BIZET-BORNE: De' Miei Bollenti Spiriti (Joseph Soprani, Accordian)
F. KREISLER: Liebesleid (Joseph Soprani, Accordian)
F. KREISLER: Liebesfreud (Joseph Soprani, Accordian)
F. KREISLER: Schön Rosmarin (Joseph Soprani, Accordian)
G. PUCCINI: Crisantemi
HANDEL-HARTY: Water Music Suite
P. TCHAIKOVSKY: Romeo and Juliet Fantasy Overture


Founded in 1946, the Lansdowne Symphony Orchestra is one of the oldest community orchestras in the Greater Philadelphia area, celebrating more than 50 years of music-making. Its season runs from October to May, and this year it will present five concerts under the leadership of Irving Ludwig, its music director since 1991. Mr. Ludwig brings to the podium his many years of experience as a violinist with the Philadelphia Orchestra. The concertmaster of the Lansdowne Orchestra is Michael Ludwig, son of the music director, and associate concertmaster of the Philadelphia Orchestra. Although the talented musicians who form the core of the 75 + members of the LSO come from many walks of life, they all share a strong love of music. The repertoire includes orchestral music from the Baroque through contemporary classics, including time-honored favorites and interesting rarities.

Sweethearts will receive a carnation and everyone gets a valentine of Romantic melodies in this delightful concert featuring a virtuoso accordion soloist performing Carmen Fantasy, a showpiece based on themes from Bizet's Carmen and Three Viennese Dances by Kreisler specially arranged for accordion and orchestra by the soloist. In addition the audience will be treated to Tchaikowsky's Romeo & Juliuet, Faure and Puccini. You don't want to miss this one.
For tickets call: 610 622 1189 - UD Perf. Arts Center
610 284 3719 - LSO info
General admission: $15.00
Seniors: $12.00
Students: $5.00
Internet: www.lansdowneso.org

---
Hyper-Accordion Unveiled at NAMM Show in CA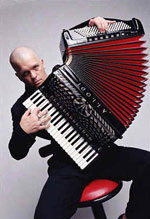 The annual NAMM Winter Show is took place from January 19th to 22nd in the Convention Center, Anaheim, California. This large-scale trade exhibition of musical instruments and products, including Gabbanelli Accordions, also featured a demonstration of a new type of accordion known as the 'hyper-accordion.'

Michael Ward-Bergeman, inventor of the hyper-accordion is a Berklee graduate where he mastered the accordion and took it to another level with credits that include performances on the film score for North Country and the recent Grammy-nominated Deutsche Grammophon recording of Osvaldo Golijov's Ayre. Transcending the traditional instrument, Ward-Bergeman invented the hyper-accordion which brings the naturally stereo instrument into a new sonic realm with the help of the Eventide Eclipse® stereo effects processor.

"When I developed the hyper-accordion, my goal was to stretch the boundaries of what the traditional instrument could do," said Ward-Bergeman. "Paramount to this goal from the beginning was effects processing. The accordion is one of the world's only true stereo instruments, which gave me a tremendous amount of room to explore new sounds with my customized stereo miking configuration.

I had used other technologies but they never delivered the sounds I envisioned. After extensive research, the Eventide Eclipse™ became hands-down the most versatile and comprehensive solution."

Ward-Bergeman's hyper-accordion is based on the traditional accordion but takes advantage of the natural stereo separation provided by the bellows. With a customized microphone setup, the hyper-accordion delivers two distinct tone sources that are routed directly to the Eventide Eclipse stereo inputs. From there, Ward-Bergeman enhances each tone with a multitude of effects, enabling the instrument in concert with the Eclipse to produce unheard-of sounds from one of the world's most instantly recognizable instruments.

"The entire concept of the hyper-accordion is to unite the accordion with dynamic signal processing, playing them together as one instrument," said Ward-Bergeman. "It is critical that the processor's response to numerous and varied performance gestures be accurate and patchable to as many parameters as possible. The Eventide Eclipse has enabled me to achieve both superior fidelity and expressivity, creating a rich tapestry of sounds without losing the natural integrity of the instrument. I look forward to using the Eclipse and bringing the hyper-accordion to new destinations." Based in London, Ward-Bergeman is continuing to incorporate the Eventide Eclipse into his mix in new ways, including the configuration of an intricate MIDI-pedal control system. Ward-Bergeman just completed a west coast tour with soprano Dawn Upshaw, Gustavo Santaolalla and ensemble, performing Ayre in its entirety. He will next bring his hyper-accordion to the United States at New York's Lincoln Center in 2006 as a featured performer in a festival celebrating the music of visionary composer Golijov.

Ward-Bergeman's many performance credits include: HOLOCAUST: A Music Memorial Film from Auschwitz, which won this year's International Emmy for Performance; Ayre, a groundbreaking work by Golijov, which recently received a Grammy nomination for Best Classical Contemporary Composition; and Santaolalla's soundtrack for North Country, the critically acclaimed Niki Caro film starring Charlize Theron.

Eventidewas founded in 1971 in New York City, Eventide is a leading developer and manufacturer of digital audio processing products for recording, broadcast, and live performance. Headquartered in Little Ferry, NJ, Eventide invented the H910, the first Harmonizer® effects processor in 1975, and introduced the H3000 Ultra-Harmonizer effects processor in 1988. Visit Eventide on the Web at www.eventide.com.
Eventide and Harmonizer a registered trademarks, and Eclipse is a trademark of Eventide Inc.

For further information e-mail: info-q@eventide.com

---
Mardi Grass Ball in Rhode Island
The 14th annual Mardi Gras Ball is a celebration of Cajun and Zydeco music and culture held on February 25th at Rhodes On The Pawtuxet, 60 Rhodes Place, Cranston, Rhode Island, New England. The artistes include Steve Riley and the Mamou Playboys, Geno Delafose and French Rockin' Boogie, and Balfa Toujours.

The event opens with a Zydeco dance on the evening of February 24th featuring accordionist CJ Chenier and the Red Louisiana Band at The German Club, 78 Carter Ave, Pawtucket.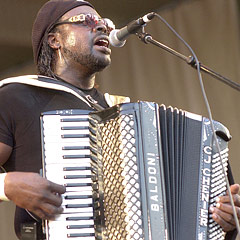 When zydeco superstar C.J. Chenier stepped onto the main stage at the 2001 Chicago Blues Festival and looked over the crowd of 60,000 eager fans, he had one thing in mind: get them on their feet and make them dance. Almost immediately after launching into their first song, CJ Chenier and The Red Hot Louisiana Band had people young and old shaking their hips and cheering in unison.

With a solo career dating back to 1987 and five previous albums under his belt, CJ Chenier is widely and wildly regarded as one of the genre's best singers, musicians and live performers. According to The Boston Globe, "CJ Chenier attacks the accordion with the tension and drive of James Brown...creating contemporary, turbo-charged dance music." Living Blues magazine named CJ Chenier "the best living zydeco singer and accordionist," and Billboard called him "the heir to the zydeco throne."

CJ's music has always embraced the traditions of his famous father, zydeco legend Clifton Chenier, but he continues to push the music to new levels. "I won't limit myself," says CJ, and it's clear why. Born and raised away from the Louisiana bayou in the housing projects of Port Arthur, Texas, CJ was aware of his father's music but also had other tastes. He liked James Brown and Funkadelic, John Coltrane and Miles Davis. He learned saxophone early on and as a teenager played in black Top 40 bands in Port Arthur. He studied music in college and dreamed of making it as a jazz or funk player.

Then, one week before CJ's 21st birthday in 1978, Clifton asked him to bring his sax along and join The Red Hot Louisiana Band. "I didn't know any of the songs they played," he recalls, "but the guys helped me out and brought me along. And then one day the music hit me, and I knew this was what I wanted to do." With each passing show, CJ's confidence grew, as did his desire to take a larger role in the band. In 1985, as the effects of diabetes began to take their toll on his father, CJ (at Clifton's request) picked up the accordion and started opening the shows. "He didn't push it," CJ remembers. "He let me decide for myself. But when he first called me to go out and play with his band, I think it was his idea all along that I would carry on his music."

After Clifton's death in 1987, CJ inherited his dad's accordion as well as The Red Hot Louisiana Band. But he took his father's music and built upon it, adding elements of the music he grew up with and infusing traditional zydeco with a contemporary punch. When asked about his accordion playing, CJ is quick to defer to his father, whom "nobody could ever touch," as CJ says. But others have formed their own opinions. According to Blues Revue, "Whether he and his band of red hots burn on rocking contemporary songs or simmer on traditional country waltzes, CJ Chenier is poised to be zydeco's new torch bearer.

Additional February Dates include:

Feb 10, 2006 FitzGerald's Berwyn, IL
Feb 11, 2006 FitzGerald's Berwyn, IL
Feb 12, 2006 CSPS Cedar Rapids, IA
Feb 16, 2006 Wilbert's Food & Music Cleveland, OH
Feb 17, 2006 Stuart's Opera House Nelsonville, OH
Feb 18, 2006 Club Cafe Pittsburgh, PA
Feb 19, 2006 North by Northwest Philadelphia, PA
Feb 20, 2006 Club Helsinki Great Barrington, MA
Feb 21, 2006 Iron Horse Music Hall Northampton, MA
Feb 23, 2006 Johnny D's Somerville, MA
Feb 24, 2006 The German Club Pawtucket, RI
Feb 25, 2006 Community Theatre Morristown, NJ
Feb 26, 2006 Towne Crier Pawling, NY
Feb 27, 2006 The Birchmere Alexandria, VA
Feb 28, 2006 Private Event New York, NY
For further information on the Rhode Island event, please e-mail: Chukwent@cox.net


---
Tom Torriglia's Valentine's Day Performances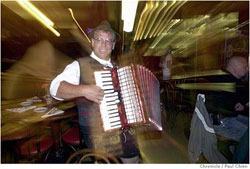 On the morning of February 11th, accordionist Tom Torriglia is scheduled to appear on KRON TV (a local San Francisco TV station) between 8 -10 AM, as part of the station's news broadcast. He will be performing as part of scheduled activities about Valentine's Day.

On February 14, Tom will be performing on KFOG Radio (104.5 FM in San Francisco-also available on the web at KFOG.com) at approximately 6:50 AM Pacific Time, for Valentine's Day.

Tom Torriglia's latest CD 'Legends of the Italian Lounge', made with his band Bella Ciao, has been nominated for a Grammy Award.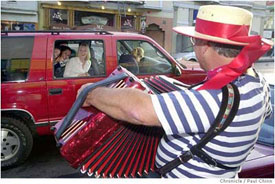 Tom plays in several bands, including a strolling mostly accordion sextet called the Squeegees as well as his Italian-flavored nightclub act called Bella Ciao.

He can play guitar and keyboards, too. But his first love was the accordion. Tom comes from a musical family. His father, an Italian immigrant who worked as a wholesale butcher, played saxophone and clarinet, entertaining at family gatherings. His big sister played piano. At age 6 or so, he first laid eyes on the object of his affection. "I recall one day some guy -- an uncle? a friend? -- came over with an accordion," Torriglia says. "I was completely mesmerized and I thought, 'That's the coolest thing in the world.' I still do."
For further information e-mail: tom@ladyofspain.com


---
Joel Guzman Workshop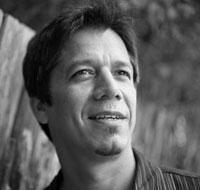 Grammy Award winner Joel Guzman is having an accordion workshop on Saturday, February 4, from 12:00 noon to 3:00 PM. The workshop will be at his home in Kyle, 941 Goldenrod Street. Everyone is welcome to attend, especially if you are interested in learning more about playing conjunto or Tejano music. Joel is both a master player and great teacher. The cost is only $35.00. Please call me at 258-6553.

Joel Guzman has been called brilliant, extraordinary, a genius. He began dazzling audiences and fellow musicians with his unique accordion artistry as a child prodigy, causing established and respected accordion players to christen him, at an early age, "El Pequeno Gigante". The Little Giant. Today, he is not only a superbly accomplished instrumentalist, singer, and performer, he is also a successful as an innovator, arranger and producer. He and his band "Aztex" formed the nucleus and inspiration for RCA's release of Los Super Seven, featuring Joe Ely, Freddy Fender, Flaco Jimenez, Ruben Ramos, Rick Trevino and David Hidalgo and Cesar Rosas both of Los Lobos.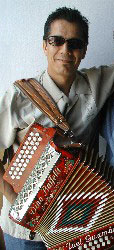 The countless other artists with whom Guzman has collaborated reads like a Who's Who of Texas Music. In spite of his award-winning success, Guzman is restless. With his roots firmly planted in the full range of traditional Mexican music, he has incorporated and experimented with jazz, tejano, country, salsa, R&B and rock. His passionate drive to create new musical directions and imaginative combinations of all these genres, continues to place him in a category all his own.

He has said, "I may play a box but don't want to be put in one". The formation of The Mexican Roots Trio is his latest move to push the envelope, to venture out into new and exciting areas of expression. The Mexican Roots experience comes with the phenomenal vocal power of soul mate and partner Sarah Fox along with longtime friend and world class bajista, Max Baca Jr.. Together, this family reflects the inclination to create fresh, daring musical blends and to perform them with playful strut and bravado.

For much of his career, Guzman has generously contributed to the musical efforts of his countless fellow-musicians and colleagues. Now he feels it's time to fully develop his own personal eclectic perceptions and ideas, step to the front of the stage, and present audiences with something far beyond tired formulas and safe homogenous sounds. He believes music should be created and performed with energy, sensitivity, honesty and above all, fearlessness. A growing number of people of all ages, from different cultures and backgrounds, are forming an audience ready to discover where this journey will take them and what new gifts the melding of Guzmans' musical styles will offer.


---
Canelo Salomón Releases New CD, Mexico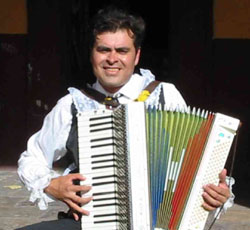 Accordionist Canelo Salomon has recently released a CD titled 'Vanguardia'. This is a solo recording, made using a Universal accordion that Solomon personally restored and reconstructed.

The son of the famous diatonic accordionist Red Salomón, Canelo has been director of the school of music of the union of musicians in Celaya, academic director of the union of musicians in the state of Guanajuato and at the moment he is director of the music school Vidargas. Salomon has made recordings on piano accordion, but is also a pianist, organist, singer and percussionist.

For further information e-mail: salomoncanelo@yahoo.com.mx

---
Peter & Mady Soave offer Camp in Switzerland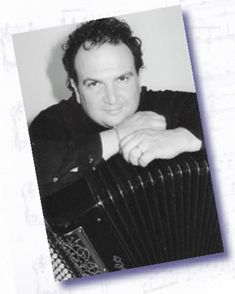 Due to popular demand, two sessions of IMAC will be held in 2006, from August 1st to 8th, and 11th to 18th.

The tutors will be World Champion Peter Soave, his wife Mady Soave (USA) and Jean-Louis Noton (France).

The International Montreux Accordion Camp offers 7 days of workshops, lectures, master- classes and private instruction in a professional setting that harmonizes nature and learning.



Professional and amateur participants of all ages gather from around the world to perform, train, and share the art of the accordion. During the seminar all lectures, lessons, meals and room accommodations are hosted in a center that emphasizes camaraderie and progress in a friendly environment.



Aside from music making, participants will enjoy the breathtaking panorama of the Swiss mountains!

The classes offered include: classical, tango, musette, jazz, improvisation, world music, M.I.D.I. programming and performance, articulation, fingering, phrasing, bellow techniques, solo and chamber music, history of the accordion, and computer aided music.

For further information email: info@accordioncamp.com

---
---
Note: In order to provide as much information as possible for the United States National Accordion News stories, many different sources are often researched to gather additional information and pictures to complement what has been submitted. This information is then correlated to provide the news on www.accordionusa.com in the spirit of which it is intended, which is to provide a free news service to the Accordion Community, specifically in the United Sates. If you feel any copyright has been violated please advise www.accordionusa.com and the article will be removed immediately.