Welcome to the United States National News
Welcome you to the United States National Accordion News, Accordion USA for March 2000.

With the increasing interest and usage of the Internet, we have added this National News service to the wide array of free services that Accordions Worldwide offers to the Accordion Community. These now include:

(1) Accordions Worldwide (the largest accordion resource on the Internet today)
(2) Accordion Yellow Pages (approximately 20,000 listings)
(3) Accordion Links (the biggest collection of accordion links you could ever imagine)
(4) Search Accordion (the only search engine, dedicated to the accordion)
(5) Accordion National News (current publications are found in Italy, Germany, the USA and France.)

You might notice a news headline with "NEW" beside it. Since the publication is monthly at this time, if we have occasion to include a late breaking news item that pertains to the current month, we will add this to the headline, so that readers can easily identify if a news item has been added since the original publication date.

We encourage you to use the submit form on this site to let us know of news items from your area, or to add an accordion gathering/concert to the monthly calendars.

We look forward to hearing from you and wish you a wonderful St. Patrick's day!

Peter Soave appears with Plymouth Symphony Orchestra, Plymouth, MI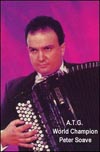 Peter Soave, accordion/bandoneon virtuoso will be appearing in concert with the Plymouth Symphony Orchestra (PSO), Nan Washburn Music Director/Conductor in a concert titled "Scenes and Landscapes" at Our Lady of Good Council Church on Saturday, March 18, 2000 at 8:00 PM.

The Detroit-based soloist, Peter Soave, will be performing the new work for accordion and orchestra, CAFES OF MELBOURNE by Janika Vandervelde and, on bandoneon, OBLIVION by Astor Piazzola.

Composer Janika Vandervelde, from St. Paul, MN will also be attending this special performance. (The Vandervelde work was originally commissioned by the American Composers Forum in conjunction with the American Accordionists' Association and premiered in March 1997 by Orchestra Sonoma, Nan Washburn conductor and Nick Ariondo, accordion soloist.)

A pre-concert talk will be held at 7:00 PM with Music Director Nan Washburn and composer Janika Vandervelde. Our Lady of Good Council Church is located at 1160 Penniman in Plymouth. Tickets are available by contacting the PSO office or visiting our website at: www.plymouthsymphony.org

Bandoneon Festival - New York, NY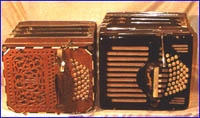 The Center for the Study of Free-Reed Instruments will host a symposium titled "Tango, Bandoneon, Piazzolla" which will take place in New York City on March 7th, 9th, 10th, and 13th. The series of masterclasses, workshops and concerts will feature a variety of topics and artists.

For the full schedule of events, please refer to the feature article

Contact person for this event is: Allan Atlas e-mail: aatlas@gc.cuny.edu or visit:
http://web.gsuc.cuny.edu/freereed

Carmello Pino, well known accordionist from Washington DC, has been working in Venice and Florence, Italy recently, as part of the filming for the movie "Raddiccio Rosso"

The Italian language film, which is scheduled to be finished in the Spring, follows a duo of orphans, separated at childhood, but reunited in their efforts to return priceless artifacts, stolen, from their tiny community in Italy.

Carmello, who composed some of the music, is featured in the dance scene.

Pauline Oliveros at Lincoln Center, August 17th, 2000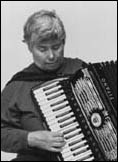 Composer-accordionist Pauline Oliveros will celebrate her fiftieth year in music by performing her own creation commissioned by Lincoln Center, at the Center's Out-of-Doors festival in New York City, on Thursday August 17.

Lincoln Center is advertising her performance as a vast site work entitled "Lunar Opera: Deep Listening For-Tunes," with an extensive group of performers and musicians at the primary event during "Deep Listening Day 2000." Ms. Oliveros has divided the outdoor settings of Lincoln Center into cities, and envisions this performance as a series of visits, rather like a train trip, through time and space at Lincoln Center.

Musicians and performers are welcome to audition and volunteer to participate in this gala event. "Lunar Opera " workshops will take place in the spring at the Oliveros Foundation in Kingston, New York and in New York City as Pauline Oliveros prepares the new show. For full information about the project, phone 914/338-5984.

Pauline performed in New York City last week, with the New Circle Quintet, which featured accordion, two trombones, percussion, violin and voice.

For those wishing to learn more about Pauline and the work of the Pauline Oliveros Foundation, or purchase her recent CD recording "Ghostdance" please visit: http://www.artswire.org

Busch Gardens in Williamsburg, VA is looking for an accordionist for their "PolkaMania" show. The job will begin in March and run through Labor day, September 4th.

They are looking for an energetic player that can read music and move well. Anyone who may be interested, please contact Jim Harney (757) 253-3299 or e-mail Jim.Harney@Anheuser-busch.com m.

Going out of Business Sale
Bobby's music (originally Al Trick's music from Texas) has gone out of business and the remaining stock will be sold at the Texas Accordion Association (T.A.A.) convention, from March 16-20th, 2000.

Estimated value is between $3000 and $4000. Convention participants will be able to pick and choose during the convention, then it will all be auctioned before the Saturday evening concert.

Samsonite and Delight-Ya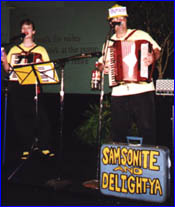 Accordion CD released by Samsonite and Delight-Ya. Voted #1 Y2K song of the year by NPR (National Public Radio), this CD single called "Y2Kymca.com" is a parody of YMCA, with hilarious Y2K lyrics, sequenced music to sound almost like the original, a little accordion on the top, and great packaging.

The accordion isn't as loud and present as hoped, but nonetheless, it is a very funny song. It was more humorous before 12/31/99, but still amusing after the fact! The CD was/is made at home by Samsonite and Delight-Ya, and lyricist/friend Clinton Wittstruck, using their computers.

It is available for sale direct from their web site of the same name: Y2Kymca.com

News from the Bay Area
Domenic Saso, M.C. for the Bay Area Accordion Club is happy to report that the B.A.A.C. enjoys over 350 members now. Anyone who is interested can attend one of their monthly meetings which are held the first Tuesday of each month at the Espanol Basque Hall in San Francisco. B.A.A.C. programs have featured well known accordionists from all over the world. (If you know of any accordionist who would like to perform at one of the B.A.A.C. meetings, please e-mail Domenic Saso at music2@wans.net )

Domenic Saso is an accordion performer and teacher in San Francisco, where he has been active for fifty five years. Domenic will be featured in a movie scheduled to be released next month called "Playing Mona Lisa."

Filmed in March of 1999, Domenic plays the accordion in two scenes. The movie stars Elliott Gould, Marlo Thomas.

Jazz, Theory and Improvisation for Accordion
For those who are looking for teaching methods on Jazz and Improvisation, you might consider a book by Ralph Stricker. Endorsed by Frank Marocco, Eddie Monteiro, and Peter Soave, the book is named "Jazz Theory & Improvisation Studies For The Accordion"

It shows every possible permutation for the left hand and how to play every scale and arpeggio from one position. Bass and chord combinations to avoid "jumping" all over the bass board. It includes modes and how to apply them in jazz and much more.

The book can be purchased by e-mailing Ralph at: bjpro21@ix.netcom or calling 1-800-227-3721. The price is US$29.95

Zydeco Party Band
The Zydeco Party Band has a new album out called: "Mardi Gras Mambo" on Wildcat Records. The recording should be available at your local Tower Records.

The Zydeco Party Band was recently featured in concert in Santa Moncia, CA at Rusty's Hacienda. For further information please visit: http://ZydecoPartyBand.com or contact Doug Legacy at: (310) 393-7437 or by e-mail: douglegacy@earthlink.net

Tom Fudala and the Tex/Mex Experience
Tom Fudala from Richmond, Virginia performs weekly, alternating at the five locations of "Mexico" restaurants, all located in the Richmond Metro area.

You can hear Tom play/sing Tex/Mex music on his strolling accordion including a big variety of styles covering the fields of Country, Pop, Polka, Latin, Swing, etc. In addition, Tom has recently written a new Tex/Mex composition titled, "Chalupa, Calupa" and you can hear a solo accordion demo version (mono--no overdubbing and mixing) of this song at his web site (www.erols.com/trfudala) by simply using MP3 downloading for "free."

To contact Tom for further information: e-mail: trfudala1@yahoo.com or call: (804) 270-0844

Peter Soave and Dr. William Schimmel with Brooklyn Philharmonic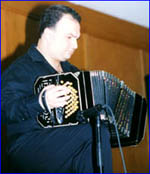 Peter Soave was featured in two concerts with the Brooklyn Philharmonic, New York, under the direction of Robert Spano. Peter performed the Concerto for Guitar and Bandoneon by Astor Piazzolla.

Peter, four time world champion accordionist is currently recording several of the Piazzolla works. Peter recorded the Concerto for Bandoneon and Orchestra with the Moscow Philharmonic, and Tango Sensations with the Kilma String Quartet of Zagreb.

Peter, who serves as a guest faculty member of the Conservatoire National de Marseille, in France, was appointed to the prestigious post of professor of Bandoneon at Detroit's Wayne State University.

More recently he has collaborated with Aldemaro Romero, the foremost composer of Venezuela, and will soon be performing his newest creation, written especially for Peter, entitled "Piazzollana, Homage a Piazzolla", in Caracas on a program of world premieres.



Also appearing with the Brooklyn Philharmonic, in the same concert, was Dr. William Schimmel, who performed the accordion part in the New York premier of Nancarrow's "Studies for Player Piano", Nos. 12 and 7, arranged by Yvar Mikhashoff.

Nancarrow, who resided in Mexico City devoted his energies to composing for the player piano, and his work has been described as "the most rhythmically complex body of music ever." Yvar Mikhashoff, to whom Nancarrow told that many of his Studies were conceived with instruments in mind, suggested that Mikhashoff 'realize' certain Studies for chamber ensemble.

It is in the Study No. 12, that the accordion plays an active part in the intense rhythmical patterns.

Frank Marocco confirms appearance at A.T.G. Festival in Chicago
This year the Accordionists and Teachers Guild, International (A.T.G.) will celebrate its 60th Anniversary at its annual competition and festival to be held at the Lisle/Naperville Hilton (Chicago) from July 20-23rd, 2000. Renowned accordionist Frank Marocco is the latest to confirm he will be performing and giving a workshop at the Competition and Festival

Many exciting activities are planned for the festival, including the A.T.G. Virtusoso Entertainment Competition, offering a first prize of $1000.00, second prize $500.00 and third prize of $250.00. Open to accordionists under the age of 32, contestants must perform an own choice program comprising a minimum of 4 pieces of different style and moods, with a maximum time limit of 15 minutes.

Among the array of guests will be A.T.G. President Emeritus - Anthony Galla-Rini, Jazz Legend Tony Dannon, The "K" Trio, CIA World Accordion Champion Vitali Dmitriev from St. Petersburg, Russia, CIA Virtuoso Entertainment Champion - Frederic Baldo, France, current Coupe Mondiale World Accordion Champion and past Virtuoso Entertainment Champion Jerome Richard, France as well as others.

A special banquet and party will be held in honor of the 60th Anniversary, and for the latest information please contact A.T.G. President Joan Sommers, (816) 235-2743 or by E-mail: SommersJ@umkc.edu or visit online at:www.accordions.com/atg

Accordion Dreams, from Germany to South Texas

Critically-acclaimed documentary filmmaker Hector Galan is in full production swing on his latest documentary, Accordion Dreams, which will trace the incredible journey of the button accordion from Germany to South Texas, birthplace of the unique American music genre called conjunto. This Texas-Mexican music features the button accordion as the featured instrument.

Accordion Dreams is the follow-up to the documentary Songs of the Homeland, which featured such accordion greats as Narciso Martinez, recognized as the father of conjunto music, Valerio Longoria and Tony de La Garza, both recognized as American Treasures for their mastery of the button accordion, and conjunto great Flaco Jimenez.

For more information on Accordion Dreams and Songs of the Homeland, visit the website www.galaninc.com

Valentino Dances for Accordion and Orchestra
Dr. William Schimmel, New York, has just released his latest CD in conjunction with the Minnesota Orchestra, entitled Valentino Dances for Accordion and Orchestra.

Artists: Dr. William Schimmel and the Minnesota Orchestra..

The CD is available at your local CD outlet store.

Where in the World is this?
Just for fun, we want to see if any of our readers can tell us where this is found? He stands approximately 30 feet tall!

Please use the submit form to tell us your answer. Include your name, address and e-mail address, and tell us where you think this is found.

All correct entries will go into a drawing, and the lucky winner will receive a copy of the wonderful CD "Grain de Fantaisie" by current World Accordion Champion, Jerome Richard, from France.

Good Luck!

Accordion of the Month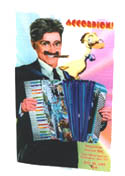 Each month, we will show an accordion which has caught our attention. This month, we feature a colorful instrument, that was used recently in a concert in New York City.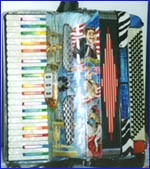 Dutch Accordion Ensemble Performs in Pittsburgh
The Dutch Accordion Orchestra "Alphen Opus 2" along with American concert accordionist Henry Doktorski will perform several concerts in Pittsburgh PA, from Thursday April 27 to Saturday April 29. The main event will be at the First Unitarian Church (Morewood and Elsworth Avenue) at 8:30 on Thursday April 27.

They will also perform live at the WQED-FM studios on Thursday afternoon as well as perform a concert at the Duquesne University School of Music Recital Hall on Saturday April 29 at noon. (Other concerts on Friday will be announced shortly, please check the April Concert Calendar for updated information and concert times.)

For further information on the orchestra from Holland, please see http://www.geocities.com/alphen_opus2 and for the tour schedule please see:
http://classicalaccordion.freeservers.com or contact Henry Doktorski at: free-reed@trfn.clpgh.org

Busy Times in New England
The 38th New England Music Competition and Festival sponsored by the Accordion Teachers Association of Massachusetts will be held April 7, 8,9, 2000 at the Newton Marriott Hotel, Newton, MA. Competition is held on accordion, drum, keyboard, guitar, piano and voice. Competition is open to contestants who are students of A.T.A.M. members up to age 22. CO chairmen are Roger Latulippe and Peggy Falcetti.

On Friday evening at 6:00 PM a "Battle of the Bands" will be held in the Ballroom. A cash award is given to the first place winners in each division. The Accordion, Drum, Piano and Guitar Championship competition is held on Friday evening. Band, ensemble, and solo competition is held from 9:00 to 4:00 PM on Saturday and Sunday. All competition is open to the public free of charge.

Please contact Roger Latulippe at 603/882-8940 for further details, or
e-mail: Rosita-lee@Juno.com

T.A.A. - Making Accordion Dreams Come True
Texas Accordion Association (T.A.A.) Will host its annual National Accordion Convention from March 16-20, 2000. The convention will be held at the Holiday Inn - Plano, Texas.

Billed as the "Year of the Accordion Orchestra", the T.A.A. Y2K Festival Accordion Orchestra and will be conducted by renowned symphony conductor - Gary Daverne from Auckland, New Zealand. Gary is the conductor of the Auckland Symphony Orchestra, and has appeared as guest conductor with major orchestras all over the world. In addition to his conducting skills, Gary is also a prolific composer, and has written many pieces for accordion solo, duo, ensemble and orchestra, as well as making numerous arrangements for accordion orchestra. We invite you to visit www.garydaverne.gen.nz


Other festival activities will include Concerts, Workshops, Displays of Instruments and Music and a 24 hour Jam Session.

For further information please visit the T.A.A. on-line or
contact: Norman Seaton (972) 270-3791 - E-mail: nseaton1@ibm.net

'Search Star' Tim Padilla signs Welk Contract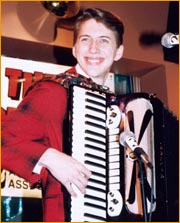 Tim Padilla, one of the five finalists chosen for the Search for the Hottest Accordionist has just signed a two year contract to perform with the Lawrence Welk Orchestra as they perform both in Branson, MO and across the country.

Thanks to a special deal of "Six free music lessons" he received from a fellow second grader, Tim Padilla became interested in the accordion early on. He was soon competing in accordion contests nationwide and has won top prizes in his age division over the past 10 years.

Although he shares his talent with residents of convalescent homes as a charitable effort, Tim is no stranger to the professional music scene having performed "Knockin' on Heaven's Door" along with Guns 'n' Roses "Slash" and serenaded Tony Bennett over the radio. Recently Tim played "Little Drummer Boy" on-stage in L.A. with the band "Chicago."


The Search for the Hottest Accordionist was sponsored by the American Accordionists Association to find someone that would inspire the youth of America today to think of the accordion as a 'cool' instrument.

Winner Dwayne Dopsie has recently released a new recording, and continues to perform across the USA and in his home town of New Orleans.

Another finalist Jason Stephen, went on to win the United States National Entertainment Championship at both the American Accordionists Association and the Accordionists and Teachers Guild, International (A.T.G.). These two organizations then jointly sponsored Jason to compete at the World Accordion Championships in Trossingen, Germany last November.)

King of Prussia Festival, PA
Vitali Pirog, Tony Lovello, Dee Langley, Stan Darrow, Joanna Arnold are just some of the artists appearing at this months festival to be held at the Holiday Inn, 260 Mall Blvd, King of Prussia, PA. Activities are scheduled from March 3-5, 2000.

The concert program on Saturday, March 4 at 7:30pm ($10.00) at the thirteenth annual AAMS festival will follow a banquet honoring Doctor Jacob C. Neupauer and a full day of workshops, seminars, competitive and non competitive events.

For further information please contact: Joanna Arnold (856) 854-6628 or e-mail: accordionfixman@hotmail.com or visit http://: www.Bluesgrid.com/AAMS

2000, the Year Ahead
This year will offer a feast of accordion activities, festivals and conventions including such events as this months Texas Accordion Association Annual Convention, the American Accordionists' Association and The Accordionists and Teachers Guild, International conventions in July, the new Accordion Convention in Las Vegas, and the annual Cotati Accordion Festival, both held in August.

The Coupe Mondiale World Accordion Championships will be held in Kragujovac, Yugoslavia from October 25-30th, 2000. American citizens wishing to compete in any of the four categories (Senior/Junior Coupe Mondiale and Senior/Junior Virtuoso Entertainment Divisions) should contact the American Accordionists' Association and the The Accordionists and Teachers Guild, International for entry details.

(For further information, or to list your event, please consult the monthly calendars for exact dates and contact details.)


Barbara Ann Martindale to tour England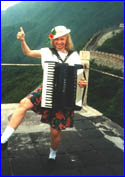 Canadian accordionist Barbara Ann Martindale will be featured in concert along with Oleg Sharov from Russia, four time World Champion Peter Soave - USA, and current World Accordion Champion, Jerome Richard from France.

Barbara's tour will take her throughout England, following a special performance at the Millennium "All Star" Show from the 16th-20th March, in Blackpool, UK.

Barbara has performed across the United States, and as far afield as China and Europe. Barbara is pictured here, standing on the Great Wall of China.


Jim Payne offers the Newfoundland Experience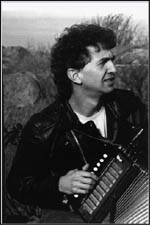 Jim Payne is from Notre Dame Bay, Newfoundland and has been a professional performing artist and writer for 19 years.

Long known as a leading performer and collector of Newfoundland traditional music, he is also one of the province's most prolific songwriters, working in several genres. Jim has directed, composed and performed music for some of the most popular theater productions of the past two decades, as well as creating soundtracks for plays, documentaries and videos. He has performed extensively on radio and television in Canada and abroad, and has toured throughout Canada, the US, Europe, Japan and Australia.

Jim operates SingSong Inc., a label that specializes in "folk and traditional music that reflects the Newfoundland experience."

Newfoundland is a hotbed of traditional music, with a lot of great accordion players and a very appreciative audience for it. There are several CDs in his catalogue that feature the accordion. There are two in particular that stand out: Minnie White, an 83 year old player from the southwest coast, the "first lady of the Newfoundland accordion", who plays all instrumental dance music from Newfoundland, and Dorman Ralph, who died last year at age 75, plays dance tunes and accompanies his singing of old Newfoundland ballads with his accordion.