Accordionist Tim Padilla on Tour

Acclaimed entertainer and musician Tim Padilla (www.timpadilla.com) has released his debut solo album on entitled "Accordionly Yours" featuring ten musical selections on the accordion, backed by a master-class ensemble of performers recruited from the well-known Lawrence Welk Orchestra.

Exploring an extensive variety of musical genres, selections include big band, gospel, folk and a few European traditions. Classical stylings with a unique pop touch characterize the musicality of this album as Tim displays every aspect of his musical finesse, having arranged and orchestrated every piece featured. The album also includes six entirely original compositions.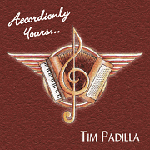 Tracks are: Little Timmy's Boogie, Magnolia Waltz, Tarantella, Gypsie Rendezvous, Somebody Stop Me Polka, Sommerferien, La Paloma, Danny Boy, Onward Christian Soldiers/Go Tell It On The Mountain, Pagoneya (The Chase)
Deemed as one of the hottest accordionists in America, Norco's own country boy, Tim Padilla, is now heating up the stage at the Champagne Theater in Branson, Missouri. Tim, also known as "The Entertainer," is currently performing as a lead Singer/Dancer/Accordionist in the live tour of the Lawrence Welk Show 2002, "America's Favorite Variety Show."

Thanks to a special deal of "Six free music lessons" he received from a fellow second grader, Tim became interested in the accordion early on. He was soon competing in accordion contests nationwide and has won top prizes in his age division over the past 10 years.



Although he shares his talent with residents of convalescent homes as a charitable effort, Tim is no stranger to the hot music scene having performed "Knockin' on Heaven's Door" along with Guns 'n' Roses "Slash" and serenaded Tony Bennett over the radio. And, during a 1998 Christmas party, Tim played "Little Drummer Boy" on-stage in L.A. with the band "Chicago." He has numerous credits as an actor in television and commercials. Currently he is working on recording his 12-piece swing band - "Rhythm on the Rocks" - located in California.

Upcoming concerts with the Welk Touring Show include:
March 2 - Crystal Grand Music Theater
(608) 254-4545 Lake Walton, WI
March 4 - Morris Performing Arts Center
(219) 235-5901 South Bend, IN
March 5 - Paramount Arts Center
(630) 896-7676 Aurora, IL (Near Chicago)
March 6 - Erie Events Center
(814) 453-7117 Erie, PA
March 8 - Nazareth Arts Center
(716) 389-2177 Rochester, NY
March 9 - Macomb Center Performing Arts
(586) 226-4759 Macomb, MI

To purchase his CD on-line please visit: www.welkgiftshop.com or www.timpadilla.com

Accordion Celebration features Diane Schmidt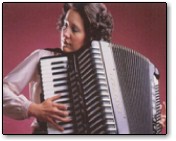 The Leavenworth Accordion Celebration will feature many outstanding accordionists including Diane Schmidt, the winner of the 1970 CIA World Accordion Championships Competition in Salzburg, Austria. Diane Schmidt is an artist of incomparable talent with her musical versatility ranging from classical to jazz, from ethnic to rock styles on both acoustic and MIDI instruments.

She has performed to acclaim with the Seattle Symphony, the Northwest Chamber Orchestra, the Philadelphia String Quartet, Seattle Opera, and Luciano Pavarotti in addition to solo appearance throughout the United States, Canada, and Europe. Diane is also a full-time music faculty member at South Seattle Community College.



The 9th Annual Leavenworth International Accordion Celebration will be held June 18-22, 2002 Leavenworth, Washington "The Bavarian Village".

Moving to a new venue, The Leavenworth International Accordion Celebration Committee is happy to announce that this year's event will move to our Festhalle located in the heart of downtown Leavenworth which will much more space for concerts and other events.

The festival includes: $4500.00 in prize money and trophies which will be offered in the accordion competitions including a Leavenworth Open First Prize of $1000.00. Other competitions include: Old Timers, Classical, Light Classical, Pop and this years new competition "Patriotic March Music."

Daytime Jamming will be held at the Front Street Gazebo. Each night will feature top entertainment artists headlined by
World famous - Dick Contino
Tony Lovello
CIA World Accordion Champion - Diane Schmidt
Chuck Berger, Diane Hagen
Sylvia's Fjordsong Band
Button Box Trio
Joe Smiell Dance Band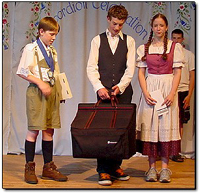 In addition, the festival also features the "Petosa Youth Competition." Petosa Accordions is sponsoring this competition to assist young people in their musical adventures. Pictured left are Petosa Youth Competition Winners 2001 3rd-Samuel Thomas, 2nd-Daniel Jaklich and 1st-Monique Brachman.

The 2002 Leavenworth International Accordion Celebration promises to be a popular event. Sign up early for the competitions and to take advantage of the LIAC discounted Entertainment Package.

If you wish further information on any aspect of the Leavenworth International Accordion Festival please or e-mail us at events@leavenworth.org or you may also call the
Chamber of Commerce at 509-548-5807

Please visit: www.accordioncelebration.com

Celebrating the Concertina in New York

The Center for the Study of Free-Reed Instruments presents "The Incredible Concertina" A Concert in Honor of Sir Charles Wheatstone - A Bicentennial Celebration.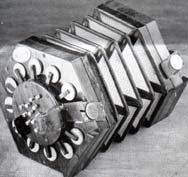 Concertina Artists include: Allan Atlas, David Cornell, Jody Kruskal, Tom Kruskal, Séan Minnie, Gearóid Ó hAllmhuráin, Wim Wakker, and Stephaan van Zyl with pianists David Butler Cannata, Brendan Dolan, and Paul van der Reijden and Jim Cowdery (penny whistle) Danie Labuschagne ('cello) Liz Wollman (guitar). Playing music from the Victorian salon and recital hall, the music halls and whaling ships, the "new concertina repertory", and a slew of folk traditions: English, Scots, Irish, Cape Breton, and Boer

The event will be held on Friday April 12, 2002, at 7:00 P.M. Baisley Powell Elebash Recital Hall. Informal get-together: 3:00-5:00 P.M. Music Students' Lounge (Room 3502) The Graduate Center, CUNY 365 Fifth Avenue (at 34th Street) New York City

Registration fee: $20 ($10 with CUNY or Senior Citizen ID): Make out check or money order (please do not send cash) to: The Graduate Center/CUNY and sent to:

Continuing Education & Public Programs
CUNY Graduate Center (Room 8111)
365 Fifth Avenue
New York, NY 10016

To check on the availability of tickets and for further information, please call (212) 817-8215, or e-mail: continuinged@gc.cuny.edu

For more information, you may also contact the Center for the Study of Free-Reed Instruments by calling:

Prof. Allan W. Atlas Ph.D.
Program in Music Graduate Center/CUNY
365 Fifth Avenue New York, NY 10016-4309
Phone: (212) 817-8590
Fax: (212) 817-1529

Las Vegas Legendary Lineup
The organizers of the Las Vegas International Accordion Convention invite you to join this history-making once in a lifetime event!



The legendary names, Myron Floren, Dick Contino (pictured left), Art Van Damme and Anthony Galla-Rini together for the first time at the same event! This is a MUST for every accordion enthusiast; a once in a lifetime opportunity!

This legendary lineup also includes superstar Frank Marocco, Peter Soave, Mady Soave, Gina Brannelli, Julian Labro, Tony Lovello and MORE. The list continues to grow!

Each evening will begin with a wonderful Las Vegas-style dinner concert beginning with a wonderful banquet followed by a concert with featured artists! Register early and be assured of the best seating. Dinner/Concert seating will be assigned in the order registration forms are received.

Out HOT LINE 801-486-1695 is a 24/7 messaging center that provides the latest up to date news and allows you to leave a message.

2330 South Main Street, Suite 15
Salt Lake City, UT 84115
lasvegas@accordioninfo.com

Internet: www.accordioninfo.com

Tony Lovello in Milwaukee

Maintaining his busy concert schedule, accordion Razzler-Dazzler Tony Lovello will be appearing as the feature artist at the Milwaukee Accordion Club on May 29, 2002.

From Buffalo, New York Tony Lovello, formerly with "The Three Suns," will razzle and dazzle you with his flashy arrangements that are crowd pleasers. Lovello's talents have led him to appear with Debbie Reynolds, Frank Sinatra, Dinah Shore, Eddie Cantor, Pat Boone, Jimmy Durante, and Kate Smith.

His latest appearance was with Roy Clark on the television show "Hee-Haw." On numerous occasions, Tony has performed his special arrangement of the National Anthem for the University of Kentucky basketball team at Rupp Arena in Lexington, Kentucky where he now resides. He has also performed the same at Yankee Stadium in New York.

From start to finish, you will be delightfully entertained with his style of playing. Many accordionists agree, Tony provides a new dimension in accordion sound.

North Texas Irish Festival
The North Texas Irish Festival is the largest Celtic Festival in the Southwest. This is the top event produced and sponsored by the Southwest Celtic Music Association. The 2002 North Texas Irish Festival will be held on Saturday March 2nd from 10:30AM-10:30 PM & Sunday March 3rd from 11:30 AM - 8:30 PM at the Fair Park in Dallas, Texas.

Among the headline performances are two groups featuring accordion, including Cavan and Bohola.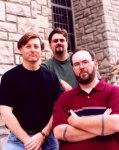 Accordionist Brett Gibson (pictured left in Cavan picture) performs in the Kansas City based group Cavan (formerly known as Gabriel's Gate). Cavan performs an astonishing variety of music drawn from and inspired by the ancient Celtic traditions of Ireland, Scotland, Brittany, and Galicia, to which they add a little spice from the Middle East. Their concerts combine the compelling Celtic dance rhythms: Jigs, Reels, Waltzes, and Strathspeys, with songs telling stories from past and present. Since three of the members are composers, they perform an unusual number of original songs and tunes for a Celtic band.

Brett Gibson, a champion accordionist from New Zealand who currently resides in Kansas City has performed with the band for many years, and is featured on their recordings which include some of his original compositions.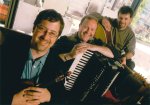 bohola, a band forged in Chicago by three of Irish Music's most innovative musicians, Jimmy Keane, Sean Cleland and Pat Broaders, play a driving, muscular, and yet emotive style of Irish Music with deep roots in the "pure drop" tradition, melded with the raw and gritty urbanized musical vernacular of the Irish-American experience. With each regarded as the tops in his field, this combination provides a powerful, rich and distinctive sound that is coupled with a dynamic and energetic presence - the sum of which is bohola. Each musician has an extensive background in Traditional Irish Music, learning at the hands of some of the finest exponents of Traditional Irish Music in Chicago and Ireland, with a cumulative playing knowledge of over 95 years. Although formed in late 1999, the members of the group have known each other for many years. What began as musical kinship has emerged as bohola.

Bohola accordionist Jimmy Keane was born in London of Irish-speaking parents, immigrated to Chicago from Ireland with his family in the early 1960's. His late father James, was a sean-nos (old style) singer who actively encouraged Jimmy to take up traditional music. In his early teens he began playing music with his Chicago contemporaries, fiddler Liz Carroll, and flute-player and stepdancer, Michael Flatley.

Jimmy has achieved astonishing and unprecedented success in competitive playing by winning five consecutive All-Ireland Fleadh Cheoil's on the piano accordion and is regarded by many as the instrument's finest exponent. Jimmy has recorded and toured extensively with such luminaries as Mick Moloney, Seamus Egan, Eileen Ivers, Robbie O'Connell, Liz Carroll and Dennis Cahill. He has produced numerous recordings and is an arranger and composer of music, of which many of his compositions have become part of the mainstream in Irish Music around the world.

For full schedule and further information, please visit:
www.ntif.org

Attention National Competitors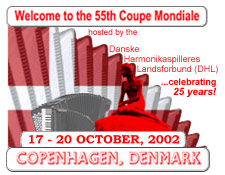 Have you ever dreamed of representing the United States at an International level? With the Winter Olympics bringing the athletes of the world together representing countries from around the globe, international competition is high on the mind of many.

Accordionists have the opportunity to be the official representative of the United States at the World Accordion Championships run by the Confederation Internationale des Accordeonistes (member of the International Music Council, IMC-UNESCO) during 4 days of competitions from October 17-20, 2002 in Copenhagen, Denmark.

Available categories include:
Coupe Mondiale
Junior Coupe Mondiale
International Piano Accordion Competition
Virtuoso Entertainment Music Competition
Junior Virtuoso Entertainment Music Competition
International Chamber Music Competition
Set in the beautiful National Museum, this years competitions hosted by the DANSKE HARMONIKASPILLERES LANDSFORBUND (DHL) will be offering thousands of dollars in prize money, special prizes this year include 10,000 Danish Kroner for the best performance of the test piece in the Coupe Mondiale, and a concert tour to New Zealand and Australia and USA for the winner of the new category the International Competition for Piano Accordion.

Contestants need information on qualifying to enter any of the above mentioned categories, should contact:

Joan Sommers: sommersj@umkc.edu
Accordionists and Teachers Guild, International (ATG) or

Faithe Deffner: fdeffner@aol.com
American Accordionists' Association (AAA)

For a full list of rules and requirements for each category, please visit www.accordions.com/cia


National Music Day

Imagine people celebrating all kinds of music in harmony on the same day all over the world. On National Music Day - June 21st, Americans will join people in over one hundred countries who celebrate music on the longest day of the year. National Music Day is an opportunity for performers, spectators, and participants in all fifty states to salute and appreciate the diversity, variety, and spirit of music.

Originated in France, where the government has sponsored its annual Fete de la Musique for the last twenty-one years, National Music Day is America's counterpart to music festivities held around the globe.

The National Music Day Foundation aims to foster gatherings and events in communities in all fifty states, launching a tradition that will continue on an annual basis to recognize and promote music as a vital force in everyone's lives.

As June coincides with National Accordion Awareness Month, accordionists are encouraged to add events they are playing at on June 21 in support of the National Music Day. This is an excellent opportunity to get some publicity and exposure for accordionists in the general music arena.

The person in charge is Sharon King Hoge: e-mail: SKinghoge@aol.com and concert listing can be submitted directly to the National Music Day
website at: nationalmusicday.org

Music Theory Website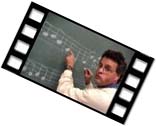 Music Theory instructor Gary Ewer has created an interactive website which specializes in Music Theory. Combining CD Rom's and on-line instruction for registered members.

When you purchase Easy Music Theory on CD-ROM, you'll get these things:
The CDs containing 25 videos, lessons, worksheets, quizzes, and answers. This is the core material for the course.
A free article exclusively for the students of the Easy Music Theory course, called "Writing Music - Making It Work!". This eleven page article is all about how to write and play music that works. Not that boring stuff that's been frustrating you for years, but how to come up with vibrant, innovative music that uses principles gleaned from Easy Music Theory. A $14 value, we're giving it to you for free.
Access to the exclusive http://Student.EasyMusicTheory.com web site. This site is restricted access, only for students of Gary Ewer's Easy Music Theory on CD-ROM. This site will give you more free articles that help you apply your music theory knowledge. Some examples are, how to take a piece of sheet music and, step by step, develop a chord lead sheet you can play on guitar; how to put a key change in an existing song to make it more exciting; how to take a piece of piano music and turn it into a piece for solo instrument with accompaniment, and much more.
A Final Exam. Yes, the Student.EasyMusicTheory.com web site will have a final exam for you. A student forum on the student site to answer your questions specifically about the course, and to help you apply music theory to where you're at in music. ... and loads more information!
For more information, please visit: http://www.musictheory.halifax.ns.ca

Meet Wayne Toups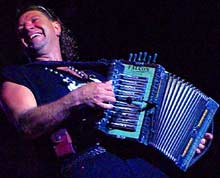 Born to a French-speaking rice farmer in Crowley, LA. Wayne Toups was steeped in bayou music from boyhood. He learned to play Cajun accordion at age 13 and was soon on stage in local talent contests playing the tunes of Iry LaJeune and other heroes of his culture.
As he matured as a musician, Toups began incorporating the soul music of Otis Redding, Aretha Franklin, Percy Sledge and Wilson Pickett into his sound. By the 1980's he'd picked up influences from rock bands such as The Doobie Brothers. Lynard Skynyrd and The Allman Brothers. He decided he wanted to make music for "the younger generation," as he puts it, by stirring all of this into his musical stew.
He debuted his fusion style on a 1987 album called ZydeCajun. And he's been crisscrossing musical genres ever since. Signed to Mercury Records, Toups became the first Cajun act to crack the Top Pop Albums chart when Blast From the Bayou appeared in 1989. He was tapped to sing the theme song for TV's Broken Badges series and his "Two Step Mamou" appeared on the soundtrack of the hit movie Steel Magnolias.
Mercury issued Fish Out of Water in 1990. This time, Toups toured Southeast Asia. A year later he conquered Europe with a series of S.R.O. concerts.
Next, country stars began calling to request his sound on their records. Mark Chestnutt hired Toups and his accordion to back him on his No. 1 hits "Gonna Get a Life" and "It Sure is Monday." That's Toups on Clay Walker's chart-topper "Live Laugh Love." That's also Toups on the giant Alan Jackson hit "Little Bitty." Sammy Kershaw featured Toups in both his video and his recording of "Christmas Times A-Coming." George Jones, Mark Wills and others have requested the Toups touch on Music Row. So has British pop star Thomas Dolby, who hired Toups for his albums Astronauts & Heretics (1992) and Retrospective (1995).
"The most recent time I was up in Nashville it was to work with Garth Brooks and Ty England," Toups reports. "Garth was producing him, and I think he's the one who requested me. We had our pictures taken together. He even drove us back to our hotel room afterwards. Maybe it was because I'm a musician and he was infatuated by the sound of the accordion and the way that I played it, but he was really a sweetheart to me and my wife."
His own recording career has continued as well. His Back to The Bayou album of 1995 yielded a substantial regional hit, "Take My Hand" and other Toups tunes appeared on the soundtrack of the film Dirty Rice.
"This year it's more of the same," says the acclaimed stylist, "all the festivals we normally do, with sold-out shows everywhere we go. We'll be out there doing 100 or 125 shows and I'd like to get it even higher than that. I love to work. It's exciting. I'm still loving every minute of it."
Wayne Toups is a true American original. He has fused such styles as cajun, zydeco, rock, folk, R&B and country into his own unique and very popular brand of music he terms as 'zyde-cajun.' On "Little Wooden Box," Wayne returns to his Louisiana roots and performs many Cajun and Louisiana classics. Included in the mix is a version of the unofficial Louisiana state song "New Orleans Ladies" in French!!!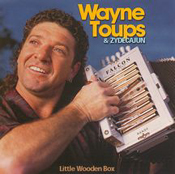 One of many recordings, Little Wooden Box includes the following tracks:
1. Little Wooden Box
2. Lacassine Special
3. Oh Louisiana
4. Tous Les Temps En Temps (Every Now And Then)
5. La Chanson De Lemonade (Lemonade Song)
6. Les Filles De La Ville (New Orlenes Ladies)
7. La Valse Des Muusicens (Musicans Waltz)
8. Bosco Blues
9. Some Of Your Love Tonight
10. Jeunes Filles De La Campagne (Young Girls From The Country
11. Couillon (Fool)
12. Southern Girls
13. Petite Ou La Gross (Little One Big One

For more information, and CD purchase, please visit Wayne on-line at:
www.waynetoups.com
For Booking information, please contact:

KINGSLAND ENTERTAINMENT
P.O. BOX 4360
PINEVILLE, LA 71361
PHONE: 318-640-5555
FAX: 318-640-5943
E-MAIL: kingsland@prodigy.net
WEB-SITE: www.kingsland.net

Jon Hammond at Home and Abroad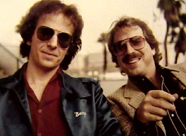 Smiley's Schooner Saloon and Hotel presents Jon Hammond's Late Rent Session Men - Friday night March 1st at 9:15pm.

Returning to Jon's band is legendary studio guitarist Barry Finnerty (Miles Davis, Crusaders, Joe Cocker). Friends and fans of Barry's will be happy to see the return of Barry Finnerty in healthy condition after a long respite! Also on the band is East-Oakland-lefthanded-funk-drummer Ronnie Smith. (pictured are Barry (left) and Jon in Hamburg Germany.
Jon and Barry began playing together 33 years ago at Lick Wilmerding High School in San Francisco. This month they celebrated 19 year anniversary of continuous broadcasting in New York of Music/Travel Softnews TV Show-The Jon Hammond Show. Barry moved to New York City in 1973 and 2 days after arriving got his first major league jazz gig with drummer Chico Hamilton's band. 2 weeks later he was performing at the Montreaux Jazz Festival in Switzerland! He recorded with many of the greats in N.Y., Ray Barretto, Joe Farrell, Brecker Brothers, Airto and Flora Purim. He has the distinction of playing on the No. 1 smash hit 'Street Life' with The Crusaders and performed with Joe Cocker at the 1982 Grammy Awards. Miles Davis handpicked Barry for his comeback album Man With The Horn.

In 1974 Jon moved back east and played organ 7 nights a week in Mafia striptease clubs in Boston's "Combat Zone" for 2 years, before moving to Times Square New York where he still lives. Barry and Jon formed BackBeat Productions in 1983 and have produced many records, commercials and their TV show. Returning from a trip to Paris on the Concorde Jet in 1981, Jon vowed to live and play in Europe, which he did for 6 years until returning in 1998.

After the Smiley's show Jon is departing to Germany to perform at the International Musikmesse in Frankfurt Germany for 16th consecutive year. He said, "We always look forward to returning to Smiley's and playing for our old friends! I'm especially happy to have Barry back on the band, and I hope that fans and friends of Barry and myself will come on down and help us celebrate Barry's return and that we are all still here! Needless to say, our world was rocked by the events of 9/11 and this makes our return to Don Dean's good ol' Smiley's more poignant than ever!"

Jon will be performing with surprise guest "Scary" Gary Peterson on the band from Minneapolis Twin Cities at the Frankfurt Musikmesse 2002, in Frankfurt, Germany at shows on March 14-16, 2002.

Barenaked Ladies (bnl) Everywhere!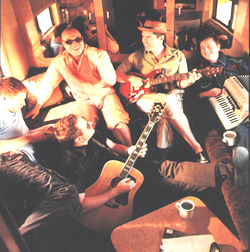 On February 13 Barenaked Ladies were featured at the Salt Lake City Winter Olympics "Olympic Medals Plaza" which went to millions of viewers around the world. Open any magazine today, and you'll see Barenaked Ladies accordionist Kevin Hearn relaxing in the Folgers Coffee advertisement pictured left.
Born in 1969, accordionist, keyboardist, vocalist and guitarist Kevin Hearn was asked to join bnl in May of 1995, to replace Andy Creeggan. He joined the tour before Born On A Pirate Ship was released but he did not play on the CD.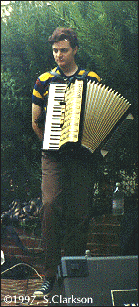 He plays keyboard, guitar, and his Weltmeister accordion in the band, along with providing backup vocals on many of the songs. Before that, he was involved in such groups as The Rheostatics, Corky And The Juice Pigs, and the Look People. He also has an excellent solo project; it's called Mothball Mint.

In other, more recent news, he has joined up with some of his ex-Look People folks as Thin Buckle and they have recorded a new CD called H-Wing.



In 1998 he took a break from the band due to leukemia, and is now back, cancer-free after a bone marrow transplant from his brother. Chris Brown filled in for him while he was out.

Barenaked Ladies (BNL) began in 1988,when Ed Robertson and Steven Page performed at Toronto's Nathan Phillips Square for a food drive. The band is usually thrown into the alternative rock bin, but their music is a unique blend of rock, jazz, folk, and (often) cynical humor.

Recent Recordings include:


Disc One and

Maroon
For more information, please visit www.bnlmusic.com

William Schimmel the Music Adapter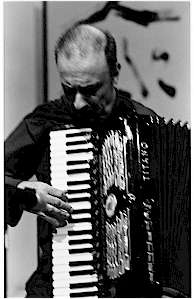 New York accordionist DR William Schimmel is Music Adapter for the upcoming run of "Shmulnik's Waltz", a play by Allan Knee with music composed by David Shire.

The play will open on March 1st at the Lake Worth Playhouse in Lake Worth, Florida. It was originally an Off-Broadway Show which began 10 years ago at the Jewish Repertory Theatre and then moved to the John Houseman Theatre, in Manhattan. Since its New York run, it has received more than 20 out of town productions all over the United States and Canada.

In New York, Dr. Schimmel worked closely (as musical director and adapter) with Grammy and Oscar winner David Shire and director Gordon Hunt (father of Helen Hunt) in adapting the music for the stage, scoring it for accordion and violin as well as making the musicians character actors as well.

The accordion, to this day, remains the musical anchor of the play. Dr. Schimmel has been music adapter and consultant on all subsequent out of town productions.

For play details visit www.billschimmel.com or e-mail: GWILLIAMANDMICKI@aol.com

Rose City Accordion Club Camp

The Rose City Accordion Club will hold their annual Accordion Camp at Silver Falls, Oregon from June 23rd to 27th.

This year's tutors include Joe Morelli (Canada), Joe Baccellieri (USA), Don Battari from Portland, and Gary Blair from Scotland. The camp aims to give participants of all ability levels the opportunity to learn, rehearse, play, practice, perform and have fun!

For further details phone Geoff Levear: +1 503 452-4517

Just for Fun
---

---
Note: In order to provide as much information as possible for the United States National Accordion News stories, many different sources are often researched to gather additional information and pictures to complement what has been submitted. This information is then correlated to provide the news on www.accordionusa.com in the spirit of which it is intended, which is to provide a free news service to the Accordion Community, specifically in the United Sates. If you feel any copyright has been violated please advise www.accordionusa.com and the article will be removed immediately.