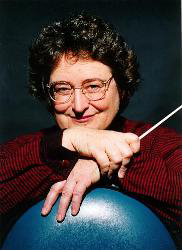 On February 7, the most successful American woman film composer ever - Los Angeles based Shirley Walker took the podium at Warner Bros. Eastwood Scoring Stage to conduct the first-ever accordion section, part of the 90-piece orchestra that will bring to life her much-anticipated score for New Line's soon to be released remake of the cult classic horror film 'WILLARD' featuring Crispin Glover in the title role. The six accordionists involved in the project included: jazz legend Frank Marocco, Nick Perito, Dart Zubis, Ed Vodicka, Liz Finch and former CIA World Champion accordionist - John Torcello.
In addition to Shirley Walker doing the Musical Score, the film also features Glen Morgan (Director); James Wong, Glen Morgan (Screenwriters, Producers); Robert McLachlan (Director of Photography); The Character Shop (Special Effects) and stars Crispin Glover (Willard); Laura Harring; R. Lee Ermey; Jackie Burroughs; Kim McKamy and David Parker.
Recording all day from 10.00 am to 5.00 PM, the six accordions were seated across the center of the orchestra behind the string section and in front of the woodwind section.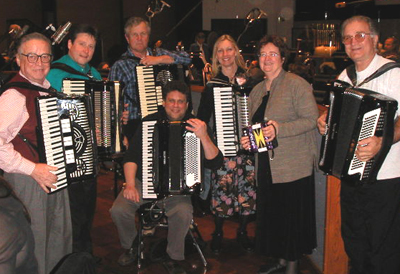 One of the accordionists, ATG Board of Director and regular fixture in the film studios in Los Angeles, Liz Finch reports that the sound engineers positioned the overhead mikes right above the six accordions, so they could balance the level of sound from the accordion section with the rest of the orchestra to ensure that they were part of the overall fabric of sound. Before anything is played or recorded, the sound engineer went through each section of the orchestra: strings, woodwinds, brass, percussion to get a reading for his levels. Each section usually plays a part of the cue they begin with (the main title in this case) for the engineer to listen to. He went through each section finishing with the accordions. A rare event to have an accordion section, the orchestra was quite intent as they played as a section for the rest of the orchestra to hear...and they loved it. From then on, they were mixed with the orchestra and served as an integral part of the group. Pictured above are Nick Perito, Ed Vodicka, Dart Zubis, Liz Finch, Shirley Walker, Frank Marocco and seated John Torcello.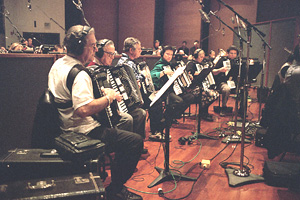 On a humorous note, Shirley asked at one time that the first and second accordions (Frank Marocco and Nick Perito (known for his arranging for Perry Como, Carol Burnett, etc...) to not "swing" an eigth-note figure! This was reason for a few smiles, as Frank, a veteran film studio artist, is known as one of the best jazz artist 'swingers' today!
Shirley Walker is a cornerstone in the film music industry as a composer, arranger, orchestrator, conductor, and "score doctor" extraordinaire. A pioneer for women film composers, she stood at the podium at a time when no women were doing so in the industry. Although a number of women have written music for film before Walker was hired to write for Memoirs of an Invisible Man in 1992, her credit was groundbreaking in that it was the first time a major Hollywood studio hired a woman as the sole composer. The project was so significant to various Hollywood insiders that an audience gathered at the scoring stage during the first scoring sessions to witness the historical occasion and experience the lore.
Always a highly visible role model as a woman in a man's world, Walker continues to tackle projects traditionally assigned to male composers, such as action, superhero, and science fiction pictures. After Memoirs, Walker followed her solo debut with the highly acclaimed score to the animated feature, Batman: Mask of the Phantasm. A critical favorite with its grand orchestral fanfare and gothic themes, Mask of the Phantasm is indisputably one of the best Batman music ever to be composed. In 1995, she co-wrote the score to Escape from L.A. with John Carpenter, successfully inventing a dark, industrial action atmosphere for the film while capturing an "old west," futuristic, and world music feel. Walker followed this synthesizer action with the intense and chilling orchestral score to MGM's 1997 suspense thriller, Turbulence (starring Ray Liotta and Lauren Holly). She continued to establish herself as one of the leading talents in superhero action music with the greatly anticipated Batman Beyond, a futuristic, techno/grunge rock underscore.
Her cutting edge work in scoring is critically loved in television as well as film. She won a Daytime Emmy Award as musical director on the praised animated Batman series, and received nominations for composition for both the Batman and Superman series. She received a Cable ACE nomination for the Blair Brown film Majority Rule, a Prime Time Emmy nomination for the popular Fox series, Space: Above and Beyond, and two Annie nominations - one for the animated Superman Main Title Theme and one for her original score for HBO's Spawn series. She also scored NBC's highest-rated television Mini Series of the season, Asteroid, and a TV movie for Disney entitled, The Garbage Picking, Field Goal Kicking Philadelphia Phenomenon.
Before film music, Walker had a distinguished career as a piano soloist with the San Francisco Symphony, beginning while she was still in high school. She got her first big break as a synthesist on Francis Ford Coppola's 1979 feature Apocalypse Now, and co-composing credit on Coppola's Black Stallion, in that same year. Throughout the years, she has secured a place for herself in the industry as a leading orchestrator and conductor, and worked in extensive collaborations with such illustrious composers as Hans Zimmer and Danny Elfman. Her work in these roles can be heard in such hit films as Batman, Days of Thunder, A League of Their Own, Backdraft, and True Lies.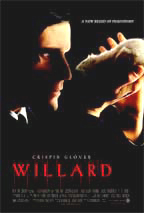 As a film composer, Walker has invented an intriguing, original sound: the bombastic underscore. Her music often finds that delicate balance between thematic fanfare for the superhero and suggestive ambiance for the superhero's world, not in separate cues, but simultaneously. Rather than being limited to a certain character or scene, Walker's themes tend to serve the larger purpose of creating a musical world and atmosphere for the film. The result is an intense and penetrating musical backdrop that cleverly captures the futuristic, eerie, industrial, or fantastic feel of the story setting. Walker has a special facility for dark, superhero scores, as evidenced by her prolific and profound work for Batman, Superman, and Spawn. Actually, it is quite easy to understand why she worked so well with Hans Zimmer and Danny Elfman - her own style reflects the same kind of emotional power characteristic of Zimmer and portentous darkness typical of Elfman. But no matter what genre she writes for, it is clear her music will always go for the gusto, just like her.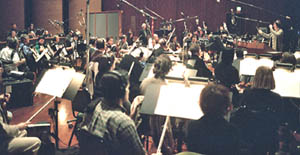 Based on the novel "Ratman's Notebooks" by Stephen Gilbert, this current project is a remake of the 1971 film of the same name and which starred Bruce Davison as Willard. That film was followed by a sequel, appropriately titled Ben, and which is probably best remembered by film buffs as featuring a pop song about Ben by a very young Michael Jackson. This remake of Willard follows a young man named Willard (Crispin Glover) as he plots revenge on his boss when his pet rat is killed. His plan: send out an army of intelligent and deadly rats (led by one named Ben) to kill the coworkers. The film is due this spring.
Shirley made history leading the accordion section (six accordion players including one bass accordionist) as they collectively enhanced the menacing presence of 'Willard.' The song makes a surprise appearance in this new film.
Be sure to look for "Willard" beginning March 14th, 2003.
(photo credit: accordion section with orchestra pictures by Dana Ross)

The Texas Accordion Association is gearing up for its annual convention from March 6-9, 2003 at the Holiday Inn - Plano, Texas.

For those of you that wonder what really goes on at the TAA convention... you will find Workshops, Concerts, Jam Sessions, Endless "Open Mike", Dealers, Swap Shop, and Accessory Sales, all in a fun atmosphere as attendees delight in sharing their love for the accordion.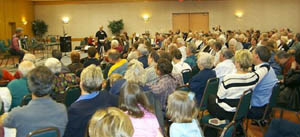 Featured in 2003 you'll find: Festival Accordion Orchestra, Festival Band, Jazz Training Button Accordions, Ethnic Music and other related topics. There will be four Public Concerts including the TAA Jazz Trio - Frank Marocco, John Simkus, Nick Ballarini, Christian Family and TAA Youth Concert, the Friday Evening Concert and Saturday Evening Concert. The two orchestra directors will be Mary Medrick and Alice Aman.

Workshop clinicians are:
Frank Marocco - Jazz theory and Improvisation '101'
John Simkus - A Touch of Jazz
Jim Rommel - Squeezing Music from Fake Books and Lead Sheets
Betty Jo Simon - Precision at any Speed!
Gordon Kohl - Playing Dance Music
Mary Medrick - Rhythm, Rhythm, Rhythm
Nick Ballarini - 'Bass'ically up to Nick!
Ron Pivovar - "Extreme Musical Diversity"
Randy McPeck - Accordion Clinics I and II
Margie and Mike Aman - Musicality in the Aman Corner
Greg Klugiewicz - Round Table "Accordionists Anonymous"
Kim and Dan Christian - How to be Better Accordionists
Janet Todd - The Accordion on Stage!
Ponty Bone - Squeezing A Living by Playing the Accordion in Bands
Dick Albreski - Accordionists Anonymous Round Table
Paul Pasquali - "Understanding the Accordion - Sounds & Construction."


For hotel Reservations please call the Holiday Inn in Plano at: 972 881 1881 (days only)
Hotel: $59.00 per night. For all other details, please visit the TAA website for workshop descriptions and on-line registration. For all other inquiries, please contact TAA President:
Norman Seaton: nns5522@dcccd.edu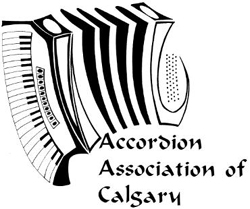 The Accordion Association of Calgary (formally the Young Accordionists Association of Calgary) is a registered non-profit association, formed in 1988. Initially, they were a group of teachers, students, parents, and pro-accordionists who wanted to encourage the playing and development of the accordion. We wanted to establish an education and support system that would provide the foundation for its long term health in our city and beyond. Within its membership, all kinds of music are represented, such as folk, ethnic, classical, pop and any other kind of accordion music they can get their hands on which is played by soloists, groups, and orchestras.

During its short existence, they have established an environment for budding musicians that provides purpose and rewards for their efforts. Since 1990 they have been the only organization in Calgary enabling accordionists to present their music to the public. The Calgary Kiwanis Music Festival no longer includes the accordion in their annual Music Festival, so they are filling a great void within our musical community.
The Accordion Association of Calgary states its 'mission' as 'to provide the foundation for the long term health and popularity of the accordion in our city and beyond.'
Among its goals, are:

To provide the education and support system that will provide our members with the elements necessary to achieve their goals within accordion music
To educate the mass public about the tremendous versatility and beauty of the accordion.
To preserve the accordion as an important part of Canadian heritage, and ensure it's long term survival.
To encourage young people to learn and present accordion music with pride and musical skill
To set high standards to work for through tools such as examinations, diplomas, and competitions.
To set goals to prepare, present, and perform for (through recitals and competitions).
To make available both published and unpublished music that is otherwise difficult to obtain.
To provide social events where music and friendship are exchanged.
To provide a quarterly newsletter to keep members informed about upcoming events, instrument sales and other topics of interest.
During its years of accordion activities, the The Accordion Association of Calgary has accomplished things such as:
Have established an examination system with syllabus, diplomas, and qualified examiners
Have established and presented scholarships to young accordionists at our annual music festival
Have held an annual music festival to promote presentation skills, socialization with peers, and development of musical discipline.
Held annual concerts for young performers, providing opportunity for them to experience public appreciation
Have published a quarterly newsletter to members.
Have successfully exposed the accordion to a broader range of the mass public, and educated them about the accordion.

For further information about activities or membership, please contact:
Accordion Association of Calgary
32 Armstrong Cresc. SE
Calgary, AB, T2J 0X3
CANADA
Contact Person - Tony Van Ham
Phone: +1 403-253-0830
E-mail: accordion_assoc@mac.com