---
Peter Soave & Julien Labro in Concert with Phoenix Ensemble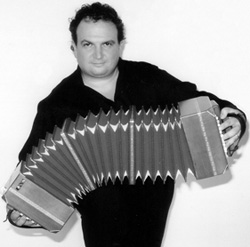 Celebrating Argentine composer Astor Piazzolla's birthday, The Phoenix Ensemble returns to Kerrytown Concert House on Friday and Saturday, March 17 and 18 (7:30 and 9:30 PM each night) for their annual Oblivion Project.

The Oblivion Project is named for one of Piazzolla's signature pieces. It focuses on the "Nuevo Tango" of Astor Piazzolla, the famous and controversial Argentine composer, and spotlights Peter Soave (left) and Julien Labro (below) on bandoneons.

Soave's mastery of the music of Piazzolla, along with his virtuosic skill, and Labro's creative talent promise a powerful combination. Other Phoenix Ensemble members are Gabriel Bolkosky (violin), Derek Snyder (cello), Tad Weed (piano), John Holkeboer (bass),and Alex Trajano (percussion).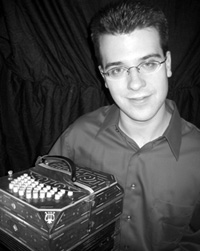 The Phoenix Ensemble has been called "a tight band of musical adventurers" and their Oblivion Project described as "a broad palette of moods and styles: straight-to-Hell tangos of tremendous hypnotic force, floating jazz-fusion-like space walks, and even tender major-key romance." (Lawrence Cosentino in the Lansing City Pulse, Sept. 21, 2005.)
For more information, please contact: Kerrytown Concert House, 415 North Fourth Ave., Ann Arbor, MI 4810, phone: (734) 769-2999 or visit: www.kerrytownconcerthouse.com


---
Four Exciting Additions to the Roland V-Accordion Family
One year ago, the accordion world was turned upside down when Roland announced the revolutionary all-digital V-Accordions. The original FR-5 and FR-7 were the world's first accordions to successfully integrate powerful Physical Behavior Modeling (PBM) technology into a traditional accordion design, and they were an instant hit around the world. Today, Roland announces four additions to the V-Accordion line:
2 new button-type accordions (FR-5b and FR-7b)
2 new smaller-scale keyboard accordions for students (FR-3 and FR-3s)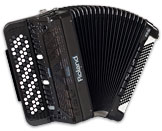 The V-Accordions can simulate a wide variety of accordion sound sets, each including multiple treble registers, bass and chord registers, and free bass registers. To create these high-quality sounds, Roland engineers analyzed dozens of popular traditional acoustic accordions. As a result, the V-Accordion can switch instantly between an Italian Jazz to a German Folk, French Musette, or historic Bandoneon and more. The FR-3s and FR-7b include an onboard digital amplifier with rechargeable Ni-Mh battery pack to power a pair of neodymium woofers and tweeters for a consistent, full range low-end to high-end output. The right- and left-hand velocity sensitive keyboards/buttons integrate with the high-resolution bellows pressure sensor to deliver an amazing level of expressiveness, realism, and playability.

The V-Accordions faithfully combine the familiar sounds and nuances of a traditional accordion with the versatility of a modern digital musical instrument. Because they don't depend on moving parts for sound generation, the V-Accordions are always in tune, and can be transposed to play within a wide range of octaves. For sound output, plug directly into a sound system, recording device, or plug in a pair of headphones for private practice.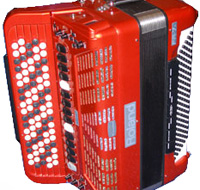 The right hand keyboard on the button instruments include the parameters to have six (6) different note assignments, so the player can choose between C, B, Finnish C System etc... (pictured right, the Roland in the Finnish C System). Usually, the instruments will come from the dealer already configured to the specific market, however the right hand button caps are removable, so the user can configure the buttons to their preferred button color (black and white) system if necessary.

Roland is a world leader in the design, manufacture, and distribution of electronic musical instruments, professional audio equipment, multimedia products, and music accessories.

For more information, contact Roland Corporation US, 5100 S. Eastern Ave., PO Box 910921, Los Angeles, CA 90091-0921, (323) 890-3700 (x3718 - for media use only), www.RolandUS.com or e-mail Tara Callahan at: tarac@rolandus.com


---
The Ambitious Orchestra at Crash Mansion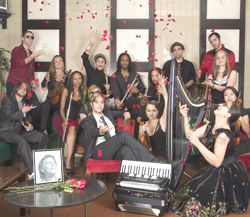 After rocking Crash Mansion so thoroughly hard on Valentine's Day, by special request of the management Benjamin Ickies, Jr. and the Ambitious Orchestra are returning with special guest vocalist Corn Mo. With the voice of Freddy Mercury and the hair of Anna-Nicole Smith, be sure not to miss Corn Mo on this guest lineup.

The Ambitious Orchestra is the only orchestra dedicated to bringing rock and roll spirit back to classical music and virtuosity back to rock. They also specialize in creating original arrangements and orchestral backing for other artists.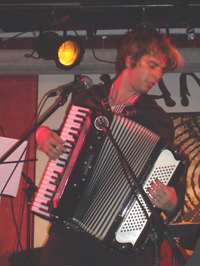 The Ambitious Orchestra (AO) debuted on Halloween, 2004 and since then, they have been amazing crowds in New York's best venues, including Northsix, The Knitting Factory and Rothko's. The AO is currently working on their debut album, Shout, For the LORD has Given You the City! due out in 2006 while accordionist Benjamin Ickies & Steve La Rosa are laying the groundwork for an original opera about Dungeons & Dragons, called Opera +1.

The performance will take place Thursday, March 9th at 10.00 PM and door charge is $10.00. Crash Mansion is located at 199 Bowery @ Spring in New York City. (Must be 21 years and over.)


---
Art Van Damme to appear in the United Kingdom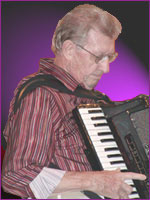 American jazz accordion legend Art Van Damme is to make a long awaited return to the United Kingdom, appearing as the chief guest artist at the Caister 'Accordions International' Festival, Haven Holiday Park Norfolk, England from November 2nd to 6th. Other accordion guests at the festival include Gary Blair, Jack Emblow and Tony Compton, and Romano Viazzani.

Brought up in Chicago, Art Van Damme took up the accordion at the age of nine, and was classically trained before discovering jazz as a teenager, and was initially inspired by the great clarinet player Benny Goodman. One musicologist made the following neat comment: "The hippest cat ever to swing an accordion, Art Van Damme dared go where no man had gone before: jazz accordion".

Art Van Damme has toured the world numerous times, made scores of recordings, and is generally recognized as one of the great accordion legends of the post-World War Two era.

The festival includes concerts, workshops, master classes, 'free and easy' sessions, dancing and a trade show.

Bookings begin 1 March 2006. For information contact: heather@accordions.karoo.co.uk


---
Henry Doktorski Plays Guido and Pietro Deiro in Pennsylvania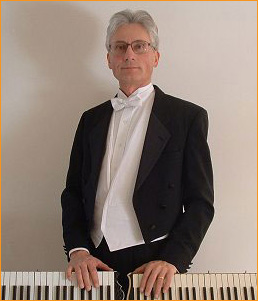 Concert accordionist Henry Doktorski was a guest artist at the American Accordion Musicological Society annual festival in Wayne, Pennsylvania.

Henry Doktorski will performed the music of Guido and Pietro Deiro at the Saturday night concert and also presented a workshop on Sunday on the lives and music of Guido and Pietro Deiro. The concert included excerpts from Henry Doktorski's newly released CD 'Celebrated Pietro Polkas'.

Other performers and workshop presenters included Robert Young McMahan, Lenny Feldman, Ron Onda, Ed Touchstone, Bobby Raye, John Matulis, Mike Dellapena, Mary Tokarski, James Vandelly, Stanley and Joanna Darrow.

---
CIA Winter Congress and Opening of the Archive Collection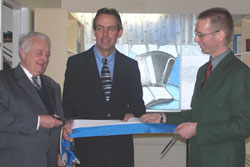 Members of the Confederation Internationale des Accordeonistes (CIA) Executive Committee, Music Committee and Delegates conducted their 115th General Assembly and Winter Congress in Ikaalinen, Finland from February 24-28, 2006. Pictured are CIA Executive Officers: General Secratary Walter Maurer, President Kevin Friedrich and Vice President Kimmo Mattila.

Hosted by CIA Vice President Kimmo Mattila who is President of the CIA member in Finland 'Suomen Harmonikkaliitto' (Finnish Accordion Association) the CIA also celebrated the official opening of their archive collection which is housed at the Hanuritalo (Accordion House).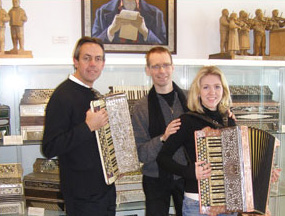 The exciting event gave Delegates the opportunity to conduct their CIA International Business as well as learn about the Finnish Accordion Culture headquartered in Ikaalinen including the Finnish Accordion Association with over 5,000 members, the Finnish Accordion Institute which publishes music and recordings, the Sata-Häme Soi Ikaalinen Accordion Festival which plays to over 40,000 people at their summer festival, the Harmonikanrakennus Accordion Manufacturing and Repair School and the Ikaalinen Accordion Museum containing over 100 instruments. Pictured at the Ikaalinen Accordion Museum are CIA President Kevin Friedrich, Finnish Accordion Association President/CIA Vice President Kimmo Mattila, and guest Jessica Silfverberg. Jessica's father - Finnish born Juha Silfverberg is a well known accordion entertainer in the Kansas City area, and member of The International Trio. He competed in the CIA Coupe Mondiale in 1975 in Helsinki. Jessica is studying near Ikaalinen at the University of Tampere.

Delegates were invited to take part in the Sata-Häme Soi and Finnish Accordion Association cruise where 2,600 people traveled aboard the Silja Europa Cruise line from Turku to Sweden and back. The cruise featured accordion music, dancing, performances, displays of instruments, music and recordings as well as the semifinals for the Silver and Golden Accordion competitions. The finals are held during the summer festival as part of a live TV show.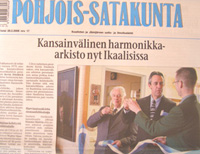 The opening of the CIA Archives took place at an International Press conference on February 24th, 2006. The archives contain documents, music, programs, press coverage, recordings and much more highlighting not only the history of the CIA, but also of the instrument, its repertoire and the development of the accordion in various countries around the world.

September 21, 2004 marked the first donation to the archives of the CIA. This first donation of some of the CIA Test Piece scores was made by Ernest Deffner, Inc, the parent company of Ernest Deffner Publications commemorating the firm's own 70th anniversary.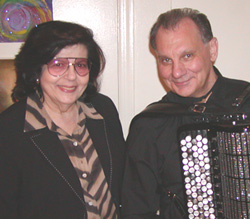 The president of the firm Mrs. Faithe Deffner is a long time friend of the CIA and has been a United States delegate to the CIA for more than 30 years. Faithe is pictured here with Viatcheslav Semionov, a member of he CIA Music Committee.

The New Zealand Accordion Association (NZAA) was the first CIA Member nation to make a donation to the Archives by giving material including Pictures, Newspaper articles and other material.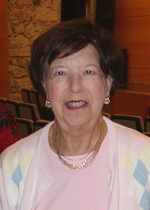 Past CIA Vice President - Maddalena Belfiore (pictured right at the recent Coupe Mondiale in Castelo Branco, Portugal) made a significant donation of program books, competition results, Newsletters, minutes, newsletters, correspondence and much more and most recently the CIA General Secretary Mr. Walter Maurer has given a tremendous amount of material.

CIA President has given much information including pictures of all Coupe Mondiale winners, including back to 1938, programs and documents and is now working on collecting pictures of all past Presidents and winners from other categories.

Accordionists such as Karen Fremar and others have also donated copies of newspaper and publicity material from the years they competed to the archives.

The CIA Archives project will be an ongoing venture, as we search for materials including program books, copy of test pieces, newspaper articles, subsequent solo recordings from winners, tickets from functions, mark/score sheets, copies of pictures from the Coupe Mondiales and any other items that will help document and preserve the history of the CIA. In the future, much of this information will be included on the CIA website, and maybe even available for displays at national member events.

During this official Archive Opening and Winter Congress organizer Kimmo Mattlia, Sata-Häme Soi Director Sirpa Sippola and Public Relations Manager Minna Plihtari provided an excellent array of activities including meetings, luncheons, receptions, visits, concerts as well as an exciting afternoon of traditional Finnish Winter activities.

For a complete review of the Winter Congress, please visit: www.accordions.com/cia/winter_06.htm


---
Dee Langley's Concert Appearances in Minnesota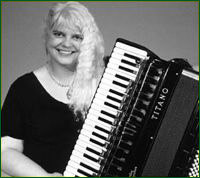 Orkestar Bez Ime, featuring accordionist Dee Langley, performed for a 'Balkan Mardi Gras Dance' at St. Paul, Minnesota on February 18th. People are invited to "Celebrate and Rekindle that New Orleans Spirit in the middle of a Midwestern Winter!"

On February 22-23, Dee performed with the Minnesota Orchestra at Orchestra Hall, Minneapolis, in a concert titled 'Viva Latino!' The program featured Latin and Hispanic music, plus a brand new work by Minnesota composer Daniel Kallman.

On March 8th, the Orkestar Bez Ime perform at an International Women's Day Event at the Cedar Cultural Center, 7-10 PM KFAI FM Radio hosts the concert, which will be a live broadcast as part of the radio station's 24 hours of special women's programming.

Orkestar Bez Ime release a new CD, on March 18th, titled 'Nice Driveway Vol. 2, Lake Aquanyet Days'. The CD release will be at a concert/dance at the Cedar Cultural Center.

For further information e-mail: squeezermn@yahoo.com


---
Frank Marocco Tours Austria and Germany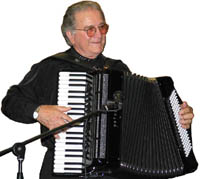 In the beginning of March, American accordionist Frank Marocco will be touring Austria for about two weeks. Concerts will take place in Vienna at the Accordion Festival, and in Neunkirchen, Salzburg, Graz, Leibnitz, Spittal, Feldkirchen and Lavamünd. Afterwards Frank will go to Germany to perform in Trossingen and Schönaich. To conclude his European tour Frank will record a CD with Simone Zanchini in Italy.

In the world of accordion performance, Frank Marocco is a giant. Not only for his mastery of the instrument itself, but for his highly developed musicality. In any style, on the concert stage or in the recording studio, his playing is technically brilliant and musically superb. Frank is the most recorded accordionist in America (and, possibly, the world), having played on a vast number of movie soundtracks, television scores, commercial jingles and record albums, in the studios of Hollywood and beyond.

He has recorded for and/or worked with artists ranging from Brian Wilson, Pink Floyd and Madonna to Luciano Pavarotti, conductor Maxim Shostakovich and composer John Williams. He was nominated eight years in a row for the Most Valuable Player Award by the National Academy of Recording Arts and Sciences (N.A.R.A.S) and received that award twice.

Frank is also a consummate jazz artist and a gifted composer with several of his own albums to his credit. He has played his music for audiences all over the world. His recently released CD 'Appassionato' is a departure from any of his previous recordings. It is more of an eclectic collection of music from various cultures. It has everything from an Italian pop ballad to a Cuban jazz salsa original. This CD features the accordion in a variety of settings, most with an ethnic world music feel, much jazz improvisation, and many original songs with different rhythmic grooves.

For further information on Frank's European tour, please e-mail to tour coordinator Mr. Herbert Scheibenrief at: herbert@accordion-cd.co.at


---
Promoting Your Accordion Services Free at AWW

The Internet is changing the way your customers are searching for services. The days of lugging out a 12 lb. telephone book to find very limited and outdated business information are coming to an end. People are still letting their fingers do the walking, but they're doing it over a computer keyboard. Below are some revealing facts from the Kelsey Group.
74% of US households use the Internet as an information source when shopping.
Approximately 45% of searches had a buying intent.
The percentage of respondents who used yellow page directories decreased from 75% to 62%.
(If you have a printed yellow page ad, it is time to consider buying a smaller ad and shifting your marketing dollars to the Internet.) The off-line Yellow Pages see the writing on the wall and are scrambling to transfer their business model to the Internet.
Businesses can no longer ignore these facts. If you want to be successful, you must have a presence where your customers are searching. Being found on the Internet is vital to the future of your business.



The Accordion Yellow Pages offers free of charge listing for all accordion businesses, teachers and for every type of service for accordionists. On the Accordion Yellow Pages site, you do not need to have a website for accordionists find you and contact you.



The search-accordion.com site is also free of charge, being a listing service for every type of accordion service but you must have a website. Viewers of search-accordion.com can click to your website.



Very popular is the AccordionLinks.com site where those accordion service providers with a website, can attract accordionists free of charge to their website.

All it takes is a little effort, to make sure your information on these three popular and very effective accordion sites is up to date. Your future success may well be determined by your ability to effectively adapt to the Internet. Should it be your New Year's resolution for 2006?

---
Stas Venglevski's Concert Schedule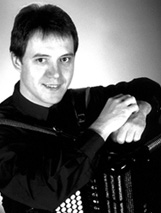 Stas Venglevski, from the Republic of Moldova but now resident in the USA, is recognized as a virtuoso of the bayan. A two-time first prize winner of the bayan competition in the Republic of Moldova, Stas is a graduate of the Russian Academy of Music in Moscow where he received his Masters Degree in Music under the tutelage of Friedrich Lips.

During March, Stas Venglevski will perform the following concerts:

March 10th to 12th - National Accordion Association
March 13th - Skokie, Illinois: a performance of the Galla-Rini Concerto No 2, with the Skokie Valley Symphony Orchestra
March 14th to 20th, Vienna, Austria
March 23rd - Berlin, Germany

Stas Venglevski will perform with well-known composer from New York, Jerome Kitzke on March 14, 2006 at 7:30 PM as part of the Fulcrum Point New Music Project in Chicago, IL. They will perform Kitzke's original composition "Breath and Bone" for vocalist and accordion which was originally premiered and recorded by New York accordionist Guy Klucevsek.

Stas's artistry, dazzling technical command, and sensitivity have brought him, a native of the Republic of Moldova, part of the former Soviet Union, increasing acclaim as a virtuoso of the bayan. A two-time first prize winner of bayan competition in the Republic of Moldova, Stas is a graduate of the Russian Academy of Music in Moscow where he received his Masters Degree in Music under the tutelage of the famed Russian bayanist, Friedrich Lips. In 1992 he immigrated to the United States.

Kitzke's music celebrates the spirit of American vitality, combining various influences, including elements of driving jazz, Plains Indian song, and Beat Generation poetry. The Village Voice says, "New music offers no more joyous phenomenon than the irrepressible, earth-worshipping Kitzke. His [Mad] Coyote group veers from intricately notated jazz to virtuoso atonal improv to native American-inspired ritual with turn-on-a-dime control."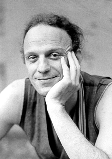 Born in 1955 in Milwaukee, Wisconsin, Kitzke received his B.F.A. from the University of Wisconsin-Milwaukee. In 1984 Kitzke moved to New York City, and in 1992 he formed his performing ensemble, The Mad Coyote, to present concerts combining his notated pieces and free improvisation. In addition to Mad Coyote, Kitzke's music has also been performed by the Milwaukee Symphony, the New Julliard Ensemble, Essential Music, Present Music, Earplay, Zeitgeist, Guy Klucevsek, Margaret Leng Tan, Kathleen SupovéŽ, Michael Lowenstern, Christine Schadeberg, Dora Ohrenstein, and Wendy Chambers. Kitzke has received grants from the National Endowment for the Arts, American Music Center, Meet the Composer, ASCAP, and BMI

Marking Stas's second appearance with Jerome Kitzke, this upcoming concert is organized by Artistic Director Stephen Burns and will be held at the Harris Theater for Music and Dance, 205 East Randolph, Chicago, IL. Tickets are $20/$10.

For more information please visit: www.fulcrumpoint.org or stas.venglevski@verizon.net


---
Mario Bruneau to appear in Europe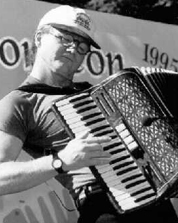 The Canadian accordionist Mario Bruneau will be representing the Brandoni-Bompezzo accordion maker from Castelfidardo, Italy at the Frankfurt MusikMesse in Germany held from March the 29th to April 1st, 2006.

Frankfurt's MusikMesse is the biggest music related fair in the world with more than 2,300 exhibitors. Along with his French musette repertoire, Mario Bruneau will also be presenting his Accordion MultiMedia Conference.

Accordionist, pianist and keyboardist, Mario Bruneau expresses himself in a variety of musical styles and repertoire ranging from jazz to new-age, passing through Bal Musette, Chanson Française and pop. He began learning the accordion at 8 years old and carried on his music apprenticeship on the piano at age 14. Since then, music always been his day-to-day companion.

Today, Mario owns and runs a recording studio where he composes and produces original tracks for TV5 (the biggest French-sk34frfppeaking television network in the world) as well as for theater, advertising and radio like CKMF Montreal. His studio is equipped with the most recent Hi-Tech equipment available today. Multi talented, Mario takes care of all the different aspect of a project, from the concept right through the "ready for marketing" state.

For more information, please contact: mariobruneau@abcde.net


---
Victor Prieto in New York'[p
'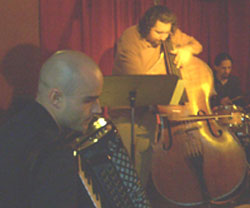 Accordionist Victor Prieto will be appearing at the Imaxina Sons Jazz Festival on June 29th, which is considered one of the most important Jazz Festivals in Spain.

He will be releasing his new CD in the next few weeks, and will have an official promotion of this new recording at the Jazz at the Lincoln Center from March 28-April 1, 2006.

Upcoming performances include:

From March 28 to April 1 - Jazz at Lincoln Center
Dizzy's Club Coca-Cola
Victor Prieto Trio including Victor Prieto - accordion, Carlo De Rosa - bass, and Vince Cherico - drums
March 11 in Illinois: IL "Avantango in Chicago"
Schaumburg Center with Victor Prieto - accordion, Pablo Aslan - bass, Diego Urcola - trumpet, Oscar Feldman - sax, Emilio Solla - piano and Leonardo Suarez-Paz - violin
March 12 in Texas: "Avantango in Houston"
Da Camera of Houston
March 18 New York Cornelia St Cafe
Emilio Solla, Quintet including Victor Prieto - accordion, Javier Vercher - sax, Pablo Aslan - bass, Franco Pinna - drums
In addition to his busy performing schedule, Victor teaches advanced jazz accordion classes both in person in New York, and by correspondence to students in France, Colombia and Spain.

For more information on performances and the new CD, please visit: www.victorprieto.net

---
Complete Works of Pietro Deiro, Volume 1: Celebrated Polkas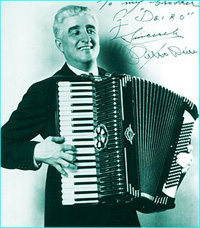 Accordionist and musicologist Henry Doktorski has begun recording the complete works of Pietro Diero and has finished Volume One: 'Pietro's Celebrated Polkas'. Henry Doktorski writes that: "Pietro's 18 polkas exhibit great variety, musical interest and humor, and are exceedingly suited to the accordion. They tickle our ears with beguiling melodies and fancy finger work".

Pietro Deiro (1888-1954) - known as "The Daddy of the Accordion" - was one of the greatest and most influential accordionists of the first half of the 20th century. He became a celebrity on the vaudeville stage by 1912, and achieved renown by his performing, recording, teaching, composing, arranging and publishing.

This CD is presented as both a historical recreation of the works of one of the accordion world's great luminaries, and also as entertainment on its own merits. The CD includes a 12 page booklet, complete with historic Pietro Deiro photographs.

The CD is available at http://www.henrydoktorski.com

---
AAMS Accordion Festival
The American Accordion Musicological Society Accordion Festival and Symposium was held be held from March 3rd to 5th. Accordion enthusiasts from the United States and Canada gathered for a great weekend of concerts, workshops, and competitions and performances by featured guest artist Henry Doktorski. New features of this year's festival included 'Open Mic Performances' at the Friday Night Concert and the Festival Orchestra.



This year's festival Honored Lou Persic. Dr. Lou Persic is AAMS honor recipient for 2006. Lou has been a participant at Stanley and Joanna Darrow's meetings for the past seven or eight years and a supporter of their programs. Lou took accordion lessons for a little over one year from Paul Donath, 3rd violinist for the Philadelphia Symphony Orchestra. Beyond that he is essentially self taught.

For a number of reasons, he was without an accordion for over 35 years. "Freddie", his wife bought him an accordion about 25 years ago and as Lou states, "She has regretted it ever since."

Lou mostly plays the Squeeze Box in the privacy of his own office or studio. He did come out of the closet to play at each of his four daughter's and his son's weddings. His only real claim to fame, is that the AAMS gives him an opportunity to entertain each year at the Saturday Night Dinner.

Lou believes that the histories of many individuals are similar to his, e.g.. having to forsake their music to pursue other life goals. He also believes that it is never too late to return to the accordion later in life. Just playing in the quiet of one's home is very rewarding.

He advises all former students of the accordion to begin playing again and experience the pleasure it brings. Take lessons again. Encourage promising young people to play the instrument that makes such beautiful music.

Support a kid who plays the accordion and don't be afraid to offer a scholarship to a bright young person eager to learn playing one of the most beautiful instruments in the world.


---
Dr. Schimmel's East & West Coast Tour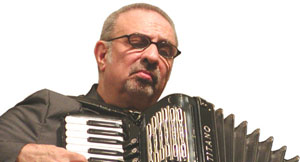 Dr. William Schimmel recently returned from a residency at Santa Clara University in Santa Clara, California. He took part in panel discussions, met with teachers and students and performed in a concert featuring a new work by Alvin Singleton: Say you have this Ball of Meaning - for voice, harp, accordion, percussion and strings. Dr. Schimmel met Mr. Singleton In New York as far back as 1966 when they were both students in a class at the Juilliard School taught by the great American composer, Roger Sessions, who was also one of Dr. Schimmel's composition mentors.

Dr. Schimmel will continue this tour with a series of concerts:
March 18th: performing Sofia Guibaidulina's In Silenzio for accordion, violin and cello at Christ and St. Stephen's Church in Manhattan - 8 PM
March 20th - performing with Odeon (Ted Nash) at the Blues Alley - Washington DC
March 21st - performing with Odeon (Ted Nash) at The Jazz Standard - Manhattan, New York
March 22nd - workshops and concert with students at the Haverford High School, Haverford, PA
April 8th - concert with King of Ragtime Dr. Mark Birnbaum - invited audience only - Riverdale, NY


Dr. Schimmel just completed a video - A Brief History of Plaid - directed by Micki Goodman - edited by Deborah Magocsi - which features the music of Dr. Schimmel performed by Allyssa Lamb on vocals and melodica and Dr. Schimmel on Bass Accordion.

Dr. Schimmel is also in the process of completing a number of recording projects including a new opera by Marga Richter entitled: Riders to the Sea, in which the accordion part was written specifically for Dr. Schimmel.


---
Killigans Perform in Lincoln, NE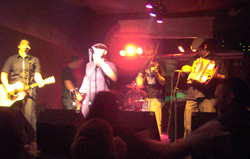 Irish group Killigans will celebrate their CD Release and St. Patty's Day Party at Knickerbocker, located at 9th & O Street in Lincoln NE.

Formed from the ashes of a band known regionally as "Settle for Less", the Killigans came together in 2004 to play Roots/Folk/Irish/Americana inspired music with an uptempo feel and carefree attitude.

The band is fronted by Brad Hoffman and Chris Nebesniak, the two primary songwriters and driving force behind the band. Two other Nebesniak brothers, Pat and Trevor, play the accordion and bass, and add their insight to both composition and melody. Greg Dank plays the fiddle most of the time and pops in on the mandolin occasionally. Ben Swift provides the rhythmic backbone with solid drumming.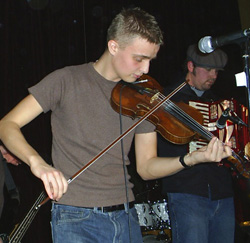 The band has amassed a loyal fan base in Lincoln, but their reach is far further. Playing regional music festivals, Rib Fest and the Nebraska State Fair, as well as playing shows with national touring acts, has given the Killigans exposure to a wide audience of all ages and backgrounds. The Killigans are also featured on the recent PaddyRock.com compilation, CD Paddy Rock Radio Vol. 1. Using the Internet as a means of spreading the Killigans music, they now have fans in Japan and Australia too.

The band released a 4 song EP "the Killigans EP" in 2005, with the full length CD "Brown Bottle Hymnal" following on St. Patty's Day 2006.


---
The Charles Magnante Story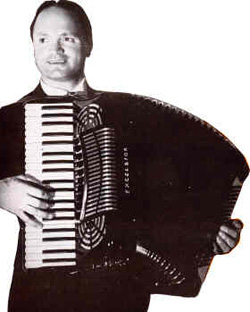 Charles Magnante (1905-1986) was and is considered as one of the world's great accordionists, and his arrangements and compositions are also held in high regard. A long overdue study of the life and works of Charles Magnante has now been made available, compiled, edited and published by Dr. Helmi Harrington, accordionist and curator of 'A World of Accordions Museum' in Superior, Wisconsin.

'The Charles Magnante Story' is a 150 page, spiral bound book that contains a short autobiography, various illustrations, several essays on the life and works of Magnante, and itemized detailed lists of all of Magnante's recordings, compositions, arrangements and tutor books. The book thus provides both an engrossing self-portrait and a complete overview of this outstanding accordionist's lifetime achievements.

The book also includes a 21 track CD of some of Maganate's classic recordings: 'Accordiana', 'Accordion Boogie', 'Dizzy Fingers', 'Flying Saucers', 'Green Light', 'Minuet in Jazz', 'Dance of the Comedians', 'Concertstueck', 'Flight of the Bumblebee', 'Holiday for Chord', 'Holiday for Bass', 'Hora Staccato', 'Malaguena', 'Perpetual Motion', 'Magnante Boogie', 'Gitanerias', 'Rhapsody in Blue', 'Andalucia', 'Espana Cani', 'Czardas' (V. Monti) and 'Carnival of Venice'.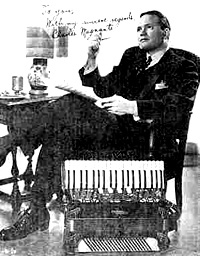 Charles Magnante was born in New York City on 106th Street in an area known as Harlem. From very humble roots his unique career placed him on the pinnacle of accordion history. No one has ever equaled his success as the ultimate world accordion artist.

Friend and fellow accordionist, the late Tom Colins writes that throughout his long and fantastic career, Magnante has consistently been considered by many to be the most finished accordionist of all time. He was famous for many years as a top radio, television star and recording artist. He was associated with some of the worlds finest conductors and orchestra leaders performing either as a soloist or a member of the orchestra.

It could be said that Magnante's musical career began at the age of five when he sand along with his Dad, a popular amateur accordionist, who used to play for many Italian weddings. At the age of seven, he was stealing his father's prized accordion from the closet and teaching himself to play by ear. At sixteen he was turning down many offers to tour professionally as he felt traveling would take up time which should be spent in continuing his studies.

During the peak of his career he reached the point where he was doing as many as thirty one radio broadcasts and an average of about eight recording dates in a single week. His audiences ranged from small intimate groups to packed auditoriums of three thousand. One of his greatest thrills was at the Civic Stadium in Buffalo, NY when he played for an audience of over forty thousand people.

One of Magnante's best known compositions is the novelty solo "Accordiana" which he composed in exactly twenty minutes. His textbooks, arrangements, and original compositions are numbered by the hundreds and include popular, classical, jazz, and boogie-woogie.

As an outlet from his strenuous career in music, Magnante engaged in the sport of big game hunting as much as possible. He had taken over fifty head of big game and was a member of the exclusive Campfire Club of America which is located in Braircliff Monor, about thirty five miles from New York City. His hunting expeditions in the US, Canada and Mexico brought him trophies of antelope, dall sheep, moose, caribou and grizzly bear along with numerous other species. His prize mount was a one thousand pound grizzly and many of his hunting experiences were featured articles in a number of sports magazines.

Charles Magnante was not blessed with a happy relationship on his first venture with matrimony. However, he was rewarded a fine son (Peter) and daughter, both of whom have enjoyed extremely successful careers outside the field of music.

In later life Magnante became enamored with a professional accordion entertainer whom he met when she was performing at the Peachtree Hotel in Atlanta, Georgia. Charlotte and Charlie enjoyed many happy years together sharing personal love for each other and a mutual adoration for the world of music. Charlie passed away several years before his beloved Charlotte, who is now also deceased.

Magnante's life is the story of a man who overcame seemingly insurmountable obstacles to achieve success in his chosen field and become a legend in his own lifetime. He passed away on Dec. 30, 1986 having given the world a legacy of accordion achievements unlikely to be equaled by anyone in the discernible future.

For further for information e-mail: accordion@sprynet.com

---
Murl Allen Sanders' Performance Schedule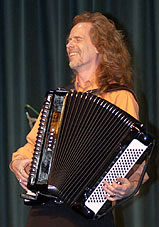 Accordionist Murl Allen Sanders will be performing at the Thirteen Coins, Sea-Tac, 18000 International Boulevard, close to the Sea-Tac Airport, from 7:30 PM until midnight on the following dates:-
March 13th to April 1st
May 9th to 13th
Murl is also Plymouth Congregational Church, Sixth and University, Seattle, at noon on Wednesdays (except Feb. 22nd, and March 1st and 22nd) with Susan Pascal and Phil Sparks. This is a short mellow jazz worship service with a short sermon.

Murl will be the guest artiste at Salt Lake City Accordion Club on March 21st, and on June 24th, he performs at the Leavenworth Accordion Celebration.

For further information e-mail: murl@murlallensanders.com


---
Thomas Bruno Performs Magnante Concert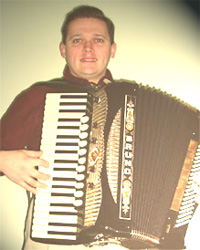 Thomas Bruno, 33 year old accordionist from Pittsburgh, PA, performed his Charles Magnante specialty program before an audience of 250 persons at the South San Francisco Municipal chambers on February 17, 2006.

Tom not only performs from a repertoire of 50 plus original Magnante compositions and arrangements, but also has Magnante's original workshop materials, photos, recordings and films of the great accordionist.

Tom has spent his young life devoted to mastering Magnante's works along with other classic music written and performed for the accordion. He also bears an uncanny resemblance to Charles Magnante.

For further information, please contact: Richards38@aol.com

---
---
Note: In order to provide as much information as possible for the United States National Accordion News stories, many different sources are often researched to gather additional information and pictures to complement what has been submitted. This information is then correlated to provide the news on www.accordionusa.com in the spirit of which it is intended, which is to provide a free news service to the Accordion Community, specifically in the United Sates. If you feel any copyright has been violated please advise www.accordionusa.com and the article will be removed immediately.