---
Accordionist Frank Mucedola Passes Away at 85 Years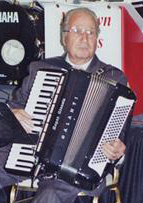 The accordion world is saddened to learn of the loss of accordionist Frank Mucedola, 85 who died peacefully Saturday, March 24, 2007, after his heroic battle with prostate cancer. At his side were his loving wife and family.

Renowned accordionist and composer Frank Mucedola was born in San Severo, Foggia, Italy, but lived most of his life in Auburn, NY. A performer, a teacher and a composer, for many years, Frank toured Auburn and central New York playing with the Sammy Speno Orchestra. He performed as a soloist with several symphony orchestras including the Syracuse Symphony and the New Haven Symphony, however a highlight of his musical career was performing with the world-renowned Mantovani Orchestra from 1985 until his passing.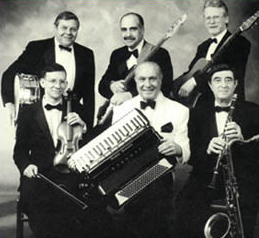 Frank owned and operated the Frank Mucedola Accordion School and composed many works for the accordion including the "Fox and the Hound," which is played throughout the world. Frank was a member of the American Federation of Musicians, the American Accordionist Association, the Italian Heritage Society and the VFW. Sgt. First Class Frank Mucedola was an Army veteran of World War II, having served with the 304th Infantry Regiment of the 76th Division as part of General Patton's Third Army that fought through France, Luxembourg and Germany.

Contributions may be made in memory of Frank to the Prostate Cancer Research Department, Roswell Park Hospital, Buffalo, NY, or to St. Francis Church Building Fund. Frank's life defined the American experience... initiated as an immigrant, tested as a patriot, and demonstrated to all as a role model. His talents as a soldier helped free a continent, his skills as a musician brought happiness to millions and ultimately, his gifted ways as a husband, father and honor bound friend set an unparalleled standard for all who knew him.

To visit the memorial guest book, please visit www.auburnpub.com and click on obituaries or visit: http://www.legacy.com/AuburnPub/Obituaries.asp?Page=SearchResults&DateRange=
AdHoc&StartDate=3/26/2007&EndDate=3/26/2007


---
National Accordion Association featured on TV
National Accordion Association President Norman Seaton was featured in a Television Interview as part of the 20th Annual Festival hosted by the National Accordion Association (NAA) which was formely the Texas Accordion Association (TAA). To view this interview and other features, please visit:

http://www.wfaa.com/sharedcontent/VideoPlayer/videoPlayer.php?vidId=126423&catId=104

Please select the links from the left hand side to see the interview with Norman Seaton and other convention guests.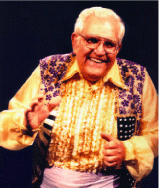 In another development for the National Accordion Association Festival held in Richardson Texas, "Big Joe" from the Big Joe Polka Show will be attending and recording the NAA Polka Show for his network program. His show on RFD-TV now has over 40 million viewers across the United States.

Big Joe will film the he Friday night Polka Show (8:00 - 11:00 p.m.) and will air in approximately three months time.

Joseph Siedlik is better known as "Big Joe," or " Polka Joe," in Omaha, Nebraska, and sur- rounding areas. Big Joe's interest in polka music of all kinds really stems from his Polish roots and from growing up in the ethnic neighbor- hoods of South Omaha.

While "Big Joe" has always had an interest in Polka music, his professional interest began in Columbus, Nebraska, on radio station KTTT in 1965 with his inaugural 90 minute polka show: The Big Joe Polka Show hit the air and was an immediate hit. Within five weeks, he was airing five hours each Sunday, with a full load of sponsors. So popular was his program, radio stations in neighboring markets fought to get the Big Joe Polka Show on their air – radio stations in Ord, Nebraska, and Omaha-Council Bluffs, Iowa were soon added to the line-up.

Big Joe has always played an equal mix of Polish, Czech and German Polkas – a little something for everyone. When his show aired in Omaha, the demand for diversity increased. Offut Air Force Base, home to 45,000 polka lovers from all over the United States, pro- duced requests for the music of many New York and New Jersey area polka bands with stars like Frank Wojnaroski, and the Connecti- cut twins, Stash and Jash, Big band. Polish Cleveland wanted Lou Trebar, Johnny Pecon and the Frankie Yankovic style of polka music, Minnesota wanted a more conservative sound with Erwin Suess. South Dakota wanted Johnny Matusek and the Tabor Czech Brass Band, and on, and on it went.

With a wider variety of polka music, the Big Joe Polka Show grew in popular- ity, and length, going from five hours to nine hours each week. The Big Joe Polka Show was always number one in its time period in the Omaha Market as well as in Columbus and Ord, Ne- braska.

After 25 years, and only 12 Sundays off in that time, Big Joe retired from live radio and the rigors of 18 hours of weekly shows.

With the advent of RFD-TV, Big Joe moved to television and a new audience in rural America. A perennial viewer favorite, the Big Joe Polka Show can be seen 12 times each week on RFD-TV.

Over the years, "Big Joe" has become the largest owner of polka music master tapes in the United States with over 550 masters in his collection. Joe and his wife Marty own and operate Polka Cassettes of Nebraska. They feature over 700 cassettes, 300 cds and 100 videos in their warehouse. In addition, Marty and Joe have contact with over 200 polka bands across the United States and Canada wanting to be on the Big Joe Polka Show.


---
American Accordion Musicological Society Annual Festival

The annual American Accordion Musicological Society Accordion Festival takes place from March 2-4, 2007 at the Valley Forge Inn in Valley Forge, Philadelphia.

The festivities begin with an exciting Cajun/Zydeco performance by the Crawdaddies with accordionist Kraig Greff and a performance by concert accordionist Lidia Kaminska.

Saturday will feature the competition categories and various accordion workshops of great interest. On Sunday there is the presentation of awards and trophies, a performance by the Festival Massed Band, and performances by Mary Tokarski, Jim Vandelly, Rita Davidson, Tony Lovello, and Bobby Raye.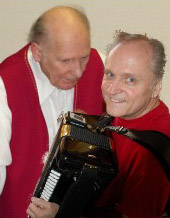 The Annual Dinner takes place at 5.30 PM on Saturday evening where this year's Honorees Stanley Darrow and Lenny Feldmann, known as 'The Cordeen Man' will be recognized. Following the dinner, this year's featured guest artistes Tony Lovello and Vitaliy Pirog will take the stage. Tony Lovello is a popular entertainer throughout the USA while Vitaliy Pirog is the recent winner of the American Accordionists' Association sponsored "Vivian Vivio Stolaruk International Entertainment Competition for Accordionists' receiving the spectacular $10,000 first prize.

The festival also includes accordion displays, accordion repair seminars, accordion memorabilia, CDs, cassettes, videos, and sheet music.
For more information please contact Joanna Arnold Darrow, 322 Haddon Ave.
Westmont, NJ 08108 or call (856) 854-6628 or e-mail: accordion1@comcast.net or visit: http://www.aamsaccordionfestival.com


---
CIA International Competition for Piano Accordion offers $5,000.00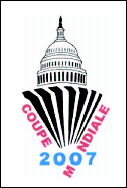 2007 Coupe Mondiale organizer Faithe Deffner announced that CIA International Competition for Piano Accordion winner will receive a $5000 cash prize as a result of additional financing from the Carmen Carrozza Scholarship Fund of the American Accordionists' Association (AAA).

Additionally, a concert tour to New Zealand and Australia sponsored by CIA Member, the New Zealand Accordion Association (NZAA), has been arranged for the winner of the Coupe Mondiale International Piano Accordion Competition. He or she will perform as a guest artist at the 2008 South Pacific Accordion Championships and Festival in Auckland and at the 14th Australian International Accordion Championships and Festival in Sydney.



The International Piano Accordion Competition winner and the five other Coupe Mondiale first-place winners have been invited to perform in a concert at Kennedy Center's Millennium Stage in Washington DC, on Saturday, August 18th 2007. This performance will be simultaneously broadcast.

The 2007 Coupe Mondiale will take place at the Holiday Inn in Alexandria, Virginia from August 13th to 18th. Rooms at this hotel are completely sold out. Accommodations at the same $99 Coupe Mondiale rate are now available at the Radisson Hotel, only 2-1/2 blocks away with shuttle service between hotels.

Rules, prizes and general information for all the Coupe Mondiale categories is online at www.coupemondiale.org. For further information, contact 2007 Coupe Mondiale Coordinator Faithe Deffner: FDeffner@aol.com


---
Tribute to Merv Conn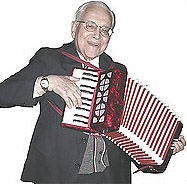 The accordion has been all over the news in the Washington, DC, area since the American Film Institute's Silver Theatre in Silver Spring, Maryland, announced it would present a documentary on octegenarian strolling accordionist Merv Conn. The February 18 premiere of The Legend of Merv Conn by DC filmmaker Jeff Krulik featured live accordion music in the lobby and in the auditorium, as well as what was billed as "the world's first 21-accordion salute."

Jeff made the film after being introduced to Merv by Mara Cherkasky, a local historian and officer of the Washington Metropolitan Accordion Society. As associate producer for the film, Mara set up the initial interviews, acted as liaison with the accordion community, and consulted on accordion-related questions. Joan Grauman, also a WMAS officer, assisted in numerous ways as well, including learning and playing the Beatles' "I Want to Hold Your Hand" for the sound track, helping promote the film, and helping line up the music for the premiere. Joan also conducted the all-accordion Potomac Ensemble during a musical break in the program. Accordionists Dale Wise and Jim Vandelly warmed up the audience as it crowded into the theater.

The salute consisted of 21-plus accordionists playing "Happy Birthday" and "For He's A Jolly Good Fellow" in honor of Merv's 87th birthday Feb. 19. Montgomery County Administrator Ike Leggett made it official by proclaiming Merv Conn Day.

Besides the 50-minute Merv Conn documentary, AFI showed two short silent films by George Merriken: one on Glen Echo amusement park circa 1940, and the other on the last days of DC streetcars in the early 1960s. Dale Wise provided the sound track -- an added treat.

Because the event sold out, the AFI scheduled a second show for Sunday, Feb. 25, at 4:30 PM.

by Jim Vandelly, Washington Metropolitan Accordion Society


---
Joan Gilyeat Moyer Concert
Joan Gilyeat Moyer, a student of Henry Doktorski, will perform a Concert Accordion Recital to commemorate her 75th birthday. The recital will take place at the Meridian Street Methodist Church Chapel at 5500 North Meridian Street in Indianapolis, Indiana on Sunday, March 25, 2007 at 3:00 PM.

The program will consist of transcriptions of works by classical composers, and original compositions for the accordion. Solo pieces include Pietro Frosini's Etude in C Major, Pietro Deiro's Mimicri Intermezzo, Verdi's Introduction to Act One from La Traviata, Guido Deiro's Musketeers March, Valse Pirouette, and Deirina Mazurka, John Gart's Shades of Velvet and Fughetta, and Henry Doktorski's Romance for Chord Buttons.

Two other pieces deserve special mention: Frosini's Olive Blossoms played by Moyer and Doktorski in a duet arrangement by Frank Henri Klickmann, and Pachelbel's Kanon in D played by at trio of reeds, pipes, and strings: Moyer on accordion, Doktorski on the Meridian Street Methodist Church's organ, and Cindi Sifers, a violist with the Indianapolis Philharmonic Orchestra who also plays violin with the Civic Theatre Orchestra.

Joan Gilyeat was born on March 25, 1932, and began studying accordion at age seven at the Indiana Music Company with Georgia Neargardner. After graduating from Broad Ripple High School in 1950 she studied advanced accordion with John Joseph Convertino at the Indianapolis Conservatory of Music, where she also served on the faculty teaching beginner students.

John founded the American Academy of Music and Joan was invited to bring her students. John directed and Joan played in a concert accordion band and a quartet which performed recitals in various concert halls in Indianapolis in the early 1950s.

Joan was invited by the Dean of Jordan College of Music at Butler University to join the faculty in the Special Education Division for non-collegiate students. She successfully petitioned the Board to use her accordion as the principal instrument toward a degree in Theory and Composition. James Winkel, a graduate of the Gaviani Accordion School in Boston, served as her Accordion Professor. These college studies were interrupted by Joan's marriage to cellist Truman Moyer. She continued giving lessons at Butler through the 1960s, and then stopped playing and teaching to raise her two daughters.

In 2004 Joan's interest in the classical accordion re-awakened, and she purchased over 80 CDs of concert accordion, bayan and bandoneon recordings, including five CDs by Henry Doktorski. That autumn she sent her 1951 Excelsior Symphony Grand to the factory representative for repairs. She attended eleven live concerts in 2005, including concerts featuring Henry Doktorski as accordion soloist with the Butler County Symphony, the New Philharmonic and Northwest Indiana Symphonies, and a solo recitals at the Chicago Accordion Club and A World of Accordions Museum and Concert Hall in Superior, Wisconsin. Moyer was impressed and she began serious studies with Henry Doktorski by speakerphone and regular one-on-one lessons.

Today Joan and Cindi perform frequently as a duet for Senior Citizen Centers and Nursing Homes throughout Indianapolis.

Joan's current teacher, Henry Doktorski, said, "Joan has come a long way during the last few years. She is talented and motivated and determined to play each piece as best she can: accurately, expressively, and according to the vision of the composer. She is a gifted musician and I look forward to hearing her and performing with her on her 75th birthday recital! I invite you all to come and listen to her play. I guarantee you will enjoy her recital!"

A reception will follow the recital. For more information, contact Joan Moyer at joan.moyer@hotmail.com.


---
NCO Brings Conjunto Music to East Baghdad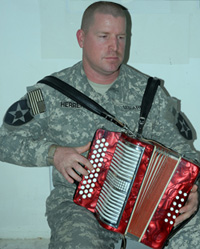 FORWARD OPERATING BASE RUSTAMIYAH, Iraq - During deployments, many Soldiers turn to music as a way to pass the time and unwind after a long mission. Some sing, others compose music, while others play with whatever musical instrument they have to play.
The guitar is a popular instrument in deployment zones, but for one noncommissioned officer, his guitar got replaced with something more unusual; the accordion.
Sgt. 1st Class Ricardo A. Herrera, a battle NCO for Headquarters Troop, 3rd Squadron, 61st Cavalry Regiment, 2nd Brigade Combat Team, 2nd Infantry Division, is a self-taught musician of various talents, but his latest venture is playing the accordion to Conjunto music. "I just like the way it sounds and it's challenging," he said.

Herrera, of Nipomo, Calif., said as a Mexican-American, he was exposed to Hispanic music and culture growing up and his love for the sound stayed with him. He said he enjoys Tejano music, but it wasn't until his military career led him to Fort Hood, Texas, that he became interested in Conjunto music. Conjunto means a group, or together, Herrera said, and that is where the accordion comes in. A Conjunto consists of an accordion player, a bass player, a drummer and a bajo sexto player.

The Conjunto style of music started in the 1800s when German settlers moved to northern Mexico and southern Texas areas. "They brought polka music with them," he said. The mixture of polka and traditional Mexican music fused into what is now known as Conjunto. Herrera said it sounds like a Hispanic polka with Spanish lyrics. "Anywhere in South Texas you can find it," he said.

Herrera has been in the Army for 18 years and plans on retiring in San Antonio where he can enjoy the form of music that he loves the most. As a child, Herrera played the guitar and other instruments by teaching himself. "I kind of have a good ear for music," he said. "I don't really read music. I hear it and can play."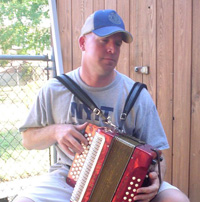 As a teenager, Herrera played in a few bands, all of different genres. He said he had always played the guitar, bass guitar and drums, but he when he became interested in Conjunto, he wanted to be the lead. "I chose it because the accordion in this style of music is more or less the lead guitar," he said. "The drums and bass are not quite as complex, so it wasn't a challenge. I wanted to be lead guitar, so I picked up the accordion."

Before he deployed, Herrera said he got to play with Sierra Gold, a band out of Pueblo, Colo., that performs Conjunto music. His musical plans while in Iraq are to improve his skills. "I've been at a plateau," he said. Herrera, who usually practices an hour a day when possible, said he wasn't able to practice as much leading up to the deployment due to work and wanting to spend as much time as he could with his family. "My goal is to be better than when I left," he said.

Herrera is quick to point out that his accordion is not like the one "Weird Al" Yankovic uses, which is a piano accordion. "I use a button accordion," he said. A button accordion varies from the piano accordion because it has several buttons instead of keys for notes.

"It's a little smaller and sounds a bit different," he said. There are 34 buttons, but 68 notes because, like the harmonica, the accordion makes one note as the air is leaving and another when air comes back in. "The most challenging is finding the notes," Herrera said. Herrera has been playing the accordion for six years. He said it takes a lot of practice to be able to play and not look at the buttons. "I bought my first accordion at a secondhand store," he said. "It took me awhile to start learning."

By Spc. Courtney Marulli - 2nd Brigade Combat Team, 2nd Infantry Division Public Affairs


---
Tom Torriglia featured on Careers TV Show in Canada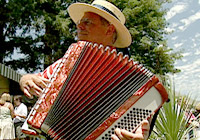 Careers TV, a TV show that airs nationally in Canada, recently profiled accordionist Tom Torriglia on their TV show. The lengthy segment showed Tom going up an down the winding streets of San Francisco on his scooter with an accordion strapped to my back. The TV show also featured performances and interviews.

Tom Torriglia is a highly sought after musical entertainer and often used as a strolling or stationary soloist, as a "meet and greet" person, as a pied piper for groups of people going from one location to another and in any other number of ways. In addition to working as a soloist, Tom performs with other strolling musicians or as part of a combo for dancing or listening. Tom specializes in both playing and singing Italian and Italian-American favorites. The fact that Tom sings, especially in Italian.
In 1989, Tom was asked to be part of Those Darn Accordions (TDA), a band that was only going to perform one gig ever. That one gig turned into 7 years. In 1989, Tom established the month of June as National Accordion Awareness Month. This yearly event gives Tom a forum in which to talk about the accordion and its popularity throughout he world. In 1990, Tom came up with the idea and spearheaded the effort to make the piano accordion the official musical instrument of San Francisco. It became law in May, 1990.
In 1991, Tom CO-produced the first San Francisco Accordion Festival TM and the Ms. Accordion San Francisco Pageant TM at the Anchorage Shopping center at Fisherman's Wharf. This festival is now currently held at the Cannery at Fisherman's Wharf. In 1990, Tom was asked to be on the founding committee of the Cotati Accordion festival and for three years Tom headed up the publicity for the festival. In 1997, Tom founded the in-line skating, accordion playing duo Bellows and Blades.

In 1999, Tom founded the highly successful Squeegees' polka band along with fellow accordionist Ruth Peckham and in 2000, founded the mambolicious Italian swing and pop-music band, Bella Ciao.

To see the archived video of the recent TV show, please visit http://www.careerstv.com/WhatsNew.aspx - Episode 04-802.

---
Upcoming Concerts at WMAS
The Washington Metropolitan Accordion Society announces its two upcoming concerts.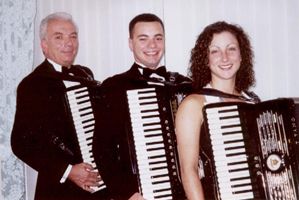 Firstly, they will present The Busso Trio on Sunday, March 18, 2007 at 4:00 PM, at the Sleepy Hollow United Methodist Church, 3435 Sleepy Hollow Road, Falls Church, VA, a 22044. The suggested contribution for nonmembers is $5.00.

The internationally known Busso Trio, comprising Frank Busso, Sr., Frank Busso, Jr., and Christina Busso Lammers, stems from the Staten Island Music School. This unique father, son and daughter accordion trio performs a wide array of music from classical, ethnic, accordion novelties to pop.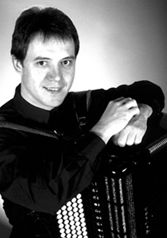 The second in the series of concerts will feature the popular duo of Stas Venglevski & John Simkus in concert on bayan and accordion on Sunday, April 22, 2007 at 3:00 PM. This concert will be held at the Masonic Temple, 410 University Blvd. West, Silver Spring, MD 20901. Admission: $15.00.

His artistry, dazzling technical command, and sensitivity have brought Stas Venglevski increasing acclaim as a virtuoso of the bayan. His repertoire includes his original compositions, as well as a broad range of classical, contemporary and ethnic music. He has toured extensively as a soloist throughout the former Soviet Union, Canada, Europe, and the United States. He has also performed with symphony orchestras throughout the United States. Stas has produced numerous recordings, including a transcription of Tchaikovsky's Nutcracker Suite for bayan.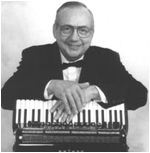 He has published several books of original compositions.

John Simkus is best known for his smooth jazz style. He has performed throughout Europe and the United States, both as a soloist, and as the duet partner of Stas Venglevski in the Sta_Sera Duo. Stas and John recently performed in Russia, which culminated in a recording entitled, "One Night in Moscow".

For additional information on either concert, please call 301-279-8716 or e-mail joangrauman@comcast.net.


---
Land of Legends Concerts in Minnesota

Land of Legends: A Journey through the Carpathian Mountains' is the title of a show profiling Polish, Hungarian and other mid-European music and dance, to be held at the Ritz Theater, in NE Minneapolis from April 19th to 22nd, 2007. Performances are at 8 PM each night, with a matinee at 2 PM Sunday, 22 April.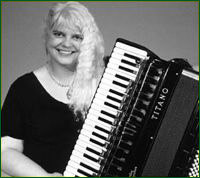 The EDT Folk Orchestra, featuring Dee Langley on accordion, will perform the music. According to Musical Director Colleen Bertsch, "The orchestra is incredibly excited to play the music that Liszt, Brahms, Dvorak, and Bartok found worthy of using as their creative muse. Once you hear traditional music from the Carpathians, you will understand why the great masters depended on this deep well of material: it's earthy, sexy, passionate, and real."

Join the Ethnic Dance Theatre (EDT) on a journey through the Carpathian Mountains, legendary home of vampires, werewolves and other old world tales of darkness that have haunted movie audiences for decades. Through spellbinding music and dance traditions, discover the fascinating cultures that gave birth to these famous stories and expand your knowledge of this unique region shaped by ethnic rather than geographic boundaries.

Travel to Transylvania where ethnic Hungarians dance the boot-slapping Czardas to wake up the new baby! Go to the mountains of Romania where shepherds leap over fire in a dance tradition originating in the middle ages. Hear songs of the Rusyn, a Slavic ethnographic group without a country who proudly claim their own culture and language.


EDT is excited to bring this unique cultural treasure to the Ritz Theatre in Northeast Minneapolis, new world home to many old world immigrant groups from the Carpathian region. The heritage of the Northeast neighborhood is still evident today in its many Eastern European churches, ethnic halls and businesses such as Kramarczuk's and Mayslack's.

Partnering with EDT on four new choreographies for this show are: Edziu Rajtar, artistic director of Dolina Polish Dance Ensemble; Eva Maria Kish, Hungarian born teacher and choreographer; and John Omorean, artistic director of Izvorasul Romanian Dancers.

The Ethnic Dance Theatre's mission is to foster understanding and awareness of world cultures through the re-creation and presentation of traditional ethnic dance and music. In a society where racial tensions are prevalent, EDT believes it is vital to promote and project the inherent beauty, dignity, and integrity of all peoples.
Ticketworks (no fees!): 651-209-6689 or www.ticketworks.com. $25 adults $22 seniors/students $12 children under 12. For more information, please contact: info@ethnicdancetheatre.com


---
Cool Cats featured on Channel 9, in Kansas City
The Cool Cats Rock and Roll Accordion Band from Independence, MO website now includes a TV report by hosted by Kris Ketz and Kelly Eckerman on Channel 9 in in Kansas City. The feature was done to celebrate the Cool Cats 15 years of music making.

Profiling the unique sound of the Band, director Terry Bell founded the United Teachers Of Music was founded in 1979. After graduation from North Central University in Minneapolis, Minnesota; he traveled seven years all over the United States giving concerts in classical and gospel music in schools and churches. He came to the Kansas City area to resume studies in music at the University Of Missouri. At that time his professor (Joan Cochran Sommers) encouraged him to start the music studio. United Teachers has encouraged literally hundreds of young people to enjoy playing music. They participate in competitions, concerts, in all types of venues, in front of hundreds and sometimes thousands of people. United Teachers Of Music offers lessons on accordion, piano, keyboard, saxophone, clarinet, flute, acoustic and electric guitar.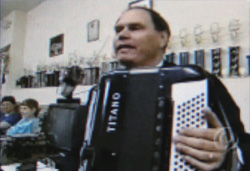 Our accordion orchestra program involves children six to adult. The accordion orchestra plays all types of music, literally from Bach to boogie. They have performed in every kind of venue such as rest homes, retirement centers, malls, zydeco, and ethnic festivals. They have performed at the Nelson Art Gallery in front of the mayor of Kansas City, Union Station, 25 local libraries, Worlds Of Fun, Starlight Theater, St. Mary's 176th anniversary, and many more. Some of our students are performing in eight weeks. Some have gone on to pursue music in college and as a career. Some have competed nationally and internationally.

The next appearance of the Cool Cats and students will be at the Mid-America Music Festival (MAMA) from July 27-29 at the Renaissance Hotel in St. Louis, MO, or you can find more information by visiting www.utofm.com.

---
National Accordion Association Convention

The National Accordion Convention will be held from March 7-11, 2007 at the Richardson Hotel in Richardson, Texas. The popular annual festival will this year feature 'Accordion Diversity' and offer fun, Workshops, jam sessions, accordion orchestras, the Swap Shop, Polka Festival and Concert. Billed as a "hands-on convention" all participants are invited to bring their accordions.

The "most requested" training session for 2007 is dancing lessons! Dr. Daniel Kott has volunteered to create the training material that incorporates the accordion. He has successfully conducted these training sessions for years, and he is using the material for the convention training sessions. The Thursday evening International Folk Dance training session will include a booklet of international folk dances complete with accordion music. Polka dancing will be included in this training session.

The convention is offering a special participation rate of $140.00 per person, or daily rates are available.

For all information, online registration, information on performing in the various festival orchestras and more, please visit: www.accordions.com/naa


---
Leavenworth International Accordion Celebration
The annual Leavenworth International Accordion Celebration takes place in Washington from June 21 - 23, 2007. This event offers a wide variety of accordion music including jazz, popular, classical, ethnic and everything in between.

The Leavenworth festival includes competitions, workshops, jam sessions, a film/video series, parade down Front Street and three nights of concerts and dances with world-class musicians.

For further information e-mail: events@leavenworth.org


---
Mario Pedone Accordion Concert in Arizona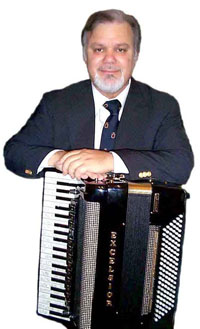 Mario Pedone will be presented in concert at the Arizona Accordion Club on March 19, 2007.

Mario Pedone was born on October 5, 1951, in Valenzano a small town near Bari, in Southern Italy. In an effort to improve the family's financial situation the Pedones immigrated to Valencia, Venezuela in 1959. Mario's older brother, Ludovico had begun to study the accordion and Mario was always watching him hoping one day he also play this wonderful instrument. He persistently begged his father to let him start accordion lessons too and eventually succeeded.

His first teacher was Franco Cupertino, Mario devoted at least 4 to 5 hours per day practicing until his father screamed "GIVE US A BREAK " but that didn't stop Mario from playing his beloved instrument, and after a few years professor Miguel Casas Augé, founder and Director of the Valencia Accordion Club also Conductor of the Valencia Symphony Orquesta, assumed Mario's Accordion Education. He was followed by Professor Roberto Ruscitti, a renowned classical Accordionist, who took care of Mario's education for the next 7 years.

On March 24, 1972 Mario graduated as a " CONCERTISTA " from the school " ACADEMIA DE ACORDEON SMITH " directed by Roberto Ruscitti. In March of 1974 he earned a " CUM LAUDE " Diploma in accordion from the same school. On April 30, 1976 Mario graduated with a degree of " PROFESSOR OF ACCORDION " from the same school. After graduation Mario founded his own accordion school " ACADEMIA DE ACORDEON LATINA " where he had over 125 students. Most of his former students are now playing professionally. Mario was also member and cofounder of the " ORQUESTA LATINA " together with famous Spanish singer Esteban Abarca. The Orquesta Latina performed all over Venezuela. Mario has won numerous championships with both the Accordion and the Organ.

In 1981, in search of a better future, Mario moved to Sugar Land, Texas with his wife and children. He continues to perform professionally in many countries and is currently performing on the keyboard on week ends at The Old Heidelberg, a local German Restaurant in Houston accompanied by singer Liberty Palileo.

Mario has his own recording studio in Sugar Land where he has arranged and recorded hundreds of tunes including many of his own compositions. His musical range includes, but is not limited to Classical, Latin, European, American Standards. He also produces CDs and cassettes for other musicians.

Mario was invited to perform in the Famous Accordion Festival celebrated in Ransäter Sweden and has also performed at concerts in New York, Dallas, Austin, Montreal, Bogota Colombia,Boston and many other states in the USA.

---
Promoting Your Accordion Services Free at AWW

The Internet is changing the way your customers are searching for services. The days of lugging out a 12 lb. telephone book to find very limited and outdated business information are coming to an end. People are still letting their fingers do the walking, but they're doing it over a computer keyboard. Below are some revealing facts from the Kelsey Group.
74% of US households use the Internet as an information source when shopping.
Approximately 45% of searches had a buying intent.
The percentage of respondents who used yellow page directories decreased from 75% to 62%.
(If you have a printed yellow page ad, it is time to consider buying a smaller ad and shifting your marketing dollars to the Internet.) The off-line Yellow Pages see the writing on the wall and are scrambling to transfer their business model to the Internet.

Businesses can no longer ignore these facts. If you want to be successful, you must have a presence where your customers are searching. Being found on the Internet is vital to the future of your business.



The Accordion Yellow Pages offers free of charge listing for all accordion businesses, teachers and for every type of service for accordionists. On the Accordion Yellow Pages site, you do not need to have a website for accordionists find you and contact you.



The search-accordion.com site is also free of charge, being a listing service for every type of accordion service but you must have a website. Viewers of search-accordion.com can click to your website.



Very popular is the AccordionLinks.com site where those accordion service providers with a website, can attract accordionists free of charge to their website.

All it takes is a little effort, to make sure your information on these three popular and very effective accordion sites is up to date. Your future success may well be determined by your ability to effectively adapt to the Internet. Should it be your New Year's resolution for 2006?


---
Jason Webley to appear in the USA and Canada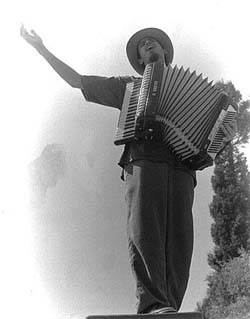 American rock singer and accordionist Jason Webley has spent February performing in France, Spain Germany and the Netherlands. He will appear in the US in March and will also be touring in Mexico and Canada.
March 15th - 12 Galaxies, San Francisco, California
March 20th to April 11th - East Coast Tour, USA
April 17th to May 2nd - Western States Tour, USA
May 3rd to May 12th - 'Two Bottles of Wine, CD released
May 16th to May 24th - Tour of Mexico
June: Camp Tomato 2007
July/August - USA/Canada Tour
Jason Webley comes from Seattle and has traveled all across the world. Traditionally he dies every halloween only to be born in the spring on May Day. He is most likely going to come to a town near you at some time between these two dates.

He has released 4 CDs on Springman Records. His CDs feature a slew of instruments, from a guitar to a xylophone to a piano, a violin and of course: an accordion. But when he tours (in his Toyota turned Tomato) he only brings his guitar and his accordion and a bottle of vodka filled with coins from around the world (he uses the bottle for percussion).

His many followers, the Tomato Scouts as he calls them, consider Jason Webley to be the greatest live performer on the planet. He has shared the stage with many other musical acts, including, Dresden Dolls, Xiu Xiu, Andru Bemis, and the Groovie Ghoulies. A Jason Webley concert makes you feel completely alive, excited like a child, drunk with love, and often times dizzy. It is experience that everyone should be so lucky to have.

For further information e-mail: jason@jasonwebley.com

---
Washington Metro. Accordion Society Changes Meeting Day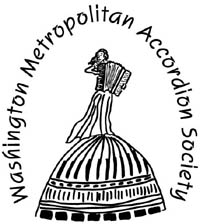 The Washington Metropolitan Accordion Society will change its meeting day and time beginning in March 2007.

The new meeting day will be the 3rd Sunday of the month and meetings will begin at 4:00 PM.

WMAS found that the Sunday meetings will be more convenient for members and guests.

Other Meeting Information:

Meeting Place: Sleepy Hollow Methodist Church
3435 Sleepy Hollow Road
Falls Church, Virginia, 22044

Price: Suggested donation $2.00 to cover the cost of the church rental
Membership Dues: $15.00 per year

Contact: Karen Denice 703-671-5395
Internet: www.washingtonaccordions.org
E-mail: wmas2002@cox.net


---
Annual Seminars in New York City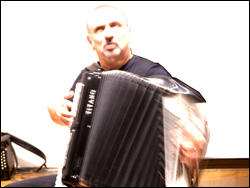 HOGUS/BOGUS - A WEEKEND OF QUESTIONABLE, USELESS AND FAR FETCHED INFORMATION - DR. WILLIAM SCHIMMEL, moderator/curator.

From July 27-29, 2007 you'll learn that the accordion has two reputations: A REAL ONE - and A BOGUS ONE. The real one is the one that we accordionists are all aware of - through our festivals, contests and fellowship among fellow accordionists. WE KNOW WHAT IT CAN DO! THE BOGUS ONE is the one that all of you out there know - the fact that the accordion can play Lady of Spain by itself (complete with bellows shake) -or in the midst of a classical or rock concert half of you in the audience are yearning to get back to your roots, screaming for polkas, helgatos, jigs and clogs complete with beer and urinal tents - ONE MAN'S REAL/ANOTHER MAN'S BOGUS (Marry, Sir, nose painting, sleep and urine -Macbeth -Act II scene III - Shakespeare).
SO, LET'S GET BOGUS, FOLKS! AND WELCOME TO HOGUS/ BOGUS! OUR THIRTEENTH SMASH YEAR! OUR BAR MITSVAH! Join accordion philosopher, Dr. William Schimmel, in a weekend romp of questionable, useless and far-fetched information.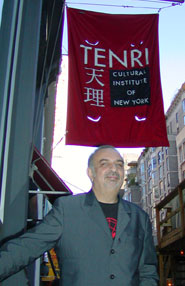 THE ACCORDION HAS COME FAR! LET'S FETCH IT BACK! TO IT'S HOGUS ROOTS! The event will take place at:

THE TENRI CULTURAL INSTITUTE OF NEW YORK
43A WEST 13TH ST. (between 5th and 6th Ave.)
New York City
July 27-29, 2007

Master Classes at 3 PM Concerts at 7 PM

$20 per master class - THOSE WHO WISH TO PLAY, CONTACT DR. SCHIMMEL
$25 per concert
$40 per entire day - includes master class and concert
$110 per entire weekend - includes three master classes and three concerts
Reservations and information: 212-876-0827 - www.billschimmel.com or www.ameraccord.com

---
---
Note: In order to provide as much information as possible for the United States National Accordion News stories, many different sources are often researched to gather additional information and pictures to complement what has been submitted. This information is then correlated to provide the news on www.accordionusa.com in the spirit of which it is intended, which is to provide a free news service to the Accordion Community, specifically in the United Sates. If you feel any copyright has been violated please advise www.accordionusa.com and the article will be removed immediately.