Welcome to the United States National News
Welcome to the United States National Accordion News, 'Accordion USA' for April 2000.

With the increasing interest and usage of the Internet, we have added this National News service to the wide array of free services that Accordions Worldwide offers to the Accordion Community. These now include:

(1) Accordions Worldwide (the largest accordion resource on the Internet today)
(2) Accordion Yellow Pages (approximately 20,000 listings)
(3) Accordion Links (the biggest collection of accordion links you could ever imagine)
(4) Search Accordion (the only search engine, dedicated to the accordion)
(5) Accordion National News (current publications are found in Italy, Germany, the USA and France.)

You might notice a news headline with "NEW" beside it. Since the publication is monthly at this time, if we have occasion to include a late breaking news item that pertains to the current month, we will add this to the headline, so that readers can easily identify if a news item has been added since the original publication date.

We encourage you to use the submit form on this site to let us know of news items from your area, or to add an accordion gathering/concert to the monthly calendars.

We look forward to hearing from you and wish you a Happy Easter!

Peter Soave Steps in for Daniel Binelli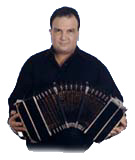 Peter Soave, accordion/bandoneon virtuoso was called in to replace the famous Argentine bandoneonist, Daniel Binelli, in a performance of Astor Piazzolla's Concerto (Aconcagua) for Bandoneon and Orchestra with the Indianapolis Chamber Orchestra under the direction of Stanley DeRusha.

Mr. Binelli, a former member of Piazzolla's Sextet, canceled his appearance in Indianapolis due to personal matters, and so Peter was called in to replace him at a moments notice.



Texas Festival Sets Standard for the Millennium
Pictures courtesy of Gus Stangeland



When planning the Y2K Festival, the Texas Accordion Association aimed to achieve two things: (1) Make Accordion Dreams Come True and (2) Set the Standard for the Millennium. Without a doubt, they accomplished both! (Pictured to the left is T.A.A. President - Norman Seaton)

World class musicians, capacity audiences, electrical atmosphere and Gary Daverne combined to make the Texas Accordion Association Y2K Convention a show of pure Millennium Magic!

Two orchestras were featured at the convention, the first being conducted by Major Lois Tilley. She directed the orchestra in concert at the Accordion Varieties Concert, which honored Accordion Pioneers and Military Vetrans. Major Tilley aslo served as Assistant Director for Gary Daverne, who directed the main orchestra concert on Saturday night.


The conductor of the Auckland Symphony Orchestra, Gary directed the Convention Orchestra with the same conviction and respect he has used while directing some of the finest symphony orchestras in the world and the results were outstanding! From the first rehearsal to the grand finale concert 48 hours later, Gary took some 50 musicians of all levels and backgrounds and transformed them into a world class act that brought the house down several times over.

The concert included such pieces as the William Tell Overture, several of Daverne's popular arrangements as well as his own composition "Rhapsody for Accordion and Orchestra". (Pictured above is soloist Kevin Friedrich performing the Rhapsody)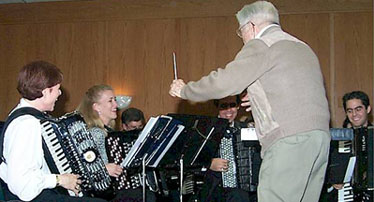 The concert included a surprise 'guest' conductor, who, much to the delight of the audience and Gary Daverne, led the orchestra in a rousing rendition of the William Tell Overture. Joe Lawrie, retired Army General, and the proud father of one of the orchestra members (Bruce Lawrie) had casually mentioned to Gary prior to the concert, that he had always dreamt of directing such an orchestra. Mid concert, proud Dad got up to take a picture of son Bruce, so Gary invited him to the stage, to make HIS accordion dream come true! Without missing a beat, the orchestra repeated the William Tell Overture, as Joe put the orchestra through their paces. (The smiles on the orchestra member's faces pictured above, tell it all, about the fun surprise appearance.) Meanwhile, Gary sat in the back of the audience and enjoyed his unscheduled break, and joined in the standing ovation that the audience eagerly gave the performers and director alike. Here Gary and the orchestra congratulate Joe.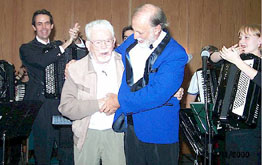 The annual convention was a festival of concerts, workshops, dealers displays and fun, which featured people from as far away as New Zealand, Norway and all across the United States.

Standing ovations were the norm for the array of world class artists who presented music ranging from the World Accordion Championships concert repertoire to Pop, Folk and Novelty, each style playing an important part in the diverse accordion repertoire.

Congratulations to the Texas Accordion Association for setting the standard for the Millennium!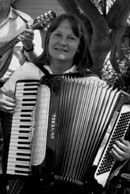 The Folk Voice Band featuring two accordionists Birgit Teuwen-Ages and Philip Ages will be performing at the Fiddlers Inn on Friday April 7th, 2000 at 9:00 PM. The performance will include International Folk Songs and Dance Music.

With a minimal cover charge of $2.00, it promises to be a most enjoyable evening with outstanding music, great food and good beer!

For further information on this concert or upcoming concerts on May 5th, and June 17th, 2000, please contact the Folk Voice Band as follows: Birgit or Philip @ 18010 1st Ave. N.E. Shoreline, Seattle, WA 98155
Telephone: (206) 368-9720 or e-mail bbta@nwlink.com

Jorgen Sundeqvist and Oivind Farmen Concert Tour of the USA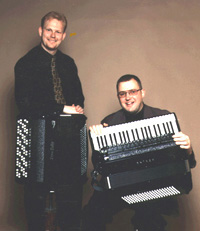 Scandinavian accordion stars Jorgen Sundqvist from Sweden and Oivind Farmen from Norway have teamed together to tour the United States, giving concerts in San Francisco, Portland, Seattle, San Diego, Chicago, Milwaukee, Duluth, Minneapolis, New York and New Jersey from April 4th - April 30th, 2000. (Please see April Concert Calendar for further concert details.

Jorgen Sundeqvist and Oivind Farmen are two world class accordionists guaranteed to thrill audiences across the country. Norwegian born Oivind Farmen (pictured left with chromatic accordion) and Sweden's Jorgen Sundeqvist (with piano accordion) have studied and made international tours with the world's top musicians. They have made radio and TV appearances, recorded several CDs and won first place awards in competitions around the world.

Be sure to include one their concerts in your plans! It will be a concert not to be missed!

Gary Dahl has been signed to write and record 15 new books. This should be exciting news and good news for all accordionists; to be able to listen to the arrangements and then have the opportunity to learn/play/perform the arrangements.

Unlike "listening only" CDs, the accordionist now has the opportunity to "hear" the written arrangements, thus facilitating the learning and inspiration process. The Mel Bay Jazz Accordion Solos Book with CD is now in the 3rd printing, the French Tango Book with CD will be in the 3rd printing by summer of 2000 and the Clifton Chenier King of Zydeco Book with CD will be ready for 2nd printing this year.

New Mel Bay titles for 2000 and 2001 listed in order of release:
15 Tex Mex Conjunto Classics/BCD* (transcribed from the Arhoolie CD)
Chord Melody Method for Accordion/BCD
(Many accordionists lack harmony lead sheet skills...this is very critical for complete musicianship)
Italian Music for Accordion (many arias)
15 Louisiana Cajun Classics/BCD (transcribed from the Arhoolie CD)
Latin Tangos/BCD Hymns for the Accordion/BCD
Gospel Favorites for the Accordion/BCD
Learn to play Tejano/Conjunto Accordion/BCD
Learn to play Cajun/Zydeco Accordion/BCD
Ragtime Favorites for Accordion Classical Favorites for Accordion * BCD, book CD package

New From Santorella Publications:
Favorite Latin Songs and Tangos
Tangos from Latin America Harmony for the Accordion
Christmas Favorites for Accordion
http://www.accordions.com/garydahl (listen to 3 jazz and 3 tango sound files).

Henry Doktorski featured in Piazzolla Tangos
Concert accordionist Henry Doktorski performed Piazzolla tangos "Cite Tango" (arranged by Ari-Matti Saira) and "Adios Nonino" (arranged by Krzysztof Olczak) with pianist Elena Zhivaeva (from Uzbekistan) in a recital at the Manchester Craftsmen's Guild, Pittsburgh Pennsylvania on March 18th.

Performances were also given by James Houlik (saxophone), Daniel Khalikov (violin), Aime Spoata (soprano), Ildar Huziakhmetov (cello), Anton Jivaev (violin), Noah Geary (piano) and Vahan Sargsyan (piano).

National Accordion Month - June
In the celebration of National Accordion Awareness Month (June), San Francisco will be celebrating its Day of the Accordion on Sunday, June 18th, 2000.

This day-long event will be held at the historic Cannery which is located at Fisherman's Wharf and will feature many of the Bay Area's best soloists and bands. Rock, jazz, zydeco and of course, the Squeegees-the Bay Area's hardest working polka band. Best of all it's free!

For more information about Day of the Accordion, contact All Thing Accordions' Tom Torriglia at (415) 440-0800 or at tom@ladyofspain.com

Tony Lovello - Providing Razzle Dazzle across the USA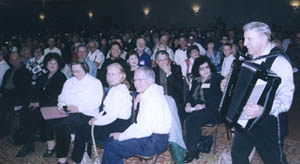 Accordion Entertainer Tony Lovello, will be concertizing across the United States with appearances in King of Prussia, PA, Peoria, IL, Plano, TX, Tempe, AZ, San Diego, CA, Santa Barbara, CA, Burbank, CA, San Francisco, CA, Seattle, WA, and Portland, OR

From Buffalo, New York and formerly with "The Three Suns," Tony will razzle and dazzle you with his flashy arrangements that are crowd pleasers. Lovello's talents have led him to appear with Debbie Reynolds, Frank Sinatra, Dinah Shore, Eddie Cantor, Pat Boone, Jimmy Durante, and Kate Smith. His latest appearance was with Roy Clark on the television show "Hee-Haw."

On numerous occasions, Tony has performed his special arrangement of the National Anthem for the University of Kentucky basketball team at Rupp Arena in Lexington, Kentucky where he now resides. He has also performed the same at Yankee Stadium in New York.

From start to finish, you will be delightfully entertained with his style of playing. Many accordionists agree, Tony provides a new dimension in accordion sound. Tony, who plays Petosa accordions exclusively is pictured above performing to a capacity audience at the recent Texas Accordion Association festival in Plano, Texas.

For remaining concert dates, please check the monthly calendar section of this site.

One Big Happy Family

In its sixth year of presentation, the American Accordionists Association will present this workshop 'One Big Happy Family! (Function/Dysfunction) with Dr. William Schimmel as moderator/curator.

It will be a cultural romp of accordion retrospect spanning the last century, from urban play to suburban sprawl, from family fun, vacations, hula-hula, collegiate boola boola, to disharmony and back again, from "Out of Style" to "Back in Style" from "Sophisticates" to "Regular People" from the Esperanto" piano accordion to bayans, concertinas, midis, bass and button accordions and bandoneons, from young people and special people to older people. Yes... an accordion human comedy - Saroyan would be proud: But we're not through yet!

Master classes include: How to Disappear/The Accordion as Star, Leneric Reality/Ethnic Buzz, Take an Accordion to Bed/The Accordion as Fetish, Worshiping with Your Accordion/From Transcendence to the Inferno, (Dante would be proud: Taking that First Lesson (Dante would be proud) the Breakdown of the Nuclear Family and Its Effect on the Accordion, Redefining the Family Around the Accordion. Yes, Ray Stevens, Everything is Beautiful in Its Own Way.

However, Dr. Schimmel goes a step further: "Everything is Beautiful and Ugly/Hip and Square/Elegant and Vulgar/Classy and Classless in its Own way.

There will be concerts, performances of AAA commissioned works plus much much more!

The events will take place at Tenri Cultural Institute, 43 West 13th Street, New York, NY from August 25-27, 2000. Master Classes are at 3:00 PM daily, and concerts at 7:00 PM daily. For further information please call (212) 876-0827

New Line of Accordion Videos - Music With A Smile Productions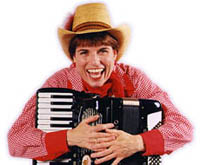 Jane Christison
, an accomplished accordionist and entertainer, has just released a new line of accordion videos. She has spent her career playing many styles of music, including pop, old standards, sing-along songs, polkas and music for special seasons and holidays, so has made videos, sharing her experiences about performing and running her accordion business.
Beginning with two Videos entitled Playing the Accordion for Fun and Fame! and Squeezing Money Out of Your Accordion: How to be a Professional Money-Making Musician, These are Video versions of her workshops which she has presented across the country, and through her company, Music With A Smile Productions, L.L.C.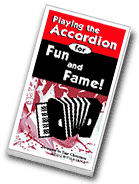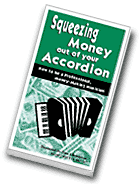 With her enthusiasm and megawatt smile, you're sure to enjoy Jane Christison, MUSIC WITH A SMILE(SM)! Be sure to visit her website with all the exciting details!
Contact Information: Jane Christison PMB 216, 12046 W. 95th Street Lenexa, KS 66215-3803 USA
e-mail:
janec@musicwithasmile.com

King of Prussia Seminars
Contributed by Squeezer - Dee Langley
The American Accordion Musicological Society Festival and Symposium was held at the Holiday Inn in King of Prussia, Pennsylvania, March 3-5, 2000.

There were concerts on Friday and Saturday nights and Sunday afternoon, continuous competitions and workshops Saturday and Sunday. There were also displays of accordions, accordion novelties, music and CDs for sale, massed accordion bands, an award ceremony (with cash prizes for some categories) and most impressively, a full service accordion repair shop set up right in lobby of the hotel ballroom.

The thirteenth annual AAMS was organized by Stanley Darrow, Joanna Arnold from Acme Accordion School in Westmont, New Jersey, and myself, Dee Langley, as a representative of the Minnesota Accordion Club. It was a pleasure to work with Mr. Darrow and Ms. Arnold in an official capacity. I was truly impressed with their joint devotion and love for the history of the accordion and for the continuation of the accordion through sharing knowledge, performance, and just plain having fun.

Of course, I have my favorite events from the festival, the foremost was conducting a massed band of the three accordion orchestras that had played "Jessamee", a song that I wrote, as their orchestra test-piece earlier that day (Westmont Accordion Club, Pitman Accordion Club, and the Westmont Philharmonia Accordion Orchestra). The second high spot was conducting the massed band of over 100 accordionists ranging from six-year-old beginners on twelve basses in the front row, to professionals standing in the back of the room. But, these were my personal favorites.

Below is a list of workshops, Concert Artists and events that everyone enjoyed over the weekend.

The Concert Artists that played on the combined concerts for the weekend were: Joanna Arnold, Joe Axsmith, Terri Conti, Stanley Darrow, Lenn Feldman, Kaplan & Friends, Dee Langley, Tony Lovello, Dr. R. McMahon, Nick Mirkovich, Lou Persic, Vitaly Pirog, Joe Soprani, Bobby Rae, and the Westmont Philharmonia Accordion Orchestra.

Among the list of distingished adjudicators for the competition categories were accordion legends, Carmen Carozza, Carmelo Pino, and Tony Ettore.

Workshops were given by:
Dave and Anthony Darrow, Accordion Repair
Sam Fire, Oldies but Goodies
Ed Touchstone, Accordion Gems
Rick Kaplan, Button Box Experience
Stanley Darrow & Joanna Arnold, Music is....WHAT??
Vitaly Pirog, Ukrainian Concert Artist
Polka Aces (F. Kitchen, J. Grum, J. Opiela, F. Hodnicki), The Complete Polka Scene
Jim Vandelly, Russian Music
Terry Conti, New Wave Music
Ron Onda, Accordion Classics
Rocco Jerry, 20th Century Music/Jazz
Trish Johnson and Kathleen Flagg, Klezmer Music
Raif Hyseni, Music of Kosovo
Tony Lovello, Tips on Accordion Playing and Bellowshakes
Dee Langley, The Accordion in Ethnic Music, Poland & Bulgaria
Dr. R. McMahon, The Music of William Grant Still
Lenn Feldman, A tribute to Vince Lanni- Jazz Innovator
Mike Dellapenna & Chuck Kofira, The Best of Polkas.

Winner of the Festival Championship Solo Division: Richard Saunders, student of Joanna Arnold. The American Accordion Musicological Society Festival and Symposium this year honored Dr. J.C. Neupauer, educator, composer and accordionist, with a banquet in his honor. Next year's honoree has not yet been chosen, but I know that whoever it might be, Mr. Darrow and Ms. Arnold will again captivate the hearts and imaginations of accordionists, button box players and enthusiasts everywhere.

The fourteenth annual AAMS will be held March 2-4, 2001. Contact Joanna Arnold at accordion3@hotmail.com for more information.

The "K" Trio - Outstanding CD!!!


The "K" Trio is recording a new CD at present, however accordionists will not want to miss out on their current CD entitled 'Images'. The "K" Trio comprises brother/sisters Walter Kasprzyk, Mary Kasprzyk Tokarski and Julie Kasprzyk Cardona. To preview the CD and learn more about the "K" Trio, please visit www.ktrio.com

Where in the World is this?
Last month, we asked if any of our readers knew where we might find this big monument.

With no correct entries, we will extend this for another month, to give you the chance to win the 'hottest' CD around! Don't be shy, JUST GUESS!

To help you out a little, we'll give you another clue, it is NOT in the USA. He stands approximately 30 feet tall!

To submit your answer, please click on 'Submit Form' heading (located under the Clubs/Associations section on the left hand index) to tell us your answer. Include your name, address and e-mail address, and tell us where you think this is found.

All correct entries will go into a drawing, and the lucky winner will receive a copy of the wonderful CD "Grain de Fantaisie" by current World Accordion Champion, Jerome Richard, from France.

Good Luck!

Accordion of the Month
Each month, we will show an accordion which has caught our attention. This month, we feature a beautiful instrument, decked out in Italian colors. The instrument is one of hundreds on display in Castelfidardo, Italy, and the accordion museum. Please visit www.accordions.com/museum for more information.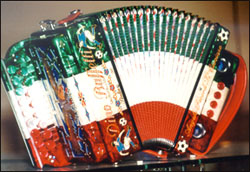 Maestro Anthony Galla-Rini to Direct ATG Festival Orchestra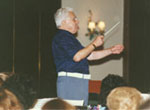 The Maestro Anthony Galla-Rini (ATG President Emeritus), will be attending the 60th Anniversary of the ATG from July 20-23, 2000.

Many exciting activities are planned for the festival which is to be held at the Lisle/Naperville Hilton, in the greater Chicago area. A special feature will include the A.T.G. Virtuoso Entertainment Competition, offering a first prize of $1000.00, second prize $500.00 and third prize of $250.00. Open to accordionists under the age of 32, contestants must perform an own choice program comprising a minimum of 4 pieces of different style and moods, with a maximum time limit of 15 minutes.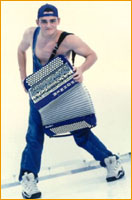 Among the array of guests will be: Frank Marocco, Jazz Legend Tony Dannon, The "K" Trio, CIA World Accordion Champion Vitali Dmitriev from St. Petersburg, Russia, CIA Virtuoso Entertainment Champion - Frederic Baldo from France (pictured to the right), current Coupe Mondiale World Accordion Champion and past Virtuoso Entertainment Champion Jerome Richard, France as well as others.

A special banquet and party will be held in honor of the 60th Anniversary, and for the latest information please contact A.T.G. President Joan Sommers, (816) 235-2743 or by E-mail: SommersJ@umkc.edu or visit online at:www.accordions.com/atg

Festival of Accordions Honoring Pietro Deiro Jr.
Sunday afternoon, April 2, 2000 several outstanding accordionists will perform on a concert honoring the late Pietro Deiro Jr.

Included in the line up are Carmen Carrozza, Gelso Pellegrini, Daniel Desiderio, Mario Tacca and the Accordion Pops Orchestra.

The festival will include a dinner at 1:30 PM followed by a concert at 2:30 PM, all held at the Hunterdon Hills Playhouse in New Jersey. Ticket price is $45.00 for this musical tribute and dinner.

For further information and tickets, please contact Rosemarie Cavanaugh at (732) 257-8198

2000, the Year Ahead
This year will offer a feast of accordion activities, festivals and conventions including such events as The American Accordionists' Association and The Accordionists and Teachers Guild, International conventions in July, the new Accordion Convention in Las Vegas, and the annual Cotati Accordion Festival, both held in August.

The Coupe Mondiale World Accordion Championships will be held in Kragujovac, Yugoslavia from October 25-30th, 2000. American citizens wishing to compete in any of the four categories (Senior/Junior Coupe Mondiale and Senior/Junior Virtuoso Entertainment Divisions) should contact the American Accordionists' Association and the The Accordionists and Teachers Guild, International for entry details.

(For further information, or to list your event, please consult the monthly calendars for exact dates and contact details.)


Kimberly International Old Time Accordion Championships
The Annual Kimberley International Old Time Accordion Championships will be held from July 3-9, 2000 in Kimberley, British Columbia. Featuring a variety of competitions and concerts, the festival features cash prizes and Trophies totaling over $12,000!!

Among the artists appearing at the festival, will be Kerry Christiansen - Accordionist/Yodler extraordinaire.

The American Business Association announced that KIOTAC has been designated by an elite tourism industry selection committee as one of the 1999 Top 100 Events In North America! This prestigious designation is important recognition by the group tour and travel industry of the high level of quality that goes into planning and execution of KIOTAC, and the rich entertainment value it offers to both group bus tours and individual travelers from around the world.

For further information, please contact: P.O. Box 473, Kimberley, BC, Canada VIA 3B3, Phone: 1 888 4KIOTAC
http://www.cyberlink.bc.ca/~kiotac
E-mail: kiotac@cyberlink.bc.ca.