Lots of Great Squeezing in Texas by Valarie Kieser
Text by Valarie Kieser, pictures courtesy of Gus Stangeland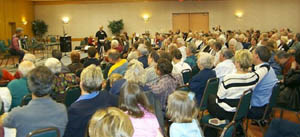 My usual expression for something that to me is truly fabulous is, "Wow!" Well, I can't think of any other term for the 2001 Texas Accordion Association National Accordion Convention in Plano, Texas March 8-11. Every year it just seems to get better!

Maybe it's because I'm getting to know some of the regulars there, but each year I meet wonderful new friends and players as well. In any reasonable space I couldn't possibly cover all the wonderful aspects of this convention, so here are a few highlights.

Wow! Playing in the 35-accordion orchestra again this year under Gary Daverne of the Auckland, New Zealand Symphony.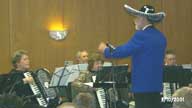 We played difficult arrangements of really great pieces, including a wonderful Beatles medley, a number composed by Gary called "Pocket Overture" (there is a story about how it got its name), "The Lord of the Dance" (faster toward the end than my fingers can fly), "Orange Blossom Special," a fabulous Glen Miller medley, and "The Syncopated Clock," for part of which Gary called up a member of the audience to conduct us, and had the whole audience in stitches.

Wow! Friday Evening Party/Concert which was an informal presentation by many different talented players and groups.

Wow! The Saturday Evening Concert which was a more formal event with some of the best musicians I have ever heard - really first-class entertainment. It included our big orchestra as noted above, plus a special performance by the "Traveling Orchestra," consisting of a few members of the larger group. The traveling group toured Texas just before the convention, showing the public what the accordion can do. The group included real virtuosi such as the members of the "K" Trio, Arlene Boddicker's daughter Michele, and others. They blew everyone away with "España Cañi," a hilarious polka called "Grasshopper Polka," (with perennial favorite Marilyn Monsivais on a rhythm stick called the "Stump Fiddle," that had everyone roaring with laughter), and "El Rancho Grande." Also at the Saturday night concert we heard some beautiful accordion playing by Lin Xu, a young man from China who is well on his way to becoming a virtuoso. Since Lin lives in Fremont and is a BAAC member, I hope he will come and play for us. In fact, the BAAC helped him attend the AAA and ATG competitions last year, and he did very well. And of course, Tony Lovello! Well, I don't need to tell you he "razzle-dazzled" everybody!

Wow!

The Workshops by really top talent in their field: Every one that I was able to catch was great. Unfortunately I had to miss some workshops because of much-needed orchestra rehearsals.

Wow!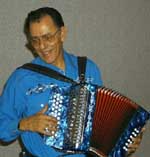 Santiago Jimenez, Jr. playing Tex-Mex/Conjunto style on his button box. Santiago is the brother of Flaco Jimenez, and a son of Santiago Jimenez, Sr., pioneer of the Tex-Mex/Conjunto movement. Norm Seaton, President of the TAA and the wizard in charge of the whole convention, asked me if I would show Santiago my button box, which is the Austrian/Slovenian type and has a different sound from the one Santiago played. Well, one thing led to another, and soon Santiago was in love with my button box and played it for over an hour. Was I honored?

Wow! Double Wow! Anyone who has not heard the "K" Trio: Don't miss hearing them if you get the opportunity! They are a precision trio of acoustic accordions, of which one is a bass accordion. They blew everyone away with, among others, Chopin's Minute Waltz (which is not intended to be played in one minute), "Carnival of Venice," "Malagueña," Bumble Boogie (I used to play it on the piano, and it is lots more fun than Flight of the Bumblebee), and "The Atchison, Topeka and the Santa Fe" including accordion-made train sounds that were really effective. This trio is totally committed to beauty and precision, with all the best articulation, phrasing and dynamics you can imagine. They stand out from any other group I have heard. The "K" Trio has a website - www.ktrio.com through which you can get their CD's.

Thanks, BAAC, for sending me as your representative to the convention. And Congratulations Norman Seaton! You outdo yourself every year!

Wow!

(for more TAA pics, please see: http://www.cybergus.com/taa200)

Former United States Champion to Appear in Concert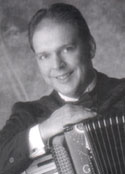 Anthony Rolando, a former United States Champion and two time Bronze Medal winner at the CIA Coupe Mondiale World Accordion Championships will be a featured guest artist at both the upcoming ATAM from (April 6-8, 2001) and AAA festivals (July 12-15, 2001.)

Anthony began playing the accordion at the age of five, and went on to win over 110 trophies during his competition years which saw him ultimately win the United States Championship earning him the right to compete internationally at the Coupe Mondiale.

Anthony has concertised throughout the USA, Canada, Europe and Australia where his performances were well received. He has also performed with the Lawrence Welk Orchestra as well as at concerts in Carnegie Hall, New York, for President George Bush Senior, and in concert with Luciano Pavarotti.

Specializing in Italian music, you will find Anthony performing for many Italian Festivals world wide both as a soloist and with soprano Valerie Vacco.

You will find Anthony in concert on April 6 - 8, 2001 at the ATAM Festival and also at the AAA Festival in Cleveland from July 12 - 15, 2001.

MAC Celebrated 10th Anniversary
The Milwaukee Accordion Club recently celebrated its 10th Anniversary. Special celebrations were held in the form of a banquet and commemorative program which included musical selections by Stas Venglevski including the premier of a composition dedicated to the Milwaukee Accordion Club on the occasion of its 10th Anniversary.

The MAC meets monthly and offers programs and performance opportunities featuring the worlds leading accordionists as well as local talent.

Queen of Finnish Accordion in Minneapolis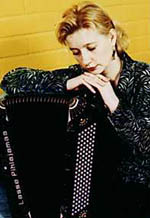 Maria Kalaniemi, the undisputed queen of Finnish accordion, will be performing in Minneapolis on April 21st at 1:00 PM at the Cedar Cultural Center as part of the Nordic Roots Festival.

Maria, a true virtuoso has been described as being a compelling performer with a commanding presence, performing with much passion and intensity.

Maria Kalaniemi, (b. May 27, 1964) is rapidly making a name for herself, in Finland and abroad, as one of the world's most talented accordionists, not only as a technically skilled player but also as a gifted composer.

Maria's specialty is the 5 row button accordion and she began playing at the age of eight. Her first real training was in classical music where she studied for eleven years. During these studies she developed an interest in traditional Finnish folk music and began working in that field, as well, performing solo and with fiddlers. The "double life of Maria" continued until 1983 when two major breakthroughs occurred.

Maria was voted winner of the Golden Accordion, a live nationally televised accordion competition. The direct result of this was the opportunity to record her first album, featuring, as in the competition, traditional Finnish dance tunes. The album was released by the Accordion Institute of Ikaalinen. Secondly, Maria entered Helsinki's Sibelius Academy and joined Heikki Laitinen's newly established Folk Music Department. Soon after entering, she finished her classical training completely and devoted all her time and energies to folk music.

Maria's experience with Laitinen and his revolutionary approach to folk music training was a major turning point in her life and career. Her work there was extensive and all encompassing, including thorough knowledge of tradition, mastery of a chosen instrument, multi-instrumentalism, composition, theory, improvisation and performance, centered around a broad minded, adventurous and borderless attitude towards all forms of music. So, while progressing rapidly in her accordion skills, Maria also studied mandolin, violin and kantele and began composing and arranging.

Also in 1983, Maria and other Sibelius Academy Folk Music Department students formed the pioneering ensemble Niekku. An all woman group, except for JPP's Arto Järvelä, Niekku set out and succeeded to reinvent Finnish folk music. Very experimental for their time, Niekku pushed trad Finnish folk into unexplored territories, in execution, arrangement, texture and style.

The music, part traditional and part original compositions, was all acoustic and featured a wide array of traditional and contemporary instruments. Their three albums and numerous concerts at home and abroad established them as leaders of what became known as the "New Finnish Folk" movement.

Ever searching for new routes, Maria took off for France in 1989 to study for a short time with accordionist Marcel Azzola, another experience that would have a lasting effect. The second major turning point came in 1990 at Maria's Sibelius Academy graduation, where she began investigating the use of left hand free-bass melodies, an approach not previously attempted as free-bass playing was considered exclusive to the classical music genre. The free-bass technique Maria explored and developed opened up a whole new world of possibilities for her, in performance, composition and arrangement. She promptly and with great intensity set her course on this path and within two years she was a master, a position unique in Finland and perhaps the world.

Tickets for her Minnesota performance are $18.00, available at the door. For information please call: (612) 338-2674 or visit www.thecedar.org

Drew Carey performing on accordion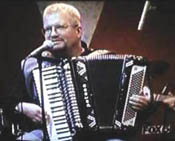 Recently on Fox TV, Drew Carey was seen performing on a Petosa accordion as part of his band in Ohio.



Gabriel's Gate new CD 'Departures'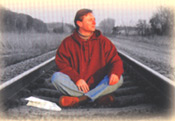 Kansas City accordionist Brett Gibson of Gabriel's Gate announces the release of their groups third CD entitled 'Departures.'

Produced by well known musician Roger Landes, the CD includes several of Brett's original works including "Flailing Katana,", Two Fingers and a Fumb, "Chicken Wichita," "Koteka," and :"Fountain Raiders".

The producer had the following to say about Gabriel's Gate:

In an age glutted by mega-marketed "Celtic" music extravaganzas and traditional/commercial music crossovers, I find it extremely encouraging to come across the music of Gabriel's Gate - three Midwesterners and a Kiwi who are creating unique and refreshing fusions based on the rhythms, forms and flavors of Irish and Scots traditional music.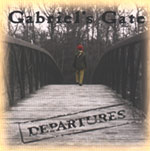 "Their newly-composed tunes are a delight, their arrangements startling, and Frank Blair's voice is a mighty welcome addition to Celtic music.

"No trendy graftings or derivative thievery here, they seamlessly and unselfconsciously combine their influences and experience to make music which is authentically their own. These influences are apparent only in brief, albeit welcome glimpses as their music carries one away with its grace and power."

For information on purchasing this new CD, please contact Brett Gibson at: brettski@worldnet.att.net

Rose City Accordion Club Camp
The Rose City Accordion Club will hold their "Camp 2001" from June 10th to 14th at the Silver Falls Conference Center in Sublimity, Oregon. The camp will include five days of great fun and music!

This is the fourth time this event has been held and over 50 accordionists will participate in workshops by Joe Morelli, Joe Baccellieri and Karl Kment as well as two accordion orchestras, rehearsing and performing music arranged in six parts especially for the camp.

There are just a few places left, if interested e-mail: Glevear@aol.com

Paris-Moscow Duo Seeks USA Concert Opportunities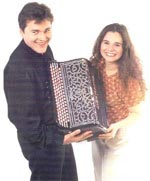 The European duo "Paris-Moscow" (Domi Emorine and Roman Jbanov, both winners of international competitions), are currently looking for concert opportunities in the United States. They offer a concert of high quality accordion music of many styles. The program consists of music from the Baroque period up to the present, that has been transcribed or specifically written for the accordion.

The audience will travel between the musical styles and countries of France and Russia; from classical music, to musette, to variety and Russian folklore. The audience will discover the accordion with the musicality, the sensitivity, the virtuosity, and humor of a duo.

If you are interested, do not hesitate to ask us for more information. We will be pleased to meet you and perhaps collaborate with you in the future.

Anyone interested in having them perform may contact the duo at:
Domi Emorine and Roman Jbanov
C.N.I.M.A.
63690 Larodde
France
Tel/Fax: +33 (0) 4 73 22 28 26
e-mail : domi.emorine@libertysurf.fr or: roman.jbanov@libertysurf.fr

ATAM Festival draws over 1200 Contestants!
The Accordion Teachers Association of Massachusetts which was established in 1962, has attracted over 1200 contestants for this years festival to be held April 6-8, 2001. This annual New England Music Competition and Festival is sponsored by the ATAM and all events are open to the public free of charge.

The founding father of the ATAM is Aldo DeRossi of New Bedford, MA. who is still active within the organization. The first President was the late Frank Gaviani, Sr.

Festival activities include Competitions in Solos, Duos, Ensembles, Bands, Some Non Competitive Categories, Cash Awards with over $3,000.00 in prizes, and an Awards Banquet which are all held at the Marriott Hotel in Newton, MA.

For further information please contact:
ATAM Contest Chairperson
Roger Latulippe
136 Lowell Road
Hudson, NH 03051
USA

Phone/Fax: 603/882-8940
E-mail: Roger Latulippe

AAA Festival in Cleveland
The American Accordionists Association will hold its 2001 Festival from July 12-15, 2001 at the Sheraton Hotel, Cleveland International Airport, Cleveland, OH.

Featured guests will include: Carmen Carrozza, Eddie Monteiro, Peter Soave, Anthony Rolando and Huang Ling Ling. Visit www.ameraccord.com for updated information.

The Emter Family Gears Up for Busy Summer Season

Spring has finally arrived here in North Dakota and with this the upcoming tourist season will soon be in full swing. This means its the busy season for the Emter family, as they spend time preparing for the summer events here at their dinner theater.

In mid April the Emter family beings work on a new album which will be available for sale by the end of May. This album will be a collection of our finest polkas and waltzes and our most requested Inspirational songs.


Not only do the Emter's believe in traditional family values, they live them and have taken them to audiences across North America, Canada, and Mexico. Some of their 750 performances have included Garrison Keillor's National Public Radio Program, QVC National Television, Kimberley (British Columbia) International Old-Time Accordion Championships, North Dakota's own "Norsk Hostfest", the U.S. Capitol, the Kennedy Center in Washington D.C., State and County Fairs, Polkafests, Town Festivals, and Church Celebrations
North Dakota's First Year-Round Dinner Theater Featuring superb food and wholesome, unique family EMTERtainment. Over 10,000 guests served our first year! Plan on coming to North Dakota and treating yourself to a fun-filled evening of superb food and award-winning entertainment at the Emter Family Dinner Theater. Let Mom and Dad (Renae and Roger) along with Adam, 19; Angelina, 18; Alida, 16; and Abigail, 15; show you why they have received national recognition for their musical talents and accomplishments.
Their repertoire consists of heritage-rich polkas and waltzes, heartfelt Gospel, as well as patriotic and Christmas songs. The family also adds tight harmony vocals to many of their selections. Relax year-round in our new, comfortable, smoke and alcohol-free theater. Visit our gift shop prior to your hearty dinner, which is served right to your table. After dinner, sit back and enjoy a fabulous evening of toe-tapping entertainment!
Each of the Emters performs on a Strasser button accordion. The Strasser company has become one of the leaders in the button accordion industry, with more than 70 years of experience. Constant innovations, material research, suggestions and special wishes from top musicians have made Strasser button accordions the No. 1 choice of professionals.

Light weight, extraordinary sound, and exceptionally light key action are some of the special features of these button accordions. Regardless if you just play at home, for a dance group, or professionally, you will be amazed with the quality and the precise construction of these instruments.
Currently they are open on Saturday evenings until Memorial Day weekend, at which time we will switch to 6 nights/week - Monday through Saturday. The Theater opens at 5:00 PM, the Meal served at 6:00 PM and Show Time is 6:30 PM. Seating Capacity is 100 people with ticket price at $17.50 in advance or $19.50 at the door (Prices include 7% tax, and Children that are highchair age and younger are free.) Handicap accessible Overnight full-service RV park.
You may contact the Emter Family at:
Emter Family Dinner Theater
P.O. Box 1291 101 17th Street Southeast
Jamestown, ND 58402-1291
Telephone/Reservations: 701-252-2662
E-mail:
emterfamily@buffalocity.net

UMKC - KU Concert
On March 31st, The UMKC Accordion Orchestra performed at the Kansas Symposium of New Music entitled "Music Midst Us" in the Lied Center on the campus of the Kansas University, in Lawrence, Kansas.

Performing the new recent work of Paul Rudy entitled "Out of Crooked Timber..." the piece featured the UMKC Accordion Orchestra under the direction of Joan Sommers with Lidia Kaminska as the soloist.

The Viennese Accordion Ensemble will be just one of the special guests at this years ATG Festival to be held in San Antonio, July 19-22nd, 2001.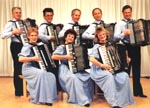 The Viennese Accordion Chamber Ensemble was founded in 1967 and was made up of the best soloists in Austria at that time. This combination has virtually remained together ever since. One of the secrets of this lasting success is continuity. Over many years the combination has virtually not changed at all: Ladies: Sylvia Zobek, Margarete Gebauer and Erna Forst Gentlemen: Prof. Walter Maurer, Werner Weibert, Peter Forst, Anton Barinka, Walter Dietz and Günter Zobek.

Although three of the members were winners at the "Kunststufe" Austrian competitions, another two were very successful at the International Coupe Mondiale, rivalry never evolved and the only thing that counted was being together in the Ensemble. From the first hour together the main aim was to show and to prove that the accordion claims its place in the concert hall.

In this field the Viennese Accordion Chamber Ensemble has certainly done a pioneer's job. This shows in their repertoire, which contains all styles. About half of their standard program contains compositions from Bach, Handel, Mozart, Mussorgsky and Johann Strauss to Gershwin and Bernstein.

The big aim of the ensemble, whether it is performing classical or light music, is good interpretation. The ensemble has made many successful concert tours to all parts of the world. On their 1985 tour of the USA, many show elements were added underlining their versatility even further. Success was achieved with performances of original music by Würthner, Brehme, Schollum, Jacobi and Seiber, just to mention a few.

Over the years the Viennese Accordion Chamber Ensemble has developed an indistinguishable sound, which has been used as a model for other ensembles and orchestras to strive for. Their sound (which has its origin in own arrangements) not only inspires Austrian friends and fans.

Successful concert tours of Holland, Poland, Germany, Czechoslovakia, Yugoslavia and the USA show its popularity. A concert in the world famous Carnegie Hall was achieved, along with several performances in Disney World. In 1990 they toured Australia and New Zealand. Although several of the members have been competitors in several competitions, a profound friendships has linked them for over 20 years.

Apart from the musical relationship this may be the most important reason for the great and lasting success of the Viennese Accordion Chamber Ensemble. We look forward to welcoming them to the ATG Festival in San Antonio!

Why not advertise your web site on accordionusa.com?
TELL THE USA WHAT YOU HAVE TO OFFER!
2001 Las Vegas Accordion Convention

Join Us for THE ACCORDION EVENT of a lifetime from October 14-18, 2001 at The Las Vegas Accordion Convention... the place to be!

Mark your calendar and send us some e-mail requesting a registration packet because we expect 2001 to be a sell out Convention! As of January 31 we are already 25% booked!

This is a once in a lifetime opportunity to have gathered together the greatest accordion legends. Dick Contino - 2001 Honorary Director - The chance of a lifetime to not only hear Dick in his element "Las Vegas" but to attend a Master Class "The Life & Times of Dick Contino".



A rare opportunity to not just hear, but to learn from the legend! Art Van Damme - Our Alumni 2000 Honorary Director told Paul "Let's do it again" and what an honor it is to have Art return - His performance and master class are truly a bit of heaven - A thrill you will never forget!

Peter Soave - The artist who will win your heart as he has so many all over the World. Peter's performance and master classes are a touch of magic - Peter is truly a musical genius and his performances and master classes are worth the trip.

Come Join the FUN and learn why everyone can't stop talking about the Las Vegas Accordion Convention. Four nights and three days of entertainment and inspiration! We will are in the process of building a new web site so check back soon - and in the mean time mark your calendar and make sure you request a registration packet today!

The Las Vegas Accordion Convention Convention will take place at The Plaza Hotel - #1 Main Street Las Vegas, Nevada. Rooms are only $40 per night!

The Las Vegas International Accordion Convention is dedicated to promoting and preserving the heritage of the stradella accordion and to providing a forum for accordion clubs. The venue offers an affordable yet luxurious-setting for players, enthusiasts, clubs & exhibitors to all come together and celebrate the accordion and be inspired by some of the world's finest accordionists in a city dedicated to entertainment.

Call the HOT LINE for a 24/7 messaging center that provides the latest up to date news and allows you to leave a message. You may also contact the organizing committee via fax, e-mail or by post.
HOT LINE 801-486-1695
FAX 801-596-7315
Postal address:
2330 South Main Street
Suite 15
Salt Lake City, UT 84115 USA

e-mail: General Information: lasvegas@accordioninfo.com

Just for fun...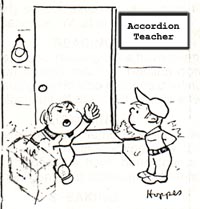 "Very Strange! When I have a good lesson it's on account of
her
teaching; a bad lesson is on account of
my
practicing!"

We invite you to submit your
News, Concert, Club Listing, CD or Article!
---
www.accordionusa.com
is a free service to the accordion community.
We appreciate the generous support of
'Accordions Worldwide'
found at: www.accordions.com


Arnold Rufus from Toronto, is trying to get in touch with the people who publish the late Frankie Yankovic's (pictured) recordings and printed sheet music, in particular his Polkas and Waltzes. While there are numerous items on the www.polkas.com site, Arnold would like to know if anyone has any futher information.

Please contact Arnold, a keen 78 year old accordion enthusiast who enjoys his music very much at:

Arnolds Rudolfs
118 Northwood Dr.
Toronto, Ont. Canada M2M 2K3
e-mail: arnolds@primus.ca

Frankie Yankovic, born in 1915, passed away in 1998. Well known as "America's Polka King," he is personally responsible for catapulting Slovenian Cleveland-Style Polkas from an obscure ethnic artform into national prominence as a mainstay of American musical culture.

Spanning a career of 60 years, Frankie greatest numbers were his 2 million-seller hits, "Just Because" in 1948 followed shortly by the even-bigger "Blue Skirt Waltz." At that time, gold records were a rarity for any artist, not to mention a polka artist!

In recognition of the long and successful career that ensued, Frank received the first Grammy Award in the polka category in 1986. Interested persons may also write Ida Yankovic, 41 Alice Circle, Chestnut Hill Farms, Greenburgh, PA 15601

Pasquale Lorello announces 6 CD's!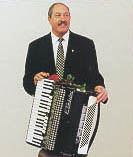 Canadian accordionist Pasquale Lorello is now offering a grand total of 6 CD's featuring a variety of music including Latin, Italian and Continental Music.

Pasquale was born in Savuto di Cleto, Italy 1939 and began his musical career taking lessons from Maestro Mario Aloi in Amantea, Cosenza.

In 1957, he immigrated to Canada and continued his studies in Ottawa, Ontario, where he participated in many festivals and received many first prizes. He later moved to Toronto and taught in the Vavro School of Music.

Pasquale shares his love for music and the accordion with his many students and also offers a complete selection of musical books, sheet music and instruments. Pasquale had his own band for 25 years, however, he now performs solo for private parties and wedding receptions.

He also plays in various restaurants in the Greater Toronto Area. During all these years, people have asked if he had recorded any of his melodies. So it was with great pleasure that he finally decided to record these various favorites for your enjoyment.
You may contact Pasquale at: http://www.tcn.net/~accordion