Piazzolla Lecture-Recital
UMKC Doctoral accordion candidate Lidia Kaminska will present her DMA recital featuring the works of Astor Piazzolla on Sunday, April 21, 2002 at White Hall in the Performing Arts Center, at 4:30 pm.

The Performing Arts Center is located on the UMKC Campus at 4949 Cherry, Kansas City, Mo.

This lecture recital entitled 'Astor Piazzolla and theTango Nuevo' will feature the works:
Le Grand Tango
Café 1930
Bordel 1900
Cité Tango
Invierno Porteno
Fugata
El Tango
Adios Nonino
Performing with Lidia will be Ian Flatt - cello; Gregory Sandomirsky - violin; Beau Bledsoe - guitar; Brad Cox - piano; Jeff Harshbarger - bass and Beatriz Dujovne - narrator.

Galla-Rini Recovering after a Fall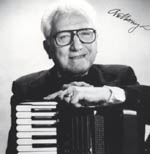 Maestro Anthony Galla-Rini is recovering from a fall on April 1st, during which he broke his hip.

Tony had just helped his wife Dolly into her wheelchair to go down for breakfast. He turned around to get his walker, lost his balance, and fell. He said the pain was just excruciating and he knew then and there he had broken something!

Mr. Galla-Rini will remain at the Palomar Rehabilitation Care Center for approximately five more weeks and doctors have told him he should recover fully. He has already had to get out of bed and stand up and, while he says it hurt tremendously, he also reports he is extremely glad that nursing staff made him do it. The doctors are also treating him for his touch of emphysema while he remains at the care center.

Mr. Galla-Rini is in good spirits, and, as is usual for him is more worried about his musical activities, and so informs everyone that his arrangements for his July Music Camp were already completed. Fantastic!

Well wishes may be sent via his home address to:

Mr. Anthony Galla-Rini
Redwood Town Court, #203
500 E. Valley Pkwy
Escondido, CA 92025-3006

Friends may also contact him at the care facility by calling: (760) 739-2216. Mr. Galla-Rini says however, that he needs plenty of time to get to the phone, so please be patient.

We wish the Maestro a speedy recovery!

Extreme Squeezing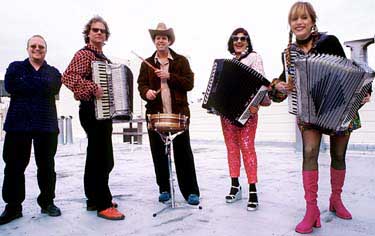 Ready to rock?

THOSE DARN ACCORDIONS (pictured left, in photo by Jim Merithew) the San Francisco-based band that threatens to forever change your understanding of the squeezebox - will perform at the Hotel Utah on Thursday, April 19, 2002. Local San Francisco band 86'd kicks off the show at 9 p.m. Tickets are $7.00. The Hotel Utah is located at 500 4th St. in San Francisco. For more information go to www.thehotelutahsaloon.com or phone (415) 546-6300.

Those Darn Accordions' set list will be jammed with songs from "Amped," the new six-song EP that captures the veteran San Francisco band's squeezebox-fueled sonic assault in all its glory. On "Amped" -- released by Mill Valley-based indie label Globe Records -- the band pumps out four catchy songs chronicling life in the weird lane: "Serious World," "Mr. Slagle's Revenge," "Enter the Douse," and "Meaning of Life." Along with the originals, "Amped" includes covers of Steppenwolf's rock anthem "Magic Carpet Ride" and a raucous version of "Making Our Dreams Come True" (better known as the theme from "Laverne & Shirley"). The April 19 show also will include songs from the band's four previous recordings. (Song samples and a full discography can be found at http://www.thosedarnaccordions.com/music.htm.)

Onstage, the five-piece band fronted by lead singer/squeezebox wizard Paul Rogers and bellows-pumping babes Patty Brady and Suzanne Garramone, with Bill Schwartz on drums and Lewis Wallace on bass roars through a variety of musical genres from heavy metal to polka and back again, torching timeless rock 'n' roll classics along the way.

For more information or to schedule an interview, please contact Paul Rogers at (415) 381-4640 or by email at tda@thosedarnaccordions.com. More high-resolution color photos of TDA (suitable for reprint) are available for download at http://www.thosedarnaccordions.com/press.htm.

TDA - Extreme Squeezeboxing http://www.thosedarnaccordions.com

Pennsylvania Newspaper Attunes to Accordion
53,000 readers of the March 3, 2002 issue of the Beaver County Sunday Times (Pennsylvania) were treated to a full-page life-size color photograph of an Excelsior piano accordion on the cover page of the newspaper, as well as a comprehensive article titled "Attuned To Their Accordions" by staff reporter Karen Ferrick-Roman.

Although the four-page article included in-depth interviews with four prominent Pittsburgh area accordionists and teachers, Andy Dokmanovich, Arlene Fejka, Al Roginski and Henry Doktorski, the crux of the article focused on the activities of two talented teenage accordionists, fifteen year old Nick Fejka and seventeen year old Brian O'Boyle.

The two young men (former students of Henry Doktorski who currently study with Slovenian master and former Duquesne University Tamburitzan Andy Dokmanovich) are members of the Slavjane Folk Ensemble of McKees Rocks -- directed by Arlene Fejka -- which specializes in authentic Eastern European music and dance performances. The article included four photographs of Nick and Brian rehearsing with the Slavjane Ensemble.

Author Karen Ferrick-Roman commented, "The response to my article was tremendous; I had no idea that the accordion was so incredibly popular. One of the calls I received was from the mayor of a nearby town who told me he performs on diatonic accordion with the
Pennsylvania-Ohio Button Box Association!" For a copy of the article, contact author Karen Ferrick-Roman at krojman@timesonline.com

Garfield Accordion Series
Fans of the popular cartoon series 'Garfield' have been delighted at the series which shares some fun with the accordion. You can also find the pictures at www.garfield.com.






101 Popular Songs for Accordion by Jody Latulippe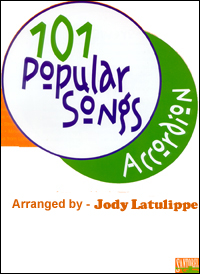 New Hampshire accordionist Jody Latulippe has just released a new book entitled "101 Popular Songs for the Accordion". (Also available as 101 Popular Songs for the piano, and 101 Popular Songs for the Guitar.)

A past student of Joan Cochran Sommers at the University of Missouri, Kansas City, where he received his Bachelor of Music Degree, Jody wrote the following at the beginning of the book:

"These standards have endured the test of time because of their accessibility. Generations of musicians have enjoyed performing these popular favorites, and each selection was chosen careful from a variety of categories. There's something for everyone here including: sing-a-longs, holiday, patriotic, inspirational, folk, classical, ragtime, and jazz."

Published by Santorella Publishing Co. of Danvers, MA, this new book retails for $19.95.

Santorella's confidence in their products is so assured that they provide every customer with a 100% guarantee, not for 30 days or even 90 days, but for the life of the product. That is unheard of in the print music industry!

Customers can call, fax, send a letter, or e-mail from 8 AM to 6 PM EST Monday through Friday.


Santorella Publications, LTD.
13 Pleasant Ave.
Danvers, MA 01923
Toll Free Ordering: 877-600-0049.
Phone: 978-750-0566 • Fax: 978-750-0572
http://www.santorellapublication.com
e-mail: contact@santorellapublication.com

Henry Doktorski in St. Patrick's Day Service
American concert accordionist Henry Doktorski performed at the Midway United Methodist Church (Midway, Pennsylvania) on Sunday, March 17 for their "St. Patrick's Day Great Commission" service. In addition to leading the congregation during the standard hymns, he played the "Pastoral Symphonie" from Handel's "Messiah" as well as his own "Theme and Variations on Danny Boy." Church Director, David Sims, said, "We wanted to do something extraordinary this year for our St. Patrick's Day Service, so we thought about having our regular organist take the day off and have an accordionist take her place.

One of the members of our congregation happened to know someone from the Pittsburgh Symphony who enthusiastically recommended that we contact Henry Doktorski. "Henry was just the person we were looking for and we were fortunate that he was able to find a substitute for his regular Sunday morning job as organist for St. John of God Parish in McKees Rocks. His concert accordion filled our church with magnificent music which enlivened our congregation. We hope to have him again next year."

Henry Doktorski: http://henrydoktorski.com

Kevin Friedrich with Auckland Symphony Orchestra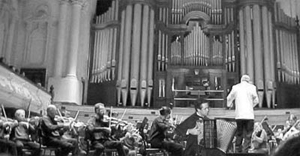 New York based accordionist Kevin Friedrich will perform three concerts as guest soloist with the Auckland Symphony Orchestra under the direction of Gary Daverne in New Zealand in early May.

Performing two concerts in Auckland and one in Dargaville, New Zealand, the concerts will be held at the Aotea Center (May 5th, 2:30 PM) and Bruce Mason Center in Auckland (May 12th, 2:00 PM) , and the Town Hall in Dargaville (May 11th, 7:30PM). Performing two pieces, Kevin will play the Rhapsody for Accordion Orchestra, by Gary Daverne as well as premiere a new work for Accordion and String Orchestra entitled "The Gem of the Kaipara" also by Gary Daverne. Providing great exposure for the accordion, the combined audience for the three concerts will be in excess of 3,000 people!

The new work "The Gem of the Kaipara" is written in honor of long time accordion and arts supporter and life time member of the New Zealand Accordion Association, the late Mrs. Jenny Cocurullo. A pillar in the Kaipara community in the northern region of New Zealand, Mrs Cocurullo had always promoted the Kaipara as the "Gem of the North", however, she in turn was considered "The Gem of the Kaipara" which is also the title of this new work by Gary Daverne.

Las Vegas Legendary Line-up

Legendary accordionists Anthony Galla-Rini, Frank Marocco, Art Van Damme, Dick Contino and Myron Floren will appear together at the Las Vegas International Accordion Convention which is being held from June 23-26th, 2002 at the Plaza Hotel in Las Vegas and Convention Center at Number One Main Street, Las Vegas, Nevada

A terrific opportunity to see these accordion stars together, this momentous occasion will be rare chance to mingle with five people who have helped shape the accordion world in the United States over the years in their respective fields covering areas such as Jazz, Composing, Arranging, Hollywood, Television, Show Business and Teaching.

Not limited to these five accordion greats, the convention will also feature United States World Champion Peter Soave and his wife Maddy and a host of other guests from the United States and abroad.

For further information and registration, please visit www.accordionstars.com
HOT LINE: 801-486-1695
FAX: 801-596-7315
2330 South Main Street Suite 15
Salt Lake City, UT 84115
e-mail: lasvegas@accordioninfo.com

From Puerto Rico to India to Scotland to France to...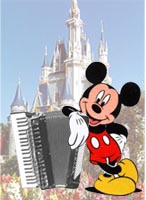 On the heels of the Las Vegas Intentional Accordion Convention, from one entertainment capital of the world to another, accordionists from around the world will gather in Orlando to partake in the annual Accordionists and Teachers Guild, International Annual Competition and Festival from June 27-30th, 2002.

During this convention, everyone will team together to form the 2002 ATG Festival Orchestra which will give a high profile performance at the Walt Disney World Epcot Center on Saturday June 29th, at 11:00 AM.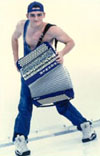 Featured guests will include French Sensation Frederic Baldo and long time ATG member Myron Floren who will conduct the festival orchestra at Disney as well as perform in concert.

Other guests include an accordion trio from India, and accordion Orchestras from Scotland and Puerto Rico.

Other activities include the United States National Championship, the Anthony Galla-Rini Competition for Classical Accordion and the Myron Floren Competition for Entertainment Music, all offering wonderful prizes.

Anyone wishing to attend, compete in the competitions for everyone including adult hobby, or perform in the Festival Orchestra at Disney, should contact ATG President Joan Sommers.

Lark in the Morning Music Celebration 2002

The Lark In the Morning Music Celebration 2002 will be held for the 22nd time from August 2nd to 10th in California. This "Music Celebration" was started in 1980 to provide a venue to allow traditional musicians and dancers to get together and share their music & dance.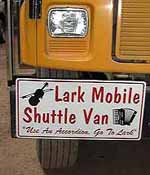 A Celebration Of Music And Dance Imagine idyllic days & nights in the magical redwood forest filled with all the music, dance, and good times you could possibly stand, and that's kind of close to what Lark's Music Celebration is like. You are free to take as many or as few of the workshops offered as you like; jam sessions 24 hours a day, big dances every evening. Plenty of good food, new friends, and musical stimulation. Truly a unique total immersion into the joys of nature, music and dance. Many workshops for the professional as well as the beginner!

Events will include Music & Dance Workshops, dances, concerts and jam sessions. Tutors include Joel Bernstein (English Concertina), Casey Burns (High Tech Reed Making), Jack Gilder (Anglo System Concertina in The Irish Style), Miguel Govea (Tex Mex Conjunto & Tex Mex Button Accordion), Rene Peña Govea (Tex Mex/Colombian Button Accordion) and Simo Tesla (Piano Accordion & Serbian Music).

For further details phone: +1 707 964-5569

Live TV Show for Milen Slavov

Accordionist Milen Slavov will take part in a live television interview & performance on WLOX TV's "4:30 Show" (WLOX-TV Channel 13, Biloxi, MS) on April 4th. He will be joined by Strandzha singer Zhivka Papancheva and accomplished gudulka player Teodor Dimitrov. Their program will include original Bulgarian music in traditional and contemporary styles.

On April 6th they will perform a free concert at the Leggett Memorial United Methodist Church in Biloxi, MS. This concert is sponsored by the Mississippi Arts Commission and the Mississippi Folklife Association.

Milen Slavov is a composer, arranger, performer, teacher, and vocalist. Born in Stara Zagora in the Thrace region of Bulgaria, he began playing accordion at the age of seven. He graduated from Bulgaria's most prestigious musical training institute, the Philip Koutev Music School in Kotel, then studied at the Musical Pedagogical Conservatory in Plovdiv. He is a skilled master of accordion, keyboard, and tambura. He plays and composes in Bulgarian traditional, contemporary, improvisational, Eastern European, and gypsy styles.

Slavov began his performing career in 1984 as a "wedding" musician, requiring the highest level of professionalism and virtuosity. As a teacher of tambura at the Koutev School, Slavov wrote original works designed specifically for his students, a practice he continues today. His compositions are still taught at the Koutev School. In 1994 the school honored Slavov by adopting a photo of him with singer Zhivka Papancheva as their official school emblem.


Milen Slavov's awards include the 1994 Songwriting Award from the Chudomirovi Praznici Competition, the Outstanding Student Award from the Koutev Music School in 1994, and a Gold Medal for Folk Song Performance from the 1981 Koprivshtica National Folk Festival.

Slavov has lived in America since 1997, and has performed throughout the United States. He served as Music Director and Composer for San Francisco-based Westwind International Folk Ensemble. Slavov was guest teacher of the UCLA Ethnomusicology Department for the 98/99 academic year. In 1998 he was Guest of the Community at the EEFC's Mendocino Balkan Music and Dance Workshop. He has performed with Yuri Yunakov, Donka & Nikolai Kolevi, Grammy-winning vocalist Kremena Stancheva, Kitka, Khadra, and at the California Academy of Sciences, the Wild Iris World Music Festival, the Cotati Accordion Festival, and the East European Accordion Masters. He has appeared on live radio in California, Mississippi, Wisconsin, Missouri, and Texas. The California Arts Council has granted Milen Slavov the 1999/2000 Performing Arts Fellowship in Musical Composition.

MS Music Agency
37 Lakeview Dr
Ocean Springs MS 39564
phone: 228/875-1570
e-mail: management@msaccordion.com

Berkeley, CA Serbian Music Concert
Serbian accordionist Micho Micic will entertain at Boaz Accordions in Berkeley, California on April 6th. Micho is a member of the popular local band "Ravna Gora", which "brings the house down" regularly at the Serbian Orthodox Church in Fair Oaks.

His program includes traditional music such as "Moravac", "Uzicko", "Kraljevo" and "Gocino".

For details phone: +1 510 845-1429

Showstoppers Orchestra in Concert

The 25 member Showstoppers Accordion Orchestra and the 25 member Showstoppers Dance Company will present a variety show which features vocalists, instrumentalists and dancers on Friday June 21, at 7:00PM (with raindate Sunday June 23 at 7:00 PM) at the Greeley Park Stage in Nashua, NH.

The Showstoppers are students of the Rosita Lee Music & Dance Centers in Hudson, NH. The orchestra is under the direction of Rosita Lee Latulippe and the dancers are under the direction of Shelly Latulippe. They have performed throughout Italy, Canada, Ireland and the United States. The program includes selections from the "Big Band" era to the latest hits of today. Polkas, waltzes, audience participation and more are in store. Their show is family entertainment and attendees are asked to bring chairs/blankets for open lawn seating.

For further information, please contact 603/882-8940 or e-mail:Roger Latulippe at: Roger@rositalee.com

There's Plenty of Room for Everyone in Texas
By Kate Kelsall
"Embracing diversity is one adventure after another, opening new paths of discovery that connect an understanding to caring, listening, and sharing with others who are different than ourselves." April Holland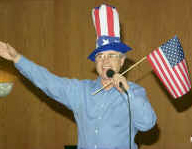 The Texas Accordion Association National Accordion Convention was held from March 7-9, 2002 in Plano. The Texas Accordion Association's President, Norman Seaton, demonstrated Texas hospitality. This event was a true celebration of diversity, representing accordionists with ages from teens through seniors from many cultural backgrounds, playing diverse genres of accordion music. Walking through the hallways of the hotel was a musical delight with a wide range of diverse accordion music emanating from the rooms-waltzes, polkas, classical, standards, Tex-Mex, country western-every type of music imaginable.

Some highlights of the convention included a musical smorgasbord of the following:
Lidia Kaminska performed classical pieces. Lidia is from Poland and is completing her Doctorate in Musical Arts (DMA) in Accordion Performance at the University of Missouri at Kansas City.
Alice Aman, Colorado's Polka Queen, conducted one orchestra and generously played the bass accordion in two other orchestras at the convention.
Mike and Margie Aman from Colorado played the accordion and recorded live on Channel 4 television in Dallas.
John Simkus, the Accordion Jazz King of Chicago and of Lithuanian descent, conducted the TAA Accordion Orchestra.
Jim Rommel of Dallas played the accordion and sang with his eleven year old daughter who also sang "I Got Rhythm" and "Edelweiss".
Dick Albreski of Oklahoma City and Greg Klugiewicz of Texas, both of Polish descent, performed as an accordion duet.
Santiago Jimenez, Jr. a legend in the Conjunto music world, performed and conducted workshops. Santiago dedicates himself to preserving the style and memory of his father's and grandfather's music.
Tim Alexander, five-time Grammy winner, conducted workshops and performed on the button-box.
Ginny Mac, a 16 year old Texan, sang and played country western songs on her accordion.
Joseph Castorina from Australia, who currently resides in Texas, played "O Solo Mio" on the accordion and was accompanied by 19 year old, Lin Xu, from China who currently resides in Grand Rapids, Michigan. Lin sang this Italian song in Chinese, and he is also an accomplished accordionist.
The convention included two exciting public concerts on Friday and Saturday evenings. There was a "flag-waving" patriotic opening ceremony featuring the Plano Civil Air Patrol Color Guard on Friday night. Saturday night's program concluded with accordionists playing the "Beer Barrel Polka" and being accompanied by a surprise visit from a group of tuba players.

Participating in this event was a rewarding human experience. We appreciated and embraced others' differences. Our common bond was the accordion. We reached out and shared our gifts of music and became richer because of it.

The author, Kate Kelsall, enjoys entertaining with the accordion and plays solos, in an accordion quartet and in an accordion band in the Denver area. Kate can be contacted at KateDenver@aol.com

World Music Fest
The American Accordionists' Association is sponsoring the new World Music Fest which is part of their annual festival to be held in Minneapolis and Duluth from July 10-14, 2002 at the Holiday Inn West.

The World Music Fest is open to Ensembles performing Ethnic, Rock, Polka, Klezmer, Continental, Scandinavian, Swing, Ceilidh, Jazz or any other Style. The competition will be held Thursday, July 11, 2002 at 7:00 PM in the Ballroom at the Holiday Inn West - Minneapolis.

Offering a $1000.00 first prize, competition rules are as follows:
Each group must consist of a minimum of 3 and maximum of 6 members. Other instruments and vocals may be used, but the accordion must be featured.
The program should consist of any form of world music (as above), not exceeding fifteen minutes duration. Entries will be judged on basis of originality, variety, musicianship and professionalism.
An audio tape of the program, postmarked no later than
June 1, 2002, must be sent to:
American Accordionists' Association
World Music Fest Committee
1066 Papermil Court, NW
Washington, DC 20007
Up to ten finalists will be chosen from the tapes by a panel of prominent musicians and dignitaries. They will be notified by June 8, 2001. These finalists must be prepared to perform in person before a live audience at the competition to take place at the Holiday Inn West in Minneapolis, MN on Thursday evening July 11, 2002 at 7:00 PM.
Finalists will be judged by a distinguished panel of musicians and dignitaries. Decision of the judges will be final and prizes will be awarded following the competition.
No tapes will be returned.
For further information, please contact the:
AAA Executive Office
580 Kearny Avenue, Kearny, NJ 07032 USA
Phone: 201-991-2233 Fax: 201-991-1944
E-mail: ameracc@aol.com or LSoleyReed@aol.com

Special Room Rates for AAA Festival Guests are $85.00 (single to quad). You may make bookings directly to the Holiday Inn West, Minneapolis, located at 9970 Wayzata Blvd. Minneapolis, MN 55426-1008, by calling 952/593-1918 or 800/465-4329

Foxy Squeezer


Just for Fun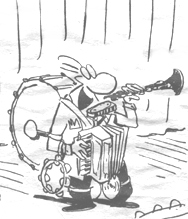 ...my next number will be the Brahms' Lullaby
---

---
Note: In order to provide as much information as possible for the United States National Accordion News stories, many different sources are often researched to gather additional information and pictures to complement what has been submitted. This information is then correlated to provide the news on www.accordionusa.com in the spirit of which it is intended, which is to provide a free news service to the Accordion Community, specifically in the United Sates. If you feel any copyright has been violated please advise www.accordionusa.com and the article will be removed immediately.