---
New Book from Gary Dahl and Mel Bay Publishing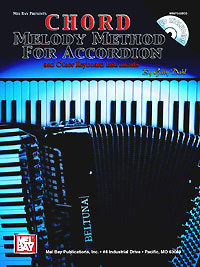 Now available for ordering: Mel Bay Publications and author Gary Dahl proudly announce the long awaited Chord Melody Method for Accordion and other Keyboards.

This is a BREAKTHROUGH course that will teach you to quickly learn all of the chords used in today¹s music and to apply their harmonic applications professionally to any lead sheet. Imagine possessing the ability to develop and compose a professional sounding arrangement on the spot while improvising confidently as needed!

The average dedicated student will become proficient in 6 to 12 months and will experience a dramatic improvement in all areas of musicianship. The Chord Melody Method will enable you to achieve your ultimate music making goals.
Visit this site for ordering information: http://www.accordions.com/garydahl
Visit to view 3 sample pages (one with a sound file) and the Table of Contents
http://www.melbay.com/authors.asp?author=105 or you may view samples as follows:
Author Gary Dahl is always available to answer questions and asks interested parties not to hesitate to ask...as he wants all purchasers to be successful with this book.

---
New Orleans Jazz and Heritage Festival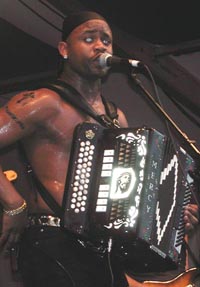 The New Orleans Jazz and Heritage Festival from Friday, April 22 - Sunday, May 1, 2005 is one of the premier events of the year and will feature many accordionists including CJ Chenier, Buckwheat Zydeco, Duane Dopsie, Wayne Toups and many more.

In 1970, only about 350 people attended the Festival, about half the number of musicians and other participants in the event. But the Festival, which became known as "Jazz Fest" almost immediately, was a great artistic success. When Jazz Fest was held the next year, it was clear that the event had already outgrown Congo Square.
For the 1972 Festival, the event moved to the infield of the Fair Grounds Race Course, the third-oldest racetrack in America (open since 1872). Jazz Fest would grow quickly over the next few years, constantly expanding its use of the 145-acre site. In 1975, the Festival, still just a five-day event with only three days of the Louisiana Heritage Fair, had an anticipated attendance of 80,000. This was also the first year of the Festival's popular, limited-edition silkscreen poster, now recognized as the most popular poster series in the world.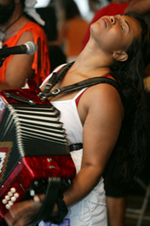 From 1976 to 1978, Jazz Fest expanded to two full weekends of the Heritage Fair, and in 1979, for the 10th anniversary, the Festival scheduled three weekends, though one entire weekend was cancelled due to rain.

In the 1980s, Jazz Fest continued to experience a tremendous growth in popularity and began to gain wide acclaim as one of the world's greatest cultural celebrations. By the end of the decade, more than 300,000 people attended the Heritage Fair, evening concerts, and workshops. The 1989 Festival marked the 20th annual event, which was commemorated with a classic poster featuring Fats Domino, ushering in an era during which the poster would celebrate many of Louisiana's music legends with iconic portraits.

The decade of the 1990s saw the appeal of Jazz Fest and the Festival's significance as a cultural symbol soar. The New York Times would note that the Jazz Festival had "become inseparable from the culture it presents." The Festival added features like the Thursday that kicks off the second weekend (1991); an International Pavilion that celebrates other cultures (Haiti, Mali, Panama, Brazil, Martinique, and in 2004, South Africa); and the Native American stage and area.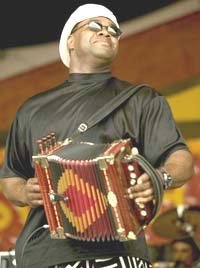 In 2001, the Festival celebrated Louis Armstrong's centennial, and the total attendance eclipsed 650,000, shattering records for virtually every day of the Heritage Fair, including the all-time single-day attendance record of 160,000. Wein's prediction that New Orleans would become the first city of jazz festivals had clearly come true.

With 12 stages of soul-stirring music—jazz, gospel, Cajun, zydeco, blues, R&B, rock, funk, African, Latin, Caribbean, folk, and much more—the New Orleans Jazz & Heritage Festival is a singular celebration. The event has showcased most of the great artists of New Orleans and Louisiana of the last half century: Professor Longhair, Fats Domino, The Neville Brothers, Wynton Marsalis, Dr. John, Branford Marsalis, Harry Connick Jr., Ellis Marsalis, The Radiators, Irma Thomas, The Preservation Hall Jazz Band, Allen Toussaint, Buckwheat Zydeco, The Dirty Dozen Brass Band, Better Than Ezra, Ernie K-Doe, Vernel Bagneris, The Zion Harmonizers, Beausoleil and many others.

The Festival has always blended in a wide mix of internationally renowned guests, among them: Aretha Franklin, Miles Davis, Bob Dylan, Ella Fitzgerald, Dizzy Gillespie, Santana, Sarah Vaughan, Paul Simon, Jimmy Buffett, Max Roach, B.B. King, Dave Matthews Band, Patti LaBelle, Tito Puente, the Allman Brothers Band, Joni Mitchell, Al Green, Linda Ronstadt, Lenny Kravitz, Sonny Rollins, Bonnie Raitt, James Brown, Celia Cruz, Stevie Ray Vaughan, Hugh Masekela, Cassandra Wilson, Willie Nelson, The Temptations, Burning Spear,Van Morrison, LL Cool J, Abbey Lincoln, Erykah Badu, Dave Brubeck, Gladys Knight, Youssou N'Dour and many, many others.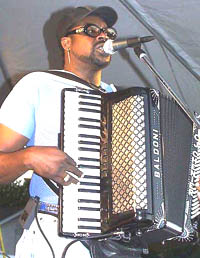 Over the years Jazz Fest has received many honors, including being named the Festival of the Year four times by Pollstar magazine. The 2004 event marks the 35th anniversary of Jazz Fest, which the Wall Street Journal says "showcases a wider, deeper lineup of essential American musical styles than any festival in the nation…" and which Life magazine has called "the country's very best music festival.''

Inspired by the spirit of Mahalia Jackson and the Eureka Brass Band back in 1970, the New Orleans Jazz & Heritage Festival continues to celebrate the culture of Louisiana with the combined fervor of a gospel hymn and the joy of a jazz parade.

Don't miss the food, crafts, and music that make this festival one of the best the city has to offer!

Select performances including accordionists and accordion include:
Friday - 22nd April, 2005
5:55 PM - Popeyes Blues Tent: Buckwheat Zydeco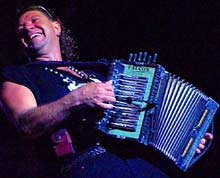 Saturday - 23rd April, 2005
1:15 PM - Acura Stage: Rockin Dopsie Jnr. and the Zydeco Tweisters

Friday - 29th April, 2005
4:35 PM - Popeyes Blues Tent: CJ Chenier
5:55 PM - Sheraton No Fais Do-Do Stage: Duane Dopsie and the Zydeco Hell Raisers

Saturday - 30th April, 2005
2:20 PM - Sprint/Sanyo Stage: Wayne Toups and the Zydecajuns

For a full list of performers, please visit: www.nojazzfest.com


---
Biography of Deiro Brothers Published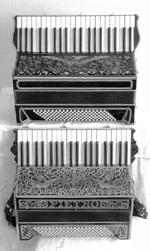 The Brothers Deiro and Their Accordions, a book written by the American author, musicologist, and concert accordionist, Henry Doktorski, has just been published. The 11,000-word book describes in detail the fascinating lives and enduring musical accomplishments of the brothers Pietro and Guido Deiro, and has been lauded as the first definitive and authoritative biography of the two greatest piano-accordionists of the early twentieth-century.

The book is organized into two sections: (1) "The Brothers Deiro," which describes their lives, careers and achievements, and (2) "The Deiro Brothers' Accordions," which describes their instruments. Part one consists of nine chapters:
Separating Fact from Fiction
The Brothers Deiro in Europe
The Brothers Deiro in America
The Brothers Deiro Achieve Stardom
Discord Between the Brothers Deiro
The Brothers Deiro As Composers
The Death of Vaudeville
The "Who Was First?" Controversy
The Legacy of the Brothers Deiro
Part two gives a detailed description of the two brothers' accordions (recently donated to A World of Accordions Museum) built in 1917 and 1926 by the San Francisco-based Guerrini company, and includes twenty beautiful full-page (8 x 11 ½) photographs of the two instruments.
Doktorski said, "The factual history of the two brothers Deiro might have remained forever unknown, if not for the acquisition of the substantial archives of Guido and Pietro Deiro by the Center for the Study of Free-Reed Instruments at the City University of New York. I have examined these archives and have been stunned and amazed in many ways. In my book I do not flatter the two men, but attempt to present (as much as possible) an accurate and balanced biographical history describing their accomplishments, their rich and complex personalities, their virtues and vices, and also to dispel some enduring myths about these two pioneers of the piano-accordion. My conclusions are based on source materials (newspaper clippings, recordings, etc.) in the archives, published research by scholars, as well as testimony from contemporaries who knew these two great men."

Doktorski concluded, "As a musicologist and author, I am grateful for the opportunity to research and write this history of the famous brothers Deiro and their accordions, and, as a professional concert accordionist, to follow in the footsteps of those two great pioneers who served and continue to serve as inspiration for thousands of piano-accordionists throughout the world. I hope that my book will be appreciated by accordionists, musicologists, and lovers of early twentieth-century popular music."

Order from the author at http://henrydoktorski.com


---
Semionov Premieres new work written for Faithe Deffner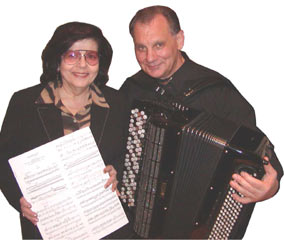 The forward of the new work for accordion by Viatcheslav Semionov reads: "Written for my colleague Faithe Deffner in commemoration of her service to the accordion community as President of The American Accordionists' Association: 1985-1986, 1995-1996, 1997-1998 and 1999-2000.

Written in three movements, (1) Legend (2) Nostalgia (3) Journey, this new work is written for instruments that have both stradella and free bass and is playable on both piano accordion (minimum 41 key) and chromatic accordion.

The work was premiered on March 11, 2005 in New York City by Mr. Semionov himself and is due to be published in the very near future.

Mr. Semionov's concert and workshop appearances took him to New York City, Washington DC, Detroit, Champaign - IL, Kansas City and Superior - WI where he performed in concert and gave a variety of lectures and master classes.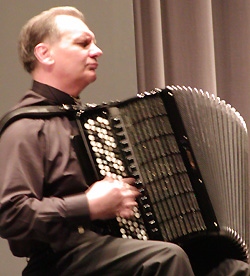 One of Russia's foremost accordionists and composers, Viatcheslav Semionov is widely considered 'the founder of the modern performance school of bayan' (the Russian term for accordion). He was awarded the Silver Disk at the 1994 International Festival of Bayan and Bayanists and in 1995, he received Russia's highest performance distinction, "People's Artist of Russia"as decreed by President Boris Yeltsin.

Semionov has taught at the Rostov Musical Pedagogical Institute and at the Gnessin Musical Institute in Moscow. Among his student roster are both chromatic and piano accordion virtuosi who have been awarded top honors at international accordion competitions. One such recent winner, piano accordionist Alexander Poeleuv, delighted audiences with many of Semionov's compositions during his US concerts in 2004.

Semionov's concert program included:
Pastorale in E by C. Franck (1822 – 1890)
Sonata in Eb by D. Scarlatti (1685 – 1757)
Sonata in C by D. Scarlatti (1685 – 1757)
Sarabanda by Nikolai Tchaikin (1915 – 2000)
Prophetic Dream (2001) by Viatcheslav Semionov (1946)
Spanish Suite No. 3 (1992) by Anatoli Beloshitsky (1950 – 1995)

Intrada
Ancient castel
In modo di canto flamenco
Bailaora
Lullaby
Saeta

-Intermission-


"Brahmsiana" Rhapsody for Bayan (1996) by Viatcheslav Semionov
"North pictures" (2003) by Viatcheslav Semionov

Winter landscape
North dance
Toccata "Deer riding"

Children's Suite No. 2 (1989) by Viatcheslav Semionov
Divertimento (2005) by Viatcheslav Semionov
"Kalina Krasnaya" in Memory of V. Shukshin (1976) by Viatcheslav Semionov
Bulgarian Suite (1975) by Viatcheslav Semionov

Daichovo horo
Sevdana
Gankino horo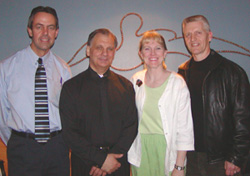 While in Kansas City Mr. Semionov gave a recital at the University of Missouri - Kansas City where he was given several standing ovations. Mr. Semionov was treated to a reception after the concert where he had the opportunity to meet many of the accordionists who reside in the Kansas City area.

Pictured here is Mr. Semionov with The International Trio, Kevin Friedrich and Julie and Juha Silfverberg.

On the second night of his Kansas City series, as a master class, he was presented with a variety concert at the University of Missouri - Kansas City including the following program:
Three Preludes by George Gershwin adapted by J. Sommers & K. Fremar from arr. by Anthony Galla-Rini

Allegro ben ritmato e deciso
Andante con moto e poco rubato
Allegro ben ritmato e deciso

Medley from "The King and I" by Rodgers & Hammerstein, arr. by Fremar & Sommers

Accordion Duets performed by Joan Sommers and Karen Fremar


Parisian Medley - Various arr. by A. Galla-Rini, arr. for MIDI by Betty Jo Simon
MIDI Solo – Betty Simon

Frakanapa by Astor Piazzolla, arr. by Wolmer Beltrami
Accordion Solo – Samantha Jarquio

The Way You Look Tonight by Jerome Kern, arr. by Karen Fremar from an old solo recording by Anthony Galla-Rini
Accordion Solo – Karen Fremar
- Intermission –



Gershwin! (Medley) by George Gershwin, arr. by Joan Sommers
Waltz from "Sleeping Beauty" by Tchaikovsky, arr. by C. Herold
Granada (Spanish Fantasia) by Augustin Lara, arr. by Joan Sommers
Jalousie by Jacob Gade, arr. by Karen Fremar & Joan Sommers

The UMKC Community Accordion Orchestra, Joan Cochran Sommers, Director
Orchestra Personnel - Karen Fremar (Concert Master), Betty Simon, Dan McGhee, Erica Van de Voort, Dee Sligar, Sam McGhee, Samantha Jarquio, Christine Jarquio, Kevin Friedrich, Julie Silfverberg, Jan Day, Edwin Cole, Gail Overly, Timpani: Bill Solomon, Percussion: Laura Lee Ward, Drum Set: Roger Caliman

---
Accordionist Stefan Hussong to perform in Maryland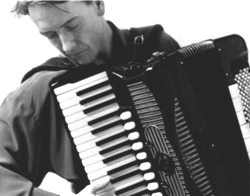 Classical accordionist Stefan Hussong will present a free public concert on Saturday, April 16 at 4:00 PM at the Spencerville Seventh-day Adventist Church, 16325 New Hampshire Avenue, in Silver Spring Maryland.

Mr. Hussong has recorded extensively repertoire not normally associated with the accordion. Keyboard Magazine raved "Listening to his Bach 'Goldberg Variations' recording is a once-in-a lifetime experience. Hussong's understanding of classical phrasing shines in every bar, and he never goes for the pratfall. His dynamic shading with the bellows is delicate, and his ornaments and rubati are in the finest Baroque tradition." The concert will feature selected works from the massive repertoire of this extraordinary artist. J. S. Bach, Padre Antonio Soler, John Cage, Jukka Tiensuu, are among the composers represented on the program.

Stefan Hussong was born in Koellerbach an der Saar, Germany, and received scholarships from the Studienstiftung des Deutschen Volkes, DAAD, Akademie Schloss Solitude and the Art Foundation of Baden-Wuerttemberg State. In 1987 he received the first prize at the International Gaudeamus Interpreters Competition for contemporary Music.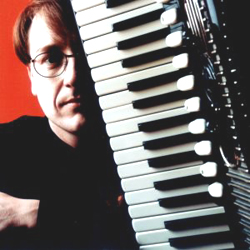 Hussong was awarded the Echo Classic Prize of the German Phonoacademy in the category Best Performer of the Year 1999. That same year his Solo-CD published by DENON with works by John Cage won the Best Record Award of the year. Hussong has premiered more than 80 works dedicated to him and he has recorded more than 25 CD`s, some of which have won several prizes.

Hussong has performed as a soloist with, among others, the Orchestre de la Suisse Romande, Musikfabrik Nordrhein-Westfalen, Ensemble Intercontemporain, Ensemble Modern, Klangforum Wien, Rundfunk Symphonieorchester Saarbruecken and Tokyo Shin Nippon Philharmonic Orchestra. He is professor for Accordion and Chambermusic at the Musikhochschule Würzburg.

More information, including directions and complete program and performer information can be found on the concert series website www. evensongconcerts.org or by contacting Mark Willey, Director at 301-384-2920 ext. 26 or e-mail: director@evensongconcerts.org


---
Leavenworth International Accordion Celebration

The annual Leavenworth International Accordion Celebration will take place from June 22-25, 2005 in Leavenworth, Washington.

The Leavenworth International Accordion Celebration has grown each year - with more cash awards, events, competitors and world-class entertainment. This year is no exception!

Many of our competitors, visitors and audience members took the time to let the LIAC Committee know what they wanted in 2004 by filling out Feedback Forms and talking with us. We listened and we made some changes.

This year LIAC will compliment the musical interests of our international competitors by building on our Bavarian theme and adding real International flavor with other ethnic music in our featured performances and workshops.

Last year we offered $4500 in prize money and trophies including a Leavenworth Open First Prize of $1000. Look for more than $4500 in Prize Money and Trophies this year! Last year there was Daytime Jamming at the Front Street Gazebo. There will be jamming again this year.

Last year we featured top entertainment artists. This year we will feature even more top artists!

The 2005 Leavenworth International Accordion Celebration will be an exciting event – full of talented musicians including Tony Lovello (USA) and Bernadette Conlon (Australia) along with Gary Blair (Scotland) as well as many others, enthusiastic music lovers, friendly competition and surprises! All set to the backdrop of Leavenworth, Washington's Bavarian Village, where you will always find Old World charm and hospitality.

For more information, please contact the Leavenworth Chamber of Commerce e-mail: info@leavenworth.org or phone: 509-548-5807.


---
Betty Jo Simon Completes East Coast Tour

Betty Jo Simon, Overland Park, Kansas, was the "Headliner" for the American
Accordionist's Musicological Society (AAMS) annual convention in Valley Forge, Pennsylvania, March 4 - 6, 2005. Her performance on the Saturday night concert reflected many of the selections from her newly released "Musically Yours" CD.

Betty Jo also judged and gave a interactive workshop on the effective use of MIDI. She was well received as people were amazed at her command of the MIDI. Prior to the AAMS convention, Betty Jo played a 90-minute concert for the Delaware Accordion Club in Wilmington.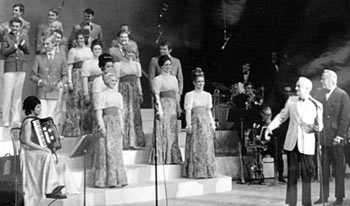 This was truly a nostalgic tour for Betty Jo as it had been 35 years since she had taught for Stanley Darrow at the Acme Accordion Studio as her "first job" out of college. It had been 34 years since she toured with the famous band leader and choral director, Fred Waring and his "Pennsylvanian's". (Betty Jo is pictured at right, with the Fred Waring Show.)

Returning to the rehearsal site at Delaware Water Gap, PA and meeting up with former Pennsylvanian, Bob Hartman brought back wonderful memories. In addition to the concert activities, Betty Jo and her husband Wolf also took in a little time to enjoy the site, and were afforded a fabulous of view of Niagara Falls from the 35th floor of the Embassy Suites hotel, which was a sightseeing highlight of the tour.

Betty Jo is about to embark on another tour which will take her to Alabama. On April 9 she will perform for the Alabama Accordion Club, at 11:45 AM at the Alabama Power Concert Center, Clanton, AL. For reservations and directions contact Jim Wadowick at (334) 566-1664.

On April 10, at 2:30 PM in Crosby Hall on the Troy State University Campus, Troy, AL. Sponsored by the Troy Arts Council.


---
Victor Prieto in 'Pennies from Heaven
"Pennies From Heaven: The Songs of Arthur 'The Street Singer' Tracy" will take place on Wednesday April 27th at 6.00 PM at the Bruno Walter Auditorium, Lincoln Center.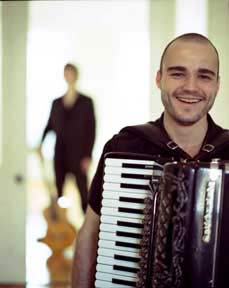 Narrated and performed by Steve Ross, it is written, directed and performed by Gregory Moore, with accordion accompaniment by Victor Prieto, with special guest star, the legendary Joe Franklin.

In 1932, Arthur Tracy was one of America's top recording artists and radio stars. He went on to become one of England's favorite singers as well. When he left show business in the 1940's, he was largely forgotten, until the 1981 film Pennies From Heaven brought him back to the public spotlight.

Noted cabaret star Steve Ross will host this evening of remembrance, written and performed by Gregory Moore, with sensational Spanish accordion maestro, Victor Prieto recreating some of Arthur Tracy's most memorable musical creations. Joe Franklin America's legendary talk show host who was one of Arthur Tracy's closest friends, will also be on hand to share some of his memories, which will be sure to make this an unforgettable evening.

The performance will take place at the Bruno Walter Auditorium, The New York Public Library for the Performing Arts, 40 Lincoln Center Plaza, New York, NY 10023-7498.

For more information, please visit: www.victorprieto.net


---
Petaluma's 'Celebrate the Accordion Day'
The Petaluma Downtown Association's 'Celebrate the Accordion Day' returns for its third year on June 25th. The annual event will be held at two venues in Petaluma, California. The venues will be: Putnam Plaza (on Petaluma Blvd. between Washington and Western), and The Petaluma Historical Library & Museum.

Events will be held from 11:00 AM - 5:00 PM and admission is Free! For further information e-mail: krisnelson@aol.com


---
Joel Guzman to present Conjunto Workshop in Buda, TX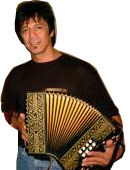 Joel Guzman will present a Conjunto Workshop on Saturday April 9, 2005. The workshop will be held at 806 Magnolia Cove, in Buda,Texas from 12:00 PM – 3:00 PM. The fee for the workshop is $35.00.

Joel Guzman embodies experience, originality, creativity, and tireless dedication to the tradition and advancement of the accordion.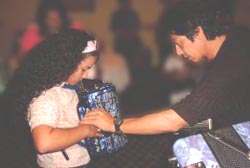 Joel Guzman's accordion influence and playing is not only limited to the Tex-Mex/Conjunto genre, but also stretches into the rock, jazz, blues, country, and zydeco markets as well.

For information on participating in the Conjunto Workshop, please contact: Jguzman4@Austin.rr.com or call: Office: 512.295.7165 or Cell: 512.787.8181



---
Accordion Tribe to Premiere in the USA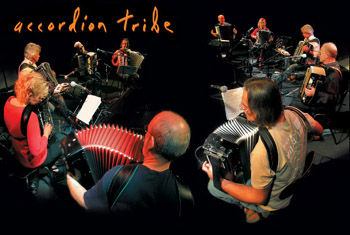 The Accordion Tribe film "Music Travels" has won three prizes: Swiss ART TV – Best Film of the Year, Swiss Film Prize – Best Documentary, and Wurzburg Film Festival – Best Documentary. The film which has been seen by 12000 people in Switzerland, has now opened in Austria and will open in Germany in April.

Members of Accordion Tribe include: Guy Klucevsek (USA), Maria Kalaniemi (Finland), Bratko Bibic (Slovenia), Lars Hollmer (Sweden) and Otto Lechner (Austria)

The film will do a short festival tour in USA in April including Erie, PA on April 6, 2 PM and 8 PM at the Mary D'Angelo Performing Arts Center at Mercyhurst College, 501 E. 38th Street in Erie, PA 16546 For information, please call (814) 824-2000 or Toll Free: (800) 825-1926. After this, the file will show in Minneapolis followed by screenings at the Thessaloniki Film Festival, Greece and another in Poland.
The Accordion Tribe has a seemingly impossible mission: to return their long disregarded instrument to the worldwide recognition it once enjoyed as a powerhouse of emotions.

"You have to have a very thick skin if you are trying to play accordion and take it seriously," admits New Yorker Guy Klucevsek, who was dismayed to learn as a student that his instrument wasn't taught in music colleges. Klucevsek hooks up with blind Austrian jazz accordionist Otto Lechner, who has been playing and composing for the accordion since the age of four, as well as the Finnish Maria Kalaniemi, Swedish accordionist Lars Hollmer, and Slovenian new-waver Bratko Bibic to form the tribe.

As their tour bus journeys through Europe, resplendent with rich musical heritage, the unlikely ensemble embraces the past and searches for new beginnings. Accompanied by exciting aural landscapes of trancelike intensity, Accordion Tribe is a magnificent showcase for the transforming power of music and an enjoyable road movie wrapped up in one stirring film.

The film credits include: Director: Stefan Schwietert, Editor: Stephan Krumbiegel, Cinematography: Wolfgang Lehner, Cast: Guy Klucevsek, Lars Hollmer, Maria Kalaniemi, Otto Lechner, Bratko Bibic. Language: English, German, Film Info: Color/87min/35mm. Contact: info@maximage.ch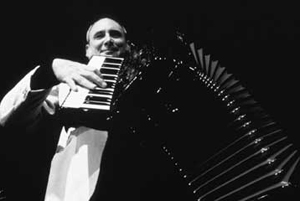 Instigator and original conceptualist of the project is New York accordionist Guy Klucevsek. Guy is known as the "rebel with an accordion" throughout the jazz and avant-garde world from his work with Bill Frisell, John Zorn, Anthony Braxton, Laurie Anderson and others, plus the numerous albums he's released on his own. Guy, of Slovenian descent, was raised on polkas, then quickly expanded his interest into classical music studies for accordion. His influences are vast, including composers Penderecki, Xenakis and Ligeti, folk melodies of Eastern European and traditional music from around the world. Guy is a master of the free-bass accordion and, as with the other players in this project, his music goes beyond style and categorization. His recordings and performances are bizarre collections of inexplicable sounds and segues, melodies and improvisations. From a solo accordion piece that sounds like a cartoon train wreck to a delicate chamber piece with piano, violin, viola, cello and bass, his range, sophistication and power are unequalled. Guy has toured and performed in Europe, USA and Canada.

Maria Kalaniemi from Finland, is a master of free-bass button accordion. She is, in fact, recognized as Finland's leading contemporary accordionist. Once a member of pioneering group Niekku, from the famed Sibelius Academy Folk Music Department, where she now teaches, her roots are in folk and classical music but her sights and abilities go far beyond existing styles. Technically brilliant as a player, and adept at improvisation, she is also a very powerful, intuitive and sensitive composer, with pieces that stylistically touch in numerous areas but feature her own personality as the driving force. Melody is the meaning and with Maria, listeners are sure to feel her message deeply. Maria has released many albums, the latest a duo with pianist Timo Alakotila. She is also a member of a female melodeon quintet called The Helsinki Melodeon Ladies and a Swedish-Finnish music group Ramunder. Maria has toured and performed with Aldargaz and with the Maria Kalaniemi Trio throughout Europe, USA and in Canada.
Sweden's Lars Hollmer is a true eccentric. From his home in Uppsala, Lars concocts imaginary worlds with accordion, keyboards and electric band, worlds that often sound completely crazy but are as deep-rooted and heartfelt as the simplest melody, which he also is known to produce with great ease. He has an illustrious past as founder and co-conspirator in Swedish bands Samla Mammas Manna, Zamla Mammas Manna and Von Zamla. But it's his recent past, present and future which are the most challenging and interesting. His numerous albums under his own name and with his later constellations Looping Home Orchestra, Treasure Hunters and others are brilliant excursions of unpredictable fantasy adventure. Lars has toured and performed throughout Europe and in Canada with all his various groups. His most recent adventure is to Japan for project Sola with Japanese ensemble. Concerts took place in 2001 and a recording is due in 2002.
Bratko Bibic hails from Slovenia. Member of 70's legends Begnagrad, who recorded two stunning albums, Bratko eventually took his accordion to Nimal, a multi-national conglomerate of like minded souls, including cellist Tom Cora (USA) and top Swiss players known for their work with the also legendary Debile Menthol. Nimal's three albums include some of the most challenging yet melodically and rhythmically stimulating music ever made. Bratko's compositions were highlights, showcasing his accordion skills and illustrating his huge capacity for truly wild arrangements. In recent years, Bratko has toured as a solo, performing provocative sets of traditional, modern and post modern material, using his voice as an equally provocative instrument and demonstrating the full potential of the accordion through complex and spontaneous sound experiments. In 2000, Bratko reactivated and enlarged his Ljubljana based quintet The Madleys. They toured Europe and recorded a new CD "In the Family Garden". Music featured on the CD is related to his silent movie/live music project which he presented for the first time in 1999 (Part One) and in 2001 (Part Two) on behalf of Slovene Cinematheque.
The self-taught musician Otto Lechner comes from Austria and started playing accordion at age four. He lost his eyesight completely when he was 15. "I am blind but I think a lot in colours: greys and blues", he says. Otto's performances include his own compositions and adaptations of traditional and popular music and waltzes, sometimes combined with jazz improvisations. Lechner is musical director of two ensembles in Vienna, Otto's Jazz Ensemble Oh Je and Das Erste Wiener Strenge Kammerorchester. He travels with Theatre Without Boundaries and composes music regularly for theatres and radio plays all over Europe. Recently he has performed with Joe Zawinul and Maz Nagl, among many others. His music is not dance music, but instead can, at times, sound very melancholic, coming from deep within.


---
New CD released by Betty Jo Simon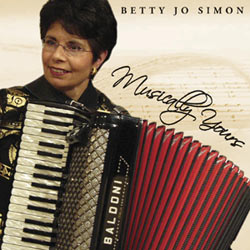 Just released, a new CD by Betty Jo Simon, MIDI Accordionist. It includes a wide variety of styles from Classical, Jazz, Oldies, Sacred, Fun music for every listener. Price: US $15.00 $2.00 Shipping and Handling. Tracks include:
Tour of the Emerald Isle
Begin the Beguine
12th St. Rag
Nuit Blanche
The Rosary
Take Ten
Harmonious Blacksmith
French Medley
The Holy City
An American in Paris
String of Pearls
Malaguena
Boogie Woogie Bugle Boy
From the CD liner notes:

The spring of 2005 marked my 50th year of playing the accordion. From the day a door-to-door salesman brought a 12-bass accordion into my life, it's been an awesome run and I thank God for giving me this talent. Music transcends all language barriers and through it, I've learned my geography. USO Tours have taken me to Greenland, Newfoundland, Labrador and Germany.
Touring with "Fred Waring and the Pennsylvanians" gave me more of an appreciation for our United States. Playing in the Accordion Orchestra of the University of Missouri at Kansas City (UMKC) took me to Europe, Australia, and New Zealand. Musicianary friends living in Hong Kong accompanied me on performances in Meizhou, Shanghai, Beijing, and Wuhan, where I appeared on a variety show on Chinese satellite TV.

Along the way, I've met wonderfully talented people who have had a great influence on my playing. I have orchestrated several of Anthony Galla-Rini's inspiring and challenging arrangements. "The Rosary" was arranged for the left hand with the right hand joining in on the second half as a counter melody. In "Begin the Beguine," I particularly love the way he uses the
bolero effect. I added a solo guitar effect in "Malagueña," which is unique to this arrangement. I was inspired by the Boston Pops rendition of "An American in Paris." It was particularly demanding, as there are over 48 different sound combination changes within 8 minutes! Frank Marocco's "Take Ten" is an outstanding example of jazz on the accordion. Chuck Berger's
rendition of "String of Pearls" inspired me in the effective use of the MIDI. George Handel's "Harmonious Blacksmith" demonstrates the capability of the classical accordion with the use of the "free bass."

Much love and gratitude goes to my teacher, Joan Cochran Sommers, for her professional guidance and the use of her Titano "free bass" for this recording. I don't think I would have finished this project without the love and encouragement from my husband, Wolfgang. Many thanks go to my friends and colleagues, David Sager and Steve Patke, for their contribution to this CD through their expertise on drums and reeds. I want to thank my parents, Bill and Carrie Stubblefield, whose devotion and sacrifice made my musical career possible. Ultimately, I want to praise the Lord Jesus for his saving grace. Until we meet again, I remain Musically Yours.

To order the CD, please visit www.accordions.com/bettyjo


---
Klezmer Concert in New York and Washington DC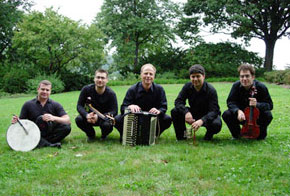 The David Glukh Klezmer Ensemble, a quintet featuring accordionist Ronn Yedidia, have a series of concerts in April.

The Ensemble is one of the most unusual ensembles of it's kind. Eclectic by repertoire and design, the group is composed of David Glukh (piccolo trumpet), Ronn Yedidia (accordion), David Keen (violin), Yuval Edoot (percussion) and Eddy Khaimovich (bass).

The ensemble have performed worldwide to a critical acclaim. Their performances include traditional klezmer music along with special "fusions" between klezmer and other musical traditions of the world. ( Irish, Gypsy, Classical, Latin, Jazz, Georgian, Arabic, Chinese, Macedonian, Israeli, Hassidic, Russian, Funk, Tango, Flamenco, Indian etc.) Variety of Radio and TV stations have broadcasted group's performances. In April 2003 the group has released its first CD, as recorded live in concert in New York City. Ensemble's new CD, recorded in Award -Winning Bennett Studios is to be released in early 2005.

Accordionist - Ronn Yedidia was born in Tel Aviv, Israel in 1960. His compositions have galvanized the attention of performing artists worldwide during the last decade. His works have been featured in major concert halls and documented on film, radio and television. He has won high critical acclaim from leading newspapers around the world, as both composer and pianist. He began his musical career as a child prodigy pianist, winning 1st Prize at the Young Concert Artists' Competition of Israel at the age of eight. His main teacher and mentor was Israel's first lady of the piano, Pnina Salzman, who herself was a protege of Alfred Cortot.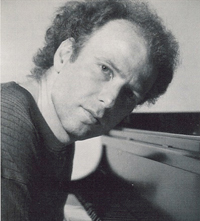 Ronn Yedidia is also regarded by many as an accordion virtuoso. He started playing the accordion at the age of 6 under the direction of his father, Moshe Yedidia - who was a well-known poet, actor, and accordionist in Israel. In 2001, Ronn joined the David Glukh Klezmer Ensemble as an accordionist and musical arranger.

Active as a performer for many years, Ronn decided at the age of 15 to shift his attention towards composition. In 1984 he entered the Juilliard School from which he holds a Doctor of Musical Arts Degree in composition. Soon after his arrival at Juilliard, he was discovered by Sony Classical's Executive Producer, Thomas Frost, who produced a recording of his fusion works of classical and jazz. In 1985 his Second Piano Sonata was selected for radio exchange between Israel and numerous countries around the world.

In 1987 he was presented on Israeli Television as Discovery of the Year in Classical Music, performing his Third Piano Sonata. His compositions have been broadcast on New York radio stations WNYC, WNCN, WFUV & WQXR, and he has been featured on NBC & WOR television networks. Ronn Yedidia's first Compact Disc Recording entitled Piano was released in March 2001 on the Altarus label (AIR-CD-9078).
The David Glukh Klezmer Ensemble April concerts include:
April 3rd - Klezmer Brunch, Tribeca Hebrew, NYC Two sets (one hour each): 10 AM and 11:30 AM.
April 5th - Washington DC, America-Israel Cultural Foundation Gala Event, at 6:30 PM.
April 10th - Great Neck Arts Center, Great Neck, NY, at 4.00 PM.
April 17th - 20th Century Music & On Concert Series, Merkin Concert Hall, New York City. Start Time 7.00 PM.

For further information e-mail mail@glukh.com

---
Murl Allen Sanders at the '13 Coins' in Washington State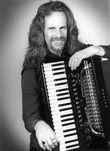 Murl Allen Sanders will be performing at the 13 Coins SeaTac Restaurant on April 1st and 2nd. The 13 Coins is located directly across from Seattle Tacoma airport in the Kilroy Office Center, South Tower 18000, International Boulevard in SeaTac, Washington State. There is plenty of free parking in front and in back, substantial appetizers in the bar and great music!
Murl has recently played at the Texas Accordion Convention and at the Arizona Accordion Club. Later in the year, November 10th to 14th, he makes his UK debut at the Caister Accordions International Festival. Although usually associated mainly with lighter music, Murl has written 'Accordion Concerto No 1', which he performed with the Orchestra Seattle, conducted by George Shangrow, at Washington State University. This performance was recorded and is now available both on CD and video. The video also features Murl in duets with accordionists Frank Marocco and Ken Olendorf.

For further information e-mail murl@murlallensanders.com



---
James P. O'Brien Offers New Compositions via Internet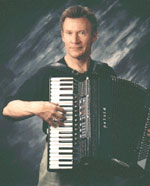 James P. O'Brien has been a Professor of Music at The University of Arizona School of Music faculty since 1975. Since retirement, he holds the academic rank of Professor Emeritus. James has been the recipient of numerous grants dedicated to the improvement of classroom music teaching through technology.

His performance specialty is the keyboard, and he is also an avid accordionist and an arranger/composer of accordion music, with over 150 original compositions and arrangements to his credit. MusicForAccordion.com is now releasing these O'Brien compositions and arrangements, and six new works will be released each week.



---
Peter & Mady Soave offering Summer Camp in Switzerland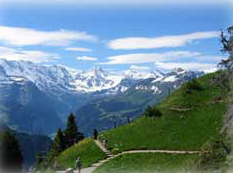 Les Avants, Switzerland will be the home of the International Montreux Accordion Camp offering 7 days of workshops, lectures, master-classes and private instruction in a professional setting that harmonizes nature and learning.
Classes offered include:
Classical, tango, musette, jazz, improvisation, world-music
Midi programming and performance
Standard & chromatic bass, piano & chromatic keyboard, accordina, bandonéon
Articulation, fingering, phrasing, bellow techniques
Preparation for performance and international competitions
Solo and chamber music
History of the accordion
Sight reading
How to "play by ear"/jam sessions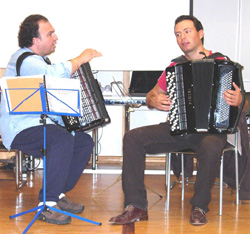 Professional and amateur participants of all ages gather from around the world to perform, train, and share the beautiful art of the accordion. During the seminar all lectures, lessons, meals and room accommodations are hosted in a center that emphasizes camaraderie and progress in a friendly environment. Aside from music making, you will enjoy the breathtaking panorama of the Swiss mountains!

IMAC at a glance:
When: August 20-27, 2005
Where: Maison de Jeunes, Chemin de Peccaux
1833 Les Avants, Switzerland (5 miles from Montreux)
Arrival: Saturday, August 20, 2005 after 3:00 PM
Departure: Saturday, August 27, 2005 before 11:00 AM
Reminder: IMAC does not provide instruments & accessories for participants. Please, bring your own instrument, music stand and music

Instructors for the camp include:
Acclaimed midi and reedless accordion artist
Professor of music technology
Globe trotting pioneer in the development of the midi/reedless accordion

Madeleine Soave
Winner of the Astor Piazzolla Award in Castelfidardo, Italy
Private teacher of accordion, piano and music theory
Has toured Europe as leader of chamber ensemble
Soloist with the leading symphony orchestras of the world
1st prize winner of the most prestigious international accordion awards
Teaches at Wayne State University
For further information, please contact: Madeleine Soave, 20915 Robinson St.
Farmington Hills, MI 48336, USA. Phone: 248.730.0528 or E-mail: info@accordioncamp.com or visit: www.accordioncamp.com/index.asp


---
Joe Petosa's 80th Birthday Celebration 'Sold Out'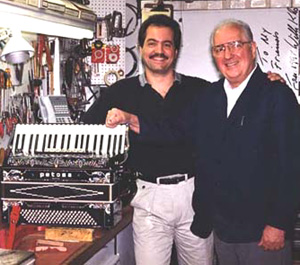 The Petosa Family will be holding a grand celebration on May 8th, 2005 to celebrate Joe Petosa's 80th Birthday. The event will be held at the Seattle Museum of History in the McEachern Auditorium.

Organizers regret to advise that all available seating is "Sold Out", however, you may reserve a personal DVD copy of the Accordion Extravaganza by calling: (206) 632-2700.

The son of Carl Petosa, Joe (pictured right, with son Joe Jr.) helped in every aspect of the business run by his father. Joe began playing the accordion at age 10 under the tutelage of Joe Parente and Anthony Facciuto, his first and only teachers. By age 12, it became apparent that Joe could become a serious musician. But, he also had a keen interest in learning to build accordions, and his father was eager to teach him the trade. Joe made the choice to follow in his father's steps, focusing on the art of building accordions rather than playing them as a career.
The Petosa Accordion Company is located at 313 NE 45th St., in Seattle. It has been at this location since 1955 when Carl and Joe moved from the small shop where the firm had its original beginning. At this location, Joe Petosa and his father worked together until Carl's death in 1959. They also had the foresight to expand the business in 1946 by starting a factory in Castelfidardo, Italy, where PETOSA accordions would be manufactured and then shipped to Seattle for final adjustments and tuning. When the instruments arrive in Seattle from the factory, they are taken apart and thoroughly checked and tuned to ensure every instrument with the name PETOSA on it is in perfect condition before delivery to the purchaser.
Joe Petosa describes the accordion: "At the heart of the instrument are the 448 reeds that sing in the wind from the bellows."

If the Grandfather Carl Petosa were still alive, he would be proud of the accomplishments of his son, Joe, and his three grandsons, Carl, Dean, and Joe Jr. Over the years some things have changed, such as, better materials, sophisticated and up-to-date tools and equipment, and highly refined methods and expertise. But, the original pioneering spirit and the truly insatiable desire for optimum quality and enduring excellence is still the basic credo-the long-sought dream of its founder, Carl Petosa. Now, it is no longer a dream: the dream is a manifest reality.

The legacy left by Carl Petosa has continued for three generations, and it will undoubtedly continue for many generations to come in this remarkable Petosa family. (Excerpts from the article "Joe Petosa - The Man and the Legacy behind Petosa Accordions, written by Edwin Davison)

Featured performers at the celebration for Joe Petosa's 80th birthday include: Dick Contino, Tonly Lovello, Stas Venglevski and John Simkus, Frank Marocco, Nick Ballarini, Chuck Berger, Bonnie Birch, Ken Olendorf and Murl Allen Sanders. The Master of Ceremonies is Stan Boreson. For details of the Petosa company, please visit www.petosa.com


---
Motion Trio Releases New CD in the USA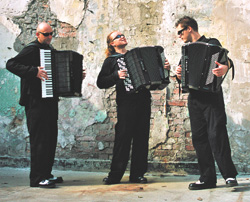 Janusz Wojtarowicz has seen every human reaction to his instrument. The Polish accordionist has performed on the streets of eleven countries and the experience—along with his personal dislike for emotionless interpretation of classical standards—drove him to seek out a new model of livelihood on the accordion.

Wojtarowicz founded the accordion ensemble known as the Motion Trio, whose debut CD, titled Pictures from the Street, was recently released in the USA by Asphalt Tango Records (Harmonia Mundi USA).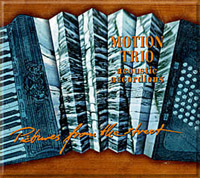 The album - whose vanguard sound collages range somewhere between minimal music, jazz and rock with traditional accordion styles thrown in for good measure - was recorded pretty much the way you would expect a few street musicians to record it: in one day. These are musicians who honed this repertoire over several years before a huge diversity of audiences on the streets."Once I was performing in Germany to a huge crowd," recalls Wojtarowicz. "Suddenly the crowd disappeared and I saw two pairs of soldier boots standing before me. I was too scared to look up so I kept playing and staring at the ground. When the piece was over, I looked up and there were two huge skinheads standing there. One of them threw a franc into my box and patted me on the shoulder. I guess skinheads like the accordion!"

In Rome, I played in the metro station, because it had great acoustics," Wojtarowicz launches into another story. "Every day for a month a priest passed by and gave me ten dollars. It was a great spot. But one day the police told me I wasn't allowed to play there. The next day I tried again and the police were putting up a sign that said, 'Playing Prohibited.' I was upset, but I went back there several years later, and this special monument to me is still there. "In Vienna, I played between the Vienna Opera house and the famous Steppenplatz church," says Wojtarowicz. "This is a traditional place for street musicians to play, but nobody was putting money in my box. Finally, another musician told me my box was too close; that it should be five meters away for people to drop money in. But within five minutes my box was run over and smashed by a horse and carriage being used to advertise a Mozart concert. "These dangerous and humorous stories belie the seriousness with which the Motion Trio takes their instruments and their musical mission.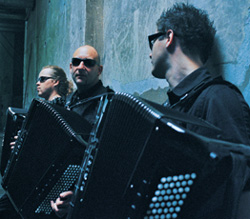 "Generally on the street, the most dangerous audiences are the mothers with little children, because they disturb you," Wojtarowicz explains. "They come to you and ask questions like 'What are you doing?' It's funny, but they disturb you in your work.

"The Polish Ministry of Culture found the work so serious that they commissioned Pignini - the maker of the most expensive, custom-made accordions, or the "Rolls Royce of accordions" as Wojtarowicz calls it - to create the one keyboard accordion and two button accordions on which the Motion Trio plays. The 18,000 Euro instruments have a much wider range (including a rich deep bass) than the semi-professional accordions most people are used to hearing. The instruments use special handmade reeds and are custom-fit to the size and shape of the players' hands. They were built especially to be played together. Their range is further expanded with a variety of unconventional accordion techniques.

Wojtarowicz has written an entire book for composers to understand the range of sounds available. Listen for accentuated vibrato, the shaking and scraping of the bellows, percussion on the accordion, glissando, and unique articulation of the notes. The techniques, diverse repertoire, and unconventional yet serious approach, find the Motion Trio doing for the accordion what the Kronos Quartet did for the chamber group.The idea for the accordion trio came when Wojtarowicz was explaining to some students that three accordions alone could replicate an entire chamber orchestra. "The three of us can create sounds which would require need about twenty-one people in a string orchestra," he exclaims.

While Pictures from the Street is a snapshot of the origins of the Motion Trio, the group has played with Bobby McFerrin."Our idea is to take this instrument, which is only thought about for weddings or polka or tango, and to make it as serious as any other classical instrument," says Wojtarowicz. "We want to show the world that this is a versatile instrument that can play everything from contemporary classical music to folk or even avant garde music."Motion Trio -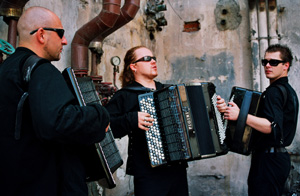 An accordion trio founded in 1996 by Janusz Wojtarowicz - leader and composer of most of the music. A unique entity on the European and world music scenes, the Motion Trio is changing the face of the accordion while performing their own, original music. Their concerts are musical events, full of action and drama. The group presents itself excellently in concert halls, theaters, churches, and also plays club dates.

In their music one can hear the influence of a diversity of musical styles (from rock, to jazz, through classical music). Despite their youthful age, the Motion Trio works with such artists as BOBBY McFERRIN, Tomasz Stańko - "after one rehearsal which was quite brief, I'm fascinated with them...", Michał Urbaniak - "I was impressed by every aspect of what they do from the first moment...". They are the grand prix laureates of the 4th Edition of the Krzysztof Penderecki International Contemporary Chamber Music Competition.
The Motion Trio has recorded four CD's - Cry, Pictures (2000), Play-Station (2001) and Live in Vienna Sacrum&Profanum (2002). Pictures was met by considerable popular acclaim and was awarded the following honors: The Polish Music Industry's Grand Prix, Best Polish Recording in 2000, Top 2000 and Jazzi magazine's critics' choice for CD of the Year. Polish music critics recognized the Motion Trio's debut as the best in Poland for 2000, which is borne out by their taking second place (after Tomasz Stańko) in Jazzi magazine's musician/group category. The group performs throughout Europe, as well as in Canada and the USA
Members of the Motion Trio include: Janusz Wojtarowicz (1971) a composer, accordionist, founder and leader of the Motion Trio. Began piano and accordion studies at the age of seven, under his father Eugeniusz. Completed the Public Secondary School of Music in Krakow and studied the accordion at the Krakow Academy of Music. Winner of many chamber music competitions in Poland and abroad. Composer of theatrical music. Received a scholarship from the president of the city of Krakow in 2001.

Paweł Baranek (1978) began learning to play the accordion and organ when nine years old, under professor Wiesław Kusion. Completed the Public Secondary School of Music in Tarnów. Winner of Polish and international competitions, in Germany and Italy among others. Currently one of Europe's finest accordionists of the younger generation. Currently studies the accordion at the Academy of Music in Krakow.

Marcin Gałażyn (1975) who began accordion studies seven, under professor Eugeniusz Ajdmach. Completed the Public Secondary School of Music in Białystok, after which he studied accordion at the Academy of Music in Krakow. Winner of many national accordion competitions in Poland. Also performs flamenco music.
The next appearance of Motion Trio in North America will be at the 2005 Montreal Jazz Festival to be held in early July. For full contact details and upcoming concerts, please visit: www.motiontrio.com


---
Las Vegas International Accordion Convention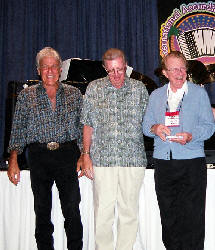 The Las Vegas International Accordion Convention "A World of Entertainment" will be held from June 26-29, 2005 at the Gold Coast in Las Vegas.

This year, the Las Vegas International Accordion Convention is set to honor the three Accordion Legends during its annual gathering in Las Vegas.

2005 marks the 85th birthdays for Myron Floren and Art Van Damme, and the 75th birthday of Dick Contino. A sell out attendance is expected this year as the convention moves to the new home location: the Gold Coast!

The Gold Coast Hotel and Casino, located at 4000 W. Tropicana in Las Vegas, is offering attendees a rate of only $40.00 per night!

For full information and registration forms, please visit www.accordionstars.com


---
Those Darn Accordions Summer Bookings Filling Fast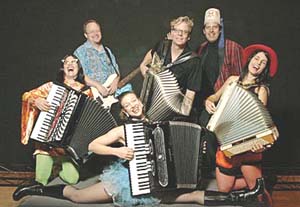 Those Darn Accordions are scheduled to appear on Saturday, May 21st, 2005 at 'The Palms' as they kick off a summer schedule that will see them perform from California through to the midwest.

The Palms is located at the Winters Opera House in downtown Winters, California about 75 minutes east of San Francisco, 40 minutes west of Downtown Sacramento and about 15 minutes west of Davis.

San Francisco's accordion-fueled rock 'n' roll band pumps out quirky, catchy originals chronicling life in the weird lane. The six-piece group -- fronted by lead singer/squeezebox wizard Paul Rogers and bellows-pumping babes Carri Abrahms, Susie Davis and Suzanne Garramone -- promises to forever rearrange your understanding of the accordion. TDA's four extreme squeezeboxers mix solid keyboard chops with a groundbreaking use of guitar effects pedals and amps to produce a super-cool sound like nothing you've ever heard emanating from an accordion. Behind the amazing wall of wheeze, drummer Bill Schwartz and bass player Lewis Wallace anchor the band, providing a firm foundation upon which the manic TDA accordionists can layer huge slabs of sonic mayhem.
With sterling vocal harmonies and a sense of humor that just won't quit, the one-of-a-kind band blazes through a variety of musical genres -- from rock and funk to polka and even swing -- and torches timeless classic rock tunes along the way. You won't believe your ears.

For further information on summer bookings, please visit www.thosedarnaccordions.com or e -mail: tda@thosedarnaccordions.com. TDA may also be contact by phone at: (360) 531-0276 or by mail at: Those Darn Accordions, 121 W. Eugene St. Port Hadlock, WA 98339.


---
Just for Fun!



---
Note: In order to provide as much information as possible for the United States National Accordion News stories, many different sources are often researched to gather additional information and pictures to complement what has been submitted. This information is then correlated to provide the news on www.accordionusa.com in the spirit of which it is intended, which is to provide a free news service to the Accordion Community, specifically in the United Sates. If you feel any copyright has been violated please advise www.accordionusa.com and the article will be removed immediately.