---
Brett Gibson to appear with the Kansas City Civic Symphony
Kansas City based musician Brett Gibson, who has performed with world renowned group the Elders, popular US entertainer Eddie Delahunt, and many other well known artists in the Celtic music world, will be taking a detour from traditional, contemporary and original Irish music when he performs the Concerto for Bandoneon and Orchestra by Astor Piazzolla in his debut with the Kansas City Civic Symphony Orchestra under the direction of Andy Anderson.

Brett was born in Auckland, New Zealand but now makes his home in the Kansas City area of the United States. Brett began playing the accordion at age 7 and at the age of 12 won his first New Zealand championship for that age category and continued to seriously perform and compete into his late teens as a soloist and with duet, trio, quartet, ensemble and orchestra.

The Kansas City Civic Orchestra focuses on community enrichment and interaction, drawing players from all walks of life and bringing music to people of all ages and interests. Now in its 48th season, the Kansas City Civic Orchestra presents quality orchestral concerts to the public free of charge.

The concert with the KC Civic Orchestra will take place on Saturday, April 28, 2007 at 7:30 PM at the Atonement Lutheran Church, 9948 Metcalf in Overland Park, Kansas. Tickets are not required, and admittance is by donation at the door.

The program for the concert will be as follows:
Wagner - Siegfried's Death and Funeral Music from Goetterdaemmerung
Brahms - Academic Festival Overture
Piazzolla - Concerto for Accordion and Orchestra, Brett Gibson, accordion
Respighi - Church Windows


---
Frank Mucedola Passes Away at 85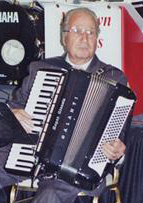 The accordion world is saddened to learn of the loss of accordionist Frank Mucedola, 85 who died peacefully Saturday, March 24, 2007, after his heroic battle with prostate cancer. At his side were his loving wife and family.

Renowned accordionist and composer Frank Mucedola was born in San Severo, Foggia, Italy, but lived most of his life in Auburn, NY. A performer, a teacher and a composer, for many years, Frank toured Auburn and central New York playing with the Sammy Speno Orchestra. He performed as a soloist with several symphony orchestras including the Syracuse Symphony and the New Haven Symphony, however a highlight of his musical career was performing with the world-renowned Mantovani Orchestra from 1985 until his passing.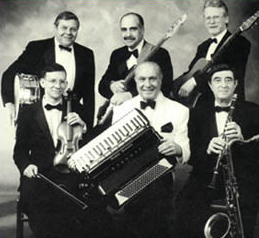 Frank owned and operated the Frank Mucedola Accordion School and composed many works for the accordion including the "Fox and the Hound," which is played throughout the world. Frank was a member of the American Federation of Musicians, the American Accordionist Association, the Italian Heritage Society and the VFW. Sgt. First Class Frank Mucedola was an Army veteran of World War II, having served with the 304th Infantry Regiment of the 76th Division as part of General Patton's Third Army that fought through France, Luxembourg and Germany.

Contributions may be made in memory of Frank to the Prostate Cancer Research Department, Roswell Park Hospital, Buffalo, NY, or to St. Francis Church Building Fund. Frank's life defined the American experience... initiated as an immigrant, tested as a patriot, and demonstrated to all as a role model. His talents as a soldier helped free a continent, his skills as a musician brought happiness to millions and ultimately, his gifted ways as a husband, father and honor bound friend set an unparalleled standard for all who knew him.

To visit the memorial guest book, please visit www.auburnpub.com and click on obituaries or visit: http://www.legacy.com/AuburnPub/Obituaries.asp?Page=SearchResults&DateRange=
AdHoc&StartDate=3/26/2007&EndDate=3/26/2007


---
Texas Folklife Puts the Squeeze on Lone Star Accordionists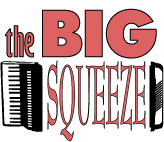 Texas Folklife has been celebrating the accordion for 17 years with our annual Accordion Kings & Queens concert in Houston , but this year, we're putting the squeeze on – The Big Squeeze. It's our very first competition for young, up-and-coming Texas players, and we've got big cash – $1,000 – for the winner. Renowned Texas director Hector Galán (Accordion Dreams, Los Lonely Boys: Cottonfields and Crossroads) also will film the contest for a PBS documentary.

Entries are now being accepted for the competition, which is open to Texas residents up to age 28 who are not full-time professional players. (Complete rules are listed below.) Accordionists of every genre are welcome. They will be judged on skill, style, execution, originality, presentation and audience response. Eight semifinalists will be chosen to perform June 1 in Houston at Talento Bilingue de Houston, and three finalists will perform June 2 at our Accordion Kings & Queens concert, on the same Miller Outdoor Theatre stage as headliners Chubby Carrier and Mingo Saldivar (the subject of Galán's documentary, I Love My Freedom I Love My Texas). The audience will help determine the winning order. Second- and third-place winners will receive $500 and $250, respectively. Other prizes will be announced.

"I love the music that emanates from the Texas squeezebox," says Galán, who has been covering this state's accordion tradition for two decades. "This will be a unique opportunity to capture and document the newest generation of accordion trailblazers who are adding their own signature to a music tradition that is over 100 years old. These young players are keeping this music and its culture alive."

Our goal with the competition and one-hour documentary is to bring this music – and the compelling personal stories of its makers – to a broader audience in Texas and beyond, and to support the growth of young players to assure the future of "the national instrument of Texas ."

Please help us spread the word about this fabulous opportunity for young squeezeboxers. The contest deadline is April 16. Rules and entry forms are available at www.texasfolklife.org or by calling 512-441-9255. Miller Outdoor Theatre is at 100 Concert Drive , Hermann Park , Houston . And don't forget: June is National Accordion Awareness Month!


---
CIA Coupe Mondiale Brings Record Numbers

The 2007 Coupe Mondiale hosted by the American Accordionists' Association and the Accordionists and Teachers Guild, International is attracting record attendance from around the world.

While entries for the Coupe Mondiale competitions don't close until July 1st, 2007, attendees have been booking in record numbers with groups coming from as far afield as New Zealand, Germany, Denmark and China as well as many other countries.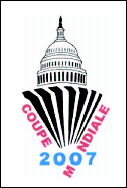 Festival guests and Coupe Mondiale Prize winners in the Coupe Mondiale competitions will be featured on live webcast at the famed Kennedy Center for the Performing Arts each day during the festival.

The 2007 Coupe Mondiale will take place at the Holiday Inn in Alexandria, Virginia from August 13th to 18th. Rooms at this hotel are completely sold out. Accommodations at the same $99 Coupe Mondiale rate are now available at the Radisson Hotel,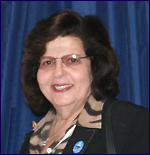 only 2-1/2 blocks away with shuttle service between hotels.

Rules, prizes and general information for all the Coupe Mondiale categories is online at www.coupemondiale.org.

For further information, contact 2007 Coupe Mondiale Coordinator Faithe Deffner: FDeffner@aol.com or visit www.accordions.com/coupeusa for the latest information.


---
Henry Doktorski Presents Lecture and Recital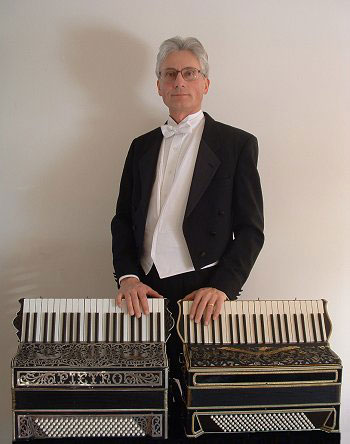 March 2, 2007: Pittsburgh, Pennsylvania: American Concert Accordionist Henry Doktorski presented a Lecture/Recital titled "The Brothers Deiro: Virtuoso Vaudeville Accordionists of the Early Twentieth Century" for the Joint Conference of The Society for American Music and the Music Library Association held at the Pittsburgh Hilton and Towers. Mark Katz, a Professor from the University of North Carolina at Chapel Hill served as Chairperson.

Doktorski (pictured with the Deiro accordions) performed four compositions by the brothers Deiro: My Florence Waltz, Deiro Rag and Sharpshooters March by Guido Deiro, and Celestina Polka by Pietro Deiro. Between the performances Doktorski lectured about the lives of the two brothers and their important contribution to American music history as vaudeville celebrities of the early twentieth century. After the presentation, Doktorski answered questions. About 100 persons attended the lecture/recital.

George Boziwick, Chief of the Music Division and Curator of the American Music Collection for the New York Public Library and Program Chairman for the Society of American Music 2007 Conference, wrote, "There were 268 proposals submitted and we are happy to number yours among them. . . . your presentation was most wonderful."

---
AAMS Festival a Success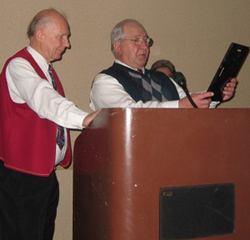 The AAMS Festival from March 2-4, 2007 started off Friday evening with a terrific Workshop and Concert featuring Dee Langley with "Orkestar Bez Ime", the WPAO, Lidia Kaminska and a Cajun/Zydeco goodtime-concert with "The Crawdaddies" (featuring accordionist Kraig Greff).

Saturday daytime included competitions and workshops. The CordeenMan - Lenny Feldmann presented a Workshop on the music of Astor Piazzolla. You can get a taste of it here: http://clicks.aweber.com/z/ct/?YiUUx7FyjEiYtg9iOf3HaA

Saturday evening's events began with a sold out banquet where Stan Darrow (above - the founder of the AAMS) and Lenn Feldmann (below - long time supporter, adjudicator, workshop presenter, concert performer, and events Master of Ceremonies pictured with AAMS Festival Organizer Joanna Arnold Darrow) were honored with Lifetime Achievement Awards.

Following the Banquet was the Gala Accordion Concert featuring: The Westmont Philharmonia Accordion Orchestra Joanna and Stan Darrow (solos and duet) Dee Langley with "Orkestar Bez Ime",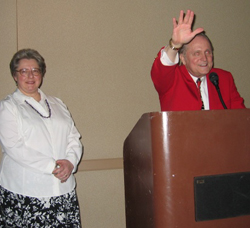 Dr. Robert McMahan performing 3rd Mov. of the Creston Concerto, Mary Tokarski - Rondo from Concerto in E - P. Deiro, Vitally Pirog - Classical and Jazz Program and Tony Lovello - "The Liberace of the Accordion"

It was a fabulous show and everyone stayed around afterwards getting autographs and purchasing CD's.

The activities continued Sunday morning with more competitions and Workshops. After the Lunch break everyone was treated to a terrific performance by the Festival Massed Accordion Band. The Sunday Afternoon Concert was presented by Jim Vandelly, both performing and doing the MC honors. Also appearing on the program was Ron Onda, Bobby Raye, and Tony Lovello.

The Festival concluded with the presentation of Trophies and Awards to the participants in the competitions held over the weekend.

Mark your calendar now: The 2008 AAMS Festival will be held on March 7-9, 2008. Details will be forthcoming as time gets closer.


---
Accordion Pops Orchestra to Present Concert of Hope for ALS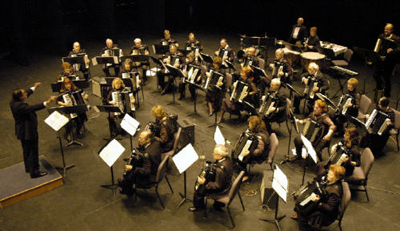 The Accordion Pops Orchestra under conductor Daniel Desiderio presents their third "Concert of Hope" to benefit the ALS Hope Foundation, 7:30 PM on April 21, 2007, at the Kimmel Center for the Performing Arts in Philadelphia, PA.

The orchestra's roots can be traced to 1970, when it was organized by the Accordion Teachers' Association of New Jersey. Over the next ten years it performed at various community functions throughout the state under the direction of its first conductor, Dr. Jacob Neupauer of Philadelphia.

In 1980 the orchestra members took a leave of absence, but four years later the membership was reorganized under the direction of the late Eugene Ettore of Livingston, New Jersey. In 1985, Daniel Desiderio was invited to act as a guest conductor of the orchestra and a few years later the A.T.A. of NJ appointed him as conductor in residence. The name of the orchestra was formally changed to the Accordion Pops Orchestra and its membership was expanded beyond the original members from New Jersey to include performers from Connecticut, Massachusetts, Pennsylvania, New York, Delaware, Maryland, and Rhode Island.

The only professional accordion orchestra of its kind on the East Coast, the group consists entirely of accordions plus percussion instruments. In addition, the orchestra often accompanies guest soloists such as pianists, tenors, etc.

Utilizing scores from a full symphonic orchestra, the players are normally divided into four sections that provide melody and harmony. In addition, the orchestra utilizes a single bass accordion with special reeds tuned to reach a lower octave. This accordion can be recognized by the audience because it is the only one with a right-hand keyboard but no left-hand bass buttons. (Incidentally, even though all of the other instruments have bass buttons, with the exception of solo performances no one uses them while playing in the orchestra). The resulting sound is unique; a common reaction from people attending one of our concerts for the first time is, "I can't believe what I just heard could come from accordions alone!"

The orchestra also utilizes a midi accordion, which adds electronics to the acoustic accordion, allowing it to simulate the sound of literally hundreds of different instruments. These sounds are controlled from the accordion but produced in a separate midi module, which is attached to an amplified speaker.

Much of the orchestra's music needs to be transcribed to accommodate the range of the accordion. While accordion transcriptions are sometimes available for symphonic pieces, most often they must be produced. The orchestra has drawn on the talents of the conductor and its members for this arduous task.

Most of the twenty-five plus members of the orchestra are professional musicians or teachers. Many are soloists in their own right. The orchestra performs a repertoire of light classical, Broadway, big band and popular music. It has entertained audiences at concert halls, county fairs, festivals, schools, and playhouses at many locations in New Jersey, Pennsylvania, and New York.

For more information, visit www.accordionpops.com or www.alshopefoundation.org.


---
Rogarian Leap Day Celebrated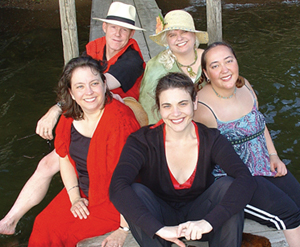 On Friday April 13th, at 8 PM, join the International folk dance band Orkestar Bez Ime (OBI) at Cedar Cultural Center, 416 Cedar Ave., Minneapolis, with Daddy Squeeze's (Dan Newton) Gypsy Café, as they celebrate the Rogarian mystical tradition of Leap Day and other nonsense.

OBI features songs from Macedonia, Slovakia, Albania, Romania, Israel, Bulgaria, Finland, Greece, Bulgaria, Serbia, Romany (Gypsy) and of course, Rogaria. Dancing encouraged and, in some cases, taught.

Orkestar Bez Ime, meaning "orchestra without a name" in Bulgarian, met in the Ethnic Dance Theatre and has since grown to be one of the Midwest's hottest and most sought-after international dance bands specializing in Balkan music. Using a mix of folk and modern instruments including accordion, clarinet, dumbek, flute, guitar, kaval, tambura, violin and voice the group stays close to traditional Eastern Europe through its American melting-pot sensibility.

Comprised of alumni and members of Ethnic Dance Theatre (EDT), OBI focuses mainly on Balkan music, but presents the full range of international folk dance interests from Scandinavia to Israel to French Canada and beyond. Members include Dee Langley who has played accordion since age 4 squeezing all the way to play for the Dolina Folk Dancers (1989-1996) and Ethnic Dance Theatre (since 1998). Tim Wahl (kaval, tambura, kitchen sink) was a founding member of EDT in 1974. He likes nothing more than a set list which requires him to change instruments for each tune. Natalie Nowytski honed her vocal skills at her grandmother's knee and climbed her way onto the lap of Mila Vocal Ensemble, which she directed for five years. She has also performed as a percussionist since 2000. Katrina Mundinger has played clarinet since 1979 and folk music since 1994. She was a member of Rakia and a leader of Boris & Natasha. In 2000, Colleen Bertsch bravely answered a panicked call from EDT for violinists and has weathered more than her fair share of odd meters and fast tunes, and brings a wonderful string sound to OBI.

Orkestar Bez Ime includes accordionist Dee Langley. For further information e-mail: squeezermn@yahoo.com


---
Duo Nuevo Mundo in Bogota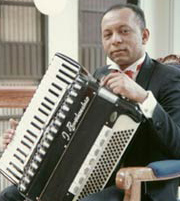 The duo Nuevo Mundo - accordionist Lácides Romero Meza, Professor at National Pedagogical University of Bogota, and the clarinettist Francisco Javier Rivera - won a music competition, organized by the Bogota Philarmonic Orchestra, held on February 21st.

The duo obtained a maximum and unanimous score from the Examining Jury: 100 points out of 100. There were 22 competitors in the section. This award represents a great triumph for the accordion in Colombia, where the accordion is usually associated only with ethnic traditional music.

For further information e-mail: lacidesromero@yahoo.com

---
National Accordion Association Festival in Texas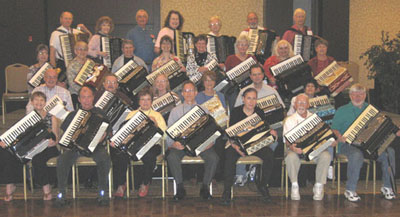 The annual National Accordion Association Convention (Norman Seaton - President, picture left) took place, March 7th to 11th, at the Richardson Hotel, Richardson in Texas, attracting approximately 250 players for a weekend of nonstop music that involved a variety of genres. A happy atmosphere prevailed throughout the Convention, and accordionist Dee Langley (right) spoke for many when she declared that she wished the event had lasted for a full week!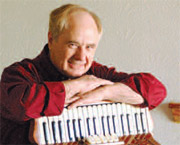 The Convention included workshops, orchestras, seminars, concerts and jam sessions. Other features of the festival were the 'Swap Shop' and the 'Polka Festival'. Participants included Dick Albreski, Alice Aman, Joe Brikha, Jessica Faltot, Marge Ford, Patti Gersich, Joel Guzman, Daniel Kott, Louise Kucera, Dee Langley, Don Lipovac, Daniel Orza, Debra Peters, Ron Pivovar, Norman Seaton, Becky Simmons, Trio Bez Ime, Dale Wise, and Fred Ziwich.

The trade show included Accordion-O-Rama, Ballarini/Petosa, Castle Accordions, Kohl Music Company, Monarch Accordions, Accordions Plus, Accordions by Fry, Accordion Stuff, Mr. E's Music and a swap shop. The NAA Convention received widespread media coverage (218KB).

For further information e-mail: natlaccordion@sbcglobal.net


---
Jeff Lisenby appears in New York City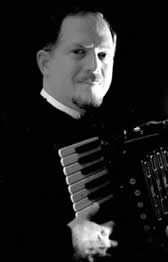 Since the closing of "Ring of Fire", the Broadway show which featured Jeff Lisenby on accordion in the story of Johnny Cash, Jeff has been working on his home turf in Nashville, Tennessee where he appears regularly with high profile groups.

Jeff returned to New York City on Friday and Saturday, March 23 - 24, 2007 to provide the musical accompaniment for Cindy Marchionda in a beautiful one-woman show called "Early One Morning."

A well-crafted musical, it profiles the Biblical character, Mary Magdalene, with the the show's music composed by Ron Melrose, the Music Director of the current hit "Jersey Boys."


---
Annual Russian Festival in California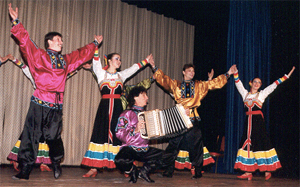 The 19th annual Russian Festival took place in San Francisco from February 9th to 11th, 2007. The festival featured among others, accordionist Yuri Fedorko.

Also appearing at the festival was Moscow ensemble Medovyi Spas, and bayan artist Vladimir Riazantsev.


---
Dick Contino with Melba Moore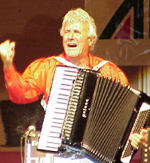 Legendary accordionist Dick Contino joined Tony-winning Broadway star singer, Melba Moore for two shows at the Sun City Sierra Ballroom in Palm Desert, California.

Dick Contino achieved nationwide stardom after performing 'Lady of Spain' on Horace Heidt's 'Youth Opportunity Talent Show' in 1946. Contino went on to make frequent TV appearances, including 48 on the Ed Sullivan Show alone.

A legendary virtuoso of the accordion, Dick is known as one of the premier entertainers of our time. Dick stars in main showrooms from Las Vegas to Atlantic City and headlines many fairs and festivals throughout America. The California native has played virtually every major stage and television show. He has also starred in films and daytime television.

Although best known for his million sellers such as Lady of Spain, Granada and Tico Tico, he is equally at ease with current show material.

Dick continues to appear accross the United States. For more information, please visit http://www.dickcontino.com

---
Chubby Carrier and Mingo Saldivar to Headline Texas Concert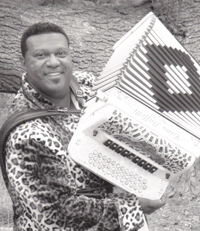 This year's Accordion Kings & Queens concert, our 18th, features a third-generation zydeco player, a National Heritage Fellow and two-time Grammy nominee conjunto legend, and a rising star in the accordion world, plus young players we hope will become future Accordion Kings & Queens. Once again, the concert spotlights the diversity of the Lone Star State's accordion traditions (and National Accordion Awareness Month), and this year, we're working to assure those traditions stay alive by offering awards and recognition to some of the state's brightest young talents – and featuring them in a documentary by renowned director Hector Galán. The concert is June 2 at 7:00 PM at Miller Outdoor Theatre, Hermann Park , Houston.

Audience members also will help choose the first, second and third prize winners of our inaugural Big Squeeze accordion competition, a statewide contest.

Chubby Carrier & the Bayou Swamp Band: Louisiana native Chubby Carrier is the grandson of Warren Carrier and son of Roy Carrier, with whom Chubby started performing professionally as a drummer at age 12. He picked up the accordion at 15, and by age 17, he was touring the world with Terrance Simien. He formed his own Bayou Swamp Band in 1989. Chubby is featured in the new MacGillivray-Freeman IMAX film, Hurricane on the Bayou, now showing around the country (including the Bob Bullock Texas State History Museum ).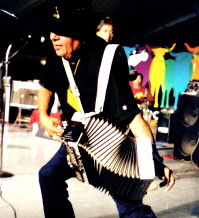 Mingo Saldivar was born in Marion , Texas , northeast of San Antonio and has been performing conjunto music for more than four decades. His status as a pioneer and master of his genre was recognized by the National Endowment for the Arts in 2002, when he was named a National Heritage Fellow. He started his musical career at age 11, when his father began teaching him how to play guitar. Eventually, he found his way to the button accordion. During his time as an Army paratrooper, he became familiar with country and rhythm & blues, and began weaving those sounds into his style. In 1964, he opened a restaurant in Anchorage , Alaska , and started the only conjunto band for, it's safe to say, hundreds and hundreds of miles. He returned to San Antonio in 1971. Saldivar has performed at a presidential inaugural, the Olympics, Carnegie Hall and in Africa and the Middle East.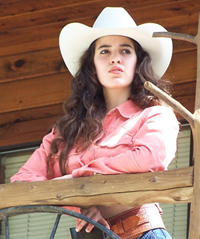 Also to be featured is Ginny Mac & the Road to Texas Band. When we asked around about a potential Accordion Queen for the 2007 concert bill, one name kept coming up: Ginny Mac. She's still young, but this accordionist/vocalist has been racking up accolades for years. Currently in her senior year at Texas Christian University , she's working on her third album, this one with her guitarist brother Glenn. Her style emphasizes Western swing, but she embraces jazz, big-band and a variety of other influences.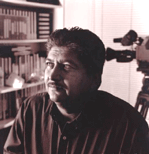 Director Hector Galán is internationally lauded as an independent filmmaker. He has contributed more than 40 hours of programming to PBS, including 11 Frontline episodes, two segments of The American Experience and the four-part series, Chicano! History of the Mexican American Civil Rights Movement. He is also one of the top chroniclers of Texas music; his credits include Accordion Dreams and films on Mingo Saldivar and Los Lonely Boys. Galán will follow the The Big Squeeze semi-finalists as they prepare to perform in Houston and learn whether they've been selected to appear in the finals, which will precede our Accordion Kings concert.

The Miller Outdoor Theatre is located at 100 Concert Drive in Hermann Park . Metro stop: Rice University Station. For more information: www.milleroutdoortheater.com, 713-284-8352 and www.texasfolklife.org, 512-441-9255.

Texas Folklife is a 501(c)3 nonprofit organization dedicated to preserving, presenting and promoting the traditional arts and living culture of the Lone Star state. The Big Squeeze and Accordion Kings & Queens are funded in part by the City of Houston through the Miller Theatre Advisory Board, the Houston Endowment, Humanities Texas, the City of Austin through the Cultural Arts Division and by a grant from the Texas Commission on the Arts, the Cogburn Family Foundation and the Still Water Foundation, with support from Gabbanelli Accordions, SugarHill Recording Studios, Reyes Accordions, Raven Grill, the National Accordion Association Inc., Copy Sense, and an award from the National Endowment for the Arts, which believes that "a great nation deserves great art."


---
Promoting Your Accordion Services Free at AWW

The Internet is changing the way your customers are searching for services. The days of lugging out a 12 lb. telephone book to find very limited and outdated business information are coming to an end. People are still letting their fingers do the walking, but they're doing it over a computer keyboard. Below are some revealing facts from the Kelsey Group.
74% of US households use the Internet as an information source when shopping.
Approximately 45% of searches had a buying intent.
The percentage of respondents who used yellow page directories decreased from 75% to 62%.
(If you have a printed yellow page ad, it is time to consider buying a smaller ad and shifting your marketing dollars to the Internet.) The off-line Yellow Pages see the writing on the wall and are scrambling to transfer their business model to the Internet.

Businesses can no longer ignore these facts. If you want to be successful, you must have a presence where your customers are searching. Being found on the Internet is vital to the future of your business.



The Accordion Yellow Pages offers free of charge listing for all accordion businesses, teachers and for every type of service for accordionists. On the Accordion Yellow Pages site, you do not need to have a website for accordionists find you and contact you.



The search-accordion.com site is also free of charge, being a listing service for every type of accordion service but you must have a website. Viewers of search-accordion.com can click to your website.



Very popular is the AccordionLinks.com site where those accordion service providers with a website, can attract accordionists free of charge to their website.

All it takes is a little effort, to make sure your information on these three popular and very effective accordion sites is up to date. Your future success may well be determined by your ability to effectively adapt to the Internet. Should it be your New Year's resolution for 2006?


---
Act A Lady to the Music of the Accordion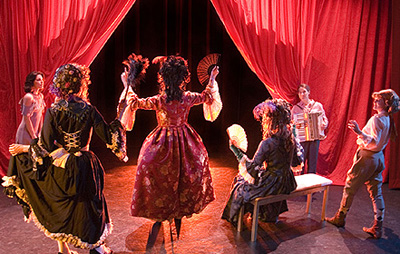 When the men of a small Prohibition era town decide to put on a play dressed in "fancy-type, women-type clothes," the whole community is affected: gender lines blur, eyebrows raise, identities explode, and life and art are forever entangled. A thoughtful and exuberant Midwestern fable about the woman in every man, the man in every woman and the power of theatre to uncover both.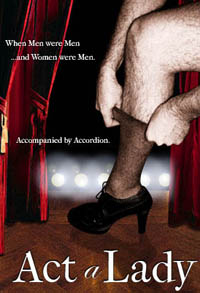 Jordan Harrison was commissioned to write a play by Commonweal Theatre Company in Lanesboro, Minnesota, population of 788. Looking for a subject that would speak to the theatre and community, "Act a Lady" grew from several sets of pictures that Harrison found in the town's historical museum documenting a series of "Womanless Weddings" which peaked in popularity throughout the Midwest during the 1920's - 1950's, and can still be found today. Among the pictures providing inspiration were that of an accordion studio, showing a large number of young accordion students with instruments.

These Womanless Weddings often featured a town's most prominent men dressed for a formal wedding, from flower girl to mother of the bride. What struck Harrison in these pictures was how elegant these men had made themselves, how much effort they'd clearly gone to. "I started asking myself questions like: What would it be like to finish a day on a farm and walk around in heels? What was the conversation these men had with the female characters they were playing?"

From there, Harrison's imagination started to run wild, and the wordless Weddings shifted to the carnival of Wildean entendres and baroque stage business of the French melodrama he's written for his Wattleburg characters.

Men in wigs, tiaras and silk dresses with bustles, "Act a Lady" goes deeper than just men in drag. It rests on the premise that male and female qualities reside in each person, and if forced to express an opposite gender, one might change his or her life for the better. The play explores these theories by focusing on what happens when three men, bitten by the Vaudeville bug in a small Midwestern town in 1927, dress themselves in huge dresses and take to the stage for charity.

The three women in Harrison's two-act play include a dominatrix director, a Hollywood makeup artist and a God-fearing accordion player, who teach the men to walk like women and apply face powder.

Running through April 28, 2007, $30:00 buys you dinner, drinks and devilish diversions. Doors open at 7 PM, Dinner from 7 PM to 8 PM Show starts at 8 PM Located at Mbar 1253 N Vine St. (cross street Fountain) Hollywood, CA 90038, Phone: 323-856-0036 Act a Lady by Jordan Harrison...when men were men, and women were men, all accompanied by accordion!


---
Milwaukee Accordion Club to feature Walter Ostanek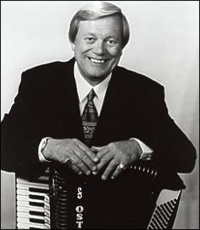 The Milwaukee Accordion Club will featured accordionist Walter Ostanek on April 23, 2007 when they hold their monthly gathering at the Root River Center, 7220 W. Rawson Avenue, Franklin, WI 53132, phone: (414) 425-7225. The doors open at 6:00 PM with pre-meeting entertainment beginning at 6:30 PM and the featured entertainment beginning at 8:00 PM. Admission is $5:00 for MAC members and $10:00 for visitors.

Walter Ostanek is "Canada's Polka King," and is not a monarch who is content to rest on his laurels. Instead, Walter's every action demonstrates a belief that the title carries with it a major responsibility which he takes very seriously. Based in St. Catharines, Ontario, Canada, Walter has worked tirelessly for thirty-one years to promote Slovenian Cleveland-Style Polkas and Waltzes across the entire North American continent and abroad.

Perfecting his skills during a musical childhood, Walter formed the WALTER OSTANEK BAND in 1957, taking his inspiration from Frank Yankovic. Over the last thirty-one years, Walter has embellished upon the basic Cleveland-Style with his own "Country and Western" flavor while paying respect to all the many dimensions various artists have added to Cleveland-Style music.

A tribute to this polka "ecumenism," Walter's newly released two volume set, "Polka-Stalgia," captures the Ostanek band working individually with a virtual Who's Who of Cleveland-Style Polka artists. Likewise, through his "Hands Across the Border" series, Walter has established a long history of incorporating famous Cleveland-Style artists, both leaders and sidemen, on his recordings. (Note: A portion of the proceeds from all sales of "Polka-Stalgia" will go to the American-Slovenian Polka Foundation and National Cleveland-Style Polka Hall of Fame.) Among Walter's most popular recordings on the Arc, Marathon, Axe, Boot, CBS Canada, and World Renowned labels are the "Joanne Polka," "Lee and Ann's Polka," and "Play Me an Old Fashioned Waltz."

As an ambassador of Cleveland-Style Polkas and Waltzes, Walter has excelled. In addition to hosting his own television shows (the current one for fourteen consecutive years), radio shows (three currently), and polka tours, Walter has appeared on the "Johnny Carson Show," "Phil Donahue," "Tommy Hunter Show," and Cleveland's "Polka Varieties" as well as his own award-winning TV specials and telethons. He has also appeared in concert with Roy Clark, the Oakridge Boys, Ronnie Milsap, Ray Price, Mel Tillis, Brenda Lee, Slim Whitman, Tom T. Hall, T. G. Shepard, Tommy Hunter, Lawrence Welk, Myron Floren, and Frank Yankovic. Among the band's countless honors are 3 Grammy Awards and a Gold Record from Arc Recording Company.

Notwithstanding these accomplishments, Walter Ostanek remains relentless in his commitment to pleasing his audiences. All this is quite amazing for a fellow whose attitude still reflects the enthusiasm, humility,and dedication of an ambitious, awestruck youngster trying to break into the ranks.

---
Annual Seminars in New York City
From July 27-29, 2007 you'll learn that the accordion has two reputations: A REAL ONE - and A BOGUS ONE. SO, LET'S GET BOGUS, FOLKS! AND WELCOME TO HOGUS/ BOGUS! OUR THIRTEENTH SMASH YEAR! OUR BAR MITSVAH! Join accordion philosopher, Dr. William Schimmel, in a weekend romp of questionable, useless and far-fetched information.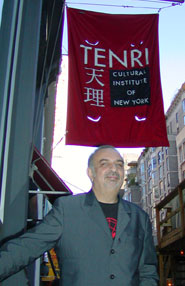 THE ACCORDION HAS COME FAR! LET'S FETCH IT BACK! TO IT'S HOGUS ROOTS! The event will take place at:

THE TENRI CULTURAL INSTITUTE OF NEW YORK
43A WEST 13TH ST. (between 5th and 6th Ave.)
New York City
July 27-29, 2007

Master Classes at 3 PM Concerts at 7 PM

$20 per master class - THOSE WHO WISH TO PLAY, CONTACT DR. SCHIMMEL
$25 per concert
$40 per entire day - includes master class and concert
$110 per entire weekend - includes three master classes and three concerts
Reservations and information: 212-876-0827 - www.billschimmel.com or www.ameraccord.com


---
Maddalena Belfiore Competition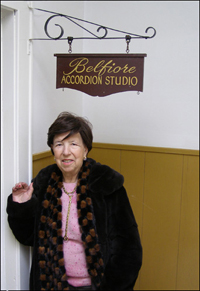 Renowned US Accordionist and Teacher Maddalena Belfiore is the recipient of two recent honors including:

CIA Honorary Membership: At the Confédération Internationale des Accordéonistes (CIA) 117th General Assembly of Delegates held at Nagigia Island, Fiji from January 23-29, 2007 it was unanimously approved that Maddalena Belfiore be made the 2nd Honorary CIA Member in recognition of the many decades of support of the organization including serving as a Vice President, acting President, International Delegate, International Jury Member and major donor to the CIA Archives housed in Ikaalinen, Finland.

Honoree of the Maddalena Belfiore Entertainment Competition for Female Accordionists to be held in conjunction with the 60th Anniversary Coupe Mondiale in Alexandria, VA (Washington DC) on August 15, 2007.

Below are the requirements for this exciting new competition which will be held in conjunction with the 2007 60th Anniversary CIA Coupe Mondiale in Alexandria, VA in August.



WIN $5,000 FIRST PRIZE

The Maddalena Belfiore
ENTERTAINMENT COMPETITION for FEMALE ACCORDIONISTS

Competition sponsored by Sylvia L. Prior
under the auspices of AAA/ATG at the 2007 Coupe Mondiale
AUGUST 15, 2007

If you are an entertainer, an accordionist and female, be sure to enter The Maddalena Belfiore Entertainment Competition for Female Accordionists, which is open to all ages. Contest sponsor Sylvia Prior says, "This competition is to promote accordion through recognition of female accordionists in the entertainment field, while honoring Maddalena Belfiore as one of the outstanding female accordionists of her time."

Prizes: $5,000 first prize, $2,500 second prize and $1,500 third prize
(provided eight (8) or more accordionists compete.)

Instrument and Limitations: Competitors may play any kind of accordion; however, MIDI, amplification or electric devices are not allowed. No singing is permitted. Competition is based upon playing the accordion as a solo instrument, in conformity with the competition rules.

Entry Fee: $50 entry fee must accompany Entry Form (below). Profits from entry fees will be donated to the Susan B. Komen Foundation for Breast Cancer Research.

Closing Date: Entries must be postmarked no later than June 15, 2007. On-line entries will be accepted until that date.

Time and Place: Competition will be held at the Holiday Inn, 625 First St., Alexandria, VA 22314 (703/548-6300) on Tuesday, August 14, 2007 at 1:00 PM. Draw for position will take place two hours earlier.

Music Requirements: Competitors repertoire must consist of at least four (4) different selections. Three pieces will demonstrate three (3) different styles and moods, e.g.: Tango, Jazz, Virtuoso Variations on Themes, French Musette, Polka, Swing, Semi-Classical, etc., and a fourth selection, which must be either one of these two Belfiore compositions: Valse Diane or Pan Polka*. Contestants are not required to supply any music for judges.
*No.OP9443 Valse Diane $2.95; No.OP9519 Pan Polka $3.95, plus $5 s/h. Order from AAA, 152 Home Fair Drive, Fairfield, CT 06825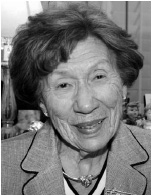 Time Limit: Playing time, excluding brief breaks between pieces, may not exceed 15 minutes, nor be less than 12 minutes.

Penalties: There will be point penalties for any infraction of the rules including time limits.

Judging Criteria: Entrants will be judged on musical ability, professional presentation, projection and rapport with the audience. Judges decisions will be final and cannot be challenged.

Entry Form: please visit www.accordions.com/coupeusa

(Competition Sponsor - Sylvia L. Prior)


---
Victor Prieto Returns from European Tour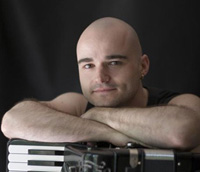 NY based accordionist Victor Prieto recently returned from presenting concerts in Spain, Portugal and France.

Victor will be appearing on April 27 and 28 at Smalls (183 W 10th Street at 10th Ave in New York) at 8:00 PM, with Emilio Solla, an intentionally renowned pianist and composer www.emiliosolla.com.



Emilio Solla & NY Tango-Jazz Project featuring Emilio Solla, (piano), Donny McCaslin (Sax), Chris Cheek (Sax), Pablo Aslan (Bass) Victor Prieto (Accordion), Jeff Ballard Drums).

For more information, please visit: www.victorprieto.net


---
Washington, DC Gathering on April 5
The Washington Metropolitan Accordion Society (WMAS) will meet on Sunday, April 15, 2007, at 4:00 PM with Jim Vandelly giving an overview on quick accordion repairs.

The meeting will take place at the Sleepy Hollow Methodist Church, 3435 Sleepy Hollow Road
Falls Church, Virginia, 22044. Price: Suggested donation $2.00 to cover the cost of the church rental.

For further information on this and upcoming events, please contact Karen Denice 703-671-5395 at E-mail: wmas2002@cox.net or visit www.washingtonaccordions.org

---
Domenic Karcic and the Continental Sound Orchestra

Accordionist Domenic Karcic will appear at the Valtarese Foundation Dinner Dance on Sunday, April 15, 2007.

Cocktails begin at 1:00 PM with Dinner beginning at 2:00 PM. The even will take place at the Maestro's Caterers, 1703 Bronxdale Avenue in the Bronx, NY.

Domenic will appear with his Continental Sound Orchestra with special guest accordionist Mario Tacca presenting a special tribute to Bruce Bozzi and Wally Ganzi of the renowned Palm Restaurants. The even will feature many wonderful raffle prizes, including two round-trip air tickets to Bologna donated by Eurofly.

Tickets are $75 per person, children under 12, $35. For reservations please call:
Hilda Maggi (718) 767-0816.


---
ATAM Festival in Massachusetts
The 45th Annual Accordion Teachers' Association of Massachusetts (ATAM) Festival will take place from April 13-15, 2007 at the Marriott Hotel in Newton, MA.

The ATAM was established in 1962. The founding father is Aldo DeRossi of New Bedford, MA. who is still active within the organization. The first President was the late Frank Gaviani, Sr.

The annual New England Music Competition and Festival is sponsored by the ATAM. All events are open to the public free of charge and over 1200 contestants take part in Accordion, Drum, Guitar, Keyboard, Piano, and Voice Competition. Solo, Duet, Ensemble, and Band Categories are offered for ages 6 through 22. Non Competitive Categories include Evaluation Solos and Festival Band Divisions.

On Friday evening a "Battle of the Bands" is held in the Ballroom. Cash awards are given to the first place winners in three divisions. The Accordion, Guitar, Drum, and Piano Championships are also held Friday evening with cash awards given to the First, Second and Third Place winners.

On Saturday and Sunday a continuous Accordion Ensemble and Band competition is held in the Ballroom. Solo and duet competition is ongoing. A $500.00 cash Award is presented to the first place winner in the Senior Orchestra Division. An Awards banquet is held on Saturday evening with over 500 in attendance. A $500.00 cash Scholarship is awarded to a contestant who has been accepted as a Music Major in college. Over $3,000 is awarded to winners throughout the weekend.


---
Mario Pedone in Arizona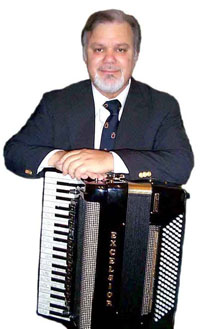 Accordionist Mario Pedone presented an accordion concert for the Arizona Accordion Club on March 19, 2007.

Mario Pedone was born on October 5, 1951, in Valenzano a small town near Bari, in Southern Italy. In an effort to improve the family's financial situation the Pedones immigrated to Valencia, Venezuela in 1959. Mario's older brother, Ludovico had begun to study the accordion and Mario was always watching him hoping one day he also play this wonderful instrument. He persistently begged his father to let him start accordion lessons too and eventually succeeded.

His first teacher was Franco Cupertino, Mario devoted at least 4 to 5 hours per day practicing until his father screamed "GIVE US A BREAK " but that didn't stop Mario from playing his beloved instrument, and after a few years professor Miguel Casas Augé, founder and Director of the Valencia Accordion Club also Conductor of the Valencia Symphony Orquesta, assumed Mario's Accordion Education. He was followed by Professor Roberto Ruscitti, a renowed classical Accordionist, who took care of Mario's education for the next 7 years.

On March 24, 1972 Mario graduated as a " CONCERTISTA " from the school " ACADEMIA DE ACORDEON SMITH " directed by Roberto Ruscitti. In March of 1974 he earned a " CUM LAUDE " Diploma in accordion from the same school. On April 30, 1976 Mario graduated with a degree of " PROFESSOR OF ACCORDION " from the same school. After graduation Mario founded his own accordion school " ACADEMIA DE ACORDEON LATINA " where he had over 125 students. Most of his former students are now playing professionally. Mario was also member and co-founder of the " ORQUESTA LATINA " together with famous Spanish singer Esteban Abarca. The Orquesta Latina performed all over Venezuela. Mario has won numerous championships with both the Accordion and the Organ.

In 1981, in search of a better future, Mario moved to Sugar Land, Texas with his wife and children. He continues to perform professionally in many countries and is currently performing on the keyboard on week ends at The Old Heidelberg, a local German Restaurant in Houston accompanied by singer Liberty Palileo.

Mario has his own recording studio in Sugar Land where he has arranged and recorded hundreds of tunes including many of his own compositions. His musical range includes, but is not limited to Classical, Latin, European, American Standards. He also produces CDs and cassettes for other musicians.

Mario was invited to perform in the Famous Accordion Festival celebrated in Ransäter Sweden and has also performed at concerts in New York, Dallas, Austin, Montreal, Bogota Colombia, Boston and many other states in the US.
---
---
Note: In order to provide as much information as possible for the United States National Accordion News stories, many different sources are often researched to gather additional information and pictures to complement what has been submitted. This information is then correlated to provide the news on www.accordionusa.com in the spirit of which it is intended, which is to provide a free news service to the Accordion Community, specifically in the United Sates. If you feel any copyright has been violated please advise www.accordionusa.com and the article will be removed immediately.