Welcome to the United States National News
Welcome to the United States National Accordion News, 'Accordion USA' for April 2000.

With the increasing interest and usage of the Internet, we have added this National News service to the wide array of free services that Accordions Worldwide offers to the Accordion Community. These now include:

(1) Accordions Worldwide (the largest accordion resource on the Internet today)
(2) Accordion Yellow Pages (approximately 20,000 listings)
(3) Accordion Links (the biggest collection of accordion links you could ever imagine)
(4) Search Accordion (the only search engine, dedicated to the accordion)
(5) Accordion National News (current publications are found in Italy, Germany, the USA and France.)

You might notice a news headline with "NEW" beside it. Since the publication is monthly at this time, if we have occasion to include a late breaking news item that pertains to the current month, we will add this to the headline, so that readers can easily identify if a news item has been added since the original publication date.

We encourage you to use the submit form on this site to let us know of news items from your area, or to add an accordion gathering/concert to the monthly calendars.

We look forward to hearing from you and wish you a wonderful Spring!

Henry Doktorski Performs Piazzolla
Concert accordionist Henry Doktorski performed Piazzolla's "Adios Nonina" with pianist Natasha Snitkovsky at the City Music Center's Annual Year-End Extravaganza held on May 7 at Duquesne University School of Music Recital Hall. Both performers are faculty members at the City Music Center, Pittsburgh's largest community music school.

Other performers included violinist Peter Snitkovsky, baritone Dennis Bender, guitarist Mark Wilson, soprano Mary Catherine Dykhouse, violist Peter Guroff and the Amadeus Chamber Orchestra directed by Augustine Martinovic. In attendance was Duquesne University dean, Michael Kumer, as well as other dignitaries from the Pittsburgh classical music scene.

UMKC Accordion Orchestra In Concert

The UMKC Accordion Orchestra presented its 39th Annual Spring concert, April 30th in White Recital Hall at the University of Missouri-Kansas City.

Performing everything from transcriptions to Broadway Showtunes, to original music written for accordion orchestra, the UMKC Accordion Orchestra received a standing ovation at the conclusion of the program.

Conducted by Joan Sommers, Professor of accordion at UMKC, this was the first time Professor Sommers had directed the group in concert since an unfortunate accident last year in Switzerland, during which she broke both her legs. It is fantastic to see that she is back in action again.

The orchestra will appear in concert in Independence, Missouri on May 5th, and then again at the upcoming Accordionists and Teachers Guild, International festival to be held from July 20-23rd, at the Lisle/Naperville Hilton, in the Chicago area.

The concert program was as follows:

Burleske - Ludwig Kletsch
Tokkata - Valentinas Bagdonas
Passacaglia and Fugue in c minor, S. 582 - J. S. Bach (arr. Balestrieri)
Walzer from the film Die Kanonade - Eduardas Balsys (arr. Ilma Plungaite)
Habanera from the film Die Kanonade - Eduardas Balsys (arr. Ilma Plungaite)
Zar und Zimmermann Overture - Albert Lortzing (arr. Curt Herold)
Intermission
Great Joy (Rock Symphony) - Lars Peter Schultz
Miss Saigon Medley - Claude-Michel Schonberg (arr. Hans-Gunther Kolz)
The Lord of the Dance Medley - Ronan Padraig Hardiman (arr. Hans-Gunther Kolz)

Search Finalist - Jason Stephen to Tour in Texas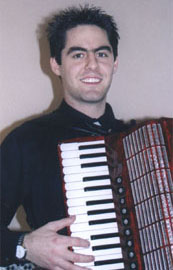 Jason Stephen, was a finalist in the AAA's Search for the Hottest Accordionist Contest in Branson, Missouri in 1999, the National Jazz Champion for the AAA in 1998 & 1999, and the 1999 A.T.G. Virtuoso Entertainment Champion. Jason went on to compete at the Confederadtion Internationale des Accordeonistes World Accordion Championships Entertainment Category, held in Trossingen where he attained a reputable 8th place.

Jason will perform in Missouri, Oklahoma and Texas during the upcoming 10 day tour sponsored by the Texas Accordion Association.

An accomplished accordionist, Jason is studying with Joan Cochran Sommers at the University of Missouri at Kansas City. For the tour, Jason will be teaming up with fellow UMKC student, percussionist Tony Hundtoft.

Please keep check the monthly calendar for concert times and locations.

At a recent concert at the Paris Conservatory Of Music-CNSM, Geir Drugsvoll, Myriam Bonnin and Peter Soave performed a program of original compositions with various instrumental combinations featuring the bayan and bandoneon.

Peter Soave (A.T.G. World Champion) performed Astor Piazzolla's "5 Tango Sensations" with the Conservatory String Quartet. The capacity audience included famous French accordionist Marcel Azzola and other former CIA Coupe Mondiale winners: Frederic Guerouet and Max Bonnay.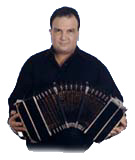 Peter Soave will be the "sole" musician in the off Broadway production of "EUYRIDCE: LEGEND OF LOVERS" by Jean Anouilh; presented by the Storm Theatre, May 9th - June 3rd (Tuesday, Wednesday and Thursday at 7:30 PM, and Friday and Saturday at 8:00 PM.

The Studio Theatre is located at 145 W 46 Street (1/2 block east of Broadway) New York, NY. Peter will be performing on both bayan and bandoneon.

For further information and for tickets please contact: (800) 965-4827 or visit http://www.stormtheatre.com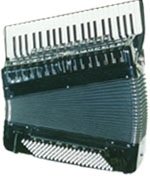 The National Accordion Organization of the United Kingdom will host an International Piano Accordion Competition as part of the Coupe Mondiale World Accordion Championships in London, 2001. Guidelines for the competition are as follows:

International Piano Accordion Competition - General Guidelines
There is no limit of numbers of candidates from each country. Candidates up to 32 years of age are allowed to enter the competition. (Year of birth: born in 1969 or later)
Entries Close: 15 August, 2001

The Required Program International Piano Accordion Competition, 2001
Own choice program consisting of at least three pieces of different styles and character and composer. Competitors must present themselves as artists to an audience; presentation, dress and stage-craft all being important. Playing time: 15 minutes minimum and 20 minutes maximum

Prizes and Awards International Piano Accordion Competition 2001
International Concert Tour. All travel and accommodation expenses from anywhere in the world to perform as Guest Artist at the South Pacific Accordion Championships in Auckland, New Zealand and at the Australian International Accordion Championships in Sydney, May 2002. Other sponsored concerts to be announced. All candidates shall receive a Diploma of participation. National member associations are requested to offer concerts or a tour for the 1st Prize Winners. All winners must be present in person at the awards ceremony. In case of absence, their prize may be accepted by a delegate of their country. The diploma can only be mailed by the CIA Secretary.

Contestants interested in entering this competition may contact Kevin Friedrich, CIA Vice President for further details.
(NB) The Coupe Mondiale World Accordion Championships is open to contestants playing either piano or button keyboard accordions. The Piano Accordion Competition, along with the Virtuoso Entertainment Categories, are additional categories.

Robert Davine Receives Distinguished Teaching Award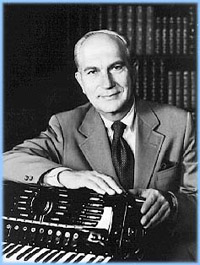 Noted accordionist and educator Robert Davine received the "Distinguished Teaching Award" from the University of Denver where he is a faculty member. This prestigious annual award cites excellence in teaching. Davine recently returned from Budapest, where he completed arrangements for a Faculty Exchange Program between the Franz Liszt Music School (Budapest) and Lamont College of Music at the University of Denver.

Professor Davine is about to conclude his compilation "A Bibliography of Music for Accordion with Other Instruments," which will be published later this year in "The Free Reed Journal," edited by Professor Allan Atlas of the Music Department of City College of New York.

This project required six years of intense research at the Indiana University and the University of Denver libraries, the Library of Congress, as well as libraries and music information centers in England, Sweden and Norway. The Bibliography will contain over 600 entries, which will assist accordionists who are searching for such literature!

Worldwide interest is being generated for the A.T.G. Virtuoso Entertainment Competition, offering a first prize of $1000.00, second prize $500.00 and third prize of $250.00, which will be held at the A.T.G. Competition and Festival in Chicago this summer from July 20-23, 2000.

Contestants are expected from as far away as New Zealand, France as well as across the United States.

Open to accordionists under the age of 32, contestants must perform an own choice program comprising a minimum of 4 pieces of different style and moods, with a maximum time limit of 15 minutes.)

For further information, please contact A.T.G. President Joan Sommers at: SommersJ@umkc.edu

Cotati Accordion Festival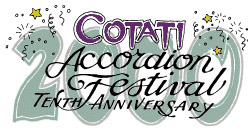 This year will celebrate the 10th Annual Cotati Accordion Festival.

Held in the northern Californian town of Cotati from August 26-27th, the festival attracts in excess of 10,000 people who gather to enjoy a weekend of nonstop accordion music of every style, exhibits, workshops, polka dancing and other fun.

The festival is held at the La Plaza Park in the downtown Cotati Hub and the gates open at 9:30 AM, with performances beginning at 10:00 AM.

For further information, please visit www.cotatifest.com

National Accordion Month - June
In the celebration of National Accordion Awareness Month (June), San Francisco will be celebrating its Day of the Accordion on Sunday, June 18th, 2000.

This day-long event will be held at the historic Cannery which is located at Fisherman's Wharf and will feature many of the Bay Area's best soloists and bands. Rock, jazz, zydeco and of course, the Squeegees-the Bay Area's hardest working polka band. Best of all it's free!

For more information about Day of the Accordion, contact All Thing Accordions' Tom Torriglia at (415) 440-0800 or at tom@ladyofspain.com

Wisconsin Hosts Annual Accordion Jamboree
The 22nd annual Rudy Burkhalter Accordion Jamboree was held on April 30th in Waunakee, Wisconsin.

The annual event, which was started 22 years ago by the late accordionist and teacher Rudy Burkhalter is open to accordionists, concertina, button box and bayan players.

Illusions - Original Accordion Compositions by Stas Venglevski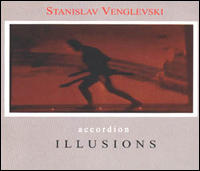 Milwaukee bayan artist Stas Venglevski has released a new CD entitled "Illusions".

Born in the Republic of Moldova, part of the former Soviet Union, Stas is acclaimed as one of the foremost virtuosos of bayan performance and composition. This CD, Stas's third, features his original music some of which is dedicated to the late Lindy Kao, accomplished Chicago accordionist who passed away last year. Tracks include:
(01) Lindy's Song (Duet), (02) Always and Eternity (Duet), (03) Let's Play Together (Duet)
(04) Latino Moment (Solo), (05) Short Visit (Duet), (06) Ecstasy Tango (Duet)
(07) Fluttering Birds (Duet), (08) Elephant Tango (Duet), (09) Circus Polka (Duet)
(10) Cat's Ball (Duet), (11) Cock Fight (Solo), (12) Mice Party Polka (Duet)
(13) French Moment (Solo), (14) Midnight Waltz, (15) Autumn Illusions (Duet)
(16) Musette Caprice (Solo), (17) Dark Eyes (Solo), (18) Fond Recollections (Solo)
To order this exciting new CD, simply visit: www.accordions.com/stas

Where in the World is this?
For the last two months, we asked if any of our readers knew where we might find this big monument.

With still no correct entries, we will extend this for another month, to give someone the chance to win the 'hottest' CD around! Don't be shy, JUST GUESS!

To help you out a little, we'll give you another clue, in addition to the fact that it is NOT in the USA and he stands approximately 30 feet tall! You will NOT find him in Asia, South America, the Pacific Rim, Africa, the Americas or the UK.

To submit your answer, please click on 'Submit Form' heading (located under the Clubs/Associations section on the left hand index) to tell us your answer. Include your name, address and e-mail address, and tell us where you think this is found.

All correct entries will go into a drawing, and the lucky winner will receive a copy of the wonderful CD "Grain de Fantaisie" by current World Accordion Champion, Jerome Richard, from France.

Good Luck!

Accordion of the Month
This Uniform Keyboard instrument can be found at the World of Accordions Museum in Duluth, Minnesota.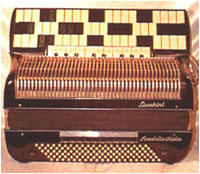 2000, the Year Ahead
This year will offer a feast of accordion activities, festivals and conventions including such events as The American Accordionists' Association and The Accordionists and Teachers Guild, International conventions in July, the new Accordion Convention in Las Vegas, and the annual Cotati Accordion Festival, both held in August.

The Coupe Mondiale World Accordion Championships will be held in Kragujovac, Yugoslavia from October 25-30th, 2000. American citizens wishing to compete in any of the four categories (Senior/Junior Coupe Mondiale and Senior/Junior Virtuoso Entertainment Divisions) should contact the American Accordionists' Association and the The Accordionists and Teachers Guild, International for entry details.

(For further information, or to list your event, please consult the monthly calendars for exact dates and contact details.)

'Young America' Accordion News
Sam McGhee Wows Bronco Startsearch Fans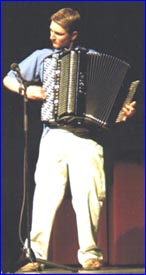 Kansas City accordionist Sam McGhee received 1st Runner Up at the recent 'Bronco Starsearch' in Kansas City, which was sponsored by Bronco Smart, "A Drug and Alcohol Free Organization."

One of 21 contestants, Sam performed to standing room only audience at Lee's Summit North High School. The audience made up of peers, parents and distinguished Kansas City area musicians, gave Sam the only standing ovation of the evening.

It was encouraging to see the students so excited about the accordion as it was lined up against other contestants competing as vocalists, dancers and pop bands. The Starsearch was won by fellow students competing as a Dance Troupe.

Last year, Sam, a student of Joan C. Sommers, won the 15 years and under Championship class at the A.T.G. National Competition and Festival in Branson, Missouri, and this year will be competing in the A.T.G. Virtuoso Entertainment Category in Chicago.

Portland Bayanist Receives Scholarship
Nikolas Fehr of Portland, Oregon has been awarded a full scholarship to study Bayan Performance at Wayne State University in Detroit, Michigan. Following an hour-long audition on March 21st which focused on bayan, but also included piano, voice, flute, theory, and ear training, sixteen-year-old Fehr was informed of the award which is the first ever given to an American bayanist.

Fehr began study of the piano-accordion at age 12 and switched to bayan just one year ago. His university tutor will be Peter Soave.

Fehr is already the recipient of some twenty awards and trophies from accordion competitions with contestants from the USA and Canada.

In addition to this, was awarded an academic scholarship from the Multnomah Education District determined by competition in the area of Performing Arts. First Place included an inscribed gold star, a plaque, and the handsome financial sum of $1100. One of the requirements of the competition was compilation of a book of Nik's accomplishments in the performing arts.

Nik first was selected as the top competitor at Lincoln High School and then was pitted against the top students from all high schools in Multnomah County. Nik won over students involved in Portland Youth Philharmonic, Metropolitan Youth Symphony, State and local Honor Bands and Choirs, Portland Opera, and Mt. Hood Community College Jazz Band.

Last year, Nik toured Italy with the University of Missouri-Kansas City Accordion Orchestra under the direction of Joan Cochran Sommers, and this summer, Nik will compete at the Accordionists and Teachers Guild, International Festival in Chicago, July 20-23rd.


Peter Slominski Plays with Saskatoon Symphony Orchestra
Canadian accordionist Peter Slominski is scheduled for another performance with the Saskatoon Symphony Orchestra under the direction of Earl Stafford. This concert will be held in conjunction with the second annual Saskatoon New Music Festival and will feature five tangos by Astor Piazzolla, arranged by Stafford.

Following the success of their tango ensemble's recent performances, their repertoire is being expanded and future appearances will include concerts in surrounding areas. Peter received his Bachelor of Music degree in Accordion Performance in 1974 at the University of Missouri where he studied with Professor Joan Cochran Sommers.