UMKC Celebrates 40th Anniversary in Style

The UMKC Accordion Orchestra celebrated its 40th Anniversary during a weekend of rehearsals, a banquet and 40th Anniversary Concert on April 29th. This Anniversary concert also coincided with the retirement of Joan Sommers from teaching at the University.

Many former UMKC students including several United States Champions, professional entertainers and teachers returned to share in the celebrations which highlighted the four decades of the orchestra. Pictures from the first concert 40 years ago, as well as concert programs, various uniforms and other memorabilia were displayed during the weekend.

The orchestra, which at one time was almost 100 strong has traveled the world performing, and competing with much acclaim.



The Anniversary concert attracted a capacity audience which gave a standing ovation to the Orchestra presenting 3 encores which included former members joining in.

The orchestra will continue to rehearse at UMKC and will now be known as the UMKC Community Accordion Orchestra.

Chicago Accordion Club Releases CD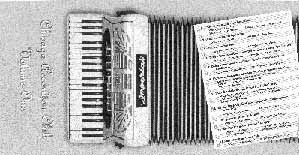 The Chicago Accordion Club (CAC) has released it's first CD entitled Volume One.

The selections feature notable members of the Chicago Accordion Club. It has solo and ensemble accordion with classical, jazz and ethnic selections. Artists featured are Mike Alongi, Stas Venglevski, Frank Marocco, Peter Soave, Brian Erickson, John Simkus, Don Komar, Joe Vito, Don White and the late Lindy Kao.

The CD is dedicated to the memory of Lindy Kao, who passed away on April 19, 1999 while taking a bow at the end of his performance. Lindy was the first president of the Chicago Accordion Club. He spent many hours creating beautiful and flawless arrangements, and always gave generously of his time and talent.

The CD's cost $15 plus shipping Cassettes $10 including shipping with quantity discounts available. Please contact Don White 7938 S Kilbourn Ave Chicago, IL 60652 (773) 585-5178 or webmaster@chicagoaccordionclub.com

Lidia Kaminska to present Doctoral Accordion Recital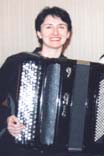 Polish accordionist, Lidia Kaminska who is finishing off her Doctorate in Accordion Performance at UMKC under the direction of Joan Sommers will present her second recital.

The concert will be in White Hall, 4949 Cherry, Kansas City, MO, May 5th, at 2 PM.

Her program will be:

1. De Profundis - Sofia Gubaidulina
2. Prelude and Fugue in D minor, BWV 875 (WTC, Book II) - J. S. Bach
3. Suite No.5 in E Major - D. Scarlatti
4. Sonata in G Minor for flute and piano, BWV 1020 - J. S. Bach (Carmen Maret - Flute)
5. Sonatina for flute and piano (III mvt. - Allegro Giocoso) - Eldin Burton
6. Concerto No.3 for Bayan - Albin Repnikow (Richard Williams - Piano)
7. Romance - Franck Angelis
8. Boite a Rythme - Franck Angelis
9. Partita No.1 - W. Zolotariew

UMKC Accordion Orchestra Releases 6 CDs



The UMKC Accordion Orchestra has just released a set of 6 CD's which highlight decades of concert work. The CDs are entitled: (1) Allegro, (2) Vivace (3) Fortissimo (4) Capriccio (5) Pasticcio and (6) Maestoso.

Pieces include popular favorites, original works for accordion orchestra and transcription of the masters.

For an order form, please contact Joan Sommers at SommersJ@umkc.edu

News from the Florida Accordion Association
The Florida Accordion Association sends greetings from sunny Florida!

The Florida Accordion Organization reports that: "it has taken off like wildfire here in the southeast. Due to demand for a southeastern association … our members are spread throughout Florida, Alabama and Georgia … and the enthusiasm is wildly contagious!

Our phone is ringing off the hook, emails are pouring in, and snail mail keeps arriving. Keep the info coming!

In our first newsletter, we took the time to compile a list of Accordion Associations in the USA, and so far compiled a list of 72 so far!

We'd like to continue to compile the list here in Florida, so if your club isn't listed on the internet, by all means get yourself listed on the Internet, and please email/write to the FAA and let us know that you exist! "

Karen Adam, President FL Accordion Association 2244 Musket Drive Navarre, FL 32566 http://www.accordions.com/florida or email at: ibqueen@bellsouth.net


Stan Darrow in Concert
Upon returning from his annual concert tour of Germany and France, Stanley Darrow presented two recitals for the students, parents and friends of the Acme Accordion School. Donations were accepted for the Acme Scholarship Fund.

Chandler Jahn - youngest West, Texas TAA Member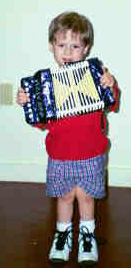 Chandler Jahn is the youngest member of the West Texas Chapter of the Texas Accordion Association. Chandler is just three and a half years old and lives in Hewitt, Texas (near Waco) His hobbies include playing piano and accordion, swimming, and fishing on his grandparents farm.

Chandler was introduced to the accordion by his father who plays a full 120 bass keyboard Titano accordion. Whenever he plays, Chandler loves to run in circles and try to 'Polka'. For his third birthday in November 2000, his Aunt Rhonda (who lives in Houston) bought him a children's button accordion.

Chandler likes to bring it to the monthly accordion club meetings, and what Chandler mostly likes about the accordion is the unique sound it makes and he likes to squeeze it back and forth.

Anyone wishing to contact this young accordionist to send him well wishes, may do so c/o twj@freese.com

Wedding Bells Will Be Ringing
Concert accordionist Henry Doktorski (founder of "The Classical Free-Reed, Inc.") and American Airlines Flight Attendant Mary Kay Welter (Accordionist of the Sky) announce their wedding which will take place at St. Patrick's Church, Oakdale, Pennsylvania at 2:30 PM, Saturday June 23rd, 2001.

Accordionists wishing to perform at the reception may inquire at free-reed@trfn.clpgh.org.

"2001: A Polka Oddity"

"2001: A POLKA ODDITY" http://PolkaParty2001.com

Musical acts! Video shorts! Contests! Food! Drinks! Polka! Endorsed by Uncle Otto's Oktoberfest & The Polka Television Network. Now, in its 16th year of polka-spoofin' fun!

Saturday May 12, 2001 - 7:30pm to midnight Eagles Lodge (East AERIE No 3256) 4904 SE Hawthorne Blvd (at 50th) Portland Oregon, USA

MUSICAL ACTS!


DJ Woijee - Portland's only Polka DJ! Accordions Anonymous (pictured left) - Supporting their habit, from Eugene! The PolkaDoubts - The music behind "Mission: Impolkable"!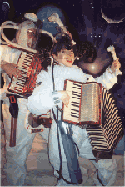 Samsonite and Delight-Ya (pictured right) - Putting the "cheese" in "squeeze"! Big Lou's Polka Casserole - All-Stars from San Francisco! (Big Lou founded Polkacide & Those Darn Accordions!)

ORIGINAL VIDEO SHORTS! Premiering at 7:45pm, and all new! "Beaver Cleaver, Hidden Sausage" "Stashford and Illegitimate Son" "Chesky's Angels" "Hi, Polkadelity" "Polka Survivor" "Temptation Buffet" plus a sneak preview of "Glove, Glove, Who's Got The Glove?" and an encore presentation of "2001: A Polka Odyssey"

PLUS: Polka Makeovers! Best Bowling Shirt Contest! Biggest Hair Contest! Cabbage Passing Contest! Polka-mon Trading Cards! The Polka Tenors - live! Billion Accordion Beer Barrel Polka! Raffles of polka movie memorabilia! Monolith!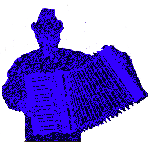 AND - Polka Slalom Dance contest, with the finalists moving on to compete in September at Uncle Otto's Oktoberfest - for a really juicy prize! $8.99 donation at the door or $5.99 if dressed in "polka" attire or donating canned food to the Starving Accordionists' Fund (best value) $15.99 for PIBs (people in black) - 'cause this is a Polka Party, so don't dress like Johnny Cash, or you'll pay for it! Eat treats from the Temptation Buffet for a mere $1.99 additional (buy a food ticket at the door) Full no host bar with mixed drinks, wine, beer, and polka cola Ice Cold Portland Brewing Company Beer on tap - yummy! Cash only, but at yesterday's prices :-) All-ages in the live music area, over 21 in the bar

SNEAK PREVIEWS: "Good Day Oregon" with Phil Cassidy Friday May 11, 2001, 5:30am-9am (mini segments approx every 1/2 hr) channel 12 / UPN / KPTV (statewide!) AND First Thursday in The Pearl Polka Oddities on foot, squeezin' & cheesin'!

Official web site of "2001: A Polka Oddity": http://PolkaParty2001.com Lots of details about all the bands, videos, and more! Party & web site contact: Ted Eugenis polkaparty@polkaparty2001.com (503)735-2805
Press contact: Cybele Cybele@funduo.com
http://funduo.com (503)282-4058
PO Box 6714
Portland OR 97228-6714
USA

Irish Rock Band Seeks Accordionist
A Midwest based professional Irish Rock band is dire need of an accordion player. They have all paying gigs and have already announced touring plans for the end of the year.

If you are interested and over age 18 please contact Caitlin Oliver at kissmahone@hotmail.com

Shop Away at ladyofspain.com
Website www.ladyofspain.com has just announced that they are able to accept credit cards as a form of payment. With new music being constantly added, the advertised stock changes daily.

Accordions such as Weltmeisters are selling well over the Internet, and the Castelfidardo made Polverini accordions have just been added.

We invite you to visit this site for a host of accordion related items and information!

Henry Doktorski in Concert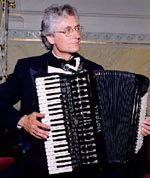 Concert accordionist Henry Doktorski will perform original compositions by Guido Deiro and Pietro Frosini in recital at Duquesne University (Pittsburgh, Pennsylvania) at 6 pm on Sunday, May 6, 2001.

The concert, to be held in the PNC Recital Hall at the School of Music, will feature faculty members and advanced students of Duquesne University's "City Music Center." The concert is free and open to the public.

For more information contact City Music Center Executive Director, Sally Stone, stone@duq.edu

Los Jet Set will be playing Thursday night (May 3) UNDER THE STARS on the rooftop of Waterloo Brewing at the corner of Guadalupe and 4th in Austin, Texas. Showtime is from 9 PM - 11 PM. Rain option is downstairs under the porch.

Then, they''ll be playing IN THE SHADE on Sunday afternoon at the Hickory Street Bar and Grill (8th and Congress Ave.) from noon to 2:00 PM for their afternoon brunch. All Welcome!

Why not advertise your web site on accordionusa.com?
TELL THE USA WHAT YOU HAVE TO OFFER!
New York accordionist Dr. William Schimmel has just released a new CD which can be found at stores nation wide in the Jazz section. CCn'C 01312.

Review of Archipelago by Chris Parker

Outside New Orleans, or course the music has mutated into even more weird and wonderful forms. New York, in particular, has produced an extraordinary variety of jazz based music, especially from its renowned "Downtown" scene in recent years, but none more unusual than that produced by Archipelago (bassoonist Martin Kuuskmann, accordionist William Schimmel, percussionist David Rozenblatt) on their extraordinary eponymous recording (CCn'C01312).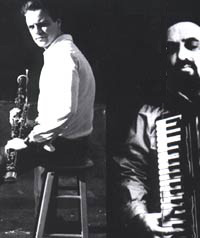 Like, say, Michel Portal and Richard Galliano in France, or Gianluigi Trovesi and Gianni Coscia in Italy, Archipelago draw on a bewildering range of musics as grits to their mill: a Georgian folksong is set to a world dance beat, "Autumn Leaves" draws on the chanson tradition, Bartok is given a 'tantric" treatment, Led Zeppelin, Elmer Bernstein, Beethoven, Stan Getz and Astor Piazzolla all go into the mix and re-emerge transformed into wonderfully dense, witty, allusive music that consistently delights and surprises.