New Group Piano Accordion Lessons in Kansas
Beginning May 9, 2002, the Americana Music Academy in Lawrence, Kansas will be offering beginning group piano accordion lessons.

They will be taught by Kaw Valley Accordion Club founder John Thompson on Thursday evenings from 8:30-10:00 PM. The Americana Music Academy is a not for profit education institute which offers a variety of classes in various acoustic and electronic instruments.

The classes are offered in eight week segments for $125 per eight week session. For more information, please contact John at (785) 841-1740 or e-mail: John Thompson

New CD featuring Gypsy Latin Flamenco Music

Family duo George Stevens (on Bouzouki, Guitar and Mandolin) and brother Paul Stevens - pictured right, (on Midi Accordion and Guitar) have just released a new CD.

As a duo, they play a mixture of ethnic music such as, Greek, Gypsy Romani, Klezmer, Siberian, Italian and Latin music.

Their new CD "Midnight Passion" is a blend of Gypsy Latin Flamenco Music Featuring songs from Gipsy Kings, Alex Fox and more. Plans are already underway for a new CD featuring some of the best Gypsy Romani Singers in the USA

CD's are $16.50 (includes Shipping and Handling)

Please make Check or Money Order payable to Paul Stevens and mail to:
Paul Stevens
1570 W. Katella Ave.
Anaheim, CA 92802

Phone: (714) 772-8585 or e-mail: bouzouki1@msn.com

Washington Balalaika Society Concert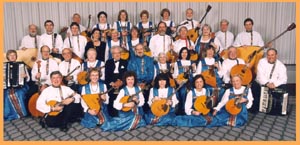 The Washington Balalaika Society Russian Folk Orchestra will present a concert on May 11th, 2002 at 7:30 PM at the Northern Virginia Community College - Ernst Auditorium, 8333 Little River Turnpike, Annandale, VA.

The concert is entitled "Moscow Nights" An Evening of Russian Music and Song and is a program of instrumental and vocal music under the direction of guest conductor Svetlana Nikonova from St. Petersburg, Russia. The program will feature Moscow domra virtuoso Alexander Tsygankov, balalaika soloist Andrei Saveliev, domrist Elena Torokhova Rector and vocalists Anya Titova and Vladimir Rozenblat. Ms. Nikonova will work with the WBS Orchestra as conductor-in-residence during April and May to prepare a new program guaranteed to please the discerning audience which has come to expect the best from the Washington Balalaika Society.

The Washington Balalaika Society was founded in 1988 by a group of musicians interested in studying and performing the music of Russia, Ukraine and eastern Europe on traditional Russian folk instruments, the balalaika, domra, bayan and related folk wind and percussion. The Society's initial membership of eight has grown to more than fifty, and the WBS Orchestra now numbers over 40 musicians at all levels from beginner to professional.

For further information please visit: http://www.balalaika.org
Phone: 703-383-5150 e-mail: monomakh@aol.com

New Accordion Condenser Microphone System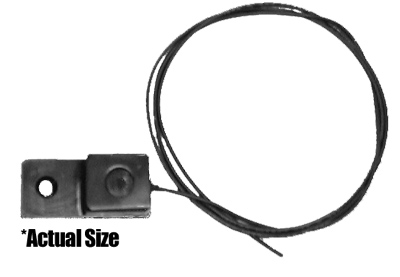 Applied Microphone Technology is proud to introduce a brand new Accordion Condenser Microphone System. Manufacturing instrument microphones for woodwinds, brass, strings, percussion, and fretted instruments, their newest product is the ACC3 and ACC1 Accordion system.

Each mic is custom made for the instrument, and produces it's natural sound. The accordion system is no exception; the sound is truly that of the instrument. The accordion system has been in development for approximately 5 years. AMT works closely with the musicians in order to hear what they want to hear out of the instrument. The ACC3 & ACC1 have a great amount of gain before feedback, and less handling noise. They are more versatile, due to their size and setup configuration, for smaller enclosed areas.

Both systems are able to be interfaced with pro-applications and are wireless capable. You are able to add up to 11 microphones per system but we recommend only 3 for a full size accordion and 1 for a smaller single mic accordion setup (ACC1).

It is also possible for someone to purchase extra microphones and a wiring harness in order to install into a second accordion for use with the same belt pack (purchasing a second belt pack will not be necessary). The belt pack, which can be worn or set aside on an amp, houses all of the electronics necessary: a 9 volt battery, RH and LH volume controls, a master volume control, and passive EQ's for both RH and LH.

AMT is proud to have the best endorsers in the world. Their newest endorser is jazz great Michael Brecker. They have a new chromatic harmonica system that was developed for Stevie Wonder as well. AMT microphones were used on Barbara Streisands' New Years Eve special in Las Vegas engineered by the legendary Bruce Jackson. AMT is fortunate to have Barry Manilow using our piano mic system, as well as personal microphones for Sonny Rollins' entire band. The Capitol Sax Quartet in Maryland uses AMT microphones along with Bob Sheppard, Alex Foster, Nick Brignola, Dave Liebman, and Wayne Shorter.

A guitar mic was recently custom built for Paul Simon and Pat Metheny. Many of the greatest acoustic bass players use the S-25B string bass system including John Patitucci, Rufus Reid, Ron Carter, Todd Coolman, Christian Mcbride and Scott Colley. They have also made piano mic's for Herbie Hancock and Bob James, a trumpet mic for Lou Soloff, a flute mic for Dave Valentin, and a clarinet mic for Eddie Daniels among others.

AMT microphones are used in venues in New York City and around the world such as: Birdland and The Jazz Standard. All of the Bluenote jazz clubs in Japan house AMT systems. Currently the S-25B string bass system is being used by Tom Barney in the Broadway production of the Lion King, before which he used on the 2000 summer tour with Steeley Dan.

The AMT microphones are used and developed by excellent musicians. You can see artist letters on our web site at Artist Reviews. For further information, please contact:
Ron Oswanski at Applied Microphone Technology
Phone: 908-665-2727 e-mail: ron@appliedmic.com
http://www.appliedmic.com

Viking Fest features Norwegian Accordionist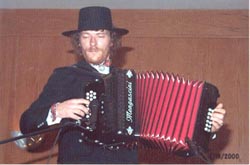 Norwegian accordionist Jarle Fjeldheim was one of the featured guests in the recent Georgetown, Texas Viking Fest.

Jarle Fjeldheim plays beautiful Norwegian folk music on a three row diatonic and is a fan of Lillebror Vasaasen, playing many of his tunes. According to Jarle, Lillebror is the main two row player and composer of two row tunes in Norway.

A few years ago Jarle heard Flaco Jimenez play on a three row diatonic accordion, and that spurred him on to purchase a three row accordion for himself so that he could learn some of Flaco's tunes. In November of 1999, he traveled to Austin, Texas and met Flaco Jimenez for the first time. Jarle also took lessons from Flaco's brother, Santiago Jimenez, Jr., so that he could perfect his technique with conjunto music.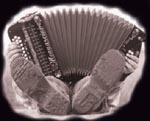 Jarle not only plays Norwegian folk music and conjunto tunes, but also plays many Irish tunes. While he was in Austin, he also met and jammed with Yann-Fanch Perroches, one of Brittany's premier accordion musicians. In March of 2000, Jarle came to Texas once again - this time to play at the International Accordion Convention held in Plano, at which he received a standing ovation. At that time, he was fortunate to meet several members of the Friends of Norway and play some traditional Norwegian tunes for them.



Jarle's interest in accordion music encompasses many different genres. Jarle plays with great skill and emotion, and his music and concerts at the Viking Fest were very well received.

Pauline Oliveros Retrospective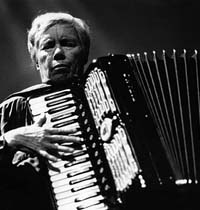 Heralded as a major international cultural event, "Sounding the Margins: a Retrospective of the Works of Pauline Oliveros" will commemorate the 70th birthday of this world famous American composer, accordionist, teacher, author and pioneer in electronic music.

The celebration will take place as a series of performances at the Lorraine Hansberry Theatre in San Francisco from May 31st to June 2nd. Three of Pauline's current ensembles: "Deep Listening Band", "Circle Trio" and "The Space Between" will perform at the event.

An orchestra of virtuoso New Music performers from around the world will be assembled specifically for the celebrations as well as small ensembles and soloists who will present various compositions by Oliveros (including dance and theatre), from 1960 to 2002. Oliveros herself will also perform. As his contribution to the honoring of Oliveros, the distinguished designer Andrew Hoyem (owner of Arion Press) will design the poster announcing "Sounding the Margins: a Retrospective of the works of Pauline Oliveros".

The organizing committee for the concerts consists of Pauline Oliveros Foundation members Philip Gelb and Tom Bickley working in collaboration with Anne Brodzky and Tony Williams of the Society and Meridian. Dana Reason will coordinate a concurrent symposium.

for further information, please contact:
Pauline Oliveros Foundation
PO Box 1956, Kingston, NY 12402
Phone (845) 338-5984 Fax (845) 338-5986
e-mail: paulineo@deeplistening.org

Be Charmed by the Musette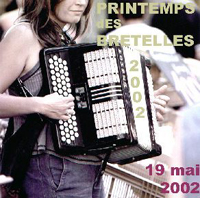 The annual Le Printemps Des Bretelles Festival will be held in Montreal, Quebec on May 19th and 20th organized by Soufflemuse Productions. This festival is held every year to commemorate the invention of the accordion on May 6th 1829.

Over 15 accordionists will entertain the public including Didier Dumoutier, Mario Bruneau, Daniel Thonan, Sylvain Rondeau, Vladimir Sodorov, Fredy Bal and Jacques Calve who will accompany his father and vocalist Pierre Calve.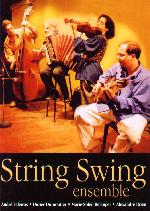 Tangos, Javas, Waltzes, Tsigane Jazz, Ditties, popular french songs and Latin rhytmns share the spotlight and take turns gracing the stage. The accordion masters strap themselves in and invite you to loosen your belts and your hair down, inviting you to be seduced by the muse and charmed by the musette.

Soufflemuse Productions and the Lion d'Or Cabaret hold Le Printemps des Bretelles of Montreal on May 19, 2002 at the Lion d'Or Cabaret.

Phone: (514) 634-9672 e-mail: soufflemuse@hotmail.com
http://www.soufflemuse.qc.ca

MAC to feature Tony Lovello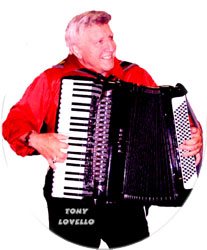 Tony Lovello is called the Michael Jordan or the Liberace of the accordion. Definitely is the consummate showman, Tony Lovello is scheduled to both entertain and present a seminar to the Milwaukee Accordion Club later this month.

Lovello toured a couple years with the famous Three Suns trio and has a long list of accomplishments on his resume.

His current tour brings him to Milwaukee for a special Wednesday May 29th presentation. Club members and guests alike, look forward to being both entertained and educated that evening.

UMKC to preview Orlando Program

The UMKC Accordion Orchestra will present a concert on June 23rd, 2002 at White Recital Hall on the UMKC Campus at 2:00 PM.

Presenting a variety program, the UMKC Accordion Orchestra under the direction of Joan Cochran Sommers will be performing the pieces they will present in concert at the ATG Competition and Festival in Orlando, as well as at the Walt Disney World Epcot Center.

The orchestra recently celebrated its 40th year by releasing a series of 6 CD's which are available on their website at www.accordions.com/umkc
For further information, please contact: Joan Sommers

Friedrich Lips to visit USA in September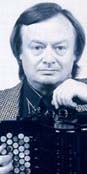 Acclaimed bayan artist and teacher Friedrich Lips from Moscow will tour the United States and Canada in September offering concerts in Milwaukee, Chicago, Toronto and Duluth.

The teacher of Milwaukee based accordion start Stas Venglevski, the two will appear in concert together on several occasions.

Friedrich Lips was born in the Jemanschelinsk (district of Tcheljabinsk) on November 18th, 1948. In 1967 he concluded his musical education at the secondary school of Magnitogorsk (Class of E.A. Kudinow). In 1972 he then concluded his studies at the state-run Gnessin-Institute for music pedagogics (Class of Prof. S. Kolobkow) and in 1974 he finished his post-graduate studies.

Since 1971 he has been lecturing at the Gnessin-Institute (Academy of Music since 1992), first as lecturer, later as assistant professor and from 1989 on as a professor. In 1969 he was awarded the first prize in the international contest in Klingenthal (former GDR). In 1982 he was honoured as a "distinguished artist" and in 1994 as a "People's Artist" of Russia.

Friedrich Lips is the author of the book "The Art of Playing the Bayan" ( published by "Muzika" in Moscow 1985, 2nd edition in 1998, German translation published by "Intermusik Schmülling", Germany ). Furthermore he has published a number of articles on the theory of playing the bajan, as well as many arrangements and transcriptions of organ and piano works for the bajan. He is the initiator and author of the anthology of bajan literature, as well as some volumes on the bajan repertoire.

Friedrich Lips works as an adjudicator at many international accordion competitions and is member of the committee of IAS (International Accordion Society). He is the organizer and artistic director of the international festival "Bayan and bayanists" which has been held in Moscow since 1989.

For information on the concerts in the United States, please contact Stas Venglevski:
3597 S 123rd Street
Greenfield, WI 53228
Phone: (414) 961-9803 or (414) 543-7714
E-Mail: stas.venglevski@gte.net

Stas Venglevski to tour West Coast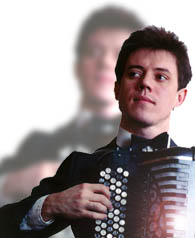 Milwaukee based accordionist Stas Venglevski will perform on the West Coast in May, offering concerts in Los Angeles, San Diego, Portland and Seattle before heading to Texas.

His keyboard artistry, dazzling technical command, and sensitivity have brought 'Stas' Venglevski, a native of the Republic of Moldova, part of the former Soviet Union, increasing acclaim as a virtuoso of the bayan. A two-time first prize winner of bayan competition in the Republic of Moldova, Stas is a graduate of the Russian Academy of Music in Moscow where he received his masters Degree in Music under the tutelage of the famed Russian bayanist, Friedrich Lips. In 1992 he emigrated to the United States.

Stas' repertoire is an astonishing collection of virtuoso works by Bach, Weber, Liszt, Schubert, Rachmaninoff, as well as contemporary and ethnic music. He has toured extensively throughout the former soviet Union, Europe, and the United States. He also performs frequently in Milwaukee, Wisconsin, his home in America, and is a regular participant in the Milwaukee Symphony Orchestra's Arts in Community education program (ACE) and in Milwaukee theater productions.

For full details, please visit Stas on-line at www.accordions.com/stas

Pinsk and Bule for Accordion and Piano

On May 5th, Dr. William Schimmel will perform Alla Bozova's Pinsk and Bule for Accordion and Piano at the Kosciusko Foundation in New York.

On May 23rd and 24th, he will perform in a chamber concert with the ensemble Sospeso at the Tenri Cultural institute. At this concert, he will perform in the premieres of works by Kirk Noreen, Joshua Cody and a work for Violin, Cello and Accordion by Wolfgang Rihm.

For more information please contact www.billschimmel.com

---

---
Note: In order to provide as much information as possible for the United States National Accordion News stories, many different sources are often researched to gather additional information and pictures to complement what has been submitted. This information is then correlated to provide the news on www.accordionusa.com in the spirit of which it is intended, which is to provide a free news service to the Accordion Community, specifically in the United Sates. If you feel any copyright has been violated please advise www.accordionusa.com and the article will be removed immediately.