---
Dr. William Schimmel in New York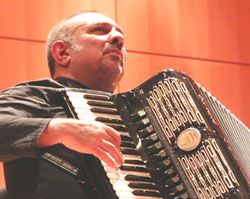 Dr. William Schimmel performed the solo accordion work 'Eclipses' by Steven Gates at the Mata festival in New York on May 15th. The Mata (Music At The Anthology) was founded by Phillip Glass to promote the works of young emerging composers. The performance took place at St. Peter's Church in the Chelsea section of Manhattan.

On May 25, Dr. Schimmel will perform the works of Wolfgang Rihm and Sofia Gubaidulina at the White Box Gallery, also in the Chelsea section of Manhattan as Part of the 'Modernworks' series.

Dr. Schimmel's busy teaching schedule includes directing the Neupauer Conservatory 'Order of the Shield Program' in New York, a private studies conservatory Program on both the Graduate and Post Graduate level.

Currently, there are ten candidates for the next graduating class: Benjamin Ickies, Cristina Spelligene, Rembert Block, Dr. Mark Birnbaum, William Komaiko, Michael Sahl, Deborah Magosci, Kamala Sankram, Dr. Robert Young Mc Mahan and Micki Goodman. In addition, there are seven Philadelphia candidates who will be announced at a later date.

---
Jazz Accordion Program Opens at Brooklyn Conservatory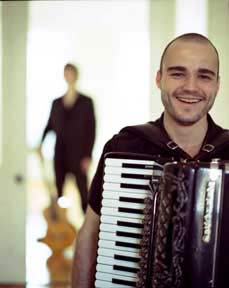 Five accordionists have become the first to apply for a place on the Brooklyn Conservatory's Jazz Accordion Studies in New York under the direction of Victor Prieto.
Successful accordionist and accordion tutor, Victor Prieto described the program saying, "You have to see now that the accordion is being treated as any other instrument."

At the Brooklyn Conservatory of Music, accordion is part of the keyboard department. The programs currently being offered are; the Diploma Program and the Graduate Diploma. While the Diploma is a four-year full-time undergraduate study leading to the Professional Diploma, the graduate study is for two years resulting in a Graduate Diploma.

The prerequisite for entry into the Diploma Program is a High School Diploma or equivalent degree. Students are also eligible for the program after having had appreciable musical training. The Graduate Diploma program is open to students who have earned the Professional Diploma at the Brooklyn Conservatory of Music or a comparable baccalaureate-level music degree or Diploma from another recognized School, University, or Conservatory.
For more information visit http://www.brooklynconservatory.com (programs) or see this months feature article or e-mail victorprieto2001@yahoo.com.


---
Queen Ida and the Bon Temps Zydeco Band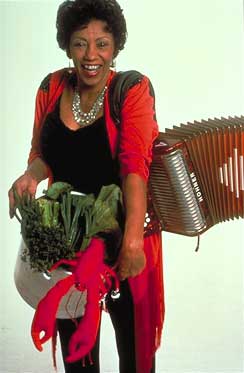 Queen Ida and the Bon Temps Zydeco Band recently performed at the Lincoln Theater in Mount Vernon, Washington.

Every performance by Queen Ida and the Bon Temps Zydeco Band is a celebration! Everywhere she has taken her music, from Carnegie Hall to Tokyo, from Dakar to Lake Woebegone or from "Saturday Night Live" to "Austin City Limits," people respond. They clap, they sing, they get moving and dancing, and they come back for more. Queen Ida's audience is always diverse, both young and old, Prairie Home Companion types, intellectual rock fans, members of the Cajun/Creole community, women music fans and folk music enthusiasts. They come for Zydeco music and wind up spellbound by Ida's exuberance.
Queen Ida was born in Lake Charles, Louisiana where French patois was the dominant language. She grew up hearing the French lullabies, Mardi Gras songs, and the waltzes and two steps at the Saturday night Fai do dos. Ida's family were hardworking rice farmers. As a child, Ida helped cook for thirty or forty people, and later she often drove a tractor during the planting season. In the evening there was always someone with an accordion or a fiddle accompanied by a rub board, harmonica or triangle player. Homemade music was a major form of recreation and on the weekends there were usually several Zydeco dances to chose from.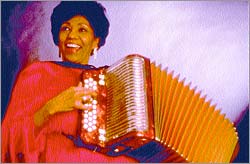 In the mid 1940's Ida moved to San Francisco with her family along with thousands of other Louisiana folks who felt an eight-hour shift in the shipyards beat a fifteen-hour day on the farm. Like the European immigrants who came to New York, they learned English and prospered, but they held onto many of their traditions, especially their Cajun/Creole language, music and food.
Raising her three children and driving a school bus was a full-time career for Ida until the mid 1970's. Then as her children grew up, she pulled her accordion out of the closet and began to sit in with her brother Al Rapone's band at a few of the French dances in San Francisco's Creole community. At one such event, where Ida was the Queen of the Mardi Gras, a reporter for the San Francisco Chronicle dubbed her "Queen Ida." The name stuck, and Ida's career was launched.
Her initial touring success was in Europe, but when she won a Grammy Award in 1983 for her "On Tour" album, she soon began to spend about 200 nights a year on the road in the US and Canada. Always a family enterprise, the Queen Ida Band has featured two of her brothers, Al Rapone and Willie Lewis from time to time, and her younger son Ronald sitting in on rub board occasionally. Her husband, Ray, is the road manager, and her daughter Ledra helps with the administrative chores.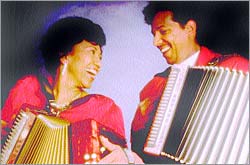 With the addition of her older son, Myrick "Freeze" Guillory, to the group, Ida not only can wail on some blazing mother-son dueling accordion pieces, but she can occasionally put down the squeeze box altogether and show off on the rub board. Myrick's strong vocals, song writing ability and great accordion work are prominently featured on Ida's current album.
Queen Ida's audience is growing by leaps and bounds. Every year brings new opportunities for her in film, television and on the concert stage. Most remarkable of all however, is that despite her main stream acceptance, Ida is still sought after in the Creole community. This was dramatically demonstrated in January of 1989 when the band sold out a French dance at Verbum Dei School near Watts one night and played to a capacity crowd in Royce Hall at UCLA the next. Queen Ida has remained true to her roots while creating a high energy show with immense popular appeal.

---
Guy Klucevsek in Switzerland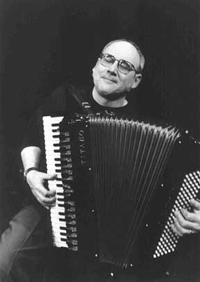 Concert accordionist
Guy Klucevsek
recently presented a concert in Stans, Switzerland.
Guy Klucevsek has created a unique repertoire for accordion through his own composing and by commissioning over 50 works from composers including John Zorn, Aaron Jay Kernis, Lois V Vierk, Fred Frith and many more.
He has released 14 recordings as soloist/leader, including Polka Dots & Laser Beams and Who Stole the Polka? which were chosen as the best recordings of 1992 by John Schaefer on the nationally-syndicated radio program New Sounds, and Transylvanian Softwear, which was cited as a 1995 Recording of Special Merit in Stereo Review. His latest CD 'The Heart of the Andes' is reviewed at the Accordions Worldwide CD Review.

For more information, please visit Guy Klucevsek's website at www.guyklucevsek.com or e-mail: guy@guyklucevsek.com


---
Roland Announces new V-Accordions

Roland is pleased to introduce two new milestones in accordion and digital musical instrument history ; the FR-5 and FR-7 V-Accordions. Building on the Roland V-technology, these lightweight, professionally-modeled instruments incorporate new Physical Behavior Modeling (PBM) technology in a traditional accordion design that delivers powerful performance features and superior sound quality.

Newly developed PBM algorithms faithfully reproduce the characteristics and nuances of an authentic accordion by controlling the waves, dynamics, tone character or pitch of each single reed sound individually based on the movement of bellows detected by high-resolution pressure sensor.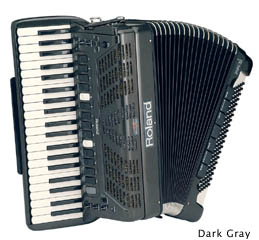 PBM recreates the true acoustic nuances such as the stopping growling noise in the low bass footages or closing valve mechanical noises. The musette tuning note-by-note micro-tuning feature allows a single V-Accordion to authentically reproduce many different accordion types.

Onboard PBM algorithms include Pressure Variant Amplifier, Pressure Variant Filter, Pressure Variant Pitch, Wave Switching, Mechanical Noise Simulation, Cassotto Modeling and Musette Tuning.

Both instruments are lightweight and portable, with an onboard digital amplifier and rechargeable Ni-Mh battery pack (optional on the FR-5). For live performance, the FR-7 incorporates a pair of powerful lightweight neodymium woofers and tweeters for a consistent, full range low-end to high-end output.

The FR-7/5 can simulate up to 30 different accordion sound sets, each including 14 Treble Registers, 7 Bass & Chord Registers and 7 Free Bass Registers. The interface enables switching instantly from an Italian Jazz sound to a German Folk, French Musette, or historic Bandoneon sound.

In additional to the onboard accordion sounds, the FR-5/7 incorporate 22 of Roland's orchestral sounds. Traditional and orchestral sound combinations can be easily created and played back, complete with full bellows articulation and unique keyboard modes such as Solo, Dual and High/Low.

Onboard Orchestral sounds include: Trumpet, Trombone, Sax, Clarinet, Oboe, Harmonica, Violin, Flute, Highland, Zampogna, Jazz Organ, Perc. Organ, Scat Voice, Mandolin, Acoustic Guitar, Acoustic Piano, to name a few. Seven high quality Bass Orchestral sounds can be played separately by the left hand, including: Acoustic Bass, Bowed Bass, Fingered Bass, Picked Bass, Fretless Bass, Baritone Tuba, Baritone Tuba + E. Bass.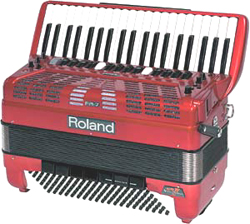 The V-Accordions don't depend on moving parts to generate sound. This results in an always "in tune" instrument, with both keyboards on each instrument capable of playing within a wide range of octaves.
Either model can be plugged directly into a sound system or a recording device via a 1/4-inch cable. A headphone jack is offered for silent practice.
The High/Low Mode feature enables control of up to four parts simultaneously in real time from just one V-Accordion. Onboard MIDI functionality allows integration of sound modules, arranger keyboards or an external sequencer via the FBC-7 Footswitch Battery Charger (included).
Features at a Glance:
Physical Behavior Modeling (PBM)

At the heart of the FR-5 is Roland's new, proprietary PBM (Physical Behavior Modeling) sound engine and sound modeling technologies. Physical Behavior Modeling uses complex algorithms (as opposed to sampled sounds) to accurately model an acoustic accordion's sound characteristics. The result is a faithful recreation of the actual physical behavior and expressive nuances of an acoustic instrument.


Super Realistic Accordion Simulations

The FR-5 can simulate up to 30 different accordion sound sets, each including 14 Treble Registers, 7 Bass & Chord Registers and 7 Free Bass Registers. To create these high quality sounds, Roland engineers sampled scores of popular traditional acoustic accordions, resulting in a single instrument that can faithfully reproduce various models of traditional accordions, including their different tuning characteristics. As a result, the V-Accordion can switch instantly from an Italian Jazz to a German Folk, French Musette, or historic Bandoneon.


Variety of Orchestral Sounds Combined with Traditional Accordion Sounds

Along with stellar onboard accordion sounds, the FR-5 incorporates Roland's acclaimed orchestral sounds. Traditional and orchestral sound combinations can be easily created and played back, complete with full bellows articulation and unique keyboard modes such as Solo, Dual and High/Low. Seven high quality bass sounds can be played separately by the left hand, including: Acoustic Bass, Bowed Bass, Fingered Bass, Picked Bass, Fretless Bass, Bariton Tuba, Bariton Tuba + E.Bass.


Digital Advantages

The FR-5 faithfully combines the familiar sounds and nuances of a traditional accordion with the versatility of a modern digital musical instrument. You can instantly select and switch between a wide range of sounds and/or types of accordions, or customize your own unique timbres. Because it doesn't depend on moving parts for sound generation, the V-Accordion is always in tune and both keyboards can be transposed to play within a wide range of octaves. For sound output, you can plug directly into a sound system, recording device or plug in a pair of headphones for silent practice.


Exploring the Possibilities

The V-Accordion combines velocity sensitive keyboards, and a high resolution bellows pressure sensor to create a whole new world of expressive possibilities. Using the High/Low Mode feature, you can control up to 4 parts simultaneously in real time from just one V-Accordion. Onboard MIDI functionality allows you to expand the range of performance options to sound modules, arranger keyboards or an external sequencer. The more you experiment with the V-Accordion's capabilities, the more possibilities you'll find!


An Appeal to Everyone

The FR-5 V-Accordion appeals to a wide range of musicians, including professional entertainers who play in environments where mobility is essential, traditional accordionists, and those players who simply desire to stretch the limits of the traditional instrument. Additionally, the V-Accordion's headphone practicing feature and portability appeal to students, amateurs and any musician who desires greater flexibility and increased performance options in practice and performance environments. For more information, visit their web site at www.roland.com


---
Accordion Spectacular Show in Valhalla, NY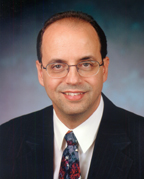 Internationally acclaimed accordion champion and virtuoso Mario Tacca and his wife international vocal artist Mary Mancini will be among the featured artists at the Accordion Spectacular Show to be held at the Academic Arts Theater, 75 Grasslands Road at Westchester Community College in Valhalla, NY on Sunday May 16, 2004 at 3.00 PM.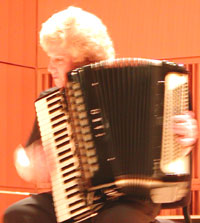 Also included in the Parade of Champions is former World Champion Accordionist Beverly Roberts Curnow (left) and former US Champion Joseph Natoli (right).

Tickets are $20.00 for General Admission and $17.00 for Students and Senior citizens.

Mario Tacca was born in Italy. Later during his childhood, he moved to the Alsace Lorraine region of France where he began his musical studies. While in France, he was the winner of many regional and national accordion competitions. He went on to become a World Champion, winning the World Cup of Italy, the Grand Prix of Paris, the US National competition and the International Accordion competition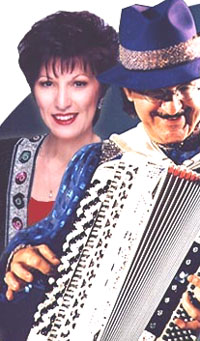 held at Carnegie Hall in New York City. Mario dazzles audiences across the US and around the world with his unmatched virtuosity on the Accordion and his consistently exciting interpretations of music from the International repertoire to the classics to pop.

Mary Mancini is known and acclaimed Nationally and Internationally for her vocal versatility and command of all styles of music. Her repertoire includes eight languages. From performing our National Anthem for the NY Yankees and the Milwaukee Brewers, to concert halls and theaters across the US and around the world, Mary Mancini consistently brings audiences to their feet with her musical interpretations of International favorites, Broadway music, opera, to the classics, to pop. In addition, her inspiring renditions of music from the Sacred music repertoire have touched the hearts of people around the world. She has been called "the woman with the golden voice."
For all inquiries about Mario Tacca, Mary Mancini, and Gioia Productions please contact:
Gioia Productions, PO Box 784, Crompond, New York 10517 or e-mail: info@gioiaprod.com or visit: http://www.gioiaprod.com


---
14th Annual San Fran Festival features Beauty Pageant
All Things Accordion, in association with the historic Cannery at Fisherman's Wharf are pleased to present the Ms. Accordion San Francisco Pageant; a fun and exciting event happening as part of the 14th Annual San Francisco Accordion Festival to be held on June 5, 2004 in the Del Monte Courtyard at the Cannery.

The Pageant has been a favorite event during festivals past but for the past few years was put on hold. We are very excited to be reviving this "only in San Francisco" tradition where contestants vie for this glorious title. In addition to the prestige of being Ms. Accordion San Francisco, the winner and runner ups will receive fabulous prizes from local merchants.

Entering the Pageant is free and all interested participants may contact All Things Accordion for an application. This event is open to both men and women.

The Pageant will take place during the Accordion festival, with the semi finals in the early afternoon and the finals later in the afternoon. Contestants will be asked what they like about playing the accordion, why they should be the winner and then will be asked to perform a selection of their choice. The audience will judge semifinalists and the winner.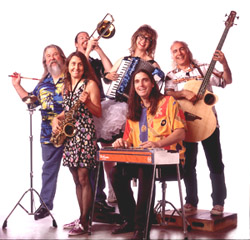 The 14th Annual San Francisco Accordion festival is free and will be held outdoors from 2 PM to 10 PM. In addition to the Ms. Accordion San Francisco pageant, there will be dancing and many performances such as The Golden State Accordion Club Fun Band, Bella Ciao-Italiano, Cotton Candy Cabaret-Sweet and Fluffy Pop, Big Lou's Polka Casserole (pictured right), Conjunto Romero-Traditional Tejano and more. Organizers have invited all San Francisco accordion jazz performers to combine their talents for a Jazz Nouveau concert, the evening before the festival.

If you are an accordion player or band and want to be considered as a performer or you would like an application to be included in the Ms. Accordion San Francisco Pageant, please contact Tom Torriglia at 415 440 0800.
For more information, e-mail tom@ladyofspain.com


---
US Soldier Accordionist entertains in Afghanistan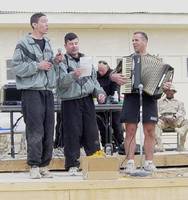 "There's nothing more painful than hearing someone just learning to play the accordion," says Capt. Lou Giangiulio. But in the hands of a skilled player, he said, "it makes people smile."
He should know. Giangiulio, a doctor with the 10th Mountain Division's Forward Support Battalion hospital in Kandahar, Afghanistan has been playing his accordion around the base since just before Christmas.

Hospital patients can frequently hear him playing in one of the small offices that borders the waiting area. Staff at the hospital say they have learnt to grow fond of Captain Giangiulio's music.

"You kind of grow fond of it and tired of it at the same time. Actually, he's pretty good," said medic Jamie Jameson. Jameson said Giangiulio takes requests from staff and patients and was even recently learning hip-hop hit "Hey Ya" by OutKast.

Captain Giangiulio spends his free time teaching the accordion to fellow US soldiers in Afghanistan. When he returns to West Point, USA later this year, he'll continue to pass on his accordion playing skills - this time to his kids. Their 3-year-old daughter, Francesca, received a toy accordion as a Christmas gift from his parents. "We're definitely going to teach it to her," he said.

Dr. (Capt.) Lou Giangiulio is pictured above playing "Volare" on accordion during the Kandahar airfield's holiday talent show as Capt. Alex Giambone (left) and Capt. Mark Maitag sing along.


---
Holocaust Memorial Program features NJ Accordionist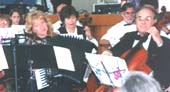 On Tuesday, April 20, a Holocaust Memorial Program was presented at Temple B'nai Abraham in Livingston, NJ.

Solomon Schechter Day School students Leonard Albert Weinbuch Davidson and Adam Butensky on trumpet, Walter Simons-Rose on violin and Holocaust music expert Mrs.Tamara Freeman - violin were accompanied by Rita Davidson on accordion. The music performed was composed by Holocaust survivors as well as Holocaust victims. It is deemed important to preserve the music of the Holocaust for future generations.
The program was presented at Cafe Europa at Temple B'nai Abraham. Cafe Europa, the Metrowest Holocaust survivor Friendship Society is an informal, relaxed setting where survivors can engage in conversation, participate in social and educational activities and develop supportive relationships.

Rita Davidson, a graduate of the University of Connecticut, is on the governing board of the American Accordionists Association and the Accordion Teachers Association of NJ where she judges and evaluates. She has been teaching vocal music in the West Orange NJ Public School system for many years and is well known for using her accordion in the classroom on a daily basis. She also has toured the country attending accordion festivals where she has presented concerts and workshops on the music of Eugene Ettore. She recorded a CD of his virtuoso works which is available upon request. She is also an expert on Klezmer music and has presented workshops on Klezmer music.
For further information, please contact Rita Davidson at Ritabelll@aol.com.


---
Accordion Repair Seminar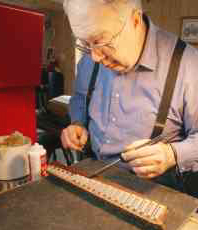 Fellow Accordionists and Enthusiasts are invited to attend an Accordion Repair Seminar on Sunday, June 27, 2004 from 1:30 - 5:30 PM. The seminar will take place at the Hampton Inn (Exit 90 off Rte. 80) Conference Room in Ottawa, Illinois.

The workshop will be presented by Dale E. Wise, M.M.E. (producer of Accordion 911-Fundamental Accordion Care & Repair VHS/DVD). If you're having a particular problem with your instrument, you may want to bring it with you for evaluation.

The seminar is free, however attendees are asked to RSVP to accordionplus@aol.com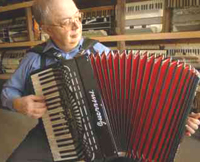 A native of Ottawa, Ill., Dale is the son of musician parents (guitar and ukulele players) and started playing the accordion when he was 11 years old. When he got to high school, he began teaching the accordion while taking lessons himself.

A graduate of Bradley University in Peoria., Ill., Wise has both an undergraduate and graduate degree in music education. He taught instrumental music in high schools in Illinois and Arizona, and, in 1971, moved to McLean, Va., and took a job teaching music at Cabin John Junior High.

In 1980, he decided to devote himself exclusively to the accordion. He began teaching privately, selling and repairing instruments and formed the company, Accordion Plus. His son, Todd, now heads the company, which is in Oakton.

Wise and his wife, DeAnn, moved into the Burr Hill log home four years ago, but he returns to the Oakton studio to teach for four days of every two-week period. He has associate teachers in Aquia Harbour, Arlington and Potomac, Md. His 34 students range in age from 6 to 66.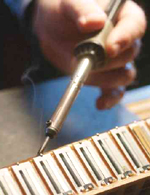 Along with teaching, Wise maintains a steady schedule that includes solo performances, as well as playing with small groups and big bands. He recently performed at the Willard Hotel in Washington, and has entertained five US presidents.

Interest in the accordion is cyclical, says Wise, and he's happy that it's on the upswing. The instrument is played by musicians as diverse as Danny Federici in Bruce Springsteen's E Street Band, jazz great Art Van Damme and Queen Ida and Her Zydeco Band. It can be heard on recordings by Norah Jones and the Talking Heads and as background music in the dentist's office or elevator.

In addition to importing and selling instruments, Wise sells 31 different products related to the accordion videos, CDs, self-help studies and educational materials. He is setting up a Web site, www.accordionplus.com, to market them.


---
Accordion Attracts Attention of Foster Kids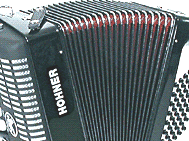 Russ Gray works at the Mountain Lake Children's Residence in Lake Placid, NY. This is a home for teenage boys with emotional problems, most of whom are in the custody of their county administration. As a sideline to his job, Russ Gray teaches the harmonica and accordion to some of the children. Now, about twice a year, they go out and play for nursing homes and other venues.

Some time ago, one of the boys played Russ's three row accordion and was taken with it. "I talked with Johanna Cossaboon at Hohner USA and she worked out a deal where we could purchase a Panther for him at cost," Russ said. "We had one new accordion player thanks to Hohner's generosity." Interest in the accordion has since grown and two more boys in the home are now planning to being playing the three row.

Russ publicly thanks Johanna and Hohner USA, "for their generosity to these young men" and we applaud Russ's efforts with the accordion to help enrich the lives of young people.


---
From Skateboarding to Floggin Molly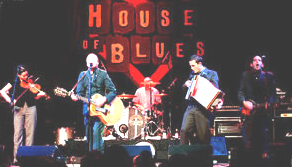 Feelings of nostalgia can wash over you at the strangest of moments, as Dave King, frontman for the Los Angeles-based Irish folk-punk band Flogging Molly bears testament to when he describes his band's love for tradition Celtic music.
"My music basically comes from my parents," he says when he finally picks up the phone, still recovering from a late night after the band's gig. "We had what we call 'hoolies' every weekend. My mother and father would bring back people to the flat, and there'd be tin whistles and guitars, and even though the house basically had only one room, there was a piano in it. Those memories are ingrained in my heart -- the atmosphere then was incredible."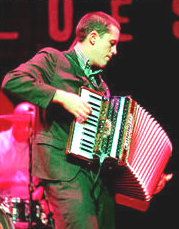 His tradition music roots all came into focus when he found kindred spirits at a neighborhood Irish pub called Molly Malone's, where the band Flogging Molly was born.
"We all met in the bar and would play every Monday night," King remembers. "First off, it was me and a couple of guys, including Ted Hutt, who's since become our producer. Then we met Bridget (Regan, who plays fiddle, tin whistle and uillean pipes), and we got a little more traditional-sounding. Then we met George (Schwindt, drummer)… electric guitarist Dennis Casey, Matt Hensley on accordion, Bob Schmidt on mandolin and banjo, and bassist Nathen Maxwell.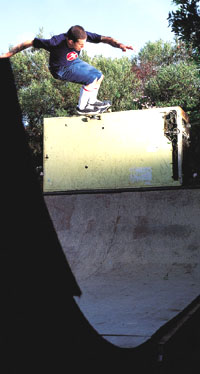 You might not know it, but Matt Hensley and a few others helped usher in modern skateboarding. By "modern", I mean the style of street skating that did not exist until the late '80s.

Hensley, who rode for H-street before a stint as a billiards player and finally ending up as the accordion player for Flogging Molly considers himself a full time accordionist.

Skateboarding is my background, but music is what I do!" chimes Hensley. Hensley still skates and still looks back fondly on his pro years. "I did good for a while," he says. Matt still counts such skate heros as Natas, Steve Clair, Neil Blender, Tony Alva and even a pre-jail Gator as influences in his skate career. He also gives props to current legends including Musca while saying "No one will ever do a better 360 flip than Jason Lee".

All and all, Hensley, whether skating, playing billiards or the accordion blames his successes on one thing - PRACTICE!


---
Peter Soave and the Orlando Philharmonic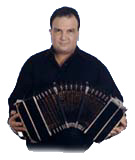 On Saturday May 15, 2004 The Orlando Philharmonic Orchestra under the direction of Hal France presents Dance Baby Dance. This unique concert experience combines classical music with a twist - each piece has a dance theme.

Classical guitarist Eladio Scharron and Peter Soave on bandoneon, perform Piazzolla´s Double Concerto for Bandoneon & Guitar. Orlando Ballet´s Israel Rodriguez and Katia Garza give a sensuous interpretation of a tango, Adios Nonino, by Piazzolla. Also on the program Ravel´s Bolero, Respighi´s Ancient airs and dances, and Bernstein´s West Side Story Symphonic Dances. You´ll feel the heat!

Peter Soave is one of the most recognized concert accordionists in the world who tours internationally as guest artist with leading symphonies, and who will be performing with the Orlando Philharmonic Orchestra during May. Soave is a multiple international competition winner, including the Coupe Mondiale, the Trofeo Mondiale and Grand Prix in Italy: an achievement for a virtuoso of any instrument.

The concert will take place at the Bob Carr Performing Arts Center. 401 W. Livingston St., in downtown Orlando. The concert is at 8:00 PM and the tickets are $12 - $55. For tickets, please call the Orlando Philharmonic Box Office at (407) 896-6700.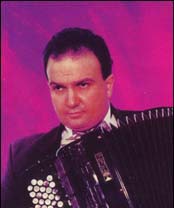 Soon afterwards, the Tampa Bay Accordion Association is proud to present during its May 19 Festival an evening of great enjoyment, featuring Peter Soave and Dino Valle. The two will be special guest performers at the festival, taking a short detour from their successful international careers.
Peter will perform classical, musette, swing styles and more on the bayan accordion as well as Argentinian tangos on the original instrument, the bandoneon. In addition to Peter's performance the concert features Dino Valle, a world-class baritone, who will perform classic Italian and Neapolitan songs, as well as famous arias.

For more information, e-mail abarsi@tampabay.rr.com


---
Accordionist Plays Piazzolla with Pittsburgh Symphony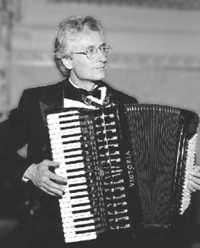 American concert accordionist Henry Doktorski appeared with the Pittsburgh Symphony Chamber Orchestra (Nuance) in a performance of Astor Piazzolla's Le Grand Tango on Saturday, April 17, 2004 at the Katz Auditorium of the Jewish Community Center in Pittsburgh, Pennsylvania. The work was conducted by Maestro Andrés Cárdenes, artistic director of the Nuance Chamber Music Series and concertmaster of the Pittsburgh Symphony Orchestra; the cello solo was performed by the PSO's principal cellist, Anne Martindale Williams.

Le Grand Tangowas composed by the great Argentinean bandoneónist and composer Astor Piazzolla (born 1921 in Mar de Plata, died 1992 in Buenos Aires) as a commission for the Russian cellist, Mstislav Rostropovich. The piece, in its original form for piano and cello, was premiered in 1990 by Rostropovich, and is arranged in three distinctive sections. The first section (Tempo di tango) combines strong rhythmic elements with modern dissonances and popular song-like melodies. The second (Meno mosso: libero e cantabile) is an eloquent but melancholic dialogue, and the last (Piu mosso: Giocoso) is a fiery, rhythmic dance-like tour de force for the cello and orchestra.

The chamber orchestra version of Le Grand Tango, arranged by Howard Williams and published by Berben Edizioni Musicali of Ancona, Italy, is scored for solo cello, flute, oboe, two clarinets, two horns, two trumpets, trombone, tuba, piano, percussion, strings, and accordion.

Doktorski explained, "The accordion is featured prominently in this chamber orchestra version of Le Grand Tango. The instrument is used primarily for its distinctive reedy timbre, which adds essential color to the orchestra. Williams uses the instrument to perform three different functions. First, he uses it melodically, as in the Meno mosso section where it plays beautiful melodies. Second, he uses it rhythmically, to emphasis syncopated accents with the percussion, and third, he uses it as a filler to sustain long background chords. The accordion plays frequently in the piece (compared to some other pieces with orchestra I've played which have tested my concentration by making me count hundreds of measures of tacet) and sometimes I have to keep the dynamic level subdued in order not to detract from the other instruments, especially the solo cello, which is what the piece is really about. Williams writes often for the left-hand manual of the accordion, and he seems to understand the instrument. My favorite part is a solo left-hand figure in the third section which doubles the double basses, and of course, the brilliante descending chromatic run at the finale."

Maestro Cárdenes spoke about the importance of the accordion in the chamber orchestra version of Le Grand Tango, "This piece can't happen without the accordion. The genesis of the tango features the bandoneón, or in our case, the accordion, which is a nice substitute for the original free-reed tango instrument: the bandoneón. The essential elements of a correct tango interpretation are threefold: one needs (1) an extremely accurate and passionate sense of rhythm, (2) the bandoneón or accordion, and (3) a great violinist. Although Piazzolla expanded and elaborated on the original tango ensemble in his Tango Nuevo (he wrote for cello, viola, chamber groups, etc.), the pioneers of the genre, like Carlos Gardel, for instance, used the bandoneón (or accordion). I can hardly imagine a tango without this instrument."


---
The Unforgivable Sin Part 4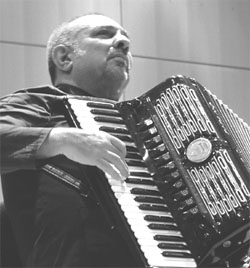 The Unforgivable Sin Part 4 - What is this thing called the accordion? is the last segment in a four part feature film by Filmaker/Director Micki Goodman.

This last segment filters in on the philosophies of Dr. William Schimmel: the built in ironic duality, the politics of the third banana, evolution in the realm of permanent transition and the existential accordion.

Dr. Schimmel is featured in the film lecturing and commenting on these philosophies. Also in the Film is Micki Goodman in a series of dances choreographed by Micki to music composed and/or played by her husband, Dr. Schimmel. The film is edited by Deborah Magosci, also an accordionist.

This segment will be shown at the 10th master class and concert series sponsored by the American Accordionists' Association before it moves on to various Film festivals. The film will be shown in its entirety (all four parts) later this year. The time and place will be announced soon.

The other segments are Titled: (1) Evidence, (2) Falling From Grace and (3) Parousia.


---
Accordion Documentary in the Makings
Accordionist Rawn Erickson II will be traveling the USA this summer filming various accordion festivals with the plan to combine the material into an unyet named accordion documentary.

If you would like to be included in this film extravaganza e-mail Rawn at RawnE@excite.com with information about your club or event.


---
Benjamin Ickies & Movers & Shakers in NYC

The Benjamin Ickies Preservation Society Movers & Shakers Invaded the NYC Rock Scene Band. They closed down April in New York City with there performance at the Siberia Bar. If you want to hear the Movers and Shakers rock the house with fun and feverish party-time accordion-fueled rock and roll, their next performance will be Wednesday, May 12th at 10:30 PM at Sin-é (pronounced shin-ay) located at 150 Attorney St. New York, NY 10002 (212) 388-007 (take the F train to to Second Ave or Delancey Street.

With an acoustic construction, high ceilings and a state of the art sound system, Sin-é provides both performers and audience with unparalleled sound and sightlines. With room for 225, Sin-é showcases local, national and international talent. And finally, Sin-é promises to continue its mission of supporting the worthy and obscure talent while respecting the established.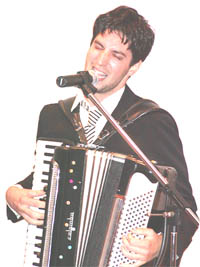 The Benjamin Ickies Preservation Society has been wowing the downtown and Brooklyn performance art scene for nearly two years.

Now, the band from the Preservation Society is blitzing the New York City rock scene with a stripped-down name and powerful sound. In the tradition of great performance art rockers like the Residents and Laurie Anderson comes the Movers & Shakers. Unlike overly-cerebral types of performance art music, the M&S rock the house with fun and feverish party-time accordion-fueled rock and roll.

Their sound has been likened to Elvis Costello, Kurt Weill and Wall of Voodoo, but there is something unmistakably original in every song. Co-frontperson Lisa Marie Parker challenges audiences to live up to her energy, and the strangely insightful Benjamin Ickies, Jr. keeps them guessing what will happen next. They prove that it IS possible for accordions and tubas to rock just as hard as anyone!

Accordions, Tubas, Geetars, and Drums rock your mind and shake your behind - the M&S have created something altogether different, but altogether fantastic. It is not only music, it is an entire EXPERIENCE made up of the fun and the captivating, the wild and the entertaining!

The Movers & Shakers have already brought rock music to the performance art scene, now they're bringing performance art to the rock scene. And they're bringing the party back to both.

For more information, please visit www.ickies.com or contact: Joe Exley 917-670-5676 info@tubajoe.com


---
WMAS Members Concert in May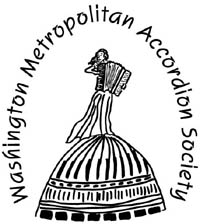 The Washington Metropolitan Accordion Society (WMAS) is pleased to announce the following upcoming concerts in May and June:
May 11: Member Concert
June 8: Michael B. Rubin and "The World of Jewish Music"
All performances will take place at Sleepy Hollow United Methodist Church, 3435 Sleepy Hollow Road, Falls Church, VA 22044-1006.

The mission of WMAS (pronounced Wah-mass) is to bring together accordionists and promote accordion music in the national capital region. Meetings are held the second Tuesday every month at 7:30 PM at Sleepy Hollow United Methodist Church.

Dues are $15 a year and for further information, please contact the president Karen Denice
(703) 671-5395 or e-mail: wmas2002@cox.net Internet: www.washingtonaccordions.org


---
Tango Lorca Makes its New York Debut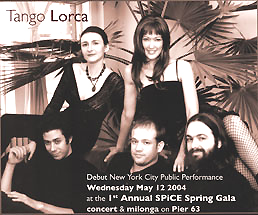 Tango Lorca will make its New York City debut while appearing at the 1st Annual SPiCE Spring Gala where ladies get to dress their best and guys, dress to impress the ladies.

Tango Lorca will appear in Concert and Milonga on May 12th 2004 at Pier 63 - 23rd Street & W Side Hwy (behind Basketball city) from 9 PM until at least 1 AM at the newly remodeled Tango Pavilion. Tickets - $20 Advance, $30 at the door.

For more information, please call 212 645 2441 for tickets and reservations. Discounts available for Groups of 8 or more.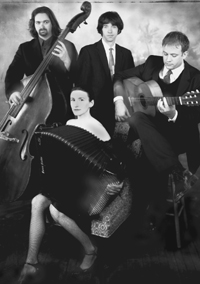 Tango Lorca merges old world tango aesthetics with a sinuous texture of jazz, flamenco and classical music. Formed in 1999, this fiery quartet has created a fresh and continually growing body of original compositions and arrangements equally suited for the dance hall or the concert stage. While evoking an undoubtedly Argentine sentiment with classics from the "Golden Age", they also create new, innovative works with a timeless sense of beauty.



Tango Lorca plays their music with a deep understanding of tradition as well as an obsessive desire to evolve the art form to new plateaus. The accordionist in Tango Lorca is Lidia Kaminska. Originally from Przasnysz, Poland, Lidia recently became the first person to complete her Doctor of Musical Arts Degree in accordion performance at the University of Missouri, Kansas City.

For more information, please visit www.tangolorca.com


---
Manny Bobenrieth in Charge of US Army Band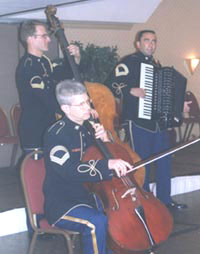 Manuel Bobenrieth is now the noncommissioned officer in charge of the famous United States Army Strings. After 17 years of service in the army, Manuel's rank is now Sergeant Major.

Although he primarily plays and arranges music with The Strolling Strings, Manuel is ultimately responsible for all the String Quartet and Orchestral music that The Army Band provides for ceremonies and special events in the military district of Washington.

That has meant Manuel Bobenrieth's Piazzolla project taking a back seat temporarily as his army job has been much more time consuming than "playing the accordion in the band. I work with some of the finest musicians I've had the pleasure of working with in my life and that makes it lots of fun!" Manuel says of his new important role in charge of this group, who perform for some of the worlds most famous people visiting Washington.

Born in Concepcion, Chile, Manuel Bobenrieth began studying the accordion at age five. He studied at Montgomery College in Rockville, Maryland and received a Bachelor of Music Degree in Performance from The Catholic University of America in Washington, D.C., becoming the first accordionist to graduate with such a degree from that institution.

Mr. Bobenrieth has performed in many different musical contexts including Broadway musicals, Contemporary Music Forum and the Kennedy Center Opera House Orchestra. He has appeared with legendary jazz guitarist Charlie Byrd in a tribute to the music of jazz accordionist Art Van Damme. He can also be heard on the soundtrack to the Discovery channel television series, "The Great Chefs" as a guest artist with the Charlie Byrd Trio. Recently , The Manny Bobenrieth Sextet was featured at the world famous Blues Alley Jazz Club and performed to a sold out audience. As accordionist for Norwegian Caribbean Lines from 1984-1986, Mr. Bobenrieth toured Europe and the Caribbean aboard the SS Norway.

In 1986, Mr. Bobenrieth became a member of the United Stated States Army Band. As the accordionist with the Army Strolling Strings, he has performed for three Presidents, including Ronald Reagan, George Bush, and Bill Clinton at numerous White House State Dinners in honor of foreign dignitaries such as Margaret Thatcher, Mikhail Gorbachev, Prince Charles and Princess Diana, Boris Yeltsin, King Hussein, the Emperor of Japan and Nelson Mandela.

In addition to his performing duties, Mr. Bobenrieth has written many arrangements for the Army Strings, which have been featured at the State Department, the Vice President's residence and The White House.

For further information on Manny and his recordings, please visit www.mannybobenrieth.com


---

---

---

---
Note: In order to provide as much information as possible for the United States National Accordion News stories, many different sources are often researched to gather additional information and pictures to complement what has been submitted. This information is then correlated to provide the news on www.accordionusa.com in the spirit of which it is intended, which is to provide a free news service to the Accordion Community, specifically in the United Sates. If you feel any copyright has been violated please advise www.accordionusa.com and the article will be removed immediately.