The A.T.G. Announces Performance Opportunities for YOU!!!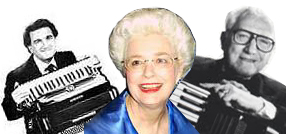 It is the pleasure of the A.T.G. to invite you to perform in the Festival Orchestra, which will be performing at the 60th Anniversary Celebrations from July 20-23, 2000 at the Lisle/Naperville Hilton, (Chicago). Conductors will be Anthony Galla-Rini, Joan Cochran Sommers and Frank Marocco.

There are six pieces to be performed by the Festival Orchestra, two to be directed by each conductor. Players are needed on all parts for what will be a very special occasion.

Conductors
Anthony Galla-Rini is now 96½ years old. He has arranged more music for the accordion, both solos and orchestra, than anyone else has in the whole world and is, of course, an accordionist admired for all his considerable contributions to the accordion field. It is a great honor for everyone to rehearse and perform under his baton!

Joan Cochran Sommers is very well known for her many years of teaching and her well-traveled and world famous accordion orchestras. She has conducted many massed bands with great success.

Frank Marocco performs as a much-admired jazz accordionist in many different countries. You have heard him, perhaps without knowing it, throughout the musical scores of innumerable movies, TV shows, and commercials as well as on a fantastic number of recordings. This is the first time Frank has appeared at the A.T.G. and it promises to be a very exciting experience for everyone.

If you would like to participate in the A.T.G. Festival Orchestra, please contact Joan Sommers (816) 235-2955 and the music will be shipped to you right away.

The A.T.G. looks forward to your participation in this great event!

Paul Monte, an accordion teacher in Wellesley, MA, and a member of the Accordion Teachers Association of MA, was interviewed about the rebirth of the accordion for the ABC television program "Chronicle."

It will be shown Thursday, June 8. It is channel 5 in the Boston area, however viewers may check for their ABC affiliate for local times.

Two of his eight year old students were also interviewed and performed on the show.

Paul has been teaching the accordion for many years. He is also a professional accordionist. He has performed with the "Boston Pops" orchestra and Melissa Manchester.

For further information, please feel free to contact Paul at: 781/237-0554

Jason Stephen Ends Texas Tour in Prison!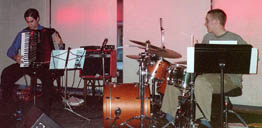 Accordionist Jason Stephen recently concluded his Midwest Concert Tour with a performance in "The Prison", in McKinney Texas. The former prison, now converted into an upscale Restaurant, Bar and performance venue, was the final stop on a highly successful concert tour which took Jason as his percussionist, Tony Hundtofton, on tour through Missouri, Oklahoma and Texas.

Sponsored by the Texas Accordion Association Jason performed in Kansas City, MO, Oklahoma City, OK, Fort Worth, Dallas, San Antonio, New Braunfels, Irving, Austin, Mesquite and McKinney, TX. as well as on the live radio show with John Aielli, at KUTFM in Austin, Texas.

Jason Stephen, was a finalist in the AAA's Search for the Hottest Accordionist Contest in Branson, Missouri in 1999, the National Jazz Champion for the AAA in 1998 & 1999, and the 1999 A.T.G. Virtuoso Entertainment Champion. Jason went on to compete at the Confederadtion Internationale des Accordeonistes World Accordion Championships Entertainment Category, held in Trossingen where he attained 8th place.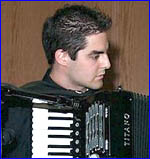 An accomplished accordionist, Jason is currently studying with Joan Cochran Sommers at the University of Missouri at Kansas City. For the tour, Jason will be teaming up with fellow UMKC student, percussionist Tony Hundtoft. .

Jason, accompanied by fellow UMKC student, percussionist Tony Hundtoft released a CD for the tour entitled, which will be available on-line soon.

Peter Soave, Eurydice and the Legend of Lovers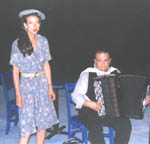 Peter Soave is performing in the Storm Theater's production of Jean Anouilh's EURYDICE, Legend of Lovers through June 3 in New York City. The show is at the Storm Theater located at 145 West 46th St., (just east of Broadway), Tuesday through Thursday at 7:30 PM, Friday and Saturday at 8 PM. Tickets are $15 and can be purchased by calling 1-800-965-4827 (10 am to 10 PM) or at www.ticketweb.com. Peter is pictured (right) performing the pre-show entertainment with Kim Bendheim, who plays the Cashier in the show.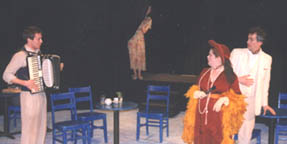 In the play, Orpheus (played by Christian Conn) attracts Eurydice (who is seen peeking through the curtains - played by Tiffany Weigel) with his accordion playing, while waiting at the train station. The show follows the legend of the lovers, as Peter provides the only music for the show.

Soave's playing adds a plaintive depth to this story of the doomed lovers. Sylvia Johnson, associate producer, Storm Theater states: "Perhaps the most invaluable member of the company, though, is Peter Soave, who provides glorious and virtuosic accompaniment on accordion and bandoneon. This music provides a perfect, moodily restless milieu for Eurydice, at once as specific and as timeless as the concerns, both monumental and intimate, of this play."



Check the whole review by Martin Denton on May 12th at: http://www.botz.com/nytheatre/eurydice.htm

Gary Daverne to conduct in Washington DC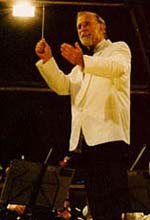 The AAA Festival Orchestra and will be conducted by renowned symphony conductor - Gary Daverne from Auckland, New Zealand. Gary is the conductor of the Auckland Symphony Orchestra, and has appeared as guest conductor with major orchestras all over the world.

In addition to his conducting skills, Gary is also a prolific composer, and has written many pieces for accordion solo, duo, ensemble and orchestra, as well as making numerous arrangements for accordion orchestra. We invite you to visit www.garydaverne.gen.nz

The Accordion and Gershwin's Rhapsody in Blue
An article by Henry Doktorski titled "The Accordion and Gershwin's Rhapsody in Blue: A Historical Perspective," has been published in the scholarly journal: "Music Theory -- Explorations and Applications," Volume 7.

The article, which was researched in part at the Library of Congress in Washington DC, examines important accordionists and their performances and recordings of the Rhapsody, beginning with the historic 4.5 minute 1928 Victor Record by the Basil Fomeen and Nick Hope duo, and ending with the 18.5 minute 1998 Alanna Records compact disc by the author and the Duquesne Chamber Players.

The journal also featured five articles by other writers, ranging from topics such as "Chromatic Harmony in the Waltzes of Scott Joplin" to "Function Over Form in Gregorian Chant: The Pragmatic Aspects of Medieval Monody."

"Music Theory -- Explorations and Applications" can be ordered from the Duquesne University School of Music. Contact Dr. Robert Shankovich at shankovi@duq2.cc.duq.edu for more information.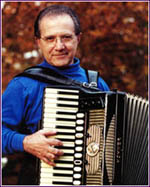 Accordionist Joe Soprani will appear with Raquel Bitton at the Academy of Music in Philadelphia, Saturday, June 17th, 2000 at 8.00 PM for one day only.

Raquel Bitton sings Edith Piaf, her story, her songs with full orchestra and features Joe Soprani on the accordion. Her programs throughout the country have been a huge success.

"Magnificent, emotional mesmerizing."Philip Elwood, San Francis co Examiner. "Raquel Bitton's CD tribute to Edith Piaf is terrific!" Liz Smith, Columnist.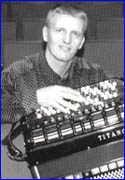 Kansas City accordionist Juha Silfverberg was recently invited to perform as the pre-show entertainment at the Lyric Theater in Kansas City, during the world premiere of 'Union Station' by Robert Kapilow which was commissioned for Kansas City's 150 year celebrations.

Juha Silfverberg a former Finnish Accordion Champion, was the first foreign accordionist to attend the University of Missouri, Kansas City studying with Joan Cochran Sommers.

Juha currently works as a full time accordionist in the greater Kansas City, performs in the acclaimed International Trio, and also runs an accordion repair business from his home.

In an exchange concert with the Showstoppers Accordion Orchestra of Hudson, NH, The Peter Dee Academy of Music, Limerick, Ireland will present a program of traditional Irish Music and Dance under the direction of Denis Carey.

Denis has written many of the ensembles arrangements. In addition to teaching, Denis spends much of his time composing, recording and producing new music for various projects including Albums, TV and Film soundtracks. He performs in Nova Scotia and Canada on a regular basis.

Please check the July concert calendar for show times and further details or contact:
Roger Latulippe - 603/882-8940 or Rosita-lee@Juno.com

A.T.G. $1,000 First Prize attracts entrants from New Zealand to Ukraine
Worldwide interest is being generated for the A.T.G. Virtuoso Entertainment Competition, offering a first prize of $1000.00, second prize $500.00 and third prize of $250.00, which will be held at the A.T.G. Competition and Festival in Chicago this summer from July 20-23, 2000.

Contestants are expected from as far away as New Zealand, France and Ukraine, as well as across the United States.

Open to accordionists under the age of 32, contestants must perform an own choice program comprising a minimum of 4 pieces of different style and moods, with a maximum time limit of 15 minutes.)

For further information, please contact A.T.G. President Joan Sommers at: SommersJ@umkc.edu


Accordionist Amy Jo Sawyer performed with the St. Louis Symphony recently on two programs.

On the first program, after performing two Kurt Weill selections: "Lost in the Stars" and "Marie Galante" under the direction of guest conductor Marin Allsop, Amy Jo had her picture taken with her. When she asked her what caption she would like to use - she said "No Orchestra is complete without an accordion".

At one of the programs the conductor casually spoke to the audience about the program and said "I'm sure you've noticed the addition of several instruments to the orchestra - more particularly the accordion! I'm thinking of adding it to all of the Beethoven Symphonies".

Marin Allsop is a protégé of Leonard Bernstein and tours extensively.

Amy Jo also performed Astor Piazzolla's "Libertango" May 13, 14 and 15 with the St. Louis Symphony on a "Pop's Concert" entitled "Invitation To The Dance", which featured dancers from NY performing many of the dance styles.

Skyblue Accordion News announces Sharon Walters in Concert
Accordionist Sharon Walters Performs Songs by Valarie Morris

Here's your chance to hear the tantalizing accordion sounds of Sharon Walters as she performs songs by Valarie Morris with vocalists Harriet March Page, Miriam Lewis, and Tisha C. Page! This event is Goat Hall's Cabaret Opera: Fresh Voices, premiering new music by Bay Area composers and librettists. On the program:

* "Amsterdam & Paris with a Side of Eggs", Valarie Morris words & music
* "Queen Clara: Fields of Glory, Rivers of Blood", Mary Watkins music, Lance Belville book
* "Dan (Destiny)", Anne Doherty words & music
* "The Soldiers Who Wanted to Kill Death", John Partridge words & music
* "The Sidewalks of NY: Henry Miller in Brooklyn", Mark Alburger music, Mel Clay book

Where: Goat Hall Location: 400 Missouri Street, San Francisco
Dates/Times: Saturday, June 17 at 8 PM and Sunday, June 18 at 7 PM
Cost: $15 general, $10 seniors and children
Info and reservations: (415) 289-6877

UMKC Accordion Orchestra to perform World Premiere

The UMKC Accordion Orchestra will be presenting the world premiere of "Out of Crooked Timber..." by Dr. Paul Rudy for the UMKC Accordion Orchestra and Accordion Soloist at the ATG 60th Anniversary Celebrations in Chicago, from July 20-23, 2000.

Program notes from Dr. Rudy:

I was immediately struck by the phrase from Immanual Kant's idee zu einer allgemeinen Geschichte in weltbürgerlicher Absicht (1784): "Out of the crooked timber of humanity no straight thing can ever be made." My hope was (and is) that humanity pass from its adolescence marked with violence, trauma, and moody tantrums into a more stable adulthood of diplomacy, compassion, and kindness. Sound mass becomes a metaphor for the unhewn timber out of which I try to mill something straight. In the end, straightness becomes a matter of relativity balanced between the pessimism of Kant's view and my hopeless romantic optimism.

This piece came in a lightning flash after a conversation with Joan Sommers. I began hearing great masses of sounds which the accordion produces so easily. I was hearing the sound coming from all different directions, with static planes at times, while at others, swarming masses of intricate sounds. Out of these blocks, a melody eventually protrudes toward the end, when it is swallowed by a single thunderous chord. These sound worlds are a metaphor for the psychological idea of the work: trying to mold something straight (a melody), out of hopelessly crooked material (chromatic sound mass).

Paul Rudy (1962) was born in South Bend, Indiana. He is Assistant Professor of Composition and director of the Music Production and Computer Technology Center at the Conservatory of Music, University of Missouri, Kansas City. Since 1995 he has been teaching at the Aspen Music School. In 1996 he launched the Amplified Music Performance Series (AMPS) and has since produced concerts of electroacoustic works each summer at the Aspen Music Festival. He is the creator, producer, and host of "The Virtual Concert Hall" a program of contemporary electroacoustic music for public radio.

He has received awards from the Fulbright Foundation, the National Music Teachers Association, and the Missouri Music Teachers Association, and was a finalist in the 1999 Hultgren Biennial Solo Cello Competition. His works have been performed throughout the US and the world, and are published by Twisted Trail Music. He holds degrees from Bethel College (B.A. 1984), The University of Colorado, Boulder (M.M. 1992) and The University of Texas at Austin (D.M.A. 1997). In addition to composing he has an avid interest in bicycling, hiking, camping, and mountaineering. In 1994 he completed the Colorado Grand Slam after climbing all 54 of Colorado's 14,000 ft peaks.

RootsWorld Accordion Festival
Accordion Music Festival Makes a Big Splash on the Web Cyberspace's largest festival of accordion and related music is coming up June 1st. The 3rd Annual RootsWorld Free Reed Festival, the brainchild of Rootsworld.com founder and noted music critic Cliff Furnald, is about to unleash it's third annual dose of musical merriment on the Internet, for the entire month of June, 2000. Free Reed refers to a group of instruments that encompasses the accordion, the harmonica, and even more exotic instruments from India and China.

Over 100,000 people visited last year's festival sites, hearing and reading about the world's music, from Irish accordion to Thai khaen, from Chinese sheng (mouth organ) to English concertina. The list goes on and on. In addition, a variety of media partners, including LouisianaRadio.com CBC national radio program The Global Village and a number of radio stations from around the world will schedule companion events on the air and on their web sites.

Among the artists contributing special music and interviews to this year's festival is an international group of noted free reed players, including NY avant gardist Guy Klucevsek, Louisiana legends Boozoo Chavis and Bois Sec Ardoin, Irish harmonica master Brendan Power, Indian harmonium (pump organ) player Shiv Dayal Batish, Italian folk musician Riccardo Tesi, Finnish chromatic accordionists Maria Kalaniemi and Kimmo Pohojen and Swedish Rikkspelman (royal musician) Mats Eden. There will be recorded and live music from musicians from around the world, from the Cajun bayous to urban Zimbabwe.

The Free Reed Festival is hosted by RootsWorld magazine and Hear.Com, the online creations of renegade music critic and radio programmer Cliff Furnald. What Furnald has done over the past five years is quite impressive considering the quality of the site design and content, and the fact that RootsWorld is almost entirely written by volunteers. Furnald has programmed radio shows on WPKN, WNHU, and WYBC, and was responsible for initiating CMJ New Music Report's "New World" column.

Of course, the fact that dozens of radio stations and websites around the world team together to offer an international network of Free Reed Festival events probably helps to draw large numbers. And since the Festival, which will last for the entire month of June, takes place in the virtual world at www.RootsWorld.com and on the airwaves of participating stations, the event attracts a worldwide audience.

For more information: Cliff Furnald, Rootsworld, cliff@rootsworld.com or Phone: 203-624-6423
Check in at www.RootsWorld.com/press for updates, information and audio samples.

Milwaukee Accoridon Club Features Aman Family Show
The Milwaukee Accordion Club is proud to announce that the headliner for their June meeting is 'THE AMAN, CHRISTIAN FAMILY SHOW.' This is a family from Colorado and the featured players will be:

MIKE AMAN who was one of the first accordionists to be hired by colleges to perform in the public schools. Mike owns and operates his Monarch accordion business in the Denver area.

As a teacher his accordion orchestras have won every major accordion competition at the virtuoso level. He has produced many high level soloists including a national champion.

MARGIE AMAN who majored in college on the accordion, plays piano accordion, free bass and master and 4 row Austrian style diatonic accordion.

DAN CHRISTIAN 3 time Rocky Mountain accordion champions, a true master of accordion technique. Plays both free bass systems as well as MIDI elecctronic accordion. Dan does all the duet arrangements that he and his wife, Kim perform.

KIM CHRISTIAN, U.S. National solo champion. She and husband Dan have great technique musicianship and variety.

ALSO FEATURED ....... Kids, and grandkids!!!! The Aman family were featured at the Texas Accordion Assocation National Accordion Festival to much acclaim.

New Music - Original Accordion Compositions by Stas Venglevski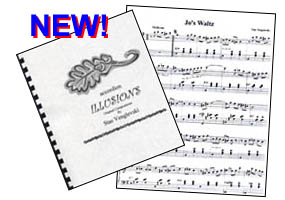 Milwaukee based accordionist, Stas Venglevski has published his original accordion compositions entitled: 'Accordion Illusions, Original Compositions by Stas Venglevski. The book contains a mixture of solo and duet pieces. The titles include:

Always With You
Autumn Illusions
Ecstasy Tango
French Moment
Jo's Waltz
Let's Play Together
Menagerie Suite
Midnight Waltz
Mon Amie
Musette Caprice
Short Visit
Tango for Two
Yankee Doodle Medley


To order these wonderful compositions, please visit Stas on-line at: www.accordions.com/stas
NB: If you have a new composition or recording that you would like to let our readers know about, please use the submit form on this site, to provide the relevant information.

Where in the World is this accordionist?
Where in the world is this? All correct entries will go into a drawing and the lucky winner will receive a copy of the new two new Videos from Jane Christison, entitled "Playing the Accordion for Fun and Fame", and 'Squeezing Money out of your Accordion."

To submit your answer, please click on 'Submit Form' heading (located under the Clubs/Associations section on the left hand index) to tell us your answer. Include your name, address and e-mail address, and tell us where you think this is found.

Good Luck!



Congratulations go to Christopher McDill of Brooklyn, New York, who correctly identified our last mystery picture as being from Moscow, Russia. In fact the giant 30 foot accordionist is found within the walls of the Ismailovsky Park Market in Moscow.

Christopher has won the CD "Grain de Fantasie," by Jerome Richard, the current World Accordion Champion, who will be appearing as one of the guests at the A.T.G. 60th Anniversary in Chicago, from July 20-23rd, 2000.



Accordion of the Month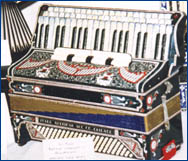 This button accordion model was introduced to make the audience believe that the accordionist was playing a piano accordion which was popular in the USA Vaudeville circuit.

Since performers arriving from Europe were predominately button accordion players, this type of keyboard was made, which, from a distance gave the illusion of being a piano accordion.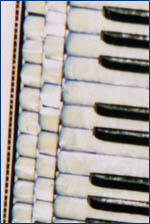 Early Summer Festivals
July will see both National Accordion Organizations offer their annual national festivals and conventions. The American Accordionists' Association will convene in Washington DC and The Accordionists and Teachers Guild, International will celebrate its 60th Anniversary in the Chicago area.

The Coupe Mondiale World Accordion Championships will be held in Kragujovac, Yugoslavia from October 25-30th, 2000, and in London, October 2001.

American citizens wishing to compete in any of the five categories (Senior/Junior Coupe Mondiale and Senior/Junior Virtuoso Entertainment Divisions or the International Piano Accordion Competition) should contact the American Accordionists' Association and the The Accordionists and Teachers Guild, International for entry details.

For those heading to Canada, you might enjoy attending the Kimberley International Old Tme Accordion Championships from July 3-8th, 2000.

(For further information, or to list your event, please consult the monthly calendars for exact dates and contact details.)


Iona Reed Pukara Performing in Canada
Canada's Coupe Mondiale Accordion Champion, Iona Reed Pukara has been performing with ensembles and symphony orchestras throughout the Sudbury, Ontario area.

During March, she did 12 concert appearances and is currently performing in the sold-out "Edith Piaf Show" for which she also wrote the orchestration. The show, which stars lyricist Pandora Topp, features Iona on accordion with other instrumentalists.