Miss Cybelvis sings to ACCORDION!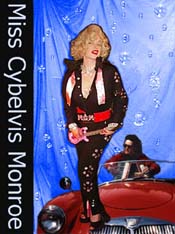 The "Bjorn Again" tribute to ABBA will be held on June 22nd at the Roseland Theatre, 8 NW 6th Street in Portland, Oregon. This show has played 1800 times in 43 countries so far. Miss Cybelvis Monroe (a Marilyn Monroe impersonator who sings Elvis Presley's hits accompanied by accordion) will open the show.

Cybelvis "breathes" out Elvis' hits as Marilyn might have, with crimson lip-curls and hip-shakin' shimmies.

Botielus backs her up on accordion and sequencer, with surprising interpretations of familiar songs, like "Blue Suede Shoo-shoo-pee-doos" and "Dancing King".

The show is at 9:00 PM and tickets are $18.50 + service charge from Fastixx. For further details e-mail: Cybelvis@Cybelvis.com or visit www.cybelvis.com

Those Darn Accordions on Tour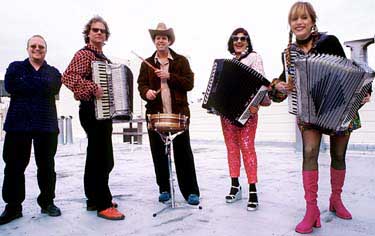 Ready to rock? Those Darn Accordions (TDA), the San Francisco-based band that threatens to forever change your understanding of the squeezebox, is headed for your town.

TDA is touring in support of "Amped," the new six-song EP that captures the band's squeezebox-fueled sonic assault in all its glory. On "Amped," the band pumps out four catchy songs chronicling life in the weird lane: "Serious World," "Mr. Slagle's Revenge," "Enter the Douse," and "Meaning of Life." Along with these originals, the band includes covers of Steppenwolf's rock anthem "Magic Carpet Ride" and a raucous version of "Making Our Dreams Come True" (better known as the theme from "Laverne & Shirley").

Onstage, the five-piece band fronted by lead singer/squeezebox wizard Paul Rogers and bellows-pumping babes Patty Brady and Suzanne Garramone, with Bill Schwartz on drums and Lewis Wallace on bass, roars through a variety of musical genres from heavy metal to polka and back again, torching timeless rock 'n' roll classics along the way.

TDA Summer Tour 2001 Dates:

June 22, FEZ (under Time Café), NEW YORK, NY
June 23, Meadowlands Fair, EAST RUTHERFORD, NJ
June 24, Meadowlands Fair, EAST RUTHERFORD, NJ
June 25, The Club Café, PITTSBURGH, PA
June 26, The LimeSpider Lounge, AKRON, OH
June 28, Summerfest, MILWAUKEE, WI
June 29, Summerfest, MILWAUKEE, WI
June 30, Summerfest, MILWAUKEE, WI
July 1, Summerfest, MILWAUKEE, WI
July 2, Summerfest, MILWAUKEE, WI
July 3, Summerfest, MILWAUKEE, WI
July 4, Summerfest, MILWAUKEE, WI
July 5, Summerfest, MILWAUKEE, WI
July 6, Summerfest, MILWAUKEE, WI
July 7, Schaumburg Prairie Center for the Arts, SCHAUMBURG, IL
July 8, The Beat Kitchen, CHICAGO, IL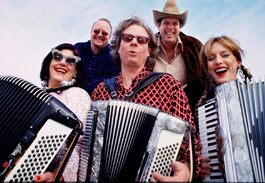 Give Those Darn Accordions a listen. You won't believe your ears!

For further information please contact:
Paul Rogers at tda@thosedarnaccordions.com phone number: 415-765-7652 or
Patty Brady bellowgal@aol.com or visit www.thosedarnaccordions.com.

Mika Väyrynen and European Orchestras to Perform at ATG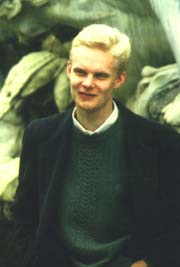 Finnish accordion Superstar Mika Väyrynen will be the featured international soloist at the upcoming ATG Competition and Festival in San Antonio, Texas, July 19 - 22, 2001. Appearing for the first time in the United States, Mika will perform both as a soloist and in a concerto with the ATG Festival Orchestra.

Mika Väyrynen was born in Helsinki in 1967. He studied at the Sibelius Academy and the conservatory of Gustave Charpentier in Paris. He earned the A-diploma in accordion in 1991 and earned his Master of Music in 1992. Väyrynen studied further and earned his Doctor of Music in 1997 from the Department of Performing Arts at the Sibelius Academy.

A former CIA Coupe Mondiale World Accordion Champion, Mika Väyrynen is one of the most actively performing accordion artists of his generation. He gave his debut recital in 1985, after which he has toured extensively both domestically and abroad. He has also released several CDs and he has recorded for the Finnish Broadcasting Company regularly since 1985.

Mika Väyrynen's repertoire is exceptionally large and wide-ranging consisting of transcriptions, modern accordion music, virtuosi music, new tango, chamber music and concertos.

from Kimmo Mattila...."Mika is a phenomenal personality in the world of the accordion. For Mr. Väyrynen the accordion and its tone are tools that formulate themselves according to the needs of the music. Väyrynen crosses the often artificial boundaries of different musical styles with his own unique interpretation. In his choice of repertoire he does not stick to the conventional, but prefers to see the technical possibilities of the accordion without boundaries and even as challenges.

The most characteristic of Mika Väyrynen's musicianship is, however, to get 'behind the notation" and inside the external technical matters to the absolute core of music."

In addition to Mika, the ATG will also be featuring other outstanding artists including:
The worldclass Viennese Accordion Ensemble (pictured below) founded in 1967, the group was made up of the best soloists in Austria, and has remained together ever since.

The 20 member Das Akkordeonorchester des Landes Niedersachsen (Accordion orchestra of Lower Saxony) will be performing at the ATG Festival. Their repertoire includes things such as: On The Beautiful Blue Danube, Carmen Suite, Comedian Harmonists in Concert, Fanfare for the Common Man, Frank Sinatra in Concert, Lord of the Dance, My Fair Lady Sabre Dance Tango 99 Welcome to Venice.
Stas Venglevski, a two-time first prize winner of bayan competition in the Republic of Moldova, Stas is a graduate of the Russian Academy of Music in Moscow where he received his masters Degree in Music under the tutelage of the famed Russian bayanist, Friedrich Lips. In 1992 he emigrated to the United States. He has toured extensively throughout the former soviet Union, Europe, and the United States. He also performs frequently in Milwaukee, Wisconsin, his home in the United States.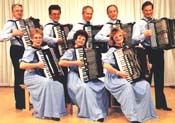 The ATG is also sponsoring three interntational competitions including the Anthony Galla-Rini Comptition for Classical Accordion, the ATG Virtuoso Entertainment Competition and in conjunction with the Texas Accordion Association (TAA) will also sponsor the Texas Folk Music Contest, offering a total of almost $5000.00 in prize money. For full details, please visit www.accordions.com/atg

Bayou Bash in Florida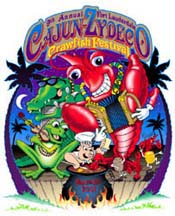 The ninth annual Cajun-Zydeco festival was held on May 11 in Fort Lauderdale, Florida. It was a festival packed with music, food and dance.

Cajun music goes back to French-speaking settlers in southwest Louisiana who traditionally played fiddle and accordion and used the acoustic guitar and triangle for rhythm.

Zydeco means "Snap Bean". (In French, "Les Haricots", means green beans, and when pronounced in French Creole, the "s" is pronounced like a "z", it misses the silent "H" then is joined to the "a", rolled 'r' and finishes with a silent "t" so "Les Haricots" sounded like "Lez-arico" or with the French Creole accent, "Z-ydeco".)

Around the turn of the century while the farmers were out working in the fields, (picking the beans) they would hum melodies to help pass the time. The workers would come in from the fields, and while cooking, would wonder about the salt content of the beans. It is said that the favorite melody was called "Les Haricots Sont Pas Sales" which translates as "The snap beans are not salty." This 'blues' melody, was the beginning of the Zydeco music.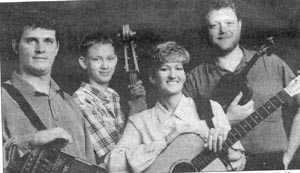 Included in the Fort Lauderdale line up was Roy Carrier, who says that zydeco is the kind of music that 'gets your heart jumping.' He began playing zydeco when he was 6, starting with washboard and accordion. Other artists included The Hackberry Ramblers, Balfa Toujours (pictured to the right), Geno Delafose and BeauSoleil.

For future festivals in Fort Lauderdale, please see: www.ci.ftlaud.fl.us/festivals

Day of the Accordion in San Francisco
When was the last time you visited San Francisco? Why not make a trip in June to help celebrate the Day of the Accordion?

The impressive lineup includes something for everybody, and all activities will take place Sunday, June 17, 2001 at the Cannery in San Francisco. It will be fun!

12:00 - 12:25 pm The Bay Area Accordion Club Fun Band
12:35 - 12:50 PM Bella Ciao-Italiano Pop
1:00 - 1:40 PM Conjunto Romero-Tejano
1:50 - 2:05 PM Big Lou-San Francisco's Accordion Princess
2:15 - 2:30 PM The Jazz Chords (three jazz accordionists)
2:40 - 3:20 PM Baguette Quartette-French Cabaret
3:30 - 3:45 PM Sexfresh-bossa-mambo Rock
3:50 - 4:30 PM The Squeegees-Polkas
4:35 - 4:55 PM Alex Yaskin-Bayanist
5:05 - 6:00 PM The Crawdaddys-Zydecow

San Antonio International Festival to Showcase Diversity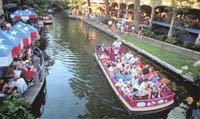 Over the generations, the blending of cultures in San Antonio has produced a colorful mix of musical styles, many centered on the button accordion. In San Antonio, it's not unusual to hear German polkas in one neighborhood, and rollicking conjunto cumbias in another - with the venerable accordion serving as the thread that weaves these diverse musical forms together.

To celebrate these diverse traditions, the City of San Antonio Office of Cultural Affairs, in collaboration with Texas Folklife Resources and the Guadalupe Cultural Arts Center, will present the First International Accordion Festival, September 29 and 30, 2001. The festival, with free admission, will be held in historic La Villita, one of San Antonio's original settlements, in the heart of downtown.

Nearly a dozen groups representing numerous diverse international accordion musical traditions are on tap for the festival, playing German, Colombian/Vallenato, Irish, Argentine Tango, Cajun/Zydeco, Dominican Merengue and Conjunto/Tejano music. Also planned prior to the festival, on September 27 and 28, is a symposium focusing on international accordion traditions.

Poet, songwriter, vocalist and accomplished button accordionist Juan Tejeda is producing the festival on behalf of Texas Folklife Resources. Best known as the former Xicano Music Program Director at the Guadalupe Cultural Arts Center, Tejeda founded the annual Tejano Conjunto Festival en San Antonio which this year marks its 20th anniversary, May 9 -13.

The National Endowment for the Arts and AT&T are the primary sponsors of the festival, which is seeking additional sponsors. For more information, contact Juan Tejeda at (210) 207-6967, or by e-mail at OCA1@ci.sat.tx.us.

For a free packet of San Antonio visitor information, call the San Antonio Convention & Visitors Bureau toll free at 1-800-THE-ALAMO, ext. 10, in the U.S. and Canada (001-800-447-3372 in México) or (210) 207-6700. Or visit the SACVB's home page at www.SanAntonioCVB.com

Ennis Polka Festival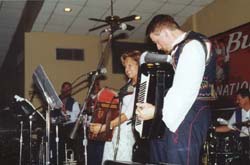 A celebration of Czech heritage which began back in 1966, the festival now draws more than 50,000 attendees. Including religious customs, folk dances, tastes, sights, and sounds to create "a little bit of Czechoslovakia" on the streets of historic downtown Ennis, the Ennis Polka Festival was held the last weekend in May.

Activities included a Parade, Arts and crafts and food booths, street dancing with the Jodie Mikula Orchestra, Dancing at the four lodge halls with Vrazels, Lynn Marie Rink, Czech and Then Some, Brave Combo, and many more bands.

For more info on this annual festival, contact cpbox@aol.com or check out the web site for Ennis Polka Festival, or the Ennis Chamber of Commerce or City of Ennis.


Fourth Annual Texas Squeeze Accordion Festival
Mark Sunday November 4, on your calendar to attend the Fourth Annual Texas Squeeze.

Planned appearances include some of the same great bands from past years, Los Pioneers de Ramz Guerrero, The Gulf Coast Playboys, Jude Moreau and the Bon Temp Playboys, Los Pinkys, Los Jet Set and new favorites The Fabulous Six Czech band.

Also enjoy the Texas-style bar-b-que...tamales...gumbo...cold beer...dancing and good times at one of the finest dance halls in Texas. Festivities will be held at Club 21 in Uhland, Texas, from 2:00 - 8:00 PM (512)398-2901.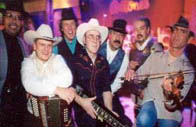 The Gulf Coast Playboys, including Bobby Fuentes, Bradley Jaye Williams, Speedy Sparks (back), Bruce Lamb, Joe Guzman, Carlos Barbosa and Ralph White are also appearing every Thursday at EGO'S, from 8:30-10:30. Music includes: Texas-Louisiana Dance Hall Music Traditional Cajun...Swamp Pop...Classic Country...Tejano...Blues


Isidro, Ramz, Bradley and Ben Serrato of Los Jet Set.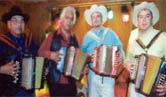 Peoria Club Helps during Pledge Week
Members of the Peoria Area Accordion club recently volunteered at their local public television station during pledge week.

Working during a three hour session, Club President Dick Schmit said 126 calls were answered raising some $15,600 dollars.

They also had people ringing to say how much they enjoyed the program, A Lawrence Welk Special!

Joe Soprani with "Coro Gabriele D'Annunzio"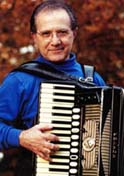 Joe Soprani, accordionist, who recently performed in a world premier musical at the Prince Theatre in Philadelphia, will appear as special guest soloist and accompanist in a series of programs with the "Coro Gabriele D'Annunzio" under the direction of Maestro Angelo Troiani.

The first program will take place on June 3, 2001. The "Coro", made up of 25 singers and a mandolin plyer, along with Joe Soprani on the accordion, will perform at Penn's Landing in Philadelphia to celebrate "La Festa Della Republica".

The "Coro Gabriele D'Annunzio", named after the distinguished Abruzze poet, dramatist and writer, was founded in 1994 when a few members of the "Associazione Regionale Abruzzese" of Delaware Valley decided to form a singing group to keep alive the folk music of the region of Abruzzo. Mr. Troiani was chosen as the musical director, conductor and vocal arranger. Soprani will write the accordion arrangements.

In the beginning, the "Coro" focused on traditional songs sung in the rich dialect of their homeland. Now, dressed in the traditional costumes of Abruzzo, the repertoire of the "Coro" includes works of Verdi, Tosti, Scarlatti, Mascagni and popular Neapolitan and contemporary folk songs. Throughout the year the group performs at various functions in the Tri-State area which include many Sons of Italy Lodges, Columbus Day events, Penn's Landing and various church fiesta's.

On May 31st, The "Coro" made a special appearance at the Springfield CC in Springfield, PA. to welcome Onorevole Giovanni Pace, the President of Abruzzo.

For more information about the Penn's Landing event and other up coming performances contact: Angelo Troini, JOANGETRO@aol.com or Joseph Soprani, sopranimusic@webtv.net

Dr. Helmi Harrington helps with New Grove's Dictionary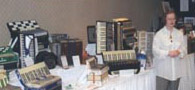 ATG Board Member Dr. Helmi Strahl Harrington has co-authored the "Accordion" article for the New Grove Dictionary of Music and Musicians (second edition). Four of the five sections were written by Dr. Harrington, with a fifth section contributed by Herhard Kubik. Her concise yet comprehensive work includes information on accordion construction, types, history and manufacture, as well as an outline of the development of the accordion within academic and classical communities. The article will be a tremendous boost for academics, students and hobbyists looking for information on the accordion.

The first 20 volume edition of the New Grove published in 1980 became the definitive music research dictionary. Its ambitiously comprehensive scope and reliable accuracy continued a tradition begun in 1878 with Sir George Grove's first Dictionary of Music and Musicians.

New Grove II is available in traditional hardcover book format and also in an online version. It is a very big set of very big books - list price $4,850.00!! For information on subscribing to the online version see: www.govemusic.com The book version is available in virtually all the libraries of secondary schools with music departments and also an be found at many of the larger public libraries.

Stas Venglevski Premiers "My Main Squeeze."

Milwaukee based accordionist Stas Venglevski performed the premier of Yehuda Yannay's new trio for trumpet, bayan and cello. Entitled "My Main Squeeze", it was premiered at the Wisconsin Alliance for Composers Festival in March.

Inspired by Venglevski's virtuosity, the composer has endeavored to co-join the accordion with instruments that complement and amplify its colors, hence the trumpet and the cello.

Divided into two movements, (1) Main Squeeze (2) "Gimme One More Squeeze!", Stas was assisted by Kevin Hartman on trumpet and contemporary music specialist Paul Gmeinder on cello.

Monsignor Stanley Kloskowski in Concert
The Westmont Philharmonia Accordion Orchestra presented its annual Spring Concert on May 20, 2001.

Featured during this program was Monsignor Stanley Kloskowski a noted jazz accordionist. As a jazz musician, Kloskowski is noted for his big band open chord work, sparked by his creative imagination and improvisations. As a professional jazz musician, prior to becoming a priest, Msg. Kloskowski has maintained his creativity and performing integrity as a part of his ministry, utilizing the accordion often for church activities and services.

The American Accordionists' Association presents
Polka Fest Competition FOR POLKA BANDS
It's Polka Time!
FIRST PRIZE $1500.00
SECOND PRIZE $500.00
THIRD PRIZE $250.00
REQUIREMENTS

The group must consist of 3 to 6 musicians (any instruments and/or vocal) with accordion as a prominent part of the presentation.
The program should consist of polka music, not exceeding fifteen minutes duration. Entries will be judged on basis of originality, variety, musicianship and professionalism.
An audio tape of the program, postmarked no later than June 1, 2001, must be sent to:
American Accordionists' Association Polka Fest Committee
1066 Papermill Court, N.W.
Washington, DC 20007
The ten finalists, chosen from the tapes by a panel of prominent musicians and dignitaries, will be notified by June 8, 2001. These finalists must be prepared to perform in person before a live audience at the Finals to take place at the Sheraton Hotel (Cleveland International Airport), Cleveland, OH on Thursday evening July 12, 2001 at 7:00 p.m.
Finalists will be judged by a distinguished panel of musicians and dignitaries. Decision of the judges will be final and prizes will be awarded following the Finals.
No tapes will be returned. For additional information contact:
American Accordionists' Association Executive Office
580 Kearny Avenue
Kearny, New Jersey 07032
Fax: (516) 746-7085 or E-mail: ameracc@aol.com

Why not advertise your web site on accordionusa.com?
TELL THE USA WHAT YOU HAVE TO OFFER!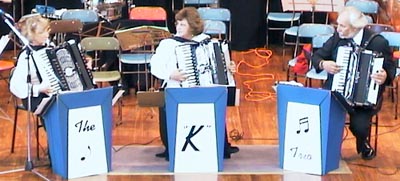 The East coast of the USA was well represented down-under with The "K" Trio (Mary Kasprzyk Tokarski, Julie Kasprzyk Cardona, and Walter Kasprzyk from CT) and Kevin Friedrich (NY) being guest artists at the South Pacific International Accordion Festival which was held in Auckland, New Zealand from June 1-3, 2001.

Traveling down-under for the first time, The "K" Trio performed in Sydney, Australia at the AATA Festival before heading over the New Zealand for a series of concerts.

While The "K" Trio was in Sydney, Kevin was performing in his home town of Dargaville, New Zealand at a charity concert. Performing both classical and entertainment music, Kevin was brought to the stage in the traditional style of being marched in with a Bagpiper, the two later joining forces for an eerie accordion-bagpipe duo.

Joining forces in Auckland, both The "K" Trio and Kevin performed and adjudicated as the New Zealand Accordion Association celebrated its 30th Anniversary.

In addition, USA accordionist Michelle Boddicker-Scheffler was invited to adjudicate at the NZAA festival including the New Zealand Solo Championship Class, the New Zealand Accordion Orchestra National Championship as well as several of the South Pacific Competitions.



To conclude the festival, conductor of the Auckland Symphony Orchestra, Gary Daverne, who has appeared several times in the United States, conducted his newest commissioned work for accordion orchestra "Musical Party" honoring New Zealand accordionist Sylvio de Pra. The "K" Trio, Kevin and Michelle all performed in this massed orchestra which was made up of accordionists from around the country and the Pacific.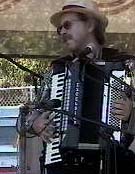 Accordionist Jon Hammond entertained over 100 patients and staff recently at Laguna Honda Hospital in San Francisco with Barry Finnerty (guitar). Their program included a mix of everything from standards like, "Willow Weep For Me", "Blues In The Night", and "When Sunny Gets Blue"', to pop songs like Leon Russell's "Masquerade" as well as their own original compositions. The event was sponsored by the AFM Musicians Union Local 6 in San Francisco.