---
UMKC Accordion Orchestra in Concert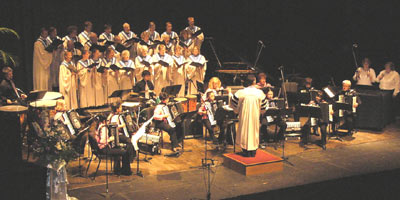 The University of Missouri Kansas City Community Orchestra under the direction of Joan C. Sommers performed a concert in Columbia, Missouri recently, celebrating the 40th anniversary of Father Edwin Cole's (pictured below) ordination to the Priesthood.

A long time member of the UMKC Accordion Orchestra,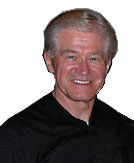 Father Edwin Cole is pastor of the Sacred Heart Church, and was delighted to have the orchestra present a concert as part of the Gala celebrations.

In addition to the UMKC Accordion Orchestra, the concert entitled "We Are Called" included the choir of the Sacred Heart Catholic Church under the direction of Carlos Vazquez-Ramos, and Father Edwin Cole performing both solo and duo with his duet partner Dee Stiglar.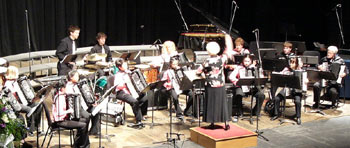 The UMKC Accordion Orchestra which presented works by Bizet, Bach and others, has released a series of Six CD's highlighting more than 40 years of concerts, and is currently preparing for several performances at the upcoming Accordionists and Teachers Guild, International festival to be held in Milwaukee, WI form July 21-25, 2004.

---
Jérôme Richard and Alexander Poeluev at ATG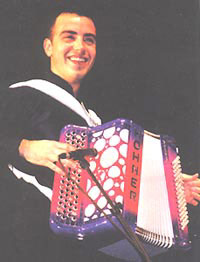 The Accordionists and Teachers Guild, Int. (ATG), founded 64 years ago, will hold its annual festival in Milwaukee from 21st - 25th July. There will be "something for everyone", organizers say of the variety of accordion music to be presented at the event.
Highlights include concerts by accordionists from around the world; American jazz legend, Art Van Damme; France's famous young accordionist, Jérôme Richard; the 2002 Coupe Mondiale winner, Alexander Poeluev from Russia; ATG President and bayan virtuoso Stas Venglevski and other renowned performers. The University of Missouri-Kansas City Community Accordion Orchestra will also perform at the event.

A special Anthony Galla-Rini Centennial Competition for classical accordion, in celebration of the Maestro's 100th birthday, is also part of the festivities. Accordionists from all over the world will vie for $5,000 in cash prizes.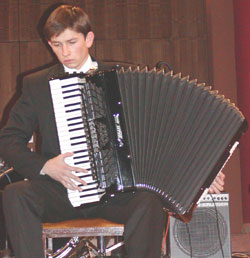 There will be a special appearance by Myron Floren who along with Joan Sommers, will be inducted into the ATG Hall of Fame.

The festival will kick off on Wednesday evening 21st July with an official Presidential Welcome Concert featuring such items as a series of Tangos performed by an ensemble made up of members of the ATG Board of Directors as well as other local musicians and folk dancers. There will be a city tour and outdoor performances at the Peck Pavilion by the popular ATG Festival Orchestra and the UMKC Accordion Orchestra as well as a Gala Banquet and an Awards Ceremony. The festival will be held at the Best Western Airport Hotel in Milwaukee.
For further information and full schedule of events, please visit the ATG website.


---
Dian Thomas to give keynote Address at LVIAC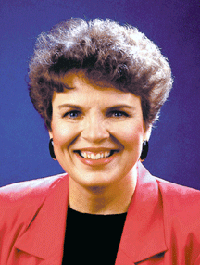 The Las Vegas International Accordion Convention is pleased to announce that Dian Thomas will be giving a keynote address on Promoting the Accordion during their upcoming event in Las Vegas from June 13-16, 2004.

With over 25 years of public relations experience, Dian Thomas has more than 5,000 television and radio appearances to her credit. For 8 years she was a regular on NBC's Today Show and spent 6 years with The Home Show on ABC. Additionally, she has appeared on numerous national TV shows, including The Tonight Show, Good Morning America, and The Martin Short Show. She is also an author of 9 books, including the New York Times bestseller, Roughing It Easy.

As a media giant and a successful entrepreneur, Dian knows the importance of publicity, especially how to capitalize on free exposure and turn it into financial gain. In her own creative style, Dian will share with you proven techniques that will help you get a Million Dollars Worth of FREE Publicity.

Dian happens to like the accordion and we're excited to have her as a special guest speaker and instructor. Dian will be conducting a workshop on Promoting the Accordion and another entitled the Magic of writing articles to promote the accordion and you!

Monday after lunch - as a TV legend - Dian will perform her famous Adding Spice to Life - a making fun more than fun - presentation. Dian specializes in finding practical, easy ways to add fun to everyday living. In Dian's own words "my philosophy has always been to create your own fun, a commodity perhaps not common enough in a high-tech world".

This year our theme is "A World of Entertainment," focusing on the accordion's broad appeal. Artists and music from around the world will be highlighted, including several famous European accordionists. Seven concerts and meals will be provided in one low registration fee.

The Las Vegas International Accordion Convention will hold its fifth annual get-together for accordion enthusiasts June 13-16 at the Las Vegas Plaza Hotel.

Founded by Paul Pasquali (left) of Accordions International (headquartered in Salt Lake City, Utah and on the web at www.AccordionInfo.com), the four-day convention is regarded as the world's largest accordion entertainment and educational event for accordion amateurs, professionals, and enthusiasts.
The event features four major evening concerts highlighting accordion-playing legends as well as other leading accordion performing artists-each concert preceded by a gala dinner, with daytime 40-plus workshops and master classes going hourly 9 to 5, lunch-hour feasting and entertainment followed by a daily discussion with an accordion legend before the cycle of more workshops, evening feasting, and concertizing begins again. Because most convention attendees travel by plane to Las Vegas, the convention is planned without the need for persons to bring their accordion.
"It's a formula that has worked well," says Pasquali who has seen his brainchild go from 200-plus attendees at the inaugural 2000 event to "looking for 600 in 2004." Who attends? "The majority are 50 and over and some come from a number of nations, but most are from nearly every state in the union who remember the great heydays of the accordion in America in the 50's and 60's. Many of them took lessons in their youth and have been looking for ways to return to something they fell in love with but had put aside when early career and parenting pressures took their time," he says.

"I suppose the opportunity for people to hear, see, and freely mingle with the world's most famous accordionists as well as other world-class accordionists is a big draw. Our surveys say people like this friendly atmosphere that makes the four-days almost a magical experience for many. There really is nothing like it in all the accordion world," Pasquali said.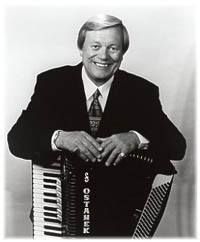 This year's big-name draws befitting the 2004 theme of "A World of Entertainment" include Art Van Damme, legendary jazz accordionist; two-time Grammy Award winner and King of the Polka Walter Ostanek from Canada; Hall of Famer Don Lipovac; accordionist-comedian Pete Barbutti; master of the bellow-shake Tony Lovello; husband-wife performing team Mario Tacca & Mary Mancini; symphony concert artist Peter Soave; bayanist Stas Venglevski; two-sisters/one-brother classical musical "K Trio"; electronic accordion virtuoso Janet Todd; award-winning Britisher Gina Brannelli; Italian accordion champion Mirco Patarini; Australian Bernadette Conlon; multi-instrumentalist Alex Meixner, and a wide range of other outstanding accordion stylists.
Workshops range from playing techniques, workshops on ethnic to classical to jazz, ABCs of playing by ear, improvisational approaches, accordion repair, dance band playing, accordion club forum, health of the accordionist, and many more. "We gear workshops to techniques and musical styles so that persons of almost any playing level can benefit. In fact, non-accordion players keep telling us they find the classes enlightening," Pasquali says.
The convention also includes exhibits of interest to amateurs and professionals, for polka fanciers, concert musicians, technicians, and non-playing fans. "This year we'll have more music publication exhibits than before and be more of a supplier to some music stores," he says. Also exhibiting will be some major Italian accordion manufacturers-Burini, Pagini, Paolo Soprani, Piermaria, Scandalli, as well as Pasquali's digital Concerto accordion that is manufactured in Italy and digitized in the U.S. for customers.
The convention gives time to an historical aspect of the accordion, also. At last year's convention was shown a newly discovered early 20th century film recording of deceased US accordion icon Guido Deiro. This year's historical note is a surprise Pasquali says he is holding close to his vest.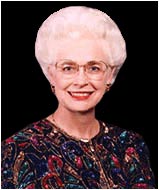 In addition, the convention annually bestows awards - an Honorary Conductor tribute to a living accordion icon, this year to Joan Cochran Sommers, director for years of a highly-regarded University of Missouri-Kansas City accordion program; a Lifetime Achievement Award to Tony Lovello for his five decades of show-business performing; awards to a young adult amateur or professional player, an inspirational teacher, and an accordion club that has contributed significantly in its area.
You will find a friendly atmosphere and professional staff at your assistance; but most of all, you will find many accordion friends. Join in for "A World of Entertainment". You'll be glad you did!
For more information, call toll free 1-800-472-1695 or click on the web to www.AccordionStars.com.

---
Carly Simon's Accordionist keeping Busy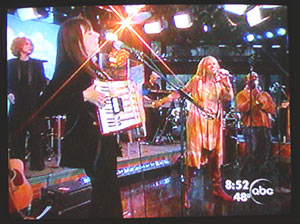 Viewers of Good Morning America saw accordionist Mindy Jostyn while performing with Carly Simon who was promoting her new CD collection "Anthology" during the May 4th, 2004 show on ABC. She also went on to perform with her on Conan O'Brien (NBC) and Live with Regis and Kelly (ABC).
Over the last eight years, singer-songwriter Mindy Jostyn has toured throughout the eastern United States wowing audiences with her soulful voice, distinctive melodies, witty and insightful lyrics, and her command of a host of different instruments including guitar, violin, harmonica, piano and of course the accordion.
She has headlined at legendary folk clubs such as Club Passim in Cambridge, MA, The Ironhorse in North Hampton, MA, and The Towne Crier in Pawling, NY, and she has played at the Falcon Ridge, Winnipeg, and Long Island folk festivals.
During that time, Mindy has released four solo CD's including her latest effort "Blue Stories", a collection of bittersweet songs about people and their plights. Her first CD, "Five Miles from Hope", is a rootsy, country blues album recorded with a live band and musical guests Donald Fagen, Carly Simon, and Garth Hudson. Her second CD, "Cedar Lane", is a pop-folk paean to the suburbs of her youth featuring emotive ballads and satiric takes on modern love.
Prior to launching her solo career, Mindy was an established "sideman" who toured with some of the biggest names in popular music including Billy Joel, John Mellencamp, Donald Fagen, Joe Jackson, Cyndi Lauper, and Carly Simon. She's also appeared and/or recorded with John Bon Jovi, Shania Twain, Andreas Vollenweider, Pat Benetar, and Laura Nyro.
Mindy grew up in San Jose, CA and Wellesley, MA. Already playing several instruments at age 11, she organized an all-girl ensemble called The Tigers. When boys came into the picture, she started writing about them and performing with them in a series of bands culminating with The Cyclone Rangers, a cover band that performed for a decade in and around New York City.
At every stage of her career, Mindy has also composed and performed devotional songs, both in and out of churches, using her music to integrate the spiritual with the secular. Her third CD, "in His eyes", is a non-denominational collection of sixteen folk hymns.


---
Accordion in the Media
The accordion is often seen in newspaper and magazine articles around the country. These few pictures were found in recent publications.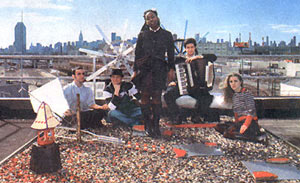 From the New York Times: Accordionist Benjamin Ickies pictured on a Long Island City rooftop garden of his groups manager Camille Acey with the Manhattan skyline in the background.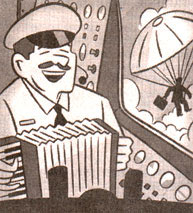 From the New York Times: in an article entitled 'Captive Audience 30,000 Feet in the Air', this picture accompanied a feature article airing the woes of airline travelers forced to endure the open mic wisecracks and jokes of the crew both pilots and flight attendants.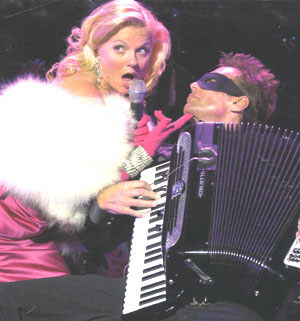 From Hello Magazine: former 'Spice Girl' Geri Halliwell in a replica of a dress Marilyn Monroe wore in Gentleman Prefer blondes performing with an accordionist at an LA Fundraiser.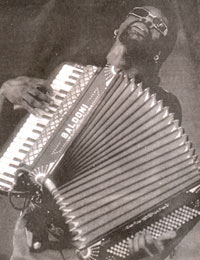 From the Wall Street Journal: accordionist CJ Chenier advertising a performance at the New Orleans Jazz and Heritage Festival, in New Orleans


---
AAA Festival Workshops Announced
The American Accordionists Association announces an impressive line up of workshops which will be offered during their annual festival, this year to be held in the Boston area from July 11-15, 2004.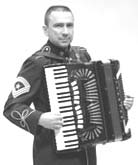 Included in this years workshops are:
"Working with Young Adults & Seniors" by Sam Falcetti
Playing for Uncle Sam" by Manny Bobenrieth (right)
"The Art of Memorization" by Helmi Harrington
"Jazz Theory and Improvisation 101" by Frank Marocco
Sibelius Computer Programs by Robin Hodson
"Accordion Repairs Made Easy" by Joe Cerrito
"Playing with Feeling" by Joan Grauman
"Club Dates 101" by Eddie Monteiro
"They came! And then what?" by Karen Adam
"A World of Accordions Museum" by Helmi Harrinton
"The Art of the Bellow Shake" by Tony Lovello
Private or Group Master Class at the AAA 2004 Festival with notables:
CARMEN CARROZZA - Performance
FRANK MAROCCO - Jazz Improvisation and Studio Performance
EDDIE MONTEIRO - Club Dating, Jazz and Presentation
CARMELO PINO - Composition and Performance
For more information, please contact the Festival Committee:
AAA Executive Office
580 Kearny Avenue, Kearny, NJ 07032 USA
Phone: 201-991-2233
Fax: 201-991-1944
or visit www.ameraccord.com or e-mail:
AAA1938@aol.com


---
Rocky Mountain Accordion Celebration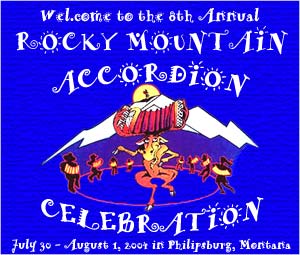 A Fun Time in a Fun Place! ...featuring Accordionists from Beginners to World Champions!

Should your travels take you to Montana from July 30th - August 1st 2004, a cultural surprise will await you in Philipsburg, Montana. Featured performers this year include: Janet Todd (pictured below), Mike Belitz Orchestra, Krisko's Dance Party, Sammy Thomas, Montana Alphorns, Al Aman and others.

From its beginning in August of 1997, the Rocky Mountain Accordion Celebration has been a rousing weekend of dancing and listening to music, steak barbeques and outdoor pancake breakfasts, concerts in the 1892 Opera House and a parade of homemade pies.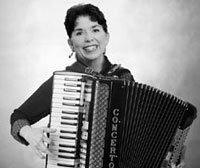 With the platzl and the tented dance floors in the center of this picturesque 1890's town, visitors, residents and participants alike find fun, food and frolic. Dance or tap your toes to the music, in the sun or shade, by starlight or streetlight.

Philipsburg lies in the Flint Creek Valley between Anaconda and Drummond. A quiet little village, Philipsburg has streets dressed in 1880 vintage paint and exterior. It is surrounded by ranches, the Pintler Mountain Range and superb fishing on Flint Creek and George Town Lake.

Accordion enthusiasts, players, and dancers come to strut their stuff. Concerts are held in the 1892 Opera House Theater. Accordions of all shapes and sizes perform on the streets, in the pubs, and all over the campgrounds. Waltz, Polka, Two-step, Fox-trot or Tango to Ethnic music as well as ragtime and jazz. If you sort of forgot how or have never danced, instruction is available. The Celebration is one of sharing dancing, apple pie and the love of accordion music.

Full Service hook ups are limited. Open Parking available at Sunshine Station & the City Park, or anywhere else in Town. Residents will share space and even rooms if necessary. Free Dump Station, Gas & Water available at Sunshine Station

Come early. Stay late. Fish, hike, explore the old mining towns or hunt for sapphires. For more information, and a festival schedule, please visit www.accordions.com/rmac


---
Guy Klucevsek's Accordion Stolen after Spielberg Movie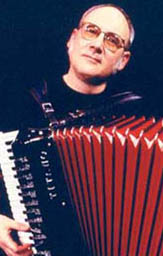 Guy Klucevsek returned from Los Angeles last week after recording for composer John Williams in the music for Steven Spielberg's new movie, The Terminal.

Unfortunately, his accordion was lost at Los Angeles Airport (LAX) on 7th May when he handed it off to American Airlines security staff in an aluminum customized flight case. The instrument never arrived in New York, and is now considered stolen/missing. The instrument is a full size concert piano accordion with convertor chromatic free bass manufactured by Titano. It is a black instrument with red bellows, TITANO - Serial No. 89062.

American Airlines who lost the instrument will continue searching for 90 days, however, it is now considered missing/stolen.

If you have any information that might help, please e-mail: guysqueeze@aol.com


---
CJ Chenier in New York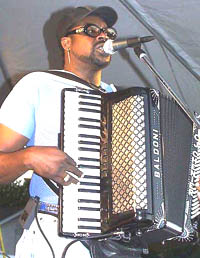 Zydeco superstar CJ Chenier will perform at the South Street Seaport Music Festival on June 29th, 2004 in a free concert at 1:00 PM. The popular Pier 17 located at 19 Fulton Street at South Street Seaport in lower Manhattan, New York is a stunning setting for the popular series.

When zydeco superstar C.J. Chenier stepped onto the main stage at the 2001 Chicago Blues Festival and looked over the crowd of 60,000 eager fans, he had one thing in mind: get them on their feet and make them dance. Almost immediately after launching into their first song, CJ Chenier and The Red Hot Louisiana Band had people young and old shaking their hips and cheering in unison.

Clayton Joseph Chenier is the son of the King of Zydeco, the late Clifton Chenier, but, growing up in Port Arthur, Texas, where he was born in 1957, he had only occasional contact with his father, who lived with his wife in Lafayette. As a teenager, CJ Thompson, as he was known then, going by his mother's last name, had little interest in zydeco.

He was, however, a talented musician who played saxophone and keyboard, so that in 1978 when his father needed a sax player to fill in on a long road tour, he called on his son. CJ Thompson quickly embraced the world of zydeco, his father's world, and went on to learn to play the accordion and also decided to have his last name legally changed to Chenier.

As his health began to fail, Clifton Chenier let his son sit in for him, and when he died in 1987, CJ Chenier became the leader of the Red Hot Louisiana Band. As he told Michael Tisserand, he does not try to imitate his father's playing directly: "I play it the way I play it. All he really told me was to do the best I could do with my own style."

But, like his father, the only accordion he plays is the piano accordion, an instrument that allows him more freedom than the button accordions used by most zydeco bands today. He can express himself musically in many styles or combinations of styles–ballads, waltzes, blues, boogie, rock and roll, funk, jazz–it all comes together as CJ Chenier's fingers race up and down the keyboard, what one reviewer describes as "red hot rhythms and soulful grooves." In addition to his own interpretations of songs from different genres and his father's songs, CJ Chenier has also written a number of original songs.


---
No ID Rocca - that's 'accoR DI oN' backwards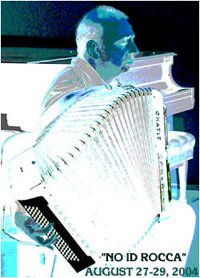 The 10th Annual Master Class and Concert series will be presented August 27-29, 2004 Tenri Cultural Institute, 43 West 13th Street (between 5th & 6th Avenue), New York, NY.

Lecturer-in-residence of the American Accordionists' Association, composer, author, accordionist and philosopher, DR. WILLIAM SCHIMMEL is the moderator/curator. He is this years' recipient of the CONFEDERATION INTERNATIONALE DES ACCORDEONISTES (CIA) MERIT AWARD for his outstanding contribution to the international accordion movement and in commemoration of the tenth anniversary of this distinguished master class and concert series (THE SEMINARS) that he founded and is sponsored by the AAA and he will be officially presented with this award on this special occasion.

MY YOKE IS SWEET, MY BURDEN, LIGHT - no sugar on the eggiewegs (A Clockwork Orange), no equal or the pink stuff instead, enjoy a performance of LIGHT CALVARY on Friday Night and a GOOD FRIDAY at that; enjoy A LITTLE BLASPHEMY, PERHAPS with the ever diabolical ragtime king Dr. Mark Birnbaum; take part in a discussion: MEETINGS WITH INSIGNIFICANT PEOPLE - learn about the people GURJIEFF AND OSPENSKY didn't hang out with - or didn't want any part of; revel in a lecture entitled ACCORDION CULTURE AND MEMES by Kamala Sankram and wonder: " have I joined a really strange cult?" Take a Lambada lesson, let your brain disappear; ponder between Dumbsville and Stupidville; revisit Schnitzler; learn about birth control and the accordion (ACCORDIO-CONTRACEPTICS) and give yourself over to " THE RITUALIZED ACCIDENT" and learn why accordionists are always getting themselves totally wrecked in one form or another.

Could this be a rite of passage? Or is it just what it is - GETTING TOTALLY WRECKED! Let's find out. Join Marni Rice on a journey through paper thin psychic walls; join Peter Davis for a romp through America's own pop-art form, the jingle; allow Terri Conti the space to show you why she was voted as one of the "hottest accordionists" in Branson Missouri; view the accordion through Carribean eyes and ears with the work of the Mighty Sparrow applied to the accordion; Let BELACQUA take you to your medieval soul, slightly tarnished, slightly soiled; see Rachid Eladlouni mix and remix Rai and Berber as well as other Bhuddabar influenced Euro-haus; welcome digital flutist Lee McClure, who presents an eclecticism that would give Dr. Faustus a stroke; submit to 70-79, a work by Dr. Schimmel which explores 70's top 40 in a neo-punkordion manner.

WE HAD JOY-WE HAD FUN-WE HAD SEASONS IN THE SUN - but we didn't sweeten our eggiewegs. Dance to a polka for accordion and sitar; see the accordion as THE WILLIAMSBURG COFFEE TABLE - and object seen and not to be played; witness the revival of one of our previous hits; THE ART OF STROLLING.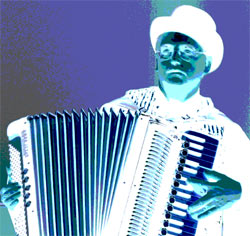 Join Paul Stein for a journey through its own TEN COMMANDMENTS; eminent choreographer and fitness expert, Micki Goodman, will conduct a workshop entitled: FITNESS FOR STROLLING. Paul Stein will also perform a collection of WORLD WAR II SONGS with his mother, Beverly Stein, a World War 2 army nurse; Dr. Robert Young McMahan will delve into CARL JUNG and explore the collective unconscious in its relationship with atonal music; Cristina Spelligene will use the accordion in solving design problems; Will Holshouser will explore jazz in its relationship to THE MAGIC THEATRE (Steppenwolf-Herman Hesse) and Walter Kuhr will perform in a new international style that cuts across ethnic boundries.

There will be performances of AAA commissioned works by Jose Serebrier and Louis Gordon by Dr. McMahan as well as two cover versions of Schimmel (Benjamin Ickies) and Alexander Tcherepnin (Kamala Sankram); original new works by Dr. McMahan (accordion and trumpet), David Stoler and others to be announced.

Former world champion (1965), Beverly Roberts will re-create her TV appearance on TO TELL THE TRUTH as well as her winning performance; THE K TRIO will work their own magic theatre-no lights-no props-just them; there will be the accordions' own: SERMON ON THE MOUNT: FULLY CLOTHED BEATITUDES (Blessed are the BLOATED SPIRITS - they shall be filled to the rim and overflow); a revival of Eric Salzman's strolling accordion piece ACCORD; a ten minute version of KURT WEILL'S THREE PENNY; a TANGO/FADO/REALITY Concerto for accordion, voice and melodica-BLUE PORTUGAL (featuring Allyssa Lamb); a tribute to composer Andrew Lloyd Weber and filmmaker Preston Sturges-both honorary accordionists and a revival of RHAPSODY IN BLUE (Gershwin) for piano solo accompanied by one accordion.

Other participants include: actress Kathleen Goodman, performance artist Ray Rue, songwriter Rembert Block (Avant-Garde the whole family can enjoy), Brian Dewan (Brain surgery without anesthesia), Elsie M. Bennett, Ettore specialist Rita Davidson, Faithe Deffner, Godfrey Nelson and Lorraine Nelson-Wolf, who will do variations on Godfrey's hit single: SKIN TO SKIN, which he composed (with Jake Holmes) for Harry Belafonte and Jennifer Warnes; Micki Goodman will choreograph a new dance work to ARCHIPELAGO, the title piece from Dr. Schimmel amd Martin Kuuskmann's hit CD; watch John Cage's CHEAP IMITATION turn into EXPENSIVE VIOLATION; Benjamin Ickies GIVES UP (the title of his second long running show); Micki Goodman will GIVE IN and commit THE UNFORGIVABLE SIN, which happens to be the title of her ontological film - she will present Part 4 - WHAT IS THIS THING CALLED THE ACCORDION? …. and in the end, we will all GIVE UP and GIVE IN to: NO-ID-ROCCA (The Accordion spelled backwards) The un-master classes!!

For a complete concert and masterclass schedule, please visit www.ameraccord.com


---
Carmen Carrozza Scholarship Event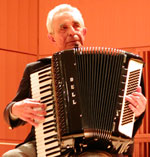 The American Accordionists' Association will host the 2nd Annual Afternoon of Music Food and Fun at the Winery in Wallkill, New York on 6th June from 12 noon to 5:00 PM.

The event is held each year to raise money for the The Carmen Carrozza Scholarship Fund for the advancement of promising young accordionists.

The program will include wine tasting, hors d'oeuvres, several course meal and several accordion performances by guest artists which include Carmen Carrozza, Danny Desiderio, Domenic Karcic, Frank Toscano, Mario Tacca and singer Mary Mancini.

For more information, e-mail AAA1938@aol.com


---
Andrea Parkins in Concert with the Ellery Eskelin Trio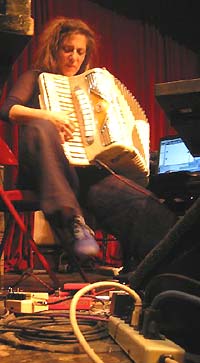 The Ellery Eskelin Trio recently performed at the Issue Project Room in East Village, New York. The trio who have been together for 10 years, include Andrea Parkins on accordion and samplers, Jim Black on drums and Mr. Eskelin on saxophone.

Andrea Parkins is a New York-based sound artist, composer, and improviser who plays electronically-processed accordion, laptop sampler, electronic keyboards, and piano. Parkins sonically expands her accordion with analog electronics and by fragmenting traditional accordion syntax with noise and other disruptive allusions.

In live performance, this idiosyncratic approach to the instrument collides with densely polyrhythmic keyboard tactics and laptop sampling that pays homage to mid-20th century musique-concrete and '70s analog synth sounds. Parkins' composition projects have included solo works; small and large ensemble pieces; and sound design for her own multimedia sculptural installations.

During the past 15 years, she has performed in New York City and toured throughout North America and Europe as an ensemble leader, solo artist, and collaborator, and as a member of Ellery Eskelin's widely acclaimed avant-jazz trio with Jim Black. Her latest ensemble project is a collaboration with guitarist Nels Cline and drummer Tom Rainey that will release a CD on the Atavistic label in 2004. Performance plans for 2004 include concerts in Europe with this new trio as well as with Swiss electronic musician Gunter Mueller, gigs in North America with bagpiper David Watson and turntablist Toshio Kagiwara, and an interactive work at The Kitchen in New York City.

In recent years, Parkins has received several performance grants from Meet the Composer and two production residency grants from Harvestworks in New York City. Parkins' audio work, Freak Cloud Idiom, was among those featured in "Bitstreams", a digital art exhibition at the Whitney Museum of American Art, New York in 2001. Also in 2001, Parkins was awarded a grant by the the city of Hamburg, Germany for an artist's project/residency. Currently, Parkins is developing a series of MAX/MSP-based generative audio works, with programming by Matthew Ostrowski, that are inspired by Rube Goldberg's circuitous contraptions. She plans to return to Europe during the winter of 2004 to perform a solo project featuring these pieces, to be followed by a CD release in the spring.


---
Misty River Band in Oregon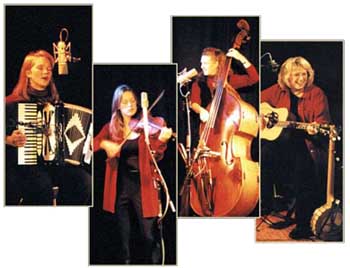 Hailed as one of American northwest's finest musical groups, Misty River displayed its acoustic and acappella harmonies at a concert on 27th May at the Majestic Theatre, Corvalis, Oregon. The concert, sponsored by the Marys Peak Group-Sierra Club, celebrates the release of the group's third CD, "Willow."

Misty River is an all-female band that performs a variety of Americana music, from familiar folk melodies and upbeat country and bluegrass favorites to Celtic tunes, mysterious haunting ballads and award-winning original songs. This award-winning quartet (two of whom are mother and daughter) support their blend of harmonic voices with unique combinations of accordion, guitars, fiddle, banjo, mandolin and bass.

With the release of "Willow," the band branches out from its traditional roots to explore new rhythmic, instrumental and harmonic colors. The 14-song collection crosses genres, continents and time.

Pamela Rooney of CD Baby Magazine writes, "When these four ladies set out to churn out bluegrass music, they don't miss a beat. Violin, upright bass, accordion, guitar and banjo plus some searing and precise part-upon-part-upon-part harmonies equals stunning music."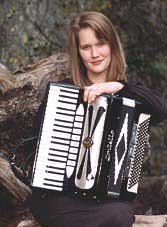 Accordionist Dana Abel has studied music for over 20 years; as a child and student in Eugene, OR, when Dana wasn't playing piano she was singing in the Oregon Children's Choir or playing trombone, accordion or guitar. After graduating from Stanford, she earned a master's degree in Environmental Engineering, but now spends her time managing finances and helping to promote Misty River as well as composing and arranging music. She has been described as "one of the most tasteful accordion players in the Northwest," and her talent for harmony singing and arranging is one of the strongest binding agents in the band

Misty River has sold more than 15,000 CDs in three years and achieved regular airplay on public and commercial radio not only in America, but also in Canada and Europe.

Together since 1997, in addition to accordionist/vocalist Dana Abel, Misty River comprises Chris Kokesh on lead and harmony vocals, fiddle and guitar; Carol Harley on lead and harmony vocals, guitar, claw hammer banjo and mandolin and her daughter Laura Quigley on lead and harmony vocals and upright acoustic bass.

For more information, please visit www.mistyriver.com


---
Annual Galla-Rini Camp in CA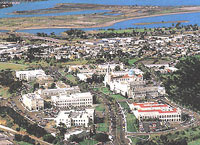 The 15th Annual Galla-Rini Camp will take place from Sunday July 25th to 30th, 2004 at the University of San Diego, CA.

This will be the 15th consecutive year the now 100 year old Maestro has conducted his world-renowned music camp which caters to all levels of playing skill from beginner to professional. During this week, you will learn much from the Maestro on achieving better techniques for the accordion and being part of his orchestra ensemble of accordionists, playing arrangements especially prepared for this year.

If you have never been part of a large ensemble, you are in for a thrill of a lifetime. The Maestro has arranged his selections for between six and thirteen parts. The experience is exhilarating, even for those of us who have done this for the past 14 years. There is much hands-on playing time, combined with musical tutorials and hearing anecdotes from the Maestro's store of wonderful memories.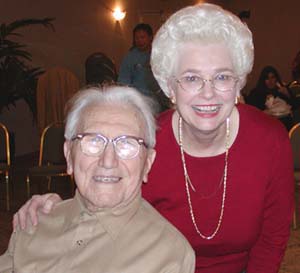 Each morning the entire camp is under the baton of the Maestro. In the early afternoons on Monday-Wednesday, special sessions will be held by, John Simkus, Joan C. Sommers, Esther Lanting and Stella Allison. (pictured left are Maestro Galla-Rini with Joan Sommers.)

For those who wish to take lessons from any of the four teachers and the Maestro, there will be sign-up sheets in a special place. Lessons are $45.00 for a full hour and $25.00 for a one-half hour. Each of these teachers is a great musician and master of the keyboard.

There is ample time to practice, jam, and rehearse with small groups and to mix and mingle with a large group of multitalented people. Many people have attended camp each year from the first camp in 1990. The facility has four large classrooms for afternoon classes, group rehearsals and nightly get-togethers and jams.

Selections for the Galla-Rini ensemble will be
To A Water Lilly
National Emblem March
Chocolate Soldier
Sound of Music
The campus facilities are quiet, comfortable and smoke-free in all rooms and halls. The accommodations are double occupancy rooms with bath and shower in each room; all towels and sheets are provided. The option of a single room is also available at an additional charge.

Galla-Rini Accordion Camp 2004 is the place to mingle with the Maestro and many other talented musicians. All you need is your accordion and music stand. Dress is casual.

If you would like to attend this one-of-a-kind camp experience, please request an enrollment form and additional information from:

Friends of Galla-Rini, C/O Kjell Holmes, 4779 Cather Ave, San Diego, CA 92122
Phone: 858 453 5486


---
USAF Seeks Accordionist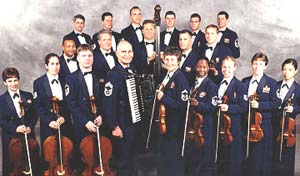 The United States Air Force Band has an opening for an accordionist with the Air Force Strolling Strings.

The Air Force Strings is one of the most diverse and flexible units of The United States Air Force Band. This wide-ranging flexibility allows The Air Force Strings to musically respond to the requirements of almost any occasion and provide an enjoyable experience for everyone. A key element of its mission is to entertain audiences at high-level protocol events in a formation known as The United States Air Force Strolling Strings. On other occasions it performs as The United States Air Force String Orchestra, presenting the standard works of the classical repertoire for strings. The ensemble often joins forces with members of The United States Air Force Concert Band, Singing Sergeants and Airmen of Note, to form The United States Air Force Chamber, Symphony and Jazz Orchestras. Additionally, members of The Air Force Strings appear regularly as soloists, and in duo, trio and string quartet ensembles, to present chamber concert performances, and provide quality entertainment and ambient music for official protocol functions.

Appearing as The United States Air Force Strolling Strings since 1954, The Air Force Strings has had the honor of performing at the White House for every president from Eisenhower to Clinton. Traditionally, a Senior Non-Commissioned officer has guided The Strolling Strings' musical direction. The extraordinary talent of this unit is regularly displayed at official dinners hosted by the secretaries of state and defense, on Capitol Hill for members of Congress, and at official diplomatic events hosted by the chairman of the Joint Chiefs of Staff and Chief of Staff of the Air Force. Providing a multi-dimensional experience, these outstanding musicians surround the audience with music performed exclusively from memory and without the aid of a conductor. Their repertoire includes classical, popular, continental, Broadway, bluegrass and patriotic compositions.



Truly international ambassadors of music, the Strolling Strings has traveled to every continent, every state of the Union, and virtually every Air Force installation, delighting thousands of listeners. The musical virtuosity and sheer elegance demonstrated by the Strolling Strings has earned the recognition of world leaders.

The United States Air Force String Orchestra traces its roots to 1944 when Colonel George S. Howard, commander and conductor of The United States Army Air Forces Band, set out to build the best band in the world. With this grand vision in mind, he recruited the nation's top musicians of the day and created a word-class symphony orchestra-thereby distinguishing The Army Air Forces Band from all other military band organizations. Today, The United States Air Force String Orchestra is honored to continue Colonel Howard's vision of musical excellence.

The United States Air Force String Orchestra meets the need for a more intimate, but lively form of entertainment at social gatherings, such as official military, diplomatic and high-level civilian functions. The Air Force String Orchestra has performed at numerous conventions and musical conferences-most notably, the International Viola Society. These performances have afforded the Strings numerous opportunities to accompany some of the world's most-renowned artists. From 1986 to 1988, The Air Force String Orchestra was the resident ensemble of The United States Air Force Band Sinfonietta Series at the Library of Congress, Coolidge Auditorium.

The United States Air Force Strings is comprised of 22 world-class musicians. Each of these outstanding performers has studied and perfected their craft at leading colleges, universities and music conservatories around the world. Their studies successfully prepared them to excel during an intensive and competitive audition process, which led to their selection for membership in The United States Air Force Band. A performance by The United States Air Force Strings reflects a combination of immense collective musical experience with the boundless dedication to perfection.

Accordionists between the ages the ages of 17 and 35 who are interested in joining the USAF Strolling Strings are to get in touch with Lou Coppola with their qualifications. Mr Coppola will put them in contact with the proper authorities.

For further information, please contact Lou Coppola at: Loucoppola@aol.com or phone: 703-379-7400.


---
New Accordion Mics from Master/Ranco

Master and Ranco have the pleasure to present you our new microphone system. They are speaking about the new technology which has the same quality of our SENNHEISER microphones but is much more economic. These mics are available in kit form for self installation for the price of only Euro 90,00. Representatives are sure the reasonably price with the high quality will interest many people.

Tests of the microphones on accordions have proved very successful, and Master/Ranco invite you to try for yourselves. The system includes 3 mics for right hand and 1 mic for left hand. The battery is external on the jack cable and so much easier to be changed and the weight of your accordion doesn't change at all.

For further information, please contact MASTER SOUND / RANCO ACCORDIONS
representative: Maximiliano Ciucciomei e-mail: info@mastersound.it


---
News from Minnesota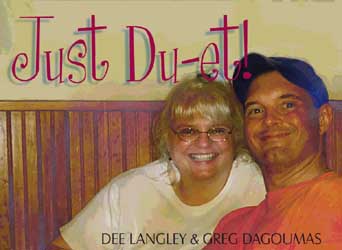 Accordion duo Dee Langley and her duet partner Greg Dagoumas are keeping a busy schedule in and around Minneapolis. They perform regularly at Kramarczuk's Deli, located at 215 E. Hennepin Ave in Minneapolis.

Popular entertainers in the Minneapolis area, they invite you to join them in staying warm and cozy tucked inside Kramarczuk's with good music and the best Eastern European food in town! On the 2nd and 4th Saturday you are invited to bring your accordion, or your friend with the for the "Open Stage" from 6 PM - 6:30 PM!

In addition to the regular performances at Kramarczuk's Deli, they will also give performances on June 2 at Boom! and June 13 at a Mercedes Car Show luncheon. The duo will also be featured at the upcoming Accordionists and Teachers Guild, International Festival to be held in Milwaukee, WI from July 21-25, 2004.

When Dee Langley first played the accordion at the age of four, she could not have known that her love for the instrument and her passion for music would eventually reap her numerous first place honors, take her to Europe, and earn her several guest appearances as accordionist with the Minnesota Orchestra and the St. Paul Chamber Orchestra.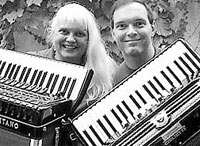 As a professional, Dee has participated in seminars and symposiums on accordion styles and techniques in Chatel, France and Klingenthal, East Germany. She also has performed with the Dolina Polish Folk Dancers and Ethnic Dance Theatre as well as officiating as Director of The EDT Folk Orchestra. Concert tours of Poland, France and the Czech Republic, respectively, being a few of the highlights of her tenures with these companies. On several occasions, Dee has been asked to perform accordion works not only with the Minnesota Orchestra and St. Paul Chamber Orchestra, but also the Bloomington Symphony Orchestra, and the Northwoods Classical Players (members of the Chicago Symphony).

She has also premiered compositions with the Ancia Quartet, the Minneapolis Philharmonic and Minnesota Philharmonic Orchestra and has worked with contemporary composers including, Peter Blauvelt, Mary Ellen Childs, Becky Dale, Shelley Hanson, Mark Hellem, Carleton Macy, Carole Saline and Kim Sherman to expand the visibility of classical accordion with other instruments.
Dee Langley currently lives in Minneapolis, performs with her accordion duet partner, Greg Dagoumas, as "Just Duet", and is a member of the Bulgarian group, "Traki". She is on the Board of Directors of the Accordionists' and Teachers' Guild, Int., and the American Accordion Musicological Society as well as a member of the American Accordionists' Association. Ms. Langley is also co-founder the Minnesota Accordion Club and teaches accordion in the Metro area.

Greg had private accordion lessons for five years before attending the Miguel School of Music in Lowell, MA, under the direction of Donna Michael. Miguel School of Music was probably the best thing that could have happened to me at a young age says Greg. "I was able to interact with other accordion students, play duets, as well as in ensembles, bands, and the Lowell Accordion Orchestra. I competed in state, regional and national competitions for many years. At 13 years old I was playing professionally with a 4-piece band, prior to playing in a 6-piece polka band for many years on the east coast. I began teaching accordion by the age of 15, as well as piano and guitar shortly after."

Between 1975 and 1987, he entered many accordion competitions and won approximately 100 trophies from beginner to virtuoso categories including: 1985 -Massachusetts State Accordion Champion, sponsored by the ATAM (Accordion Teachers Association of Massachusetts) 1986 - US Virtuoso Accordion Champion, sponsored by the AAA (American Accordionists Association).

Career highlights include performances at New York City's famous Carnegie Hall, Walt Disney World's EPCOT Center, the SS Galileo cruise ship sailing to Bermuda and playing with the Minnesota Orchestra.

He has conducted several award-winning ensembles and bands at state and national competitions. I was the sound technician at Miguel School of Music and for the Lowell Accordion Orchestra. He has appeared as "Greg the Accordion Player" on the KS95 Morning Show with Van and Cheryl.

For more information on the duo, please contact: Air Accordion, P.O. Box 68012, Minneapolis, Minnesota, 55418-8012 or e-mail: info@airaccordion.com


---
Annual AFNA Festival in Los Angeles
The Accordion Federation of North America's Annual Music Festival will be held on 19th - 21st August in Los Angeles.

While most of the competition categories will only be available to AFNA member schools, the virtuoso categories are open to anybody. The Accordion Virtuoso Solo category is offering a 1st place cash prize of "$500 Galla-Rini Centennial Birthday Award" and the 2nd through to 4th prizes also receive cash prizes. There will also be an "Accordion Virtuoso Cash Jazz Solo" category which offers cash awards for 1st through 4th places.

Winners of the high caliber solos will be featured in the part of the festival that is free of admission, which is the Saturday Night Concert. The Saturday night program also features accordion band performances.

For further information, e-mail afna@musician.org


---
Musical Tour of Italy in 2005
A tour of Italy is being organized for May 2005 with plans to visit musical sites in Milan, Cremona, Stradella, Venice, Florence and Castelfidardo. According to organizers, Nick Ballarini and Alvaro Barsi, the tour is the result of a successful earlier trip to Italy organized in 1996.

"We had guided a musical tour of Italy in '96 with 15 participants, and it was nothing less than wonderful," said Barsi.

The tentative program would include factory tours to the violin makers of Padua and Cremona, the Dallape accordion factory at Stradella, the accordion factories in Castelfidardo with visits to Zero Sette, Beltuna, and the reed makers, then on to Rome and Pompeii for its accordion factories and museums.

"I am familiar with Italy, where I grew up, and would also act as a guide, " Barsi said.

"Last time we purchased a lot of our delicacies from a local food store and then we would stop in the country, and have a bus tailgate party with accordion music, poppy fields, great food and friends. Those are special memories!"

For further information, e-mail Alvaro Barsi at: abarsi@tampabay.rr.com


---
Musician's Association Inducts 5 New Members
Five people will be inducted into the Dakota Musicians Association Hall of Fame this week, amongst them, accordionist Bill Schwan. The other inductees include Mardelle Brown of Redfield, Donald F. Mizera of Bismarck, N.D., Joe Wagendorf of Hettinger, N.D and Bernie Stein of Mandan.

Bill Schwan began playing the accordion at age 3 and the piano at age 10. He joined the orchestra and played the bass in junior high school. In 1964, he joined the Navy and formed a band, "The Tender Tones," which played every Wednesday, Friday and Saturday night at the USO Club in Naples, Italy. He formed the first Funtime Band in the 1980s and won several competitions at the South Dakota Old Time Fiddlers Contest in Yankton on his accordion.

He founded the Bill Schwan Funtime Band which has been together for almost 15 years where he plays the accordion and keyboard.


---
Soufflemuse Straps Festival in Canada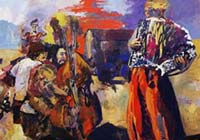 Soufflemuse productions hosted the 6th Spring of the Straps Festival from 22nd to 29th May at the Cultural Bar in Montreal. The festival included concerts by international accordionists performing a wide range of music like Russian, Tango, French, Goualantes, Jazz, Classical and traditional/folk.



Artists included Luzio Altobelli, Cyrille Demian, Yves Lambert, Sylvie Genest, Lou Babin, Didier Dumoutier, Francis Covan, Daniel Thonon, Vladimir Sidorov (pictured left), Denis Plant, Bernard Cimon, Dino Leone, Jonathan Goldman, Walter Palmieri, Michel Béchard, Sandulé Bobaru, Sonia Painchaud and Benoît Rébillard while invited groups include Manouche, Fiszarmonia, Ironiko Orchestra and the Pourpour Brass Band.

For further information on upcoming festivals, please e-mail info@soufflemuse.qc.ca


---
Alexander Sevastian and Quartetto Gelato Concerts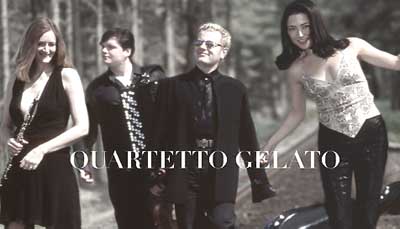 The Toronto-based group "Quartetto Gelato" (www.quartettogelato.com) put on a very successful performance late April with the Toronto Symphony Orchestra under the direction of guest conductor Gianandrea Noseda.

The group, which includes accordionist Alexander Sevastian performed at the Roy Thomson Hall to an audience of over 2,500 people. The show was part of a production titled, "Italianissimo!" which included music by Ennio Morricone, Nino Rota, Italian tangos, Neapolitan songs and operatic arias. Quartetto Gelato performed the same program with the Calgary Philharmonic from 20th to 23rd May.

Since their debut in 1994, Quartetto Gelato has won the hearts of audiences worldwide with their unique blend of sparkling technique, musical finesse and humor. In recital and with orchestra, Quartetto Gelato has become an international favorite with sold-out repeat performances in New York, Washington, Boston, Chicago, Houston, Dallas, San Francisco, Los Angeles, Toronto, London, Milan, Tokyo, Seoul and Hong Kong among others.

Classical in intent, eclectic by design, Quartetto Gelato's programs are filled with an exciting mix of traditional masterworks, operatic arias, tangos, gypsy fiddling and folk songs from around the world. Their relaxed stage presence establishes an immediate rapport with traditional and non-traditional classical audiences alike. Unique in the classical world, they perform without scores, giving their performances a sense of spontaneity and exuberance rarely seen on the classical stage.

The 2003-2004 season include recitals and workshops throughout the US and Canada, as well as a return tour to Korea and Japan. Quartetto Gelato also performs regularly with symphony orchestras. This year the quartet will introduce their new orchestral pops program Italianissimo! in their debut with the Green Bay Symphony and the Sioux City Orchestra and with return visits to the Toronto Symphony and the Calgary Philharmonic.

Active in the recording studio, Quartetto Gelato will soon release Quartetto Gelato Travels the Orient Express following the original journey of the famous train and featuring music from London to Istanbul. Their previous release was Neapolitan Café (QG Recordings/Silva Classics), which has been a fixture on the Billboard Classical Crossover charts since its release in April 2001. Their previous recordings, which have played a significant role in the group's increasing popularity, are Aria Fresca; Rustic Chivalry; and their debut recording, simply entitled Quartetto Gelato. The latter two CD's have literally been heard around the world, since they accompanied Canadian astronaut, Dr. Robert Thirsk, during his NASA flight on board the space shuttle Columbia in 1997.

Quartetto Gelato can also be heard on the soundtrack recording of the major motion picture Only You, starring Marisa Tomei and Robert Downey Jr., on the Sony label. Additionally they have appeared on the hit CD recording of Ashley McIsaak on the A & M record label.
Quartetto Gelato includes: Cynthia Steljes - oboe, English horn, Peter De Sotto - tenor, violin, mandolin, Alexander Sevastian – accordion, piano and Kristina Reiko Cooper – cello.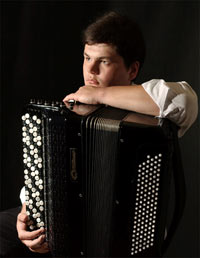 Accordionist Alexander Sevastian was born on October 2nd, 1976 in Minsk, Belarus. He started playing the accordion at the age of seven. After finishing the musical school in 1991 he entered the Glinka Musical College in Minsk where he was taught by Myron Boula. After finishing the college he entered the Gnessin Academy of Music in Moscow in the class of Professor Friedrich Lips.

In July 1998, Alexander was trained by Professor Elsbeth Moser at the Sofia Goubaidulina Master Class in Avignon, France. In 1996 - 2001 he was working in the Russian TV and Radio orchestra (art director Nickolai Nekrasov). With this orchestra he recorded many TV performances and radio archive tapes.

Alexander regularly took part in the music festivals such as "Moscow Autumn", "Bayan and Bayanists", "Young Composers Introduce…"

Since April of 2001, Alexander has been living in Toronto, Canada. He has been playing with Toronto Woodwinds, an ensemble that was awarded the first prize at "The Golden Accordion International Competition" in December 2001 (New York). In May 2002 he completed his postgraduate course in Moscow (class of Professor Friedrich Lips). At present he is taking an Advanced Certificate in Performance program from the University of Toronto (class of Professor Joseph Macerollo).

He has performed concerts in 30 Russian cities as well as concerts in Belarus, Ukraine, Germany, Italy and Japan. He has given several premier performances, including the works of Berinsky, Bronner, Korolchuk, Zelenski and Khondo.

Since September 2002 Alexander has been playing with "Quartetto Gelato" actively touring all over Canada and the United States.

For further information, e-mail sasaseva@hotmail.com


---
Cafe Accordion Orchestra Concerts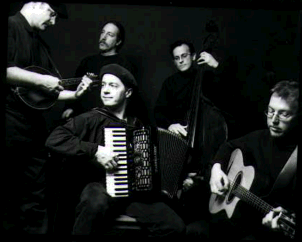 The Cafe Accordion Orchestra is pleased to inform fans that in June they will be performing at the Smoky Hill River Festival in Salina, KS and the Norshor Theater in Duluth, MN. The Norshor gig will be video taped for Public TV! In addition, they'll be participating in the Hot Summer Jazz Festival in Minneapolis for the first time. In July the CAO will appear at Festival du Joie in Lewiston, ME and in August they are off to the Big Top Chautauqua in Ashland, WI.

In addition to these upcoming concerts, the CAO will be returning to some of our favorite spots, like Bastille Days in Milwaukee, the Minnesota State Fair, and the Towers, in Narragansett, RI.

June performances include:

June 1 - 9 pm-midnight at Kitty Cat Klub, Minneapolis, 612-331-9800
June 4 - 2:30-4:30 pm, Edina Art Fair, 50th and France, Mpls, 952-922-1524
June 5 - 8:15-8:45 pm, Acadia Cafe-"One Week Live at Beaner's", 1931 Nicollet Ave, Minneapolis 612-874-8702
June 9 - 8:30-11 pm, Dixie's on Grand, St.Paul, 651-222-7345
June 11-13, Smoky Hill River Festival, Salina, Kansas, http://www.riverfestival.com/offseason/
June 18 - 7:30-10:30 pm, The Chickadee Cottage Restaurant in "The Roost", Woodbury, MN, 651-578-8118
June 22 - 7:30-9:00 pm, Lake Harriet Bandshell, Minneapolis, 612-673-2489
June 25 - 8:00-11:00 pm, Norshor Theater, Duluth, MN, 218-727-7585
June 26 - 12:30-2:30 pm, Polkafest- Ironworld - Chisholm, MN, 1-800-372-6437
June 27 - 12 noon-1:00 pm, Hot Summer Jazz Fest, 13th & Nicollet Mall, Mpls
Please visit their web site for the most current schedule.http://www.cafeaccordion.com


---
AKORDEONAM Program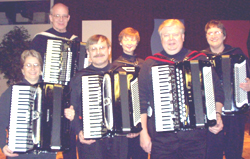 The ensemble, AKORDEONAM recently presented a free concert on May 23, 2004 at St. Philip Chapel in Louisville, KY. Akordeonam was assisted in the performance by soprano, Tracey Zavadil and harpist, Rozanna Thompson. Their program included works by Rossini, Puccini and Piazzolla. Prior to the concert, the program was recorded in the performance studio at WUOL-FM during a Lunchtime Classics Concert on Wednesday, May 19, 2004. The concert will be broadcast on
Saturday June 19, 2004 at 5:30 p.m. This concert and two prior performances are audio archived at www.WUOL.org. As their name implies "akordeonam" is Latvian and translates literally, "for the accordion"), their mission is to promote the accordion as a musical instrument worthy of respect and consideration for the performance of serious, art music. The ensemble demonstrates that the accordion need not be relegated to folk and popular music genres only.

Akordeonam is a sextet of piano accordionists who play, both transcriptions of classical music and also original works written specifically for accordion ensemble. The ensemble includes four standard, acoustic, stradella bass-button piano accordions, one acoustic bassetti bass-button piano accordion, and an amplified bass piano accordion. They have been performing in the Louisville area since 1996 and have given benefit concerts for various organizations, including Walden Theater and Highland Community Ministries. They have performed at the McDowell Music Club, three times at the University of Louisville School of Music, three times on public radio, WUOL-FM and on Kentucky Educational Television, on the program "Mixed Media" in October 2003 (video archived at www.KET.org). Recently, the ensemble toured central Illinois, in October 2003, as they have for two years in a row, performing in Springfield, IL at the Illinois State Museum for the Illinois Federation of Music Clubs, in Bloomington, IL at Illinois State University School of Music and in Peoria, IL at the Lakeview Museum. Akordeonam has released three CD recordings.

Ensemble members include individuals from many walks of life, who share a love for the accordion: Dexter Haynes, composer/arranger, Malinda Rawls, music educator, Linda Klein, registered nurse, Todd Hildreth, jazz keyboard professional performer and instructor, Paulette Venhoff, adult education instructor, and Thomas Blanford, physician.


For information on upcoming concerts and events and for CD purchases, please contact Dr. A. Thomas Blanford 1905 Charbdin Place, Louisville, KY 40207. Daytime Phone: (502) 895-4263 Ext. 1 Evening Phone: (502) 893-5702. Fax: (502) 899-5488 or e-mail: evandunn@aol.com


---
Rina Rosa Passes Away

On Palm Sunday, April 4, 2004, the world accordion community lost a dear friend with the passing of Rina Rosa.

Rina loved music, particularly accordion music. She dedicated her whole life to the accordion. It's been said that her middle name must have been accordion - Rina "Accordion" Rosa. She was a performing accordionist from about the age of sixteen, and served as president of the Local Musician's Union in Gary, Indiana.

She was an extraordinarily fine teacher and taught many students in music who became jobbing musicians. Some of her students achieved US Champion status and participated in the coupe Mondilae.

Her music school in Gary, Indiana was known as the Rina Rosa Studio. She rose to the Presidency of the Accordionists' and Teachers' Guild, International, have served in that capacity for more than one term, and remained on the Board of directors until passing.

A final request of Rina was that her long time student, Walter Peters, play the "Non Ti Scordare di Me" at her funeral. He did so. "Non Ti Scordare DI Me means "Please Don't Forget Me."


---
Victor Preito Continues Busy Schedule
Accordionist Victor Prieto announces two concerts in June including:
Victor Prieto Trio at Detour
Monday June 21st from 9:30 to 12:30am
349 E 13th Street, New York, NY
Victor Prieto - Accordion, Carlo De Rosa - Bass and Elliot H. Kavee - Drums


Victor Prieto Trio at Cafe 111
Sunday 27th 10 pm to 12 am
111 Court St., Phone: (718) 858-2806
Victor Prieto - Accordion, Carlo De Rosa - Bass and Elliot H. Kavee - Drums.
Victor Prieto started his musical career at the age of nine, encouraged by his mother to concentrate studies into the accordion,Victor has now come a long way. Victor earned his classical music diploma earned in the Professional Classical Music Conservatory of Orense. (Conservatorio Profesional de Musica de Orense).

Although this accordion background focused on classical training, Victor always aimed for the contemporary freedom in the Jazz idiom. He studied Jazz at Estudio Escola de Musica in Santiago de Compostela.

For further information, please visit www.victorprieto.net.


---
New Three Row Button Accordion Method Book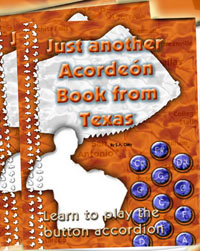 Steve Clary announced his recently published a book for the 3 row button accordion in GCF. The title is "Just another Accordion Book from Texas" and it's in full color and in English.

The book has been prepared with conjunto music in mind. You may preview a portion of this book at www.acordeonez.com and your comments are very welcome.

For more information, please contact: sales@acordeonez.com


---

---

---

---
Note: In order to provide as much information as possible for the United States National Accordion News stories, many different sources are often researched to gather additional information and pictures to complement what has been submitted. This information is then correlated to provide the news on www.accordionusa.com in the spirit of which it is intended, which is to provide a free news service to the Accordion Community, specifically in the United Sates. If you feel any copyright has been violated please advise www.accordionusa.com and the article will be removed immediately.