In search of accordionist, AF band feels the squeeze

By Mark Pratt
Associated Press

Army Sgt. Maj. Manuel Bobenrieth, who plays for the U.S. Army Band, plays the accordion in Quincy, Mass., on Sunday during the American Accordionists Association annual competition and festival. — Chitose Suzuki / AP

QUINCY, Mass. — There's a great job out there awaiting an accordion player. The catch: Six weeks in boot camp. The Air Force has been looking to replace the accordion player of its band's Strolling Strings music ensemble since the musician retired two years ago. So far, the search has been fruitless.
"It is very hard to find the right person for this job, but it's a great job for the right person," said Chief Master Sgt. Jane Bockenek, the Strolling Strings' music director who plays the violin in the band.

So, since the accordion players aren't coming to the Air Force, the Air Force is going to the accordion players.

Bockenek is looking to recruit at the 66th annual American Accordionists Association festival, which is happening this week in and around Boston. She interviewed a half-dozen people Sunday and was scheduled to hear auditions on Monday.

She is looking for more than an accomplished musician.

"They have to be under age 35, they have to fit our weight and fitness requirements, and they have to be able to get a security clearance," she said. "We are looking for someone who's not just qualified to do the job, but who fits the parameters of the United States Air Force."

They also will have to endure six weeks of rigorous basic training.

"They'll have to go through boot camp like every other recruit, but they will also be entitled to all the benefits of being in the military," she said.

Those who join the band are unlikely to see combat, she said, but they may be assigned administrative work such as maintaining the band's motor pool or coordinating its performances.

The 22-member ensemble plays state functions at the White House and entertains troops.

"What is so terrific about being in this band is that we are doing something so important from a diplomatic standpoint," Bockenek said. "And keeping up morale for the troops is an important part of our job. Not many musicians can say what they do has the impact that we have."

A case in point is Sgt. Maj. Manuel Bobenreith, the accordion player in the U.S. Army's band and the military's only official accordion player for now.

"I consider myself lucky that I am the only accordion player out of more than 490,000 active-duty soldiers," said Bobenreith, who has been the Army's accordionist for 18 years.

The accordionists' festival is expected to draw about 350 musicians, said Frank Busso, the group's comptroller and a member of the governing board.

---
Guy Klucevsek in Concert in New York
Accordionist Guy Klucevsek will present a solo concert on Sunday, July 18, 2.00 PM at the Jacques Marchais Museum of Tibetan Art located at 388 Lighthouse Ave., Staten Island, NY.

Admission will be $12.00 ($10.00 Members) and directions for the Museum can be found at http://tibetanmuseum.com/dir.html

The one hour program will feature:
The Well-Tampered Accordion
Return of the Microids
Four Portraits
Accordion Misdemeanors


---
Guy Klucevsek's Accordion Recovered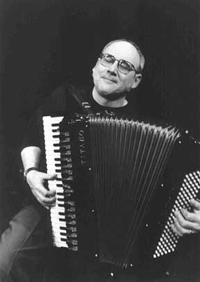 On the return trip to New York from Los Angeles, having recorded for John Williams in the music for Steven Spielberg's newly released movie, 'The Terminal', Guy Klucevsek's accordion never showed up.

It was last seen at Los Angeles Airport (LAX) on 7th May when he handed it off to American Airlines security staff in an aluminum customized flight case.

The instrument showed up across the country in New York State some weeks later, when someone offered it to an accordion dealer for $125.00. The dealer immediately called the Titano Accordion company in Mineola, NY who confirmed the serial number as that of the stolen instrument.

The instrument is now in the hands of the insurance company pending the outcome of the investigation.


---
Las Vegas Convention & Tonight Show with Jay Leno

Celebrating their Fifth Anniversary the Las Vegas International Accordion Convention had over 440 people from all over the world. Attendees came from as far away as Barbados, Scotland, and even South Africa. This year there were many more young accordionists who attended the convention on youth scholarships than ever. With an overwhelming response the convention was deemed a HUGE SUCCESS.

Featured this year were top talents in almost all areas of the accordion. Highlights to this years event was three time Grammy Award winner Walter Ostanek who brought a smile to everyone's face including the Tonight Show filming crew.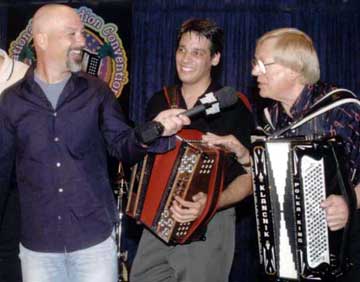 The Tonight Show filming crew along with Howie Mandel visited the Convention and the segment aired Wednesday June 23. Shots were taken of many of the attendees and performers with Howie in many different accordion situations. The segment was an entertainment and comedy segment that did feature only one aspect of the convention which was polka music (almost all genres were represented with 7 concerts). The segment did show people having fun and showing the accordion in a positive fun light. No jokes where made directly about the accordion and Howie did thank the Las Vegas International Accordion Convention on air for allowing them to do the segment. Thanks to the Tonight Show for allowing 6 million viewers to realize the accordion is ALIVE and doing well!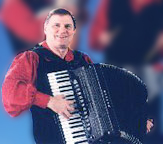 Featured this year were 16 World class Accordion artists plus backup musicians. The lineup included, Walter Ostanek, Art Van Damme, Peter Soave, Mario Tacca & Mary Mancini, Gary Blair, Don Lipovac (right), Tony Lovello, Stas Veglevski Alex Meixner, Janet Todd, the "K" Trio, Gina Brannelli, Mady Soave, Mirco Patarini, Ron Borelli, Gordon Kohl and Steve & Michael Trucco along with backup musicians Gaylord & Eddy Klacncik plus Ken Seifert on bass and Rich Dalabio on drums.

Over 40 workshops and classes were offered and the classes were well attended. Four evening concerts were each varied in variety of music from classical to jazz to polka.

This year the Deiro youth performers were Daniel Jakolich, Sammy Thomas and Spencer Wagner – the final judging was done by Guido Diero Junior who awarded all the recipients a gold medal and he awarded the Crystal Deiro award to Spencer Wagner.



Other awards given this year were to Joan Cochran Sommers as the Honorary Conductor of the 2004 convention. The Good Time Accordion Club was honored with the Crystal Frosini Award for their outstanding work in promoting the accordion. The lifetime achievement award was presented to Tony Lovello with a special video presentation of his life and a Honorarium was giving Jay Todd for his work in publicizing the event.

Over 125 attendees were so excited about this years event they paid a deposit and signed up for next years event that will be held June 26 to 29, 2005 at the Gold Coast Hotel and Casino Convention Center. We are looking forward to a great new year with our move to the Gold Coast.

For further information, e-mail: vegas@accordioninfo.com or visit www.accordionstars.com


---
Showstoppers Orchestra and Dancers in Concert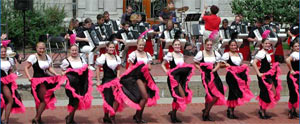 The popular Showstoppers Accordion Orchestra & Dancers from the Rosita Lee Music and Dance Center in New Hampshire, will present two concerts in Frankenmuth, Michigan this month.
Thursday July 22 - Bavarian Inn - Frankenmuth, Michigan - 7:00 PM to 9:00 PM
Friday July 23 - River Place - Frankenmuth, Michigan - 7:00 PM to 9:00 PM
For further information, please contact: Rosita Lee Music Center - 603/882-8940.

---
KIOTAC 30th Anniversary Attempts World Record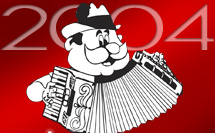 The 30th Anniversary Kimberley International Old Time Accordion Championships will be held from 5th to 10th July in Kimberley, British Columbia, Canada.

To commemorate the 30th anniversary of the KIOTAC, organizers are going for gold with a planned attempt to break the current Guinness World Record for the most accordions playing at the same time.
The largest accordion ensemble to date was organized by Stedeker Dansers and consisted of 566 people playing the accordion for 22 minutes, during the International Folklore Festival in Diepenheim, Netherlands, on 1st June 2000. KIOTAC organizers plan to have 600 accordionists playing for 30 minutes!
As well as the World Guiness Book of Record attempt, KIOTAC 2004 will include some other very interesting events, including a Trade Fair, Jam Sessions, Dance Workshops, Family Dances and several days of competitions. Entertainers include Bernard and Robert Felix, Kerry Christensen, The Gordanairs, Brabec Brothers and Viking Persuasion amongst others.

British Columbia please visit: www.kiotac.ca or e-mail: kiotac@monarch.net


---
The Accordion Man and the Party Band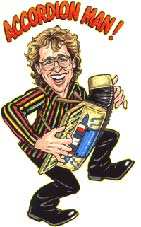 The Accordion Man & The Party Band is led by Ralph Szubski, otherwise known as the Accordion Man. The band plays everything from jazz, swing, rock, country, Latin American and other totaling some 20 ethnic styles. They are usually booked to play at engagements such as weddings, house parties, picnics, anniversaries and dance studios.

With a combination of keyboards, acoustic accordions, and midi-accordions, the group has a full schedule for the next few months:
18 July, Lorain Slovenian Club Picnic & Jam Session
24 July, St. Sava's Picnic Grove from 1:00 PM to 9.00 PM
6 August, HBT Hungarian Club, 15805 Libby Rd, Maple Hts, 6.30 PM
7-8 August, St. Pokrova's Ukrainian Festival, Parma, Ohio, 6.00 PM - 10.00 PM.
10 August, Mayor's Senior Pool Party & Dance, Dunhasm Pool, Maple Hts.
17 August, Polka Dinner Dance Cruise on the GOODTIME III, 6.30 PM - 9.30 PM
21 August, Mayfield Heights Home Days Festival, City Hall on Marsol Drive.
22 August, St. John Neumann's Annual Picnic, Strongsville, 1.00 PM - 5.00 PM
For more information, e-mail: compsol@apk.net


---
Failure is Back!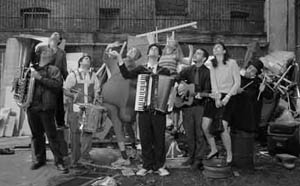 Benjamin Ickies' FAILURE- the smash-hit rock and roll accordion concept show featuring a mime, a clown, a tap dancer, a brass band, a rube Goldberg machine, and one call to mom is BACK for ONE NIGHT ONLY! Failure has been seen at CSV, The Bindlestiff Family Cirkus' Palace of Variety, Bowery Poetry Club, and now it has been invited to the home of downtown performance art, PS122!

Come see the show that started it all, lots of the crazy antics that made audiences love it, but with plenty of new tricks up its sleeve. Be there to enjoy it for the first time, bring some friends and enjoy it again!

The show will be Saturday, July 17th at 9:30 PM. Tickets are $10.00 and the show will be at: PS122 located at 150 1st Ave. at East 9th Street in New York City. The show is presented as part of The Schoolhouse Roxx series - http://www.ps122.org/sroxx.


---
New ATG CD Reviewed by Dr. Paul Allan Magistretti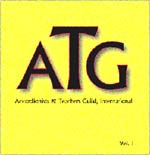 The Accordionists & Teachers Guild International (ATG) has compiled an intriguing anthology from its talented roster of members. It contains a wide selection of material from some of the best free-reed artists in the world. The results demonstrate tremendous individual talent and the accomplished beauty of the instrument across a broad musical spectrum.

Fittingly, the CD begins with Galla-Rini playing his own arrangement of the Jerome Kern song, The Way You Look Tonight. Despite the age of the source, obviously an old 78 record with some sonic challenge, the maestro shines through. On my first listening it seemed too dense and richly varied to be an artistic whole, especially in the under three minute time limit required by the old format. It sounded like multiple choruses combined as one, something Oscar Peterson would do over numerous da capos. But on subsequent listening it emerged for me as an overture conveying with a single instrument an orchestral prelude for what was to follow: drama, romance and comedy-a perfect way to raise the curtain on this CD.

In a sense, Volume One could be an aural encyclopedia (though far from exhaustive) of what the accordion can artistically accomplish. There are wonderful performances of Piazzolla, Bach, Scarlatti, novelty tunes, klezmorim dances, a polka, original compositions, a jazz inspired samba, a tarantella, music from Russia, Spain and France-much to discover, to listen to and to enjoy.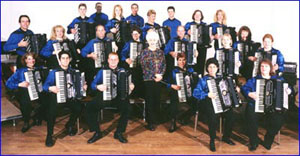 After Galla-Rini the UMKC Orchestra does a rendition of Piazzolla's Melody in A Minor; it's as rich and heartfelt as any interpretation of Piazzolla on record; beautifully modulated and expressive.

Frank Marocco leaps in like Lester (Young) with Samba Italiano and swings and sings in a fierce and beautiful style.

The late Robert Sattler plays a work by his teacher-mentor Vatchiaslav Semionov, Belolitsa-Kruglolitsa (White Faced, Round Faced) that solidly displays his soloist talent on a folk song improvisation that's voiced beautifully suggestive of a full chamber orchestra. His performance makes all the more tragic his early passing.

Many consider Friedrich Lips the premiere classical bayanist in the world and he demonstrates precisely why with a rendition of Albeniz' Asturias, a challenging study from the Cantalonian composer that is often played by world-class performers, but never better than here.

Betty Jo Simon does an excellent rendition of Ravel's Bolero that only needed Torvil and Deane ice dancing to complete it.

John Bonica answers Betty Jo's Ravel-izing with the traditional Tarantella Don Augusto-joyful and full-bodied, an offer hard to refuse.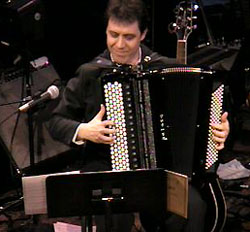 Stas Venglevski plays E. A. McDowell's Witches Dance from his excellent CD Adagio, Romance and Beyond. He plays this manic Terpsichorean miniature cleanly and lightning fast; it's over before you know it-witches begone and you have to hit repeat to know they were there.

Henry Doktorski's CD A Classical Christmas contains this excellent performance by him as soloist on Bizet's Faradole: March of the Three Kings with chamber orchestra; it's beautifully done.

Øvind Farmen plays one of the best renditions of a Scarlatti Sonata (A Major, K 24, Allegro) I've heard, comparable to the incomparable Mia Miki, which is saying a lot.

John Simkus performs a sensitive version of a Stas Venglevki original, In the Garden, from a new collection of originals from Stas. It's interesting to experience one of the world's best jazz artists approaching what is essentially a lehrstück (part of a series) with depth and sincerity.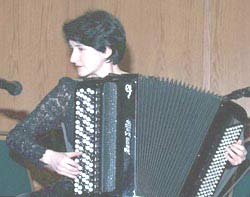 Lidia Kaminska (bayan) and Carmen Maret (flute) perform J. S. Bach's Sonata for Flute and Harpsichord in G Minor, BWV 1020 beautifully, as good as I've heard it performed and the accordion far outshines the original designated instrument in expressiveness.

Nick Ballarini supplies his Chitlin's N' Gravy Waltz, a flavorful, syncopated jazz waltz that's down home and maniacally tasty.

Dee Langley presents Two Rumanian Horas, traditional Jewish Klezmer songs from the Skweezergrabbit album [a Yiddishism for Grab It & Squeeze]. A sinuous, haunting Sephardic tune is followed by a rousing celebration that will have you shouting-La chaim.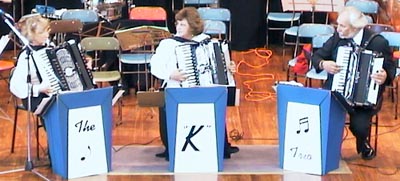 The K Trio plays Five O'clock Rush, a nice swing tune in a beautifully voiced trio performance that not only sounds like a big band arrangement, but replicates one of the best big bands playing it.

Jorgen Sundeqvist plays a blazing rendition Snurran Polka. I don't think you'll ever hear a cleaner more breathless rendition of a polka on earth.

Amy Jo Sawer plays her original Brazilian Suite in three movements (Carnival, Evening & Celebration); it's evocative and nicely realized in conception and execution. The opening Carnival is particularly good.

AKORDEONAM plays Ravel's Prelude from Le Tombeau de Couperin-a piano suite in six movements composed 1914-1917 in memory of his friends who had died in the First World War. Ravel later orchestrated 1, 3, 5 & 4 (in that order) in 1919. This is an interesting repertoire selection; it was extremely well played and I wanted to hear the entire suite.

The Moscow Duo (Aleksander Ushakov and Evgenij Grehov) delivers a heated performance of Piazzolla's Fuga capturing every bit of the maestro's alchemic fusion of Bach/Jazz & Tango; it's darkly passionate and irresistible.

Finally Boris Veksler plays his own A La Musette-crisp, lively and with lots of panache; his touch is lightning fast and crystal clear; very nicely done.

All in all this is a full and varied compilation CD that can be played and replayed. There is plenty of room to experience old favorites and discover new ones.

Many of us might differ on which selections we prefer, but no one will disagree on the accomplishment of each one. For my own part-and perhaps to add a personal touch and encourage the rest of you to nominate your own-my favorites were the UMKC's moody and evocative Piazzolla, Øvind Farmen's beautiful and sensitive rendition of Scarlatti (superbly recorded on one of the best sounding accordions I've heard), the terrific Bach Sonata performance by Lidia Kaminska and Carmen Maret, Robert Sattler's folk song improvisation by Semionov, so rife with Slavic joyful melancholy-and Frank Marocco's poetic and fluid samba that amazed me with its drive, precision and impeccable swing.

The ATG has produced a solid CD & Volume One happily speaks of more to come.

The CD will be available at the ATG Festival in Milwaukee (July 21-25, 2004) and also on the ATG website the end of July. For information, please contact the ATG President Stas Venglevski e-mail: stas.venglevski@verizon.net


---
Rocky Mountain Accordion Celebration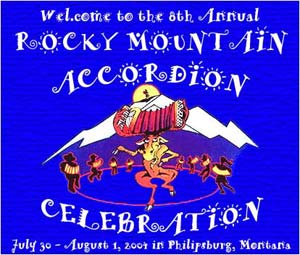 "From accordionist beginners to world champions!" That's what organizers of the Rocky Mountain Accordion Celebration say the next event will include. The celebration will be held in Philipsburg, Montana from 30th July to 1st August and has been planned to provide a cultural surprise for those who will travel to attend the Rocky Mountain Accordion Celebration.
Featured performers include: Janet Todd, Mike Belitz Orchestra and Krisko's Dance Party, Sammy Thomas, Montana Alphorns, Al Aman and others. From its first year in 1997, the Rocky Mountain Accordion Celebration has been a rousing weekend of dancing and listening to music, steak barbecues and outdoor pancake breakfasts, concerts in the 1892 Opera House and a parade of homemade pies.
For more information, and a festival schedule, please visit www.accordions.com/rmac


---
Victor Prieto in Brooklyn, New York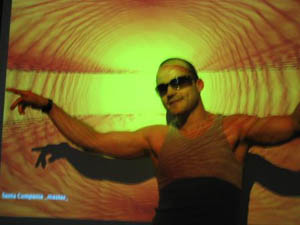 New York accordionist Victor Prieto will appear with his Trio at Barbes on Thursday 8th of July from 7:00 PM to 8:30 PM. Barbes is located at 376 9th Street at the corner of 6th Avenue in Park Slope, Brooklyn.

Victor Prieto started his musical career at the age of nine, encouraged by his mother to concentrate studies into the accordion,Victor has now come a long way. Victor earned his classical music diploma earned in the Professional Classical Music Conservatory of Orense. (Conservatorio Profesional de Musica de Orense).

Although this accordion background focused on classical training, Victor always aimed for the contemporary freedom in the Jazz idiom. He studied Jazz at Estudio Escola de Musica in Santiago de Compostela.

For booking information, please contact: Jhon Sheppard (agent) at: 7315 13th Avenue, Brooklyn, N.Y.11228. Telephone: 718.232.6200 Fax: 718.232.0683 or visit: http://www.sheppardmusiccenter.com


---
2004 Cotati Accordion Festival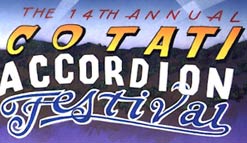 The Cotati Accordion Festival, organized by Clifton Buck-Kauffman and Jim Boggio was formed because of the two men's love of and respect for the accordion and the town Cotati, California. Jim Boggio recorded an accordion album, Accordion to the Blues at the Cotati-based recording company, Prairie Sun Studios which happens to be partly owned by Clifton Buck-Kauffman.
When Buck-Kauffman heard Boggio's accordion album, he was dazzled. The multicultural diversity of accordion music triggered his imagination and not long after the recording session, the two men were soon asking each other, "What do you think of the idea of having a Cotati Accordion Festival?"

The two made a deal that Boggio would handle the musical end securing the musicians, planning the program, orchestrating the entire musical production while Buck-Kauffman would handle the rest: staging; arranging for the sound equipment, posters, banners and signs, T-shirt sales, vendor booths, etc. The first Cotati Accordion Festival was presented as a community service, free to the public and was held in the downtown plaza under the oaks where the response was overwhelming.
"We were amazed at the reception and response to our idea. It tickled the fancy of music lovers locally, nationally and internationally!" recalled Buck-Kauffman. Boggio said, "The thing that struck me was all those smiling faces. People of all ages dancing, listening, tapping their feet with smiling faces." The next Cotati Accordion Festival will be held on 28th to 29th August from 9:30 AM on both days.
For more information, e-mail info@cotatifest.com


---
UK Publication offered to US Readers
Author Rob Howard has recently written and published a book called 'An A to Z of the Accordion & Related Instruments'.

This is a reference book that celebrates the accordion (and its near relatives) in Britain and Ireland. The 300 entries include articles about improving one's playing, practicing and public performance (some taken from archive magazine articles written by Charles Magnante, Adrian Dante, Rosemary Wright and Gerald Crossman); a short history of the accordion; useful contacts; definitions of instrument types; short biographies of players, past and present; jokes, stories, and much more....

The book is a 256 page hardback, and is available directly from the author (check made payable to Rob Howard) at 42 Avondale Road, Edgeley, Stockport, Cheshire SK3 9NY, United Kingdom.

For further information, please contact Rob Howard at robaccord5@hotmail.com


---
New Accordion Association Forming
THE SOUTHEAST ACCORDION ASSOCIATION (SEACCASSOC) is looking for accordionists in the following states that may be interested in joining together: Alabama, Florida, Georgia, Kentucky, Louisiana, Mississippi, North Carolina, South Carolina, Tennessee, Virginia, and West Virginia.

Interested persons are asked to please submit your name, street address, city/state/zip, phone (with area code), and your e-mail address to association coordinator Karen Adam at: ibqueen@bellsouth.net

Additionally, if readers know of accordionists that are not on e-mail, they are asked to please include them their e-mail and they will be sent a printed application form.


---
New Accordion Store in Gilmanton, New Hampshire

Accordion Connection LLC, owned by Arthur Welch, has opened a large showroom and repair shop devoted to accordions and everything for the accordion player.

Located at 136 Route 106, in Gilmanton, NH, they offer new and used accordions, accessories, music, CD's, amplifiers, Limex MIDI and microphone systems.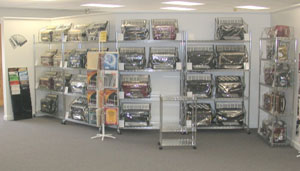 Their first Open House featuring five professional accordionists performing throughout the day will be held on Saturday, July 10, 2004.

Future events will feature professional players throughout the year. To be notified of these events, please contact Accordion Connection at 1-800-328-5227, visit their web site is www.accordionconnection.com or e-mail: accman@accordionconnection.com


---
New Accordion Club in Houston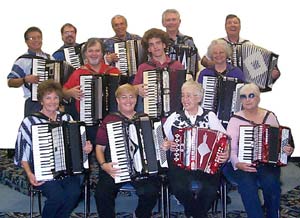 Last December a new club was started in southwest Houston, Texas called the Fort Bend County Accordion Club.

The Club states that their purpose is: to bring together accordion players from beginner to expert and music lovers in the southwest Houston Area so that we can:
Increase public awareness of the accordion as a serious musical instrument.
Encourage accordion players of all skill levels to continue their progress.
Promote performance of all types of music on the accordion.
Promote the accordion through public service and performances.
Everyone is invited to join us at any of our meetings. Attendance and parking is free. The meetings will take place at the Terrace at First Colony, 16900 Lexington Boulevard, Sugar Land, Texas 77479. The meeting dates for 2004 are:
Sunday, August 1, 2:00pm - 5:00pm
Sunday, October 3, 2:00pm - 5:00pm
Sunday, December 12, 2:00pm - 5:00pm
For further information, please visit: www.fbc-accordion-club.org


---
UMKC Accordion Orchestra in Concert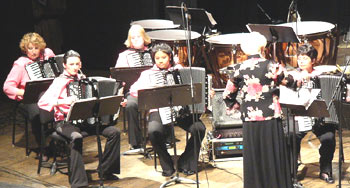 The University of Missouri - Kansas City Community Accordion Orchestra under the direction of Joan C. Sommers will present a concert on Sunday, July 18, 2004 at 2.00 PM. The concert will feature the program that they will present in Milwaukee at the Accordionists and Teachers Guild, International (ATG) Festival. At this festival the orchestra will perform on the Friday Night Concert as well as at an outdoor performance at the Peck Pavilion in downtown Milwaukee.

The Kansas City concert will be held in White Recital Hall in the Center for the Performing Arts on the UMKC Campus, 4949 Cherry, Kansas City, MO, and is free to the public.

---

---

---

---
Note: In order to provide as much information as possible for the United States National Accordion News stories, many different sources are often researched to gather additional information and pictures to complement what has been submitted. This information is then correlated to provide the news on www.accordionusa.com in the spirit of which it is intended, which is to provide a free news service to the Accordion Community, specifically in the United Sates. If you feel any copyright has been violated please advise www.accordionusa.com and the article will be removed immediately.