32nd Kimberley International Old Time Accordion Championships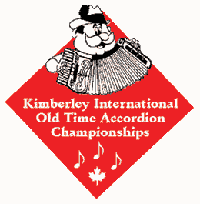 The 32nd Annual Kimberley International Old Time Accordion Championships (KIOTAC) will take place from Monday, July 10 through Saturday, July 15, 2006

Having received it's 5th listing in the Top 100 Events in North America from the American Bus Association, KIOTAC will once again present a varied and exceptionally talented array of Accordionists and Dance Bands. These of course are just the fill-in that surrounds the international Old Time Dance Music competitions. With 22 categories and over $13,000.00 cash Prizes plus trophies and $ 10,000.00 in bursaries it remains among the top competitions in North America.

Monday July 10th Bobby Raye Concert and The Softones Dance Band Family Dance
Tuesday July 11th Kerry Christensen Concert and The Brabec Brothers Family Dance
Wednesday July 12th Ulster Accordion Band Concert and Bernadette Conlon
Thursday July 13th Jam Sessions and Family Dance Family Dance
Friday July 14th Murl Sanders Concert and Viking Persuasion Family Dance
Saturday July 15th Finals, KIOTAC Massed Band Concert and The Emeralds Family Dance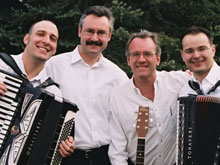 Among the featured artists this year are the The Brabec Brothers. John and Robert, have both been playing accordion since the age of five. Together since that time the brothers share a unique bond of music that has created a telepathic talent in their musical performing. One of them starts with the first three notes and the other jumps in with confident ease. Together they have performed at hundreds of venues throughout Western Canada and the United States. The two brothers have also produced 5 albums in their over 25 years of music, appeared on Television and Radio and played at various important community and wedding events. The two brothers have gained a reputation for very lively and entertaining music, that draws crowds of people and creates an evening that is always memorable. The two brothers are "addicted" to KIOTAC since they first heard of the festival and have been attending every year since 1980.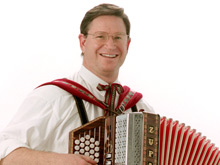 Kerry Christensen, one of the world's best Alpine yodelers, was raised on a potato farm in Grace, Idaho and had to wander quite a distance to discover his passion - yodeling! A performer from the tender age of three, he has sung everything from western ballads to barbershop music. It was during his travels to Austria in 1976 however, that he discovered the folk music that would be his life. Armed with recordings of the great yodelers, Kerry returned from Europe, determined to master this ancient art and he did. While driving the family tractor around and around the potato fields, he practiced 14-15 hours a day. He drove his father crazy and was banished to practicing in the garage to no avail, as yodeling carries very well. (Remember, it was used to communicate between hillside farms.)

Kerry's first yodeling performance was in 1977, at a Brigham Young University orientation assembly. His yodeling brought 15,000 or so students to their feet for a standing ovation. Then his career really soared when Disney World in Orlando, Florida hired him to work at the German Pavilion of the Epcot Center in 1984 . He was the Disney World Yodeler from 1984 to 1990 and the leader of the night band for the last four of those years. After his experience at Disney, Kerry headed out on his own and has had great success as one of only two or three professional, full-time yodelers in the United States.

For more information, please contact Bill Baerg at 250-432-0036, e-mail: bill@kiotac.ca or visit: http://www.kiotac.ca


---
ATG Festival in Minneapolis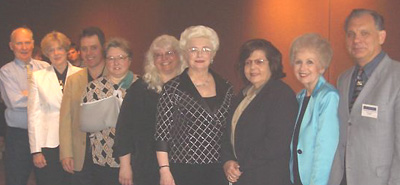 The annual Accordionists and Teachers Guild, International (ATG) festival took place in Minneapolis, MN where accordionists gathered for 4 days of competitions, concerts and workshops.

Pictured from left to right are Stanely Darrow (ATG Historian), Karen Fremar (ATG Treasurer), Stas Venglevski (ATG Second Vice President), Joanna Darrow (ATG Executive Secretary), Dee Langley (ATG First Vice President), Joan C. Sommers (ATG President), Faithe Deffner (ATG Board of Director and 2007 Coupe Mondiale Coordinator), Amy Jo Sawyer (ATG Board of Director) and guest Viatcheslav Semionov (Russia).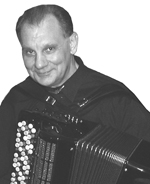 This years featured artist Russian virtuoso and composer Viatcheslav Semionov, the teacher of many of the recent CIA Coupe Mondiale Champions was featured in concert and also conducted two masterclasses and gave an very informative lecture on accordion activities in his native Russia.

Other guest artists at the ATG Festival will include: Murl Sanders, Stas Venglevski, Amy Jo Sawyer, Minnesota Accordion Quintet, Mike Alongi and Larry Malmberg, John Scaffeo can, Dan Newton and the Café Accordion Orchestra, Dee Langley and Orkestar Bez Ime and The ATG Festival Orchestra under the direction of Joan C. Sommers.

| | |
| --- | --- |
| | |
| Dana Copiskey (with family) center, receiving The ATG 'Hall of Fame Award' made posthumously to her father the late John Copiskey from ATG Presidednt Joan Sommers. | Stan Darrow (Historian), Dee Langley (Second Vice President) and Joanna Darrow (Executive Secretary) enjoying a social moment at the festival. |
| | |
| Viatcheslav Semionov working with student Samantha Jarquio during his master clalss session. | Viatcheslav Semionov (Russia) with Board member Amy Jo Sawyer and 2nd Vice President Stas Venglevski. |
| . | . |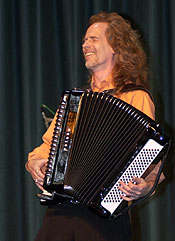 During the festival, well attended workshops were conducted by Joan Sommers, Murl Sanders and Dee Langley and the popular hands-on annual Festival Orchestra was conducted by ATG President Joan C. Sommers.

The Saturday night banquet featured the presentation of The Accordionists and Teachers Guild, International 'Hall of Fame Award' made posthumously to long time ATG supporter the late John Copiskey and was accepted by his daughter Dana Copiskey.

The festival featured several competitions, with the ATG Junior National Championship being won by Samantha Jarquio from Missouri, who has now qualified to compete at the CIA World Accordion Championships to be held in Asker, Norway from October 18-22, 2006. Samantha is a student of Joan Sommers.

Next year, the ATG will hold its annual festival in conjunction with the AAA festival as co-hosts of the CIA Coupe Mondiale in Washington DC, from October 18-22, 2006. For further information on the ATG, please visit www.accordions.com/atg


---
1st Annual Main Squeeze Outdoor Accordion Festival in NYC
Saturday July 8th will see the debut of the 1st Annual MAIN SQUEEZE OUTDOOR ACCORDION FESTIVAL in New York City - July 8th! FREE!

The Main Squeeze Orchestra kickoffs the Summer on the Hudson's 1st Annual tribute to the versatile accordion. Be sure to bring your dancing shoes and your accordion for this all day festival of traditional and eclectic music from around the globe.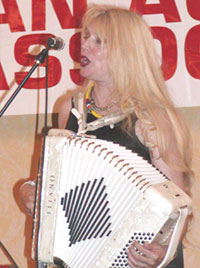 THE LINEUP:
2:00 PM Main Squeeze Orchestra
2:45 PM Guy Klucevsek (eclectic)
3:30 PM Proyeccion Norteña (Mexicn Nortena)
4:15 PM The John Nolan trio (Irish)
5:00 PM The Phoebe Legere (right) experience (contemporary)
5:45 PM The Balkan Brothers
6:30 PM Ernestilio y Conjunto (Merengue)
7:30 PM Jesse Lege Bayou Brew (Cajun)
8:30 PM - accordion free for-all! Join us with your accordion!
Admission to this new festival from 2:00 - 9:00 PM is free, with all festivities being held at Riverside Park, Riverside Park South, Pier I and the Hudson River in New York City.

For more information, please contact: Marianne DeMarco demarcom@verizon.net or phone 917-519-6730. http://www.mainsqueezeaccordionfestival.com


---
Lidia Kaminska's Summer Concerts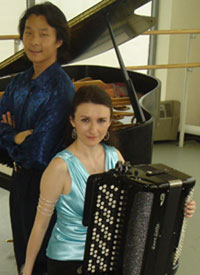 Accordionist Lidia Kaminska performed at the Kimmel Center Summer Solstice Celebration with the Curtis Institute pianist Hugh Sung and two dancers from the Pennsylvania Ballet Emily Waters and Elysia Lichtine. The Kimmel Center's all day, all night musical extravaganza took place on June 24 and began with family concerts by The Philadelphia Orchestra.

Next, Lidia will perform at the highly acclaimed Ocean Grove Summer Stars Classical Series, presented at the 6500 seat Great Auditorium in New Jersey on July 27th, where she will be joined by Curtis Institute pianist Hugh Sung. The concert will feature the music of Bach, Mendelssohn, Tchaikovsky, Gubaidulina and Piazzolla, among others.
Lidia's Philadelphia concert debut will take a place at the Ethical Society Building on August 24th. The concert will also feature pianist Hugh Sung, Astral Artistic Services flautist Jasmine Choi, dancers Emily Waters and Elysia Lichtine of the Pennsylvania Ballet, with choreography by Jorge Laico.


---
Encore Tour for Bernadette Conlon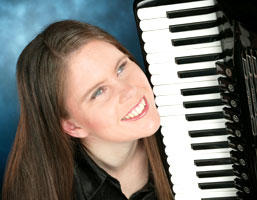 Melbourne based, visually impaired accordion virtuoso, Bernadette Conlon has had the unprecedented honor of being invited back to three large accordion festivals in the United States, following the outstanding success of her 2005 tour.

Bernadette will be guest artist and adjudicator for the Leavenworth International Accordion Convention, where, last year's mobbing crowd pre-empted the organizers to invite her this year. The Las Vegas International Accordion Convention, which features some of the world's most renowned and influential accordionists, such as Art Van Damme, Peter Soave, Dick Contino and The K Trio, secured Bernadette for the second year, as did the Kimberley International Old Time Accordion Championships in Canada, which, last year, wrote its way into the history books, by having 644 accordionists playing at the same time together, for half an hour, in a valiant Guinness Book of Records attempt.

Bernadette says she has been overwhelmed by the support of the audiences, who have rallied to secure her as a part of these festivals.

Born with retro-lentil-fibro-plasia, Bernadette's playing takes on a radiance only found in those who have lost one of the senses.

From childhood, her future seemed written in the stars, when she was directed into a path of music. Beginning accordion lessons at the age of nine, she became a fixture of the local charity concert circuit. A belief in the promotion of the accordion to a proper status among musical instruments, led her to be a regular performer for Melbourne's classical music elite.

By the time she was 18, Bernadette had commissioned Australia's first accordion concerto, from composer Michael Easton, which she recorded for the Naxos label. Her recording credits include film and television scores, as well as accompaniment for Australia's leading singers.

Competitively, Bernadette has been four times South Pacific Champion and seven times Australian National Champion, as well as over 100 first prizes.

A character of great tenacity, Bernadette completed two of the highest degrees awarded by the main examining body in Australia, the Australian Music Examination Board, two licentiate diplomas, on Standard bass and Freebass. Unable to study at university herself, she became the first accordion tutor appointed to the Victorian College of the Arts, and is recognized as one of Australia's leading accordion tutors.

However, more than anything, Bernadette has always believed in bringing music to the people. She gives regular concerts in many genre of music, as well as playing on Melbourne's streets, where she is commonly referred to as a "Melbourne Cultural Icon or treasure". Broadening her repertoire to suit the many and varied audiences, Bernadette plays everything from pop and rock 'n' roll, to jazz, many different forms of folk and ethnic music. Her nine CDs reflect the diversity of her music, from tangos to ABBA, light classical to the two volumes of music by Pietro Frosini. Her interpretations of French waltzes rival the technical ability of the button accordion and her latest album entitled Abandon, is truly haunting.

Most astounding of all, however, is her unique ability to play requests at will. As an entertainer, her concerts usually feature up to two hours of audience requests, which Bernadette delivers, with the energy, which is awe inspiring. Renowned for her quick-witted repartee, Australia's most opalescent musical jewel, will shine, thrill and delight you.

For further information e-mail: accordionbernadette@bigpond.com


---
HA HA! WA WA! The Accordion Can Kill You!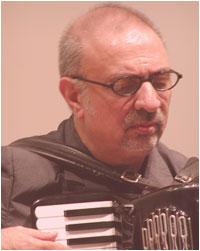 This years American Accordionists Association Master Class and Concert Series moderated by Dr. William Schimmel is entitled HA HA! WA WA!, THE ACCORDION CAN KILL YOU! and will be held from JULY 28-30, 2006.

WE KILLED THEM IN KALAMAZOO! HE TRIPPED OVER HIS ACCORDION AND LANDED ON A POISONOUS LIZARD - HA HA! LIFE WAS GOOD - NOW IT'S CRAP - WA WA! OUR 12th SMASH YEAR! A BIT OF WARNING! BETTER NOT ATTEND! YOUR HEART WILL BE BROKEN! YOUR SPIRIT CRUSHED! YOUR MIND……! IN ANY CASE, WELCOME TO THE SEMINARS!

WILDWOOD (circa 1953) , before Rock and Roll and Do Op architecture: a tribute to Danny DeCon - the icon of Jersey Shore point accordion-show bands. His motto: LET ME DECONSTRUCT YOU!

A fresh new look at the BELLOWS SHAKE as the ultimate TUMMY TICKLER.

An unauthorized reenactment of THE ACCORDION TEACHER, a performance that outraged everyone in the accordion community as the ULTIMATE SETBACK and was actually banned by this sponsoring organization back when it was introduced in the early 60's.

A seminar on the HA HA, the landscape architecture framing he 18th century English garden, inspiring the classical Sonata Allegro form.

Learn to turn a happy event into a living nightmare! - NO DEMON BARBERS NECESSARY! Just play that one sad, depressing song at the right moment - evoke a bad memory - perfectly timed - bring down the house….voila! …. Everyone goes home…..the party's over!

A new series of works composed specifically for the unaccompanied bass accordion: JOHN BROWN (the hanged man), WALTZING MATILDA (a tribute to the beheaded) and HAVA NAGILA - A LAMENT!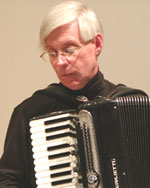 AND MORE…Dr. Robert Young McMahan will emerge as BOB MAND AND HIS 12 TONE RUBBER BLUES BAND. He will lecture on Leonard Feather's statement: "Rules are not made to be broken , but rubber bands to be extended to the point of infinity ". This is Bob's 12th year! He hasn't snapped yet.

Kamala Sankaram, accordionist/singer/composer/filmaker/sitar player - and clinical psycholgist will probe into the transitional psyche starting from HA HA! and ending with WA WA! - analyzing FREAK SHOWS - back to HA HA!, performing a variety of genres and her ontological video work INDO/NOIR.

Eminent choreographer, director/filmaker and fitness expert, Micki Goodman will teach us how to HOWL OUR WAY BACK TO HEALTH - as well as a new work that's …..well….TOTALLY OF THE SCALE! She will also present her new interactive video work, THE FOUR SEASONS.
Micki is Dr. Schimmel's dramatic director ---- and for the seminars in general. It's 12 years for Micki!

Godfrey Nelson / Lorraine Nelson-Wolf in the ontological "7", will close Friday night for the "12th" year. I/WANNA/BE/A/BABY/ALL/MY/LIFE (spoken quickly) - examines the accordion and it's intrinsic ability to facilitate age regression. Composer Stephen Dankner coined the initial phrase. BRING YOUR HUGGIES AND ENFAMIL - AND A REALLY GOOD NIPPLE!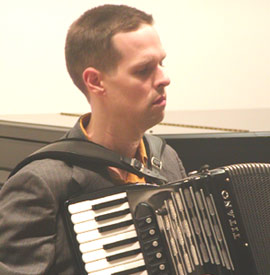 The young jazz great, Will Holshouser (right), will offer some SOOTHING JAZZ FOR BABIES - in the spirit of the late, great Raymond Scott and also take part in a discussion on "WHAT'S REALLY BEHIND THE MUSETTE"- exploring the devastating historical backdrops that made it happen. It's 11 years for Will!

R.D.RANTER AND CO., a duo comprised of writer/singer/accordionist Rembert Block and a young lady from the South Bronx, who she mentors. Blues, screams and rants will prevail. WAAAA! MAGAZINEwill be unveiled as well as a seminar on THE ACCORDION AS MEDIATOR.

Paul Stein will present his new song cycle: LOSS! This fascinating presentation deals with Personal loss, New Orleans, Getting Mugged and Surviving all of it. It's HA HA! and WA WA! - and he's still here to tell us about it - for the 12th year! -- also, don't miss his seminar on PLUG IN seminar (Amplification).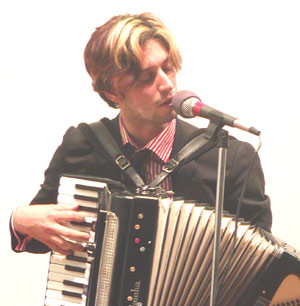 Benjamin Ickies, no stranger to ambition -hence the title of his Ambitious Orchestra, will give us the punk equivalent to HA HA! WA WA! in a short set: HAWA! Also, new works by David Stoler (STARTUNER), Liam Robinson (CHINA SHOP) and ONE LAST LOOK AT ACCORDION JOKES! Digital flutist, Lee McClure, will transform The Mother Goose suite into the FRACTURED tale that it was meant to be. AND.. NOTEKILLERS' David First will do what he does best…..kill all preconceptions…and ..notes!

King of Ragtime, Mark Birnbaum will give us the WA WA (WILD GOOSE) WAG. Always confrontational, Dr. Birnbaum will explore the highly structured HA HA, giving way to the Dionysion WA WA - ending with a no-headed WA WA in the spirit of Santeria.

Fearless Design CEO, Cristina Spelligene; ethnomusicologist, Maria Sonevytsky and stand up comic Lenny Feldman will give us THE THREE D'S: DESIGN, DIASPORA AND DERRIDA. Eric Salzman's Classic ACCORD will show the world that BIG BOYS DO CRY! Allyssa Lamb's instrumental vocals, melodica, glockenspiel and kazoo will CHARM, SEDUCE and STING at the same time. Composer, Richard Peaslee will have us consider the axiom: THE ACCORDION IS MOBY- DICK!

As a shark is a killing machine, The K Trio is a winning machine. Watch, listen and enjoy as they kill you with their MOJO and win you over at the same time.

Actress Kathleen Tipton, who has performed, hosted, stared and lectured for over a decade, cyber artist Rachid Eladlouni and performance artist Ray Rue (Elvis/Groucho) will show NO MERCY. Marni Rice will give us WAUX! -in French -NO REGRETS! Rita Davidson will give us MORE ETTORE! There will be AAA commissioned works by Schimmel, John Franchesina and Alexander Tcherepnin performed by Dr. McMahan and Dragica Banic-Curcic of Croatia. Walter Kuhr of MAIN SQUEEZE will give us BAVARIAN BLUES. Brian Dewan will have us drowning in the aisle over his TED KENNEDY RAG.

Dr. Schimmel, lecturer- in- residence of the AAA will resurrect a vintage concerto by ANDY ARCARI - one of America's great pioneers, as well as a new work, A BRIEF HISTORY OF PLAID- combining the HA! WA! qualities of Auld Lang Syne, Palliachi, Indian Madras and Fado (Portuegese)/ Fado (Gallic)-with an interactive video by Micki Goodman. Schimmel also composed the bloody bass accordion works. This is Dr. Schimmel's 12TH year as originator/moderator and curator of the Seminars. This Year he will also present THE ELECTRIC CHAIR to those who would like to perform in the afternoon workshops and receive his "CURRENT" comments -along with his executing executives. Limited to a few players only, those interested should contact Dr. Schimmel directly. HA!AND WA! encouraged -actually Mandatory!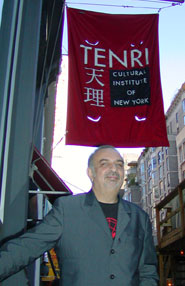 BROKEN HEART? The late alcoholic meditation master Chogyam Trungpa says: "It's the only way to become a decent human being." We say: NO CURES, NO SOCIO/ SPIRITUAL TRANSFORMATION, NO BOOZE - Just bring your frazzled, pained psyches and make it look like you're having a good time.

SEE YOU AT THE SEMINARS!

The event will be held at:
THE TENRI CULTURAL INSTITUTE OF NEW YORK
43 A West 13 St. (between 5th and 6th Ave.)

Master Classes at 3.00 PM Concerts at 7.00 PM

For further information e-mail: billschimmel@billschimmel.com


---
16th Cotati Accordion Festival in CA
The 16th Annual Cotati Accordion Festival held in La Plaza Park, Cotati, California, Saturday August 26 and Sunday August 27, 2006. Northbound on HWY 101 Take the west Sierra Exit to the right (eastbound) past the first stop sign by City Hall, continue until you see the Polka Tent. Southbound from Santa Rosa, take HWY 116 exit to Cotati, cross under the freeway and go right at the first stop sign park and listen for the music.

This year music will begin at 9:45 AM and continue after 8:8:00 PM both days.

Headlining both days will be Dick Contino, with Rosie Ledet Saturday and Joel Guzman on Sunday:

The line up is: SATURDAY AUGUST 26th, 2006
9:45-10:15 Golden State Accordion Club
10:20-10:50 Tom Cordoni
10:55-11:30 Salute Matelot
11:35-12:10 The Loose Acoustic Trio
12:15-12:45 Cora Allegro
12:50-1:05 The Great Morgani
1:10-1:45 The Mad Maggies
1:50-2:15 Lady of Spain
2:20-3:00 Ginny Mac
3:05-3:40 Simka
3:45-4:35 Dick Contino
4:40-4:50 The Great Morgani
4:45-5:45 Those Darn Accordions
5:50-6:25 Culann's Hounds
6:30-7:30 Rosie Ledet and the Zydeco Playboys
7:35-8:00 encore
In the Polka Tent
1:00-5:00 The Steve Balich Polka Party
5:05-6:25 The Wild Catahoulas & Zydeco dance party in memory of Jim Boggio
At Spancky's
SUNDAY, AUGUST 27, 2006
9:45-10:15 Golden State Accordion Club
10:20-10:50 Sammy Thomas
10:55-11:25 Cora Allegro
11:30-12:00 Ben Creed
12:05-12:40 The Jubilee Klezmer Ensemble
12:45-1:00 The Great Morgani
1:05-1:40 Tango No. 9
1:45-2:10 Lady of Spain
2:15-2:50 Bella Ciao
2:55-3:30 Don Nurisso, Peter Di Bono and Steve Hanson
3:35-4:25 Dick Contino
4:30-4:40 The Great Morgani
4:45-5:25 La Familia Pena-Govea and Los Compas
5:30-5:40 Sammy Thomas
5:45-6:45 The Aztex with Joel Guzman
6:50-7:10 encore
7:20-8:00 Polkacide
In the Polka Tent
1:00-5:00 The Steve Balich Polka Party
5:05-6:25 Mark St. Mary
At Spancky's;
1:00-5:00 Motor Dude Zydeco
We will again be selling presale tickets prior to August 26. For presale one day $15.00 and two day sales of $25.00 Your group will receive $2.00 per ticket for pre-sale sales of tickets. We ask that these sales be reconciled prior to August 26 or be reconciled by a producer upon entry. Please speak with a Producer not a ticket vendor to reconcile pre-sale ticket sales- thank you. We expect this to be our best show ever and ask that you remind all patrons no pets, alcohol, or coolers, are allowed and low backed lawn chairs are best. Enjoy the best show on earth!

To order tickets please write to Scott Goree at info@cotatifest.com or send your request along with your check to PO Box 809, Cotati, CA 94931. Of course you may contact me, Linda Conner at the following numbers. Linda L. Conner 707-585-2910 (voice), 707-585-2920 (fax), 707-318-3694 (cell), or e-mail: geolinda@pacbell.net


---
William Schimmel to Perform Vintage Accordion Concerto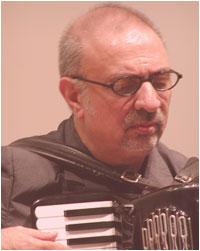 On July 18th, Dr. William Schimmel will perform Andy Arcari's Accordion Concerto (Concerto in D minor) outdoors at New York's famous Washington Square Music Festival. The Concerto, which dates back to 1942 is considered one of the first American Accordion Concertos written, along with the Galla-Rini and Pietro Deiro works of the same period. Dr. Schimmel has updated the work a bit and has added some new material based on the original Arcari and re-orchestrating it for The Festival Strings, with Allyssa Lamb on background vocals, melodica, glockenspiel, kazoo and whistling - giving it a vaudevillian dimension.

Andy Arcari was one of the accordions' great pioneers. He rose to great fame as a member of Gary Cooper's USO troop during World War II. He established the Arcari College of Music in Philadelphia, The Arcari Foundation (one of the first composer commissioning organizations) and Arcari Publishing. In addition to the Concerto, he wrote a Classical Sonata and a number of light works. The performance will take place at 7.30 pm at Washington Square Park in New York's Greenwich Village and the admission is free. The Washington Square Music Festival, which began in 1953, is one of New York's longest established music festivals.

For further information e-mail: billschimmel@billschimmel.com

---
Guy Klucevsek Concerts in New York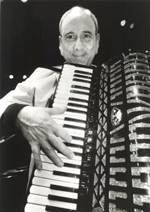 Accordionist Guy Klucevsek has two upcoming solo appearances in the New York City area: on July 7th he will present a full solo concert in the cabaret series at Bard Summerscape, in Annandale-on-Hudson, New York, at 8.30 PM, in the world famous Spiegeltent.

On July 8th he will play a solo set on the First Annual Main Squeeze Accordion Festival in Riverside Park South in New York City. Both concerts will feature his own compositions from his Winter & Winter recordings, 'The Heart of the Andes' and The Well-Tampered Accordion'.

For further information e-mail: gklucevsek@si.rr.com


---
60th Coupe Mondiale in Washington DC in 2007
2007 Coupe Mondiale Coordinator Faithe Deffner reports that plans for the gala 60th Anniversary CIA Coupe Mondiale are well underway.

Co-hosted by the USA CIA Members the American Accordionists' Association (AAA) and the Accordionists and Teachers Guild, International (ATG), the event will take place at the Holiday Inn Hotel & Suites in Alexandria, Virginia, which is located about five miles from Washington DC, with nearby city train for sightseeing. The hotel provides free shuttle service from Reagan National Airport in DC, so when booking flights, it may be wise to arrange to fly into Reagan National Airport which is located just a few minutes away, for some substantial savings, as the Hotel offers a free shuttle vs. an approximately $50.00 shuttle/taxi fare from Dulles International Airport.

The dates for the Coupe Mondiale are Monday, August 13th (acclimatization day) to Sunday, August 19th, 2007 (departure day). There is a special room rate of $99.00 plus tax, which remains the same from single to quad (up to four in the room). The same rate will apply three days before and three days following the event, for those who wish to extend their stay.

Those who eat at the hotel restaurant 'Traditions', may select from two money saving options: Holiday's signature plan where 'Kids Eat Free' when accompanied by full-paying adults or the AAA/ATG participants special program of 10% off all menu prices.

This festival will be a chance of a lifetime for the US accordionist and American public to be surrounded by the worlds finest accordionists and accordion dignitaries as they gather for this milesonte event.


---
AAA Festival in Buffalo, NY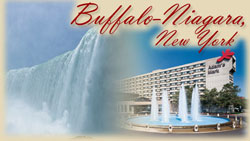 The American Accordionists' Association welcomes you to their 2006 Competition and Festival to be held in Buffalo, NY from July 12-16, 2006.

The competition will be held at the Adam's Mark Hotel; 120 Church Street, Buffalo (Niagara Falls), NY 14202 with the room rate being $89.00 (plus tax) per night (single, double, triple, quad). Attendees are reminded to please mention AAA Festival to obtain discounted rate
716-845-5100 or (800) 444-ADAM (toll free).



The festival will feature Competitions, Workshops, Displays, Concerts and much more including several International Competitions such as
The 2006 Vivian Vivio Stolaruk International Entertainment Competition for Accordionists
First Prize: $10,000.00

2006 Polka Band Competition
First Prize: $1,500.00

Sing and Play - for the Accordionist who also Sings!

Gary Daverne (New Zealand) Festival Orchestra Conductor

artists include The Busso Trio

visit to Niagara Falls including performance of the AAA Massed Band
For festival information, all registration and entry forms, please visit: www.ameraccord.com


---
Promoting Your Accordion Services Free at AWW

The Internet is changing the way your customers are searching for services. The days of lugging out a 12 lb. telephone book to find very limited and outdated business information are coming to an end. People are still letting their fingers do the walking, but they're doing it over a computer keyboard. Below are some revealing facts from the Kelsey Group.
74% of US households use the Internet as an information source when shopping.
Approximately 45% of searches had a buying intent.
The percentage of respondents who used yellow page directories decreased from 75% to 62%.
(If you have a printed yellow page ad, it is time to consider buying a smaller ad and shifting your marketing dollars to the Internet.) The off-line Yellow Pages see the writing on the wall and are scrambling to transfer their business model to the Internet.

Businesses can no longer ignore these facts. If you want to be successful, you must have a presence where your customers are searching. Being found on the Internet is vital to the future of your business.



The Accordion Yellow Pages offers free of charge listing for all accordion businesses, teachers and for every type of service for accordionists. On the Accordion Yellow Pages site, you do not need to have a website for accordionists find you and contact you.



The search-accordion.com site is also free of charge, being a listing service for every type of accordion service but you must have a website. Viewers of search-accordion.com can click to your website.



Very popular is the AccordionLinks.com site where those accordion service providers with a website, can attract accordionists free of charge to their website.

All it takes is a little effort, to make sure your information on these three popular and very effective accordion sites is up to date. Your future success may well be determined by your ability to effectively adapt to the Internet. Should it be your New Year's resolution for 2006?

---
NY 's Largest Irish Festival - Rain or Shine!
From July 14 - 16, 2006 at Shorefront Park in Patchogue, Long Island, New York, come RAIN or SHINE, the IRISH HAVE A GOOD TIME! You are invited to celebration of Irish heritage on BEAUTIFUL Long Island featuring multiple stages, Over 20 bands/acts, Irish Stepdancing, Artist's Cove with Painters,Sculptors, photographers and more! Scores of Hand-Selected Professional Vendors of All Things Irish. The festival will take place from : 4:30 PM - 11 PM on Friday, 11:30 am - 11 PM on Saturday and Sunday.
FRIDAY, JULY 14 SCHEDULE
5:00PM: FATHOM
6:30PM: FINN'S FURY
8:00PM: EILEEN IVERS
9:30PM: BLACK 47
SATURDAY, JULY 15 SCHEDULE
12:00PM: BANGERS & MASH
2:00PM: MORNINGSTAR
4:00PM: THE MAKEM BROTHERS with.......MICKEY & LIAM SPAIN
6:00PM: CHERISH THE LADIES
8:00PM: FATHOM
9:30PM: BLACK 47
SUNDAY, JULY 16 SCHEDULE
11:00AM: SCYTHIAN
12:15PM: CEILI RAIN
2:00PM: ANDY COONEY
3:45PM: YOUNG DUBLINERS
5:30PM: PRODIGALS
7:15PM: GLENGARRY BHOYS

Accordion enthusiasts will enjoy many bands with accordion, including Morning Star and Cherish the Ladies.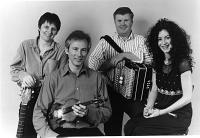 Morning Star features Irish-born singer, guitarist, and bodhran player Mary Courtney; Margie Mulvihill on tin whistle; John Reynolds on fiddle and John Nolan on button accordion. Formed in 1982, the group's lively, eclectic mixture of traditional and original Irish music has met with rave reviews and several stage and film credits, including Frank McCourt's The Irish and How They Got That Way. The group was also recently chosen to sing and provide music at the memorial mass for John F. Kennedy Jr. at Old St. Patrick's Cathedral in New York City.

Cherish The Ladies features accordionist MIRELLA MURRAY. She grew up in Claddaghduff, near Clifden, on the north west coast of Connemara. Her father John Joe, a notable sean nós dancer, comes from Inishark Island and has a deep understanding of, and love for, traditional music. Mirella learnt the piano accordion from Mary Finn, herself a great player from the musical Finn family of Ballymote, Co. Sligo. She met up with fiddler Liz Kane from Letterfrack, and they played and learned a lot of their music together going through the Fleadh Cheoil competitions. They won the All-Ireland duet in 1995, while Mirella gained the title on the piano accordion that same year. The pair performed together for years and toured in France and in North America with Comhaltas. They formed the Hydledoodles, a short-lived band which featured at the Fiddle and Accordion festival in Shetland and returned to the Folk Festival there the following year.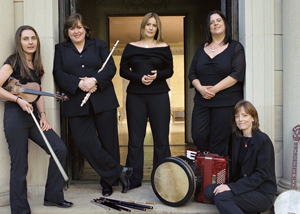 When describing Cherish the Ladies – the critics say it best…"It is simply impossible to imagine an audience that wouldn't enjoy what they do", the Boston Globe, "An astonishing array of virtuosity", the Washington Post, "Expands the annals of Irish music in America…the music is passionate, tender and rambunctious", The New York Times - and for nearly 20 years, Cherish the Ladies have proven themselves worthy to live up to these accolades and in doing so have become one of the most engaging ensembles in the history of Irish music.

They have grown from a one-time concert concept to an Irish traditional music sensation, literally the most successful and sought-after Irish-American group in Celtic music. Organized by folklorist/musician Mick Moloney and sponsored by the Ethnic Folk Arts Center and the National Endowment for the Arts, they began as a concert series featuring the brightest lights in Irish traditional music.

Taking their name from the name of a traditional Irish jig, the group initially won recognition as the first and only all-women traditional Irish band. In a relatively short time, they soon established themselves as musicians and performers without peer and have won many thousands of listeners and fans of their music. With their unique spectacular blend of virtuosi instrumental talents, beautiful vocals, captivating arrangements and stunning step dancing, this powerhouse group combines all the facets of Irish traditional culture and puts it forth in an immensely humorous and entertaining package.

The past years have seen the group traveling all over North and South America, the United Kingdom and Europe, Australia and New Zealand performing in the finest concert halls and international festivals. They are equally at home in front of a symphony orchestra, a performing arts center, a folk festival or even at the White House.

They have been chosen Best Musical Group of the Year by the BBC, Entertainment Group of the Year by the Irish Voice Newspaper, recipients of the Glasgow Royal Concert Hall's International Group of the Year Award at the Celtic Connections Festival in Scotland and voted the Top North American Celtic act by NPR Radio's "Thistle and Shamrock".

They have shared the stage with such noted entertainers as James Taylor, Joan Baez, Emmy Lou Harris, The Clancy Brothers, Tommy Makem, The Chieftains and dozens of symphony orchestras. The "Celtic Album", their collaboration with the Boston Pops Symphony led to a 1999 Grammy nomination.

The Ladies have recorded eleven highly acclaimed albums. Their last two albums on Rounder records were released to rave reviews. "On Christmas Night" was chosen as one of the top Christmas Albums of the Year by The New York Times, Washington Post, The Village Voice and many other nationally syndicated Newspapers and their latest release, "Woman of the House" is heralded as their best album to date and hit Billboard Magazines' top 10 world music Charts.

Cherish the Ladies have appeared on CBS This Morning, Good Morning America, Evening at Pops, C-Span, Imus in the Morning, PBS and National Public Radio in the United States and on BBC and RTE radio and television overseas. At the Summer Olympics in Atlanta, they were chosen to represent Irish music and culture at the Official Cultural Olympiad.

The girls continue to blaze forward and continue to enchant audiences worldwide.


---
Accordion, History and Music in Montreal
The Association 'La Famiglia Marchigiana' have organized a lecture titled 'Accordion, History and Music', given by Beniamino Bugiolachi, director of the International Accordion Museum, Castelfidardo, Italy. Beniamino Bugiolachi is an acknowledged authority in this field, and will be offering to the public his great experience and his great knowledge concerning the accordion community.

This event takes place at the Leonardo da Vinci Center, 8370 Lacordaire, St. Leonard QC, H1R 3Y6, Montreal, on July 3rd, at 7:30 PM. The well-known jazz accordionist Renzo Ruggieri, from Italy, will be present at the lecture, performing incidental and atmospheric music. The event will also be a display of the marchigiana musical culture, especially the most representative symbol of their region - the accordion.

For further information e-mail: montreal.montreal@ice.it


---
Those Darn Accordions Summer Tour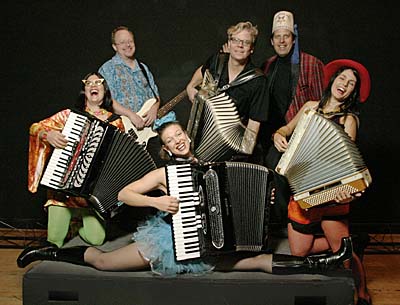 Those Darn Accordions, from San Francisco, California, describe themselves as 'America's favorite rock 'n' roll accordion band'. Their style, concerts and recordings have made them one of the most original accordion bands in the world. Their concerts in July include:
July 5th - Abbey Pub, Chicago - with The Polkaholics
July 6th - Waterfest, Oshkosh, Wisconsin - with David Lee Roth and Starship featuring Mickey Thomas
July July 7th - Turner Hall, Monroe, Wisconsin
July 8th - Summer Breeze Concert Series: Prairie Center for the Arts, Schaumburg, Illinois
For further information e-mail: tdapublicity@yahoo.com

---
Carrefour Mondial de l'Accordion, Quebec – Canada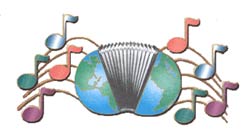 The annual Carrefour Mondial de l'Accordion takes place from August 31st to September 4th in the beautiful town of Montmagny situated on the St. Lawrence River, near Quebec City. Apart from the festival, there is the accordion museum, plus kayaking, biking, fishing and bird watching. Camping is available within walking distance to the festival.

The artists this year include: Stephan Portelli (Marilou Emerial), Vincenzo Abbracciante (Italy), Martin Reilly, Marcel Loeffler, Ludovic Beir, Mulato, David Corovillano, Alexandra Paris (France), Myriam Added, Emmanuelle Pariselle (concertina), Roberto Brasaov, and Mahers Bathers.

The Carrefour Mondial de l'Accordéon, founded in 1989, offers a unique opportunity to enjoy folk, classic, rock, jazz and popular repertoires. The event also highlights the cultural heritage of Quebec, while at the same time opening the door to the discovery of world music!

For further information e-mail: accordeon@montmagny.com


---
Ernest Deffner Publications Enlarges Music Catalog
Whether you are looking for Viatcheslav Semionov's newest composition 'Divertimento', Bill Palmer's obscure 'Ombo', a melody identified with the legendary Charles Magnante, some favorite Val-Taro musettes, The Beatles's Greatest Hits or Matt Mathews' crisp jazz improvisations, you'll find it among the more than 10,000 titles offered by Ernest Deffner Publications of New York.

This 72-year-old firm has revitalized the old catalogs of Pietro Deiro, O. Pagani & Bros, Aretta, Highland and Mosti Publications. Their site includes collections from Alfred, Mel Bay, Santorella, Hal Leonard and other publishers of accordion material. Instruction books relating to all areas of accordion study, plus music for solo, duet, ensemble and orchestra are all offered through prompt, efficient web site or mail orders. The current catalogue is available, or visit Ernest Deffner Publications.


---
Jon Hammond's New CD, New York – USA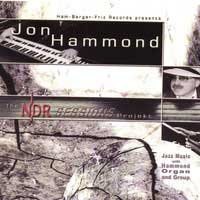 Musician and broadcaster Jon Hammond's new CD 'NDR SESSIONS Projekt' features the soulful sound of his custom-made Excelsior model AC/R tone chamber accordion and Hammond organ. The repertoire is jazz standards plus some original pieces written by Jon, and the recording was made during a recent trip to Germany. The tracks include: 'My One and Only Love', 'Satin Doll, 'Theme from Black Orpheus', 'Blues in the Night', 'Skylark', 'Polka Dots and Moonbeams', 'Besame Mucho', 'Easy Living', 'No X-Cess Baggage Blues', 'Our Day Will Come', 'The More I See You' and 'Payphone Johnny'.

Jon Hammond will be performing with his trio at a fund raising event on July 15th for CHRS (California Historical Radio Society), between 10am and 2pm, in the parking lot of the original studios of KRE Radio on the wetlands of Berkeley California. The well-known radio broadcaster Wolfman Jack was filmed there in the 1973 movie 'American Graffiti', starring Richard Dreyfuss and Ron Howard, and it has been a working transmitter since the 1930s. In between the live musical performances there will be an auction of collectable antique radios.

For further information e-mail: jonhammond@jonhammondband.com

---
Showstoppers Orchestra and Dancers on Tour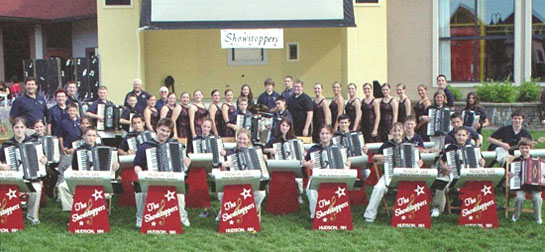 The Reading Liederkranz is proud to present the Showstoppers Accordion Orchestra and Dancers under the direction of Rosita Lee Latulippe. This group of 25 orchestra members and 16 dancers ranging from 11 years to 21 years of age has performed in Italy, Ireland, Canada and throughout the United States including seven times in Walt Disney World, Florida.

The Showstoppers Accordion Orchestra and Dancers will perform in Hershey Park, PA on Monday July 31, 2006. The program includes Song and Dance routines from the Big Band Era to Broadway, Polkas, Waltzes, Audience Participation and Patriotic Music. This show is family entertainment suitable for all ages.

They will also perform at the Reading Liederkranz, 143 Spook Lane, Reading PA on Wednesday, August 2, 2006 at 7:00 PM. This is an outside event open to the public and is free of charge. The grove opens at 5 PM rain or shine. The club facilities will be open and refreshments will be available and the menu including Hot Dogs, Hamburgers, French Fries, Bratwurst, Sauerkraut, Potato Salad and Goulach over Noodles. No outside refreshments may be brought on to the premises.

For more information, please visit www.accordions.com/rositalee or you may call the Rosita Lee Music Center - 603/882-8940.

---
---
Note: In order to provide as much information as possible for the United States National Accordion News stories, many different sources are often researched to gather additional information and pictures to complement what has been submitted. This information is then correlated to provide the news on www.accordionusa.com in the spirit of which it is intended, which is to provide a free news service to the Accordion Community, specifically in the United Sates. If you feel any copyright has been violated please advise www.accordionusa.com and the article will be removed immediately.