Joe Soprani to appear on Good Morning America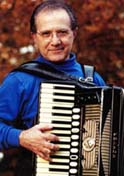 Accordionist Joe Soprani and England's most famous tenor Russell Watson will appear on Good Morning America in New York on August 17, 2001 (7:00 AM local time) in a performance of "Pelagia's Song" from "Captain Corelli's Mandolin," which is scheduled to be released the same day on his new CD.

ATG Receives Rave Review!
Competitors and guest artists represented nations as far afield as China, Russia, Republic of Belarus, Australia, Finland, Austria, Lithuania, Germany, USA and Poland during three days of nonstop accordion activities at the Accordionists and Teachers Guild, International (ATG) annual convention held in San Antonio, Texas during their July festival.

The ATG sponsored two international competitions, and cosponsored the ATG/TAA Texas Folk Music Competition.

The Anthony Galla-Rini International Competition for Classical Accordion was held to honor the outstanding contributions to the accordion field by their President Emeritus, Anthony Galla-Rini. Mr. Galla-Rini was unable to attend this years competition and festival, however he sent a congratulatory letter to the ATG, and was attending in 'spirit.'


This keenly contested competition was won by Alexander Sevastian from the Republic of Belarus, (pictured left). A recent graduate of the Gnessin Institute of Music in Moscow with Friedrich Lips, Alexander currently resides in Toronto, however he is planning on returning to Moscow to begin his postgraduate studies with Lips.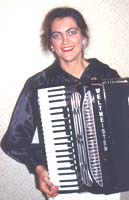 The Virtuoso Entertainment Competition was held for the second year, and won by Nina Slyuser-Wegmann (right) also from the Republic of Belarus. Nina is currently residing in Tampa, Florida. Both competitions offered a $1000.00 first prize.

The opening night of the ATG festival was jointly hosted by the ATG and the Texas Accordion Association. Compared by the TAA President Norman Seaton, contestants in the Texas Folk Music Competition got the ATG Festival off to an lively start as they each presented a short entertainment program featuring a variety of folk music. While the judges were finalizing their results, the audience was treated to an impromptu performance of the 'stomp bucket' duel featuring performers ranging from ATG President Joan Sommers, 1st Vice President Kevin Friedrich to guest Lin Xu and ATG member Michelle Boddicker Scheffler as they 'banged and stomped' away to the music of Mike Middleton. Little did they know that Mike Middleton actually went on to win the Folk Music Competition!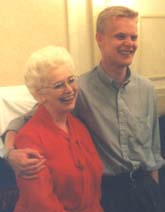 Mika Vayrynen (pictured with ATG President Joan Sommers) from Finland was the headliner at the festival and dazzled participants with his stunning technique and breathtaking musicality during his performances, which included a solo concert and a presentation of the 5 Tango Sensations by Piazzolla accompanied by the UMKC Accordion Orchestra. A rare opportunity to hear Mika in the United States, festival participants were also treated to a workshop offering insight into accordion technique and the latest happenings in Europe.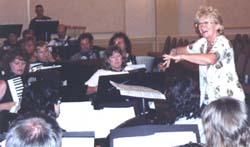 The ATG also presented three international orchestras in concert. Standing ovations were given to the Viennese Accordion Ensemble, the "Accolage" Accordion Orchestra of Lower Saxony, Germany and for the ATG Festival Orchestra, a 70 piece orchestra presenting works conducted by Sylvia Zobek (Austria) - pictured conducting Paragon March, the official ATG piece, composed by Anthony Galla-Rini, Ralf Schwarzien (Germany) and Joan Sommers (USA).

Competitions results are as follows: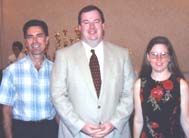 ATG/TAA Texas Folk Music Competition
1st Place: Mike Middleton (center), USA (US$500.00)
2nd Place: Terry Cavanagh (left), USA (US$250.00)
3rd Place: Bernadette Conlon (right), Australia (US$100.00)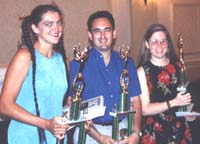 ATG Virtuoso Entertainment Competition
1st Place: Nina Slyuser-Wegmann, Belarus (US$1000.00)
2nd Place: Joseph Castorina, Australia (US$500.00)
3rd Place: Bernadette Conlon, Australia (US$250.00)





Anthony Galla-Rini International Competition for Accordion Soloists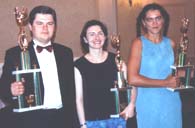 1st Place: Alexander Sevastian, Belarus (US$1000.00)
2nd Place: Lidia Kaminska, Poland (US$500.00)
3rd Place: Nina Slyuser-Wegmann, Belarus (US$250.00)






ATG Piano Accordion Championship 1st Place: Shanxi Upsdell (New Zealand)

ATG Junior National Championship 1st Place: Shanxi Upsdell (New Zealand)

July Accordion Wedding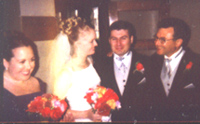 The reigning United States ATG Accordion Champion Cathy Sommers, daughter of ATG President Joan Cochran Sommers was married on July 28th at Unity Temple Church on the Country Club Plaza in Kansas City.

Given away by her father Dr. Paul Sommers, Cathy was married to Alp Tiritoglu. (Pictured from left to right: Maid of Honor - Elizabeth Replogle, Cathy Sommers, Alp Tiritoglu and Best Man - Mehmet Tiritoglu.)

UMKC Doctoral Accordion Performance major Lidia Kaminska performed the Franck Angelis work 'Romance' during the service, which also featured the UMKC Graduate String Quartet.

The reception/banquet turned out to be an enjoyable reunion for the accordion department at UMKC, many of which have known Cathy since she was born. Everyone enjoyed dancing the night away to the sounds of a popular Kansas City Jazz Band.

The couple will reside in San Jose, California.

New CD entitled "Phenomenon"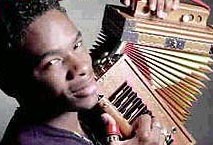 A major assault has been made on the Kingdom of Zydeco by the self-proclaimed Zydeco Rebel and his Nubreed soldiers. J. Paul Jr. (pictured left) & the Zydeco Nubreedz has taken over by force. A powerful force that has landed him right into the seat of the kingdoms throne.

The traditionalist party has yet to surrender, but the Nubreed soldiers and their loyal subjects plan to occupy the kingdom until there is a coronation in the maison de zydeco.

This campaign has neuvo and some traditional zydeco tracks. Everyone in the Creole nation from Houston to New Orleans is blown away by this truly phenomenal release that has marked the zydeco revolution.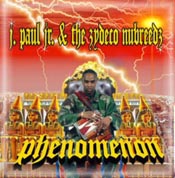 The CD includes a variety of zydeco pieces such as "Come Back Nikki", "No Sad Song" and "Love Will Make A Change".

Upcoming concerts include:
Jax - Houston, TX 08/04/01
Mr. A's - Houston, TX 08/10/01
Cowboys of Color - Houston, TX 08/11/01
Rawhide Saloon - Houston, TX 08/11/01
Silver Eagle - Houston, TX 08/12/01
Civic Center Ville - Platte, LA 08/25/01

For more information please contact: Skyy Productions: toll free at (877) 684-2600 ext. 050 or (281) 798-2096. Douggie Doucet of Amaku Management at (281) 473-2088

For an on-line sound sample and further upcoming concert appearances, please visit: www.jpauljr.com.

"Down Home Live" by Buckwheat Zydeco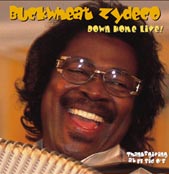 "Buckwheat Zydeco" has just released "Down Home Live!" the band's first live album which was recorded at El Sid O's in Lafayette, Louisiana.

The CD includes over 70 minutes of music. The band are currently undertaking a tour of Canada and the USA entitled the same name as the CD - "Down Home Live".

For further CD details e-mail: zydecobuck@aol.com

Buckwheat Zydeco, whose real name is Stanley Dural Jr., has the distinction of performing to an audience that included at least half the people in the world–the more than 3 billion viewers who watched the televised ceremonies at the closing of the 1996 Summer Olympics in Atlanta.

Dural played "Jambalaya," the Hank Williams tune (which uses the melody of the Cajun song "Grand Texas"), a song that has become part of zydeco ever since Clifton Chenier performed it in 1975. Dural has numerous achievements that make him an international star: four Grammy nominations, performances as the opening act for Eric Clapton, U-2, Robert Cray, and Los Lobos, many appearances on national television programs, a performance at both of President Clinton's inaugurals, plus songs featured in many motion pictures and music for many national commercials.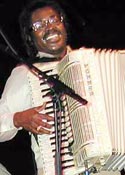 Buckwheat Zydeco (Stanley Joseph Dural, Jr.) was born in Lafayette, Louisiana on November 14, 1947. His family called him Joe, but childhood friend, Eddie Taylor, tagged him with the nickname Buckwheat because his hair looked like that on the character from Little Rascals.

His father was an old-time zydeco accordionist. Old-time zydeco was essentially an acoustic music played among the black French-speaking Creoles of southwestern Louisiana that used the accordion and a washboard.

After several years with his band "Buckwheat and The Hitchhikers", a 15-piece funk/soul band complete with three girl singers and a five-piece horn section and driven by Buckwheat's funky Hammond B-3 organ, at his father's urging, Buckwheat went to see Clifton Chenier play.

He had an epiphany and ended up joining the band onstage and soon joined Clifton Chenier's Red Hot Louisiana Band on keyboards. Two years later he left Chenier's band and spent an entire year "woodshedding," mastering the piano accordion.

He emerged in 1979 and hit the road with Buckwheat Zydeco and the Ils Sont Partis Band. Buckwheat and the Ils Sont Partis Band quickly hit the national scene.

Touring hard, they were instrumental in increasing zydeco music's national and international following with their innovative, hard driving, fun brand of zydeco.

For more information and to order his Cd's online, please visit www.buckwheatzydeco.com

ATG 2002 Festival to be held in Orlando!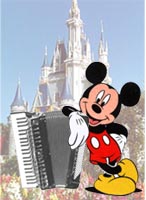 The Accordionists and Teachers Guild, International will hold their 2002 International Competition and Festival in Orlando, Florida from June 27 - 30th, 2002.

Featured guest artist will be the French sensation Frederic Baldo.

Full details will be announced very soon!

RMAC Accordion Celebration
The Spokane Accordion Ensemble, featured group at the RMAC Celebration, is a unique blend of dedicated players from teens to seventies in age and with a common love of music and accordion. Two of the original players from the ensemble's beginning in the fifties remain active.

The ensemble is composed of students, school and music teachers, a business owner, farmer, personnel director, entrepreneur and homemakers from Washington and Idaho. While some of the group changes from year to year, a strong core is maintained. The musicianship grows steadily under the direction of Mr. Ilmar Kuljus.

Their repertoire ranges from Cactus Polka to Schubert's Symphony in B minor, First Movement, and they have appeared in the Seattle Center to area churches. RMAC 2001 welcomes The Spokane Accordion Ensemble.

From its beginning in August of 1997, the Rocky Mountain Accordion Celebration has been a rousing weekend of dancing and listening to music, steak barbeques and outdoor pancake breakfasts, concerts in the 1892 Opera House and a parade of homemade pies. With the platzl and the tented dance floors in the center of this picturesque 1890's town, visitors, residents and participants alike find fun, food and frolic.

Accordion enthusiasts, players, and dancers come to strut their stuff. Concerts are held in the 1892 Opera House Theater. Accordions of all shapes and sizes perform on the streets, in the pubs, and all over the campgrounds. Waltz, Polka, Two-step, Fox-trot or Tango to Ethnic music as well as ragtime and jazz. If you sort of forgot how or have never danced, instruction is available. The Celebration is one of sharing dancing, apple pie and the love of accordion music.

Come early. Stay late. Fish, hike, explore the old mining towns or hunt for sapphires.
Call Toll Free: 1 (888) 680-1344 or E-mail: sapphire@sapphire-gallery.com for more detailed information.

Why not advertise your web site on accordionusa.com?
TELL THE USA WHAT YOU HAVE TO OFFER!
Josephine Marsh Band in Concert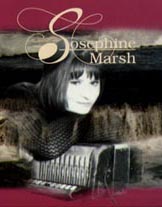 The Josephine Marsh Band will be performing at the First Unitarian Universalist Church, 630 Mass. Avenue, Arlington, MA (at the corner of Massachusetts Avenue & Route 60) Saturday, September 29 at 8:00 PM. This concert is cosponsored by Wolf Music.

To be regarded as 'a truly great traditional accordion player of individual style, grace and spirit', in a country which boasts of an excess of truly great and highly rated traditional musicians, is an accolade not to be taken lightly. Josephine Marsh is one such musician.

She and her band have performed in concerts and festivals in Europe, Australia, as well as here in the USA. Josephine's music has been featured in a National Geographic film on the famine and on Garrison Keillor's radio program, Prairie Home Companion.

The other members of the band are outstanding in their own right. Declan Corey, All-Ireland banjo champion for three years running, now plays mandolin and bouzouki in the band. Paul Driscoll, bass player in the Riverdance orchestra and founder of the Bow House Quintet which features traditional music, is an integral part of the Josephine Marsh band. Tommy Carew complements the traditional style of the band with his guitar and his songs in Irish and English.

You can listen to sound samples from Josephine's latest CD by visiting http://tradcentral.com/jmarsh, which includes 5 tracks for MAC computers and all 14 tracks for PCs.

Admission to the concert is: advance purchase: $15.00 - at the door: $17.00
for information on the CD or upcoming concerts, E-mail: jmarsh@tradcentral.com

For upcoming concerts in the United States, please see the September and October concert listings or visit http://tradcentral.com/jmarsh.

Cotati Accordion Festival
The Cotati Accordion Festival is located in beautiful Cotati, California, just a short drive north of San Francisco. This year the festival will take place on Saturday/Sunday August 25 and 26, 2001. The gates open at 9:30 AM and the music starts at 9:45 AM on both days. Admission for one day is $10.00 and for two days: $18.00 Children. Children under 15 are free!




Among the list of featured performers at this years festival are: Matt Mustaro, Chuck Berger & Diane Hagen "First Edition", Hot Fritatas, Vento, Len Wallace, Rahman Asadollahi, Sourdough Slim & Blackie, Tony Lovello, Morgani, Kerry Christensen, Red Hot Chachkas, Black Irish Band, Santiago Jimenez Jr., Los Trujillo and more.

Each day there will be a Polka Dance Party from 1:00 to 5:00 PM featuring Steve Balich Polka Band and the Cajun/Zydeco Dance Party from 2:00 to 6:00 PM featuring CACHUAGUA PLAYBOYS on Saturday and MOTOR DUDE ZYDECO on Sunday.

For more information, a complete list of performers and their schedule, souvenirs (including this new bumper sticker - pictured above, which will be for sale at the festival and on-line) and more, please visit www.cotatifest.com or call the hotline at 707-664-0444.

E-mail: info@cotatifest.com

Cotati Accordion Festival
1039 Madrone Cotati, CA 94931


Joseph Petric at the Ottawa Chamber Festival
The Ottawa Chamber Music Festival will run for over two weeks in August with five concerts daily in seven venues. As one of the largest chamber music festivals in the world, up to 1,400 are expected to attend each concert, with over 100,000 expected to attend the entire event. CBC and Societe Radio Canada will record the vast majority of concerts, which will be broadcast to over 1 million on both English and French radio systems.

Accordionist Joseph Petric will perform at St John's Church on August 1st with violinist Kai Glusteen, pianist Judy Ginsburg and soprano Joanne Kolomeyec. Their program will include works influenced by the Gypsy spirit including Dark Eyes and Moscow Nights along with vocal works and milongas by Piazzolla. The following day Joseph will perform solo at the same venue, featuring works by Bentzon, Antonio Soler, Domenico Scarlatti and the electroacoustic work "Orbiting Garden" by Christos Hatzis.

For further details e-mail: jpetric@interlog.com