---
Myron Floren Passes Away at Age 85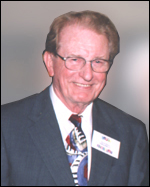 The accordion world is mourning the loss of Myron Floren who passed away at his home in Rolling Hills Estates, California surrounded by his family. He succumbed to cancer at his home on Saturday, July 23, 2005 and was 85 years old.

Newspapers coast to coast delivered the sad news that Myron had passed away.

Please visit Myron Floren - November 5, 1919 - July 23, 2005 'The Accordionist Who Played in 32.5 Million Homes' by Faithe Deffner a longtime friend of Myron's, for a beautiful tribute to Myron's life and accordion career.

---
50th AFNA Music Festival & Frank Marocco Seminar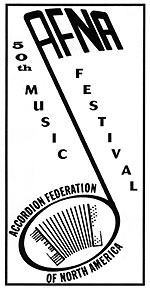 The Accordion Federation of North America will be hosting its 50th Annual Music Festival August 12 - 14 in Los Angeles. Special events include a Reunion Banquet on Friday, the 12th of August for all former and present Queens & Kings for both Accordion and Piano.

Also, jazz great Frank Marocco will offer a music seminar on Saturday, August 13, 2005 at the Sheraton Gateway Hotel, LAX in conjunction with the 50th Annual AFNA Music Festival. The Seminar is scheduled to include a question and answer period at the end.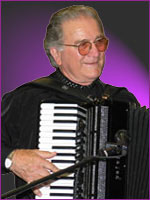 Take advantage of this rare opportunity to ask Mr. Marocco about anything related to playing music in Hollywood movies, shows, commercials, etc... Find out what it takes, how to get started, and much more! Don't miss out!

Tickets are very reasonable and are going fast. The festival will end with a free concert on Sunday afternoon featuring top winners and accordion bands.

For more information, http://afnafestival.org, phone (714) 447-9163 or e-mail afna@musician.org


---
11th Annual Masterclass in New York City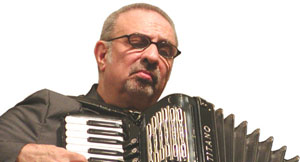 On August 26th, 27th and 28th Dr. William Schimmel will present his 11th annual master class and concert series sponsored by the American Accordionists' Association.

This year's title will be: 'At Least You Can Get Your Eats' and will feature three days of exciting concerts and lectures.

It will take place at the Tenri Cultural Institute of New York - 43A West 13th St, Manhattan. The master classes will take place at 3.00 PM and the concerts at 7.00 PM.

For details, please visit: www.ameraccord.com or e-mail: billschimmel@billschimmel.com


---
Victor Prieto to perform in Oregon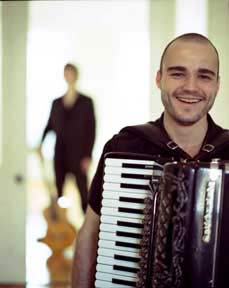 On August 27 and 28, accordionist Victor Prieto will be playing with Avantango at the Cascade Festival Music in Oregon. The leader of this Band is the international bassist Pablo Aslan. In addition to Victor on accordion, the group is formed by outstanding and well known musicians such as Diego Urcola (trumpet), Oscar Feldman (Sax) and Octavio Bruneti (piano).

Victor has recently recorded his first CD with his Trio which is being produced by Fox Haven Jazz Records (MD). The CD titled 'Persistencia' and includes six original pieces composed and arranged by Victor.

The trio comprises Victor (accordion) Carlo De Rosa (bass) and Allison Miller on drums. The CD is due to be released early next year.

---
Mid-Cities Club in the Fort Worth Star-Telegram
The Mid-Cities Chapter of the Texas Accordion Association (TAA) recently made the front page of the Fort Worth Star-Telegram. The article featured a wonderful picture of Sharon Seaton on the front page of the Saturday, July 23 issue. Pictures of Doug Norton, K.W. Grove, and Mark Kenneth appeared on the continuation of the story.

The story was well written, informative, and very supportive of the accordion and featured multimedia files such as video clips of Mike Borelli, Nick Ballarini, and Mark Kenneth.
Top view an archived copy, you can visit the Star-Telegram at www.star-telegram.com.


---
Frank Marocco Festival Performances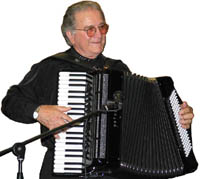 Frank Marocco just returned from three successful concerts at the Vancouver Jazz Festival and a concert at the Bach festival in Eugene OR. French Horn virtuoso, Richard Todd and Frank, along with a Rhythm section performed Bach inventions and Jazz compositions for a very enthusiastic audience at the University of Oregon Music Theater.

The Jazz Festival celebrated its 20th anniversary this summer (June 24 - July 3) with record breaking attendance of 507,000 and box office receipts of over one million dollars in ticket sales. Many thanks to all the attendees, volunteers, sponsors and media for making the event such a huge success.

For more information, please visit: www.frankmarocco.com frankmarocco@aol.com


---
Bella Ciao Releases a New CD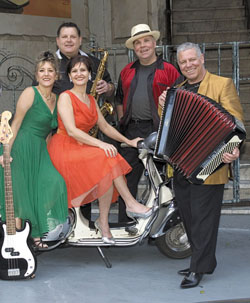 All Things Accordion is very pleased to announce the release of Bella Ciao's latest CD, Legends of the Italian Lounge on the Festa Records label. Legends of the Italian Lounge includes hip Italiano songs from the late '50s as well as some of today's hottest Italian-American hits.
To purchase a copy of Legends of the Italian Lounge and for more information about Bella Ciao, please call Tom Torriglia at 415 440 0800 or visit us online at www.ladyofspain.com/bellaciao.html

Bella Ciao plays the hippest Italiano music from the late '50s as well as today's hottest Italian-American hits. Mix the music together with their unique song stylings, vocals in English and Italian, and a colorful look and you have the makings of a mambolicious party band that brings out the Italian in all of us.
Bella Ciao is fronted by an incredible female lead vocalist reminiscent of the Italiana pop divas. Instrumentation includes accordion/vocals, drums/vocals, bass/vocals, sax/vocals, guitar/mandolin/vocals. Bella Ciao's shows often include a pizza-dough tossing contest with audience members vying for fabulous prizes.
Bella Ciao goes way beyond Italian-only events and frequently brings its hip sound and look to only the coolest venues, parties, festivals and special events. Bella Ciao's latest CD on the Festa Records label, Legends of the Italian Lounge, was released July 1, 2005.

For further information, please contact: tom@ladyofspain.com or visit www.ladyofspain.com/bellaciao.html

---
Central Florida Accordion Club Announcements
The Central Florida Accordion Club has established the new Brevard County Chapter which meets monthly on the last Sunday of the month at 1:30 PM at the Central Brevard Public Library, 308 Forrest Avenue, Cocoa, Florida. The Brevard County Chapter Coordinator is Rod Hall.

For information, please contact: accordeonman@cfl.rr.com or Phone: 321-799-2267.

Meanwhile the Central Florida Accordion Club (CFAC) has changed their monthly meeting day to the 3rd Wednesday of the month at Winter Park Elks Lodge, 4755 Howell Branch Road, Winter Park, FL, beginning at 5:00 PM.

For information, ease contact CFAC President: Thomas E. Yost at tyost1@cfl.rr.com


---
World Record to be Challenged in Canada
The 29th Newfoundland and Labrador Folk Festival, held in Bannerman Park in the town of St. John from August 5th to 7th, will be the scene for an attempt to set a new world record for the number of accordionists playing together. On July 7th of this year, Kimberly BC set a new world record of 644 players, breaking the one established by a festival in the Netherlands in 2000. The latest attempt will take place on Saturday August 6th, at 4:30 PM, and the Guinness Book of Records will verify the result.
Folk Arts Council President Jean Hewson hopes so. "When the idea of trying for the record first came up," says Hewson, "I contacted O'Brien's Music Store just to see how many accordions they thought might be in the St. John's area. 'Hundreds?" I asked. They said 'absolutely, maybe even thousands'. That gave us the encouragement we needed to say 'let's try!'"
Dave Penny, a member of the St. John Folk Art Council Board of Directors, will be the lead accordion player, and has made an arrangement for all the assembled accordions to play. A number of some of Newfoundland's finest accordion players will help with the event and several are already slotted for other performances at the festival.
For further information e-mail accordions@gmail.com


---
Musette Evenings in Montreal, Canada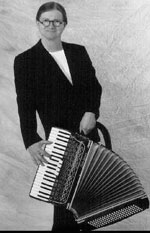 Accordionist Mario Bruneau, together with the singer Hélène Cardinal, will present a musette dance entertainment evening at the vineyard Les Blancs Coteaux, Quebec City on August 13th, from 8:00 PM to midnight.
This is an opportunity to hear musette and Edith Piaf classics, drink fine wines, and enjoy a French atmosphere.
The venue is 1046, Bruce, Route 202, Dunham, Quebec.


---
Accordion Stories being Sought in Canada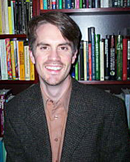 Dale Jarvis is a storyteller living and working in St. John's Newfoundland, and is looking for any sort of traditional stories or folktales that involve accordion or an accordionist!

Dale Jarvis is involved with a group called the St. John's Storytelling Circle, and their next meetings are on August 11th and September 1st.
If you can help, or for further information, e-mail: hauntedhike@nf.sympatico.ca

---
Jon Hammond in AFM Magazine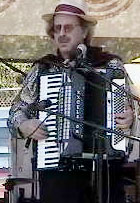 Accordionist Jon Hammond is the subject of the column FOCUS, written by the respected journalist, lecturer and musician, Bob Popyk for the American Federation of Musicians. The FOCUS articles are published in a national magazine called International Musician.
The article has led to Jon being contacted by numerous musicians from all over the United States. Accordionist Jon Hammond, as busy as ever, has just returned from California, where he played five concerts in one week.

He is now preparing for his 4th year at Music China Shanghai.


---
New Studio in Massachusetts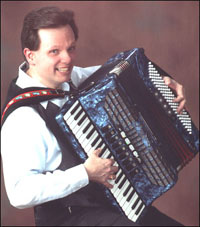 Accordionist Gary Morin has opened a teaching studio at his home in Shirley, Massachusetts. Gary will be teaching all levels and all styles e.g. polka, Latin, jazz, etc. Weekly/biweekly lessons will be available.
As a professional with 29 years experience of performing in Italian, French, German, Polish, Irish and other styles, he will also be teaching 'gig preparation' and digital mixing for those with midi accordions.
For further information e-mail GaryMAccordion@aol.com


---
Dr. Shimmel's Proudest Moment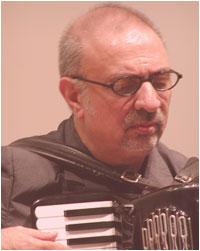 Dr. William Schimmel and Micki Goodman-Schimmel's proudest moment took place on July 28th, when their son, Michael, celebrated his 25th birthday with a solo art show. And, of course, Dr. Schimmel will supplied the music for the opening ceremony.
Michael Schimmel was born on August 9th 1980. From infancy to age 5 he attended the Kennedy Child Study Center, then went to PS 7, 146, 40, IS 131, Manhattan School for Career Development, and graduated from Stuyvesant High School in the Special Education Program. He currently works with artist, Jeff Macaluso, in the Young Adult Institute Home Habilitation program. Mr. Macaluso has facilitated the framing and presentation of the works in this exhibit.
Michael studied accordion with his father, Dr. William Schimmel, and movement with his mother, Micki Goodman, a choreographer and video artist. Michael has participated in numerous art programs such as the 92nd Street Y, The Metropolitan Museum of Art Discovery program, and is currently working the the Hudson Center for the Arts and Habitation sponsored by the Federation for Educational Guidance.
Michael's musical tastes are incredibly varied and eclectic. This has greatly influenced his painting: sculpture, woodcuts, mixed media and ceramics. His work in this exhibit was produced in programs that encourage and stimulate artistic expression. From the earliest to the present works, Michael's exhibit demonstrates his unique experience, through an intense use of emotional sensitivity to color, a particular passionate delight for rhythm and form. Clearly his work is greatly inspired by his broad musical tastes.
Michael, who has Downs Syndrome, lives in Manhattan with his parents, William and Micki Schimmel. He has Downs Syndrome. This is his first solo show. The show will take place at La Galleria - 345 E 85th Street between 1st and 2nd Ave., New York - and will run until August 2Oth.

---
Finger Lakes Grass Roots Festival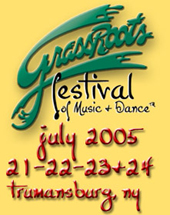 The Finger Lakes Grass Roots Festival of Music and Dance takes place in Trumansburg, New York State, from July 21st to 24th. This festival features ethnic music and dance, including Cajun, Zydeco, folk, bluegrass, reggae and African, and no less than sixty bands are booked.
The Cajun and Zydeco performers include Keith Frank and the Soileau Zydeco Band, Walter Mouton and the Scott Playboys, Preston Frank and his Zydeco Family Band, Steve Riley and the Mamou Playboys, Cleoma's Ghost, and Buffalo Zydeco.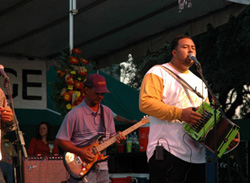 One of the leading lights of the "nouveau zydeco" movement, accordionist Keith Frank -- the son of zydeco great Preston Frank -- fused the traditional sound of his father's generation with latter-day influences ranging from James Brown to Bob Marley to forge his own urbanized and infectiously danceable style. Born in Soileau, Louisiana in 1972, Frank began playing professionally at the age of four, sitting in on a variety of instruments with his father's combo the Family Zydeco Band; despite focusing on the accordion from the age of six onward, he initially loathed zydeco and the pressures of performing, but in high school finally gave in to the music's pull and formed his own group.

As Preston Frank began to ease into retirement, Keith gradually assumed leadership duties of the family band, which now also included his sister Jennifer on bass and brother Brad on drums; as he gained confidence, he began adding elements of rap to his music, a move which dismayed purists but met with wide approval from younger listeners. Frank issued his debut album What's His Name? in 1994 and remained a prolific force in the years to follow.
For further information e-mail grassroots@shakorihills.org


---
String Cheese Incident in Oregon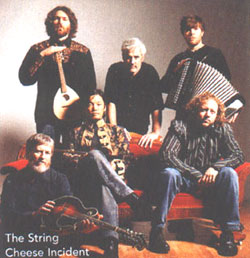 The String Cheese Incident (SCI) will return to Horning's Hideout August 4th-7th, 2005 for their annual music and camping getaway in the lush hills of Portland, Oregon. Horning's Hideout is always one of SCI's most anticipated and memorable Incidents. This year's festival will feature three nights of music by SCI plus many special musical guests.

Comprising Michael Kang - electric mandolin, acoustic mandolin, violin, Michael Travis - percussion, Bill Nershi - six string acoustic guitar, Kyle Hollingsworth - keyboards, accordion, Keith Moseley - bass, SCI released their fifth studio album, One Step Closer, on June 28, 2005 on their own record label, SCI Fidelity Records.

Since the formation of The String Cheese Incident, the band has become well-known for their impressive live shows. They are impressive not only for their outstanding musicianship, but also in their dynamic stage presence, their intimate rapport with the audience, and in their dedication to overall presentation.

The String Cheese Incident originally formed in 1993 in the small ski town of Crested Butte, Colorado. Soon after the band's start, the members moved to Boulder and began to seriously pursue music as a career. The String Cheese Incident quickly became Colorado's favorite band. Nonstop touring throughout the country and performances at the renowned Telluride Bluegrass Festival soon helped leak Colorado's secret to the rest of the country.

The energy and enthusiasm of The String Cheese Incident continue to be infectious. The band's swelling fan base is testament to their musicianship. Today, the band sells out venues of 2000+ capacity across the United States and Canada. In such cities as Denver, Chicago, Portland, Los Angeles, New York and San Francisco, demand requires they perform multiple nights.

In addition to regular touring, The String Cheese Incident is well-known for putting on some of the most memorable events in recent music history. Holidays are often an excuse to go all out; such affairs as the "Pirates Ball" Halloween Bash and the New Year's Eve celebration "Dancing Around the Wheel of Time" incorporated spectacular theatrics and breathtaking costumes and props. In addition, The String Cheese Incident performs one "International Incident" each year, motivating fans to travel to such places as Jamaica and Mexico to hear the band play. Spring 2000 offered an International Incident in Costa Rica where more than 2000 people from all over the world attended.

The String Cheese Incident is a band that inspires creativity and freedom in their audience. It's true that the band's expression of their art seems limitless and that energy oozes into their fans. In fact, their audience is so loyal and involved that their fan base has become somewhat of a phenomena and has made The String Cheese Incident larger than the band itself.

The members of The String Cheese Incident have worked hard to develop as musicians. Still, what they are building has recently taken on a life of its own. Certainly, their world is reminiscent of, if not rooted in, the ideology of such bands as the Grateful Dead, Phish, and Dave Matthews Band. The fusion of music, spirit and community is at the heart of The String Cheese Incident and as their circle grows larger, it becomes more unique to them.

"We know that the independent route is not the easiest," says bassist Keith Moseley. "But it has allowed us to build a powerful and loyal relationship with our audience." This relationship is at the heart of all the successes of The String Cheese Incident.

The String Cheese Incident has been able to forge forward with all the creative freedom of a band with complete control over their own destiny. With grand vision and the support of their fans, The String Cheese Incident continues to achieve the inconceivable.

---
Stas Venglevski Releases New CD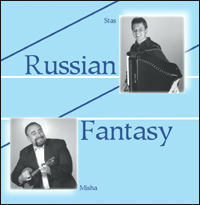 Accordionist Stas Venglevski has just released a new CD entitled Russian Fantasy. Tracks include:
(01) Lara's Theme from 'Doctor Zhivago'
(02) Oh Ti Zimushka Zima (Russian Winter)
(03) Mountain Ash Russian Folksong
(04) Korobeinki variations on Russian theme
(05) 4 Compositions from 'Rainbow Reflections' - Intermezzo
(06) 4 Compositions from 'Rainbow Reflections' - Chance Acquaintance
(07) 4 Compositions from 'Rainbow Reflections' - Summer Sunshine
(08) 4 Compositions from 'Rainbow Reflections' - Sunshine's Return
(09) Two-Step
(10) Tango 'Commander'
(11) Travishka-Muravushka - Variations on a Russian Folksong
(12) Vidul Ya na Techenku - Variations on a Russian Folksong
(13) Spring Dance
(14) Midnight Waltz
(15) Bright Shines the Moon - Variations on a Russian Folksong
(16) Fantasy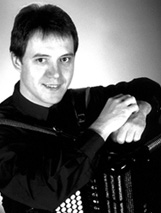 A versatile musician, Stas performs as a soloist, duo artist as well as with many other musicians.

Stas' repertoire includes his original compositions, a broad range of classical, contemporary and ethnic music. He has toured extensively as a soloist throughout the former Soviet Union, Canada, Europe, and the United States including numerous performances with Doc Severinsen, Steve Allen and with Garrison Keillor on the Prairie Home Companion Show. Additionally, he has performed with symphony orchestras throughout the United States.

He performed the world premiere of Concerto No. 2 by Anthony Galla-Rini and also the world premiere of Bayan and Beyond, composed for Stas by Dan Lawitts. He is a regular participant of the Milwaukee Symphony Orchestra's Arts in Community Education Program (ACE); has done television commercials and performed in theater productions; produced numerous recordings including transcription of Tchaikovsky's Nutcracker Suite for bayan as well as one of original compositions. He has published several books of original compositions.

For information on ordering, please visit: www.accordions.com/stas


---
Lidia Kaminska Presents CD Release Concert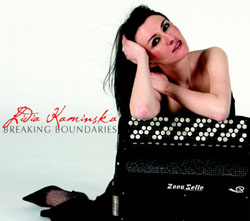 Lidia Kaminska presents a concert in recognition of the release of her first solo/chamber music album entitled Breaking Boundaries, on Sunday, August 14th at 2:30 p.m. at the White Recital Hall, University of Missouri Kansas City. Admission is free.

The concert will feature classical and contemporary chamber music, as well as modern tango and klezmer. In addition to performing solo accordion literature Ms. Kaminska will be joined by Tango Lorca, Beau Bledsoe (guitar), Scotty McBee (drums), P. Alonzo Conway (dumbek), Fernando Achucarro (cajon) and Aleksandra Kemble (flute).

Ms. Kaminska, originally from Przasnysz, Poland, became the first person in the United States to ever receive a Doctorate in accordion performance through her studies at the UMKC Conservatory of Music. She is a seven-time winner of national and international competitions, including first prize in both the entertainment and classical divisions of the 2002 Accordion Teachers Guild International Competition. Ms. Kaminska is currently a member of the Argentine tango ensemble Tango Lorca, and the Brad Cox Ensemble. She has appeared with the contemporary music ensembles the New Ear and the Musica Nova. She has also collaborated with dancer and choreographer Jorge Laico for the Kansas City Ballet's "In the Wings", and with Mathew Neenan for BalletX. Her numerous engagements as a soloist include the Kielce Philharmonic Orchestra of Poland, Strings of Lodz, North Arkansas Symphony Orchestra and Kansas City Chamber Orchestra.
For more information about new album, please visit: www.lidiakaminska.com


---
V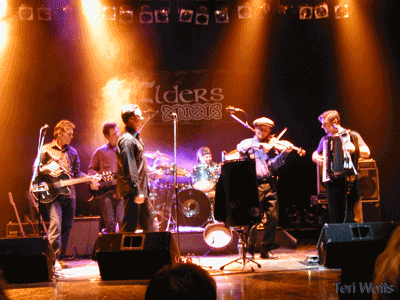 The ever popular Celtic Rock Band "The Elders" will perform at the Tweeter Center in Chicago on August 6, where they will open for Alan Jackson.

The Tweeter Center is the largest outdoor amphitheater in Chicago where over 400,000 fans experience the thrill of live concert entertainment every year. From the relaxing vibe of the lawn to the intense experience of the front row, every fan has the best seat in the house! Since opening in the spring of 1990, many of music's biggest names have appeared on Tweeter Center's stage; including Jimmy Buffett, Dave Mathews Band, Aerosmith, Jay-Z, Ozzy and KISS. With acts ranging from Rock to Country, Rap to Alternative the state of the art sound system and ideal venue layout provide a memorable concert experience for music fans from all genres.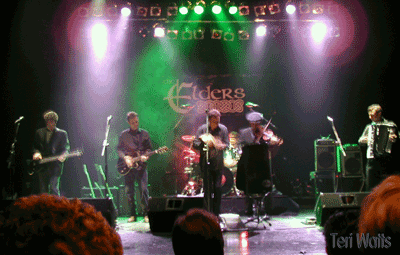 The Elders unique style of Celtic rock got it's start right here in Kansas City when lead singer Ian Byrne joined the band in 2002. Byrne is a native of Ireland but moved to Kansas City with his family in 1987. It took this Irishman living in the Midwest, his daughter's best friend and a conversation between two soccer moms, to see the potential for the band. Already an established group, adding Byrne to the lineup was the icing on the cake. Along with the other band members, Brent Hoad, Norm Dahlor, Brett Gibson, Tommy Sutherland and Steve Phillips, The Elders have played in almost every big city including Chicago, New York, Boston and Estes Park. This fall the band heads to Ireland for their third international tour.

Accordionist in the group Brett Gibson made his debut with The Elders in August, 2004 and has been active performing with the group in all their shows ever since. A native of Auckland, New Zealand, Brett began playing the accordion at age 7 and at the age of 12 won his first New Zealand championship for that age category and continued to seriously play and compete into his late teens as a soloist and with duet, trio, quartet, ensemble and orchestra. Now resident in the United States, more recently Brett can be seen playing with DescargaKC, a Latin Jazz band and now, of course, the Elders.

The Elders will also perform in Missouri at the Raymore Festival in the Park on August 12 at 8:00 PM.

For further information, please visit www.eldersmusic.com

---
---
Note: In order to provide as much information as possible for the United States National Accordion News stories, many different sources are often researched to gather additional information and pictures to complement what has been submitted. This information is then correlated to provide the news on www.accordionusa.com in the spirit of which it is intended, which is to provide a free news service to the Accordion Community, specifically in the United Sates. If you feel any copyright has been violated please advise www.accordionusa.com and the article will be removed immediately.