Maestro Anthony Galla-Rini Passes Away at 102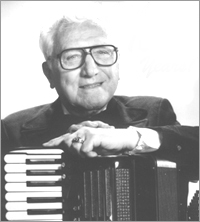 Joan Sommers reports that a few hours ago, on Sunday 30th July 2006, Anthony Galla-Rini had some troubles at the nursing home where he lived. He was taken to hospital where the family quickly gathered to say their goodbyes. His son Ron told me, that Tony Galla-Rini suffered a heart attack and passed away, at the grand age of 102 years.

Galla-Rini had a huge influence on the development of the accordion over so many decades. He is probably the most published arranger of all time and was famous for his recordings and teaching. His arrangements were always regarded as an epitomy of accuracy and attention to detail.

I have had Tony in my life from the age of 15, so you can see how much his passing means to me. He had a lot of influence on me, personally, and for thousands of other accordionists for such a very long time. He really was a truly great musician to whom every accordionist owes a tremendous gratitude.

This is truly the end of a very historical era of the accordion! May we all be so blessed to have such a long and productive life.

ANTHONY GALLA-RINI Memorial Services will be held:
Saturday, August 12, at 2:00 PM
Olive Branch Community Church
7702 El Cerrito Rd.
Corona, CA 92881

The best airport to fly into is the Ontario, CA Airport since it is only about 30 minutes from the church; LAX is approximately 2 hours away. Visitors are welcome at Ron and Jan Galla-Rini's home both before and after the memorial service.

Donations, if desired, may be given to the "Galla-Rini Memorial Fund" with proceeds going to a possible scholarship for the Galla-Rini Camp.

Personal condolences may be sent to his son at the following addresses:
Ronald Galla-Rini
9185 Stone Canyon Rd.
Corona, CA 92883
E-mail: Rongee_3@hotmail.com
Tel: (951) 277-210

Joan Sommers - Retired Professor of Accordion
University of Missouri, Kansas City (UMKC)


---
AAA and ATG to co-host the 2007 CIA Coupe Mondiale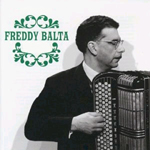 Accordionists and lovers of accordion music from all over the world will assemble in the Washington, DC area to participate in the 2007 Accordion Coupe Mondiale from August 13 through 18. The Coupe Mondiale is the most prestigious annual accordion competition of international scope. It is held in a different country every year under the auspices of the venerable Confederation Internationale des Accordeonistes since the first such event took place in 1938 in Paris where it was won by a young accordionist named Freddy Balta.

In 2007, this ambitious musical event is scheduled to again take place in the United States after more than 25 years since it was last held here, in Kansas City, Missouri in 1981.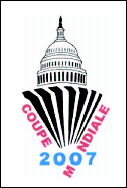 The accordion festivities will begin with an opening concert Monday night, August 13, 2007, to welcome the foreign members of the Confederation, the competitor-participants and guests who will begin to arrive on that day. Thereafter, memorable concerts are scheduled for every night of the festival, to supplement the exciting daytime musical events.

Distinguished members of the Confederation's executive committee and international delegates, as well as dignitaries within the accordion community, will rub elbows and exchange views with attending accordionists and accordion aficionados. The festival will feature accordion bands and orchestras from several countries. World-renowned accordion educators will conduct workshops and master classes.

The Confederation will oversee six significant competitions: Senior Coupe Mondiale, the Piano Accordion Competition, Senior Virtuoso Entertainment Category and the International Chamber Music Division, plus Junior Coupe Mon-diale and Junior Virtuoso Entertainment Category.

In addition, the AAA American Accordionists' Association and the ATG Accordionists and Teachers Guild, International, the two national Confederation-member organizations hosting the 2007 Coupe in the United States, will hold a wide array of competitions. These national competitions will provide competitive performance opportunities at all levels of proficiency and in all styles of music.

Plans include a spectacular massed band of accordionists to play in DC, hopefully at the nation's Capitol, as was done during the AAA's Millennium Festival in 2000. This will be followed by an interesting sightseeing tour for all the participants. Negotiations are under way to induce the Smithsonian Institute to include an exhibit of accordions under the auspices of Dr. Helmi Harrington, curator of a World of Accordions Museum in Superior, Wisconsin.

The AAA and the ATG jointly hold the exclusive US membership in the Confederation Internationale des Accordeonistes. In 1975, the CIA became the first instrument-specific (accordion) organization to be accepted into the International Music Council (IMC), the largest non-governmental division of UNESCO, which is chartered by the United Nations.

The Holiday Inn Hotel and Suites adjacent to the historic district of Alexandria, Virginia will serve as Coupe headquarters. It is about 7 miles outside of Washington, DC, with nearby metro connection to the nation's capitol for sightseeing. The hotel is ideally located near the Potomac River and King Street's entertainment district with restaurant and shopping just blocks away. Mention the Accordion Festival to receive the special $99 rate for single to quad occupancy plus free on-site parking.

Social events will include receptions, a gala Banquet on Saturday night, a Luncheon Concert, a Closing Breakfast get-together and the opportunity to eat with the foreign dignitaries daily, at attractive price-fixed rates.

Coupe Mondiale committee members from both sponsoring organizations are Maddalena Belfiore (AAA Chair), Faithe Deffner, Carmelo Pino, Linda Soley Reed, Joan Cochran Sommers (ATG Chair) and Stas Venglevski. Faithe Deffner is the 2007 Coupe Mondiale Coordinator.

INTERESTING INTERNATIONAL HIGHLIGHTS

The Coupe has taken place in North America five times since its inception. It was held in the United States, in New York City in 1959 (winner Marianne Probst) and in 1969 (winner Valeri Petrov); in Washington, DC in 1976 (winner Victor Filtchev); in Kansas City, Missouri in 1981 (winner Alain Musichini); in Toronto, Canada in 1964 (winner Stephen Dominko).

Coupe Mondiale winners from North America over the years have been:

| | | |
| --- | --- | --- |
| | | |
| John LaPadula (1956) | Ronald Sweetz (1957) | Donald Hulme (1961) |
| | | |
| Iona Reed (1962) | Leonard Langley (1963) | Stephen Dominko (1964) |
| | | |
| Beverly Roberts (1965) | Diane Schmidt (1972) | Peter Soave (1984) |
| . | . | . |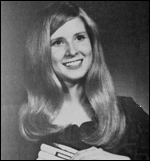 In addition to the Coupe Mondiale winners, The CIA Virtuoso Entertainment Competition was won by Karen Fremar pictured left, in 1974.

Seven Coupe Mondiale test pieces were written by American composers over the years: Concert Etude No.2 (1961) and Holiday Caprice (1962), both by Eugene Ettore; Suite for Accordion by Carmelo Pino; Scaramouche by John Franceschina; Spring Street Ritual by William Schimmel; Reflections by Karen Fremar; Rondo-Caprice by Larry Bailey.

Confederation member nations have grown to a total 24 plus another six holding limited "Corresponding-Member" status. Member countries are eligible to send contestants to the Coupe Mondiale in conformity with the organization's regulations. Where there is no national member organization, special arrangements made through the office of the CIA's Executive Secretary may qualify candidates.

For many years, the United States delegates to the CIA Congress and Coupe Mondiale have been Maddalena Belfiore and Faithe Deffner, representing the AAA, and Joan Cochran Sommers, representing the ATG. The President of the Confederation is Kevin Friedrich, a New Zealander who resides in New York.

The next Coupe Mondiale will run from October 16 through 21, 2006 in Asker Norway.


---
Five Mirrors Available in the USA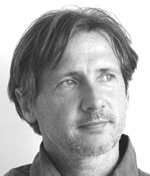 A recent work entitled Five Mirrors, composed by Slovak composer Peter Machajdik (www.machajdik.de) is now available to accordionists in the United States from Musica Slovaca in Bratislava.

This 10 minute contemporary tonal music piece for accordion, composed in 1997, was commissioned by the New Slovak Music Festival in Bratislava, Slovakia and premiered by Boris Lenko at the International Contemporary Music Festival 'Melos - Ethos' in Bratislava on 11 November 1999 and again on 12 November 2000 on Slovak Radio in Bratislava. The work has been recorded on Edition Hudba N81 0001 2 331, available from the composer via info@machajdik.de.

Peter Machajdík grew up in Bratislava, Slovakia but he has been living in Germany for the past 14 years. At six, Machajdík began music lessons and at seven, took up the piano. In the 1980's he was not accepted into the Music Academy of Bratislava because his concept of music, at that time, was heavily influenced by the Western avant-garde. At 27, Machajdík graduated from the University of Economics in Bratislava, Slovakia.

Machajdík has received commissions and awards from, among others, the Kulturfonds Foundation, the Luigi Russolo Foundation, the Slovak Music Fund and the Pro Helvetia Foundation. In 1992 he was invited to live and work in Berlin as a guest of the DAAD Künstlerprogramm. Machajdík was also the composer in residence at the Schloss Wiepersdorf, Germany, at the Künstlerhäuser Worpswede, Germany, and at the Künstlerhaus Lukas in Ahrenshoop on the German Baltic coast.

Machajdík´s works have been performed widely, including at Hörgänge, Vienna; young.euro.classic, Berlin; Nuovi Spazi Musicali, Rome; Melos-Ethos, Bratislava; Inventionen, Berlin; New Work Festival, Calgary; Musica Nova, Sofia; Festival de Jazz et Musiques d'Aujourd'hui, Mulhouse; Review of Composers, Belgrade; Audio Art Festival, Cracow, as well as at venues in the Netherlands, Belgium, Denmark, Switzerland, Portugal, Italy, the Czech and Slovak Republics, and the U.S.A.

Performers of Machajdík´s music have included artists such as Guido Arbonelli, David Moss, Natalia Pshenichnikova, Eugen Prochác, Michael Davenport, Floraleda Sacchi, Juan Maria Solare, Piet Van Bockstal, Ulrike Mattanovich, Julie Hanson-Geist, Darry Dolezal, Boris Lenko, Gertie Bruin, conductors Peter Breiner, Anu Tali and Karol Kevicky, the ARTE Quartett, the Veni Ensemble, the Slovenian Clarinet Quartet, and others.

Machajdík has lectured on new music, led workshops, and curated festivals of contemporary music. His music has been broadcast many times on radio and TV all over the world.

Machajdik often chooses to compose his works in solitary places. His compositions draw on several sources of inspiration, especially from the polyphony and modal harmonies of early music. In recent years Machajdík´s works have been typified by both economy of material and stringency of method, thereby demonstrating that what may be simple musical language can nevertheless be powerful. Also elements such as controlled use of dissonance, sustained sonorities, inconspicuous melodic motion and frequent use of minor tonalities apply to Machajdík´s compositional style. Most of his compositions have a meditative character.

The score of FIVE MIRRORS [ISBN 80-8051-375-9] is available by contacting: info@machajdik.de or info@musicaslovaca.sk.

Eighteen measures from FIVE MIRRORS by Peter Machajdik might be seen at http://www.machajdik.de/html/listof.html


---
Cafe Accordion Orchestra to debut in Massachusetts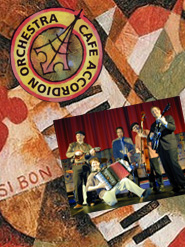 The Cafe Accordion Orchestra will perform at the Center for Arts in Natick (TCAN) on Friday, August 4, at 8.00 PM.

It what is believed to be their first Massachusetts show, the Cafe Accordion Orchestra led by Dan Newton ("Daddy Squeeze", of Garrison Keillor's "Prairie Home Companion") will perform a wide range of selections from world music to gypsy swing.

Imagine yourself in Paris sipping espresso at a sidewalk café and listening to a group of strolling musicians. Café Accordion Orchestra can take you there. CAO plays the kind of gentle, enticing, low-volume world music that Americans knew about in the Kennedy era: waltzes, French Café sounds, bossa novas, sambas and tangos. Led by the quietly dazzling Dan Newton, this quintet knows the value of understatement, warmth, discretion, subtlety and easy and genuine swing. Totally hip.

The Center for Arts in Natick (TCAN) (www.natickarts.org) is a nonprofit 280-seat performing arts venue located in a 130-year old renovated firehouse at 14 Summer Street in downtown Natick. The acoustics in the space wins plaudits from performers and audiences alike.

In 2005 TCAN received one of the 27th Annual Massachusetts Historical Commission's Preservation Awards for the restoration and adaptive reuse of Natick's Central Firehouse building. Since its restoration in 2003, the 1875 Firehouse has become the premier regional arts venue in Metrowest, drawing audiences from throughout greater Boston and the North and South Shore.

Tickets are available on line, by phone, or at our box office, and are $16 (discounts for members, seniors, and students).

www.natickarts.org/tcan_artistdetail.php?artist_id=723

Terri Evans
TCAN Publicity Team
The Center for Arts in Natick
Tel 508 655 6747 (eves); 617 869 2240 (cell)
e-mail: bevanst@earthlink.net
TCAN box office and ticket info: 508.647.0097


---
Flaco Jimenez Concerts in Texas
Grammy-winning diatonic accordionist Flaco Jimenez is one of the legends of the world of Tex-Mex Conjunto. While there are many masters of the accordion along the Texas-Mexican border, none has toured Europe, Japan and other countries overseas or recorded with as many pop, rock and country artistes as Flaco Jimenez. Flaco has the following appearances coming up:
July 29th - Pepe's On the River, Mission, Texas
August 5th - Tejano Conjunto Jam 2006, Fresno, California
August 6th - Skirball Cultural Center, Los Angeles, California
October 6th - Santa Rosa Children's Hospital Private Fundraiser
For further information e-mail: info@flacomjimenezmusic.com


---
HA HA! WA WA! The Accordion Can Kill You!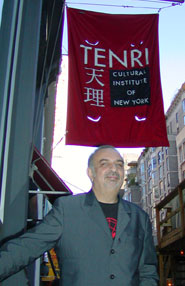 This years American Accordionists Association Master Class and Concert Series moderated by Dr. William Schimmel entitled HA HA! WA WA!, THE ACCORDION CAN KILL YOU! was a great success.

"WE KILLED THEM IN KALAMAZOO! HE TRIPPED OVER HIS ACCORDION AND LANDED ON A POISONOUS LIZARD - HA HA! LIFE WAS GOOD - NOW IT'S CRAP - WA WA! OUR 12th SMASH YEAR! A BIT OF WARNING! BETTER NOT ATTEND! YOUR HEART WILL BE BROKEN! YOUR SPIRIT CRUSHED! YOUR MIND……! IN ANY CASE, WELCOME TO THE SEMINARS!"

Despite this warning, attendees not only survived, but thoroughly enjoyed the wide variety of accordion activities at this years annual series of concerts and master classes showcasing the many faces of the accordion.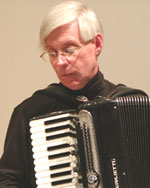 Appearing for 12 consecutive years, Dr. Robert Young McMahan performed the AAA commissioned work, Scaramouche by John Franceschina.

Dr. Schimmel, lecturer- in- residence of the AAA resurrected a vintage concerto by ANDY ARCARI - one of America's great pioneers, as well as a new work, A BRIEF HISTORY OF PLAID- combining the HA! WA! qualities of Auld Lang Syne, Palliachi, Indian Madras and Fado (Portuegese)/ Fado (Gallic)-with an interactive video by Micki Goodman.


Please enjoy the pictorial review of the Friday evening Concert... HA HA! WA WA! it probably wont kill you!
Off the Scale (Laugh Now, Cry Later) Ms. Micki Goodman - Choreographer/Dancer,
Kathleen Tipton - Actress and Dr. Schimmel - Accordionist

A Brief History of Plaid by Dr. Schimmel featuring Micki Goodman - Video and Direction, Editing by Deborah Magocsi, Allyssa Lamb - Vocals and Melodica and Dr. Schimmel - Bass Accordionist

Aloha-Ha by Rembert Block -Vocals and Accordion

WA WA Wag by Dr. Mark Birnbaum
Dr. Birnbaum - Piano and Dr. Schimmel - Accordion

Lee Mcclure - Digital Flute and Bill Schimmel - Accordion

Marni Rice - Vocals and Accordion

Ray Rue - Accordion

Maria Sonevytsky - Accordion and Mia Pixley - Cello

Dr. Schimmel and Kamala Sankaram

Allyssa Lamb and Dr. Schimmel

For further information or details on the 2007 event, please e-mail: billschimmel@billschimmel.com


---
16th Cotati Accordion Festival in CA
The 16th Annual Cotati Accordion Festival held in La Plaza Park, Cotati, California, Saturday August 26 and Sunday August 27, 2006. Northbound on HWY 101 Take the west Sierra Exit to the right (eastbound) past the first stop sign by City Hall, continue until you see the Polka Tent. Southbound from Santa Rosa, take HWY 116 exit to Cotati, cross under the freeway and go right at the first stop sign park and listen for the music.

This year music will begin at 9:45 AM and continue after 8:8:00 PM both days.

Headlining both days will be Dick Contino, with Rosie Ledet Saturday and Joel Guzman on Sunday:



The line up is: SATURDAY AUGUST 26th, 2006
9:45-10:15 Golden State Accordion Club
10:20-10:50 Tom Cordoni
10:55-11:30 Salute Matelot
11:35-12:10 The Loose Acoustic Trio
12:15-12:45 Cora Allegro
12:50-1:05 The Great Morgani
1:10-1:45 The Mad Maggies
1:50-2:15 Lady of Spain
2:20-3:00 Ginny Mac
3:05-3:40 Simka
3:45-4:35 Dick Contino (right)
4:40-4:50 The Great Morgani
4:45-5:45 Those Darn Accordions
5:50-6:25 Culann's Hounds
6:30-7:30 Rosie Ledet and the Zydeco Playboys
7:35-8:00 encore
In the Polka Tent
1:00-5:00 The Steve Balich Polka Party
5:05-6:25 The Wild Catahoulas & Zydeco dance party in memory of Jim Boggio
At Spancky's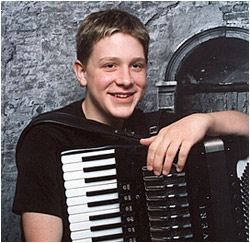 SUNDAY, AUGUST 27, 2006
9:45-10:15 Golden State Accordion Club
10:20-10:50 Sammy Thomas (right)
10:55-11:25 Cora Allegro
11:30-12:00 Ben Creed
12:05-12:40 The Jubilee Klezmer Ensemble
12:45-1:00 The Great Morgani
1:05-1:40 Tango No. 9
1:45-2:10 Lady of Spain
2:15-2:50 Bella Ciao
2:55-3:30 Don Nurisso, Peter Di Bono and Steve Hanson
3:35-4:25 Dick Contino
4:30-4:40 The Great Morgani
4:45-5:25 La Familia Pena-Govea and Los Compas
5:30-5:40 Sammy Thomas
5:45-6:45 The Aztex with Joel Guzman
6:50-7:10 encore
7:20-8:00 Polkacide
In the Polka Tent
1:00-5:00 The Steve Balich Polka Party
5:05-6:25 Mark St. Mary
At Spancky's;
1:00-5:00 Motor Dude Zydeco
We will again be selling presale tickets prior to August 26. For presale one day $15.00 and two day sales of $25.00 Your group will receive $2.00 per ticket for pre-sale sales of tickets. We ask that these sales be reconciled prior to August 26 or be reconciled by a producer upon entry. Please speak with a Producer not a ticket vendor to reconcile pre-sale ticket sales- thank you. We expect this to be our best show ever and ask that you remind all patrons no pets, alcohol, or coolers, are allowed and low backed lawn chairs are best. Enjoy the best show on earth!

To order tickets please write to Scott Goree at info@cotatifest.com or send your request along with your check to PO Box 809, Cotati, CA 94931. Of course you may contact me, Linda Conner at the following numbers. Linda L. Conner 707-585-2910 (voice), 707-585-2920 (fax), 707-318-3694 (cell), or e-mail: geolinda@pacbell.net


---
Camp Accordion Land in Crown Point State Park in Alameda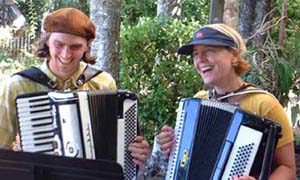 The annual Camp Accordion Land takes place in Crown Point State Park, Alameda, on August 12th and 13th. The camp features workshops led by local accordion teachers (including tango, jazz and klezmer workshops), private and group teaching, two accordion orchestra performances, and even an accordion sand sculpture contest.

Conduction is a form of conducted improvisation, in which the director uses hand signals or even cue cards to signal to the musicians what to do. John Schott has extensive experience playing in and leading conduction ensembles, and especially in giving a gentle conduction introduction to accordionists new to the concept.

Several workshops will be featured, including, but not limited to:

Orff Improvisation: You may end up playing something other than an accordion here. Orff instruments are a set of xylophones and other percussion instruments used to teach music to children and adults. Because the instruments are simple to play, musicians get to tackle more advanced playing, improv, and movement than when playing more difficult instruments (such as the accordion). Sarah Noll is an advanced accordionist and singer for Discordion who by day is an Orff music teacher.

Accordion Orchestra: That's you and me and everyone else making music together. Printed music will be e-mailed to you when you sign up for camp.



The Accordion Dissection workshop was a big hit at last year's camp. This year, we've upped the ante -- you won't just take the accordions apart, you will also put them back together again. Lou will show you how it's all done, and you'll get a chance to practice some simple accordion repairs yourself. If you want, take a look inside your own machine and perhaps fix what ails it. And there will also be drawing materials available for sketching the innards of different mechanisms, just like when you drew earthworm intestines in biology class. It's that fun.

The Accordion Sand Sculpture Contest is what it says it is. First prize: two private accordion lessons with your choice of any of the teachers at Camp AccordionLand. Begin flowing your creative juices - now.

The Camp offers several pricing options including:
Park your Body for the whole Weekend and don't leave till they kick you out: two days, four meals, two snacks
One day of Fun in the Sun: one day , two meals, one snack
In and Out Burger: a single workshop (optional single meals $10 extra)
For further information e-mail: info@henryducharme.com or visit: http://www.henriducharme.com/accordionland2.html

---
Victor Prieto in Concert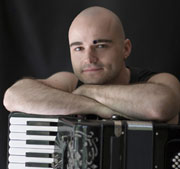 Accordionist Victor Prieto will be appearing frequently in August both as a soloist and with his Trio.

His new CD "Persistencia" has 8 reviews in All about Jazz and All About Jazz NY. The jazz Improv Magazine considered the Victor Prieto Trio at Blue Note one of the best performances in NY in June 2006, along with Lionel Louke, Yellow Jackets and famous French jazz artist Richrad Galliano.

Upcoming performances include:

1 August - Speranto - 7:00 pm
New York, USA
Daniela W. Trio
2 August - Olea - 8:00 pm
Brooklyn, USA
Victor Prieto solo
5 August - Cafe Moto - 8:00 pm
Brooklyn, NY
Victor Prieto Solo

13 August - PJ Henlys
Brooklyn NY
Victor Prieto Trio
Carlo De Rosa, bass
Vince Cherico, drums

14 August - Immigrant Sounds Festival II - 7:30 pm
New York , USA
Victor Prieto Solo

17 August - La Lanterna - 8:00 pm
New York, USA
Alexis Cuadrado - Trio Iberico
Alexis Cuadrado, bass
Victor Prieto, acc
Brad Shepik, guita
related site

Visit www.victorprieto.net to see more information.


---
Fintan Stanley Concerts
Born in County Louth, Ireland, in 1941, American-based Fintan Stanley was the first player, in 1955, to become an All-Ireland Champion using a Continental button accordion.

Fintan has toured Europe, Australia and America playing music to suit every taste. His repertoire includes Irish, Scottish, Continental, Classical, Jazz, Country & Western, etc. While his prowess as an instrumentalist is well known, he is also a very fine singer with a vast repertoire.

Fintan has been resident in Boston for many years but returns to Ireland annually.

Fintan Stanley has the following bookings:
The O'Connell Lounge, Fern Cliff House Resort, Catskill Mountains, New York State
July 7th and 8th
August 11th and 12th
September 8th and 9th
Cape Cod Irish Village, Massachussetts
July 30th and 31st
August 6th and 7th, 23rd and 24th and 31st
September 18th and 19th, 29th and 30th


---
AAA Announces Winners in International Competition
The American Accordionists' Association celebrated its annual competition and festival in Buffalo featuring Competitions, Workshops, Displays, Concerts.

For the second year in a row, the festival featured the grand ' Vivian Vivio Stolaruk International Entertainment Competition for Accordionists' with an impressive $10,000 First Prize.

$10,000.00
1st - Vitaliy Pirog

$3,000.00
2nd - Sammy Thomas

$2,000.00
3rd - Havard Svendsrud

All prizes for the Vivian Vivio Stolaruk International Entertainment Competition were donated by Steve Stolaruk in divine remembrance of his wife, Vivian Vivio Stolaruk.


---
Promoting Your Accordion Services Free at AWW

The Internet is changing the way your customers are searching for services. The days of lugging out a 12 lb. telephone book to find very limited and outdated business information are coming to an end. People are still letting their fingers do the walking, but they're doing it over a computer keyboard. Below are some revealing facts from the Kelsey Group.
74% of US households use the Internet as an information source when shopping.
Approximately 45% of searches had a buying intent.
The percentage of respondents who used yellow page directories decreased from 75% to 62%.
(If you have a printed yellow page ad, it is time to consider buying a smaller ad and shifting your marketing dollars to the Internet.) The off-line Yellow Pages see the writing on the wall and are scrambling to transfer their business model to the Internet.

Businesses can no longer ignore these facts. If you want to be successful, you must have a presence where your customers are searching. Being found on the Internet is vital to the future of your business.



The Accordion Yellow Pages offers free of charge listing for all accordion businesses, teachers and for every type of service for accordionists. On the Accordion Yellow Pages site, you do not need to have a website for accordionists find you and contact you.



The search-accordion.com site is also free of charge, being a listing service for every type of accordion service but you must have a website. Viewers of search-accordion.com can click to your website.



Very popular is the AccordionLinks.com site where those accordion service providers with a website, can attract accordionists free of charge to their website.

All it takes is a little effort, to make sure your information on these three popular and very effective accordion sites is up to date. Your future success may well be determined by your ability to effectively adapt to the Internet. Should it be your New Year's resolution for 2006?

---
---
Note: In order to provide as much information as possible for the United States National Accordion News stories, many different sources are often researched to gather additional information and pictures to complement what has been submitted. This information is then correlated to provide the news on www.accordionusa.com in the spirit of which it is intended, which is to provide a free news service to the Accordion Community, specifically in the United Sates. If you feel any copyright has been violated please advise www.accordionusa.com and the article will be removed immediately.