---
Eddie Chavez's Other Passion - Aviation Models

Accordion USA received a lovely letter from John H. Hill, the Curator in Charge of Aviation at the San Francisco Airport Museum offering some further information about Eddie Chavez's work as an aircraft modeler. This subject was touched upon in our memorial to Eddie, however John's letter provides some excellent additional information.

The great majority of the model aircraft Eddie created for the Nut Tree Restaurant and Airfield in Vacaville, California were acquired by the San Francisco Airport Museums in 1997. The Nut Tree Restaurant had gone out of business in 1996. It remains closed, while the Coffee Tree Restaurant, an original part of the Nut Tree enterprise, continues to operate. The airfield was donated to the county in 1973 and continues operating as Nut Tree Solano County Airport.

Mr. Chavez's relationship with the Nut Tree began in 1961 when Edwin I. Power, Jr., an owner of the Nut Tree, had his art director, Don Birrell, contact Mr. Chavez after seeing his model work at the Smithsonian. From 1961 to 1988, some twenty-seven Chavez models were commissioned by the Nut Tree, and for much of that period he modelled exclusively for Mr. Power. A few of the models were made with the assistance of Mr. Chavez's friend, Robert Fogg.

Eighteeen of these Chavez models were added to the San Francisco Airport Museums Aviation Collection in the 1997 acquisition. They became an important asset of the San Francisco Airport Commission Aviation Library and Louis A. Turpen Aviation Museum, which opened as part of the San Francisco Airport Museums in 2000 upon completion of the new International Terminal at SFO. This is the largest collection of Chavez models.

Thirteen of the models are now on view in the aviation museum in the exhibition, "Masters of the Sky: Model Aircraft by Edward Chavez," which continues through January 2005. Should your readers wish to visit the Chavez exhibition, directions and hours can be found at www.sfoArts.org/maps/directions.html or by calling (650) 821- 9900.

Below are four examples currently on display. Many thanks to the San Francisco Airport Commission for providing these pictures of Eddie's work for use with this article. All photographs are copyright © San Francisco Airport Commission.
Curtiss Condor AT-32-B
model aircraft 1976
United States of America, 1934
Scale 1:12
Model wingspan 83"
Model maker: Edward Chavez
San Francisco Airport Museums
Nut Tree Restaurant and Airfield Collection
Photograph: Michal Venera

Douglas World Cruiser "Chicago"
model aircraft 1974
United States of America, 1924
Scale 1:10
Model wingspan 60"
Model maker: Edward Chavez
San Francisco Airport Museums
Nut Tree Restaurant and Airfield Collection
Photograph: Michal Venera

Fokker T-2 (F.IV)
model aircraft 1968
Netherlands, 1922
Scale 1:10
Model wingspan 81"
Model maker: Edward Chavez & Robert Fogg
San Francisco Airport Museums
Nut Tree Restaurant and Airfield Collection
Photograph: Michal Venera

Graf Zeppelin LZ-127 Dirigible
model aircraft 1967
Germany, 1927
Scale 1:62
Model length 149"
Model maker: Edward Chavez
San Francisco Airport Museums
Nut Tree Restaurant and Airfield Collection
Photograph: Michal Venera


---
Lidia Kaminska Makes New York Debut, Say What?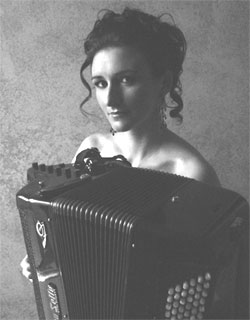 Say What? is a one-night festival that celebrates the music of Jerome Kitzke performed by Lidia Kaminska. Following the amazing success of the 2002 George Crumb Celebration Festival, American pianist Andrew Russo returns to New York on Friday, September 24 to direct and perform in a new project entitled Say What? at The Cutting Room, 19 West 24th Street, New York, New York between Broadway and 6th Ave.

The evening's highlight will be a one-hour concert "Native Echoes" beginning at 9 PM is devoted to the dynamic and haunting music of Jerome Kitzke. Don't miss this rare opportunity to hear Ms. Kaminska and Mr. Kitzke perform Breath and Bone.

In a mere 50 minutes, the audience will be treated to a menu de dégustation of works by the extraordinary American composer and storyteller Jerome Kitzke performed by Jerome Kitzke, Thomas Kolor, Lidia Kaminska, New Jersey Percussion Ensemble. The Aperitif - Breath and Bone for accordion and vocals; the Entrée - Green Automobile for toy piano and vocals; the Plat Principal - The Earth Only Endures for percussion and vocals; and finally for Dessert - the richly evocative The Character Of American Sunlight for vocalising percussion quartet with piano. A truly five star feast!

Other features on the concert program are:

7:00 PM BOOM BOX - Andrew Russo, Kevin Gallagher, Jeremy Turner
This concert, in the structure of a boom box, will feature premieres of 2 new works for speaking pianist by Derek Bermel and Marc Mellits (commissioned by Andrew Russo) bookended by 4 works for solo instruments and boom box by the Dutch master Jacob ter Veldhuis. Featured are: TaTaTaTa for cello and boom box; May This Bliss Never End for cello, piano and boom box; Grab It! for guitar and boom box; and The Body Of Your Dreams for piano and boom box.

11:00 PM DARKNESSE VISIBLE - Thomas Rosenkranz, Samuel Solomon
Taking us to the stroke of midnight will be a trio of works both deep and dark. Beata Moon's "Keepers of Democracy for speaking pianist/toy pianist will lead the way into Frederic Rzewski's epic De Profundis for speaking pianist - a musical dramatization of Oscar Wilde's monumental letter from Reading Gaol to Lord Alfred Douglas. To conclude, Adam B. Silverman's conceptual theater work for vocalizing percussionist Stars, Cars, Bars, which draws on texts from a particularly hallucinatory segment of Nabokov's Lolita.

Friday, September 24, 2004 at The Cutting Room, W. 24th St, New York, NY, USA Concert Times: 7 pm, 9 pm and 11 pm. To reserve tickets: (+1) 212 691 1900 (pick-up after 3pm only) Prices: $10/single concert; $25/3-concert pass.

SAY WHAT? is underwritten by generous grants from the Gladys Krieble Delmas and James S. Marcus Foundations. For more information, please contact Moira Johnson Consulting. Tel: (+1) 613 565 0666 Email: majico@magma.ca www.moirajohnson.com



---
Accordions Aloud in Medford, MA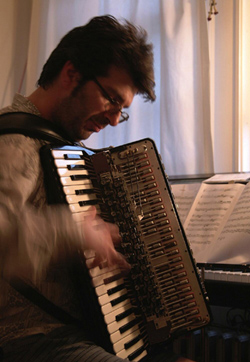 MEDFORD, MA - If the accordion makes you roll your eyes and think of Steve Urkel and the "Lawrence Welk Show", you've got another think coming. Escaping its disparaged stature as the black sheep of the musical world, the accordion will be in the spotlight at Springstep this fall. During its segment on Folk Traditions this September and October, the multicultural art center will present a concert and workshop exploring the breadth and diversity of the accordion.

The fun begins Saturday, September 18th with a unique concert, Accordions Aloud! It's the kick-off event of Springstep's 2004-05 Performance Series. The concert features five outstanding New England accordionists: Brent Buswell, Roberto Cassan, Evan Harlan, Jeremiah McLane, and Tom Pixton, showcasing the 'squeezebox' in all its diversity. Accompanied by their respective bands the musicians will play music in traditional French, Balkan, Scottish, Scandinavian, Latin and French Canadian styles in addition to contemporary compositions. The show starts at 8:00pm, tickets are $15 general, $12 students/seniors.

Inspired concert-goers can later deepen their experience with an accordion workshop Saturday, October 16th from 11:00 am-1:00pm, with Arthur and Sue Welch, owners and operators of the Accordion Connection in Gilmanton, NH. Titled, "I'd Rather be Squeezing," the workshop will cover the history and variety of the instrument, provide demonstrations on piano accordion, and allow participants an opportunity to strap one on themselves!

The accordion is a truly multicultural instrument that has evolved over millennia and transcends common stereotypes. With roots starting in 3000 BC with the invention of the Chinese cheng, free-vibrating reed instruments such as the accordion, concertina, and bandoneon are present in folk and cultural traditions across the globe. The modern accordion's family tree touches musical traditions as varied as Zydeco, Polka, Klezmer, Tango, Latin, English/Celtic, Classical, and Jazz, as well as contemporary rock.

At a Glance:
Concert: "Accordions Aloud!" Sat. September 18th, 8:00pm. $15/$12, seating general admission.
Workshop: "I'd Rather be Squeezing", Sat. October 16, 11:00am--1:00pm. Tuition: $25.
Location: Both events take place at Springstep, 98 George P. Hassett Drive, Medford Square.
Accessibility: Springstep is fully handicapped accessible.
Information and ticketing: 781.395.0402, www.springstep.org


---
Dr. Schimmel celebrates 10th Anniversary Series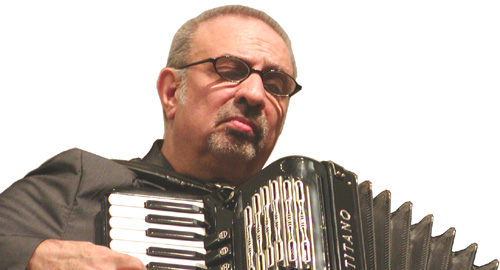 ---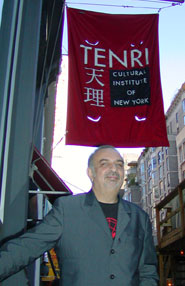 The 10th anniversary of the Annual Master Class and Concert series was presented August 27-29, 2004 at the Tenri Cultural Institute in New York City.
Lecturer-in-residence of the American Accordionists' Association, composer, author, accordionist and philosopher, Dr. William Schimmel moderated the AAA sponsored event.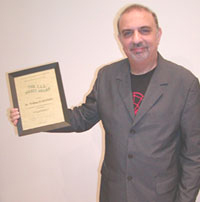 On the Saturday night concert, Dr. Schimmel was presented the CIA Merit Award from the Confederation Internationale des Accordeonistes (CIA) in recognition of his outstanding contribution to the international accordion movement. At the presentation past AAA President Mrs. Faithe Deffner profiled many of Dr. Schimmel's outstanding achievements spanning decades of work with the accordion that led to the nomination for this prestigious International award which was presented in conjunction of the tenth anniversary celebrations.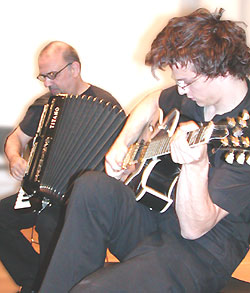 Dr. Shchimmel was the focus of a full page article published in the New York Times on the opening day of the event. "Dr. Schimmel's belief in the supreme adaptability of the accordion is also the philosophical core of this Master Class and Concert Series" stated the New York Times in a full page article that preceded the event. The three day series drew an audience of approximately 300 attendees, many as a result of the New York Times article.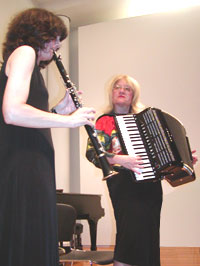 Featuring the diversity of the accordion, listeners were treated to a wide variety of styles from the classics, contemporary, jazz to performance art, from solo accordion, bass accordion, 12 bass, punk accordion to accordion with trumpet, melodica, guitar, clarinet and piano and much more.
Dr. Schimmel, who earned his bachelor's, master's and doctoral degrees in composition at the Julliard School is already putting together the 2005 Master Class and Concert series.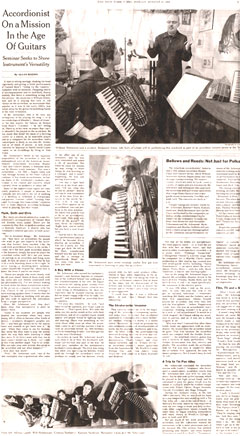 Among the participants from this year were: The "K" Trio, Paul Stein and his mother Beverley, Jazz accordionist Will Holshouser, Dr. Robert Young McMahan, Allyssa Lamb, Kamala Sankram, Dr. Thomas Massucci, actress Kathleen Goodman, performance artist Ray Rue, songwriter Rembert Block (Avant-Garde the whole family can enjoy), Brian Dewan (Brain surgery without anesthesia) and Eugene Ettore specialist Rita Davidson. Also performing were Godfrey Nelson and Lorraine Nelson-Wolf, Micki Goodman, Benjamin Ickies (pictured on the left with Dr. Schimmel in the NY Times article) and many more.

Micki Goodman presented the fourth and final part in her ontological film called "What is this thing called the Accordion?"
For a complete schedule of the three concerts and masterclasses that took place, please visit www.ameraccord.com.


---
Brett Gibson Joins 'The Elders'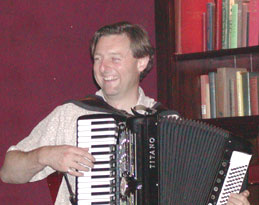 The world of the popular band The Elders has seen some major developments over the course of the past few weeks. Their beloved accordionist Randy Riga had to leave the band for personal and family reasons, but were thrilled to find an able replacement in the form of New Zealand's very own Brett Gibson. Brett made his debut with The Elders on the Budweiser Stage at the Missouri State Fair in Sedalia, MO at the end of August.

Brett, a native of Auckland New Zealand, began playing the accordion at age 7 and at the age of 12 won his first New Zealand championship for that age category and continued to seriously play and compete into his late teens as a soloist and with duet, trio, quartet, ensemble and orchestra. At 17, he toured with the Air New Zealand Accordion Orchestra to the US and Canada, returning to continue teaching the instrument and training other NZ champions.

In 1989, an offer came at to leave NZ and tour with the famed UMKC Accordion Orchestra to the former Soviet Union, Scandinavia and Estonia. Following that, he moved to London, England, where he worked for 2 years as a freelance software consultant to both Lloyds of London and Standard Chartered bank before returning to Kansas City where he now makes his home.

He graduated from UMKC with a Bachelors in Computer Science, and during that time, fell into Celtic music and never recovered. He has played with Emerald Skye, Gabriel's Gate, Cavan, Shenanigans, and currently plays with Eddie Delahunt, and his own creation Residence Rules.

More recently, he can be seen playing with DescargaKC, a Latin Jazz band and now, of course, the Elders. For more information on The Elders, please visit www.eldersmusic.com


---
Frank Marocco in Texas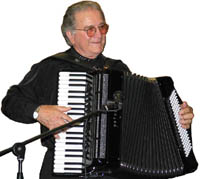 Frank Marocco, one of the most recorded accordionists in America and possible the world, having played on a vast number of Movie sound tracks, television scores, commercial jingles and record albums, CDs in the studio of Hollywood and beyond, will perform in Texas on December 4th, 2004.

Frank began his musical career began in Chicago, Illinois where at age 17 he took first place in a national music contest. He performed his winning solo with Mark Weber and the Chicago Pops Orchestra playing before several thousand people in Soldiers Field.

Frank spent the next few years traveling all over the USA with his quartet playing the top hotels and clubs including Las Vegas, Lake Tahoe and Palm Springs before finally settling in Los Angeles. He later worked with the Les Brown Band and Bob Hope, working on Mr. Hope's television shows and traveling with him around the world entertaining the servicemen. He also did six Love Boat cruises with the Les Brown Band as a featured soloist.

Also appearing on the program will be Stephen Navoyosky, Anatoliy Yegorov, Mario Pedone and Liberty Palileo.

The Concert will be held December 4th, at the Sugar Land Community Center 226 Matlage Way, Sugar Land, Texas 77478 from 7-10 PM by the FBC Accordion Club. Seating is limited, so advance purchase is advised. Admission: $20.00, please make checks payable to: Mr. Joseph Regina 3643 Robinson Road, Missouri City, Texas 77459.

For additional info call: Mario Pedone 281-494-6657, Vince Ramos 281-204-7716 or Joe Regina 281-438-0940.


---
Last Call for Air Force Band Accordion Audition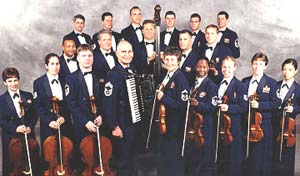 As has been reported in recent months, there is a great job out there awaiting an accordion player. The catch: Six weeks in boot camp. The Air Force has been looking to replace the accordion player of its band's Strolling Strings music ensemble since the musician retired two years ago. So far, the search has been fruitless.

"It is very hard to find the right person for this job, but it's a great job for the right person," said Chief Master Sgt. Jane Bockenek, the Strolling Strings' music director who plays the violin in the band.
The Air Force is looking for more than an accomplished musician. "They have to be under age 35, they have to fit our weight and fitness requirements, and they have to be able to get a security clearance," she said. "We are looking for someone who's not just qualified to do the job, but who fits the parameters of the United States Air Force." They also will have to endure six weeks of rigorous basic training.
"They'll have to go through boot camp like every other recruit, but they will also be entitled to all the benefits of being in the military," she said. Those who join the band are unlikely to see combat, she said, but they may be assigned administrative work such as maintaining the band's motor pool or coordinating its performances.
The 22-member ensemble plays state functions at the White House and entertains troops. "What is so terrific about being in this band is that we are doing something so important from a diplomatic standpoint," Bockenek said. "And keeping up morale for the troops is an important part of our job. Not many musicians can say what they do has the impact that we have."
A case in point is Sgt. Maj. Manuel Bobenreith, the accordion player in the U.S. Army's band and the military's only official accordion player for now. "I consider myself lucky that I am the only accordion player out of more than 490,000 active-duty soldiers," said Bobenreith, who has been the Army's accordionist for 18 years.

The position with the Air Froce Band offers excellent health benefits, higher education options, retirement benefits, job stability and more, offers an annual salary range between $39,652 - $46,416 and the maximum age at the time of enlistment is 35 years old.

Applicants must send in a tape or CD performing two contrasting works (preferably classical) postmarked by September 20, in order to be prescreened for the audition on October 1st in Washington, DC.

The applicants acoustic tape or CD should be send to:

Auditions BABA
US Air Force Band
201 McChord Street
Bolling AFB
Washington, DC 20332-0202

For further information, please contact Frank McKinster at (202) 404 3477 or e-mail charles.mckinster@bolling.af.mil or you may also view information on-line at www.usafband.com


---
Greek Dancing and Accordion Music in San Francisco
On September 13th at 8.00 PM, an evening of Greek music and dancing will be held at Fort Mason Center, Building C, Room 362, San Francisco.

This is an opportunity to dance to live Greek music where the musicians and vocalists include Dan Ziagos on accordion.
For further information, e-mail makaronis@earthlink.net


---
Gypsy Wranglers at Quebec Accordion Festival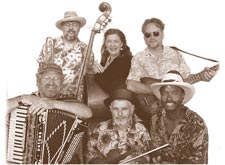 Accordion led band the Gypsy Wranglers have been invited to perform at the Carrefour Mondial de l'Accordeon, Montmagny, Quebec from September 2nd to 6th, 2004. The Gypsy Wranglers specialize in 1930s style swing music, and are normally resident on Sunday lunchtimes (11am to 1pm) at the Black Sheep Deli, in Kansas City.

T he Carrefour festival, which translated means 'World Crossroads of the Accordion', features accordionists and bands from Canada, USA, France, Belgium, Italy, Sweden and Ireland. The host town of Montmagny is located thirty miles east of Quebec City.
Craig Hollingsworth, the Gypsy Wranglers' accordionist, commented: "Because it (the festival) is in Quebec, it has a very French orientation. When you get to Montmagny, you know that you aren't in Kansas City anymore! It is very French".

Swinging, bluesing and jazzing, the Gypsy Wranglers create a musical cattle drive from Paris, Texas to Paris, France. Their music is a special blend of Gypsy Jazz, French Musette, Cowboy Swing and Ragtime, drawing from the traditions of such jazz greats as Django Rienhardt, Bob Wills, Louis Armstrong and Benny Goodman.

Their music which features fiddle, guitar, accordion, trombone, bass and drums, harmonica, ukulele and Puerto Rican cuatro, take you to a New York nightclub of 1938, a Paris sidewalk cafè, and a Texas roadhouse, all within a half hour!

For more information about the Gypsy Wranglers, e-mail craig@gypsywranglers.com

---
Festival of Irish Music and Dance features Accordionists
On Saturday, September 18th, the 30th Annual Festival of Irish Music and Dance takes place at the Monsignor Bonner High School, Drexel Hill, Philadelphia. The festival includes a wide variety of artistes representing the best in Irish traditional music, song and dance.

Guest artists include Corner House (featuring two-row button accordionist Sean McComiskey), Tradpole (featuring John Boyce on piano accordion & John McGroary on two-row button accordion), father and son accordionists Kevin and John McGillian, Dezi Donnelly - World and All-Ireland Fiddle Champion (from Manchester, England), accordionist Brian Boyce, plus several other bands, singers and Irish step dancers.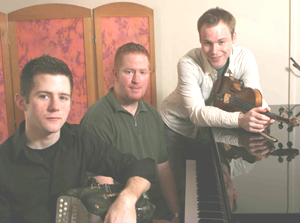 Corner House is a newly formed trio featuring Sean McComiskey on button accordion, Cleek Schrey on fiddle, and Matt Mulqueen on piano. Sean began piano lessons at an early age with Donna Long before switching to the button accordion under the guidance of his father Billy McComiskey. He's played at Irish festivals up and down the East coast, and performed at the White House on two occasions. When he's not playing with Cleek and Matt, he performs as a regular member of the Irish rock band O'Malley's March headed by Baltimore mayor Martin O'Malley. Sean is currently an undergraduate student at Towson University in Baltimore. As a trio, Corner House has performed in Chicago, Baltimore, New York, Vermont, and Philadelphia, and are currently working on their first album.



Tradpole's accordionist John Boyce started learning the piano for approximately 3 years before beginning the piano accordion. Boyce's parents, both which are from Donegal, in the Northwest of Ireland, wanted John to pursue traditional Irish music and before long, he became a student of Jimmy Early, a well known ceili-dance accordionist, from the Bronx in New York. Soon after that, John's parents introduced him to the button-accordion, under the instruction of the Irish-renowned multi-instrumentalist, Martin Mulvilhill.

The accordion became the foundation for John's Celtic flavor. John, who grew up in the Upper Darby, a suburb of Philadelphia, further developed his piano skills on his own. As with most Irish and music-oriented families, most of his performances were to provide entertainment at family gatherings. At 15, John had began his professional career playing piano and accordion. During the next few years, he began performing with popular Philadelphia household names such as Vince Gallagher, Tommy Moffit and Mary McGillian.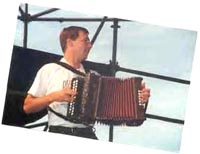 The groups other accordionist John McGroary grew up in Upper Darby, Pennsylvania, as part of a very musically inclined family. He started the button accordion at the age of seven. "Music was very important in our family. My brother played the drums, two sisters played violin and one sister played the piano accordion," said McGroary." When McGroary was eight his family joined two other families and formed the Inver Og Ceili Band, with which John played until he was teenager.

Father son team features Kevin (father) who began playing the button accordion at the age of 12 in Legfor Drum, near Strabane, County Tyrone. He is self-taught and he credits two accordion players from Co. Tyrone, Edward McNamee and Robert Finley, as early influences. Kevin came to Philadelphia in 1954. He plays for many ceilis and sessions in and around Philadelphia and always lifts the music to new highs when he enters the room. Kevin was honored just this last February when he was inducted into the Comhaltas Hall of Fame along with Andy McGann.

Son John McGillian was born in Philadelphia in 1974. His first musical influences were his parents, Mary Boyce from Milford, Co. Donegal, and his his father Kevin, who started John on a button accordion at the age of six. In the early days, John's mother would often lilt the tunes to him in their kitchen, while his father pointed out the rudiments of musical notation. Eventually, John was directed up the street to learn from accordionist John McGroary until, after four years, McGroary left home for college. For John, McGroary remains a tremendous musical influence.

For further information on the festival, please e-mail Tom: PhilaCeiliGroup@aol.com


---
Remembering 'Sis' Cunningham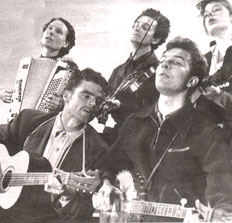 Accordionist Agnes 'Sis' Cunningham, who was a member of the Almanac Singers with Woody Guthrie and Pete Seeger and a founding editor of "Broadside" Magazine, which published among many others the first song by Bob Dylan to appear in print, died recently in New Paltz, N.Y. at age 95.

The Almanac Singers, who included Woody Guthrie and Pete Seeger, performed protest songs in the early 1940s at union halls and to audiences of farm and factory workers throughout America. Sis Cunningham played the accordion with Guthrie on guitar and Seeger on banjo. Guthrie called them "the only group that rehearsed on stage"; they were among the first to bring blues, hillbilly, mountain music and Southern Methodist hymns to urban audiences.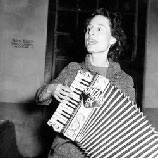 One of five children, Agnes Cunningham, always known as Sis, was born at Watonga, Oklahoma, in February 1909. Her mother was a schoolteacher, her father a farmer eventually driven from his homestead (on a former Indian reservation) by a series of natural disasters which persuaded the bank to foreclose.

Sis was accomplished on piano, guitar and accordion, but trained as a teacher before enrolling at Commonwealth College near Mena, Arkansas, for "theoretical training in radical politics".

While there, she began writing songs, including How Can You Keep On Movin' Unless You Migrate Too, which was recorded by Ry Cooder. After leaving, she worked for the Southern Tenant Farmers' Union while performing with the Red Dust Players, who sought to mobilize the poor of Oklahoma with radical songs and skits.

She married George Friesen in 1941, a time of extreme tension between the Oklahoma state government and the Communist Party - of which she and her husband were members. The Party leadership was arrested and, fearing that they might be next, she and Friesen accepted an invitation from Guthrie and Seeger, whom they had met in Oklahoma, to move to New York.

They moved in with them at Almanac House on West 10th Street, and Sis Cunningham joined the Almanac Singers, which Guthrie and Seeger had formed the previous year. She played accordion on their album Dear Mr. President (1942), and wrote the song Belt Line Girls, urging women to help with wartime production.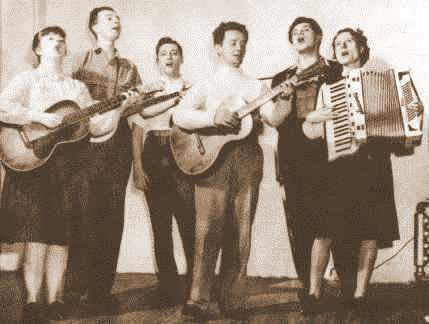 By late 1942 most of the Almanacs had enlisted, and she and Friesen moved to Detroit, where he worked as a reporter on the Detroit Times, she in a factory. With the birth of two daughters her musical career wound down. After the war, blacklisted as a Communist, her husband found jobs hard to come by, and the 1950s was spent in grinding poverty.

Their fortunes changed in the early 1960s when Pete Seeger gave them the idea and financial support to launch Broadside, based on the old English tradition of printing songs on sheets of paper and selling them. The first issue appeared in February 1962 and contained six songs, including Talking John Birch by the then unknown Bob Dylan. From then on almost every issue included one or more of Dylan's protest songs, along with the works of countless other folk singers. Dylan and the others would turn up at their apartment on West 104th Street to record their songs, which Sis Cunningham would then transcribe to put the music notation into the magazine. She also took part in numerous Broadside hootenannies, and recorded the album Sundown, featuring her track of the same name.

Broadside eventually published more than 1,000 songs during its run of 26 years, although its circulation never rose above four figures. They continued to exist on a shoestring with her working for Seeger as a secretary to help make ends meet.

In 1996 she and her husband published Red Dust and Broadsides, a joint autobiography, and George Friesen died later that year. Sis Cunningham is survived by two daughters.


---
Guy Klucevsek and Alan Bern in Concert in Germany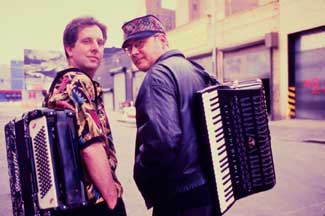 Accordionist Guy Klucevsek and Klezmer accordionist Alan Bern are together in concert at the Niedersächsiche Musiktage, Hannover, Germany from September 24th to 26th, 2004.
Their program will feature selections from their recent CD 'Accordance'. They will be joined by accordionists Per Arne Glorvigen (Norway), Tobias Morgenstern and Wolfram Dix (Germany), Elena Lutz (Russia) and Aurelién Noël (France.)
For more information, e-mail Guysqueeze@aol.com


---
Benjamin Ickies in the Rock Accordion Summit in NY
If you are in NY on September 18th, stop by and visit the Rock Accordion Summit of New York City to be held at LA BELLE EPOQUE located at 12th and Broadway. The summit is at 8:00 PM and will feature some of the greatest accordion rockers the city has to offer including: The SOBs (members of Stupid), Flaming Fire, Jason Webley, Myla Goldberg, Murderizer, a Mystery Guest and of course the man who started this all...Benjamin Ickies, Jr.

Benjamin Ickies Senior was a one-of-a-kind composer. He dedicated his life to a music nearly nobody wanted to hear, predominantly writing superbly crafted rock and punk songs for accordion. Since he achieved very little success performing his music, he redoubled his composing efforts and the majority of his music was never performed. After Ickies' death in 1997, a group of his friends and fellow composers came together to form the Benjamin Ickies Preservation Society, an organization committed to bringing attention to his long-ignored works. To this end, the Benjamin Ickies Preservation Society (BIPS) have enlisted the help of his son and namesake, Benjamin Ickies Jr., the only accordionist alive trained in Ickies' unique accordion technique. A host of other talented musicians and performers have joined the cause and created Movers & Shakers, the performing ensemble devoted to playing the works of Benjamin Ickies.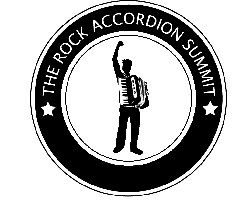 As the first major performance of his work, Benjamin Ickies' Failure enjoyed many successful engagements in New York City over the past year, and gained a cult following. After a solid year of performances, the BIPS retired Failure and launched the Rock Accordion Summit. Half rock concert, half holy mission, the Summit has shown audiences across the eastern seaboard just what an accordion can do (help came from acts including The World/Inferno Friendship Society, Corn Mo, and Alec K. Redfearn & The Eyesores). Simultaneously, Movers & Shakers have been playing the top clubs in the New York and Brooklyn rock scene and have built a reputation as one of the smartest and creative bands in town.
The upcoming Rock Summit in New York City will feature more of Ickies' songs for performance. Movers & Shakers are getting ready to record their second album, Benjamin Ickies Gives Up, due out later this year.
For more information, please visit: Benjamin Ickies Preservation Society - http://www.ickies.com or e-mail: number2@ickies.com. Phone: (646) 541-7781.


---
Cirque du Soleil seeks Accordionist
Cirque du Soleil, the multidisciplinary show company combining circus arts, acrobatics, music, singing, dance, and theatre is urgently seeking an accordion player for its two new Las Vegas-based productions.
The contract is for two years and the shows casting department is now accepting submissions and applications before they choose applicants for an audition at a later date. The successful applicant will join Cirque du Soleil in September as the new production prepares for its premier at the MGM Grand Hotel and Casino in December.
The new theatrical show combines acrobatic performances, martial arts, puppetry, multimedia and pyrotechnics to illustrate the lives of a pair of twins who were once separated. The music is composed by René Dupéré, and the band is made up of seven musicians: keyboards and bandleader, keyboards and voice, guitar, drums and percussion, cello and voice, singer, and piano accordion.
Cirque du Soleil is looking for an accordionist who is a professional and versatile musician. The artiste also needs to have had academic training and extensive experience of jazz, pop, contemporary and ethnic musical styles.
Owner, Guy Laliberté got his start playing an accordion for tips on the streets of Montreal. Today his act is one of the most lucrative ventures in live entertainment. There's no escaping him. People flock to his show at Disney World in Orlando, Florida. In Las Vegas, where he operates in three different casinos, his shows have become Sin City's biggest draw. His five touring productions travel the globe, performing in such locations as Spain and Japan. His outrageous acts and colorful characters are celebrated in newspapers and magazines and have even appeared on a reality TV show.
For further information, e-mail yves.sheriff@cirquedusoloeil.com


---
Acclarion Releases Debut Album
After a year of musical adventures, Canada's only classical accordion and clarinet duo, Acclarion, is set to record their debut album. David Carovillano and Becky Sajo, who were recently engaged, have worked diligently to assemble the musical selections for the album.

Becky and David felt that recording their CD would also allow them to reach a larger audience. They are particularly interested in reaching out to those individuals who may not normally listen to classical music. "We feel that our music will at once be entertaining and enjoyable," states Becky. "All of the selections that will appear on our CD have the sophistication of classical music, with the fun and catchiness of pop tunes."

Hailed by Toronto composer Christos Hatzis as "one of the outstanding performers of his generation", David Carovillano reveals the subtleties and flair behind the accordion.

David holds a Masters degree in performance from the University of Toronto, Faculty of Music. Since 1988, he has studied under Canadian accordion virtuoso, Joseph Macerollo. David has performed on numerous television shows, including City TV's Breakfast Television, Insight Productions' Ready or Not, and HGTV's Design for Living. Having competed in various music festivals throughout North America, he has received over 140 awards for his playing.

He has received several scholarships from the University of Toronto. David participated in masterclasses held in Venice Italy in 1999, studying under noted accordionist, Hugo Noth. In 2000, he was an accordionist with the Stratford Festival's production of Fiddler on the Roof. In 2001, David joined The Toronto Winds, a woodwind chamber ensemble. He was the featured performer on CBC Radio Two's Music Around Us.

He was also an accordionist with the new Mozart musical, The Magic of Love and is featured on the original cast recording of the musical on the Ecclectic Records label. David has performed in various chamber capacities with members of the Toronto Symphony Orchestra, ArrayMusic, Tapestry, and others. He has performed with Collaborations, a new music concert series. 2004 engagements include Acclarion at the New Music Festival, Brampton Indie Arts Festival, and featured musicians in a new production of Shakespeare's The Tempest.

When asked how best to sum up their music and this CD project, Becky and David both looked at each other, before smiling back at me and saying, "It's music to tickle your ears!"

For further information, e-mail acclarion@yahoo.ca


---
Kevin Burke and Johnny Connolly in Newport
On Tuesday August 3rd, renowned Celtic fiddle player Kevin Burke was joined by fellow Irishman Johnny Connolly for a concert of traditional music at the Newport Performing Arts Center.

Connolly's dexterity on the two-row button accordion earned him a slot with established Celtic band Anam at the age of 17, and in 1996 Connolly left Ireland for America by joining Patrick Ourceau in New York. After touring expatriate Irish communities in New York, Boston and other places in the US, Connolly visited Portland, Oregon, where he formed a duo with guitarist Aidan Brennan.

This duo has performed with great success at festivals across the United States. In 1998, Johnny Connolly released a debut CD Irish Ceili Dances, backed by Eugene Kelly on piano and Paddy Higgins on drums.

Kevin Burke, a former member of high profile bands Patrick Street and The Bothy Band, is one of the most influential players of Irish music today.

---

---

---
Note: In order to provide as much information as possible for the United States National Accordion News stories, many different sources are often researched to gather additional information and pictures to complement what has been submitted. This information is then correlated to provide the news on www.accordionusa.com in the spirit of which it is intended, which is to provide a free news service to the Accordion Community, specifically in the United Sates. If you feel any copyright has been violated please advise www.accordionusa.com and the article will be removed immediately.